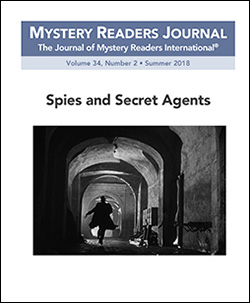 Mystery Readers Journal is a quarterly thematic mystery Journal. Each issue contains articles, reviews, and author essays on a specific theme, as well as special columns and other mystery related material. Journals run an average of 80 pages. Subscribe.
Current Issue: Spies and Secret Agents is available in hardcopy or as a downloadable PDF.
Recent Issues: Gardening Mysteries (Spring 2018); Big City Cops II (Winter 2017-18); Big City Cops I (Fall 2017); Murder in Wartime (Summer 2017).
Coming Up: Murder in the Far East; Crime Fiction in the American South; Murder Down Under. Submit an article!