Volume 14, No. 2, Summer 1998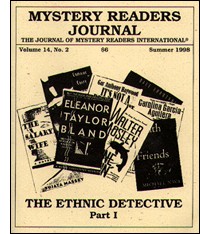 TABLE OF CONTENTS
Of Course They Are Ethnic! by Carol Harper
Hard-Boiled Comes to Harlem by John Patrick Lang
Me and Minootch by Beth Fedyn
L'Crime by Steven E. Steinbock
Color Film by Jane Rubino
Marti MacAlister: Good Cop, Bad Cop—Fact vs. Fiction by Eleanor Taylor Bland
The Why and Howdunit of Whodunit by Emmett Clifford
A Hero's Journey by Margaret Cuthbert
"Mama" and Simone Mysteries by Nora DeLoach
Berkeley Blend by Jake Fuchs
Ken Tanaka and the Two Goals by Dale Furutani
Life Imitates Art by Carolina Garcia-Aguilera
Olive Oil and Vinegar by Judy and Takis Iakovou
Mexican Eyes by Martin Limón
Ethnic Research Is More Fun by Sujata Massey
Silent Conspiracy: A Lincoln Keller Mystery by Lee E. Meadows
Ethnicity Patas Arriba (Upside-Down) in Miami by Barbara Parker
Monk's World by Gary Phillips
Chicano Noir and the Struggle for the Soul of Luis Montez by Manuel Ramos
Wesley Farrell: A New Orleans Legend by Robert Skinner
Hidden Identity by Janice Steinberg
Tamara Hayle by Valerie Wilson Wesley
COLUMNS
Mystery In Retrospect: Reviews by Susan Eggers, Nancy Gordon, Carol Harper, G. Miki Hayden, Peter Kenney, and Harriet Klausner
Just Juveniles: It's a Small World by Nancy Roberts
In Short: Ethnic Detectives by Marvin Lachman
A Mystery Reader Abroad: Gong Xi Fa Cai by Carol Harper
MRI MAYHEM by Janet A. Rudolph
Letters To The Editor
From the Editor's Desk by Janet A. Rudolph
---
Color Film
by Jane Rubino (Ocean City, New Jersey)
A view of the ethnic detective in American films is bound to be colored by the definition of ethnicity. On the printed page—whether story or screenplay—ethnicity is uncontested. But because film is a collaborative medium, the character on the screen may not share the ethnicity of the actor playing the part. Is then the "ethnic" in "ethnic detective" to designate the actor or the role and must an actor share the ethnic background of the character? The question becomes significantly more important, I think, to the minority actor who sees "his" roles passing outside of his nationality, than it does to the viewer, or to the integrity of the film. If you care that Charlton Heston plays the investigator Miguel Vargas in Touch of Evil (1958), you must also care that Andy Garcia plays Charlie Vincent in Black Rain (1989), or George Stone in The Untouchables (1987). Of course, the minority actor will refute this by citing the dearth of opportunity for minority actors; but a lack of opportunity does not lay claim to entitlement—only talent does—and even that, to a very significant degree (as all involved in the arts know), is contingent upon luck. In the end, Touch of Evil is a more ambitious, but not a more satisfying film than Black Rain, and The Untouchables is superior both.
Sometimes, the ethnic detective moves from book to screenplay to actor seamlessly, as with Walter Mosley's Devil in a Blue Dress, which starred Denzel Washington on screen as a very convincing Easy Rawlins.
And sometimes not. There was, after all, a Black Sherlock Holmes (1918). More familiar were the non-white title characters of the Mr. Moto, Mr. Wong, and Charlie Chan film series. In the Mr. Moto films (with titles that encompass the suspenseful, Mr. Moto in Danger, and the innocuous, Mr. Moto Takes a Vacation), Hungarian actor Peter Lorre, who was later Humphrey Bogart's nemesis in Casablanca and The Maltese Falcon, did a reasonably good job of portraying the Japanese detective. The films were made in the latter part of the 1930s, roughly the same time Boris Karloff began playing the Chinese-American James Lee Wong. Six Mr. Wong films were made between 1938 and 1940; only in the last film was the role passed to Asian actor Keye Luke (who also played one of Charlie Chan's numerically-named sons, on occasion.) The films' geographical alliances were sometimes as inconsistent as the genetic ones: Mr. Wong in Chinatown, where the Chinatown in question was San Francisco, was remade a decade later as a Charlie Chan film (The Docks of New Orleans), a few years after it had been converted to an East Side Kids comedy, The Docks of New York.
The Charlie Chan series, which spanned two decades was the brainchild of Midwestern author Earl Derr Biggers, who, during a Hawaiian vacation, heard about the exploits of Asian police detective, Chang Apana. Intrigued by the stories, Biggers began the first of several novels featuring Sergeant Charlie Chan of the Honolulu Police force (who gradually rose to the rank of Inspector.) The debut novel, House Without a Key, became the first of the Charlie Chan films, and did feature an Asian actor, as did the two following films, The Chinese Parrot (1926) and Behind the Curtain (1929). As the films moved into the early thirties, the role was assumed by Swedish-born Warner Oland, until his death when it was taken over by Midwesterner Sidney Toler; after his death, the role was passed to Boston-born Roland Winters. The films were pretty standard fare, as were most serial films of the day, and stereotypical by today's standards, but noteworthy for the fledgling stars a viewer can pick out of the supporting casts: Rita Cansino (Hayworth); Lon Chaney, Jr.; Cesar Romero; as well as TV's erstwhile Lois Lane, Noel Neill; Gunsmoke's Doc, Milburn Stone; and the Lone Ranger's faithful sidekick Tonto, Jay Silverheels.
The sidekick, in fact, is where the ethnic detective has been film's most visible presence. The Dirty Harry films even tweaked this practice by saddling Harry with a different minority partner in each film. Although it may appear that the sidekick's rise to equal partnership from subordinate status is recent, there were early films that featured minority actors in starring or co-starring roles. Border Incident (1949) is the tale of two undercover agents who infiltrate a band that is smuggling, and enslaving, migrant laborers. Ricardo Montalban as the Mexican agent, Rodriguez, teams up with American agent Bearns, (George Murphy) and goes undercover as one of the Mexicans lured into virtual slavery in the States. Bearns is killed, but Rodriguez evades the murderers, avenges his partner's death, and emerges as the hero.
The following year, Montalban starred in Mystery Street, as a police lieutenant named Morales who heads a murder investigation that implicates members of the Boston elite. Without preachiness, it suggests the resentment the suspects feel toward the Latin detective who, in an interesting role-reversal, has a Harvard intellectual/forensic expert as his sidekick. In the mid sixties, Montalban co-starred with Glenn Ford, Joseph Cotton and Rita Hayworth in The Money Trap, a grim tale of corrupt cops, greed and betrayal. The visual refrain of a Hispanic prostitute and her child is a reminder that this film—as with many films of the forties, fifties and sixties featuring ethnic characters—had an underlying sense of message, of racial consciousness.
This racial awareness is evident in Samuel Fuller's The Crimson Kimono (1959). Two cops, one white, one Asian, fall in love with the same witness, a white woman who prefers the Asian cop (James Shigeta). The underlying jealousy is echoed in the motive for the murder they are investigating, and becomes pivotal to the resolution of the film, and the friendship; i.e., what is perceived as racism (by the Asian cop) may only be in the mind of the beholder, and the white cop's resentment may be sexual, rather than racial, envy.
A budding social consciousness would not have been sufficient to bring the minority detective to the screen without other critical elements: the audience's willingness to accept a minority in a position of authority, and the mechanism for promoting minority actors to leading man/woman status. Regarding the latter: one reason that blacks have been more successful, than Asians, Native Americans or Latinos, into moving toward star status may be largely due to the fact that there has always been an active black filmmaking community in the United States.
Still, audience receptiveness and an organized community from which to draw talent were not sufficient to nudge minority actors into major roles. The minority actor had to have presence. In the fifties and sixties, when the anti-hero made stature, comeliness, masculinity, even intelligibility, anomalous, the minority star had to be handsome and articulate, a Ricardo Montalban or a James Shigeta. Or, a Sidney Poitier. In the Heat of the Night (1967) pits the astute northern cop Virgil Tibbs (Poitier) against a bigoted Southern sheriff (Rod Steiger). The film is a race war distilled to two men, but does manage to get its message across without being either maudlin or unctuous and preachy, or losing sight of the plot. It also made Tibbs one of the first non-series cops to be "sequeled." Unfortunately, there is none of the first film's boldness in the follow-up, They Call Me MISTER Tibbs (1970). Having established the "crossover" appeal of Poitier, it was decided to keep him safely in the mainstream; the sequel is a standard murder melodrama, which plugs Tibbs into a wrongly-accused-friend investigation while living a comfortable middle class life with his wife and son. In the third film, The Organization (1971), Poitier grapples drug smugglers and vigilantes, foreshadowing the leitmotif of the coming "blaxploitation" era.
What those films owe to The Organization is not the image of Poitier, who was viewed as too mainstream (read "white")—they rejected that—but in characterizing the enemy. The vision of drug smugglers as white exploiters, and the enormous impact of The Godfather, promoted the recurrent theme in the "blaxploitation" films of the black hero vs. (white) organized crime. The hero, however, in films like Shaft, Cleopatra Jones, Foxy Brown, or Friday Foster, owed more to popular screen culture than to the prevailing minority culture. The ethnic influences were all superficial—hair, clothes, music, speech–but at the core, they were Mike Hammer, James Bond, and the Avengers.
A handful of films are worth mentioning, though. Black Caesar (1973) was one of several films that, in the wake of The Godfather, pitted black gangsters against Italian gangsters. This one has the extra dimension of Fred Williamson's solid performance in a well-thought-out screenplay that defines his character as someone betrayed by the law—his character is maimed by corrupt cops—and who therefore becomes his own law, intent on halting the drain of money to Italian mobsters, but eventually becoming as corrupt as the cops. The film manages to develop Williamson's character without glamorizing his outlaw status.
Cotton Comes to Harlem (1970) is a tale of two black plainclothes detectives investigating a disreputable preacher. Part comedy, part adventure, the film, based on the novel by Chester Himes and directed by Ossie Davis, took on black stereotypes with a brazenness that a white director in the early seventies would have hesitated to do. Hickey and Boggs (1972), capitalizing on the popularity of the Bill Cosby/Robert Culp I Spy series, has Cosby in his best film role as a downtrodden PI, who with his partner takes on a missing persons case that involves black radicals, Latino radicals, and white mobsters. Yet the movie manages to rise above these dated plot elements with characters that shaped in the classic PI mold: noirish, world-weary anti-heroes only marginally able to restore order to a disordered world.
It is questionable whether Cosby would have been accepted, or cast, as a jaded PI following his popular Cosby television series. While minorities are more visible on television than in film, the "television persona," however powerful, does not always guarantee audience acceptance in movies, particularly when the movie persona and the TV persona are different. (This is not an exclusively minority dilemma). The I Spy Cosby was essentially the Hickey and Boggs Cosby, not the Cliff Huxtable Cosby. The Saturday Night Live Eddie Murphy succeeds when that persona is plugged into crime capers like the 48 Hours or Beverly Hills Cop films, but not when he is sleuthing in an unfamiliar skin, as in The Golden Child. The movie Will Smith succeeds when he is the familiar is recognizable as the "Fresh Prince" Will Smith. And when we recall the reflective, intelligent physician Denzel Washington played in St. Elsewhere, we see a logical precedent to his roles in The Mighty Quinn, Ricochet, and Fallen.
However, American culture offers more authority-figure types today for leading actors. For years, cinema's trademark heroes were frontiersman (cowboy) and law enforcement (PI, cop). Now there are political, military, medical, legal, corporate, and techno thrillers and virtually any professional "something else" can be converted to an amateur sleuth. An actor like Wesley Snipes, a sidekick in Rising Sun, a sky marshal in Drop Zone, a treasury agent in the underrated Boiling Point, has probably played as many sleuths as any contemporary actor; but those roles only account for half—maybe less—of his screen work. As a black star in a predominantly white medium, his choices may still be limited—but they are not limited to cop and cowboy. Nor is he limited to roles conceived for actors of his race; one does not necessarily follow the other. Andy Garcia's "cop" roles include Raymond Avila in Internal Affairs, Giuseppe Petri aka George Stone in The Untouchables, John Berlin in Jennifer 8, and Frank Connor in Desperate Measures. The late Raul Julia was the flirtatious cop David Suarez in Compromising Positions and the flamboyant attorney Sandy Stern in Presumed Innocent. When Elmore Leonard's Rum Punch became Jackie Brown, the book's white heroine emerged as film's Foxy Brown, Pam Grier. Lou Diamond Phillips was Jim Chee in The Dark Wind and Jeff Powers in Extreme Justice.
If the ethnic detective is a minority among film heroes, part of the responsibility must go to the minority filmmaker—or the filmmaker who deals with that indefinable known as "minority life." Cops and PIs are often perceived as too commercial, affording too little opportunity to indulge in "cultural diversity." Sometimes, a director can manage to pull both together; Michael Apted's Thunderheart (1992), about a half-Sioux FBI agent sent to investigate a murder on a reservation is beautifully acted, particularly by the supporting cast, and as much about Native culture as about the crime. (Apted also directed the documentary Incident at Oglala, about the crime that inspired Thunderheart.)
Yet the crime film—whether the hero is rogue cop, PI, amateur sleuth—is ultimately about control—the sleuth's understanding of it, decision to challenge it, and ultimate recognition of how much (s)he has or doesn't have. Because many minorities grapple with these issues in many areas of their lives, the ethnic detective probably should have been the prototype, rather than the afterthought, in American film.
---
Jane Rubino's newest Cat Austen/ Victor Cardenas book is coming from Write Way Press in August 1998.
---
Marti MacAlister: Good Cop, Bad Cop—Fact vs. Fiction
by Eleanor Taylor Bland (Waukegan, Illinois)
On March 27, 1998, my 23-year-old nephew and godson, Marlon Lonnie, who was born on my birthdate, died in a Los Angeles County jail under questionable circumstances, while in the custody of the sheriff's department. What happened to is still a mystery, one that may never be solved. What happened to Marlon is every mother's worst fear, and confirms a negative perception of policing and police officers that has existed within the black community for a long time. Why then, do I continue to write a police procedural?
I began writing about a black, female police officer almost ten years ago because I wanted to write mysteries about a real woman with a real job, with legitimate authority, who functioned within the constraints of that authority. I wanted to write about a good cop, a cop who was like Jeff—the black beat cop I remember from my childhood in Boston—and Craigwell, a black detective. When I was growing up, "Jeff and Craigwell" was synonymous with safety and a sense of security. My street was their street, and nobody messed with anyone on their beat.
By the time I decided to write mysteries, I had participated in numerous civil rights demonstrations in the south in the '60s, and read enough, heard enough, and seen enough to know that Jeff and Craigwell were, to many, the exception, not the rule, in policing. I never accepted that as a reason for not writing about Marti and her partner, Matthew "Vik" Jessenovik. They are both good cops. They are not my attempt to obscure or deny the real world, or the reality of what happened to Marlon, but rather my insistence that there is good in this world, that there are good people, that good people and good cops come from many different backgrounds, are many different colors, and live in many different places.
The day Marlon died, I called a friend, Lieutenant Hugh Holton, a Chicago police officer who is also a mystery writer. His shock, his concern, his honesty, and his support reflected those values. Those concerns, those realities, that I recognized so long ago in Jeff and Craigwell; values and concerns and realities that I still believe are alive and well and embodied not only in Marti MacAlister, but also in many of the police officers I see every day. Yes, there are good cops. What I have to remember, as a civilian, is that the police department where I live serves me, and that I have I responsibility as a citizen to hold that service up to scrutiny, and the right to expect that my police department does, in fact, protect me. According to Marti, good policing is an attitude that begins at the top and filters down through the ranks. As a citizen, I have the right to expect, and demand, that attitude.
There is nothing I can say or do to bring Marlon back. There is little I can do to comfort his mother. What I will continue to do is decry the circumstances of his death, not with the sword, but with words, not with anger, but with—a good cop.
---
Eleanor Taylor Bland's sixth Marti MacAlister book is See No Evil (St. Martin's, 1998).
---
Chicano Noir and the Struggle for the Soul of Luis Montez
by Manuel Ramos (Denver, Colorado)
Mexican-Americans are one of the most visible ethnic groups in this country, and one of the most misunderstood. Generally considered to be immigrants, the irony is that many of us have roots that were planted in the Southwest centuries before any Englishman set up camp on the banks of the James River. Passionately patriotic, Chicanos nevertheless can exhibit a strong detachment from the United States. The war between the United States and Mexico changed not only the map but also the identity of hundreds of thousands of people. The signing of the Treaty of Guadalupe in 1848 gave the US control of the Southwest, and almost overnight the Mexican settlers had become strangers in their own land. The descendants of those settlers, as well as more recent arrivals from Mexico, make up today's Chicanos. Chicanos are proud of our mestizo heritage and our Mexican ancestry, as well as our American citizenship, and, yet, we often believe that we are not accepted as Mexican by Mexicans or as "American" by Anglos. The duality of our experience—the search for a "place"—has been at the core of several Chicano and Chicana novels, and now has made its way into crime fiction.
Luis Montez grapples with the concept of "fitting in." The barely solvent attorney prowls the murky underbelly of Denver, and is thrust into high-risk situations by his friends or clients. He carries an almost palpable need for defining his identity.
Luis grew up in Denver when it still had a small town attitude. He easily makes his way around the neighborhoods where he strutted as a young "bato loco," a street-wise kid. But by the early 1990s, he is too old to strut or believe in myths. He endeavors to succeed as an attorney but he realized years ago that he would never be one of the "good ole boys." His companions are leftovers from the days of Chicano militancy, when the "Movimiento," the Chicano civil rights movement, was in full bloom. He still has scars from those battles.
The Ballad of Rocky Ruiz takes place when Denver is on the brink of becoming what the city fathers call a "world class city." Old haunts give way to the wrecking ball in the interest of a lower downtown facelift. The buzz is about the new baseball team, and everyone pitches a scheme for making fast money. Montez, suffering badly from a mid-life crisis, is just as anxious as the next guy for the first pitch of the first season. It is so American of him to covet season tickets, and so Chicano of him to understand the reasons why he should not buy into the baseball frenzy.
Luis's mundane existence is rocked when he is asked for help by three friends who haven't talked to him for several years. A judge, a director of an inner city recreation center, and a loose-living, on-the-edge hustler are the target of threats by a stalker who has dredged up the twenty-year-old murder of Luis's best friend, Rocky Ruiz. Ruiz had been a leader of the Movimiento and his killing had literally and symbolically ended the movement for the four remaining rebels. Teresa Fuentes, a smart and sassy attorney from Texas, walks into their lives and Luis, among many others, falls hard. The story includes references to civil rights history, Chicano traditions and family connections, and the gap between three generations. In getting to the bottom of the death of Rocky, Luis has to confront his own role in Movimiento history, his failures, and his inability to work out a truce with his father, a man with vivid memories of the Mexican revolution.
The Ballad of Gato Guerrero takes Luis from Denver's bright lights south to the eerie and rural San Luis Valley, an almost holy place often described as the spiritual home of Colorado's Chicanos. Felix (Gato) is another old friend with a checkered past. He's taken up with Elizabeth, the battered wife of Denver racketeer Trini Anglin, and together they have run off to hide in the Valley. It's left up to Luis to guide them through an obstacle course of hit men that meanders through a Chicano music festival in New Mexico, fishing in San Luis, and the dead-end violence of gang warfare in Denver. The mystery for Luis is not only who did the murder, but also who was murdered.
The Last Client of Luis Montez begins with an unfamiliar feeling for Luis: He has won a very big case and his client's sister is ready to celebrate. The grisly murder of the client and the disappearance of the sister propel Luis into an ever-expanding sinkhole of corruption. Suspended from the practice of law and on the run from the police, Luis surfaces in San Diego, in Chicano Park, the site of Chicano murals, demonstrations, and lowrider gatherings. Eventually, Luis returns to Denver and his old north-side neighborhood, where, among feuding family and untrustworthy policemen, against a backdrop of swanky Cherry Hills and a Bar Association black-tie affair, he confronts the killer.
Damaged from his experiences in The Last Client of Luis Montez, Luis vacations in Mexico. However, before Blues for the Buffalo is finished, the attorney forced into the role of detective tangles with upper-crust Hispanics who are searching for their lost and wayward daughter, and with hard-core Chicano literary types who take their poetry very seriously. Luis teams up with "Rad" Valdez, a young but efficient private eye who doesn't have a clue about Chicano history but who, regardless, is flashy enough to win over a few hearts in the barrio.
Luis Montez may always search for himself, never finishing the fight to claim his rightful place, but he's a loyal friend, a decent attorney and deeply imbued with cultural pride. He just stumbles across too many dead bodies.
---
Manuel Ramos' The Ballad of Rocky Ruiz was nominated in 1994 for an Edgar for Best First Mystery Novel.