Volume 14, No. 1, Spring 1998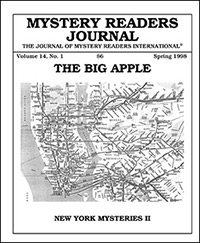 Buy this back issue! Available in hardcopy or as a downloadable PDF.
TABLE OF CONTENTS
"Out on a Spree": Lockridges, Norths and Others by Fred Isaac
A Strange Weekend in the Ubiquitous Green Apple: Joan Smith's Full Stop by Nicole Décuré
Ed McBain's New York by G. Miki Hayden
The 4th (Or 5th) Largest City In America by Sue Feder
New York's Finest by Jim Doherty
THE WRITERS WRITE
Why I Love New York by R.G. Belsky
It's a Wonderful Town by Camilla Crespi
Manhattan Murder Mysteries by Linda Fairstein
Why My Characters Don't Live in New York City by G. Miki Hayden
The Reds vs. The Blues by Peter Lance
The Body in the Big Apple by Katherine Hall Page
My Manhattan Melody by Rosemarie Santini
Only The Dead by Carolyn Wheat
COLUMNS
MYSTERY IN RETROSPECT: Reviews by Harriet Klausner, Carol Harper, & William Deeck
JUST JUVENILES: A Big Apple For The Student by Nancy Roberts
A Cybertour of New York by Kate Derie
Start Your Own Mystery Book Discussion Group by Lorraine Petty
The Reference Book Case by Harriet Swift
A MYSTERY READER ABROAD: Home, Sweet Home by Carol Harper
MRI MAYHEM by Janet A. Rudolph
Letters to the Editor
From the Editor's Desk
---
New York's Finest
by Jim Doherty (Chicago, Illinois)
As promised in the last issue, in this article I've listed my choices as the ten NYPD short stories, movies, and TV series. I've imposed two rules on myself. First, no one writer can have more than one work cited per list. Second, each work cited has to be about the NYPD, not some other law enforcement agency operating within New York City. Hence, stories that are primarily about the Transit Police, the Manhattan DA's Office, the NYC Medical Examiner's Office, or the New York Field Office of the FBI, are, no matter what their merits, ineligible for consideration.
That said, here are my choices.
The Top 10 Short Stories
1. "Green Paint" by William MacHarg (Collier's, 29 November 1930)
This short-short, the first to feature Detective O'Malley, may be the very first American police procedural in any medium. O'Malley (sort of an Irish proto-Columbo, claiming dumbness but demonstrating a sharp deductive mind) solves a waterfront murder through sharp wits and some rudimentary forensics.
MacHarg wrote dozens of O'Malley stories before his death in the late '40s, thirty-three of which were collected in The Affairs of O'Malley. (Dial, 1940). Oddly, "Green Paint," the very first in the series, was not included.
2. "Murder at the Automat" by Cornell Woolrich (Dime Detective, August 1937)
Though he didn't rigorously research police work (in fact it's doubtful the reclusive Woolrich researched anything) he managed, through a sort of knowing vagueness, to make his cop stories seem realistic. This one, about a poisoning at one of Manhattan's famous Depression-era fast-food restaurants includes a harrowing description of a police third degree adminstered to an innocent man, as the hero tries to clear him by finding the real killer.
"Murder at the Automat" has been reprinted at least twice, in the posthumous Woolrich collection Nightwebs (Harper, 1971), and in the scholarly anthology The World of Mystery Fiction (UC San Diego, 1978) edited by Elliot L. Gilbert.
3. "Sentence of Death" by Thomas Walsh (Saturday Evening Post, 23 October 1948)
Thomas Walsh started writing stories about hard-shelled, tender-hearted Irish cops for Captain Joseph T. Shaw in Black Mask. Unlike many pulpsters who graduated to the higher-paying slicks, Walsh didn't change his style much. This one, about a young detective who thinks he may have been instrumental in sending the wrong man to New York State's death row, would not have been out of place in any of the great pulps. Walsh's Edgar-winning novel, Nightmare in Manhattan (Little, Brown, 1950), appeared in serial form a few months after "Sentence of Death." The only reason that book isn't on my list of top ten novels is that its hero is a railroad cop rather than a city cop.
"Sentence of Death" was reprinted in both The Saturday Evening Post Stories—1948 (Random, 1948) and The Best Detective Stories of the Year—1949 (Dutton, 1949) edited by David Cooke.
4. "Small Homicide" by Evan Hunter (Manhunt, October 1953)
One of several "dry runs" for the 87th Precinct series which Hunter wrote for magazines like Manhunt and Argosy in the early '50s. Heavily influenced by Dragnet, it has Detective Dave Levine of Brooklyn's 77th Precinct (who also narrates) investigating the case of strangled infant found in a church.
"Small Homicide" was reprinted, under the Hunter byline, in The Best Detective Stories of the Year—1954 (Dutton, 1954) edited by David Cooke, and, under the McBain pseudonym, in his short story collection The McBain Brief (Arbor, 1983), and in the anthologies City Sleuths and Tough Guys (Houghton, 1989) edited by David Willis McCullough, and The Oxford Book of American Detective Stories (Oxford, 1996) edited by Tony Hillerman and Rosemary Herbert.
5. "Homicide Expert" by Lawrence Treat (Crime for Two, edited by Frances and Richard Lockridge, Lippincott, 1955)
Precinct Detective Mitch Taylor, the hero of Treat's pioneering V as in Victim (Duell, 1945), competes with a hot shot from the Homicide Squad to solve a case that may be simply an instance of domestic violence, but may be something quite different.
Not published 'til 1955, it may have been written some years earlier, since by this time Treat had moved his characters out of NYC and into a smaller, unnamed city. "Homicide Expert" has not, to my knowledge, ever been reprinted, but a number of Taylor short stories set after the move from New York, including the Edgar-winning "H as in Homicide," are collected in P as in Police (Davis, 1970).
6. "The Conscience of the Cop" by William Fay (Saturday Evening Post, 27 August 1955)
A young detective kills a man in a shootout and must deal with the guilt of taking a human life. An interesting and early look, years before police departments started dealing with the problem, into something the shrinks now call "afterburn" or the "post-kill syndrome."
Interestingly, William Fay, who also wrote stories about suburban cops, had a son who grew up to be one. John Fay is a detective in the Glencoe, Illinois, Department of Public Safety. Since Glencoe's is a combined agency, John is also a firefighter. Finally, he's an ordained permanent deacon at St. Matthias Catholic Church in Chicago. Policeman, fireman, and clergyman, he is, indeed, a cop with a conscience.
"The Conscience of the Cop" was reprinted in The Saturday Evening Post Stories—1955 (Random, 1955) and The Best Detective Stories of the Year—1956 (Dutton, 1956) edited by David Cooke.
7. "The Death of a Bum" by Donald E. Westlake (Mike Shayne Mystery Magazine, June 1965)
The fifth of six stories Westlake wrote about middle-aged, heart-diseased Detective Abe Levine of Brooklyn's 43rd Squad. Looking into the murder of a low-rent underworld figure, Levine, for whom life is precious, is frustrated that nobody else, not the victim's brother, not his friends, not his colleagues on the Job, care enough to try to find the killer. An excellent look at the frustrations inherent in modern-day police work.
All six of Abe's stories, including the Edgar-nominated "After I'm Gone" (which would have been on this list but for the fact that it was largely set in suburban Long Island), are collected in Levine (Mysterious, 1984).
8. "The Girl in Gold" by Jonathan Craig (Alfred Hitchcock's Mystery Magazine, September 1970)
Craig's series of eleven novels about Sixth Precinct Detective Pete Selby started around the same time as McBain's 87th Precinct books. Just as knowledgeable about police procedure, Craig was less innovative than McBain. Consequently, he never broke out of the paperback original ghetto like McBain did, and is, unfortunately, largely forgotten today. This story, appearing four years after the last Selby novel, The Case of the Brazen Beauty (Gold Medal, 1966), may be the last Selby entry in any medium. In it, Selby and his partner look into the death of a man who's been thrown from a window to conceal the real cause of his death. It was reprinted in Alfred Hitchcock's Borrowers of the Night (Dial, 1983) edited by Cathleen Jordan.
9. "Christmas Cop" by Thomas Adcock (Ellery Queen's Mystery Magazine, March 1986)
Detective Neil "Hock" Hockaday, of the elite SCUM detail (that's Street Crimes Unit—Manhattan), proves to the denizens of his bailiwick that he can be big-hearted at most joyful time of the year. Edgar-nominated, "Christmas Cop" has never, to my knowledge been reprinted, though Hock has since appeared in a series of well-received novels, including the Edgar-winning Dark Maze (Pocket, 1991).
10. "Crime Scene" by Carolyn Wheat (Sisters in Crime, edited by Marilyn Wallace, Berkley, 1989)
A rookie policewoman, trying to control her emotions at the scene of a messy homicide, lets an experienced detective talk her into getting in touch with her feelings, not just to keep from getting hardened to death, but to give her insights that will help solve the murder. Absolutely first-rate short-short that shows the insights Ms. Wheat has gained as a lawyer working for the NYPD's Legal Affairs Office.
The Top 10 Movies
1. Bullets or Ballots, screenplay by Seton I. Miller, directed by William Keighley (Warner, 1936)
One year after the Miller/Keighley team pinned a badge on Jimmy Cagney in "G" Men it was Edward G. Robinson's turn. As NYC Detective Johnny Blake (easily recognizable as real-life Detective Johnny Broderick, who served as technical advisor), he goes undercover to bring down the city's biggest mobsters. Rip-snorting, gang-busting entertainment!
2. The Naked City, screenplay by Malwin Wald and Albert Malte, directed by Jules Dassin (Universal, 1948)
Lieutenant Dan Muldoon and Detective Jimmy Halloran (Barry Fitzgerald and Don Taylor) look into a good-time girl's murder in this filmed-on-location semi-documentary. The whole "street-smart old veteran/college-educated rookie" riff got its start here.
3. Where the Sidewalk Ends, screenplay by Ben Hecht, directed by Otto Preminger, based on the novel Night Cry by William Stuart (20th Century Fox, 1950)
The team of director Preminger, leading man Dana Andrews, and leading lady Gene Tierney are reunited six years after Laura in this gritty film noir about a tough cop who accidentally kills a man then tries to cover it up. He only succeeds in getting an innocent man, who also happens to be the father of the girl he loves, falsely accused. Excellent supporting performances by Karl Malden, Tom Tully, and Gary Merrill.
4. Detective Story, screenplay by Philip Yordan and Robert Wyler, directed by William Wyler, based on the stage play by Sidney Kingsley (Paramount, 1951)
During a typical day in the squadroom of Manhattan's 21st Precinct, Detective Jim MacLeod must come to terms with, and try to overcome, the monster his relentless pursuit of criminals is turning him into. One of Kirk Douglas's best performances. Equally fine supporting jobs by Eleanor Powell as MacLeod's wife, Lee Grant as a sweet-natured kleptomaniac (both Oscar-nominated), William Bendix as MacLeod's partner, Joseph Wiseman as a sneak thief, and Horace McMahon as the squad commander. Burt Mustin (Gus the fireman on Leave It To Beaver) made his film debut in Detective Story. This film (and the play on which it was based) had a major influence on Ed McBain's 87th Precinct series. The notion of telling several different stories in the course of one presentation may also have influenced John "J.J. Marric" Creasey. Years later its effect is still felt in TV shows like Barney Miller and NYPD Blue.
5. Pay or Die!, screenplay by Richard Wilson and Bertram Millhouser, directed by Richard Wilson (Allied Artists, 1960)
In his best performance since his Oscar-winning role in Marty, Ernest Borgnine portrays real-life turn-of-the-century Mafia-buster Joe Petrosino. Nice period detail, despite a noticeably small budget, good performances by the supporting cast, particularly Zohra Lambert as Petrosino's squeeze. The life of this little-known American hero has also provided material for two novels by British writer Frederick Nolan, No Place to Be a Cop and Kill Petrosino!, neither of which, unfortunately, has been published in the United States.
6. Madigan, screenplay by Henri Simon and Abraham Polonsky, directed by Don Siegel, based on the novel The Commissioner by Richard Dougherty (Universal, 1968)
Very faithful film version of Dougherty's book has top performances by Richard Widmark as Detective Madigan and Henry Fonda as Commissioner Russell. Tight script and top-notch direction by Siegel (who went on to helm Dirty Harry a few years later). Slightly marred by a glossy look Universal was giving all its releases at that time, but that's a minor quibble. Widmark went on to star in a short-lived Madigan TV series which rotated with several other shows on NBC's Mystery Movie wheel.
7. The Detective, screenplay by Abby Mann, directed by Gordon Douglas, based on the novel by Roderick Thorp (20th Century Fox, 1968)
Frank Sinatra, in one of the many tough guy roles he essayed during the '60s (i.e. The Manchurian Candidate, Tony Rome, etc.), ably portrays Lieutenant Joe Leland, a precinct squad commander on the way up, who discovers that the case on which he's built his reputation, a nasty homosexual murder, might be a fraud; that he might, however unwittingly, have sent an innocent man to the electric chair. As he reinvestigates the case, powerful forces move to thwart him. Good performances by Jack Klugman, Ralph Meeker. Horace McMahon, who played avuncular old coppers in the stage and film versions of Detective Story and in the TV version of Naked City, is cast wildly against type as an avuncular old copper. One of Jacqueline Bissett's first American movies.
8. The French Connection, screenplay by Ernest Tidyman, directed by William Friedkin, based on the book by Robin Moore (20th Century Fox, 1971)
Not much to be said here. Five Oscars, including Best Picture, Best Director, Best Actor, and Best Screenplay (adapted). An Edgar. A bunch of Golden Globes. Just about every critic's top ten list. The best chase scene (with the possible exception of Bullitt) ever filmed. That just about says it all. On the off chance you've never heard of it, Gene Hackman as Jimmy "Popeye" Doyle and Roy Scheider as Buddy "Cloudy" Russo (fictional analogs for Eddie Egan and Sonny Grosso who appear in supporting roles and who acted as technical advisors) relentlessly pursue an international heroin smuggling ring. The result is one of the best action films ever made.
9. Serpico, screenplay by Waldo Salt and Norman Wexler, directed by Sidney Lumet, based on the book by Peter Maas (Paramount, 1973)
Like a latter-day Cagney or Robinson, Al Pacino has played many roles, and played them excellently, but is best-remembered for his gangsters (the Godfather trilogy, Scarface, Dick Tracy, Donnie Brasco, etc.) and his cops (Heat, Cruising, Sea of Love, etc.). His first, and best, cop role was this excellent fictionalization of the career of Frank Serpico, the incorruptible vice cop who exposed the deep-seated system of graft and payoffs in the NYPD, setting in motion the chain of events that culminated in the formation of the Knapp Commission. A made-for-TV sequel (or perhaps, more correctly, "in-between-quel") called The Deadly Game starred David Birney as Serpico and led to a short-lived, but well-done Serpico television series. Director Lumet went on to do a very similar movie based on Detective Bob Leucci's career, The Prince of the City.
10. Fort Apache—The Bronx, screenplay by Heywood Gould, directed by Daniel Petrie (20th Century Fox, 1981)
Paul Newman and Ken Wahl as beat cops in the worst precinct in America (or at least in NYC) can do little to keep a lid on crime in the stricken neighborhood they patrol. Little in the way of a cohesive plot; it's more of a series of vignettes. Some of the irony is also a bit heavy-handed. Having said that, it must also be said that the film is a harrowing look at impossible job faced by cops in the country's worst urban neighborhoods. The violence, the drugs, the racial tensions, are all presented with stunning effect.
The Top 10 TV Shows
1. Naked City (ABC, 1958-59, 1960-63)
John McIntyre and James Franciscus took over the roles that Barry Fitzgerald and Don Taylor had in the 1948 movie for the first season of this show. Later Horace McMahon took over from McIntyre (whose character was killed off). After a year's hiatus, the show returned with a mostly new cast (including Paul Burke as young Detective Adam Flint), expanded from its previous half-hour length to a full sixty minutes. The hour-long version was something of a critic's darling, but I personally preferred the tighter half-hour episodes from season one. Like the movie, this was filmed entirely on location in New York City.
2. N.Y.P.D. (ABC, 1967-69)
Jack Warden as a tough old lieutenant, Robert Hooks as a veteran detective, and Frank Converse as a young rookie turned in creditable performances in this highly effective half-hour series, done with the cooperation of the NYPD. Like Naked City, it was filmed on location.
3. Kojak (CBS, 1973-78; ABC 1989-90)
An exceptionally fine made-for-TV movie, The Marcus/Nelson Murders, based on the real-life Wylie/Hoffert case, introduced viewers to Telly Savalas as Lieutenant Theo Kojak, commander of the detective squad at the Manhattan South Precinct. Garnering critical kudos and high ratings it led to a long-running series a year later. The series left the air after five successful seasons. Kojak returned for two "reunion" TV-movies, The Bellarus File and The Price of Justice during the '80s. Finally, ten years after the original series ended its run, ABC brought the series back for one more season. Kojak himself, now an Inspector commanding the city-wide Major Crimes Squad, was the only returning character. Two NYPD detectives who served as technical advisors on the series, Sonny Grosso and Burton Armus, went on to become TV producers themselves.
4. Barney Miller (ABC, 1975-82)
Ask most real cops what their favorite cop show is and they'll say Barney Miller. Unlike most cop comedies (i.e. Car 54, Where Are You? or The Andy Griffith Show), Barney's cops were not buffoons or bumpkins. They were competent professionals, with human foibles, who faced an unpleasant, sometimes dangerous job with a sense of humor. In that respect, Barney Miller was law enforcement's M*A*S*H. Barney Miller got a lot of the technical details wrong. Squad commander Barney was a captain, for instance (in real life, he'd be a lieutenant), and virtually every detective on his squad was a sergeant (actually there'd be, at most, one, possibly two sergeants in a precinct squad). But it got the sense of things so right, that no one seemed to mind.
5. Eischied (NCB, 1979-80)
A made-for-TV version of To Kill a Cop got high ratings for NBC during the 1978-79 season. Joe Don Baker, best known for down-home action roles in movies like Walking Tall and Guns of the Magnificent Seven, was not exactly the performer one immediately thought of when trying to cast the part of a New York City Chief of Detectives, but he did a fine job. The series that inevitably followed that September was very well-done, but, unfortunately, very short-lived as well. Lasting only a half-season, it managed, during that time, to get some great episodes on the air. Robert Daley, perhaps inspired by his TV success, wrote and published his second cop novel shortly after the series was broadcast.
6. Cagney and Lacey (CBS, 1982-88)
Now I'll admit that this was a well-done series, that gave a good sense of what women in the predominantly male club of the police service faced. It had good scripts, good performances, good direction; it was always worth watching. That said, I have to add that I found all the liberal posturing on the show irritating as hell, and if I'd been able to catch more than one episode of an earlier series about NYPD policewomen (Decoy, a syndicated series from the '50s in which Beverly Garland played an undercover detective named "Casey" Jones), I might have picked it instead of Cagney and Lacey.
7. Night Heat (CBS, 1985-89)
This no frills series, filmed in Toronto because filming in NYC was too expensive, was one of several made by former NYPD Detective Sonny Grosso's production company. It was not exactly high-concept. Just two precinct detectives working the night shift. The criminals they encountered were unbelievably vicious, but, after all, the show was produced for the late night audience, not prime-time. Scott Hylands, who brought a world-weary "been there done that" attitude to his role as a veteran cop, was the standout in a fairly large regular cast (a lot of whom sounded more Canadian than Brooklyn, but why quibble). A good show that made up in substance what it lacked in style.
8. Law & Order (NBC, 1990-)
Back in the '60s there was a short-lived television series called Arrest and Trial that was built around a novel concept. Rather than simply showing the police investigation, like say Dragnet or Naked City, or just the trial, like Perry Mason or The Defenders, they'd show both. During the first half, we'd watch the cops track down their quarry; during the second we'd watch the trial of the defendant they'd arrested. They made two mistakes. First, at an hour and a half, Arrest and Trial was too long. Second, the two lead characters, cop Ben Gazzara and defense lawyer Chuck Connors were adversaries, which put the audience in a quandary. After spending forty-five minutes rooting for Gazzara to catch whoever he was chasing, you were supposed to spend the next forty-five minutes rooting for Connors to get him off. This was bound to make viewers feel schizophrenic, so the show tanked. Years later producer Dick Wolfe recycled the concept, only this time he got it right. Streamlining it down to an hour, he made the attorneys prosecutors, so that the viewer was rooting for the same thing throughout the episode.
Law & Order is the finest single cop show currently on the air (and yes, that includes NYPD Blue and Homicide). The scripts are consistently the best-written on television, packing so much into an hour, you come away swearing you've just seen a full-length movie. Of five teleplays nominated for the 1996 Edgar in the Best Episode from a TV Series category, four, including the winner, were from Law & Order. Over the years it's been on, numerous cast changes have been accomplished with singular grace. Filmed on location in NYC, it has an authentic look. So far, the 1997-98 season is looking like its best ever. Most TV series run, even good ones, out of steam after a few seasons. Law & Order just gets better and better.
9. NYPD Blue (ABC, 1993-)
It's not as good as everybody says it is, and it's certainly not as good as it thinks it is. But it's still damned good. In fact it's one of the best cop shows ever put on the air. It's good enough, in fact, that it doesn't need the gimmick of body parts that have never before been seen on TV, or words that have never before been heard on TV. It's good enough to succeed without that. It's a shame they didn't try. I've been watching reruns from the first season, and I have to say that NYPD Blue is not as good as it used to be. But improvement from season to season, like we see on Law & Order, is rare. NYPD Blue is still one of the best things on TV.
10. Brooklyn South (CBS, 1997-)
As a uniformed cop, I'm naturally disposed to like anything that focuses on uniformed cops instead of detectives. That's why I liked Adam-12 and High Incident. If Steven Bochco is a latter-day Jack Webb, and NYPD Blue his Dragnet, then Brooklyn South is his Adam-12. It's only been on a few months, but I'm already hooked. This gritty look at the beat cops patrolling NYC's second biggest borough is my favorite show of the Fall Season.
NYPD has, as we've seen, provided grist for a lot of mystery-makers' mills. And, long as this two-part article is, I've only scratched the surface. Aside from all the novels, short stories, movies, and TV shows I didn't mention, there are all the NYPD stories in other media. What are the ten best stage plays, the ten best radio shows, the ten best comic books or strips, the ten best non-fiction books? If the Journal ever makes another visit to the Big Apple, that might be material for another article.
---
The Body in the Big Apple
by Katherine Hall Page (Lexington, MA)
"Faith Fairchild, recently of New York City, paused to catch her breath."
This was the first line in my first book, The Body in the Belfry. My homesick sleuth is looking down at Aleford, Massachusetts' green—"so very green and like a tablecloth spread out for a tidy picnic"—wondering how she could have traded the Big Apple for Mclntoshes, which she hates. In fact, it was because of the Reverend Thomas Fairchild and the geography of love. And it wouldn't have been nearly so much fun for me, the author, to have a character who didn't chafe somewhat at her existence, offering an outsider's viewpoint.
Aleford, the coast of Maine, Norway, France have been settings for various books, but the backdrop is New York. Faith could, and perhaps will, spend the rest of her life in New England, but she'll always be a New Yorker. She reads the New York Times and makes regular trips home for Zabar's whitefish salad, visits to Barneys and Bloomie's, the MOMA, and Carnegie Hall. She longs for a "whiff of that heady combination of roasted chestnuts and exhaust fumes that meant autumn to her." She hears that someone has moved out of town and immediately begins to speculate about what's happened to his old place—"Faith would always enjoy playing that absorbing, perpetual New York game 'Apartment, Apartment, Who's Got an Apartment?'"
Of course, it is unlikely in the extreme that Tom Fairchild would consider even a pied-a-terre in Manhattan "since deep down he maintained the typical New Englander's view that the Dutch had been taken to the cleaners. And why hadn't they wanted to hold onto those beads anyway? You never know, they could have come in handy some time—like short pieces of string and rumpled tissue paper, both stored away in many a local dwelling. If the Dutch had kept their shiny objects, they just might have been able to trade them for a really great island, like—say Nantucket."
I unabashedly love New York and those TV ads promoting the city a few years ago used to send me reaching for my car keys. I've lived in Massachusetts since 1965, but in a totally unrealistic way tend to think of it as temporary, a sojourn. I don't consider myself in exile as does Faith, but she's much more dramatic. We are both from away, though, and will be considered as such no matter how many years we live here.
It was this "foreign" perspective on the interior and exterior landscapes of New England that I wanted to bring to the books. Faith can step outside the calendar picture and see what's really going on behind the Technicolor foliage. She can laugh at foibles, be amazed at certain traditions, and break shibboleths—wittingly and unwittingly. She rings the alarm bell in the belfry upon finding a still warm body inside—a somewhat quaint form of 911, she assumes, and the rational thing to do. However, the bell is only supposed to be rung on Patriot's Day during the re-enactment of the events of 1775 and for the deaths of Presidents and descendants of original settlers. "In the days that followed, the actual murder itself was almost eclipsed by the debate that raged within the town over whether Faith should have rung the bell or not." Faith reacted as a New Yorker, not a Yankee.
I didn't grow up in New York. I grew up in Northern New Jersey, but it wasn't too far from Manhattan. In adolescence, my friends and I used to say we lived "just outside the city," omitting the fact that we crossed a state line to get there. New York was exciting, glamorous, and fun. We weren't old enough to appreciate Jersey tomatoes, Cape May, and the Pine Barrens, although going "down the shore" was okay. My husband, though, is the genuine article. He's from the Bronx and when he meets someone else from there, time stands still and talk turns to the Grand Concourse, the "nabe," and egg creams. His house is now part of the Cross Bronx Expressway, but he can still point out his elementary school to our son as we whiz past. New Yorkers are very sentimental.
New Yorkers also have an edge, as long as I'm making sweeping generalizations. I didn't want a "nice" sleuth. I wanted someone who said what was on her mind and had decided taste. Faith is a bit spoiled, a food and clothes snob, "a specialist in snap judgments." This edge is gradually being honed by marriage, children, and age, but Faith will never wear polyester or eat anything with "Helper" in the title on the box.
Detective Lieutenant John Dunne is also a New Yorker, indeed from the Bronx. While not exactly Faith's partner, especially in his mind, Dunne is certainly her foil and I wanted to place him squarely beside her, outside the frame. He shares her prejudices—"Egg creams were nothing to joke about"—and he shares her vantage point. A whole lot of things in New England puzzle him—or worse.
The obvious thing for both Faith and me is a book set in Manhattan and that will come to pass. A fan gave me the title, The Body in the Big Apple, and it's the book I'll be working on after the next one is done. It's the ultimate paean to Faith's roots. I'm making it a prequel to unencumber her—no husband, no kids. Unlike life, one can do these things in fiction. She's just out of college, the city her playground, albeit a deadly one as she comes to the aid of a friend caught up in a nightmare.
Buy this back issue! Available in hardcopy or as a downloadable PDF.