Volume 13, No. 4, Winter 1997-98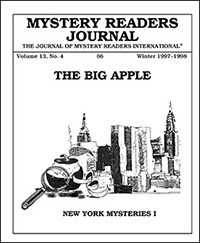 Buy this back issue! Available in hardcopy or as a downloadable PDF.
TABLE OF CONTENTS
New York As the Scene of the Crime by Alzina Stone Dale
New York's Finest by Jim Doherty
S.J. Rozan's New York by Andi Shechter
Dicks From Sticks Throw Bricks, Aren't Hicks by Carolyn Wheat
Wax Apples by Jim Doherty
New York in Dorothy L. Sayers' Fiction by Philip L. Scowcroft
THE WRITERS WRITE
Give Me Park Avenue by Joyce Christmas
Cat in the Big Apple by Carole Nelson Douglas
N.Y.C. P.I. by Parnell Hall
Manhattan and the Vagrant Feet of Youth by Michael Jahn
New York—It's Family by Randye Lordon
Lt. Sigrid Harald, NYPD by Margaret Maron
I'll Take Manhattan by Annette Meyers
I Like New York in June by Martin Meyers
Why New York? Why Not? by Ellen Emerson White
Alien Invaders in Gotham! Scientists Analyze Intergalactic Substance Dubbed 'tude by Polly Whitney
COLUMNS
MYSTERY IN RETROSPECT: Reviews by Don Sandstrom, Harriet Klausner, Maryelizabeth Hart, Carol Harper, and William Deeck
In Short: Cornell Woolrich's "Big Apple" by Marvin Lachman
The Reference Book Case by Harriet Swift
The Bruised Side of the Big Apple by Beth Fedyn
A Mystery Reader Abroad: Variety Is the Spice of Life by Carol Harper
MRI MAYHEM by Janet A. Rudolph
Letters to the Editor
From the Editor's Desk
---
Give Me Park Avenue
by Joyce Christmas
One day back in 1987, I decided it was time to write a mystery, after the experience of writing three not-so-terrific straight novels. I knew I couldn't write a gritty P.I. mystery, or a police procedural, but a cozy—that seemed entirely feasible. Then I thought about the task of creating my own St. Mary Mead, a quiet, little village where cozies seem usually to be set, where everybody knows everybody else—and everybody else's business. But I was a long time gone from small town living, and I was gone for the very good reason that I didn't like small towns. I was a New Yorker now, where people might know their immediate neighbors, the guy at the deli, and the man who sells newspapers, but not the massed millions, and certainly if I knew anybody's business, it was because it appeared as a headline in the New York Post.
So how was I going to write what I considered a proper cozy. with the feeling of an enclosed community, the familiar place where everybody knows everybody, and still murder occurs, to be solved by one of the citizens of the village? On the surface, New York didn't seem to be that place.
For a time, I worked in public relations for a firm that promoted society galas, grand charity events. I wrote news releases about gowns and tiaras, and the mighty rich who paid for a seat at the banquet table with a hefty check that was passed on to help the less fortunate. Yet as I addressed invitations in a fine italic hand to society dames and expatriate titles to lure them to a glittering ball or a reception—all in a good cause—it occurred to me suddenly that I'd found my cozy, closed setting after all.
Here was a small social world that could be made to come to life (and death), a specialized little community in the middle of bustling New York City.. I had the characters: society people who only know each other and certainly know all about each other's business. They may think they know their servants, hairdressers, clothing designers, chauffeurs, manicurists and doormen, but really know little of their lives. They are people who don't go too far uptown or downtown, but stay pretty much on familiar Upper East Side streets and the residential avenues like Fifth and Park. They don't know how to take the subway, although they might be persuaded to get on a bus, and only vaguely understand that the city is not just Manhattan, with its designer boutiques on Madison Avenue, the expanse of Central Park along Fifth Avenue, and a few really good restaurants, but it is also Brooklyn, Staten Island, the Bronx and Queens (the latter fitfully glimpsed on the way to Kennedy or LaGuardia airports).
Here was my village: an enclosed (mentally, at least) settlement of prosperous, socially ambitious women—and men—who seldom strayed beyond the accepted boundaries, unless it was to summer in the Hamptons or travel to Europe for the fashion shows, to Colorado to ski, or to the Caribbean to find the sun. They dally with the wives and husbands of others in their set, and emerge from dark limos around Wall Street to make their money or around Bergdorf's or Henri Bendel's to spend it.
There's a lot of fun to be had in viewing the Apple down the length of a scornful (possibly cosmetically enhanced) society nose. I have always tried to make my upper-class expatriate British sleuth, Lady Margaret Priam, somewhat more generous in spirit and warmth toward the lower orders than the society ladies she deals with. Margaret, after all, comes with a title and the responsibilities of being an English aristocrat, from a class which, for all its failings, does understand noblesse oblige and the necessity of being polite to everyone from the chimney sweep to the grooms in the stables, the tradesmen in the shops, and the long-time family retainers.
Margaret sees Manhattan as an outsider, a stranger examining a new place which has curious customs to be sure, but at the same time, she well understands the close-knit bonds of real or presumed "upper class" society which looks upon her as one of their own kind.
When I saw how I could impose the cozy formula on an outwardly "uncozy" place like New York, I couldn't wait to set to work. Helene Harpennis's charity ball for Adjuvant Youth held in one of the old Park Avenue mansions (now the headquarters of a cultural organization) and topped off with murder in Suddenly in Her Sorbet, is an event that could only take place in social New York. A Fete Worse Than Death takes another view of New York, that of the wannabes who will trade money for a title, just to be elevated to the next level of the social pyramid, doing all the right things, eating at the right restaurants, wearing the right designer labels. Simple to Die For swings between coveted shoreline estates in Connecticut and the competitive bustle of debutante balls at the best New York hotels attracting the attendance of the very best people. Mourning Gloria focuses on the slightly bizarre undertaking of the upper classes in many places, the designer showhouse. Here, the minions of the New York social elite—their interior decorators and the like—demonstrate their important functions as servitors and their aspirations to dictate taste to their masters.
Even if my characters stray from the actual social New York village, they bring their particular village mindset with them, when they meet and mingle with others of their kind in other enclaves of the socially inclined (Beverly Hills in A Stunning Way to Die, the last of the colonial Caribbean ruling class in A Perfect Day for Dying, or even Margaret's home turf, England, in Friend or Faux.) The society village exists in many places. I even allow Lady Margaret to test the waters of the Outer Boroughs in It's Her Funeral, where much of the action takes place in Queens on the other side of the East River far from the skyscrapers and luxury apartments of Manhattan. Margaret is again an outsider, only this time the village is a fairly typical, tight-knit Queens neighborhood, where gentrification disrupts ordinary life.
My Manhattan village is more colorful than St. Mary Mead, which surely didn't have a Korean greengrocer on every corner, facing a Greek diner on the opposite side of the street, cheek by jowl with an old-fashioned Jewish deli. The country roads of England of Christie's day didn't have Sikh taxi drivers in turbans (although they may now), or Russian, Haitian and Filipino immigrants looking up at tremendous, shining skyscrapers. The inhabitants of Lady Margaret's village may scarcely notice those exotic fellow residents, or see the heart-lifting beauty of the Chrysler Building and the Empire State Building as the sky pales at sundown and the lights come on, but those in the end are the elements of New York that make it a wonderful place to set a mystery. Pale, thin society ladies, with marital discontents and the desire to climb to the highest rung of an exclusive ladder, are set, dressed in designer frocks, against that colorful, multi-faceted background, where anything is possible, even a carefully planned murder. At the same time, there's still plenty of grit for the gritty P.I. to kick aside, and enough run-of-the-mill murders to keep dozens of police procedurals going.
In fact, there's so much to draw on for a New York setting, that in my second series (featuring senior sleuth Betty Trenka), I retreated to peaceful, small-town Connecticut, with its more limited scope for mischief. Even after nine Lady Margaret books (Going Out in Style appears in 1998), I still say, Give me Park Avenue. I won't tire of trying to construct entertaining mysteries set in one of the varied villages of the Big Apple, especially the one where the players go out to lunch in their minks, with their Ferragamo shoes and Botega Veneta handbags.
---
N.Y.C. P.I.
by Parnell Hall
Cynics familiar with my work might point out I set my Stanley Hastings mysteries in New York City because I live there and I am basically lazy and hate to do any research. They would of course be right. While I might argue it pays to write what you know, a more forceful argument might be it doesn't pay to write what you don't. At any rate, I spent two years working as a private investigator in New York City, and I'd be a fool not to make use of it.
Yes, I'm a ex-P.I. That's all right, you need not swoon when you meet me. Any resemblance between me and what you probably think of as a P.I. is entirely coincidental and not to be inferred. I didn't carry a gun and have fist fights and car chases, or any of that stuff private eyes do on TV. I worked for an investigation bureau that serviced negligence lawyers. I carried a camera and photographed people's broken arms and legs and the cracks in the sidewalk that tripped them.
Which is what my hero, Stanley Hastings does. Stanley is just an average guy, a failed actor-writer, working as a private investigator, trying to support a wife and child in New York City. As I can attest to, this is not easy. But it is a wonderful background for a series.
The City itself is a presence, which flavors every book. A Washington Post review once said that Stanley's descriptions of alternate side parking in New York City were as entertaining as the murder. Granted, there are two ways to take that, still, as the review was positive, I have to assume the reviewer enjoyed Stanley's tribulations. I am glad. Every morning when I drive my car from one side of the street to the other, then sit in it for half an hour to avoid getting a ticket, I am pleased to think someone finds this amusing.
Another book has Stanley, while trailing a suspect, turn off Riverside Drive onto another street named Riverside Drive, and arrive at a corner where several roads merge, two others of which are also Riverside Drive. Only in New York.
This is nothing compared to the subway system. In one of my books Stanley tails a suspect who gets off the train at Times Square. Unfortunately, the man turns toward Stanley, and Stanley has a big problem. He is now ahead of the man, and has to anticipate where he is going. And the 42nd Street Times Square station is where a zillions lines merge, including the IRT, the BMT, and the Shuttle to Grand Central, offering such trains as the 1, 2, 3, 9, N, R, F, with tunnels, ramps, and stairs to all of them, not to mention the street. With Stanley walking ahead of his quarry, which way should he choose? Is it any wonder the poor man is constantly on the verge of a nervous breakdown?
Then there's Penn Station. Never mind the endless repairs and renovations that make this subway stop an ever-changing challenge. The platform itself is special. Penn Station is of course an express stop. All other express stops in New York City have a platform between the express and the local so you can transfer from one to the other. Not Penn Station. Instead, the platform is between the uptown express and the downtown express, offering an easy transfer only to those commuters who in mid-trip have changed their minds, and decided to go the opposite direction. One wonders what the architect was thinking of: "Wait a minute—what about those commuters who forgot their briefcases?"
But Stanley is most often in his car, driving around the five boroughs of New York, waiting for the law firm of Rosenberg and Stone to beep him and send him out on another case. Which is nice, since New York offers such varied settings. Stanley's investigative work has taken him to: a crack house in Harlem where Stanley had to step over junkies hanging out on the stairs, and the only thing that kept him from getting mugged was the fact they mistook him for a cop; a Park Avenue duplex, the monthly rent for which was probably more than Stanley earned in a year; a theater in SoHo where a rehearsal for an off-Broadway play was in progress; the Criminal Court Building on Centre Street, where many New Yorkers have raised avoiding jury duty to a work of art. He's also had his share of hospitals, police stations, morgues, parks, playgrounds, basketball courts, housing projects, tenements, slums, topless bars, porn shops, OTB parlors, investment firms, law offices, delis and supermarkets.
His latest outing, Suspense, in which Stanley bodyguards the wife of a best-selling author, is set against the background of a New York City publishing house.
Now there's a place where anything might happen.
Buy this back issue! Available in hardcopy or as a downloadable PDF.