Volume 12, No. 1, Spring 1996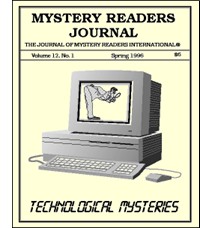 TABLE OF CONTENTS
The New Sidekick: The Computer Whiz by Jackie Harris
Unfriendly Users by Roberta Ann Henrich
Robotics Development, Sabotage, and a Little Romance by Carolyn Kacena
Titan of the Techno-Thrillers: The Jack Ryan Novels of Tom Clancy by Jim Doherty
True Crime and Biotechnology by Carol Harper
We Can Have Detective Stories in Science Fiction by Patrick McGuire
Technology and British Crime Fiction: A Few Titles by Philip L. Scowcroft
Forensic Technology and the Victorian Sleuth by Bill and Susan Albert
Fremont's Typewriter: An Example of Early Tech in the Mystery by Dianne Day
"Corn Sex" and Computers by Linda Grant
The Technology of Forever by George M. Greider
Twenty-Twenty Hindsight by Susan Holtzer
Science, New Age, or Magic? by Lia Matera
Patricia Delaney—Electronic Gumshoe by Sharon Gwyn Short
COLUMNS
Mystery in Retrospect: Reviews by Sally Cadagin, Kate Derie, Carol Harper, Carolyn Kacena, Peter Kenney, Patrick McGuire
In Short: High Quality Tech by Marvin Lachman
The Reference Shelf by Ellen Nehr
Mystery in Cyberspace by Kate Derie
Just Juveniles: Kids and Computers by Nancy Roberts
A Mystery Reader Abroad: Mystery, Egyptian Style by Carol Harper
MRI Mayhem
Letters to the Editor
---
The New Sidekick: The Computer Whiz
by Jackie Harris (Walnut Creek, CA)
The sidekick has long been an integral element in mystery and detective fiction: Sherlock Holmes and Dr. Watson, Hercule Poirot and Captain Hastings, Nero Wolfe and Archie Goodwin, Spenser and Hawk. The sidekick needn't even be human—look at Qwilleran and Ko Ko! These days, with technology becoming a greater factor in crime solving, a new sidekick has emerged: the computer whiz.
For several years now, the computer has come into play when the sidekick is a policeman. In Johathan Kellerman's Alex Delaware series, cop-buddy Milo Sturgis is always ready and willing to use the LAPD database at Alex's direction. In Self-Defense (Bantam, 1995) Alex himself does use the university library terminal to access the career of a suspect movie producer, but it is Milo who does the comprehensive computer searches. In The Web (Bantam, 1996) even though the story takes place on an isolated far-off Micronesian island, Alex is still able to command Milo's techno-assistance via long distance telephone.
In Lawrence Sanders' McNally series, Archy works hand in hand with Palm Beach Police Sergeant Al Rogoff who provides access to the FBI database and other law enforcement technology. In McNally's Trial (Putnam, 1995) he has both Rogoff and FBI Special Agent Griffin Kling providing their formidable expertise. However, the ever-engaging Archy insinuates himself into the nefarious proceedings and muddles his way to denouement. Sometimes Archy's antics are so hilarious that it is easy for the reader to lose all grasp of the case at hand!
In Nancy Pickard's Jenny Cain mysteries, Jenny's husband/sidekick, Port Frederick Police Lieutenant Geof Bushfield provides assistance with police department technology. To be fair, in her latest adventure, Twilight (Pocket Books, 1994) Jenny herself unravels what is probably the most vital clue from another hi-tech marvel, Caller I.D.
However, the latest trend seems to be a sleuth who has his/he own access to a computer but is reluctant to go on-line. Thus the emergence of the cyber whiz sidekick.
Julie Smith's New Orleans Beat (Ballantine Books, 1994) revolves around a computer bulletin board called TOWN. Skip Langdon enlists the high-tech expertise of both of her sidekicks, boyfriend Steve Steinman and landlord Jimmy Dee Scoggin, in order to penetrate the world of posters and lurkers.
In Linda Barnes' Hardware (Delacorte Press, 1995), P.I./cabbie Carlotta Carlyle announces "computers have arrived," and vows to go on line. An important part of the story involves her purchase of a PC from a rather shady character who later figures prominently in the mystery. But who takes over the computer? Carlotta's tenant/sidekick, Roz, embraces the Internet "like a natural cyberpunk." Says Roz, "it's kinda like a video game from hell."
In Marcia Muller's Till the Butchers Cut Him Down (Mysterious Press, 1994) super-sleuth Sharon McCone leaves All Souls Legal Cooperative, scene of many previous Muller mysteries, and her old sidekick, Rae Kelleher. Sharon goes into business for herself—McCone's Investigations—and realizes that a computer will be a necessary evil (Rae and the All Souls database had served her needs in the past). So Sharon installs an Apple and is determined to learn to use it. But she is not thrilled with the idea. Enter her nephew, Mick Savage, son of country music star brother, Ricky. Mick can't log enough hours on Sharon's new Apple, and he is determined to be a P.I. himself. Mick plays a significant role ("mostly legal") in solving the case—with a little help from the Hacker's Handbook!
But it is in Muller's latest book, A Wild and Lonely Place (Mysterious Press, 1995) that the World Wide Web is a major player—and with it, Sharon's now apparently permanent assistant, nephew Mick. She leaves him lists of techno-chores involving the access of information from embassies all over the world, which he manages handily, and Mick provides considerable assistance in solving the Diplo-Bomber mystery. At the end Sharon herself must converse with the malefactor via Internet meeting site, but she still doesn't like it! It's probably safe to say that Mick will continue as Sharon's computer-savvy sidekick.
In Patricia Cornwell's From Potter's Field (Scribner, 1995) the medium (cyber-technology) really is the message. Aside from the grisly killings themselves, this book is actually about how it is theoretically possible for a miscreant to infiltrate even the most sophisticated and supposedly secure government computer system—scary stuff.
Cornwell's protagonist, Dr. Kay Scarpetta, while properly respectful of computer technology, is far from computer literate and not eager to learn. In fact, her primary contributions toward this case involve old-fashioned legwork. But her sidekick, niece Lucy, she of the genius IQ, not only knows the FBI's computer system backward and forward, she is the one who actually developed CAIN (Crime Artificial Intelligence Network), the FBI's blockbuster criminal-catching program. Lucy has figured in past Cornwell mysteries, but primarily as a worrisome irritant to Aunt Kay. This time her computer know-how has significant results. But she's still an irritant: a techno-brat, if you will!
Perhaps Cornwell and Muller are starting a trend here toward youthful relatives as cyber-sidekicks. If so, Nancy Pickard better get Geof's adopted son, David, off his motorcycle on Port Frederick's byways—and onto the Information Superhighway.
---
"Corn Sex" and Computers
by Linda Grant (Berkeley, CA)
[My partner] Jesse has a theory that the computer revolution created a new frontier. He likes to compare today's entrepreneurs, software geniuses, and venture capitalists to the gamblers, gunslingers, and prospectors of long ago.
—A Woman's Place
My sleuth, Catherine Sayler, doesn't do the mean streets routine. Mean corridors, maybe, nasty boardrooms, treacherous bypasses on the info highway. She prefers doing her tracking on line to sitting in a car and staring through field glasses (what intelligent woman wouldn't?). But in Catherine's work the "new frontier" is every bit as dangerous as the old one.
In Random Access Murder she's up against a gunslinger in search of a trade secret, and in Blind Trust she faces a bank robber as deadly as Pretty Boy Floyd. Since the gunslinger works in Silicon Valley, the Dodge City of the high-tech world, the trade secret has to do with the computer industry and its "gray market." The bank robber is armed with information about a flaw in the computer system, and with a gun for backup. In A Woman's Place Catherine goes undercover to deal with sexual harassment in a software firm that Jesse describes as "an honest, hard-working community that has just acquired a band of roving gamblers and is trying to teach them to sing in the church choir," and finds the stakes far higher than in a boom town poker game.
I chose to have Catherine specialize in high-tech crime because technology interests me. Not the products of technology, the gadgets and machines that proliferate around us, but the effect that those products have on our lives. One cannot hope to understand the last decades of the twentieth century without considering the impact of technological change. It shapes the society we live in, and our future.
Because it plays such a crucial role in society, many of the most interesting and important issues of our time arise within technology-based institutions. Setting my books in such organizations gives me a chance to explore some of those issues. It also allows me to learn about subjects I wouldn't normally encounter and to poke around in fascinating subcultures I didn't know existed.
My next book, Lethal Genes (to be published by Scribners in October), is a good example of how the process works. It all started when Michael Freeling, a friend who is the head of a genetics lab at the University of California, Berkeley, suggested that if I ever wanted to do a book about "Big Science" he had plenty of material. My knowledge of genetics was limited and largely obsolete, but both the subject and the world of "Big Science" intrigued me. When he began to describe how a poorly run lab could disintegrate until the behavior of its members resembled that of a large dysfunctional family, I was hooked.
I started my research with a visit to the lab. The students were enthusiastic about the idea of collaborating on a mystery novel. They patiently explained what they were doing and why, answered my questions on genetics, and suggested victims from among their number along with means of doing them in. They told horror stories of "labs from hell," took me through their greenhouses, and introduced me to the world of maize genetics ("corn sex").
To base a mystery on highly technical material you either have to be an expert yourself or you have to have sources willing to involve themselves in the story and come up with suggestion. I'd love to claim credit for the ingenious scientific mystery that parallels the crime story in Lethal Genes, but this too was the product of Michael Freeling's fertile brain. As I've done in past books, I focused on asking the questions and shaping the answers into a plot. It's not the kind of research you can do in a library. I could probably have gotten the information from books, but I'd have missed the chance to spin out an idea and have Michael say, "Okay, but what if…" or "Hey, how about this?" And such serendipitous suggestions provided some of the best material in the book.
Each of my books has offered me a chance to learn about a fascinating field that I wouldn't otherwise have explored. I hope I've been able to share the pleasure of that exploration with readers. The high-tech world is an area of phenomenal growth and vitality. Fortunes are made and lost. Egos inflate like dirigibles, often with explosive results. Just as the Old West provided a fertile field for both criminals and fiction writers, the new frontiers of the technology industries offer a rich source of material for the same two groups.