Volume 25, No. 4, Winter 2010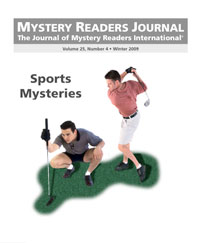 Buy this back issue! Available in hardcopy or as a downloadable PDF.
TABLE OF CONTENTS
The Turf and the Gridiron in Detective Fiction by Gary Garner
Adventure Crime-A Wild Niche in Sports Crime by Jessica Simon
Four Legged Champions by M.E. Kemp
Crossword: Win, Place, and Show by Verna Suit
The Mystery of Sports by Mark Segal
AUTHOR! AUTHOR!
Where the Cameras Can't Follow by Deborah Atkinson
The Dark Side of Sports by Michael Balkind
Training To Write by Rachel Brady
How I Became a Ski Bum at Midlife by Wendy Clinch
How I Became a Biker by Julie Compton
Running the California Coast by Alan Cook
Why Golf? by John Corrigan
Sports and the Mystery of My Improbable Biceps by Diana Deverell
Dreams and Sports by Mary Cnnningham
Dead in the Water by Carola Dunn
The Wide World of Equine Sports by Kit Ehrman
Who Killed the American Baseball Dream? by Robert Elias
A Diehard Cub Fan by Robert Goldsborough
Show Me the Money: A Murderous Sports Connection by Robert Greer
Minnesota Games by Elizabeth Gunn
The Surfing Detective mystery series by Chip Hughes
How Bad Golf Changed My Life by Roberta Isleib
Murder in the Bullpen by N.J. Lindquist
Whowonit? by Peter Lovesey
Any Chance of a Game? by Edward Marston
Horse Racing Mysteries by John McEvoy
From Sportswriting to Crimewriting by Brad Parks
Why Write About Sports? by Twist Phelan
Surfing and Detective Work by Neil Plakcy
Chariots and Curses and Crashes, Oh My by Mary Reed
When Sports History Is a Sports Mystery by Linda L. Richards
Bitsy, Baseball, and Life by Vonda Skelton
A Murderous Fastball and a Killer Curve by Eric Stone
A Puckhead Born Susan Swift
When Sports Are Pilikia by Mark Troy
Cold Winter Nights Can Be Murder by Anne White
Sports Mysteries and Me by Mark Zubro
Driven by Simon Wood
COLUMNS
Mystery in Retrospect: Reviews by Lesa Holstine
In Short: In Sport by Marvin Lachman
The Children's Hour: Sports Mysteries by Gay Told Kinman
Letters to the Editor
From the Editor's Desk by Janet A. Rudolph
---
Horse Racing Mysteries
by John McEvoy (Evanston, Illinois)
One of the features of what my parents considered my misspent youth was learning about the sport of thoroughbred racing and how to bet on horses at a bookie joint in my hometown of Kenosha, Wis. A buddy and I would finish our baseball games in the summer league for teenagers, then sneak down the dark stairway of a downtown office building into a basement pool room/horse room known as "The Hole." There, under the permissive eye and occasional guidance of the owner and his adult clientele, we gained valuable knowledge regarding odds, past performances, parlays, round robins, bad beats, how to lose with at least some semblance of grace, and how to win without gloating too irritatingly. You could bet as little as 50 cents. The proprietor, a one-time Major League baseball player, did not see himself contributing to delinquency by tolerating our youthful presence. Far from it. "You gotta water the seedlings," he often said, "so they can grow into full-fledged suckers."
I can't look back at my educational background and find any experience more instructive, or with cheaper tuition.
A year or two later, when we had driver's licenses, my buddy and I headed south on summer afternoons to Arlington Park in nearby Illinois. An epiphany occurred. We realized that there was nothing more exciting than seeing your picks perform in person. We were hooked for life on the sight of these beautiful competitions. The sport of racing had captured us.
* * *
As Dick Francis firmly established years ago, thoroughbred horse racing is replete with mystery possibilities. The tremendous commercial success of Francis's efforts lured many writers into this field, both in the United States (William Murray, Kit Ehrman, Stephen Dobbins, etc.) and the United Kingdom (John Francome, Lyndon Stacey, etc.).
Racing is fertile ground for fertile imaginations for many reasons. Perhaps major among them is the microcosm of the world that racing is, with its very wealthy owners and breeders at the top of the economic scale, its poorly paid track workers at the bottom, and a vast middle class striving for success. Competition can be ferocious. As the great racing columnist Joe Palmer put it, "The professional horseman is a thorough individualist. He has to be, for his hand is against every man, and every man's hand is against him."
That horses are athletes is obvious to anyone who has ever seen one in motion. What is less well known by the general public is the strength, superior reflexes, and courage brought to the sport by jockeys. They are the only professional group I know of that, when going about their work aboard these 1,000 pound animals that speed along at 40 miles an hour, are followed by an ambulance. Every race. And for good reason. Since 1940, when these records began to be kept in the U. S., 150 jockeys have died as a result of racing accidents. The most recent was Mark Pace, killed in October, 2009 at Blue Ribbon Downs in Oklahoma. The current list of "permanently disabled" jockeys, many wheelchair-bound, measures 55.
As to the riders' athleticism: there was a study conducted many years ago by the renowned California physician Dr. Robert Kerlan. One August, Dr. Kerlan brought America's leading jockey to the training camp of the Los Angeles Rams professional football team. Bill Shoemaker (a very good amateur boxer in his youth) measured 4″11 and weighed between 95 and 100 pounds as he had for most of his terrific career that saw him win an astounding 8,833 races. Shoemaker was an excellent golfer and tennis player as well. Kerlan put all the football players and Shoemaker through the same testing drills—for agility, strength, reaction time, sprints. His conclusion: little Bill was, pound for pound and inch for inch, the best athlete of them all. "Shoe," as he was known, won the world's most famous horse race, the Kentucky Derby, four times.
My involvement with the sport began in 1953. It was the young age of television. One of the media's athletic stars was a horse named Native Dancer, who seemed to be on every other Saturday afternoon winning races. He won 19 of them, only losing the Kentucky Derby in a photo. He intrigued me.
After a few years in daily journalism, and three years teaching college English, I went to work for the Daily Racing Form, known as the Bible of horse racing. That stint covered more than three decades. In 2000, I wrote a non-fiction book called Great Horse Racing Mysteries. It won a Benjamin Franklin Award. Three other non-fiction efforts followed. Then, in 2004, Poisoned Pen Press published my first racing crime novel, Blind Switch, which involved horses being killed for their insurance values. My second novel, Riders Down, has as its villain a brilliant sociopath and serial killer who fixed races; it won another Franklin Award. Close Call followed in 2008. In it an Irish bookmaker attempts to forcibly take control of a Chicago area racetrack. In April 2010 will come my fourth racing thriller, The Significant Seven, from Poisoned Pen.
Great Horse Racing Mysteries—True Tales From the Track covered a dozen cases. They included the mysterious death of the Australian "wonder horse" Phar Lap in northern California, the deadly shooting of her horse-owning husband by a wealthy Eastern woman, the bridge-jumping suicide of America's leading trainer after he had saddled a winner, the still unexplained 1948 disappearance of a leading jockey and his friends from a fishing boat off the Florida Keys, the theft in Ireland of the equine national hero Shergar.
The plots in my novels are sometimes suggested by real incidents, others by incidents that could have been real, considering the elements of intrigue that permeate racing. Although there is far more provable chicanery in banking and the stock market than in this sport, racing has the reputation as a haven for shady characters. What major enterprise involving money does not? But racing, as a source of important revenue to states and municipalities, is stringently policed. Jockeys step on the scales under the eye of an official before and after each race to insure their mounts carry the assigned weight. Winning horses and losing favorites have their blood and/or urine tested by chemists for illegal drugs. This applies to every one of the thousands of the races conducted each year in this country.
Any enterprise featuring fierce competition, major money, and sometimes jealous rivals, contains possibilities for mystery fiction. Some of my fiction was suggested to me by real happenings. Most of it is the product of my imagination. And that's the fun we have, we racing novelists.
---
John McEvoy is the author of four horse-racing thrillers, five non-fiction books, and a book of poetry. He and his wife Judy live in Evanston, Illinois.
---
Training to Write
by Rachel Brady (Pearland, Texas)
Years ago, shortly after my first daughter was born, I enjoyed a rare moment of solitude lunching alone at a Macaroni Grill. Across the room, a little girl about six months older than mine sat strapped into a restaurant high chair pushing noodles into her mouth with pudgy fingers. I thought I recognized the little girl from a Mommy-and-Me group I'd recently joined. The woman at the table with her was a stranger to me though, and upon closer inspection I realized I didn't know the baby after all. Being a wild daydreamer though, my mind was already wandering.
What if that little girl had been the one I'd known? Would I have called her mother to find out who was with the baby, or would that have seemed nosey? Or what if I'd recognized a missing child instead? What if, just as I dialed the police on my cell phone, the couple paid their tab, picked up the baby, and left? Would I follow them out the door? Leave my own tab unpaid?
That crazy daydream was the germ for Final Approach (Poisoned Pen Press, Oct 2009). I thought I might be able to build a decent story out of my imagined circumstances if I could find a way to make it unique. Not having written anything before, I pored over writing books from my town's library and tried to get an idea where to begin. One thing that came up repeatedly was the advice to "write what you know." But I was an engineer. A new mom. I didn't think there was enough there to carry a plot. Then… enter sports.
In my pre-baby life I'd been a licensed skydiver for several years. The sport had been close to my heart for a long time but I'd traded in my parachute for motherhood. Still missing the thrill of planes, drop zones, and skydives, I wondered if maybe I could blend my experiences in an extreme sport with the missing child idea and somehow craft a suspense novel. I wove the skydiving element into the setting and plot and I liked how it enhanced the story. In my own reading, I'd often appreciated "accidental learning," or discovering new information as part of my journey through a novel, and I hoped my work-in-progress would someday offer this to its readers too.
Completing the manuscript and trying to get it published took years. During that time I discovered many new hobbies—all sports. My excitement for them was due as much to the interesting people I met as to the activities themselves. Ice hockey, marathons, distance cycling, triathlons… I was always training for something. When the time came to think about developing Final Approach into a series, it seemed a natural choice to set each Emily Locke mystery in a new sporting community. As a writer, the decision thrilled me because the creative possibilities seemed limitless. The athlete in me approved too. Suddenly, my grueling early-morning workouts served a dual purpose—fitness and research!
---
Rachel Brady's debut suspense novel, Final Approach, will be released this October. A graduate of Wright State University and The Ohio State University, Rachel works as a biomedical engineer and lives outside of Houston, Texas, with her husband and their three children. Visit her online at www.rachelbrady.net or at her blog, Write It Anyway. Fellow internet junkies can follow her on Twitter (Rachel_Brady) or add her as a friend on Goodreads.
---
Whowonit?
by Peter Lovesey (Chichester, West Sussex)
In life, as in sport, timing makes all the difference. On the very morning Janet, the editor of Mystery Readers Journal, asked me to contribute to her sports-themed issue, a parcel arrived. Soho Press had just reissued the first two mysteries I wrote and it happened that one was about running, the other boxing. My authors' copies in handsome softback editions, with covers by 19th-century artists showing vivid action scenes, stood beside the printout of Janet's e-mail. How could I resist?
Wobble to Death, my first novel, was based on a painful form of endurance disarmingly called a go-as-you-please contest. From the late 1870s through to the 1890s six-day races were staged first in London and then New York and the entrants were promised big prizes. They ran or walked by gaslight around a small track indoors day and night from Monday to Saturday and the best of them covered over 600 miles. The running soon morphed into walking, shuffling and ultimately tottering. The press called it wobbling. To compound the pain of blistered feet, some mean-minded competitors would tip crushed walnut shells into their rivals' boots, or add a laxative to the eel-broth they took as sustenance. Thanks largely to the betting industry, wobbling became a craze and spread to many other cities across Britain and America. It was a mainstay of entertainment at London's Agricultural Hall and New York's Madison Square Garden.
A century on, a more sedentary contest was advertised in London. In 1969 the publishers Macmillan decided to start a crime list and launch it with a £1000 first crime novel competition. This was rather more than my annual salary as a college lecturer so the money was a big incentive. For a novice writer with an interest in the history of running, the wobbles had potential as the setting for a mystery. I remembered how some of the Victorian wobblers resorted to drugs to beef up their performance. The favoured stimulant was strychnine, helpful in minute doses, deadly if too much is taken. Indeed, when a victim jackknifes in agony, the effect is dramatic. It didn't take much more for me to concoct a plot centred on a six-day race at the Agricultural Hall. As well as the matter of whodunit, there would be the added interest of who survived to win the race.
I wish I could say I wrote the book in six days. Actually it took four months. With much advice from my wife Jax, who was in hospital and reading mysteries at a prodigious rate, as well as my draft chapters, I finished Wobble to Death on time and sent it off. I suppose it had the merit of being different from most of the other entries. It won the prize and I was under way as a mystery writer.
Good publicity attended the launch. A 24-hour wobble was held for charity around London's Sloane Square. Barbara Windsor, star of the Carry On movies, walked the first few laps with me and the real contestants. I have to say that Barbara wobbled better than anyone else. And of course there was a party when I was handed the £1000 cheque by Lord Hardinge, the Macmillan crime editor. As he passed it across he said, "I hope you've made a start on the next one."
Scary. I hadn't thought past my wobble. In a mixture of elation and panic I tried to think what I could possibly write next. I stayed with sport, returned to the newspaper library, and started research on bare-knuckle boxing. Out of it eventually came The Detective Wore Silk Drawers. Again, a brutal Victorian sport gave me the theme for a mystery. By the 1880s bare-knuckle fighting was against the law but still practised in secret in muddy fields on the outskirts of London. Word would pass round that a "mill" was arranged in Kent or Essex and a huge crowd would gather. There was no limit to the number of rounds. The pugilists would fight until one was insensible or resigned. I contrived a story about a Scotland Yard man with a little skill as an amateur under the Queensberry Rules going undercover to expose a series of murders. Much to my relief the Macmillan publicity people didn't ask me to dress in silk drawers and stage a faux fight with someone.
I was pleased with the title, but it caused embarrassment to an uncle of mine who went into Brighton Library and proudly asked if they had a copy of The Detective Wore Silk Drawers by his nephew, Peter Lovesey. They said, "No, sir, we don't stock that sort of book and I hope we never will."
The Victorian detectives for this series (as it became) were Sergeant Cribb and Constable Thackeray. They featured in eight books altogether and a TV series. I moved from sport to entertainment for the others, using such backgrounds as the music hall, the seaside, spiritualism and the waxworks. In Swing, Swing Together, I returned to sport, though not of the competitive kind. It was a mystery about a rowing trip along the River Thames, a reconstruction of the journey in Jerome K. Jerome's Three Men in a Boat.
One other sport featured in the Sergeant Cribb books. I attempted a thriller with spy elements, rather than a traditional whodunit. The result was Invitation to a Dynamite Party (in USA The Tick of Death). The plot was much influenced by Ian Fleming's Goldfinger. I analysed the structure of Fleming's book. Rather than the invasion of Fort Knox in the James Bond story, my plot involved Irishmen mounting a bombing campaign in London using the delightfully named infernal machines to blow up public buildings. Instead of the famous golf match between Bond and Goldfinger, I staged a hammer-thowing contest with wooden-handled missiles. The Irish led the world at this sport, so it seemed appropriate. The historical material was authentic, too. In the 1880s the Fenians blew up several buildings, including the detective department at Scotland Yard.
Towards the end of Invitation to a Dynamite Party, the Irishmen attempt to assassinate the Prince of Wales. Thanks to Sergeant Cribb, he survives. I always had some sympathy for Bertie, so I'm glad he lived. Later I found useful employment for him as an amateur sleuth in another short series of books and short stories.
The first was Bertie and the Tinman. Flatteringly described in one review as "Dick Francis by gaslight," the book took horse-racing as a theme, in particular the mysterious death of Fred Archer, the royal jockey. One morning in 1886 when Archer was at the height of his fame he put a silver revolver to his head and shot himself. His last words, overheard by his sister, were, "Are they coming?" How could any writer resist such a mystery? It seemed natural to let Bertie investigate the intrigues of the Victorian racing scene. He was no Sherlock Holmes. You have to read between the lines—they are written in the first person as if by Bertie—to understand how inept he is. But somehow the mystery is solved.
In another, Bertie and the Seven Bodies, he takes us to a house party and indulges in his favourite sport of shooting. The statistics from some of these battues are horrifying to anyone with a respect for life. The real Bertie and his friends sometimes "bagged" 3000 pheasants or 6000 rabbits in a day's shooting at Sandringham. In the book, this slaughter is only a backdrop to the human body count. I wrote it as my tribute to Agatha Christie in her centenary year, linking the daily homicides to the old rhyme that begins "Monday's child is fair of face".
Bertie had one more sporting mystery to detect, in a short story called Bertie and the Boat Race. He is no oarsman himself. As he explains, "My preferred aquatic sport is yachting, not standing on a towpath watching boats of preposterous shape being manoeuvred along a reach of the Thames by fellows in their undergarments."
I returned to track athletics in a suspense novel called Goldengirl, written under my pen-name Peter Lear. A superb Californian athlete, Goldine Serafin, attempts to win a triple victory in the 1980 Olympics and the book is about the exploitation she has to endure from agent, merchandiser, coach and her crazy, pushy stepfather. At the top of this article I mentioned the importance of timing. I wrote the book in 1977 hoping it would coincide with the upcoming Olympics in Moscow. Bad timing. The Russians invaded Afghanistan and the US pulled out of the Games. A movie starring Susan Anton and James Coburn was made and never released. You can sometimes catch it on TV on an obscure cable station. But I did have the satisfaction of predicting in the novel the illegal use of human growth hormone before it became commonplace, earning a footnote in some textbooks about drug use in sport.
The police detective I've deployed over the past twenty years, Peter Diamond, is no sportsman. His physique is a disgrace and he does nothing to improve it. However, in the tenth and latest of the series, Skeleton Hill, Diamond is compelled to follow a round of golf in which both players blatantly cheat. In another chapter he goes to the races, backs a horse called Best Brew (he likes his beer) and loses his money. He's better at whodunit than whowonit.
---
Peter Lovesey started with The Kings of Distance, a history of distance running named Sports Book of 1968 by World Sports magazine. He is a member of the International Society of Olympic Historians and recipient of the Silver, Gold and Diamond Daggers of the Crime Writers' Association. Skeleton Hill is his 31st mystery.
---
When Sports History Is a Sports Mystery
by Linda L. Richards (Vancouver, British Columbia)
One of the things that is both interesting and frustrating about writing books set in what is the relatively recent past is that you get a taste for just how malleable history can be. When you look back, for instance, on things that happened during the Restoration or the Renaissance or any time in the more or less long ago, enough time has passed that there is some historical agreement. With more recent history, sometimes you discover that the amount of time that has passed is so brief, no one has yet had a chance to get concerned about the things that are missing and the big decisions that are still to be made.
Let me give you an example. The third Kitty Pangborn novel, the book I'm currently calling Death Was in the Blood, takes place—as all books featuring Kitty have and will—in Los Angeles in 1931. This time out, some of the action takes place against the backdrop of Olympic preparation, as the Olympics, of course, took place in Los Angeles in 1932.
They were, in many ways, ground-breaking Olympics. On that there is agreement. For one thing, it was the height of the Depression. A number of countries pulled out, as they just couldn't afford to send their teams on such a big trip. Less than half the number of participants of the 1928 Olympics in Amsterdam competed in Los Angeles in 1932.
Those 1932 Olympics in Los Angeles was the first time in history that an Olympic village was built to house the athletes. It was apparently really fantastic, with dining halls and entertainment centers and even a screening room where the athletes could watch moving pictures of their performances of the day. Movie stars would drop by every night and give impromptu shows (so L.A.!), but it was all for the men. The women athletes were housed in a hotel on Wilshire and got left out of all the fun though, in fairness, 1206 men competed and only 126 women.
So all of this is known absolutely: we have first-hand accounts, we have photos and even film. What we don't know exactly is where this village was because it was dismantled right after the Olympics and, near as anyone can tell, beyond one structure that ended up—and still stands—at the police academy in Elysian Park, the rest of that ground-breaking 1932 Olympic village is gone without a trace.
There is agreement that the village was located in the Baldwin Hills, but it might have been in the Blair Hills, an area that's now actually part of Culver City. Or it might have been near Crenshaw and Vernon in the View Park area and, according to the Baldwin Hills Park Web site,
One account places the village in the Crenshaw or Angeles Mesa district, in the hills to the west of Crenshaw Boulevard south of Vernon Avenue. The roads Olympiad Drive and Athenian Way in this area commemorate its history… The village comprised between 500 and more than 600 two-room dwellings and included post and telegraph offices, an amphitheater, a hospital, a fire department, and a bank. The village was built on between 250 and 331 acres that was loaned by the heirs of the estate of Lucky Baldwin. The buildings were removed after the games.
This account is pretty consistent with what I found in other sources: references to developer and stock market speculator Elias Jackson "Lucky" Baldwin, who died in 1909 but whose fortune—by the early 1930s—was still largely intact. Mentions of the Olympic village being constructed at great cost during the Depression, then mysteriously disappearing right after the games.
But there are enough things not mentioned or hinted at that if you're of a certain disposition or mindset, your mind fills in the blanks. The construction of a whole village during the Depression—one that needed to look good, yet not be required to stand the test of any significant amount of time? That would have been a plum contract. A multi-million dollar contract, even in the dollars of the day. One worth killing over? Well, perhaps you'll wait and see.
---
Linda L. Richards is the editor of January Magazine. She is the author of five novels, most recently two featuring Kitty Pangborn, secretary to a gumshoe in 1930s Los Angeles. This piece reflects research work on the third book in that series, a novel whose subplots hinge on equestrian sport and the 1932 Olympics. That book is still in progress at time of writing.
Buy this back issue! Available in hardcopy or as a downloadable PDF.