Volume 34, No. 2, Summer 2018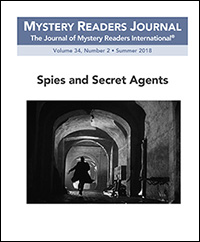 Buy this back issue! Available in hardcopy or as a downloadable PDF.
TABLE OF CONTENTS
The Myth of Mata Hari by Michael Kurland
Into the Deep with Literary Spymaster John le Carré by Kay Kendall
I Spy: A Contributor Remembers Espionage Magazine by Josh Pachter
Adding Spies to Life: The Truth About George Smiley by S. Subramanian
AUTHOR! AUTHOR!
How the Heck Do You Write a Cozy Spy Series? by Anne Louise Bannon
Spies on our Streets by Rona Bell
Tanner Comes in from the Cold by Lawrence Block
My Brush with Spying by Rhys Bowen
Why Spies? by Diana Chambers
The Spy Choice: Real or Fantasy by Michael Chandos
Secret Agent Superheroes by O'Neil De Noux
Of Course I Love Spies, I Was A Reporter by Dan Fesperman
Why Would Anyone Want to Be a Secret Agent? by Simon R. Green
Writing the Wrong: Getting Into the Head of Assassin Characters by Gary Grossman and Ed Fuller
The KGB Convinced Me to Write Spy Novels by Howard Kaplan
Femme Vitales by Anna Lee Huber
Try Not to Tell Secrets by Arthur Kerns
London Spy—Fact and Fiction by Gay Toltl Kinman
Come Spy With Me by Gayle Lynds
The Secrets of Arisaig House by Susan Elia MacNeal
It's All in a Day's Work… But Not That You're Supposed to Know It by Adrian Magson
Is the Spy a Feminist? by Jessica Mann
Spy vs. Me by Terrence P. McCauley
Spies and the Collision of Fact and Fiction by S. Lee Manning
My New Adventure by Anne Perry
Keeping It in the Family by G.B. Pool
A Crowded Field by Bill Rapp
The Perfect Cover by Michael Rose
I Spy a Mystery Series for Young Readers! by Linda Joy Singleton
How My Diary as a DC Intern Turned into My Mystery Novel Debut by Peter Stone
Secrets from Room 40 by E.J. Wagner
COLUMNS
Murder in Retrospect: Reviews by Sandi Herron, Lesa Holstine, Robert Mangeot and L.J. Roberts
The Children's Hour: Spies and Secret Agents by Gay Toltl Kinman
Crime Seen: Cold War Classics by Kate Derie
The Real Spies by Cathy Pickens
From the Editor's Desk by Janet A. Rudolph
---
Tanner Comes in from the Cold
by Lawrence Block
I made the acquaintance of Evan Tanner a year or two before I started writing about him. Two odd facts called themselves to my attention at about the same time: There were a few documented instances of people who never slept at all, and some German chap was the lineal Stuart Pretender to the English throne. So I found myself imagining what life might be like with an extra eight hours of consciousness each day, and along with other traits, I decided the insomniac fellow would champion the Pretender's cause.
And that's as far as that went.
Until 1965, when I actually held a job, my first and last since college. I was in Racine, Wisconsin, editing the Whitman Numismatic Journal (and if you don't own a set of those issues, how can you call yourself a Lawrence Block completist?)
One day at the office I met a fellow named Lincoln W. Higgie, home on a visit after a stretch in Istanbul, where he made a very precarious living smuggling rare coins and antiquities out of the country. (Why precarious? Because if the authorities caught you, they were apt to kill you. That precarious enough for you?)
We hit it off well enough for me to invite him home for dinner, and after dinner he and I pretty much flattened a fifth of Bushmill's. We sat and drank and talked, and he did more talking than I did because he had way more interesting exploits to recount. Like the time he boarded a plane to Zurich with some relic that he intended to put in an auction at the Bank Leu, and something gave him a funny feeling, and he took out the wrapped relic and asked the pleasant middle-aged woman seated next to him if she'd mind putting it in her carry-on luggage for the time being.
She agreed, and moments later some uniformed chaps stood him up and searched him, and went through his own hand luggage, and sighed when they found nothing. And when the plane landed in Switzerland, the woman handed over the parcel. "I don't know what this is," she said, "and I don't ever want to know, but that was quite exciting, wasn't it?"
Damn right I let him do the talking.
And a couple of drinks later, he told me an intricate story of the Armenian community of Smyrna (aka Izmir) at the time of the genocide at the hands of the Turks. The Armenians all gathered their gold, he said, and stowed it beneath the porch of a house in Balikesir, and that was the end of it. Until half a century later a couple of Americans working for Aramco heard the story and decided to hunt for the gold. They managed through considerable research to locate the very house, and broke into the concrete vault beneath the porch, and learned that (a) the story was true, and (b) somebody beat them to it, because the gold was gone.
I may have some details wrong. This was 53 years ago, and, not to put too fine a point on it, Bill Higgie was not the only one hitting the Bushmill's. I may not have held up my end of the conversation, but I had the drinking part down pat.
Now here's what's remarkable, and what makes it abundantly clear Evan Tanner wanted to make an entrance. When I awoke the next morning, I actually remembered the conversation!
And I thought about that golden hoard, as it were, and realized I now had something for my sleepless knight to do. He'd be committed not to a single lost cause but to a whole portfolio thereof, and one of them would be the League for the Restoration of Cilician Armenia, and he'd learn about that house in Balikesir, and he'd go there.
This time, however, the gold would still be there, waiting for him.
A couple of months later, after I'd decided it was time to bid adieu to honest work, I sat down and wrote what became The Thief Who Couldn't Sleep. I had by this point in life written a few dozen books, including two or three under my own name, but this was the first book in which I'd managed to find a voice that was uniquely mine. I loved writing about Tanner, and in the course of the next several years I turned out six more books about him.
Looking back, I'm amazed at my cavalier attitude toward research. Tanner went all over the world, and it wasn't until his fifth adventure, Tanner's Tiger, that he visited a country where I'd set foot myself. (That was Canada. He was turned back at the border, but found someone to smuggle him across.)
So I didn't have firsthand knowledge of the places he visited, nor did I have much in the way of second- or third-hand knowledge. It's not as though I spent a lot of time in libraries on Tanner's behalf. I owned a 1948 edition of the Encyclopedia Britannica, and any fact unknown to it remained unknown to me.
I stopped writing about Tanner in 1970; Me Tanner, You Jane was the last volume, and I'm not entirely sure why I aborted the series at that point. It seemed to me that the books were too much the same, that he kept meeting the same types of people, that I'd taken the premise as far as it could go.
Then, 28 years later, I wrote Tanner on Ice.
No one could have been more surprised than I. Here's what happened: my publisher at Dutton, Elaine Koster, had decided to reissue the seven Tanner books as NAL paperbacks. I had occasion to read the first volume in galleys, and I liked it, and remembered how much fun it had been to write them. And wouldn't it be nice if I could come up with an eighth book to join the others?
But how could I? Tanner had been wounded in the Korean War, that's when a shred of shrapnel took out his sleep center, and this made him way too old to be leaping international borders in a single bound. By now he'd have problem enough climbing the three or four flights of stairs to his Upper West Side apartment. (Three flights? Four flights? 105th Street? 107th Street? Hey, don't ask me. It's not in the Britannica, so how the hell would I know?)
No, he had to be the same age as he was in Me Tanner, You Jane. And the missing time had to be accounted for.
And all of this was plainly impossible.
Until the evening when I was at a concert at Avery Fisher Hall, and my mind wandered, and I realized what had happened to Evan Tanner. He'd been drugged by agents of the Swedish government, and, because they were way too Scandinavian to kill him outright, he'd spent a quarter of a century in a frozen-food locker in Union City, New Jersey. And when they thawed him out—very carefully!—he hadn't aged a day.
Once I got the idea I had to write the book. And this time he had reason to go to Burma, a country I'd recently visited. (You can call it Myanmar if you wish. I, like most of the Burmese, will stick to the old name.)
I wrote the book in Listowel, a town in County Kerry of which I'm inordinately fond. And, because this was in 1998, and I was concerned about having computer problems in a foreign land, I left my Mac at home and wrote it by hand. But here's the thing: sitting at a desk in my room at the Listowel Arms, I picked up a pen and bent over a yellow legal pad. And when I started writing, Tanner was simply there. I didn't have to work to get his voice right, or to know his views on whatever matters came up. I'll tell you, it was as though he'd spent the past 28 years in some otherwise unoccupied brain cells of mine, just waiting for a chance to resume talking.
And he's still talking, I should point out, he sounds a lot like Theo Holland. That's the skilled voice artist with whom I've teamed up to issue Tanner in audio. His most recent effort, readily available via Amazon or Audible, is Tanner's Virgin. (That's book six, which you may know as Here Comes a Hero, an unfortunate title someone at Fawcett came up with. I like Tanner's Virgin a lot better, don't you?)
So of course people have asked when there'll be a ninth Evan Tanner novel. "It was 28 years between books seven and eight," I point out. "The fellow seems to have the life cycle of a cicada. You can look for book nine sometime in 2026."
You know, that line worked better twenty years ago. All of a sudden 2026 is only eight years away.
Hey, do me a favor. Forget I ever said anything…
---
Learn more about this prolific, award-winning, sociable mystery author and world traveler at lawrenceblock.com.
---
My Brush with Spying
by Rhys Bowen
You might think that eleven years after the publication of a book called Her Royal Spyness I might be an expert on spying by now. But the truth is that Lady Georgie has always been a hopeless and somewhat reluctant spy. Her spying has mostly been undertaken for the queen (Queen Mary) and not involved national security. So last year I decided that it was about time that Georgie lived up to her name and was involved in a real case of espionage. In On Her Majesty's Frightfully Secret Service Georgie finds herself in Stresa on Lake Maggiore in Italy and in the middle of a situation of international intrigue. Alas, she is far from a Smiley or James Bond, but she does inadvertently find herself in a dangerous situation and learns some disturbing facts that can be passed along by Darcy, her fiancé, who actually is involved in the spying business. Will she help him in this after they are married? I haven't asked them yet.
But recently I decided to write a more serious book that involved real spying in World War II. In Farleigh Field has interwoven stories involving characters who are working at Bletchley Park, breaking codes; with MI5, tracking down domestic spies; and over in Paris, working as a spy in German-occupied territory. All this involved a lot of research.
I spent time at Bletchley Park, which has been recreated exactly as it was during the war. You can visit the huts and the actual machines that broke the Enigma code, as well as personal details of those who worked there—the plays they put on, cartoons they drew, dances, tennis matches… Anything to prevent themselves from cracking under the strain of the intense mental work. My favorite object there… Alan Turing's teddy bear.
As well as this, I read autobiographies of those who worked there. I read numerous books on MI5 and British espionage during the war. I visited Churchill's war rooms and the Imperial War museum, which had an exhibit on ordinary people's lives during the war.
And the one thing I gathered from all this is that real life spies were nothing like James Bond. There was nothing glamorous or dashing about them. They were quiet, unassuming ordinary people, doing a difficult job against heavy odds. They worked long hours in awful, depressing conditions, struggling against the clock to break a code, catch an infiltrator and thus save a lot of lives.
And the worst thing of all: they were allowed to tell nobody what they were doing. Not husbands, wives, parents, who thought their relative was doing boring and embarrassingly meaningless office work instead of doing their duty and fighting. That gag rule was not lifted until the 1990s, which meant that many parents and spouses died, never knowing that their loved one was a hero and actually saved more lives than a fighting man. So sad.
I have received so many requests to revisit the characters of In Farleigh Field and of course there are many more stories to tell of World War II. And Georgie will go on with her bumbling and naive spying too. And as I write this I realize that we writers have to be spies. We observe other people's lives. We listen in on conversations, ask questions. But would I have the guts to be parachuted into Nazi-occupied France and glean information out of German officers? Uh—I think I'll stick to writing books!
---
Rhys Bowen is the New York Times bestselling author of the Royal Spyness series, Molly Murphy mysteries, and Constable Evans series. She was born in England and began her career at the BBC. She now divides her time between California and Arizona.
---
The Secrets of Arisaig House
by Susan Elia MacNeal
On the western coast of Scotland, on the western coast of the highlands, is a village in Lochaber, Inverness-shire, named Arisaig. It's a beautiful small town, with a pub and a church, as well as breathtaking views of Skye and the small isles of the inner Hebrides. The name Arisaig means "safe place" in Scottish Gaelic, and it was indeed a safe place for those training to work as secret agents for the Special Operations Executive in World War II.
A few miles away, on the coast, is Arisaig House, a grey stone Scottish house designed by architect Phillip Webb in 1863 for Francis Dukinfield Palmer-Astley. While it was nearly destroyed by a fire in 1935, it was rebuilt in 1937 for Charlotte Gertrude Astley-Nicholson. But poor Miss Astley-Nicholson didn't have much time to enjoy her resurrected house, now equipped with the finest modern amenities, before World War II broke out and the British government requisitioned it.
It became the headquarters for the Special Operations Executive. Arisaig House specifically was the nerve center of the SOE's paramilitary training courses, to prepare agents for missions in Occupied Europe. Its remote setting and rough terrain made it ideal for training the secret agents, who'd been charged by Winston Churchill to "set Europe ablaze."
Now it's a restaurant and bed-and-breakfast (arisaighouse.co.uk). When you first walk into the foyer, you're surrounded by enormous hunt-themed oil paintings framed in gold. You have to look closely to see a framed copy of the poem written titled "The Life That I Have." It was written by Leo Marks for Violette Szabo, an SOE agent sent to France. She used the poem as the basis for her secret code.
Szabo, who performed two secret missions in Occupied France, was ultimately captured and taken to the Ravensbrück concentration camp before she was executed, at age twenty-three. She was just one of the secret agents who trained at Arisaig House. Almost every agent for SOE passed through Arisaig to train, including Nancy Wake and Noor Inayat Khan, who also served in France, and Jozef Gabčík (from Slovak) and Jan Kubiš (from Czech) who assassinated Reinhard Heydrich, a high-ranking Nazi official and architect of the Holocaust.
Arisaig House is lovely. The house itself is spacious and elegant with beautiful art, graceful furniture, a touch of tartan and chintz, and a few hunting trophies. There are fireplaces that crackle in the colder weather, a library, a billiards room, and a long bar for Scotch sipping. In the summer, there's are gardens to explore, a croquet lawn, and a tennis court for visitors, as well as trails that edge fields of white wooly grazing sheep leading down to the rocky coast.
It's only if one asks that you learn about Arisaig House's role in World War II. I was shown which sheds held the ammunition the trainees used. There are bullet holes in one of the walls of the lower floors, where agents-to-be practiced shooting targets. And one is warned not to pick up anything metal on the beach, "because sometimes we find the odd leftover grenade."
I was able to see one of the architectural maps of Arisaig House, left over from the rebuild after the fire, marked in now-faded pencil by some unknown British officer, divvying up the various rooms for offices, an officers' mess, and even a small on-site barbershop.
After two (!) research trips to Arisaig House (one to write The Prime Minister's Secret Agent and one to write the new Maggie Hope, The Prisoner in the Castle), I've fallen in love. In love with its friendly hosts and resident golden Labradors, delicious locally-sourced Scottish cuisine, as well as its history, tragedy, and glamour, I can truly say it's one of my favorite places on earth.
It's an overnight train from London on the famous Jacobite steam train (made infamous by the Harry Potter books and films) and the town serves as the "gateway to the isles"—meaning you can basically catch a ferry to any of the isles of the Hebrides, especially in high season.
Next year—a trip to see "Maggie Hope's Britain"? Including, of course, Arisaig House? Let me know!
---
Susan Elia MacNeal is the New York Times bestselling author of the Maggie Hope mysteries. The latest, The Prisoner in the Castle, was published on August 7, 2018. Her books have won and been short-listed for multiple awards and are translated into numerous languages. She lives in New York City with her husband and son, but is always dreaming about Scotland.
Buy this back issue! Available in hardcopy or as a downloadable PDF.