Volume 16, No. 4, Winter 2000 – 2001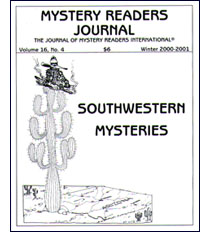 TABLE OF CONTENTS
The Broad Diversity of the Southwest by Chuck Brownman
A Tour of New Mexico Plazas with Dorothy B. Hughes and Frances Crane by Maria Brandt
What To Read After Hillerman by David Streeter
Vanishing Point: An Interview with Judith Van Gieson by Robyn Mundy
THE WRITERS WRITE
Oklahoma On My Mind by Letha Albright
The Land As Restorative by Tricia Allen
Getting Mysterious on the Last Frontier by Sarah Andrews
A Creature of the Southwest by Kent Braithwaite
The "Other" Southwest by Steve Brewer
How Trade Elllis Came Alive by Sinclair Browning
Life and Death in Texas by Patsy Ward Burke
Blending Imagination and Reality in Ft. Worth by Lillian Stewart Carl
On the Borderline by David Cole
Culture Shock by Rebecca Cramer
Texas, My Texas by Bill Crider
Mike Segretto–Sagebrush Shamus by Jim Doherty
Growing Stories in the Desert by Leo Dulac
Starting Over in Colorado by David Dvorkin
The Adventure of Writing the West by Lynn Erickson
Green Chile Cheese by P.J. Grady
Secrets of the Southwest by L.C. Hayden
Southwestern Pilgrimages by J.M. Hayes
A Tree Grows in Arizona by Renee B. Horowitz
Rocky Mountain High by Pauline B. Jones
Strange Landscape by Sarah Lovett
The Southwest as Setting by Annette Mahon
A State of Mind by Susan McBride
Roadrunners and Writing by E.J. McGill
Living in History by Frances McMaster
Variety Is the Spice by J.R. Ripley
Chameleons and the Presence of Water by Aileen Schumacher
The Spell of Santa Fe by Sarah Shankman
The Real New Mexico by Connie Shelton
Another Nation by David Thurlo
Festival Setting by Mari Ulmer
Finding Yourself in the Desert by Betty Webb
SOUTHWESTERN ENGLAND
Falling in Love with the South West by Kate Ellis
Malory Country by Hazel Holt
Genesis of a Series by Michael Jecks
Down to Earth in Devon by Rebecca Tope
COLUMNS
Mystery In Retrospect: Reviews by E. Watson, L. Ham, N. Coggeshall, C. Harper
In Short: The Southwest by Marvin Lachman
The South-Western States in British Crime Fiction by Philip L. Scowcroft
Just the Facts: The Forgotten Man by Jim Doherty
MRI Mayhem by Janet A. Rudolph
Letters to the Editor
From the Editor's Desk by Janet A. Rudolph
---
Texas, My Texas
by Bill Crider (Alvin, Texas)
I was born in Texas, grew up in Texas, and in fact I've lived in Texas all my life. And now I write mysteries set in Texas. Sheriff Dan Rhodes (Ghost of a Chance, Minotaur, 2000) patrols a mythical Central Texas county, Carl Burns (…A Dangerous Thing, St. Martin's, 1996) and Sally Good (Murder Is an Art, St. Martin's, 1999) teach at Texas colleges, and Truman Smith (Murder Takes a Break, Walker, 1997) lives on Galveston Island.
Is Texas part of the Southwest? Sure it is. For years, it was the home of the now-defunct Southwest Conference, which included only Texas schools (plus the University of Arkansas; don't ask me how Arkansas got in there). So I feel perfectly justified in calling myself an author of mysteries set in the Southwest.
Of course, my version of the Southwest might not be exactly what you'd expect. You don't get a lot of scenic vistas in my work, not like you get in John Wayne movies about Texas. One of my favorites is The Comancheros, in which Wayne picks up Stuart Whitman in Galveston, and the next thing you know, they're riding through the mountains. I happen to live about 25 miles from Galveston, and, believe me, there are no mountains nearby. You'd have to drive for hours just to find a hill.
I don't write much about oil barons, either, at least not the kind you see in movies like Giant, which features some of the worst Texas accents ever filmed. Sure, we talk funny (though maybe not as funny as Dan Rather did on election night), and I do have trouble now and then with copy editors, who write insulting comments in the margins of my manuscript. Like, "Would anyone ever actually say something like this?" I hope they all watched Dan Rather.
I don't write much about big cities, either, even though Texas has been an urban state for many years now. Dallas, Houston, and San Antonio are as cosmopolitan and culturally up-to-date as New York, and Boston (well, almost), but there are still plenty of small towns, and my characters live in them. They think of places like Dallas as being fairly remote from their lives. Some of them have probably never even been there. I write about small-town characters because I know them. I've lived with them, I've worked with them, and I like them. Also, I'm one of them. When I drive into Houston for the day, I never really feel as if I belong there. Too many people, too many cars, too much road construction. And after the recent election campaign, we all know that Houston is the smog capital of America, right? Who'd want to live there?
I write about small-town crimes, not about the kind of thing that affects the Fate of the Free World. I was at a workshop once where a writer said that he liked to write about big-time crimes, not about "whether the local Pizza Hut has its sneeze guard in place." While everyone else was laughing, I was thinking, "That sounds like something I could use."
So if you're looking for mountains, larger-than-life heroes, or nuclear bombs set to go off in fifteen seconds, you might want to read about someone else's Southwest. If you're looking for something that's pretty close to what passes for real life, at least in some parts of Texas, maybe you'd like mine.
---
Bill Crider's website address is billcrider.com.
---
Green Chile Cheese
by P.J. Grady (Santa Fe, New Mexico)
You can learn a lot about Santa Fe at Wendy's. When the local franchise opened, the menu was the same as Wendy's in Tulsa or Tarrytown. Suddenly, from the ancient city an anguished cry arose, "Yo! Can't have cheeseburgers without green chile, bro!" By corporate dispensation, Wendy's now serves the local delicacy, green chile cheeseburgers, "green chile cheese."
Matty Madrid, Santa Fe P.I., is fueled by Tecate and green chile cheese. My editor asks, "Doesn't she eat anything else?" Sure! She eats enchiladas verdes and chiles rellenos, green chile stew and cousin Anita's albóndigas muy fantásticas. Green chile is a handy metaphor for those of us who live in the City Different. We're zesty and unpredictable. We embrace tradition, but we do so entirely on our own terms. As far back as 1788, a colonial governor wrote New Mexicans are "churlish by nature," wanting "to live in perfect freedom."
Matty Madrid's not a native Santa Fean. Her print debut, a short story, "Waiting for the Cart of Death" (Murderous Intent, Spring, 1995) is set in the village of Dos Alamitos, Matty's hometown. Before she spoke English, she spoke Spanish, the Golden Age Spanish of Cervantes and Calderón. She often quotes dichos, Spanish proverbs. Dios da pero no acarrea," Matty says. The Lord giveth, but He's not UPS. Today, she sometimes speaks "Spanglish," bastard offspring of the tempestuous love affair between two peoples, Anglo and Hispanic, like New Mexico itself,. "Loncheamos! Let's lunch, bro. Sure could go for a green chile cheese!"
A cradle Catholic, Matty discusses her cases with a santo, a statue of Our Lady of Sorrows. New Mexicans turn the saint to the wall if their prayers aren't answered. But Matty says, "This isn't about religion. This is business." Business and religion are one and the same in Matty's latest case, Deadly Sin (Avocet, 2000). The theft of a santo draws Matty into blackmail and murder–maybe even her own. "When a saint falls over, somebody dies."
I'm a Catholic convert myself, but Matty left the church when her baby daughter tumbled headlong down a flight of stairs and into a nightmare. The little girl's a vegetable, but Matty would never put her in a home. They live in an unincorporated village on the outskirts of Santa Fe with Matty's grandmother. Like the scent of old lavender, Gran is gradually fading, a victim of Alzheimer's disease. Some people say you get Alzheimer's from too much aluminum. Maybe it's too much everything, Matty says, too much grief and hard work and too many prayers that nobody hears. Somehow, with the help of Cousin Cipriano next door, his son, Phil, daughter-in-law, Anita, and their three kids, she'll manage. "One hand washes the other, and together they wash the face."
Northern New Mexico families live together. They look after each other. I've known people who turned down promotions if it meant a transfer to Tulsa or Tarrytown or Timbuktu. Cut off from their roots, they would wither. Like Antaeus of old, they draw their strength from the earth itself, the cold caliche of northern New Mexico. Matty's an unwed mother, as were a number of my students at New Mexico Highlands University on the llano, the high plains east of Santa Fe. If the character of Matty Madrid was born in Santa Fe, it was conceived on the llano. Often, these young women, some, like Matty, black-haired beauties in tight blue jeans and fuchsia tank tops, were the first in the family to go to college or even to graduate from high school. Matty dropped out of Santa Fe High to have her baby, but she picked up a GED along the way. She's working on a degree at Santa Fe Community College, but it's a long, hard haul. Is it any wonder Deadly Sin is dedicated to "my students, who have been my teachers"?
The baby's father, Darryl Minguez, is doing eight to ten for gun-running. From his cell at the Penitentiary of New Mexico, Mingo can process more information about crime in the southwest than the NCIC in Washington. In Maximum Insecurity (Avocet, 1999), the first book in the series, Matty investigates an "accidental" death at the pen, uncovering multiple murder and singular corruption. I used to work at the pen, where I was on a first-name basis with rustlers, rapists, and contract killers. Later, I worked for an attorney on contract to the Public Defender's Office, but that's a different story… and a different series.
Beyond the coffee table books, splashed with pretty pictures of Spanish missions, Indian dancers and spectacular sunsets, is the real Land of Enchantment, Matty's New Mexico, where the dead are so civic minded, they continue to vote, early and often. We excel in poverty. Nepotism is a virtue. After all, "If you close your door to the poor, the door to Heaven will close to you." And the poor are likely to be your nearest and dearest. It's a third-world country, without access, in some areas, to the Internet or even to the telephone. Matty has a phone but no e-mail, no fax, not even an answering machine. She has Cousin Anita: just leave your name and number, and she'll get back to you. In New Mexico, mañana means "not today."
Then there are the "Californicators," jetting to Beverly Hills' sushi bars, draining ancient aquifers, pimpling the face of the Sangrés with million dollar houses, hacking into the American dream. In Deadly Sin, Matty tangles with a family of wealthy transplants from Marin County. Searching for the Cities of Gold, people like the Quigleys have been coming to New Mexico since 1540. Matty's own goals are simple: green chile cheese, a cold Tecate, and justice for all. In the City Different, Matty is a woman apart.