Volume 19, No. 1, Spring 2003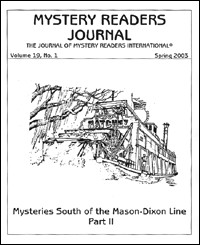 Buy this back issue! Available in hardcopy or as a downloadable PDF.
TABLE OF CONTENTS
Dixie Cops by Jim Doherty
Is South Florida In The Deep South? by David Raterman
Miss Woman Comes to Town by Valarie Webb
What Is The South? Who Are These Southerners? by Janet Appel
THE WRITERS WRITE
North Florida Is Southern by Glynn Marsh Alam
The Southern Storyteller by Donna Andrews
Dixie in Black, White, and Shades of Gray by Frankie Bailey
A Hankering for "Baccarat-Nine Lives South of Boona" by Mark Broderick
Discord in Music City by Chester Campbell
South Florida Suburban Sunshine by Nancy J. Cohen
Cleaning Up in the Big Easy by Barbara Colley
The Inheritance by Tess Collins
It's Not Your Grandmother's South by Alan Cook
That's What I Like About the South by Bill Crider
Life, Death, and Politics in Mississippi by Louisa Dixon
Transcending the Southern Connection by Rebecca Duckro
New Orleans Is My Heroine by Tony Fennelly
Roots That Extend Below the Mason-Dixon Line by Daniel Hale
I Don't Do Northern by Charlaine Harris
Cuddy In Florida by Jeremiah Healy
Alligator Blues and Brenda Strange Too by Patty Henderson
Southern Flavor by Julie Wray Herman
Southern Charm by Vicky Hunnings
How I Became a Sixty-Year-Old Woman by Dean James
From South of the South by Jonathon King
How Can a Writer Not Love the South? by Joe R. Lansdale
Southern Nights by Joyce and Jim Lavene
Moby Warhol by Bob Levinson
Digging Up the Past by Michael Malone
A Sense of Place by E. Joan Sims
True Grits by Karin Slaughter
Reddy & Abel: Moonshiners and Murder in the Mountains by William M. Stephens
To Live and Thrive in Dixie by Kathy Hogan Trochek
The South: Made for Murder by Ellis Vidler
COLUMNS
Mystery In Retrospect: Reviews by Carol Harper, Cynthia Ward
The Deep South in Crime Fiction: The British Angle by Philip L. Scowcroft
Just the Facts: Final Appeal by Jim Doherty
MRI Mayhem by Janet A. Rudolph
Letters to the Editor
From the Editor's Desk by Janet A. Rudolph
---
The Southern Storyteller
by Donna Andrews (Reston, Virginia)
Why do I write about the South? I'm tempted to say, "Because that's what I know; aren't you supposed to write about what you know?"
But that's too easy an answer, and besides, for many years I didn't write about the South. My first (unpublished) book was a gothic fantasy, set in a city-sized castle—certainly not a place I knew, outside my own adolescent imagination. My second, also unpublished novel, was originally a coming-of-age story set in a large, unspecified East Coast city. It wasn't going anywhere, and would probably have remained unfinished, if I hadn't, in a fit of nostalgia, decided to change the location to Charlottesville, Virginia, where I went to college; and to set it in the years when I lived there.
I was amazed. The story came alive, in a way it never had when I was trying to make my cardboard characters walk down the imperfectly imagined fictitious streets of my generic city. Okay, I told myself. Maybe there is something to this write-what-you-know thing after all.
But obviously I was going to have to get to know some more interesting places and people. Because the last thing I wanted to do, at that stage in my life, was write about the South, and Virginia, and the small town of Yorktown, where I grew up. That was Mom's territory.
My mother's probably a big part of the reason I grew up to be a writer. She's not a writer; I suspect she could have become one if she'd chosen to, but she has always seemed more comfortable with the spoken word. A storyteller. Growing up, I was, by turns, charmed, embarrassed, or bored by this. Charmed when she took stage at a social event and could make people laugh or hang on her words. Embarrassed when the story was about me. And bored when I'd heard the story too many times before.
After all, in the South, people all have their own repertoire of stories; it's considered rude, if not outright dishonest, to appropriate someone else's stories. "Tell about how you were trapped in the elevator at Aunt Mary's wedding," people will urge, even though they were there themselves. Or perhaps they weren't there, but have heard the story so often enough that they could tell it, word for word, just its owner would. But they don't. The cousin who was trapped in the elevator has earned the right to tell the tale. When a relative dies, the squabble over heirlooms is nothing compared to the combat over who inherits the rights to their best stories.
I learned a lot from my mother's storytelling. Not just about rhythm and voice, but also about shaping a story, polishing and revising it until it's the best you can do, and then leaving well enough alone. Immediately after an event, Mom's version of the story may vary wildly from telling to telling. But before too long, she'll arrive at an official version and stick to it pretty faithfully over the years. And I learned that if you look at it that way, everything in life is a story. Mom can make a better story out of a trip to the Food Lion than some people can of their pilgrimages to Egypt and China.
Putting it all down on paper—I think got that from my father, the scientist. He's the one who keeps a journal—originally intended as a garden journal, but I'm told that on the day I was born he noted my arrival, briefly, in that year's notebook—the first time he strayed from articulate but impersonal accounts of rainfall and planting data. And he is justly proud that his articles were better written than most scientific prose, and that his colleagues sought his help to polish their own articles for publication. So while I tell stories because of Mom, I tell them in a tangible form, on paper because of Dad.
And I think the reason I finally began writing about the South, after many years of avoiding it, is that I'm not really there anymore. Some Southern writers work better in exile. And not just because it's easier to romanticize (and safer to criticize) from a distance. Like Impressionist paintings, a writer's material often comes into focus only from a distance—in time as well as space. And while I'm still a Virginian, Northern Virginia in the twenty-first century is more than just a few hours' drive from the Tidewater of my childhood.
So by the time I began working on Murder with Peacocks, setting it in the south—specifically in Yorktown as I remember it from my childhood—seemed perfectly natural. And yet, because I don't live there, I feel much freer to invent and improvise what I need to serve my plot and my characters, rather than feeling bound by what's actually on the map. The bluffs overlooking the York River are real; the huge white Victorian house in which Meg's parents live is fictional. Grace Episcopal Church and the town jail are, of course, real, but the rector and the sheriff who preside over them in real life are much too sensible to share the page with Meg and her family.
So far, no one in Yorktown seems to mind. My mother reports that one reader of Murder with Peacocks wrote, in the comment sheet the library glues to the inside cover of its books, "This book takes place in Yorktown. How strange." And I've had to disappoint several readers who hoped I could put them in touch with long-lost friends who they assumed had inspired some of my characters, and reassure a reader in the Sheriff's Department that Deputy Monty in Revenge of the Wrought Iron Flamingos was not based on either of his two colleagues with similar names.
Although even people who didn't grow up in Yorktown seem to find my characters familiar—another benefit of writing about the South. I don't think the South has a monopoly on strange characters and peculiar behavior, but people seem more willing to tolerate eccentricity in the South—perhaps even to admire it—and more willing to believe in eccentric characters.
Earlier this year, Carol McGinnis Kay, the co-author of G is for Grafton, recommended Murder with Peacocks to her reading group, the Women of Mystery in Columbia, South Carolina. She reported: "Some of the non-Southerners thought the wedding picture in Peacocks so silly that they struggled with the book. However, the Southerners began telling their wedding stories (my favorite was the college roommate whose wedding was July 4 with the bridesmaids in either red or blue, the bride in white, and flags everywhere, including the wedding cake); once these real stories came out, the Yankees decided that the picture was barely exaggerated."
Perhaps that's another reason I write about the South. It's a place where the strange creatures of my imagination and the characters based on real inhabitants can coexist so effortlessly that even I sometimes have trouble remembering which ones are which.
I've come to believe that it's no accident that I finally wrote a book good enough for publication after I stopped trying to invent a more interesting me who lived in a more exciting world, and applied myself seriously to the task of writing the kind of book I wanted to create using the tools I had-my own imagination, and the place that shaped it.
So after all, I suppose it does come down to writing what you know.
---
Crouching Buzzard, Leaping Loon, the fourth book in the Meg Langslow series, is a January 2003 release from St. Martin's Press. Andrews has a second series with Berkley Prime Crime, featuring artificial intelligence personality (AIP) Turing Hopper, and set in Northern Virginia. You've Got Murder, first in the series, will be followed in April 2003 by Click Here for Murder. For more information, see her website: DonnaAndrews.com.
---
How I Became a Sixty-Year-Old Woman
by Dean James (Houston, Texas)
Some characters you create deliberately, because you know you need someone of a specific age, or gender, or ethnicity, or someone with a particular point of view who is necessary to a story. For example, in most mystery novels, you need an authority figure of some sort—a homicide detective, a sheriff's deputy, a chief of police—even if your main character is an amateur sleuth. Even if your sleuth is going to solve the murder, there has to be an official presence of some sort, and so you come up with a likely candidate as you plot your story.
Then there are the characters who are simply there, who somehow manage to walk into the middle of the action and say "Here I am. What are you going to do with me?" The main character in my new book, Miss Ernestine Carpenter, is a character like that. She first appeared in something I was writing fifteen or sixteen years ago. The moment I knew her name, there she was, talking to me. She appeared in a number of things I wrote over the years, including a couple of novels and a never-quite-finished short story that were never published. Mostly she was a secondary character, and that really didn't set too well with her. She likes center stage, frankly. But for the time being, she had to be satisfied with a secondary role.
Then, about three years ago, I was asked to contribute a short story to an anthology called Canine Crimes. Each of the stories had to feature a dog which played a key role in the solution of the crime; other than that, the type of story the contributors wrote was up to them. I had just written a short story about an American vampire residing in a village in England, for one of the Malice Domestic series of anthologies, and I wanted to write about a different character for this new story. Ernie quickly let me know she'd be happy to take on the job.
That was the genesis of the first published Ernie story, called "Best Served Cold," which is set in Jackson, Mississippi. Of course, after that story was published, Ernie had had a taste of the spotlight, and she was eager for another turn at center stage. The following year, I was approached by someone at Silver Dagger, which is an imprint of the Overmountain Press, asking whether I had a novel suitable for the new line of Southern mysteries they were launching. I submitted the manuscript of Cruel as the Grave, which I written a few years before, and to my great delight, they said they wanted to publish it.
I set about revising the book, and as I got to know the characters again, there was Ernie, in a supporting role. Happy to be there, naturally, poking her nose into what was going on, but wishing she could run her own show. Well, that book was published in May of 2000, and then I was thinking about what I could do next for Silver Dagger. While it might have been natural to write a direct sequel to Cruel as the Grave and find out what Maggie, the heroine, was up to afterwards, I also had that insistent voice in my head—the voice of Ernie—saying, "it's my turn!"
I was more than ready to devote an entire book to Ernie and her exploits as an amateur sleuth. I had long wanted to launch her into a series of mysteries, because, basically, she's as nosy as I am and loves getting into the thick of the action. But of course I had to come up with a plot, something which would intrigue Ernie and me. I had recently read a biography of Lady Ottoline Morrell, a famous literary patron in early twentieth-century England and a satellite of the famous Bloomsbury group. Lady Ottoline had a long-lasting love affair with the philosopher Bertrand Russell, and there were all kinds of interesting scandals surrounding her and many in her circle, not to mention all the salacious goings-on involving members of the Bloomsbury Group. Plenty of fodder there for several novels!
All this gave me the idea for the plot in Closer Than the Bones (Silver Dagger Mysteries, 2001). What would happen if a grande dame of Southern belles-lettres suspected one of her intimate circle of murder? What if a supposed suicide turned out to be murder instead? How would she handle it?
I decided that she might consult Miss Ernestine Carpenter, recently retired after nearly forty years of teaching high school English in Tullahoma, Mississippi. Ernie likes solving problems, even when murder is involved, and I thought this was the kind of problem she would relish, even though things could get a bit nasty. As indeed they do!
These days, some mystery readers look askance at writers who write from the point of view of a character who doesn't share the same gender. Now, I've never been a sixty-old-woman who's a retired high school English teacher. But I did grow up in northern Mississippi surrounded by three generations of strong, vital, intelligent Southern women—my mother and her sisters, my grandmothers, my great aunts on my dad's side of the family, and even my step-great-grandmother, Aunt Cora, who was my great-grandfather's second wife, and who lived to be nearly a hundred.
I was also an only child who grew up on a farm with not that many playmates my age close by. So I spent a lot of time playing with my toys, coloring in my coloring books, and then reading, quietly in the background, while the womenfolk in the family worked and talked and aired their opinions on other members of the family or folk in the little rural community where I grew up.
At a tender age, I probably knew more about what was going on in Pleasant Grove, Mississippi, than many of the adults in the community, but most of it I also probably didn't understand, such things being over my head, of course. But it's amazing the things that grown-ups will talk about, if you're quiet and don't make a fuss.
Having grown up with all these Steel Magnolias, it never occurred to me not to write from the point of view of a Southern woman. I hope I've done a creditable job of making Ernie seem like a believable woman of her age and background. One review of my book recently commented that Ernie is not a plausible sleuth, nor is anything about the plot very plausible, before going on to say, essentially, that the lack of plausibility didn't keep the book from being entertaining.
Frankly, that's the whole point. I set out to entertain when I wrote this book. I think Ernie is a fun character, otherwise I wouldn't have spent several months with her in my head, telling me what to do as we worked through the draft of this novel. I'm not that much of a masochist, though every writer is a masochist at heart, I'm firmly convinced. It probably isn't that plausible for a recently retired schoolteacher to be asked to solve a murder, and maybe the murder and the characters in this book aren't all that plausible. I didn't set out to write some grimly realistic police procedural, full of ballistics and fingerprint information, with all sorts of autopsy details and loving depictions of violence and gore. I wanted to write a nice, old-fashioned cozy murder mystery, the kind that used to take place in stately homes in the English countryside before they sold them all to big conglomerates for conference centers or hospitals or turned them over to the National Trust.
Closer Than the Bones is my version of an Agatha Christie-type mystery—only, in this case, Miss Marple has a Mississippi accent!
---
Dean James is manager of Murder by the Book in Houston, Texas, one of the nation's oldest mystery bookstores. A former Edgar nominee and winner of the Agatha and Macavity Awards for Best Non-Fiction, he is now the author of three mystery novels, the latest of which is Posted to Death (Kensington Publishing, 2002).
---
How Can a Writer Not Love the South?
by Joe R. Lansdale (Nacogdoches, Texas)
What the South has got is mystery. I don't just mean mystery in the sense of who done it, but mystery in the sense of the landscape, the people. There's also a kind of tragedy that hangs over it all, and maybe there's tragedy elsewhere, in other cultures, but because of the Civil War, it hangs over the South. Probably, on the whole, no more racist than any other place now, but with a nasty lingering legacy, and still people fighting the war, about how we should have won and things would be better, all that. So there's that air to things.
Most of us feel looked down on by snobs. We don't all admit it, but we do. Not necessarily inadequate, but thought that way by those outside of the South. Bunch of hillbillies with no teeth and little education, fucking our relatives and pets, which, of course probably does happen, but everywhere as well as here, but to outsiders, it's more fun to beat up on the hillbillies, and nobody beats up on us better than ourselves. That's a kind of honesty I like. It's also a kind of self-loathing, I suppose, or maybe a willingness to make fun of ourselves because laughter has been a shield much of the time, especially in the past to those of us who didn't fit the stereotypes.
What else?
Accents made fun of. Attitudes. Everyone thought to be a rube and mean spirited and gun crazy and willing to kill, gutting a deer daily on the front porch while the hounds watch, and, again, there's some of that, but not on the whole. And accents elsewhere, they sound funny to us, an accent and ignorance, man, they're not the same, and all these feelings, of anger, inadequacy, they all come together sometime in that rebel spirit, directed now at just being contrary for the most part, come together in the rock and roll music, the films made by Southerners, the books they write. And so, it's an unusual place, clinging to the old ways enough that ghost stories here seem more real, and bad things seem more likely, even if they are or they aren't, and all of that is like seasoning to a writer.
Colorful language, wild metaphors, people who seem and are bigger than life. That's the South.
Good solid people, bad and good, but the best here seem the best of all to me in my own personal prejudice. You can still find folk who keep their word, live by it, respect family and call a dog a dog, though, alas, that's fading, getting sucked up by the rest of the world, the fast buck and the fast car.
The South, East Texas, it's all that, running together like these sentences (on purpose I might add), mixing in and blending in and coming out different from the rest of the U.S., the rest of the world.
How can a writer not love the South?
I've had people outside of the South, outside of East Texas, which technically is Southern and Southwestern and it's own thing, not strictly the South, a place mixed in with I don't know what all… But people outside, they say, man, East Texas to me, it might as well be Mars.
So maybe I write Science Fiction.
And I lie some. On purpose. I make East Texas bigger than life and wilder than life, because after all, the books are entertainments and metaphors, so no apology.
So that's why the South, why East Texas, is so important to me as a writer.
I, unlike the rest of you, live on Mars.
---
Champion Mojo storyteller Joe R. Lansdale writes in a multitude of genres. He is also highly proficient in martial arts. The Orbit Drive-In Theatre, located at joerlansdale.com, has the whole show.
Buy this back issue! Available in hardcopy or as a downloadable PDF.