Volume 32, No. 4, Winter 2016-17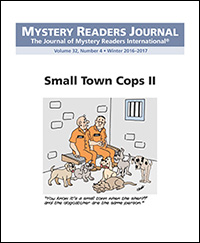 Buy this back issue! Available in hardcopy or as a downloadable PDF.
TABLE OF CONTENTS
Small Town Lies by Ana Manwaring
Craig Johnson's A Serpent's Tooth and King Lear by Mimosa Stephenson
AUTHOR! AUTHOR!
Small-Town Cops—the Stereotype and the Reality by Judy Alter
How Hector Bellevance Came To Be by Don Bredes
Sheriff Jeff McQuede's High Country of Wyoming by Loretta Jackson and Vickie Britton
A Little Louisiana Loosey-Goosey by Ellen Byron
Paradise Found: Robert B. Parker, Jesse Stone, and Me by Reed Farrel Coleman
Small Town Cop—Big Time Adventures by Mark de Castrique
Amazing Adventures in Research by Donis Casey
The Beauty of the Small Town Mystery by Evelyn David
The Joy of Writing the Small Town Cop by Vicki Delany
Small Town Cops, Big Time Issues by Lesley A. Diehl
Pago Pago Police by John Enright
So You Want to Write a Cop by Michael Genelin
Kids, Cops and Small-Town Policing by Neal Griffin
Meet Sergeant Gray—My Sexy Small Town Scottish Cop by S.J.I. Holliday
The Emerging Goddess Spoke with a Drawl by James Hime
Dave Everett, My Favorite Small Town Cop by Nancy Lynn Jarvis
A Steadfast Protector by Katherine Bolger Hyde
You Each Get One by S.W. Lauden
The Evolution of a Character by J. R. Lindermuth
Small Town Crimes; Small Town Cops by D.P. Lyle
The Top Cop of Quiet Anchorage, Virginia by Ed Lynskey
The Small Town Illusion by Susan McBride
Crime Comes To Crowby by Iain McDowall
Rocky Bluff P.D. Mystery Series by F.M. Meredith
Boredom with an Adrenaline Jolt by Mar Preston
Small Town Cops by David Putnam
Patrolling Nantucket, Thirty Miles at Sea by Martha Reed
A One-Stoplight Town by Larry D. Sweazy
DI Marjory Fleming by Aline Templeton
COLUMNS
Mystery in Retrospect: Reviews by Lesa Holstine, Dru Ann Love, L.J. Roberts
Just the Facts: Frank Hamer—The Law in Navasota by Jim Doherty
The Children's Hour: Small Town Cops by Gay Toltl Kinman
In Short: Small Town Law Officers by Marv Lachman
Real Small-Town Cops by Cathy Pickens
Crime Seen: Small World, Small Towns by Kate Derie
Top Ten Continued by Jim Doherty
From the Editor by Janet Rudolph
---
The Joy of Writing the Small Town Cop
by Vicki Delany
The Constable Molly Smith novels from Poisoned Pen Press are as much about the personal and family life of the police officers as their jobs, more about human relationships and love and loss than international terrorism or guns-for-hire. This sort of novel thrives in a small town environment. The officers have families and friends, and those family and friends are often involved, even if peripherally, in the current cases just because they know people, and people know them. They have memories, memories of events that might have happened long ago, but are affecting events of today. In the eighth and latest novel in the series, Unreasonable Doubt, a 25-year-old murder once again becomes an open case. And Molly Smith's mother remembers the people involved.
Small towns and villages work particularly well for mystery series where people are connected and relationships are complicated, where day-to-day associations between the protagonists and their families and friends (and enemies) are important. Having a small town setting allows for situations where people know each other well and relationships can be highly interconnected.
Police officers who work for small local police departments often live in the same communities as they police. They know the people. And the people know them.
Which in real life is not always a good thing if you have a secret you're trying to keep. And secrets are the life blood of the mystery novel.
In small town police departments jobs are not as specialized in the way they are in a big city. Everyone does a bit of everything.
Veracity is important to me, as a reader as well as a writer. Molly Smith is only twenty-six years old, a brand-new police officer. In In the Shadow of the Glacier and Valley of the Lost, the first two books in the series, she's still on probation. She's young, green, somewhat naive. In a big city police force she'd spend her time writing traffic tickets. But working in a small police department allows her to become more involved in major crimes, and allows me to make that believable. She's a local and the detective sergeant's a newcomer: he has to rely on her for local knowledge.
And for her, it's sometimes not easy being a police officer in a town where "a substantial number of the residents had seen her performing as Number Two Wise Man in the Grade Three Christmas pageant."
As a reader, I don't like too many coincidences in a book. I can usually let the author get away with one coincidence in the name of moving the plot forward, but more than that and I start to lose the suspension of disbelief. From there it's often a downward spiral into putting the book aside, unfinished. But coincidences do happen in a small town that wouldn't be believable in a large city. The sort of thing that would be laughed at if you tried to have it happen in New York City or Toronto, can be quite believable in a small town.
Case in point: In doing research for the Constable Molly Smith books I have spent some time with Canadian police officers. One night I was walking the beat in Nelson, British Columbia, pop 9,000 (Nelson is the real-life inspiration for Trafalgar, the town in my novels) and we went into a bar.
My daughter said, "Hi, Mom."
I introduced the officer to my daughter and her boyfriend.
The very next day the boyfriend is driving into town without bothering to do up his seatbelt. He gets pulled over.
Same cop he met last night.
In a big city that might be a bit too much of a coincidence to swallow. But it can, and did, happen in a small town.
And because it happened in real life, it can happen in fiction and no suspension of belief is required.
Sometimes, of course, real life has to take a back seat to the interests of a good story. No one in Nelson can quite remember when the last murder was. In Trafalgar, there are rather a lot.
"Do you know what Sherlock Holmes said about the countryside?"
"No."
"'The lowest and vilest alleys in London do not present a more dreadful record of sin than does the smiling and beautiful countryside.' The Adventure of the Copper Beeches."
"The great detective never came to Trafalgar, sir. I think he'd find it peaceful here. Most of the time."
"I'm not interested in what happens here most of the time."
—Sergeant Dick Madison and Constable Molly Smith, Negative Image
---
Vicki Delany is the author of 23 published crime novels, including standalone Gothic thrillers, the Constable Molly Smith series, the Klondike Gold Rush series, and the Year Round Christmas Mysteries. As Eva Gates she is the national bestselling author of the Lighthouse Library cozy series. Vicki lives in Prince Edward County, Ontario.
---
Small Town Crimes; Small Town Cops
by D.P. Lyle
For me, small town crimes are big time fun. Crimes set in big cities, with large and sophisticated police forces, are good but when murder happens in a more closed community, it's more personal. The cops, or PIs, or amateur sleuths who investigate such tragedies more often than not know the victims, and the suspects. That's the way it is in small towns.
The cop likely got the job because no one else wanted it. The coroner is the local undertaker. Homicide detectives? Nope. Don't have one of those. Maybe Barney, at best. So the pressure on the investigators is even greater. And the watchful eyes of the community add another layer of conflict. Good stuff.
The police station is in an old house, the chief hangs out at the local diner, the corruption a personal affront. No faceless bad guys here. The killer is part of the community. The secrets are tightly bound to local history. There are many examples.
The best, in my opinion, is James Lee Burke's Dave Robicheaux series. Dave is an ex-New Orleans cop who now lives near New Iberia, Louisiana—the home of Tabasco—a small town nestled among the swamps in the Atchafalaya Basin. Nowhere in modern literature does the locale play such a role in stories. The geography, the weather, the colorful characters create a feeling that is real and actually makes your clothes stick to your body as you read them. Mr. Burke puts you there. And Dave is constantly battling his past and nefarious characters who seem to continually slither from the swamp.
Linwood Barclay's Promise Falls series is set in a small upstate New York town that has seen better days and has secrets within secrets. And it's these secrets that often drive the narrative. His cast of characters include a cop, a PI, a newspaper man, and all the usual suspects you see in small town America.
And then there's Chief Kate Burkholder, Linda Castillo's wonderfully complex and conflicted ex-Amish cop. When Kate left the fold, she was shunned by many members of the order, yet in each story she must return to that community to solve one sordid crime after another. Her past not only allows her to understand the community but also causes personal and political conflicts she must navigate. This is what great storytelling is all about.
And what about the death rates in Kinsey Millhone's Santa Teresa, California, and Jessica Fletcher's Cabot Cove? This would give anyone pause before moving to either. But these towns and their skeletons play major roles in Sue Grafton's alphabet novels and the hit "Murder, She Wrote" TV series. These stories simply wouldn't be the same if they played out in a larger, more impersonal locale.
I get up in Huntsville, Alabama, and that's where my Dub Walker series is set. Sure, Huntsville's Marshall Space Flight Center is the heart of the US Space Program, and the city has more scientists than you can shake a stick at, but Huntsville is a small town at heart. Drive 15 minutes in any direction and you are in the depths of rural America. Farmland and small communities. This small, tight-knit community plays a major role in each story.
In my Samantha Cody series, Sam hails from the tiny town of Mercer's Corner. You won't find it on a map because it's a total fabrication. But it sits roughly where the town of Amboy is—you don't even have to blink to miss it—where I-40 and the old Route 66 part ways. The town's compressed geography and isolation play a large role in Devil's Playground. The story simply would not have worked in New York. And when Sam travels, and invariably becomes involved in murderous situations, it's always to a small town. In Double Blind it's Gold Creek, Colorado (also a fabrication) along the famous San Juan Parkway, while in Original Sin it's Remington. Tennessee—loosely based on Winchester, Tennessee—where many of my ancestors resided.
Deep Six, the first in my new Jake Longly comedic thriller series, is set in Gulf Shores, Alabama, and environs. Though Gulf Shores now boasts hordes of multi-million dollar homes and high-rise condos, it remains a small town. And everyone knows Jake, his PI father Ray, and his friend Tommy "Pancake" Jeffers. These entanglements are evident throughout the story.
So, for me, small towns and small town cops make the best stories. The geography, the closed communities, and the many secrets these places strive to protect, complicate the stories in a way a large urban area never could.
---
D.P. Lyle is the author of the Samantha Cody, Dub Walker, and Jake Longly thriller series and the Royal Pains media tie-in series. Along with Jan Burke, he is the co-host of Crime and Science Radio. He has served as story consultant to many novelists and the screenwriters of shows such as "Law & Order," "CSI: Miami," "House," and many others. Read his blog at https://writersforensicsblog.wordpress.com.
Buy this back issue! Available in hardcopy or as a downloadable PDF.