Volume 32, No. 3, Fall 2016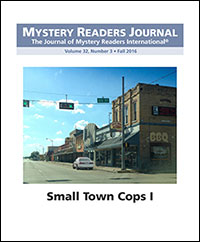 Buy this back issue! Available in hardcopy or as a downloadable PDF.
TABLE OF CONTENTS
I'll Be Your Warrior of Care by Margot Kinberg
Parker's Jesse Stone: Fragile Power by Mimosa Stephenson
AUTHOR! AUTHOR!
A Whole New Territory by Victoria Abbott
Life Under the Magnifying Glass by Kelley Armstrong
Wild West by Shannon Baker
How I Learned to Start Writing and Embrace My Small Town Cop by Patrick Balester
Changing the Dynamics of Small Town Cops with One Experienced Detective by Laura Belgrave
My Cousin, the Small Town Cop by Linda Berry
Uncovering the Truth about Small Town Policemen by Rhys Bowen
Community Policing in Italy by Grace Brophy
Small and Cozy by J. D. Crayne
Small-Town Texas by Bill Crider
A Small-Island Cop by Thomas Rendell Curran
Kendal's Cold Case Cop by Martin Edwards
"32" Jones and "Scary" Larry by Tom Franklin
Knowing Everyone by Name by Anne Hagan
Finding the Sweet Spot Between Mayberry and Fargo by S.W. Hubbard
The Making of a Small Town Cop by J.A. Jance
Small Town Cop Life In Ipswich, Massachusetts by Gavin Keenan
A Writer Survives in the North Woods by Henry Kisor
How I Found My Small-Town Cops by Jill Kelly
It's Always About the Little Things by Victor Letonoff Jr.
A Copper in a Small English Mill Town by Priscilla Masters
Snapshots of a Mountain Town by Margaret Mizushima
Discovering Joe Silva by Susan Oleksiw
Silver Rush Woes by Ann Parker
A Different Point of View by Cathy Perkins
From Family to Fiction by Terry Shames
Crime Moves Into the Bedroom… Town by Neil Plakcy
Small Town in a Small Country by Vanda Symon
Got Writer's Block? by Elly Varga
The Last Uncorrupted Mexican Cop by Jonathan Woods
An Old-Time Bluegrass Sheriff by Sally Wright
COLUMNS
Mystery in Retrospect: Reviews by Vinnie Hansen, Lesa Holstine, L.J. Roberts
Top Ten: No Small Cops, Only Small Towns by Jim Doherty
The Children's Hour: Small Town Cops by Gay Toltl Kinman
Crime Seen: Small Town USA by Kate Derie
Just the Facts: A Tale of Two Cops by Jim Doherty
From the Editor by Janet Rudolph
---
Kendal's Cold Case Cop
by Martin Edwards
Kendal is an ancient market town, the gateway to Britain's lovely Lake District. It's home to two castles, delectable Kendal mint cake (as consumed by Edmund Hillary and his team during the first successful ascent of Everest), and Cumbria Constabulary's Cold Case Review Team, headed by Detective Chief Inspector Hannah Scarlett.
We first meet Hannah in The Coffin Trail, when she's arrived at a crossroads in her career, and in her life as a whole. Her relationship with local bookseller Marc Amos is going through a rough patch, and she's been sidelined by an ambitious, and perhaps jealous, boss who sees cold case work as a dead end in more ways than one. But then she meets Daniel Kind, a historian who has recently moved to the Lakes with his girlfriend Miranda, and this encounter takes her life—and Daniel's—in a fresh direction.
The connections between Hannah and Daniel are powerful. Years ago, she was mentored by Daniel's late father, Ben, who had left his wife and children to move up to the Lakes from Manchester, to be with his new lover. Ben became more than a mentor; he was a very close friend, and Hannah finds herself, against her wishes, drawn to the introspective young man who has abandoned the bright lights after a personal tragedy. And her work, like his, focuses on solving mysteries of the past.
I wrote The Coffin Trail when I moved to a new publisher, and my hugely talented editor David Shelley asked me to create a new series with a rural background. I wanted to fuse my love of the traditional whodunit (complete with red herrings and lots of twists) with a glance at contemporary English society, and the stresses of life in the countryside in the 21st century. The Lakes is not only one of the most beautiful places in the world; it also boasts an astonishingly rich literary heritage—not just Wordsworth, but Coleridge, De Quincey, Southey, Ruskin, Arthur Ransome, and Beatrix Potter, There are several literary sub-plots in the books—for instance, De Quincey's dark visions permeate The Serpent Pool, fourth entry in the series.
David loved the concept, and commissioned the series. The Coffin Trail was one of six books shortlisted for the Theakston Prize for best crime novel (alongside Ian Rankin, Susan Hill, Stephen Booth, and the eventual winner Val McDermid)—a great moment in my writing career! David moved on to even greater things—he's now the editor for J.K. Rowling. I wonder if she approached him with the words, "I've seen what you've done for Martin Edwards' career, and I'd like a slice of that!"? Well, perhaps not!
There are now seven books in the series, and while Hannah's team remains based at Kendal (known as "the Auld Grey Town" because so many local buildings are made from grey limestone, but in fact a colourful and exciting place), the stories are set in a wide variety of locations in and around the Lake District National Park.
The Arsenic Labyrinth, for instance, sees action taking place around the village and lake of Coniston—John Ruskin territory—and focuses on the fell-side site of the ancient and mysterious copper mines. The book is set in February, and my research led to domestic tensions when I insisted on taking my family to the Lakes one horribly wet weekend in February in order to soak up (literally, I'm afraid!) the local atmosphere. It was all part of the never-ending quest for that essential touch of literary authenticity, but I'm not sure they have yet forgiven me.
The Hanging Wood is set around a residential library close to Keswick and Derwent Water—close to where that once-renowned novelist Sir Hugh Walpole (actually a founder member of the Detection Club) lived. The library has a real life model in North Wales—Gladstone's Library, founded by the famous Victorian Prime Minister. It's a wonderfully atmospheric place, and offers a unique opportunity to stay in well-appointed rooms—recommended to all book-lovers! I'm pleased to say that Gladstone's Library will soon be unveiled as the home of the archives of both the Detection Club and the Crime Writers' Association. I hope that in years to come it will become a Mecca for crime fans. Its fictional counterpart in The Hanging Word provides, alas, the background for a rather shocking murder case.
In The Frozen Shroud—set around Ullswater—Hannah suffers a terrible loss in the course of a case that brings her and Daniel closer together. The Dungeon House, seventh and latest in the series, sees her contemplating a move to a new life in Kendal, at the same time as she investigates a sequence of seemingly unconnected disappearances on the lovely but lonely west coast of Cumbria, in the remote Roman port of Ravenglass.
Hannah isn't a showy person; she just gets on with her job. Her passion for justice keeps her going, despite the challenges (both personal and professional) with which she's confronted. I love writing about her, and it seems strange now to think back to the time when I was working on The Coffin Trail, when the initial focus was on Daniel Kind's relocation to the Lakes. I showed the manuscript to that fine crime writer, my friend Peter Robinson, and he spotted at once that Hannah was the key character in the story. Peter was absolutely right, and ever since then I've loved exploring the different aspects of her life and character.
But there's one question people keep asking about the series, and it's this: will Hannah and Daniel ever get together on a long-term basis? The honest answer is that I don't know myself. I'll have to see how they feel about it. After all, this is suspense fiction, and I like to be kept in suspense as much as anyone.
---
Martin Edwards is author of The Golden Age of Murder, winner of Edgar, Agatha and H.R.F. Keating awards. He has published 18 novels, and edited 28 anthologies. He is Series Consultant for the British Library's Crime Classics, Vice Chair of the CWA, and President of the Detection Club.
---
"32" Jones and "Scary" Larry
by Tom Franklin
I'd been struggling to write what would become Crooked Letter, Crooked Letter (Morrow, 2010) since my first novel, Hell at the Breech (Morrow, 2003), came out. Over the next few years, my second novel, Smonk (Morrow, 2006), demanded to be written, and interrupted the eighty sloppy pages I'd managed to put together. So, for a time, I abandoned the project. In 2007 I went back to that earlier work. There were scenes of a boy with a rifle; a boy talking to a mechanic in a garage; a cop riding on the open road. I rearranged those eighty pages. My wife read them and confessed she could make no sense of them. Nonetheless, the pages continued to grow.
I'd been wanting to write about a small town police officer, and I'd long had the image of a loner mechanic in my mind. When I put the two together, the story finally began to form.
The character of Silas "32" Jones is very loosely based on Larry Hicks, the sole police officer of the hamlet of Dickinson, Alabama, where I grew up. This guy was actually the law in a nearby mill town, Fulton, Alabama, the model for Chabot, Mississippi, in the novel, and Dickinson also fell in his tiny jurisdiction. I originally intended to set the book in Alabama, but I liked the title Crooked Letter, Crooked Letter (a reference to a mnemonic used by Southern children learning to spell "Mississippi") so much that I sort of slid the whole shebang west into Mississippi.
I've always loved the idea of small town cops, especially one who might be a kind of underdog to the police forces of nearby larger towns. I made Silas black because a black friend of mine suggested I do so. His name's David Wright, a wonderful writer himself, and he—I suppose—gave me permission, or allowed me to give myself permission, to make Silas a black man. I'd avoided writing about race relations my whole career (three books to that point), though not intentionally. I just hadn't hit the right story.
In the course of writing I found I liked the cop stuff, liked finding out about that. Silas became the head of the force, indeed the entire force of the tiny community of Chabot. My police technical advisor was a wonderful guy named Ron Bagette, Chief Investigator for the Clark County, Alabama, Sheriff's Department, who was generous with his time, patient with his explaining, full of great stories. If this man ever runs for sheriff, we should all take up residence in his county.
I used a lot of autobiographical stuff for Larry Ott, the mechanic. His dad and my dad were both mechanics, and Larry and I both loved Stephen King and Edgar Rice Burroughs books. Like Larry, I didn't feel able to be out in the open with my father. And like Larry, I had black friends. In a flashback to their adolescence, Silas and Larry are, very briefly, best friends.
And one event, arguably the pivotal event in the novel, was particularly autobiographical.
For years I've regaled audiences across the country with my "first date" story. Perhaps you've heard it? I've told the story maybe five hundred times to audiences as intimate as ten or twelve, and as large as several hundred. This includes books tours, readings at colleges or other schools, interviews, book clubs, writing conferences, not to mention groups in bars (perhaps the biggest group of all). I've got the story's timing down—I can make it last from a couple of minutes to a half an hour—and I know when the laughs will come, and when the women will go "Awww," and cock their heads.
In the story I'm 16 and appear foolish and sad, a lonely kid who finally gets a date to the drive-in movie, only to have the girl ask him to take her to her boyfriend because she says she's pregnant (she's not). I did this, and then drove to the drive-in and parked my Toyota as inconspicuously as I could, and when someone I knew drove in behind me, I put a blanket over my hand and held it up as if it were my date. People laugh as I tell it, standing there with my arm out, bent at the elbow, fingers in the rough shape of a girl's head. "Ironic," I say, "because this had been my date for my entire life," waiting for them to catch the joke and begin to laugh. You should write that, people say.
And I tried. I used it in a failed story called "Lust." I tried it as an essay and floundered. Trouble was, I'd told it so many times, it had become an oral story. I couldn't do justice to it on the page.
In the meantime, I was working on Crooked Letter, Crooked Letter. And Larry Ott was continuing out to have a lot in common with me. We both, as I said, loved Stephen King and Tarzan. We both loved to catch reptiles and amphibians. And things that had happened to me kept happening to Larry.
As I wrote, more and more connections grew between Larry and me, including Larry's "date" to the drive-in. Thankfully my real-life date didn't disappear, presumably to be murdered, as Larry's does. My night was only humiliating and, eventually, a good story to tell. Larry's date to the drive-in, though, defines his life, and there's nothing funny about it. Though he's never officially accused of his date's murder, and, in fact, it's never proved that she was murdered at that point in the story, he's suspected of the crime by the entire community, and made a pariah for something that was not his fault.
Twenty-five years later, Larry, called "Scary" Larry behind his back, is still living under the shadow of this crime, and Silas, after a short-lived college baseball career (his nickname, "32," is his baseball jersey number), a stint of military service, and a few years as a campus cop at Ole Miss, has returned to Chabot to take over as its lone peace officer.
When a second girl disappears, Larry is blamed again. When Larry is shot by an unknown assailant, Silas feels himself drawn into the investigation, and he and the man he'd shared a short-lived friendship with when they were teen-agers have to face what happened a long time ago.
Crooked Letter, Crooked Letter is the story of how they face it.
---
Tom Franklin, Assistant Professor of Fiction Writing and Writer in Residence at the University of Mississippi (Ole Miss) won a Los Angeles Times Book Prize, a Willie Morris Prize for Southern Fiction, and a CWA Gold Dagger for Crooked Letter, Crooked Letter. His latest book, The Tilted World (Morrow, 2013), written in collaboration with his wife, poet Beth Ann Fennelly, is set during the 1927 Mississippi River Flood.
---
The Making of a Small Town Cop
by J.A. Jance
By the early nineties, I had written ten or so J.P. Beaumont books in a row, and I was getting pretty tired of him. Don't get me wrong, Beau's a nice enough guy, and we've spent close to thirty five years as author and character. But occasionally relationships need a break. When I suggested knocking Beau off in the next book, my editor took a deep breath and suggested that perhaps I should come up with another character and another series, so I could alternate stories and gain a little perspective.
When I met J.P., he was big city homicide cop and a life-long resident of Seattle. When I started writing about him, I had to put in a lot of time and effort not only into learning about the Seattle that was current in my stories, but also the fictional Seattle Beau had lived in as a child and young man. The Beaumont books are written in the first person through his point of view—starting out as a middle-aged male homicide detective. Obviously I'm not male, and I am not now nor have I ever been a police officer. Creating and maintaining that male/police officer point of view for over three decades and more than twenty books, requires real discipline.
So when I was given the option of creating a brand new series, those items were prime considerations—point of view; male or female protagonist; and location, location, location.
Choosing a third person point of view was a no-brainer. First person is tough. The narrator can only know what he has seen, heard, or been told. Third person is far more flexible. As for male or female? That was easy, too. Maintaining the male perspective takes work. Why not have a woman main character? Enter Joanna Brady. And since I'm tall and have always wondered what it would be like to be short, she turns out to be vertically challenged as well.
As for location? I grew up in southeastern Arizona. I know the weather, the roads, the towns, the landscapes, the people. Writing about something I already knew seemed like a breeze after having to learn everything about Seattle in order to write the Beau books. So my home town, Bisbee, became Joanna's home town. But here's a surprise, I never intended her to be a small town cop or even a cop at all.
When I wrote the first Joanna book, my plan was for her to be an amateur sleuth, except it didn't turn out that way. By the end of Desert Heat, Joanna's husband, Andrew Roy Brady, a sheriff's deputy who was running for office against his boss, has been murdered, and Joanna plays a huge role in finding out what happened. In the process, she uncovers some long term layers of corruption and wrong-doing inside the local sheriff's department.
In the course of Andy's funeral, several people asked her if she would consider running for office in her husband's place. When she said yes, I think she and I both thought that if she won, she would be sheriff in name only—a place marker, as it were. And there was also some thinking—in my head and among the fictional residents of Bisbee—that if that happened, her election would be more out of sympathy than anything else.
But then I started writing the second book, Tombstone Courage. In that, the election had taken place and Joanna had indeed won, but she had yet to be sworn into office. When something bad happened in the story and she started looking into it, I ran into a huge set of internal objections. "Hey," I kept trying to tell her, arguing author to character as I often do. "You're not a cop. You can't do that. You can't ask that." It turns out that I had been writing police procedurals for so long, that writing about an amateur sleuth was completely outside my wheelhouse. How did I fix it? I had her sworn into office early.
But the real problem with Tombstone Courage was tombstone courage itself. In police parlance, it's one of the ten fatal errors made by police officers, and it means going into a dangerous situation without waiting for proper backup. If Joanna was going to be a lady cop, I didn't want her to be a stupid lady cop. And that explains how book three, Shoot/Don't Shoot, finds her undergoing police academy training in Phoenix.
So yes, she was the daughter of a small town cop and the wife of another, but she's the one who turned herself into a professional police officer by taking the training and doing the job.
With Downfall (September 2016), we're closing in on twenty books with Joanna and me as character/author. We've both learned a lot in the course of all those years of stories.
One of the hazards of being a small town cop is that you know everybody and everybody knows you. Sometimes you're close to the victims and their families, as when Junior Dowdle, a developmentally disabled character, is tragically murdered or when the local high school principal is gunned down. Sometimes you know the perpetrators. And some of the continuing characters are regular pains in the you-know-what. One in particular who seems bent on making Joanna's life miserable is Marliss Shackleford, a local self-styled star reporter who also happens to be best buddies with Joanna's mother.
And speaking of mothers! If you're a small town cop whose widowed mother hauls off and marries the local medical examiner? Then one of your trusted colleagues just became your stepfather. Oops.
Small town cops have to be on guard all the time and also on their best behavior because people are watching them to see how they'll measure up. If Joanna happens to meet her husband for dinner at a local restaurant and she happens to be wearing her uniform at the time? Well, then, she'd best not have a glass of wine with her entrée, because somebody's going to spill the beans to Marliss, and the story will be all over town in her very next Bisbee Buzzings column.
Joanna started out as a small-town sheriff when she was in her late twenties. In the first books I think she comes across as sort of an arrogant know-it-all. Her friend and pastor, Marianne Maculyea, and her second husband, Butch, have helped tone down some of that youthful arrogance. (I should have said her inadvertent second husband. Butch was supposed to be a one-book character, but he showed up in Shoot/Don't Shoot and simply refused to go away. If I had known she was going to marry the man eventually, I would have given him a more dignified name.)
When the books started, Joanna was in a state of undeclared but continuing warfare with her mother, Eleanor, while at the same time glorifying the unsullied memory of her "perfect" father, D.H. Lathrop, a man who died when Joanna was only fifteen. Over the course of the books and the years, Joanna has gradually come to understand the complicated role Eleanor was forced to play at the "last parent standing," of a rebellious teenager. And once Joanna stumbles across her father's long-term relationship with another woman, she learns that her father wasn't perfection itself either. And the fact that both her widowed mother and her father's mistress have continued to live for all these years at opposite ends of the canyon the same small town? There you are. It turns out there are some secrets small towns are able to keep longer than others.
Small town cops have very little privacy. Joanna is currently running for her third term of office while, at the same time, expecting her third child, and her constituents as well as her opponents feel free to comment about how her being in a "family way" affects her ability to do the job. I think it's fair to say that her family life and her office life are hopelessly intermingled. And you know what? I'll bet the same holds true for real small town cops every bit as much as it does for fictional ones.
---
J.A. Jance is the the New York Times bestselling author of more than fifty mysteries.  Born in South Dakota and raised in Bisbee, Arizona, she now divides her time between homes in Arizona and Washington state.
Buy this back issue! Available in hardcopy or as a downloadable PDF.