Volume 36, No. 3, Fall 2020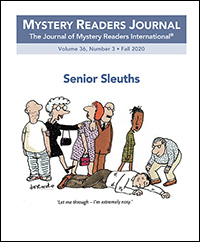 Buy this back issue! Available in hardcopy or as a downloadable PDF.
TABLE OF CONTENTS
ARTICLES
I Want to Be Mrs. Pollifax When I Grow Up by Patricia Cook
Marlowe's Last Bow by Jonathan Woods
Supreme Senior Sleuths by Robert J. Stern
AUTHOR! AUTHOR!
Difficult Endings by John Harvey
Yooper Sleuthing in the Golden Years by Deb Baker
Senior Sleuths Can Be Geezers or Geezerettes by Mike Befeler
The Silvering Sleuth by Baron R. Birtcher
Cat Caliban and M.J. Smith by D. B. Borton
My Senior Sleuth by Garry Disher
Observations Lead to Older Detective Duo by Carl Brookins
Sixty is the New Forty by Robert Dugoni
Write the Age You Know by Kaitlyn Dunnett
How Quickly Does Your Detective Age? by Martin Edwards
Subjected to History's Judgment by Daniel Friedman
A Conversion with Bronson by L.C. Hayden
Detectives of a Certain Age by Richard Helms
A Different Kind of Sleuth by Russell Hill
Confronting Golden Ageism by Helen Jacey
From the Golden Girls to Jessica Fletcher: The Road to Poppy Harmon by Lee Hollis
Where Age Is an Edge by Ron Katz
Senior Sleuths and Older Writers: A Conversation by Ellen Kirschman and Terry Shames
Rancho de Taos by Gay Toltl Kinman
White-Haired Love by Chris Knopf
Who You Calling Senior? by Vicki Lane
Why I Wrote the Gladdy Books by Rita Lakin
"See You Later" But Not "Goodbye" by Gayle Leeson
The World's Oldest Working Cop by Peter Lovesey
My Senior Sleuths Are Still on the Case by Ed Lynskey
Sleuths of a Certain Age by Annette Mahon
Old Age Can Be Deadly, Unless You Are the Fog Ladies by Susan McCormick
A Senior Author Tries Sleuthing by Rosemary Mild
Molly and the Inspector by Larry Mild
Sneaking Into the Life of My Protagonist by Radine Trees Nehring
Better than a Homicide Detective by Richard Osman
Considering Writing a Senior-Themed Cozy Mystery? I Did. Here's What I Learned by Carol Novis
Senior Sleuths: Not Dead Yet! by Ang Pompano
A Much Younger Sleuth by Cynthia Riggs
Murder and Mayhem in a Modern Noir Style by M. Glenda Rosen (aka Marcia Rosen)
Old Folks Are Just Neat by Nancy Swing
Why My Protagonist Is a "Woman of a Certain Age" by Ilene Schneider
Edward Gorey, Detective by C J Verburg
Mysteries After Sixty by Livia Washburn
COLUMNS
Mystery in Retrospect: Reviews by Sandie Herron, Lesa Holstine, L.J. Roberts, Lucinda Surber
In Short: You're Never Too Old by Marvin Lachman
Just the Facts: A Cop for Three Quarters of a Century! by Jim Doherty
Real Italy Mysteries by Cathy Pickens
Crime Seen: Miss Marple and Beyond by Kate Derie
POV: The First Hundred Years Are the Hardest by Rita Lakin
From the Editor's Desk by Janet A. Rudolph
---
How Quickly Does Your Detective Age?
by Martin Edwards
Fictional detectives are lucky. As you may have noticed, they tend not to age in quite the same way as the rest of us. Hercule Poirot had already retired from the Belgian police force when he looked into that mysterious affair at an Essex country house. Yet by the time we read about his memorable return to Styles Court in Curtain, an underrated novel in my opinion, more than half a century had passed. Jane Marple enjoyed similarly remarkable longevity.
Nor are Agatha Christie's great detectives alone. Reg Wexford was in his fifties when Ruth Rendell introduced him in From Doon with Death and he was still going strong fifty years later. What's more, his social attitudes had changed out of all recognition and become much more progressive. P.D. James's Adam Dalgleish was equally fortunate in keeping the ageing process at bay.
It's tempting to fantasise that there is some kind of elixir reserved for these senior sleuths, a potion which keeps them eternally sharp and resourceful. I'd fancy sampling it myself, to be honest.
What we're really talking about, of course, is the choice that writers make when they create their detective. How old is he or she? It seems like a simple decision but its consequences can haunt an author for a very long time. You could call it a curse of success. Rendell never contemplated writing a long series about Wexford, just as Christie never imagined that Poirot and Marple would become such iconic and enduring figures.
When I created my first detective character, Harry Devlin, I was aware of these issues. So I decided that Harry would be the same age as me—thirty-two (yes, this was a long, long time ago). I knew that I wanted to write a series, and I thought this would give me plenty of leeway. For a few years he aged more or less in real time as each book came out. But then I took a break of a decade to write other books and when I returned to the series, with Waterloo Sunset, I had to decide whether or not to embrace the time gap or pretend it hadn't happened. I chose to age him, but it's now more than ten years since that last book in the series appeared. If and when Harry returns (and you never know) I am pretty sure he'll have drunk some of that elixir.
I've taken a slightly different approach with the protagonists of my Lake District Mysteries, Hannah Scarlett and Daniel Kind. They started out in their early to mid-thirties in The Coffin Trail in 2004 and they don't age in real time as the series progresses. Again I've had a break from the series, digressing pleasurably with books like The Golden Age of Murder and my work as consultant to the British Library's Crime Classics.
But Hannah and Daniel are on their way back. In their latest case, which I'm working on right now, The Crooked Shore, only about a year has passed since their last adventure, in The Dungeon House, which was in fact published in 2015.
In my latest series, Rachel Savernake and Jacob Flint are even younger. They are in their mid-twenties at the time of the events of Gallows Court, which is set in 1930. And they find themselves at Mortmain Hall, my latest novel, just a few months later.
This isn't because I entertain any sort of prejudice against senior sleuths. Far from it—actually, a first encounter with Jane Marple when I was eight years old was what inspired my lifelong love of detective stories. It's just that most of the stories I've written called for protagonists who are relatively youthful. Jacob's inexperience and naivete are central to his characters and the scrapes he finds himself in. I love writing about him and about Rachel. But as the years have passed, I've also become increasingly interested in writing about more mature detectives.
I was commissioned to write a Golden Age-style story for a British magazine, My Weekly. The idea was to celebrate the publication of Mortmain Hall. However, the terms of reference meant that it wasn't a suitable opportunity for Rachel Savernake or Jacob Flint to return. Instead, I opted to create an older female character, Miriam Ackroyd. Miriam's a detective novelist and no mean investigator, with her very own Watson-narrator, her secretary Polly. I've been gratified by the response. So there's a good chance Miriam will reappear one of these days.
And there's more. For the CrimeFest anthology Ten Year Stretch, I wrote a story about a much older pair of characters. One was a rather grumpy ex-cop with very traditionalist views, the other was a woman of about the same age who is much more progressive in her outlook. The story was called 'Strangers in a Pub', and it was a lot of fun to write.
Even as I was working on the manuscript, I found myself wondering if the duo had the potential to become series characters. So I was thrilled when the story was shortlisted for the CWA Short Story Dagger. This wonderfully unexpected bonus has encouraged me to believe that people might be interested in reading more about this pair of senior sleuths. So—watch this space.
In the meantime I'd better keep searching for that magic age-defying elixir. Failing that, I'll stick to the belief that you're as young or as old as you feel inside!
---
Martin Edwards has won the CWA Diamond Dagger and nine other awards including an Edgar, two more Daggers, and two Macavitys. He is President of the Detection Club and consultant to the British Library's Crime Classics. The latest of his 19 novels are Gallows Court and Mortmain Hall, both of which feature Rachel Savernake, and are homages to Golden Age fiction.
---
The World's Oldest Working Cop
by Peter Lovesey
Just how old is Peter Diamond of the Bath police? Forty-one at the start of the series, in The Last Detective, when discovered asleep on a trolley outside the post-mortem room. That was 1991. He's still in the job in 2020 in The Finisher. Anyone cruel enough to do the arithmetic will work out that he's now seventy.
A seventy-year-old cop? Get away!
Read on. It gets worse.
The age of your sleuth is the biggest pitfall when you write a series.
Trust me, it wasn't meant to be like that. You don't start off with a title like The Last Detective, do you? Diamond was conceived as a relic, the last of the old school of sleuths, patrolling the mean streets in trilby hat and beige trench-coat. He was never meant to be a 21st-century cop sitting in front of a screen. When computers are installed in the office, he calls them Trojan horses. He's out of sympathy with the techies and whiz kids, the men in white coats and the high-flyers. You'll have guessed this was my way of compensating for knowing sweet nothing about modern policing, All my books up to then had been set in the past. So it was no surprise that towards the end Diamond had a bust-up with the assistant chief constable and resigned. I'd written a stand-alone novel as I intended. End of, as they say.
But it wasn't the end; it was only the beginning.
Readers actually liked the old grouser. They were willing to excuse his Luddite tendencies, his bad habits, his rudeness to colleagues and everyone he met. To my great surprise, The Last Detective was nominated for the Anthony award and to my eternal shame I didn't travel to the 1992 Toronto Bouchercon. The book was voted the winner. Friends of mine, Liza Cody and Michael Z. Lewin, accepted the trophy on my behalf and brought it back to Britain. It's crafted from wood and, ironically, it's the figure of an old-style detective—in trilby hat and beige trench-coat, cigarette in one hand and handgun in the other. My Anthony stands on a shelf in the room where I write and points the gun at me, a lasting reproach.
After that unexpected boost, what else could I do but give Peter Diamond another case? He'd quit the police, so his sleuthing had to be done as a civilian. He moves from Bath to London and applies for a job in security in Harrods, the famous department store. At the interview he says he's forty-eight. Don't ask me why. If true, this would make him seventy-six in 2020.
Unlike the first book, Diamond Solitaire is more thud and blunder than police procedural. We see a different side of the man's character after he discovers a frightened Japanese child abandoned in the store. She suffers from autism. On a lone mission to restore Naomi to her family, Diamond travels across the world, to New York and Tokyo, and tangles with the mafia, drug gangs and Sumo wrestlers.
I tried, I really tried, to make that his last hurrah. He was an ex-policeman, for pity's sake, and I couldn't see him featuring in more books. How would I get him involved in crime? As an ex-cop, he couldn't keep stumbling over bodies, pursuing the killers and handing them over to justice. I returned to what I was best known for, the historical detective story, and wrote Bertie and the Crime of Passion, the third in a series featuring the Prince of Wales as an inept, middle-aged amateur sleuth. Finding cases for one of the royals wasn't a problem. There is intrigue all around them.
But I was often asked when another Diamond would appear. Three years went by.
One day I looked up at Anthony, standing on my shelf.
With that wooden gun still aimed at me, what else could I do but write a third? Common sense told me Diamond was a policeman through and through and I needed to find a way of getting him back with his team in Bath, so I contrived a plot that would do it. The police urgently need his help. A villain he once put away has escaped from prison and kidnapped the daughter of the assistant chief constable. Diamond is summoned to Bath, restored as detective-superintendent and put in charge. The Summons was shortlisted for an Edgar and awarded the Silver Dagger.
More incentives to keep him employed.
One book is a stand-alone, a second is a sequel and third makes it a trilogy. After that, there's no turning back.
The next was called Bloodhounds and picked up more awards, a Macavity, a Barry and another Silver Dagger. Lovely, but I was beginning to realise it had been a mistake to start off with a middle-aged sleuth. By now he was forty-five by one count, fifty-one by another.
Other writers of long-running series faced the same problem and found their own ways of dealing with it. It has been calculated that Agatha Christie's Hercule Poirot was 135 by the end. He'd retired from the Brussels police before he started solving cases in Britain. Agatha Christie wrote in her Autobiography, 'Now I saw what a terrible mistake I had made in starting with Hercule Poirot so old—I ought to have abandoned him after the first three or four books and begun again with someone much younger.' Her solution was to let him show signs of ageing in later books, yet insist that his famous little grey cells were functioning as well as ever. With Miss Marple, Christie faced a similar difficulty. 'Miss Marple was born at the age of sixty-five to seventy,' she wrote, 'which as with Poirot proved most unfortunate, because she was going to have to last a long time in my life.' For forty-one years, Miss Marple remained an elderly lady. Other characters grew and aged, but Jane Marple was forever sixty-five to seventy.
Rex Stout was even more precise. When asked what age Nero Wolfe was, he answered that he was fifty-six. The age isn't revealed in any of the books, but there is a memo typed by Stout in 1949 that gave this and when questioned years later he confirmed it. 'These stories have ignored time for thirty-nine years. Any reader who can't or won't do the same should skip them. I didn't age the characters because I didn't want to.'
My approach was less exacting. I figured that if Diamond was to be real for me and for my readers, he had to develop as a personality. The events in his life would affect him and force him to develop. By the time I reached book 7, Diamond Dust, he was becoming too set in his ways. If I got weary of him, the books would surely suffer. So I gave him a life-changing experience that I'd better not go into here. It shook some of my readers—I still get letters about it—and it certainly shook Diamond. He has never fully recovered. But creatively it challenged me and allowed me to continue with the character. He has mellowed somewhat and is kinder to his colleagues. Reluctantly, he uses a computer. He carries a cellphone—but only for making and receiving calls and it is turned off most of the time. Soon he may need hearing aids and a walking frame.
A bigger problem than Diamond is his cat. Raffles was a kitten when he was adopted by Diamond's wife Stephanie, in Bloodhounds. He is now twenty-four. In cat terms, that must be almost as old as Hercule Poirot. Like Diamond, Raffles is showing signs of age. Visits to the vet are more frequent and he needs help climbing onto the sofa. But if there is one thing I've learned in my writing career, it's that you don't even think about killing off the cat. Raffles will endure as long as Diamond does.
The Finisher, published in July, is the nineteenth book in the series. With a title like that, you may be tempted to think it's the last. Not so. The Finisher in this case is a runner who also murders people. The Bath half-marathon, commonly known as the Barf-Arf, is a famous annual road race. My story is about the Other Half, an event for people too late to sign up for the main race. I've started the next novel and I'm still up and running.
---
Peter Lovesey is celebrating his fiftieth year as a mystery writer. Wobble to Death was published so long ago that it was reviewed by John Dickson Carr, Dorothy B. Hughes, Edmund Crispin and Anthony Berkeley. It has remained in print ever since. A new collectors' edition has just appeared from Soho Press.
---
Better than a Homicide Detective
by Richard Osman
The detectives in my novel The Thursday Murder Club are four very unlikely friends, all in their seventies. Elizabeth, a former spy; Joyce, a former nurse; Ibrahim, still a psychiatrist; and Ron, a once-infamous labour activist.
I have been asked time and again why I chose older people as my sleuths. And the answer is simple. Because of my Mum.
My Mum, Brenda, is 78 years old and, in all honesty, I would trust her to solve a murder far more than I would trust anyone else. To explain why, I thought I should write you a little list. My list is entitled…
The Top 3 Reasons My Mum Would Be Better at Solving a Murder Than an Experienced Homicide Detective
My mum has an awful lot of time on her hands.
My Mum spent a lifetime as an elementary school teacher, and raised two sons single-handedly. So I want to make it clear that she has always been a hard worker. However, it is fair to say that, these days, my Mum has a pretty nice schedule. I mean, really, what is she doing all day? She gets up whenever she wants, she hangs out with her other 78-year-old mates, watches a bit of daytime TV, has a couple of glasses of wine at lunchtime, maybe a quick snooze, and then kicks back and relaxes for the rest of the day.
Which means, of course, that if one of my Mum's neighbours was murdered, she would have plenty of time to gather evidence, interview suspects, illegally interfere with the police investigation, and track down the killer. Which is exactly what Elizabeth, Joyce, Ibrahim and Ron do in the book.
My mum always knows who the murderer is on any TV programme or film I've ever watched with her.
Honestly, you'll be 20 seconds into an episode of Murder She Wrote and my Mum will say 'I bet the man in the orange jumper did it. He's probably the ex-husband of the horse racing trainer, and he's stolen some horse tranquiliser and slipped it into the drink of the local newspaper reporter.' And we'll watch to the end, and that's exactly what will happen. As Jessica Fletcher leads the man in the orange jumper off to jail, I will look at my Mum and, once again, shake my head in wonder.
I should point out, however, that my Mum didn't guess the killer in The Thursday Murder Club. So if you work out the solution you are even better than she is.
My mum is underestimated.
If you met my Mum (and it can be arranged, she loves visitors) you would leave thinking 'what a lovely, kind, gentle woman.' Don't be fooled. My Mum is the cleverest person I know.
If you were a murderer (and I'm not accusing you, by the way, I'm just saying if), she would invite you round for a cup of tea and a slice of cake, you would have a lovely conversation about the weather, or the garden, and by the end of it, she will have worked out exactly how you did it. Minutes later, you would be in handcuffs.
This is Joyce's skill in The Thursday Murder Club too. She is kind, thoughtful and polite, and she is always underestimated, and she is always overlooked. But she misses nothing.
We have got used to the people with the loudest voice and the strongest opinions running the world. My Mum, and Joyce, are a reminder that you should probably let the quiet people take charge once in a while.
My Mum would fit straight into The Thursday Murder Club. A gang of friends, from very different backgrounds, with very different experiences, who team up to solve whatever case you put in front of them.
They are clever and loyal, they have seen great happiness and great sadness, they are funny, they are unorthodox and they are old enough to not care too much for the rules. They are kind and ingenious, they value their friendship and they respect their differences. And—and this really can't be stressed enough—they do have an awful lot of time on their hands.
The story is full of twists, full of dark misdeeds, full of mystery and full of suspects. But, at its heart, it's about the brilliance of a generation of older people, who, we all know, can turn their hand to anything. They share my Mum's heart and soul and intelligence.
So when people ask me why I have chosen a group of sleuths in their mid-seventies, my real answer is 'why on Earth would I choose anyone else?'
---
Richard Osman has worked as an executive producer on numerous UK shows. Richard's popularity and tremendous knowledge of trivia led to him presenting his own BBC quiz show and several others, as well as being the host of Pointless with 7 million views. He is also a regular on panel shows and writes a column for the Radio Times.
Buy this back issue! Available in hardcopy or as a downloadable PDF.