Volume 31, No. 3, Fall 2015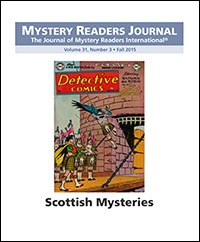 Buy this back issue! Available in hardcopy or as a downloadable PDF.
TABLE OF CONTENTS
ARTICLES
Performing Scottish Crime: Ian Rankin's Dark Road by Charlotte Beyer
The Many Hues of Tartan Noir by Nancie Clare
Escape Through Idyllic Scotland by Ann-Marie Lamb
Tartan Noir: Scottish Mystery Fiction by Chris Longmuir
Beautiful Mysterious Scotland by Patricia Smiley
AUTHOR! AUTHOR!
Crime Writing — Scotland's Other National Export by Lin Anderson
Beatrice Who? Some Thoughts on Scotland by Rhys Bowen
Rain and Scottish Crime Writing by G.J. Brown
The Deadly Flower of Scotland by Lillian Stewart Carl
At Home in Edinburgh by C.S. Challinor
Casanova and the Scottish Connection by Myra Duffy
Finding My Scottish Essence by David Hagerty
By Yon Bonnie Braes by Jo A. Hiestand
A Brief History of Bodysnatching by Anna Lee Huber
My Search To Belong by Coco Ihle
Scottish Heads and Scottish Hearts by Paul Johnston
Mystery and Murder in the Heart of Scotland by Chris Longmuir
Ghosts, Whisky, Fire… and a Single Flower by Bonnie MacBird
The Angel's Share by Diane Gilbert Madsen
The Emergence of Muirteach Macphee by Susan McDuffie
Writing About Scotland by Peter May
Land of My Heart by Catriona McPherson
Grunt Goes to Canada by Grant McKenzie
What's in a Name? by T. Frank Muir
Childhood Adventures in Scotland by Gigi Pandian
A Tale of Haggis, Neeps, and Tatties by Martha Reed
Scotland the Grave by Craig Robertson
My Heart's in the Highlands by A.D. Scott
An American Guide to Scotland by Alexandra Sokoloff
Shetland? But what do you find to do with yourself up there… ? by Marsali Taylor
Is This Edinburgh? by Marty Wingate
COLUMNS
Mystery in Retrospect: Reviews by Sandie Herron, John Patrick Lang, Lesa Holstine, L.J. Roberts, Craig Sisterson
Scotland and British Crime Fiction: Some Observations by Philip L. Scowcroft
Children's Hour: Scotland by Gay Toltl Kinman
Crime Seen: Detecting Scotsmen by Kate Derie
In Short: The Short Scottish Mystery by Marvin Lachman
Scotland's Classic Mysteries by Cathy Pickens
From the Editor's Desk by Janet Rudolph
---
Beatrice Who? Some Thoughts on Scotland
by Rhys Bowen
I really had no close connection to Scotland until I married my husband and found that his great grandparents were the 14th Kingairloch of Gairloch and Beatrice Lachan McLachan of McLachan (I'm not making this up). Until then my experience of Scotland had been one trip during my student days that left me with a love/hate feeling about it. The first few days had been magnificent. We took a boat to various islands, including Mull and Iona. We sat on a hillside above Oban eating fish and chips and watching the sun set at ten o'clock at night. Then we planned a few days hiking on Skye. The morning after our arrival we awoke to rain. And it rained and rained. If there really was a mountain range, we never saw it once. The cloud was down almost to sea level. We drove and walked through mist and fog and rain, feeling thoroughly miserable, and after two days of this we gave up and headed northward.
That's when we discovered how bloody annoying Scotland can be. The West Coast is bisected by numerous sea lochs. And the only way to cross these is by ferry. We arrived on Sunday to find the ferry doesn't operate on Sundays. Neither did anything else. All stores, restaurants, pubs were closed. No way of getting a meal. No B and B. We had to retrace our steps and wait it out.
I'm not sure why I gave my heroine, Lady Georgiana, a Scottish background. Probably because I wanted her life to be royal but frustrating and difficult. Her grandfather was a Scottish duke who married one of Queen Victoria's daughters and lived in a remote Scottish castle. I suppose the only place in Britain where you can be truly remote is Scotland, which makes it a perfect setting for mystery novels! And I wanted Castle Rannoch to be the most uncomfortable sort of castle. The sort you'd want to flee from. I described the tartan wallpaper in the loo. The way the wind moaned down the corridors. The poet Wordsworth, who had stayed during his ramblings, had left a coupled scribbled on a scrap of paper in the waste basket. "From dreadful heights to lakeside drear, abandon hope all ye who enter here."
In many ways my castle is based on Balmoral, the Scottish castle built by Queen Victoria (who had not one ounce of Scottish blood herself). She made the castle about as Scottish as one can get. Tartan carpets in every room, bagpipes waking the guests at dawn, Scottish dancing in the evenings. So my castle is a spoof of this. A sort of Disneyland version of Scotland. Not everyone was pleased. I got a snippy letter telling me that no toilet in Scotland would have tartan wallpaper and I was insulting the Scots. I replied that of course I knew that, and it was supposed to be a funny book. A joke.
But I've enjoyed setting scenes in several of the books at the castle in Scotland. There was a whole story of someone trying to kill off the royal family in Royal Flush. It even includes the Loch Ness monster! And of course there was mayhem when Mrs. Simpson brought a party to stay and one of the guests was killed by a falling toilet. And the place is always occupied by Georgie's sweet but clueless brother Binky and his poisonous wife Fig who is too stingy to have proper fires or crumpets at tea time and is constantly telling Georgie what a burden she is to the family. No wonder poor Georgie couldn't wait to escape. I hope she finally finds a more agreeable place to settle. In the meantime I rather think a few more bodies may show up among the heather. It is, after all, the perfect setting to commit murders.
---
Rhys Bowen is the New York Times bestselling author of two historical mystery series: the Molly Murphy mysteries, set in early 1900s New York and the lighter Royal Spyness novels, featuring a minor royal in 1930s Britain. Rhys's books have won thirteen awards to date, including three Agathas, three Macavitys and two Anthonys. She is a transplanted Brit who now divides her time between California and Arizona.
---
Writing About Scotland
by Peter May
Isn't it strange how much easier it is to write about a place looking back at it?
That's how it was for me writing about Scotland.
I was born and bred in Glasgow, and lived in the country of my birth for fifty years, working as a journalist, then a television scriptwriter and producer, and finally a novelist.
When I gave up working in television to devote myself to the seemingly impossible task of trying to make a living as a writer of books, you might think I would have drawn on all that past experience to write about what I knew — Scotland.
I didn't. The very first thing I wrote was a crime novel set in China. I could hardly have strayed further from home. The Firemaker (1999) was initially intended as a standalone, but when Hodder & Stoughton offered me a two-book deal if I wrote about the same place and characters in the second book, I couldn't resist. After all, I was trying to make a living, and publishers don't often offer you two-book deals.
And so The Fourth Sacrifice (2000) was born. Again set in Beijing, and featuring my Chinese cop Li Yan and American pathologist Margaret Campbell. Somehow two books turned into six. After each one I went back to my publisher with an idea for something different. Each time my editor shook her head and said, "More China!"
I was still living in Scotland as I was writing this series, in a 19th-century farmhouse overlooking a sea loch in rural Argyll. But as the series wore on, I found myself becoming increasingly depressed. I was writing in the winter, rising at 6am to start work in the dark. It didn't get light until around 9 or 9.30am, and even then it was a grey light mired in low cloud hanging over the loch. It would start getting dark again by 3.30pm, and was pitch black by the time I had finished for the day.
In the previous three years, my wife's parents had both passed away in difficult circumstances. My father had died a year earlier after a long fight with dementia, and as I was writing the third in the China series, The Killing Room (2001), my mother was dying in a hospital in Glasgow. When I finished work each day I would drive for an hour and a half through the dark and the wet to sit with her for two hours, then drive home again. She died before I finished the book.
It marked a major turning point in my life. Suddenly orphaned in middle-age, and without any remaining family ties in Scotland, my wife and I decided we would spend more time in the sun, in what up until then had been a holiday home in southwest France. The warmth and the light lifted my spirits, and within a year we had sold our house in Scotland and made France our permanent home. I wrote another three books in the China series, then received a once-in-a-lifetime chance to go to Tibet and set the seventh book there, with the full cooperation of the authorities.
To my utter dismay my publisher turned around and told me they didn't want any more China books. Reviews had been great, but sales had been average. I presented them with an idea for a series about a former Scottish forensics expert solving cold cases in France using new science. The hero was a certain Enzo Macleod, but my editor told me he was too old to bear the burden of lead character, and that they weren't interested.
Suddenly I was facing serious financial difficulties. Sales of the China books to some foreign countries were just about keeping me afloat, and my wife (also a writer) and I began holding writing courses to bring in extra revenue.
The year was 2005. And two remarkable things happened during those twelve months. I found a French publisher for my China series — a publisher with whom I have formed a wonderful personal and professional relationship — and I wrote a new book that I considered to be the best I had ever written. It was called The Blackhouse.
In my search for what to write after the demise of the China books I had returned, finally, to my native Scotland for inspiration. And I had found it in the years I spent filming on the remote Hebridean isle of Lewis. An isolated, storm-ravaged archipelago in the extreme northwest of Europe, the Outer Hebrides of Scotland provided a unique setting and cultural background for a crime thriller that I believed would be very different from any other. I went back to research the book, steeping myself once again in the island traditions, and producing a manuscript for which I held very high hopes.
Hopes that were very quickly dashed when the book was rejected by every publisher in the UK. I was devastated. I couldn't understand it. But neither could I afford to dwell on it. The China books were selling well in France, but I needed to increase my income if we were to survive. And so I returned to my idea of the Scottish forensics expert working in France, The Enzo Files. I wrote the first of those, Extraordinary People (2006), on spec, and was fortunate to have it accepted by an American publisher.
What extraordinary connections. A Scot living in France, writing about a Scot solving crimes in France, in books that were published in America.
I completely forgot about The Blackhouse until a chance conversation with my French publisher three years later at a book festival in France. I told her about the best book I had ever written that nobody wanted to publish. She asked to read it. I sent her the manuscript and six weeks later she phoned me to say that she loved it, and wanted to buy world rights.
The book that had marked my return to Scotland was suddenly rescuing me from penury. It became a bestseller in France. The French newspaper L'Humanité described it as "a masterpiece." It won several awards. My publisher sold it all around Europe, and finally to a British publisher, Quercus (2011).
Once out in the UK, it was chosen by the Richard and Judy Book Club — similar to Oprah in the US — and became a huge bestseller. Between them, my French and British publishers persuaded me to turn The Blackhouse into a trilogy — which among them have now sold more than two million copies in the UK alone.
So writing about Scotland had rescued me from financial and literary oblivion. My next three books have all had primarily Scottish settings, the first two being top three bestsellers — Entry Island (Quercus, 2013) and Runaway (Quercus, 2015) — and the third of them (set on the Hebridean isle of Harris), Coffin Road, being prepared right now for publication in January 2016 (Quercus).
And here's an interesting coda: that series about the Scottish forensics expert in France who was 'too old' to be the main character? It has now sold half a million copies in the UK, and I am just now preparing to sit down and write the last of them.
Rescued not only by my home country, but also by a fellow countryman — albeit a fictitious one.
Vive l'Écosse!
---
Peter May is a Scottish journalist, screenwriter and novelist, author of sixteen crime novels, ranging from the award-winning and internationally bestselling Lewis Trilogy, to the groundbreaking China Thrillers series. Born and bred in Glasgow, he now lives in France.
---
An American Guide to Scotland
by Alexandra Sokoloff
So what's a California native who writes a California-based mystery/thriller series doing in the Scotland issue of MRJ? You may well ask! I've been a longtime fan of Val McDermid and Denise Mina; the two of them were a huge inspiration for my Huntress Moon series. But that doesn't really explain how I came to be living half the year in Scotland and commuting back to L.A.
How did this happen??? I'm still asking myself.
Well, you all know that at a writing conference, you can find the writers at the bar. You may not be as aware that the longer you stay in the conference bar, the more likely it is to turn into a hotbed of illicit activity. (Okay, I guess that's true of any bar….)
So two years ago I was at the Left Coast Crime conference in Colorado Springs, and I was at the bar talking to the Scottish crime writer Craig Robertson….
And basically we never stopped. I visited him in Scotland, he visited me in California… and suddenly we were redecorating an office together. (No, we don't write in it at the same time. He often doesn't wake up until I've finished my entire writing day. Which is useful for productivity….)
I always said if I ever did the love thing again, it would have to be with another writer. It's just too hard when the person you're sharing your life with has no idea what is going on in your head. With another mystery writer, you know exactly what's going on in your partner's head. And it's seldom pretty. And that's okay. Because let's face it, what's in your own head isn't very pretty, either. And you can do things like wake the other person up in the middle of the night to ask critical life questions like "What's the absolute minimum time you can get full DNA results back?" and they will not only have the answer but not mind you asking in the middle of the night (much).
We've been living together for two and a half years now, which is pretty good considering that I moved in with him before we had a first date.
And of course living in Scotland has influenced my writing. I'm in the middle of book four of my Huntress Moon series, in which a haunted FBI agent is hunting a female serial killer, following a trail of bodies she's left all over California, the Southwest, and Pacific Northwest (at least!). My own bouts of homesickness for California are making me write those California locations even more vividly than usual. But I'm also working on the first book in a new Scottish-based series, in which an American woman finds herself in limbo in Scotland after being involved in a terrible crime.
But today I'll be more general and tackle the question everyone always asks me:
What's it like living in Scotland?
I do love my lists, so here's a short list of answers.
It's more like Trainspotting than Brigadoon.
Actually, Glasgow is more like Trainspotting; Edinburgh is a bit like Brigadoon.
Especially up around the tourist traps near the castle. Craig and I live between the two cities, so I get to spend a lot of time in both of them, and it seems to me that Glasgow and Edinburgh have a combative relationship somewhat like the one between L.A. and San Francisco (except that L.A. doesn't really look outside itself enough to realize that San Francisco has a combative relationship with it). Glasgow is the mean streets, very masculine, outgoing, aggressive, and apparently crime-riddled.
Edinburgh is dreamy and arty and feminine (really one of the more gorgeous cities I've ever seen). As a part of the crime writing scene I spend more time in Glasgow, but I like both cities and find the contrasts fascinating. Yes, I'm taking notes for my new series….
Speaking of Trainspotting….
Subtitles would be good.
Okay, I know that in my list to the Universe of what I wanted in a partner I suggested that an accent would be nice. English, Irish, Scottish, they've all always worked for me. Plus the humor. What I didn't know was how bloody hard it is to understand a whole country full of them.
Craig is pretty comprehensible when we're alone. He was a journalist for twenty years before he moved into crime novels, and has interviewed people from all kinds of countries, so he's used to adjusting his accent to whomever he's speaking with. But get him in a taxi, and he starts talking with the driver… they might as well be speaking Swahili.
Separated by a common language.
It's not just the accent. Even when I do manage to decipher that, I am constantly running into words and usage that I've never heard of. Everything that we pluralize in the US, the UK singularizes, and vice-versa. It's the linguistic version of driving on the wrong side of the road, which they also do here. Lots of words get shortened (leccy, brekky, footie) and everything shortened has a "y" or "ie" added. If that all wasn't short enough, they are constantly dropping "to be" in sentence construction (you hear "needs ironed" or "needs replaced" instead of "needs to be ironed" or "needs to be replaced"). And of course, everything is "wee." It's not "a walk" or "the shop" or "a text." It's "a wee walk" and "a wee shop" and "a wee text." (If you ever hear me saying a "wee" anything, you'll know I've crossed some internal line and there's no going back.)
Apparently the Scottish people invented the English language. Apparently they invented a whole lot of other things that the English stole. So I have no grounds for any linguistic argument. Plus you really don't want to get in an argument with anyone Scottish — they seem to have invented that art, too. So I don't argue. I just casually mutilate the language with my Californiaisms. Probably I'm not the only one who needs subtitles.
There are castles.
In fact, there is history everywhere, and really, really old history. Along with mindbendingly beautiful castles and stately homes, there are twisty cobblestone streets and frighteningly lifelike statues and knock-your-breath-out views. I often feel as if I'm living on a movie set. My dreams are pretty surreal, too.
The weather isn't as crap as they keep saying it is.
Scots like to complain. They especially like to complain about the weather. Maybe I got such a hard sell on how crap the weather was, that it seems sunny by comparison (being a native Californian, people were betting against me surviving my first winter) or maybe I spend so much of my day inside my own head that I don't notice the weather, or maybe rain is just good for the kind of writing I do, or maybe Scotland is finally getting the global warming it's been dreaming of… but I don't mind the weather at all. It rains a lot, but there's also a lot of sun. It's also clear air all the time, which is wonderful. Smog is bad. Snow is a major pain and could kill you. Rain is just weather.
There's this thing called a pub quiz.
Pub quiz is both hilarious and nerve-wracking, like Trivial Pursuit on steroids. Luckily they take place in a pub, so all that Guinness takes the edge right off.
Look, we all know Americans are notoriously, spectacularly bad at geography. And there's nothing like a pub quiz to make you understand how little you know about the composition of the world. I'm even worse than normal because when I was in primary school, the theater classes were held during geography hour, so I got lots of choir and dancing, which are pretty useless in the geography portion of a pub quiz. While I occasionally get random American trivia right, I try not to get involved in the tie-breaker final answer kind of thing. But it is hilariously good fun, much more engaging than a night in watching television.
Don't even think about mentioning Braveheart.
Not being a fan of Mel Gibson's torture porn, I never saw the movie myself, but apparently it's about as accurate to Scottish history as Apocalypto is to Mayan history.
The actual story of William Wallace is fascinating and explains a lot about the Scottish character. He was a Scottish landowner who rebelled against incredible persecution under the English and became one of the main leaders in the Wars of Scottish Independence in the late 1200s–early 1300s. Just hearing the full story is enough reason to make you vote for Scottish independence now. Nicola Sturgeon is another; what a force! If this woman isn't Prime Minister ten — or even better, five — years from now, there's no justice in the world.
Yes, there are kilts.
And I'm in favor of them.
---
Alexandra Sokoloff is the Thriller Award-winning and Bram Stoker and Anthony Award nominated author/screenwriter of twelve crime, supernatural and paranormal thrillers, including the Thriller Award-nominated Huntress/FBI series, following a haunted FBI agent on his hunt for that most rare of killers… a female serial. The series turns the "female as victim" and serial killer tropes inside out, and has been optioned for television. Huntress Moon, Blood Moon, and Cold Moon (Thomas & Mercer) are available now.
Buy this back issue! Available in hardcopy or as a downloadable PDF.