Volume 23, No. 3, Fall 2007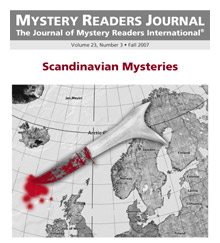 Buy this back issue! Available in hardcopy or as a downloadable PDF.
TABLE OF CONTENTS
Surviving the Future by Roberta Ann Henrich
Translating Scandinavian Suspense Fiction by Steven T. Murray
Sweden's Queen of Crime: Liza Marklund's Novels by Jost Hindersmann
The Danish Crime Book Fair by Vibeke Johansen
Dry Humor in a Cold Climate by Peter Rozovsky
Swedish Noir: Maj Sjöwall and Per Wahlöö by Stan Izen
The Arctic's Very First Murder Mystery? by Chris Patrick
Karin Fossum's Norway by Marja Mogk
A Scandinavian Touch in the Good Old USA by Peg Herring
Mysteries in Finland by G.J. Demko
Swedish Mystery Writers Translated into English by Iwan Morelius
Crime at Easter by Anan Singh & Natalie Normann
A Bookworm's Tour of Murder and Mayhem in Sweden by Charlotte West
An American's Feeling for Smilla by Christine W Kulikowsi
Crime? In Scandinavia? by Cathy Pickens
Swedish Mysteries Give Clues to the Old Country by Verna Suit
Red Blood and White Snow: Murder in the North by Thomas Przybilka (Web-Exclusive Expanded Bibliography-PDF)
AUTHOR! AUTHOR!
Uncovering the Truth by Annika Bryn
Writing from Norwegian Roots by Carla Danziger
Behind the Headlines, Behind the Dividing Lines by Kjell Eriksson
The Company I've Kept by Inger Frimansson
Searching for the Questions by Leena Lehtolainen
In the Shadows of the Welfare State by Anita Lillevang
A Long Road from Poetry to Mystery Writing by Lars Bill Lundholm
Portrait of the Artist as an Old Dog (Country Not Important) by Håkan Nesser
Have You Driven a Fjord Lately? by Katherine Hall Page
Triumph of the Will? by Harley L. Sachs
A Depressing Lack of Crime by Yrsa Sigurðardóttir
Against All Odds by Anan Singh & Natalie Normann
A Crime Writer—In Spite of Everything by Helene Tursten
COLUMNS
Mystery in Retrospect: Reviews by Axel Bussmer, M. Wayne Cunningham, Lynn Harnett, Glenn Harper, Ali Karim, Karin Montin, Verna Suit
The Children's Hour: Scandinavian Mysteries by Gay Toltl Kinman
In Short: Scandinavian Heat by Marvin Lachman
Scandinavia in British Crime Fiction by Philip L Scowcroft
MRI MAYHEM by Janet A. Rudolph
Letters to the Editor
From the Editor's Desk by Janet A. Rudolph
---
Contemporary Finnish Crime Fiction: Cops, Criminals and Middle Men
by Paula Arvas (Helsinki, Finland)
Crime fiction has been written in Finnish for almost one hundred years. The centennial will be celebrated in 2010. During the last decades the popularity of the genre has grown steadily and now about 40 to 50 crime novels are published annually. Most are written in Finnish by Finns, but a few novels are written in Swedish by Finnish authors. Swedish is also an official language of the country.
The best tradition with which to compare Finnish crime fiction is Scandinavian crime fiction. (By Scandinavia, I mean Sweden, Norway and Denmark and by Nordic countries I mean these as well as Finland, Iceland and the Faroe Islands). Although there are clear differences between the Nordic countries, there are some things which are common to all of them: realism in crime fiction is strong in every Nordic country and a tradition of the police procedural can be found in Finland, Sweden and Norway, although in Denmark political thrillers have been popular. It is typical of Finnish crime fiction that a police officer is the main character. Audiences also demand a realist style. Finnish crime fiction differs from Swedish crime fiction typically in that Finnish writers often use criminals, like small time crooks, as their central characters.
One of the most popular and best-known of contemporary Finnish crime writers is Matti Joensuu, who is also internationally well known. Leena Lehtolainen is a close second. Joensuu has won the Finnish annual crime fiction award, The Clue of the Year, three times, and he has twice been nominated for the Finlandia prize, which is the biggest literature prize in Finland. Joensuu is the only crime writer ever to be nominated for this prize.
A police officer himself, Matti Joensuu started writing crime novels during the 1970s. Joensuu became a writer because he felt that he had to somehow process all the things he saw in his work. From the beginning, he developed a distinctive, realist style in a series that chronicled the police work of Timo Harjunpää. While his style in some ways recalls the novels of the world-famous Swedish writers Maj Sjöwall & Per Wahlöö, Joensuu was not familiar with their work when he began his writing.
Joensuu's first novel introduced themes that would later characterize the whole Timo Harjunpää series. Describing human loneliness and the humanity which is shared by police officers and criminals, his novels express a critical attitude towards society. In his books both policemen and criminals are presented as victims. Joensuu has always been especially interested in the criminals and how ordinary people turn to crime. He has shown in his fiction how childhood can define one's future. As a writer he has often been far ahead of his time, for example when writing about racism in novel titled Harjunpää ja heimolaiset (Harjunpää and the Tribalists) in 1984 when there was no public discussion of racism in Finland. In Matti Joensuu's books we repeatedly see the unpredictability of ordinary life, situations where everything changes in a second, as well as the depths of human helplessness. He describes modern society as an extremely cold and uncaring world in which there are no heroes.
In general, the police procedural features a police team and the functioning of the group of police men and women is the focus. Police teamwork is emphasized in a new police procedural series by Jarkko Sipilä, who used to be a crime journalist and now works as a crime reporter in television news. Sipilä has often said that when one is working as a crime journalist, one hears incredible stories and acquires a wealth of material. By writing fiction one can also deal with the shocking things one sees at work. Sipilä writes about police officer Kari Takamäki and his team, who work in present day Helsinki. Sipilä's style is often ironic and his characters are laconic.
Kari Takamäki is a main character who is an antithesis to many heroes of modern crime fiction: he does not have a drinking problem and doesn't resent his superiors. Kari Takamäki is a team player, a dedicated husband and father and almost too decent. His younger colleagues bring life to the novels and Sipilä's strong point is his description of the crime investigations. He also writes interestingly about the operation of the underworld and of international crime, but his description of criminals is less idealized than in some novels by Finnish crime writers.
Leena Lehtolainen started writing about female police officer Maria Kallio (Kallio literally means "rock") in the early nineties; she brought feminist crime fiction with a strong female hero to Finland. Surprisingly she remains alone as a writer of this subgenre today, even though her books are very popular in Finland (and elsewhere in Europe). Maria Kallio is an independent police woman who in Lehtolainen's nine-book series is promoted from ordinary police officer to the top ranks, getting married and giving birth to two children along the way. She is one of those rare heroines who manage to balance between career moves and family life. Lehtolainen combines skillfully the description of everyday family life with the work routines of a police officer.
Lehtolainen's crime novels can be seen as a combination of the police procedural, the classical clue-puzzle, and hard-boiled feminist crime fiction. As often in police procedurals, realism and current major problems in modern society, like child abuse, family violence and environmental crimes, figure prominently in Lehtolainen's writing. Although Maria Kallio is a high-ranking officer, she is very active in concrete investigations and is not afraid of danger or violence, which she repeatedly encounters in her work.
Most Finnish female crime writers have kept alive the subgenre of the classical clue-puzzle. Women writers also often have strong links to the psychological crime novel. One of the best in this genre is Sirpa Tabet, who since her debut in 1989 has published several non-serial thrillers.
Typical of Sirpa Tabet's novels is that an ordinary main character, often female, finds herself in the middle of curious events. Tabet creates a threatening atmosphere and her plots feature hints and surprising twists. The central feature in Tabet's novels is a theme that links women's everyday home life to excitement and events that can even seem supernatural. Tabet herself says that there is always a natural explanation. Tabet is excellent at plotting her novels. Her novels always feature a surprise ending, which turns events upside down and makes the reader look at the whole story from a completely different angle. The message in the novels seems to be that one cannot escape one's past.
Outi Pakkanen started her career in the 1970s and has published regularly ever since. She has always defended entertainment. Her "whodunit" novels often begin with a murder at a small family event or another kind of gathering, such as class reunion. Outi Pakkanen herself has said that her favorite sound is the clicking of women's high heels on the Boulevard, an elegant street in the center of Helsinki. This may sound silly, but it actually describes well Outi Pakkanen as a writer. Her books are filled with detailed descriptions of Helsinki and changing elements of its cityscape. The novels are set in the world of advertising, art and magazines, among middle-class people and in the posh, old and expensive parts of Helsinki.
Pakkanen is not interested in describing police work but examines tensions between people. In most of her books there is a character named Anna Laine who works as a graphic designer. Sometimes Anna actively solves the crime. In other books, she may play a minor role. Anna is very fond of good food, and it can be said that descriptions of food and cooking have come to be an integral part of Pakkanen's novels. In the last years, Pakkanen has moved steadily from clue-puzzle to psychological crime fiction. The novels are now darker and more thrilling, and they increasingly feature contemporary themes. She depicts the ways young people want to be celebrities or how women are acting violently in their family lives, for example.
The Finnish underworld has attracted many Finnish male crime writers. The most successful has been a former crime reporter, Harri Nykänen. He began publishing crime novels in the 1980s, but only reached a larger audience in the 1990s with his three-part series about an underworld enforcer named Raid. The books are set in Helsinki, and an entertaining 12-part television series based on the books won over both viewers and critics during the early 2000s. The series also attracted audiences in the US, when the show was broadcast on cable television during 2005. Raid is silent and he often relies on violence. His opponent is Inspector Jansson from the Helsinki police force.
In the television series the sarcasm and wit which are characteristic of Nykänen's writing reached new peaks, and the level in the novels has remained high since. The main theme in the television series was the inviolability of those in power. In the series, Finland was presented as a society that was governed by a large company, over whom the authorities wasted little concern. This depiction was a thinly veiled jab at the Nokia phenomenon in Finland at the time. Generally, Finnish crime fiction seldom describes large, structural problems like destruction of the welfare society or the growing role of economical powers.
Closest to the American hard-boiled tradition in Finland comes Tapani Bagge. He is a fresh talent in the field of Finnish crime writing. Bagge has translated many American crime writers into Finnish, for example Elmore Leonard, and these influences can been seen in his novels. There are strong elements of black humor and comedy. What makes Bagge different from the others is that his books are not set in any of the three largest cities in Finland—Helsinki, Tampere or Turku where almost all Finnish crime fiction is set. (Northern Finland, or Lapland, is only rarely the setting for Finnish crime fiction.) In Bagge's crime novels the setting is his small home town, Hämeenlinna, an imaginative background for fast-paced, hard-boiled crime fiction.
During the last years Bagge has published five novels. The characters are small-time cons and police officers on their tail, men in their thirties and forties. The writer is clearly more interested in the villains; why do some people turn to crime and why do they act the way they do? There is a lot of violence in Bagge's books, which is uncommon in Finnish crime fiction. Bagge's novels also feature strong female characters. Women set things right when men have messed them up. It can be said that there is a very un-Finnish touch in Bagge's writing: piles of bodies, a lot of fighting, drugs, sex and rock 'n roll. Usually there are so many twists and turns in the plot that in the end the reader is the only one who sees the whole picture.
Matti Rönkä's novels are another good example of how in addition to the police officers and the villains, the middle men can be the main characters. In Rönkä's novels, we meet Viktor Kärppä, an emigrant from Russia. He has Finnish roots, a degree from the St. Petersburg Athletic Academy and Red Army special training. In Finland his background causes strangers to be suspicious, which does not help him settle into the Finnish society. Viktor seeks to help other emigrants, but mainly he engages in a variety of businesses. He must juggle the demands of his many masters in Finland and Russia, moving along the borderline of law and illegality. Through the character of Viktor Kärppä, the author writes about a man without a fatherland. As Rönkä's series continues, Viktor gradually turns to more legal business practices, but he remains a man whose past turns up again and again.
Rönkä's first novel A Man with a Killer's Face (2002) was published in Germany in spring 2007. It has received wide positive attention from readers and critics. In 2007, Rönkä was the first Finnish crime writer to win the Scandinavian Crime Writers' Glass Key Award.
A newcomer in the crime fiction genre, the international thriller created in the tradition of Frederick Forsyth and Ken Follett, has also become popular in Finland during the last ten years. Ilkka Remes and Taavi Soininvaara are the leading authors in this subgenre. Since 1997, Ilkka Remes has published ten novels. In 2006 his fast-paced thrillers surpassed the threshold of one million copies sold in Finland. Most of his novels revolve around the tense relationship between Finland and Russia, or more generally Finland's geopolitical position. Remes often depicts the Russians as gangsters and criminals who are, from time to time, beaten by Finnish heroes. The message in his thrillers seems to be that Finns do better if they just accept their huge neighbor and try to understand and respect Russians, instead of fearing or hating them. Remes is a master of tight plotting and intense action.
Taavi Soininvaara has not reached Remes' sales numbers, but is a strong challenger. He is a former lawyer who is now a full time writer. His third thriller won the Clue of the Year award in 2003. The first of Soininvaara's thrillers, Ebola-Helsinki (2000), introduces Arto Ratamo, who works as a scientist in the novel although in later ones he joins the Finnish Security Police. Although Soininvaara as well as Remes use world politics and international threats as a starting point, in both author's thrillers there is always a strong connection with Finnish society. Soininvaara moves away from the traditional thriller with its focus on an individual fighting against entire organizations. Instead, he builds tensions between large organizations and it is not just one individual fighting against huge threats. Also, in contrast to the heroes of traditional thrillers, Arto Ratamo is the single father of a daughter.
In Finland, crime fiction describes familiar settings and crimes which are not sensational and are mostly depicted in realist terms. The humor is often black and full of irony. Police as a main character have been popular in Finnish crime fiction since Mika Waltari's Inspector Palmu books in the late thirties and early forties, although it does feature some private eyes. During the last thirty years these police heroes have little by little turned into subtle and human characters, far from superheroes. They spend their time worrying about their job and their family life; they do a little wisecracking and sometimes they wonder what the point of it all is, but then they carry on.
Although the position of law is rarely questioned in Finnish crime fiction, contemporary crime fiction is socially critical. At the moment many crime writers comment on the real life operations of Russian criminals in Finland. Also, since 2001 Arabs and terrorism have entered Finnish crime fiction. I call Finnish crime fiction democratic, since there is an interest in writing about drug dealers and users, small-time cons as well as police officers. However, we still have fewer female writers than male. The joy of the last years has been the growing number of translations from Finnish to other languages, as well as the success of Finnish crime fiction, particularly in Germany.
---
Paula Arvas (b. 1970) is currently writing her Ph.D. about 1940s Finnish detective fiction at the University of Helsinki. She has reviewed and lectured about crime fiction, both Finnish and Nordic, since the mid '90s. This fall she will publish a crime fiction cookbook in Finnish, which presents recipes from crime novels and the writer's favorites, including British and American writers. The cookbook is based on a column she has written for over ten years in the Finnish Whodunnit Society's quarterly journal, the Ruumiin kulttuuri. Paula Arvas is also currently editing a scholarly collection of articles about Nordic crime fiction called Criminal Scandinavia: Nordic Crime Fiction.
---
Dry Humor in a Cold Climate
by 
Peter Rozovsky (Philadelphia, Pennsylvania)
The first thing you need to know about Nordic crime writers' reputation for dourness is that they acknowledge it (and, being good Nordics, worry about it). The second thing you need to know is that the label is not entirely accurate. Through the grim facade of frost, introspection, angst and alcohol, humor sometimes breaks, all the more delightful because it is usually so deadpan.
But first the worrying. In 2001, Bob Cornwell, in an interview published at Tangled Web, asked Henning Mankell why he excluded from his Kurt Wallander novels "that kind of black humor that policemen develop that often enables them to keep going… is that alien to Swedes?"
"I suppose that if I had written some of these novels today," Mankell replied, "I would probably have added a little more humor. At the time, I was afraid of coming too close to satire. If you use black humor, people can start to think that now he is into the satire. And I was maybe a bit afraid of that."
That same year, the magazine Nordisk Litteratur/Nordic Literature led an issue on crime fiction with an article that asked "Scandinavian crime novels: too much angst and not enough entertainment?" But the grim facade was already cracking. The same issue took a light-hearted approach to the serious question of anti-Finnish images in Swedish crime novels. In "The case of the fishy Finn  —  A tale of crime fiction and national stereotypes," author Petter Lindberg casts himself as a private detective hired (by a woman, naturally—"Her voice had a thrilling quality, even in his memory. It must have been that slight trace of an accent. Maybe a Finnish accent?") to track down negative images of Finns in four Swedish crime books. Here was evidence that a Nordic writer could combine social concern and humor.
In fact, such evidence had been around awhile, though English-only readers would have a tough time finding it for another few years. Håkan Nesser published Borkmanns punkt in 1994, and the novel won Sweden's top crime-fiction award. Once it was translated as Borkmann's Point in 2006, readers could enjoy scenes like this:
It was past eleven before the kids finally went to bed. [Münster and Synn] opened a bottle of wine and put on a Mostakis tape, and after several failed attempts, they finally managed to get a fire going. They spread the mattress out on the floor and undressed each other.
"We'll wake them up," said Münster.
"No, we won't," said Synn. She stroked his back and crept down under the blankets. "I put a bit of a sleeping pill into their hot chocolate."
"Sleeping pill?" he thundered, trying to sound outraged.
"Only a little bit. Won't do them any lasting harm. Come here!"
"OK," said Münster, and restored relations with his wife.
Not exactly angst-ridden, is it? In fact, playfulness underlies Nesser's entire fictional world. Names in his principal series are close to Dutch, but spelled not quite the Dutch way. The setting is coastal, though perhaps a coast more varied than that of the Netherlands. There are hints of northern Germany and, of course, of Nesser's own Sweden. And his protagonist's name, Van Veeteren, is an acknowledged tribute to the humorous, wryly philosophical Dutch crime writer, Janwillem van de Wetering.
In The Return, published this year, Nesser offers a droll account of a chaotic school outing that would have been hell for its leader but is fun to read about. Yet Nesser combines the humor with the traditional Swedish concern for social justice. He says The Return was inspired by a notorious murder case in which a man spent twenty-four years in prison based on dubious evidence.
Jo Nesbø's The Devil's Star opens during a steamy Oslo summer, a surprise, perhaps, to readers who don't normally associate Scandinavia with hot weather. That's not the only surprise in this chilling, energetic police procedural. Here, too, is humor, but less restrained than Håkan Nesser's quiet fun. Here's Nesbø's protagonist, Harry Hole, seeking information from a friendly source:
"Hi, Øystein. Harry here. Have you got anyone in the car?"
"Just Mick and Keith."
"What?"
"The world's greatest band."
"Øystein."
"Yep?"
"The Stones are not the world's greatest band. Not even the world's second greatest band. What they are is the world's most overrated band. And it wasn't Keith or Mick who wrote 'Wild Horses.' It was Gram Parsons."
"That's lies and you know it. I'm ringing off—"
"Hello? Øystein?"
"Say something nice to me. Quickly."
"'Under My Thumb' is not a bad tune. And Exile on Main Street has its moments."
"Fine. What do you want?"
"I need help."
That's funny, and it's real, and its unexpected occurrence at a moment of tension makes it funnier and more real. Similarly unexpected, at least from those dour, introspective and stolid Swedes, are the thoughts Liza Marklund puts in the head of her protagonist, Annika, in Paradise:
The editor-in-chief, Torstensson, wanted to introduce a new managerial level… All the signs of impending disaster were in place: the poor state of the finances; the falling circulation; the grim faces of the members of the board; the newsroom that swayed in a storm, poorly guided and with a run-down radar… Torstensson wanted to make a mark, and God knows he hadn't had any editorial achievements.
That sounds like a rant, but the last line turns it into humor—a bitter kind of humor, but humor nonetheless.
That inextricable mix of something funny with something grim is the salient characteristic of humor in Nordic crime fiction. Gunnar Staalesen's The Writing on the Wall, for example, a standout among the many crime novels that include sexual exploitation of youth as a central theme, opens with an off-hand account of a seventy-year-old male judge found dead in a hotel room—wearing women's underwear. Later, Staalesen comes up with a clever metaphor for oral sex that takes unique advantage of the story's Norwegian setting.
The even grimmer Arnaldur Indriđason, from Iceland, opens Silence of the Grave with this horrifyingly funny gem: "He knew at once it was a human bone, when he took it from the baby who was sitting on the floor chewing it." He is a skinny, harried older brother, whose discomfort at the riotous children's birthday party where he makes his macabre discovery is yet another example of that tendency to introduce a dark subject with a dose of grim humor.
This article, of course, can make no pretense to comprehensiveness, and not just because of its author's laziness. Aside from Henning Mankell and the 1960s and '70s team of Maj Sjöwall and Per Wahlöö, few Nordic crime writers with sizeable bodies of work have been translated comprehensively into English. Just two of Nesser's more than ten crime novels, for example, are accessible to readers whose only language is English, and just three of Helene's Tursten eight about Detective Inspector Irene Huss. And they're from Sweden, big man on the Nordic crime-fiction block.
For Finnish crime fiction, the situation is bleaker. Harri Nykänen has written novels about the ethical hitman Raid, apparently with a dose of humor. Several have been translated into German but none into English. At least one tantalizing example of humor in Finnish crime writing is available to readers of English, however. Pentti Kirstilä's story "Brown Eyes and Green Hair" (in The Oxford Book of Detective Stories: An International Selection, OUP) is a delightful piece of existential deadpan that should appeal to anyone and might especially remind readers of the German Gunter Gerlach or the great Swiss crime writer Friedrich Glauser.
Perhaps the occasional flash of humor in today's Nordic crime writing ought not to be so surprising. Sjöwall and Wahlöö, those high priests of politically committed crime fiction, did, after all, call their best-known novel The Laughing Policeman.
---
Peter Rozovsky blogs about international crime fiction at Detectives Beyond Borders, detectivesbeyondborders.blogspot.com. He wrote about Adrian Hyland in the Spring 2007 MRJ.
---
Portrait of the Artist as an Old Dog (Country Not Important)
by Håkan Nesser (New York, New York)
I was born in the middle of last century.
I don't like that sentence, but it's based on a true story.
I've been a writer for close to twenty years—but a reader for more than fifty. That's another solid truth, as is: Reading is more important than writing.
But to be frank: it boils down to the same thing. What I'm actually up to when I'm writing a story is that I'm reading it. This borders on a truism; it's my reader's eyes that tell me whether it's good or awkward, whether it's taking a right bend or a wrong one, whether the characters smell of life or not—not my writer's eyes, because they are turned inward toward that dark, infinitesimal abyss that is my mind.
Makes sense so far?
I think not. Writing is a fairly complicated process, analyzing your own writing is a joke. Thank goodness it comes—at least on a fairly good day—automatic.
So I prefer not to interfere with it. There is some further, non-circumstantial evidence, though: I've written 20 books. I think they are all novels, most of them probably crime novels. They are published in 25 countries and have sold millions and millions of copies. So perhaps there is something in them, after all. On the other hand, far worse books have sold even better, let's not jump to conclusions.
Since a couple of years I'm available in English, that's another fact—in league with a surprisingly high number of fellow authors from my native country: Sweden.
Which might lead people to believe that we have a lot in common.
We have things in common. First, most of us write crime fiction. Second, we write in Swedish.
Perhaps also: at least some of us are good and serious writers, but again, let's not jump to c., and it's for the readers to decide.
But no way there is such thing as a Swedish way of writing a crime story. Because a book—every book—is a dialogue between two people. One writer, one reader. If a book is good it doesn't matter a great deal if these said protagonists were born and educated in very diagonal corners of the world, or raised under whatever incompatible circumstances, because people are people everywhere. And when it comes to important matters—e.g. good stories—we understand each other.
Makes sense so far?
I think perhaps.
What else?
O, I live in New York since a year. Intend to stay another, because New York is a great place.
My family?
O, four kids, all grown-up, all still back in Sweden. But they visit a lot, because they too understand that New York is great.
A wonderful wife, Elke, who is a doctor. A dog by the name of Norton. A cat, Nelson.
That's about it. I used to be a teacher. Some say life is the point, but I prefer reading.
---
Håkan Nesser has written 20 novels and crime novels, and has been awarded twice for Best Crime Novel in Sweden (1994 for Borkmann's Point and 1996 for Woman with a Birthmark). In 2001 he won The Glass Key for Best Crime Novel in Scandinavia for Carambole, and in 2007 he achieved the Palle Rosenkrantz Prize for The Shadows and the Rain. His books have been translated into more than 20 languages; his first English translations were published by Pantheon in 2006 and 2007—Borkmann's Point and The Return, both starring Chief Inspector Van Veeteren. A number of Nesser's books have been adapted into films. Nesser lives in Sweden and New York.
Buy this back issue! Available in hardcopy or as a downloadable PDF.