Volume 24, No. 4, Winter 2008-09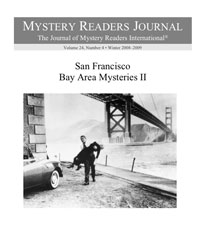 Buy this back issue! Available in hardcopy or as a downloadable PDF.
TABLE OF CONTENTS
The Birthplace of Modern Crime Fiction by Randal Brandt
Making Punks Wonder If They Feel Lucky… by Jim Doherty
Jazz and San Francisco Bay Area Mysteries by Nancy-Stephanie Stone
Stephen Greenleaf: Creator of California's Next Great Private Eye by Ed Lynskey
Touring San Francisco Through Legal Fiction by Stephen M. Murphy
Serial Murders in the Haight-Ashbury by Peggy Ehrhart
AUTHOR! AUTHOR!
All Roads Lead To… by Alina Adams
The Admiral's Wife by Barbara Bentley
Round Trip to San Francisco by Steve Brewer
San Francisco's Deadly Tools by Robert Elias
Murder and Mystery in the City by the Bay by R. Barri Flowers
The Wine Country Next Door by Nadia Gordon
Sanctuary by the Bay by Deborah Grabien
Surf City by Vinnie Hansen
The Sam's Grill Approach to Mystery Writing by Claire Johnson
Fond Obsession by Lee Killough
Joining the Past and Present in San Francisco by Laurie R. King
How Berkeley Moved North by Janet LaPierre
From Art Forgery to Witchcraft in the City by the Bay by Hailey Lind
I Left My Heart Far From San Francisco by Camille Minichino
San Francisco Makes a Sleuth—and a Writer by Marcia Muller
San Francisco Scrapbook by Perri O'Shaughnessy
Postpartum Detective by Diana Orgain
Silicon Valley: A Petri Dish for Crime Fiction? by Keith Raffel
On the Road with the SOU by Kirk Russell
In Which I Write by Dylan Schaffer
Just Add City by Jinx Schwartz
Blooming by the Bay by Shelley Singer
Connor Westphal: A Fish Out of Water by Penny Warner
COLUMNS
Behind the Seven-Point Star by Jim Doherty
In Short: Don't Call Me 'Frisco by Marvin Lachman
Mystery in Retrospect: Reviews
Letters to the Editor
From the Editor's Desk by Janet A. Rudolph
---
The Birthplace of Modern Crime Fiction: A Survey of San Francisco Mysteries Before The Maltese Falcon
by Randal Brandt (Berkeley, California)
In a recent essay published in the San Francisco Chronicle, Eddie Muller (the Bay Area's local "czar of noir") writes: "Modern crime fiction was born in a small apartment at 891 Post St. in San Francisco." He is referring, of course, to The Maltese Falcon, written by Dashiell Hammett, who lived at that address in the late 1920s. Hammett wrote the novel there and even used the locale as a model for Sam Spade's own apartment. That novel, which first appeared serially in Black Mask magazine from September 1929 to January 1930 and was published in book form in February 1930 by Alfred A. Knopf, forever changed the literary landscape of mystery and detective fiction and firmly established San Francisco as the birthplace of modern crime fiction. To this day, crime novels—especially those featuring private detectives—set in the City by the Bay are compared, for better or worse, to Hammett's famous creation. But, contrary to popular belief, The Maltese Falcon was not the first crime novel set in the Bay Area. Far from it. By the time Hammett's iconic novel was published, San Francisco—and environs—had already served as the setting for scores of other books, and the development of the mod-ern crime novel can be traced through those that came before it.
"San Francisco, on the marge of the sea, with towering hills behind her, lay basking in the sun like a serpent by the side of a rock." With this ominous line begins The Mysteries and Miseries of San Francisco (Garrett & Co., 1853*). Written anonymously (by "A Californian"), it is a sprawling account of high and low life in San Francisco and has the distinction of being the earliest known crime novel with a Bay Area setting. The San Francisco Committee of Vigilance and the Sydney Ducks play prominent roles in this tale.
In the late 19th century, one of the most popular forms of fiction was the dime novel. Cheaply published and featuring action-packed tales of dashing heroes, dastardly villains, and beautiful damsels in distress, often against a background of the Wild West, numerous dime novels combined crime, detection, and a "Frisco" setting—and frequently a lengthy title. The Frisco Detective, or, The Golden Gate Find: A Story of Five Millions of Dollars (Banner Weekly, 1885-1886) by Albert W. Aiken, is a yarn that takes place in San Francisco in the late 1870s and concerns a missing heir to $5,000,000. Deadwood Dick, Jr. in San Francisco, or, Kodak Kate, the Snap Shot (Beadle and Adams, 1891) by Edward L. Wheeler, chronicles the San Francisco adventures of sharpshooters Deadwood Dick, Jr., and his wife, Kodak Kate. Ace High, the Frisco Detective, or, The Girl Sport's Double Game: A Story of the Sierras and the Golden Gate City (Beadle and Adams, 1893) by C.E. Tripp, is a tall tale of colorful characters, high-stakes gambling, disguises, revenge, and murder in San Francisco in the 1860s. Ace High, the "Gambler Detective," is teamed with Flash, the "Girl Sport," against a desperate, blood-thirsty gang of outlaws called the "Hounds of 'Frisco."
"Ripped from the headlines" crime fiction is demonstrated by two contemporary treatments of one of early San Francisco's most infamous crimes. In 1895, William Henry Theodore "Theo" Durrant was convicted of raping and murdering two young women in Emanuel Baptist Church in San Francisco's Mission District. The case shocked the nation by its brutality and was dubbed "the crime of the century" in the press. Convicted on circumstantial evidence, Durrant went to his death—by hanging, on January 7, 1898—proclaiming his innocence. Reflecting the lack of proof surrounding the real case, in the anonymous Belfry Murders of San Francisco, or, The Strangest Crime of a Century (Munro, 1895), another dime novel, a detective named Old Cap Collier fails to solve the mystery surrounding the discovery of two bodies in a San Francisco church belfry. Letter F, or, Startling Revelations in the Durant [sic] Case (Savier & Co., 1895) by Jacob Taussig, was published in May 1895—during Durrant's trial—and is divided into two parts. The first part is a summary of the facts of the case ("As It Is Said to Have Happened") extracted from local newspaper accounts and testimony given at the preliminary hearing; the second part ("As It Could Have Happened") is pure fiction, attempting to exonerate Durrant by presenting possible, if not plausible, alternative circumstances surrounding the murders.
Flora Haines Loughead's The Man Who Was Guilty (Houghton, Mifflin, 1886*) tells the story of Philip King, a young San Francisco man on his way up in society when he decides to speculate in the stock market with $10,000 he has "borrowed" from his employer, the Bank of Yerba Buena. Determined to face his punishment, he pleads guilty and is sentenced to ten years in San Quentin. Upon his release he returns to San Francisco ready to lead a quiet life, earn an honest living, and make restitution to the bank for the money he stole. However, he must first overcome the suspicion and prejudice of a society that does not believe that a man such as he can be redeemed. While presenting an intriguing portrait of 19th century San Francisco, the novel is also a polemic against prison conditions, especially when the inmates are children.
Miriam Michelson's A Yellow Journalist (Appleton, 1905*) chronicles the adventures of Rhoda Massey, girl reporter for the News, the "biggest and yellowest paper in San Francisco." In her pursuit of scandal, Miss Massey covers several interconnected stories, including gambling and white slavery in Chinatown, political corruption, bribery, and murder.
In Blindfolded (Bobbs-Merrill, 1906*) by Earle Ashley Walcott, Giles Dudley arrives in San Francisco to help his cousin, Henry Wilton, in a "delicate" and "dangerous" business venture. But, before Wilton can explain the nature of the plot, he is murdered. Dudley witnesses the murder and catches a glimpse of the face of one of the killers. Dudley also bears more than a passing resemblance to his cousin and is mistaken for Wilton by nearly everyone he meets. At the encouragement of the police, he assumes Wilton's identity and is soon caught up in a variety of situations that he knows little or nothing about: the kidnapping of an unknown boy, a high-stakes stock deal, and a war between two rival gangs (one of which Wilton had been the leader of). As he unravels the mystery, the action takes Dudley all over the Bay Area, from Chinatown to the Stock Exchange and from Oakland to Livermore.
The great earthquake and fire of 1906 plays a major role in Travers (Stokes, 1908*) by Sara Dean. San Francisco socialite Gwendolyn Thornton awakens early one morning to discover a burglar in her bedroom pocketing her jewelry. As she confronts the thief, the earthquake strikes, destroying her house and killing her aunt as she sleeps. The intruder helps Gwen escape and takes her to the safety of a refugee camp on Twin Peaks. In the days that follow, Gwen learns about her rescuer, a British ex-Army surgeon named Keith Travers, as they face the horrors caused by the disaster. Travers had been dismissed from his regiment following a scandal in India, eventually turning to a life of crime. The earthquake offers him a last chance at redemption.
In The Coast of Chance (Bobbs-Merrill, 1908*) by Lucia Chamberlain, Flora Gilsey learns about the daring theft of an old and valuable ring that was going to be auctioned from the estate of a young woman who had died suddenly and tragically. When her fiancé Harry Cressy takes Flora to Chinatown to buy her an engagement ring, where they deal with a strange "blue-eyed Chinaman" and come away with a beautiful sapphire, she soon realizes that she is in possession of part of the stolen ring and that Harry knows more about it than he is letting on. For The Other Side of the Door (Bobbs-Merrill, 1909*), Chamberlain teams up with her sister Esther to tell the story of Ellie Fenwick, a young woman in 1865 San Francisco. Early one morning she is out shopping and, on her way home, decides to detour down Dupont Street, in Chinatown. As she is passing by a notorious gambling parlor, she hears a gunshot. A man falls through the door into the street, dead, closely followed by another man, Johnny Montgomery, holding a smoking pistol in his hand. At Montgomery's murder trial, Ellie's testimony helps to convict him. But Ellie remains unconvinced of his guilt and when a mysterious "Spanish Woman" interferes with the course of justice, Ellie is torn between her feelings for Johnny and her desire to do the right thing.
The career of hard-boiled Jack Lanagan of the fictional San Francisco Enquirer, the "premier police reporter of San Francisco," is documented in Lanagan, Amateur Detective (Sturgis & Walton, 1913) by Edward H. Hurlbut. Lanagan will go to any length to get his story, and with friends on the police force and contacts in the "foulest sinks of the Barbary Coast [and] Chinatown," he succeeds where others fail.
The East Bay gets into the picture with Until Proven Guilty (Western Pub. Co., 1917) by Charles W. Calhoun, in which John Temple receives a frantic message from Mildred Webb, a young woman he has known since they were both children. John, who is in love with Mildred and plans to ask her to marry him, rushes to the Webb mansion in the Berkeley hills north of "The Circle." When he arrives, he learns that Mildred's father is insisting that she marry one of his business partners. Desperate to escape her father's plan, Mildred asks John to marry her, instead. Of course, he agrees. As John is leaving, Mildred screams that her father has been killed. The Berkeley police quickly identify John as the prime suspect, but he escapes and goes into hiding. He manages to get a message to his private secretary, Alma Norman, who comes to Berkeley and teams up with Arthur Gilman, the "smartest man" of the West Coast Detective Agency, who has been hired by Mildred to find her father's killer.
Anticipating the emergence of the hard-boiled private detective, Alice MacGowan and Perry Newberry wrote five novels during the 1920s that chronicle the career of private investigator Jerry Boyne. The first, The Million-Dollar Suitcase (Stokes, 1922*), introduces Jeremiah "Jerry" Boyne, head of the Bankers' Security Agency in San Francisco. Boyne is hired to investigate the mysterious theft—from inside a bank—of a suitcase filled with nearly a million dollars in cash. The case involves not one, but two locked room mysteries and a murder disguised as a suicide. Like his more famous successors, such as Sam Spade and Philip Marlowe, Jerry Boyne is a philosophical loner who occasionally resorts to violence. He almost plays the sap for a beautiful woman in his second adventure, The Mystery Woman (Stokes, 1924), during his investigation of the disappearance and, later, murder of the president of an investment group dealing with mineral lands in Asiatic Russia.
In Boyne's third appearance, Shaken Down (Stokes, 1925), MacGowan and Newberry make an interesting move by taking the reader back in time to April 1906, shortly after young Jerry has emigrated to San Francisco from his native Ireland and gotten a job as a patrolman on the SFPD. Boyne walks a beat on the mean streets of Nob Hill and stumbles onto the scene of the kidnapping of a four-year-old child. Boyne is forced into investigating the kidnapping on his own when he is frozen out of the case by his superiors—and the city's political boss who controls them. Just as he is about the break the case wide open—and expose some of San Francisco's most powerful men—the earthquake strikes and the city itself is literally shaken down. The Seventh Passenger (Stokes, 1926) picks up the story eighteen months later, in 1907, when Boyne tangles again with San Francisco's corrupt political boss and his gang of crooks and crooked cops and finds himself a fugitive from the law with a murder rap on his head.
With their last Boyne tale, Who Is This Man? (Stokes, 1927), the authors return, almost, to contemporary time. It is 1921 and Boyne has been hired by a young woman to accompany her from San Francisco to her childhood hometown in the Sierra foothills, where the man accused of murdering her entire family seven years ago has been captured and is in the local jail. Although everyone in town positively identifies the prisoner as the fugitive, he steadfastly maintains that he is someone else. When friends and relatives start showing up and confirming the prisoner's story, Boyne's job gets much more complicated.
Before he created his famous detective Charlie Chan, Earl Derr Biggers utilized fog-bound San Francisco to great effect in Fifty Candles (Bobbs-Merrill, 1926). When wealthy Henry Drew is found murdered in his Nob Hill home—at his own fiftieth birthday party—a young engineer named Winthrop is immediately suspected. Winthrop had overseen Drew's mining operations in China and was involved in a dispute with Drew, feeling he had been cheated out of his rightful interest in the mine. Drew's son, Mark, works with the San Francisco police to nab his father's killer. Charlie Chan himself solves a mystery in San Francisco in Behind That Curtain (Bobbs-Merrill, 1928). While awaiting passage back to Hawaii, Chan gets involved in the murder of a retired Scotland Yard inspector who was in San Francisco pursuing clues in the only unsolved murder of the inspector's career.
On a foggy night in Chinatown—in Who Killed Coralie? (Washburn, 1927) by the Aresbys (the joint pseudonym of married authors Helen R. and Raymond S. Bamberger)—San Francisco Blade reporter Parrish Darby, a self-avowed "crime-hound," witnesses the mysterious death of a young shop owner named Coralie Henderson. The cops and coroner proclaim her death due to heart failure. But Darby recognizes a small lump on the back of her neck as being the same as he found on the corpse of a Chinese beggar weeks earlier—another death the cops didn't want to investigate. With the help of Coralie's business partner, the young, beautiful, and naïve Elizabeth May, Darby investigates the death on his own. The investigation leads Darby into the dark corners of Chinatown as he uncovers Coralie's secrets—involving interracial relationships, drug smuggling, and a dead baby.
James Aloysius "Peter" Piper, ace reporter for the Herald, makes his first appearance in The Tule Marsh Murder (Doubleday, Doran, 1929) by Nancy Barr Mavity, when he is drawn into the mystery surrounding a woman found murdered in the marsh near El Cerrito. The body has been burned beyond recognition, but bears a striking similarity to Sheila O'Shay Ellsworth, the missing wife of millionaire Don Ellsworth. Also on the case is Dr. Cavanaugh, a famous psychiatrist who has made a hobby of analysis of the criminal mind and is a frequent consultant for the police. Bigamy, amnesia, and conspiracy all come into play before Peter stumbles into the shocking conclusion and uncovers the killer. Piper appears in five subsequent mysteries, most set around the East Bay, in the early 1930s.
Of course, Hammett laid some of the groundwork himself with The Dain Curse (Knopf, 1929), in which the Continental Op is hired by a San Francisco insurance company to investigate a diamond theft and winds up uncovering numerous family secrets, including connections to weird cults, drug addiction, gambling, and murder.
* A recent trend among major libraries is giving books like these—out-of-print and long-forgotten—a new life by making them available to the mass market again. Libraries are entering into partnerships with commercial and non-profit agencies to digitize their holdings and put them on the Internet. If the books are out of copyright, they are often available in full text for free. Google Books, the Internet Archive, and Project Gutenberg are three of the major players in this new arena. Titles in this article that are available online are denoted by an asterisk (*). A complete list of pre-1930 Bay Area mysteries, with links to those titles that are available online, can be found at bancroft.berkeley.edu/sfmystery/extras/chronological.html.
---
Randal Brandt is a librarian at The Bancroft Library, University of California, Berkeley. He is the creator of Golden Gate Mysteries, an online bibliography of mystery and crime fiction set in the San Francisco Bay Area.
---
Joining the Past and Present in San Francisco
by Laurie R. King (Watsonville, California)
A few years ago, my editor asked if I might not think of a way to bring together my two very different series. Since one (Kate Martinelli) is set in modern San Francisco and the other (with Mary Russell and Sherlock Holmes) takes place in the Twenties, one might imagine that this could present some difficulties.
However, my entire life, I've heard the phrase "Only in San Francisco," until it has come to seem only natural that any outlandish thing can take place there—including a meeting between fictional characters two generations apart.
Still, I didn't really want to haul a 95-year-old Mary Russell out of England in order to introduce her to Inspector Martinelli, so instead I dusted off my academic skills, and invented a manuscript.
I'd already brought Russell and Holmes to San Francisco in Locked Rooms, a story whose characters span key moments in The City's history, from the Chinese boy caught up in the 1906 fire to a struggling young writer of pulp stories in 1924 named Dashiell Hammett. Locked Rooms follows Russell and Holmes as they find themselves drawn into an investigation of her past, which meant incorporating 1914 San Francisco as well.
With the duo already on the ground, as it were, I decided it wouldn't be too much of a stretch to saddle Holmes with a solo investigation immediately after the events of Locked Rooms. Nor was it difficult to imagine him sitting and writing up that investigation while he waited for Russell to get back from her family business concerns in the southern part of the state. That typescript is what links the two sections of The Art of Detection.
The Art of Detection is a duet between Kate in 2004 and the ghostly voice of Mr. Sherlock Holmes, writing in 1924—which was, by the way, the first time I'd written an extended first-person piece in the voice of Holmes. His case, embedded in the novel, takes him from the seamier parts of The City to the military bases on the northern side of the Golden Gate (by ferry, of course, since the bridge is only a dream in 1924.) Between the transvestite cabaret singers and the Army officers, there is every bit as much variety in his San Francisco as there is today.
This investigative duet begins eighty years after Holmes' case, when his typescript narrative comes to light at the center of a homicide investigation handled by Inspector Kate Martinelli of the SFPD. Her path, too, takes her across the Gate to Point Bonita and Fort Baker, as the Holmes story—which Kate, naturally enough, assumes to be fiction—both echoes and foreshadows the 2004 murder of a man whose life was devoted to the work of… Sherlock Holmes.
One of the joys of writing historical fiction is the interplay of past and present. In Locked Rooms, the past shapes Russell's present; in The Art of Detection, the events of the early 20th century shape Kate's present. When I write about the repression experienced by the books' gay characters in the Twenties, I am writing about an attitude that is unremitting and largely unquestioned, which makes a sharp contrast with the 21st-century freedom that Kate is beginning to see. And yet, different though things may be, the similarities are what catch the imagination, the undeniable fact that although times change, people do not.
Just like San Francisco itself.
---
Laurie R. King, best selling author of 18 novels, is a third-generation Northern Californian whose maternal grandparents were in San Francisco during the 1906 quake and fire. Her background is sufficiently varied for a crime writer, ranging from house construction to Old Testament theology.
---
San Francisco Makes a Sleuth—and a Writer
by Marcia Muller (Petaluma, California)
Imagine a small, cluttered office in a fifties-style building at the University of Michigan. A thin, nervous nineteen-year-old English major perches on the edge of a chair, across the desk from a big, bearded visiting professor of creative writing, who looks somewhat depressed by her presence.
The young woman clears her throat and finally speaks. "Why did you only give me a C in the class? Does it mean you think I don't have what it takes to be a writer?"
Now the professor looks weary. He picks up a sheaf of manuscript pages, scans them, drops them on the desk. "In my opinion," he tells her, "you will never be a writer. You have nothing to say."
Yep, that young woman was me. And some forty years later I sit here at my computer, writing to you Mystery Readers—a living testament that one shouldn't always pay attention to the opinions of so-called experts.
I credit San Francisco with helping me to overcome my belief in this professorial prognosis: the sweeping vistas from the hills; the fog; the neighborhoods and their subtle—or not so subtle—differences; the ethnic diversity. What else do you need as fodder for fiction?
The private eye novel has been my first love since I moved to the city and began reading the works of Chandler, Hammett, and Ross Macdonald. There was something about these independent heroes working the mean streets to right wrongs that appealed to my sense of adventure and justice. The streets around my Mission district apartment were certainly mean, and I walked warily on them. But perhaps I could create an alter ego who would walk them unafraid…
Sharon McCone was born. She didn't have an easy upbringing, but she's now been sleuthing for thirty-two years. She's always been my best friend and a reflection of me, although she's far taller, thinner, and braver than I. When we set out on our mutual journey we were both wide-eyed, in love with what we were doing. But as the years have progressed, we've grown worldly wise and a tad cynical; while I possess no violent tendencies of my own, I can very well empathize with those that sometimes grip McCone. Our careers seem to have paralleled one another's: McCone responding to the tough realities she encounters as a private investigator; me responding to the tough realities of the publishing industry. I've never stumbled across any dead bodies, but along the way I've seen plenty of carnage of a different sort.
Of course, I'm fortunate to have found my other best friend, husband, inspiration, and in-house editor, Bill Pronzini. (Only finishing the next "Nameless Detective" novel prevents him from contributing to this piece, and he sends along his best wishes.) He's directly responsible for getting the second McCone novel published after a four-year hiatus; he's been my rock in the hard times. He always has a solution to my plot problems, and is wonderful to kick around ideas with. He makes me work hard by his own example. And he makes great garlic bread!
Here's another scene out of the past: Imagine a twenty-something version of myself walking up the wide marble steps of the old San Francisco Public Library and going to the mystery stacks. She moves along, finger on the shelves until she finds the place where a book of her own might one day rest. Then, burdened by as many volumes as she can check out for the week, she goes to the card catalog, opens the last "M" drawer and fingers the place where one day a card of her own might be filed.
Fast-forward some twenty-five years. A fifty-some version of me walks up those same steps. While the cameras of a documentary film crew roll, she goes to the mystery shelves and takes down one of her own books. Then she goes to the card catalog, opens the last "M" drawer, and the camera zooms in on the card listing her most recent title.
Damn, that was a defining moment! And I owe it all to my loyal readers, Sharon McCone, and San Francisco.
---
Marcia Muller was awarded the Mystery Writers of America's Grand Master Award in 2005. Her most recent Sharon McCone novel, Burn Out, was published in October, 2008.
---
San Francisco Scrapbook
by Perri O'Shaughnessy
Mary and I grew up in the far reaches of Los Angeles and Orange Counties, far from the City of Gold that we call San Francisco. But it has attracted us like a gravity well our whole lives. It's the ultimate city for physical beauty and fresh air. It's got the sea-tang and a timeless Mediterranean look that starts with Coit Tower, still its ultimate symbol of beauty and grace, but most of all it's got people from all over the world stuffed within its island-like borders. To us, growing up down south in a desert of tract houses, it was far-away Oz.
Here are some pictures from the long love story between us and the City:
I was sixteen and Mary twelve, and we took the 'Hound up Highway 101 by ourselves, our first trip on our own, our mother's protests still ringing in our ears. We had never been to the City before, had never gone anywhere, really, and now I had saved a few dollars from my Christmas job selling ties at Macy's in L.A. and could buy the tickets myself. You might say it was the present I had wanted all my life.
We stayed at the youth hostel in the Tenderloin and walked around for two unforgettable days, so young and so impressionable that even now I can't look out at Alcatraz without thinking of us on the boat heading out there in a shifting wind, pursued by a lonely sailor whom we finally drove away because our mother had made us promise not to talk to strangers. We walked the whole city, up and down, and it felt like freedom and the promise of adulthood.
A year or so later I sat on the roadside playing my guitar, thumb out, waiting with my boyfriend for a four-hundred mile ride. We went to Playland and lay on the concrete floor and heard Big Mama Thornton. You don't forget nights like that.
That promise of adulthood came true after college, when I left L.A. for good and moved to 10th Avenue in the Sunset near the Park. I worked at the Office for Civil Rights in a building on Market Street, and antiwar protests were erupting everywhere. One day I looked out my window and people were running down Kearney Street followed by a whole cavalry of mounted police. Another day my boyfriend brought two girls he had met at a class home for dinner. One of them, who was called Mizmoon, didn't talk much. She had the air of someone important who knew things you'd never guess, and this impression was confirmed later when we learned she was a member of the Weatherman group who didn't make it out of the Seventies alive.
My life changed when I left for law school, but during the summers I'd return to work at my old office. One summer I sublet a studio on the tenth floor of one of the big buildings on Cathedral Hill near Gough. Looking out across the fog of lights at sunset toward the East Bay from my tiny balcony, anything seemed possible.
I moved to Tahoe, and Mary began raising her family in Brisbane, just south of the City. Her kids grew up visiting the Exploratorium and Golden Gate Park, and when I'd visit we'd talk about how much we wished we could be writers, the one thing we both had wanted to do since childhood. Finally we figured out that two heads beat one any time, and finished our first manuscript together. We became full-time writers, and San Francisco became part of our fictional universe as well as our actual lives.
Nina Reilly, the fictional lawyer whom we love to get into trouble, is from the Monterey Bay area. As a law clerk in Carmel, she meets a former homicide detective from San Francisco, Paul van Wagoner. You can read this part of her story in the prequel Show No Fear (Pocket, Dec 2008). Later she marries a young lawyer and moves up to live in Bernal Heights and work at a big law firm on Montgomery Street. An unfortunate impulsive afternoon with a plumber leads to a divorce, though, and Nina has to leave town for the mountains. That event gets a breathless writeup in our first published novel, Motion to Suppress, and sends Nina on her way as a Tahoe criminal defense lawyer.
At Tahoe, Nina opens a storefront law office and some years later finds herself back in the City defending her right to practice law in another of our books, Unlucky in Law. Caffeined to the max and wearing a dark suit and an air of confidence, she's grown up a lot from the small-town girl who came to town a few years before.
Throughout our books, the City looms large. It's a place to run to for refuge and to hide out in. It's a place to fall in love. It's the third leg of the triangle that bounds Nina's life, of Tahoe, Monterey Bay, and the City. It doesn't change. It's still the place young people from all over dream of seeing, and it never fails to change its visitors.
Recently I was having lunch at Perry's on Union Street with an elderly lady from New York City, who has lived for many years in San Francisco. "I hate this place," she said. "I wish I could move back to Manhattan."
"But it's so cold during the winter there. And it's all concrete, you never see a blade of grass."
"That's true, I always got pneumonia in February."
"What's better about New York City?"
"People are too nice here. I get sick of all the niceness." She tossed back the rest of her vodka collins and ordered another. She was eighty-four, a sharp former editor, and I was curious about her opinion.
"Isn't it good to be nice?"
"No, no, no. Not when you're as old as me. You want to be able to yell at the grocery clerk, yell at somebody, but they're all smiling and trying to take my arm." She picked up her cane and brandished it. "Even the dogs are happy. I can't stand it. I'm stuck here and I won't be around much longer. What's there to smile about?"
"Look around," I said. November sun hung over the buildings across the street, warming us. There was no traffic and only a few people window shopping. The air had that aching blueness you get some days after fog season is over. We sat at a small outdoor table protected by brilliant hanging baskets of flowers. For dinner I'd be taking her to North Beach, to Martuni's, where my friend Cindy would be playing piano blues to an enthusiastic crowd.
She looked down at her bruschetta and said, "Bullshit," under her breath. But that's the way it is; not everybody is born to be a San Franciscan. An open mind and good walking shoes aren't enough; you have to forget your troubles for a minute and let the City work on you. "You're going to live another twenty years," I said. "Did you notice how good-looking the waiter is?"
"He's not so good-looking."
"Wait'll he comes back." Our waiter came back with the drinks and picked up my friend's cane. He looked like Colin Farrell. Maybe in ten years I'd go to a movie and he'd be in it. "To fight the guys off with?" he said and gave her a wink.
She shook her head. "That's what I mean," she said. She sipped the new drink, looked at the flowers, his broad back, and sighed.
---
Pam (Santa Cruz, CA) and Mary (Portola Valley, CA) O'Shaughnessy, sisters, are the authors of the best-selling Nina Reilly series of legal thrillers under the name Perri O'Shaughnessy, as well as a book of short stories and an independent novel. Mary is a former sound and video editor who graduated from UC Santa Barbara, and Pam formerly practiced law after receiving her J.D. from Harvard Law School. See www.perrio.com.
Buy this back issue! Available in hardcopy or as a downloadable PDF.