Volume 24, No. 3, Fall 2008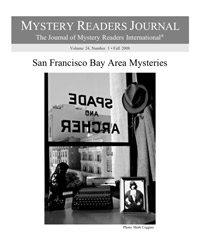 Buy this back issue! Available in hardcopy or as a downloadable PDF.
TABLE OF CONTENTS
Collecting San Francisco Mysteries by Don Herron
Golden Gate Mysteries by Randal Brandt
Dragnet with the Golden Gate Bridge by Jim Doherty
Bayside Crime by Cathy Pickens
AUTHOR! AUTHOR!
I Set My Art in San Francisco by Joe Abramo
The Ghosts of San Francisco by Victor Banis
Note to Self: It's the Dog, Stupid by Todd Borg
Mystery By the Bay by Robin Burcell
A Persistent Question by James Calder
San Francisco: Mystery Meets History by Michael Castleman
Runoff in the City by Mark Coggins
Home and Crime and the Immigrants of Desire by David Corbett
Bay Area Wild by Mark W. Danielson
Fantasy Life by Margaret Dumas
Or So I Thought by Susan Dunlap
Why I Love to Set Stories in San Francisco by Anthony Flacco
Cool, Beautiful, and Exciting by Meg Gardiner
A Private Investigator Interviews Himself by Peter Gessner
What's Really Better Than Chocolate? by Bruce Golden
I Am Not a Mystery Novel Heroine by Gemma Halliday
Fog on the Horizon by Seth Harwood
Home Is Where the Publicity Is by Steve Hockensmith
Murder & More by the Bay by Jonnie Jacobs
The City That Has It All by Jerry Kennealy
Are We Almost There Yet? Crime and Close-In Suburbia by Marc Lecard
A (Super)Natural Place for a Mystery by Margaret Lucke
A Sense of Place by Richard A Lupoff
My San Francisco by Lisa Lutz
A City of Two Faces by Tim Maleeny
The Mean Streets of Palo Alto by Lora Roberts
The Murder of Eleanor Lindquist by Norm Rudnick
Judgment Day by Sheldon Siegel
A Point Upon a Map of Fog by David Skibbins
A Short Tale of Two Cities by Ronald Tierney
San Francisco, A Great Place to Kill People by Simon Wood
COLUMNS
Mystery in Retrospect: Reviews by Verna Suit & Marja Mogk
Behind the Seven-Point Star by Jim Doherty
Children's Hour: San Francisco Mysteries by Gay Toltl Kinman
MRI MAYHEM by Janet A. Rudolph
Letters to the Editor
From the Editor's Desk by Janet A. Rudolph
---
Cool, Beautiful, and Exciting
by Meg Gardiner (Cobham, Surrey)
A "Bullitt" poster hangs on the wall in my house. Every time I walk past it, I see three things I've always found cool, beautiful, and exciting—Steve McQueen, the 1968 Ford Mustang, and San Francisco.
It's no accident that my novel The Dirty Secrets Club is set in the city. Growing up in Santa Barbara, California, I thought San Francisco was the most exotic place in California. It had Chinatown. Hippies. Serious fog. And whenever we visited the city, things happened.
One time, my family went hiking in Muir Woods National Monument, across the Golden Gate Bridge from the city. When we got back to the parking lot, two black limousines were parked near our car. My dad bundled us into the station wagon and drove away with his eyes on the rear-view mirror. When he'd put a hundred yards of redwood trees between us and the limos, he said, "So, now you know what a Mafia summit looks like."
Another time, I watched the world's gaudiest pair of sandals climb aboard a cable car in Union Square. They were strapped to the huge feet of a drag queen. A drag queen who, unfortunately, had a disastrous sense of style. Let me tell you: Glitter eye shadow and Lynyrd Skynyrd-style facial hair should not mix. And they should never be worn with gold platform shoes. Ever.
And once, at the San Francisco Zoo, a chimpanzee escaped from its enclosure. It raced past me and leaped on my seven-year-old sister. I remember screams. Loud ones. But that may have been the chimp—my sister was a tough little cookie.
The point? In San Francisco, a lot goes on under the surface. And you never know when something will jump out and surprise you.
That's why I set The Dirty Secrets Club in San Francisco.
The city can seem all out front, and in your face. It's bright, it's loud, it's full of clashing noises. But it also has plenty of California history—old money, quietly guarded lives. I wondered: In such an environment, where do secrets dwell?
San Francisco has the most beautiful natural setting of any city in the US. And beneath the beauty runs a current of danger. In 1906, the city was nearly destroyed by earthquake and fire, and today, San Franciscans know another big quake is due to hit. Just ask them. They'll all tell you about the Big One.
Even the city's landmarks can cause a hitch in your breathing. Whenever I drive across the Golden Gate Bridge, 200 feet above San Francisco Bay, I can't believe that tourists stroll nonchalantly along the sidewalks, taking snapshots and ignoring the wind and the lethal drop and the looming Big One and, God knows, the possibility of being tackled by manic zoo animals.
Of course, what scares us in real life can be turned into suspenseful fiction. Novels offer a safe place to face our fears. But remember—writers don't aim to soothe readers' anxieties. We're troublemakers. When I write a thriller, I don't want to exorcise my nightmares. I want to inflict them on my audience.
I mean that in the best possible way, of course.
And what if the nightmare was that your darkest secret might be exposed?
Suppose you'd done something cruel when you were young. Or something dangerously kinky. What if you felt a gnawing urge to confess, but knew that breaking your silence would ruin your life? What if you had a craving to brag about what you'd done—would you take a chance, tell somebody, and play Russian roulette with your reputation?
Everybody has something to hide. And in The Dirty Secrets Club, a group of prominent San Franciscans plays hide and seek with the secrets in their pasts. The game is risky but exciting, until they start dying and taking others with them.
In the book, the city's spooked. It's Halloween, and a series of earthquakes has rattled the place. Then high-profile people begin dying in bizarre ways. Forensic psychiatrist Jo Beckett, consultant to the SFPD, must figure out why murder-suicide has become a grisly game.
Jo performs psychological autopsies to determine whether equivocal deaths are suicide, accident or murder. She's a deadshrinker. She has to find what killed a flamboyant fashion designer, a celebrated prosecutor, and the people who died along with them, before the next high-flyer goes down and takes innocent bystanders along.
But Jo has recently lost her husband, and wants to hide from her own history. By exposing the Dirty Secrets Club, her secrets might catch up with her.
Forbidden knowledge has an irresistible allure. And keeping secrets can induce a longing to confess. The Dirty Secrets Club takes confession to extremes: They turn it into a contest. Their sport has lethal consequences, for them and, possibly, for Jo.
Writing the novel was great fun—like firing up an engine, putting my foot to the floor, and barreling across San Francisco. I hope you'll pick up the book and come along for the ride.
---
Meg Gardiner is at work on her next Jo Beckett novel set in San Francisco. She also writes the Evan Delaney series, set in Santa Barbara, California. She lives with her family near London. See www.meggardiner.com.
---
My San Francisco
by Lisa Lutz (San Francisco, California)
When I was growing up, San Francisco was a place from the movies and the occasional family vacation. It was Fisherman's Wharf, Lombard Street, cable cars, "Dirty Harry," "Vertigo," and the car chase from "Bullitt." For the uninspired tourist, San Francisco is a picturesque postcard of the Bay, a city with style and sophistication to spare. Of course, the real San Francisco is an entirely different entity.
Whenever I'm asked to describe my city, I usually say something like, "It's a town of crazy people." Thinking that there must be a more literate quote on the subject, I searched around and found that Rudyard Kipling said, "San Francisco is a mad city, in­habited for the most part by perfectly insane people."
When I think back on my early years in San Francisco, what's freshest in my memory are the bizarre encounters I used to have with locals on a regular basis. I was a magnet for lunatics back then.
I recall walking down Castro Street and passing a man loitering outside a bar.
"Hi," he said.
"Hi," I said, all friendly, because I was still young and polite.
"I'm Ryder. I'm the geek-a-boo," he said, giving me a wink and the hang-ten sign, as if I were gaining entrance into a secret society.
I remember returning home from a job interview on the bus. A seriously intoxicated man got on, carrying a fragrant cherry soda in an open container. Although I doubt it contained just cherry soda.
From a distance, he said "Hi." By this point, my "hi's" had grown more guarded, but I still said it. Then he said it again. And I said it again. Then he said it one more time and I said, "Okay, that's enough now."
Then he approached me with his open cherry soda and hovered over me on the bumpy bus ride. As I pictured the cherry soda cascading over my one respectable work outfit, I grew hostile and demanded that he back off.
He smiled.
"Get away from me," I said. But he smiled yet again. I then turned my angry self on at full volume and began shouting, loudly and slowly and severely, "Get away! Get away from me. Go away! Now!"
Then the cherry soda man gave me sad eyes and said, as if we were ending a ten-year relationship, "What happened?"
A few years after I moved to the city, I got a job as an assistant at a PI firm. It was a family-run business and would eventually inspire the comedic series of novels that I write about a family of private investigators. As an aside, I should mention that one of my ex-bosses, Pierre, the head of investigations, moonlit as a lounge singer named Mr. Lucky. If that eccentricity wasn't enough, I learned long after I left the firm that Pierre had a homeless man living in the foyer of his house for seven years. "He was my doorman, my valet, and my personal assistant, all rolled up into one," Pierre used to say.
During my first year at the PI firm, I begged to be assigned to any surveillance. These were mostly one- or two-man operations that required someone with solid driving skills, a quality I do not possess. Eventually, however, the firm was hired for a lengthy and very active surveillance on a crazy man who liked to roam the streets of San Francisco. I can't go into the details, but basically the Subject (let's call him Sammy) had threatened someone. Our job was to keep an eye on him around the clock to make sure he didn't hurt anyone. He didn't, but we did learn that he harbored plans for a whole new kind of toilet that involved a belt and a suction device. He also considered himself the true inventor of bifurcated jeans. I usually hopped out of the car (I was always the passenger) and followed Sammy on foot while he roamed the city. During my favorite day on the job, I followed Sammy into a bar and ordered a beer. I couldn't believe I was getting paid for drinking.
This was apparently a bar that Sammy frequented, since the barmaid knew him by name. Sammy was mumbling, and I could hardly make out what he said. But I did hear the barmaid reply, oh so casually, "Sammy, are you talking about killing people again?"
I think my point is that it's a city where anything goes. What infuriates me about San Francisco is also what I adore about it. The messiest assortment of people cohabitate, for the most part, respectfully. And not only are the residents unpredictable, but so is public transportation, the weather, and the landscape. Even the ground beneath your feet can surprise you by suddenly shaking.
If I were to send you my own personal San Francisco postcard, it would be of a pair of shoes or eyeglasses discarded along the side of the road. Found objects were my first San Francisco mysteries. This was a hard lesson to learn, but it's stuck with me: Most mysteries I come across will never be solved. This is a city where you can lose your shoes and not notice. In fact, spotting and theorizing about inexplicable items on the street is one of my few hobbies. Recently I found a hospital gown on the sidewalk outside my apartment. I was talking about it for days.
Sometime ago, I was walking with a friend and we saw a wheelchair toppled over on the sidewalk. "That," my friend said, "was either a miracle or a tragedy." But the truth would remain a mystery.
---
Lisa Lutz is the author of The Spellman Files (nominated for a Macavity, an Anthony, and a Barry Award as Best First Mystery), Curse of the Spellmans, and the forthcoming Revenge of the Spellmans. See lisalutz.com for more.
---
Judgment Day
by Sheldon Siegel (Marin County, California)
Dashiell Hammett got it right: San Francisco is the ideal setting for crime novels. The fog, wind, and rain provide a perfect backdrop for all mystery subgenres, from Hammett's hard-boiled private eye stories to the contemporary courtroom dramas of John Lescroart and Richard North Patterson.
San Francisco is still a small town where people know their neighbors, and where politics is a spectator sport. It's a compact city—only forty-nine square miles—with diverse architecture that ranges from the majestic (Golden Gate Bridge and graceful Victorians) to the squalid (tenements and the toxic-laden wasteland of the Hunters Point Naval Shipyard). And San Franciscans certainly share tight quarters with their neighbors: Nob Hill borders the Tenderloin; Chinatown is wedged between the upscale shops of Union Square, the towers of the financial district, and the Bohemian North Beach; the Giants' gleaming new ballpark sits on the site of an old rail yard, across the Third Street Bridge from the new UC Medical Campus, a short distance from the colorful Mission District and the mean streets of the Bayview.
I decided to set my mysteries in San Francisco for both literary and pragmatic reasons. From a writer's standpoint, San Francisco is instantly recognizable to my readers and its ambiance is ideal for the crime genre. As a practical matter, I set my books in contemporary San Francisco because I still work at my day job as a lawyer and I don't have time to research another location. For me, "research" means spending time in one of San Francisco's colorful neighborhoods, taking some snapshots, and soaking up the ambiance for a few days. Writing novels is a great job.
I try to make San Francisco a character in my stories by taking readers to the places where the natives hang out, but the tourists rarely venture—places like Bill's in the Richmond, the Grub Stake in Polk Gulch, and Original Joe's in the Tenderloin. Many natives read my books, and so I make it a point to always include a few local references just for my Bay Area readers. For them, it is absolutely essential that I get the details right.
I'm frequently asked where I get the ideas for my stories and how I decide on the Bay Area locations that I use in my books. For the most part, my ideas come from things I see or hear in my everyday life. The locations tend to evolve from the needs of the storylines. I keep a notebook with me at all times and I jot down ideas for storylines and Bay Area settings. That's exactly how it worked for my latest book, Judgment Day.
I live about ten miles north of the Golden Gate Bridge in Marin County. For the last twenty years, I've commuted by ferry to my law firm's office in downtown San Francisco. One of the first things I see every morning is the ominous stone façade of San Quentin State Prison. When the first rudimentary jail was built on the isolated, rocky point in 1852, the desolate area was inhabited by more wildlife than humans. Nowadays, the crumbling, antiquated facility sits on four hundred pristine bay front acres in the middle of some of California's most expensive real estate.
A couple of years ago, I was on my way to work when I read a story in our local newspaper paper about the death (by natural causes) of the oldest man on California's Death Row. This wasn't unusual. There are more than 660 men on Death Row at San Quentin. At most, California executes only one or two of them a year. As a result, the vast majority of the Death Row inmates die of natural causes.
As I read the article and watched the inmates go about their business in the exercise yard that's enclosed by a chain-link fence topped with razor wire, I became curious about the day-to-day lives of the six thousand prisoners who live inside a facility that was built to hold half that number. I wondered what it was like for the six hundred and sixty men awaiting execution on Death Row, the overwhelming majority of whom will die long before they are led into the little green chamber where California conducts its executions. I decided to write Judgment Day to try to find out.
I've never handled a death penalty appeal, but I've always had a morbid fascination with capital punishment cases. The stakes are high. The legal and policy issues are compelling. I've also had an interest in the attorneys who are involved in death penalty litigation. I've long wondered why people subject themselves to such an intense, high-risk, low-reward endeavor—in most cases, for a client they barely know. Everybody involved in the process is ultimately judged by a single criterion: whether a man lives or dies.
As I was reading the article about the death of the oldest condemned prisoner, I wondered what would have happened if his number had came up shortly before he was about to die of natural causes. Would the State have proceeded with his execution anyway? Or would they have let him die of natural causes in due course?
I raised the issue with a friend of mine named David Nickerson, who is the husband and one of my law partners. He's also one of the finest appellate lawyers in California. David spends much of his time trying to prolong the lives of the inmates at San Quentin. He told me that the State would have proceeded with the execution in such circumstances. When I asked him why, he replied, "Because it's the law."
Next I asked David what it's like to be an appellate lawyer during the final days before an execution. I listened attentively as he told me about the round-the-clock machinations, the endless preparation of briefs (most of which are rejected quickly), and the almost-always fruitless search for new evidence and witnesses. When David finished, he looked at me and said, "You know, this might be a good storyline for a book." I told him that was exactly what I had in mind.
A few weeks later, David took me inside San Quentin to meet one of his clients and to give me a first-hand view of the life of a condemned inmate. It was a sobering, albeit eye-opening experience. I decided that I wanted to write a story that would take my readers inside Death Row. In addition, I wanted to write a story that would put my readers in David's seat in the final days before an execution.
For the next few months, I spent time with David and several lawyers who handle death penalty cases for the California Attorney General's Office. They were not capital punishment zealots or bleeding heart liberals. They were highly-skilled professionals who were doing their best to make an imperfect legal system work. I am grateful for their generosity and candor.
In the course of writing Judgment Day, I tried not to inject my personal views about the wisdom of capital punishment. In general, I think it's a bad idea to interject a political agenda into mainstream fiction. Moreover, I believe it would have detracted from the authenticity of the story. As David and his adversaries at the Attorney General's office frequently told me, you simply don't have time to worry about policy issues when you have a client who is set for a lethal injection.
Judgment Day was the most difficult story that I've ever written because of its somber subject and the emotions associated with capital punishment cases. Nevertheless, I'm glad that I wrote it. I still ride the ferry past San Quentin every day. Nowadays, when I see the inmates in the exercise yard, I like to think that I have a little better understanding of what goes on inside the walls.
---
Sheldon Siegel (sheldonsiegel.com) has been a practicing attorney in San Francisco for more than twenty-five years. A graduate of Boalt Law School at UC Berkeley, he specializes in corporate and securities law. Judgment Day is the sixth novel in his series of courtroom dramas featuring San Francisco criminal defense attorneys Mike Daley and Rosie Fernandez. He lives in Marin County with his wife, Linda, and their twin sons, Alan and Stephen. He is currently working on his seventh novel.
Buy this back issue! Available in hardcopy or as a downloadable PDF.