Volume 35, No. 3, Fall 2019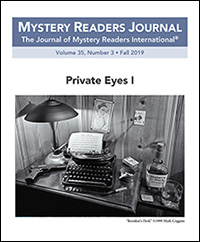 Buy this back issue! Available in hardcopy or as a downloadable PDF.
TABLE OF CONTENTS
PRIVATE INVESTIGATORS
Big Sleep vs. Big Lebowski: Chandleresque Masculinity, 80 Years Later by Austin Wright
Three PIs in Their Sodoms: Hollywood, Hoboken, Galway by Jay Gertzman
Old-Time Radio's Best, and Last, Private Eye by Jim Doherty
AUTHOR! AUTHOR!
All My Best Eyes Are Private by Lawrence Block
Detecting: It's All in the Details by Cara Black
Dude, You're Not Wearing Any Pants! by Tracy Clark
Of Thugs and Heroes by Sean Carswell
There's No Such Thing as Private Eyes by Mark Coggins
Nate Heller and Mike Hammer by Max Allan Collins
Finding My Path Along The Trail Blazed by Others by Matt Coyle
Captivating PIs and the Creation Process by Rich DiSilvio
My Introduction to Private Eyes by Parnell Hall
Laughing Into the Darkness by Jack Fredrickson
Easy Work by Russell Hill
My First PI by Aimee Hix
My PI Is a Real Person… More or Less by Nancy Lynn Jarvis
The Many Guises of the Private Eye by Vaseem Khan
Think of Me as the Antidote to Dennis Lehane by David Housewright
Stand Down by Gay Toltl Kinman
You Want Your PIs Hard, Soft, or Medium-Boiled? (With a Side of Procedural) by B.V. Lawson
The Mysterious Heart of the PI by Chris Knopf
Fifty Years On by Michael Lewin
A 19th Century Private Eye Takes on the Wild West by Ann Parker
What Is It About the Private Eye, Anyway? by S.J. Rozan
Barker and Llewelyn: Private Enquiry Agents by Will Thomas
The Journalist as Private Eye by Charles Salzberg
The Psychic PI by Nancy Cole Silverman
My Medieval Detective Is Closing Up Shop by Jeri Westerson
COLUMNS
Mystery in Retrospect: Reviews by Sandie Herron, D.J. Lutz, L.J. Roberts
Just the Facts: Ray Schindler, Shamus by Jim Doherty
The Children's Hour: Private Eyes by Gay Toltl Kinman
In Short: The Private Eye by Marvin Lachman
Crime Seen: PIs — Not Just Tough Guys by Kate Derie
From the Editor's Desk by Janet A. Rudolph
---
All My Best Eyes Are Private
by Lawrence Block
It's no secret — well, I certainly hope it's no secret — that I've been chronicling the fictional doings of a private detective for something like 45 years. His name is Matthew Scudder, and he's 45 years older now than when I began writing about him, because I found early on that I'd be unable to take the character seriously unless I allowed him to age in real time.
Was that a good decision? Hard to say. He was around 35 in the first book, The Sins of the Fathers, and he's 80 in this year's novella, A Time to Scatter Stones. The man's in reasonably good shape, but 80 is 80, and he's logged some hard miles on bad roads. He's no longer able to leap tall buildings in a single bound, or drink caffeine much past two in the afternoon, or alcohol at any hour.
Well, you know, I made a similar decision in my own life, and I'm by no means convinced that aging in real time is a good idea for anybody, real or imaginary. It comes at a cost.
On the other hand, Scudder's still out there, taking it as it comes, one day at a time, and I'm still sitting here with my fingers on the keyboard, making his adventures accessible to readers. So maybe we're doing something right… 

But enough about Scudder.
(More than enough, some might say — and way more than I ever thought I'd write. When he put the plug in the jug in the fifth book, Eight Million Ways to Die, I figured we were done with each other. He'd come to terms with the central problem of his existence, and that would seem to suggest that his d'etre had lost its raison. Well, duh, I was wrong about that, and more books followed, until it was very clear that #16, All the Flowers Are Dying, was the place to stop. And then I wrote #17, A Drop of the Hard Stuff, and wrote a couple of short stories to fill out #18, The Night and the Music. And that was that, it was all over, and we heard no more from or of the fellow — until A Time to Scatter Stones took me entirely by surprise. Go know.)
People occasionally want to know if there was a real-life model for Scudder — there wasn't — and if I'm friends with a lot of cops and private detectives and get tips from them.
Well, I've known a few cops over the years. A couple of them wrote crime fiction, like Paul Bishop, who tweets up a storm when he's not writing books, and the late Bill Caunitz, still an NYPD lieutenant when I met him shortly before the publication of One Police Plaza. One night I rode along with him while his team busted prostitutes on a local stroll in Long Island City; it was an exercise regarded as essentially pointless by all involved, but it served as good background for an episode in Eight Million Ways to Die.
There were other cops who weren't writers themselves but told good war stories. My friend Jimmy Galvin recounted an incident that stuck in my mind, and morphed into a plot point in a Scudder short story, "A Moment of Wrong Thinking." I paid him back (or punished him) by giving his name to the private eye who untangles a pivotal puzzle in Small Town.
There was Jack, a West Village neighbor of mine whose past life included a stretch as a plainclothes cop in San Francisco. (I haven't seen him in twenty years, and have long since disremembered his last name.) He'd always struck me as a kind of a boring guy, and then one night in a coffee shop on Greenwich Avenue he told me a story of how he and his partner exacted some unofficial rough justice on an otherwise untouchable bad guy. The minute I heard it I knew I would find a place for it, and it didn't take me long to do just that in A Dance at the Slaughterhouse.
A great resource, wouldn't you think? I certainly figured as much. I couldn't tell you how many cups of coffee and grilled cheese sandwiches I had with Jack in the months that followed, and God knows he had a lot to say, but I swear the son of a bitch never said another interesting thing. Not a single one.
The first private eye I got to know was Anthony Spiesman, whom I met at an event thrown together by Dilys Wynn, back when she owned and operated Murder Ink, the mystery bookstore on the Upper West Side. Tony was a private detective who actually came to the profession by way of the genre. He was a serious reader of crime fiction, and it was his admiration for fictional private investigators that led him to become a real one. And the reading informed the case work. He'd frequently ask himself what Nero Wolfe would make of a situation, and act accordingly.
I lost track of Tony years ago, and I can't think of anything he told me that ever found its way into my work, but one lasting insight he gave me was the infinite variety of real-life private detectives. The stereotypes don't tell the whole story, or even a great part of it.
Tony's own ethical and moral commitment to truth and justice extended beyond his work, all the way to his reading. He was a big fan of Matthew Scudder, but he straight-out refused to read about Bernie Rhodenbarr. The man was a criminal, he told me, however affable and endearing he was supposed to be, and he was unwilling to have any part of a criminal as a hero.
I don't even want to think about what he'd make of Keller…
I'm not certain whether I ever met Skipp Porteous in the flesh. It's possible our acquaintance was limited to email. I know he turned author himself, chronicling his spiritual odyssey from fundamentalist preacher to private eye in Jesus Doesn't Live Here Anymore and positing a solution to the question of legendary fugitive D. B. Cooper's identity in Into the Blast.
Skipp, who died in 2018 after suffering from aphasia for several years, ran a successful private investigation practice in New York, and told me a few years ago that computers and the internet had changed his work almost beyond recognition. He no longer spent much time in the streets, mean or otherwise. In fact he rarely left his desk. He could find out almost everything he needed to know via the computer and the telephone.
I don't remember that he told me any war stories, though I've no doubt he had an abundance to tell. As I've said, I'm not at all certain we ever laid eyes on one another, and our email exchanges were minimal. But, while Scudder remains an adherent of the GOYAKOD method he learned when he carried a gold shield, he's become a little more tech-savvy over the years. (And GOYAKOD stands for Get Off Your Ass and Knock On Doors. But you knew that, right?)
Cici McNair's been a friend of mine for some years, and I've had a chance to see a little more of her now that she's back in New York. She's worked as a private eye for years, in various venues here and abroad, and she's very much a writer; she's thus far published three books drawn from her professional experience: Detectives Don't Wear Seat Belts, Never Flirt with a Femme Fatale, and, just this year, Murder, Actually.
Cici got in touch one time when she'd been hired by Santé Kimes, who with her son Kenneth committed at least three murders. I don't know what exactly Ms. Kimes expected Cici to do for her, but one thing she wanted was for me to write her life story, which she saw as the road to exoneration and freedom. I wasn't interested, but Cici got me into the court proceedings one day, so I got a good look at the Kimes, which was as much contact as I wanted.
And then someone at Esquire commissioned me and a few other writers to write short pieces inspired by the whole affair. I wrote "Without a Body," the after-death musing of Irene Silverman, the elderly Upper East Side woman whom Kenny Kimes strangled because Santé wanted to steal her house. Esquire paid me for it, but they didn't publish it — or, as far as I can tell, any of the stories they'd ordered. I tucked "Without a Body" into Catch and Release, a collection of my recent short fiction; it's the final entry, but that's because of alphabetical order, not a judgment of its worth.
I knew Jim Thompson for a couple of years before he became a private detective. (No, not the fellow who wrote The Killer Inside Me. Not that Jim Thompson. There are, you may not be surprised to know, quite a few gentlemen with that name.)
My Jim Thompson was a professor at a New York-area college. I'm not sure what he taught. Economics, I think it was. The job fell through, and he was doing a little of this and a little of that, and a private investigation firm hired him, and he liked the work and found he had an aptitude for it.
There was a stretch when trademark and copyright infringement gave PI firms a lot of work. Tons of Batman T-shirts, for example, were knock-offs, unauthorized by whoever was in charge of licensing such use, and my friend Jim was one of the corps of operatives charged with harassing street vendors and confiscating the merchandise they were not entitled to sell.
Now this may strike one as a pointless exercise, and it sort of was, but you have to make a show of defending a trademark or risk losing it, and that's what my friend was doing on the client's behalf.
While I didn't walk around with Jim and watch him and his cohorts doing their unwholesome work, his account put me right in the picture, and my imagination made itself at home. The result was a short story, "Batman's Helpers," which takes place at a time in Matt's career when, newly sober, he's picking up day work with the Reliable agency. It turned out that one day was as much time as he was able to spend in the fight against trademark infringement.
I'm not sure how many years Jim spent as a private eye, or if he's ever given it up entirely. He's traveled widely over the decades, spending a lot of time drifting around Latin America. And I do know that he went on to achieve a measure of distinction in another sphere, when he became the leader of a New York association of bondage and discipline enthusiasts. My wife and I attended one of their open meetings; the theme was Intimate Piercings, and one perfectly lovely young member made her way around the room, inviting all to examine the various work she'd had done in that regard.
Members of the circle referred to and addressed our friend as "Master Jim." Let's see you match that, Philip Marlowe…
And so it goes. When I was researching the world of hackers and phone phreaks for A Walk Among the Tombstones, I sat down with a guy from the phone company to find out what technology enabled people to do on both sides of the battlefront. Could a hacker do this? Could a company guy do that?
Just put anything you want, he advised me. Because if either side can't do it now, they'll be able to in six months at the outside. Whatever it is.
You want your fictional private eyes to be realistic? Write it the way you want it to be. However you imagine your guy or gal, odds are there's somebody just like that already out there.
---
Lawrence Block is a Grand Master of Mystery Writers of America and was awarded a Diamond Dagger for Life Achievement from the Crime Writers Association (UK). He and his wife Lynne are enthusiastic New Yorkers and relentless world travelers; the two are members of the Travelers Century Club, and have visited around 160 countries. Sign up for his newsletter at his website.
---
Detecting: It's All in the Details
by Cara Black
I think my mother would have made a good private detective. As a housewife, she raised four children, several generations of dogs, and had a particular set of skills. Skills no doubt she gained and honed as a mother, wife and person who liked to solve puzzles.
She multi-tasked before people called it that; in one afternoon she took my 9 year old brother to emergency when he slammed his finger in the car door and saved his finger, while dealing with our dog who'd been hit by a car and finding the neighbor who did it, and my father coming home after losing his job. All in one afternoon, with a calm demeanor, she exhibited superb crisis management skills. We never knew until years later how creative she became making ends meet when my father lost his job.
Most of all, she observed details around her and taught me to observe them, too. Despite whatever life threw at her and the family, she got things done. My mother's social persona was always charming, reticent and few guessed at her steel back bone. You can get what you want in a nice way, she'd always say.
I've learned all these skills are very much in the detecting vein.
When I began writing I interviewed several female detectives who ran their own agencies or worked in female owned agencies in Paris. This opened my eyes. I'd never met a detective, female or male, and only referenced what I'd seen on television growing up. Men in trench coats, hard drinkers at the bar, more of a take-no-prisoners approach. Not true in real life as I discovered. There's very little drama in a real detective's work. Surveillance is time-consuming routine, tedious details needs to be checked, and a detective works to get paid. The client needs to be satisfied.
Marie was the first female detective I met in Paris. In her 60s, Marie looked like the grandmother she was. She'd been in the military, as had her husband, and ran her office efficiently. Marie stressed that as a woman of her age she was 'invisible.' She excelled at surveillance because who notices older women? She employed Vuong, a younger woman, to do surveillance in clubs, rave parties and in bars because Vuong blended in and fit that demographic. I hung with Vuong for a day. Vuong kept different outfits in the trunk of her car to change into, used a motorcycle to vary her surveillance. Marie also sometimes used Sylvie, from Lille, who suffered from narcolepsy. That was a hard one for me to figure out. Sylvie met me and said she worked out of her car — that was her speciality, tailing and keeping out of sight — and she loved her surveillance activities. Evidently she was successful in her career when she kept awake.
Later, I met Martine Baret, who owned the Duluc detective agency near the Louvre. Martine sort of captured my heart and her agency became the inspiration for my detective Aimée Leduc at Leduc Detective. Marine specialized in finding missing persons. It was her passion and she put her heart into her work. Her history and life fascinated me because, attractive and middle aged when I met her, to me Martine embodied a special Parisian female detective. Down to earth, empathetic, stylish, smart as a whip, and imbued with a quick read of people. Details, Martine said, no matter how small or insignificant, were important to cracking a case. Martine's practice was to take on a case only if she thought she could solve it. She took on jobs; finding a daughter, husband, relative who no one else could find. 'Clients come to me when they've exhausted every other way. If I can help them I will.'
Martine and I had many conversations about her work. We talked about the nuts and bolts of running a business. Also the intangibles, which meant the emotional cost to her if she became too involved in a case. A few times she has. People confide in her, tell her secrets that they've never told anyone else, and Martine must lend a sympathetic ear yet gently pull information out if she's to have any success in finding this missing person.
Martine learned through experience to become careful to balance her professional skills with her humanity, and always remember she's running a business. Martine's grandfather had been in the Sûreté, the Paris police during Inspector Maigret's time — the fictional police inspector written by Georges Simenon — and her father had joined him when he left the force and founded Duluc Detective. It became a family affair when at eighteen Martine joined her father in his work. Now, fifty years later, she retired this June and expressed sadness that neither of her sons wish to take over Duluc. But her son Sebastian, who I met the last time in Paris, said the name and location will continue in another detective's hands.
Martine knows I shamelessly stole the history of her family and Duluc Detective. She's fine with that and happy that I updated Aimée Leduc's focus to computer security. Aimée's an updated version, 20th-century detective, whose story borders the 21st century. But I like the fact that Aimée's stories take place in the 1990s since she doesn't worry about Facebook, Twitter or those intrusive CCTV cameras, and that you can still smoke in the cafés, and pay in francs, not Euros.
My mother read my first book before she passed. She told me two things before I did my first-ever book event. I was nervous and afraid people would call me a fake because I wasn't French. She said 'be yourself because that's all you can be' and 'good job, you got down the details.'
---
Cara Black is celebrating her latest book, Murder in Bel-Air, and twenty years of the Aimée Leduc PI series set in Paris. She's received the Medaille de la Ville de Paris for contributions to French culture. She agrees with Audrey Hepburn that 'Paris is always a good idea.'
---
The Many Guises of the Private Eye
by Vaseem Khan
Private eye. For me, these two simple words instantly conjure up the image of Humphrey Bogart as Raymond Chandler's Philip Marlowe in The Big Sleep, a fedora-wearing, wisecracking sleuth with a feral instinct for survival, a rat-like cunning for sniffing out the hidden clue, and a moral compass that, despite occasionally wobbling on its axis, ultimately points the way towards truth and justice.
But private eyes come in many guises.
From 'gumshoes' such as Marlowe, Dashiell Hammett's Sam Slade, Sara Paretsky's V.I. Warshawski and others in the hardboiled American noir tradition — where the law enforcement landscape in which our PI operates is invariably as corrupt as the criminals — to the 'highbrow' private detective, the likes of Sherlock Holmes and Poirot and an endless slew of cerebral, superior-minded, quirk-invested clones of these hallowed archetypes. We further have a host of amateur and semi-amateur sleuths, ranging from Christie's Miss Marple to Alexander McCall Smith's Botswana-based Precious Ramotswe, 'traditionally-built' proprietor of the No.1 Ladies Detective Agency, lover of bush-tea and African aphorisms. Last, but not least, we have that select band of PIs who once wore a uniform.
I am talking, of course, about the cop-turned-private detective.
My own creation, Inspector Ashwin Chopra, lead protagonist of the Baby Ganesh Agency series, is such a PI. For thirty years, he wore the khaki uniform of a policeman in the Mumbai Police Service, a man of great integrity in an environment marked by corruption, incompetence and abuse of power. For thirty years, he served the ideal of justice in a country where, if you have money or influence, you can often evade the consequences of your actions. And then, one day, in his late forties, he is forced into early retirement by a bout of angina, cut adrift from the activity that gives his life meaning and purpose.
In the first book in the series, The Unexpected Inheritance of Inspector Chopra, a Times bestseller, he is confronted, on his last day in office, by the death of a local boy, a kid from the wrong side of the tracks in an India redefining itself as globalisation changes the social, cultural and economic landscape. Realising that his seniors don't wish to investigate the boy's death, Chopra sets off to uncover the truth, demonstrating many of the quintessential characteristics of the PI — a relentless thirst for justice, the ability to persevere against the odds, and a desire to see things through, usually on one's own.
Of course, many PIs are not quite on their own. They possess sidekicks, of varying degrees of utility — in general, the sidekick's only purpose is to allow our PI to showcase their own skills of ratiocination. Holmes had Watson, Poirot had Captain Hastings. In Chopra's case, he has a baby elephant, sent to him by a long-vanished uncle. The elephant is merely a device, a symbol of India, but it allows me to add a little charm and humour to my novels as Chopra goes about the grim business of solving murders and kidnappings, against an equally grim background.
For, in my novels, I seek to showcase the 'real' India, an India of modern wealth and western influence, but in which legacy problems persist — vast slums, abject poverty, caste prejudice, and religious intolerance. And this is another requirement of PI fiction — the ability to truthfully depict the environment in which our protagonist operates — be it a halcyon English village with lethal undercurrents, or a turbulent metropolis such as Mumbai — and to use that environment to inform and delineate our PIs character and motivation.
Today the business of private investigation has become, like so much of life, highly commercialised. Modern private detective agencies have polished websites and access to the latest tech wizardry including data-mining techniques that can reveal, in a few short hours, much of the information it might have taken the likes of Holmes and Marlowe days of legwork to uncover, questioning and piecing together clues. Some modern PIs, such as Stieg Larsson's Lisbeth Salander, the Girl with the Dragon Tattoo, already employ these godlike powers. In the future, artificial intelligence will make this process even faster, not only uncovering information at the speed of light, but intuitively arriving at deductions based on that information. Such AI is already being employed by law-enforcement agencies (for instance, to connect members of organised criminal gangs via network analysis) — it is only a short leap before the first AI PI (now there's an alliterative mouthful!) makes its debut in crime fiction. For me, however, there is something charming in the idea of a PI who still needs to get out there and 'work the streets.'
The popularity of the crime-fiction genre continues to grow and in no small measure this is due to the enduring popularity of its ranks of PIs. The humble PI embodies something that, perhaps, is lost in, say, a police procedural, or a thriller. A sense of individualism, a close encounter with the human side of justice-seeking. In my latest book, Bad Day at the Vulture Club, Chopra is challenged to investigate the unsolved death of a wealthy Parsee. The Parsees of India are famed for their contribution to the country but also because they do not bury or cremate their dead; they leave them out to be eaten by vultures in Mumbai's notorious Towers of Silence. Chopra takes the case — not because he needs the money, but because for him, justice must be equal for all, rich or poor. In this we find the very essence of the PI — the ultimate egalitarian.
---
Vaseem Khan is the author of the bestselling Baby Ganesh Detective Agency series featuring Indian detective Ashwin Chopra and his baby elephant sidekick. Vaseem was born in London, but spent a decade working in India. His latest book is Bad Day at the Vulture Club, about the murder of a wealthy Parsee in Mumbai's notorious Towers of Silence, where the Parsee dead are left to be eaten by vultures.
Buy this back issue! Available in hardcopy or as a downloadable PDF.