Volume 17, No. 3, Fall 2001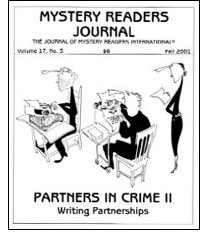 TABLE OF CONTENTS
Serendipity, Synchronicity, and The Tumbleweed Murders by Meredith Phillips
Ellery Queen Without "Ellery Queen" by Jim Doherty
Partners In Writing / Partners On Writing by Gay Toltl Kinman
Connubial Cop Stories by Jim Doherty
THE WRITERS WRITE
Collaboration, Friendship, and All That Jazz by T.F. Banks (Ian Dennis & Sean Russell)
Why Two Heads Really Are Better Than One by Ron & Janet Benrey
A Brother and Sister Act by Sherri & Steve Bigbee
Black and White and…. by Nero Blanc (Cordelia Biddle & Steve Zettler)
Writing Duo Does Doubletake by Margaret Brownley& Lee Duran
The Phil 'n' Bill Show by Philip R. Craig & William G. Tapply
Nick Carter, Jack Davis, and Me by Bill Crider & Jack Davis
She's Val, He's Davis by Val Davis (Bob & Angie Irvine)
G.H. Ephron: The Sum and the Parts by G.H. Ephron (Hallie Ephron & Donald Davidoff)
Separated at Birth by Lynn Erickson (Carla Peltonen & Molly Swanton)
Bone Walker and the Anasazi Mystery Series by Kathleen O'Neal Gear & W. Michael Gear
Screenwriting Partnerships by Lee Goldberg & William Rabkin
Two Minds, Twenty Fingers by Beverly Hastings (Carol Barkin & Elizabeth James)
The Incredibly Strange True Story of Writing My First Novel With a Partner I've Never Even Met by Christopher J. Jarmick & Serena F. Holder
Till Death Do Us Part by Cathie John (John & Cathie Celestri)
Murder, Romance, and Laundry by Joyce & Jim Lavene
Writing With Your Twin Can Be Murder by Barbara Taylor McCafferty & Beverly Taylor Herald
Enter, Maan Meyers by Maan Meyers (Annette & Martin Meyers)
Writing Isn't Always a Solitary Business and Sometimes It's Better That Way by Sutton Miller (Maryann Miller & Margaret Sutton)
The Collaborative Experience by Rayanne Moore & Serita Stevens
Should You Collaborate? by Marcia Muller & Bill Pronzini
It Was In Our Stars by P.J. Parrish (Kristy & Kelly Montee)
Can Seven Sisters Write a Mystery? by The Pleiades (Bruce Martin et al.)
Partners In and Out of Crime by Lora Roberts et al.
She Dreams It, I Write It by Bobby & Kam Ruble
Brownstone Blues by Clyde Lynwood Sawyer, Jr. & Frances Witlin
The Write Combination by Aimée & David Thurlo
When a Husband and Wife Collaborate by Fred Yager & Jan Yager
For Better or Worse by Barry & Angela Zeman
COLUMNS
Mystery In Retrospect: Reviews by Carol Harper
In Short: Partners in Crime…Writing by Marvin Lachman
Crime Fiction Writing Partnerships: Some British Examples by Philip L. Scowcroft
Just the Facts: The "Ragged Stranger" Murders by Jim Doherty
MRI Mayhem by Janet A. Rudolph
Letters to the Editor
From the Editor's Desk by Janet A. Rudolph
---
Ross Macdonald and Margaret Millar: Partners in Crime
by Tom Nolan
Interviewer: Isn't it a little unusual to find a married couple who both are successful authors in their own right? Tell me about that. Do you ever collaborate?
Kenneth Millar: While most of the writing couples in the mystery field do collaborate—I can think of exceptions, like Helen McCloy and Brett Halliday—we don't collaborate at all, except we have on a couple of television scripts, things like that. But
in general, we keep our work very much to ourselves.
Margaret Millar: In fact, our main problem is to keep out of each other's hair. We have rooms at different ends of the house; and I usually work in the morning, and Ken usually works in the afternoon.
Kenneth: Yes, it's very convenient to have a morning personality—that's Margaret—and an evening personality like myself.
Margaret: Leaves somebody to answer the telephone.
—CBC Radio, "Old Acquaintance," 1954
Though they rarely collaborated in the usual sense, Kenneth and Margaret Millar—the only husband and wife each to serve as president of the Mystery Writers of America, and each to receive that association's Grandmaster Award (he under his pen name of Ross Macdonald)—were essential to one another's success as authors from the day they met. In ways obvious and subtle, acknowledged and secret, they were lifelong partners in crime writing.
The two were high school students together in the early 1930s at the Kitchener-Waterloo Collegiate Institute in Kitchener, Ontario (near Toronto). There Kenneth Millar, literary editor of KCI's annual, accepted Margaret Sturm's story "Impromptu" for the 1931 issue of The Grumbler: her first published work. Editor Millar's own first printed story, "The South Sea Soup Co.," was in the same Grumbler annual. In this modest way, their partnership began.
Seven years later, the day after Millar's graduation with honors from the University of Western Ontario, Kenneth and Margaret were married. A year after that, they were parents of a baby daughter born in Toronto, where Ken Millar was earning a teacher's credential. Needing money for Margaret's maternity-hospital bill, Kenneth resolved to get cash by writing a barrage of brief pieces for Toronto publications. But how would he submit them? It wouldn't do to send handwritten manuscripts to professional editors.
"I didn't have a typewriter," Ken Millar told Canadian interviewer Jerry Tutunjian many years later. But: "There was a radio program in Toronto, a question-and-answer show, where the contestants were given prizes. They announced… the prize of an Underwood portable typewriter would be given the following week. I told Margaret I was going to win that typewriter, and I did. So we had a typewriter, and that enabled me to start writing professionally."
Ken and Margaret Millar had both hoped since their teens to be writers. It was Kenneth who turned pro first. But Margaret was essential to his breakthrough: she typed the dozens of pieces he submitted to magazines in 1939. Their partnership had taken more tangible form.
The following year, the Millars were back in Kitchener, with Kenneth teaching at the same high school where he and Margaret had met. Margaret felt trapped by marriage and burdened by motherhood; she wanted a career.
At the height of her frustration, she was confined to bed with a supposed heart ailment ("probably just nerves," she later conceded). To keep her amused, her husband brought her library books to read, mostly mystery novels, twenty or thirty at a time. Margaret (like Kenneth) had loved mysteries since childhood, but many of these library titles irritated her. Throwing one of them across the room, she shouted: "I could do better than that!"
Kenneth urged her to try. He helped her plot a story, then did the housework while she wrote in bed. In fourteen days, Margaret completed the manuscript of a short mystery novel, The Invisible Worm. Ken helped her to shape, revise and rewrite her text.
From the first, he was her greatest fan. "He used to envy—he did, to me—envy Margaret's writing," said Donald Ross Pearce, who met Ken at university and was friends with the Millars for twenty-five years. "He said of her that she was a natural writer, as compared to himself. And he instanced an example of this; he said, 'F'rinstance'—and he recited to me a sentence of hers with a simile in it: 'Her question trailed off into the room like a faint cigarette track in the air,' or something like that. The comparison between the question and the… smoke trailing off, was so perfect; the ear is so fine and the tuning so good, there."
Working with Margaret on The Invisible Worm gave Kenneth the courage to think he too might write a book. "I remember receiving a letter from him, telling me how excited he was about what she had written," said Pearce, "and how natural a writer she really was. And he had high hopes for this book. And how he was assisting her in the editing of it… He said that it had all rubbed off on him, and he felt then that he could compete with her."
"I simply resolved I wasn't going to be stuck," Margaret said half a century later. "I was going to have a career anyway. And that's when I began to write. And Ken always wanted to be a writer, from day one; he literally wrote all his life. So it was a nice mating, because in many ways we were very different. He was slow to react, and very thoughtful. And I was quick and impulsive. So we struck a nice balance, I think."
Margaret Millar's The Invisible Worm was published by Doubleday Doran in 1941. This new mystery author produced five more books in the next four years.
And Ken Millar continued as her editor.
"I always took Ken's word for everything," Margaret said in 1990. "Well once in a while I'd argue. But when he gave me a piece of criticism, I took it very seriously, because he was a serious critic. He was a critic actually before he was a writer, which helped me because he used to criticize my books."
It was gently-delivered criticism, Margaret Millar told writer Mignon T. Marsh in 1981: "He's always been tactful. I'll show him something I've written and he'll say, 'This is marvelous, but it would work even better if you did thus-and-so.' Then I know I'm in for a major job of rewriting. He edits me with positives instead of negatives."
The Millars moved to Ann Arbor, Michigan, in 1941, where Kenneth taught on a graduate fellowship at the University of Michigan. There, in 1943, stealing two hours each evening in his little office on an otherwise-deserted campus, Ken Millar wrote his own first novel in thirty nights.
The Dark Tunnel was published by Dodd, Mead in 1944. By then, Kenneth had joined the US Naval Reserve. Soon he was serving as a communications officer aboard the escort carrier USS Shipley Bay, where he stole time to work on a second novel, Trouble Follows Me.
Meanwhile, Margaret Millar's sixth novel, The Iron Gates, was bought for filming by Warner Bros.
With money from The Iron Gates, Margaret bought the Millars a home in Santa Barbara, California, and enabled her husband to leave university life when he got out of the Navy in 1946 and launch himself properly as a freelance novelist.
Now Margaret could return some of the editorial help Kenneth had been giving her for six years.
"I did teach him to write better dialogue," she recalled, "so that everybody didn't sound like him. In his first two books, all the characters talked like Ken! I don't even know anybody who talks like Ken. And I told him he had to listen… And we went around to a lot of places: pawn shops, low bars… And he realized how different people talk."
One place both Millars researched speech patterns, legal matters, and human behavior was the Santa Barbara county courthouse, a handsome Spanish Revival structure which shows up often, in one guise or another, in both authors' books. Separately or together, the Millars were spectators at a great many murder and other trials there from the late 1940s through the '70s.
"I don't so much get my plot ideas this way as the background that plot ideas have to grow in," Ken Millar (Ross Macdonald) told interviewer Trevor Meldal-Johnsen in 1976. "Knowledge of people and knowledge of criminal activity, some knowledge of the law. Some of my best friends are lawyers and judges."
The same held true for Margaret Millar, who told Dilys Winn (Murderess Ink) in 1979: "One of our best friends is a Supreme Court Judge out here. He helps me with all the Grand Jury things in my books. His secretary will call and say, 'We have a beauty in courtroom five; get on over.'"
The judge she referred to was John A. Westwick, who as a younger lawyer had helped represent the Millars' only child in the aftermath of a fatal 1956 auto accident in which Linda was involved. Margaret Millar's 1970 book Beyond This Point Are Monsters (titled by Ken) is dedicated to John A. Westwick.
The Millars' court attendance, so crucial a part of their California experience, began long before the two writers moved to the States, according to Donald Pearce.
The Millars' longtime friend recalled a conversation from around 1940, in Kitchener, Ontario, where Margaret Millar wrote her first books: "I can remember my asking if she or he did any research in police records or anything like that; and she said, 'Well you bet we do.' They made a practice of going to the police court, sitting through trials in the back, listening to all the details of them; and even in some cases going through records, when they were permitted to, in the police court office, to try and understand cases. And they did their research that way, in the Kitchener police court.
"I said, 'What did you find?' Ken said, 'Margaret found something absolutely wonderful.' Margaret was delighted to find that women's drowned bodies float belly-up, and men's float belly-down. This seemed to her a marvelous thing to have found out about the human race: that when the chips are down, that's the position they're in!"
While the Millars took inspiration from the courthouse, they also found it closer to home.
The Millars' marriage was often contentious, especially in its first two decades. "Odi et amo," a Latin tag that turns up in books by both Kenneth and Margaret ("I hate you and I love you and it hurts," someone translates it in Ross Macdonald's Sleeping Beauty), was apparently their informal motto. "He told me once," said Donald Pearce, "that their best lines usually resulted from arguments that they'd be having."
Often the Millars were characters in one another's books.
Goodwin, a highstrung poet in Margaret Millar's Fire Will Freeze (1944), sports the same "green felt Tyrolean hat with an orange feather growing from the band" that Ken Millar was notorious for wearing around the University of Western Ontario campus in the late 1930s.
In Margaret's Do Evil in Return, published in 1950 (a year after the pseudonymous Macdonald began his series of books with private detective Lew Archer—a "bread-and-butter" series he felt obliged to continue once it became clear Margaret was only going to produce more chancy "one-of-a-kind" books), a man named Lew Ballard sits in a red leather armchair identical to the one Margaret had custom-made for Ken after World War II, and "quips": "No, I haven't been drinking, much. Just enough to keep me from strangling my wife."
As for Margaret's seemingly ubiquitous presence in Kenneth's work—to paraphrase Nabokov, looking for Margaret Millar in Ross Macdonald's novels would be like looking for references to whales in Moby Dick.
Occasionally someone else made such an impression on both Millars that each put him or her in a book. One such person was Armand Girola, a real-life private detective from Reno, Nevada, who helped find the Millars' troubled daughter Linda when she disappeared for ten days in 1959. "We were both very much taken with the man," Margaret told writer Shelly Lowenkopf in 1985, "and we both used him in our work." Girola was the model for Joe Quinn, the Reno PI in Margaret Millar's How Like an Angel (1962). Ross Macdonald turned Girola into Arnie Walters, a Reno colleague who assists Lew Archer in The Zebra-Striped Hearse (1963) and The Chill (1964).
Sometimes Margaret and Kenneth each wrote about experiences both had lived through, like the Coyote wildfire that raged through Santa Barbara in 1964 and came close to destroying their house. Margaret Millar wrote nonfictionally of the Coyote fire in her 1968 book The Birds and the Beasts Were There. Ross Macdonald described a similar blaze in his 1971 novel The Underground Man.
Though their subject matter might overlap, their approaches were dissimilar.
"I loved writing dialogue," said Margaret Millar. "He used to like writing action. And I hate writing action. When somebody has to go someplace, I say: 'He went someplace.' That's the most action I want to write. Because to me, it's irrelevant. What's relevant are the words: the mood, and the words that are exchanged. Because you can be driving a Chrysler, or a Jeep—who in hell cares? What matters is what you say when you get there!"
Not that they couldn't sometimes ape one another's style.
In 1945, after researching a point of California law regarding inheritance, Margaret wrote the final paragraph of a short story Kenneth sent her in Santa Barbara from the South Pacific, "Death by Water," which she then entered for him in the first annual Ellery Queen's Mystery Magazine contest.
The year before, Kenneth had supplied a few key passages for Margaret's breakout novel, The Iron Gates.
Margaret's obligatory speech to the Mystery Writers of America when she served as president in 1957 was clearly written by Kenneth, filled as it was with phrases he'd used in talks of his own ("kindergarten Krafft-Ebbings," for instance, in veiled reference to Mickey Spillane and his imitators).
When a Gore Vidal TV play used a plot so similar to one Margaret was working on that she wanted to abandon her novel-in-progress, Ken came up with a final twist that made the story fresh. Margaret finished her book, which was published as Beast in View. It won the MWA's Edgar Award.
Ken Millar remained on editorial call for Margaret throughout her career, even after she was well-launched on her singleminded authorial path; and she gave him advice and counsel when asked.
"We both liked to go our own way," Margaret Millar said, "and then if we goofed, go back and correct. I think if you're really born to be a writer—and I think both of us were—you sort of know when you're goofing. We used to call it 'the one-third blues' and 'the two-thirds blues.' If you were lucky, you got to two-thirds before you got the feeling: 'Geez, this is terrible! How did I get stuck with this ghastly plot? What am I gonna do?' And then I might ask Ken to read it. And he might ask me to read his."
Ken Millar described perusing his wife's manuscripts to agent Dorothy Olding as "one of my great annual or biannual pleasures." He continued to compose her book jacket copy (and his own), suggested plots to her (as she did to him), usually titled her novels, ran interference for her with agents and editors, and in general took care of the mundane chores of their freelance existence, letting Margaret focus solely on writing.
"Things work out fine," Ross Macdonald told journalist Bill Melton in 1969. "We spark each other. We read each other's manuscripts, and
I edit her books. I've been greatly influenced by her opinions over the years."
Their greatest collaboration was the mutual commitment to writing. Margaret and Ken Millar, each averaging a book a year, were able to raise a child and make a modest living, until success as a bestselling novelist overtook Ross Macdonald in 1969. Through diligent effort, these independent collaborators produced a collective 53 books in 45 years.
And most of those books were mystery fiction, making the Millars' first and most enduring collaboration their choice of genre.
"Actually it turned out to be a very very important decision," Margaret Millar said of that choice, near the end of her life (in 1994) and after Kenneth's death in 1983. "Because now, both of us are being (re)published all the time. If we had written straight novels, we would be—gone. But there is always an audience for mystery fiction."
---
Tom Nolan's Macavity Award-winning Ross Macdonald: A Biography is available in trade paperback from Poisoned Pen Press. Strangers in Town: Three Newly Discovered Mysteries by Ross Macdonald, edited by Tom Nolan, was recently published by Crippen & Landru.
---
The Phil 'n' Bill Show
by Philip R. Craig & William G. Tapply
Philip R. Craig: In 1989, when I got my first copy of my novel A Beautiful Place To Die, I found some kind words on the back cover written by somebody named William G. Tapply.
William G. Tapply: When Scribner's (then my publisher) sent me the bound galley of a book by some guy named Philip R. Craig, I thought, "Oh, jeez. Just what we need. Another damn book." The publisher, of course, wanted me to write a laudatory blurb. Well, I figured I'd look at the first page and toss it aside. To my surprise—and pleasure—I just kept reading that book. The man could write and he could plot, and best of all, his main character did a lot of fishing. My kind of guy. So I wrote a blurb, and it ended up on the back cover of A Beautiful Place To Die. That made me happy. Then I sort of forgot about it.
Phil: My wife and I immediately read a couple of Tapply's books and found that we could also say kind words about them. Several weeks later, at a party at Kate's Mystery Books in Cambridge, someone identified a tall guy across the room as Bill Tapply and I went over and thanked him for his generous remarks. He said I was welcome.
Bill: I said more than that. I told Phil that I rarely wrote blurbs, and when I did, it was because I meant it. I wasn't being generous. I was being honest. Actually, what I mainly remember about that first meeting at Kate's was what a sweetheart Phil's wife, Shirley, was.
Phil: Months later at a Bouchercon conference I was having a beer when Bill walked by the bar. I hailed him and we talked. We discovered that we had books and fishing in common.
Bill: That was in Omaha. We were both there alone, and we gravitated to each other. I learned that Phil was a devout surf caster, and I confessed that I was a fanatic fly fisherman. We decided we liked each other anyway. We sat together in the plane on the way home and talked about Hemingway the whole way.
Phil: Over the next few years we became friends. As inside jokes, we began to refer fleetingly to one another's characters in our books.
Bill: I don't know which of us did that first. Phil, I think. It was fun. If one of his characters needed a lawyer, Phil's narrator, J.W. Jackson, would suggest he call Brady Coyne, my narrator. If Brady wanted to do some saltwater fishing, he'd call J.W. Neither of our characters actually did anything in the other guy's books. But they lived in the same fictional world. It got me to thinking…
Phil: One evening over supper a couple of years ago Bill said, "Hey, maybe we should write a book together. I think it might be fun." I thought so too.
Bill: As I remember it, the idea evolved over several years. Phil and I often ended up on panels together at bookstores and in libraries as we tried to publicize our respective books. We had fun doing that. We made a good team—at least, we thought so. We called ourselves (in private) The Phil 'n' Bill Show. Phil has the same off-kilter sense of humor I do, and we share the same politics and the same taste in literature, not to mention our love of fishing and the sea. I remember now and then somebody in an audience would wonder if we planned to collaborate on a book. The idea sort of grew on us. It was during one of those long summer weekends when Vicki and I descended upon Phil and Shirl's house on the Vineyard for some fishing and clamming and beaching when we began to consider the idea more seriously.
Phil: In about half an hour we'd agreed about the principal elements of what turned out to be First Light, which Scribner will publish in January 2002.
Bill: It really didn't take much longer than that. Well, our conversation was undoubtedly fueled by Phil's incomparable martinis and the relaxed atmosphere of the Vineyard in the summer and Shirl's and Vicki's kibitzing. I think what got our imaginations going was the idea of my visiting Phil in the fall and fishing with him in the famous Martha's Vineyard Striped Bass and Bluefish Derby. If we could do it, so could Brady and J.W. All we needed was a mystery for our two guys to solve.
Phil: So that's what we did. We decided that J.W. would invite Brady down for a week of Derby fishing on the Vineyard, where, between sessions on the beach, Brady would also spend some time helping a dying client tidy up her estate. The client's 200 acres of prime Vineyard oceanfront land was the subject of intense interest both to her two grown—and rather obnoxious—children and to two powerful organizations: a nature conservation group and an organization that built golf courses.
Bill: In retrospect, this sounds pretty easy. In fact, I recall that we batted around a lot of ideas. We knew it would be logical for Brady and J.W. to fish together. Phil and I had been mentioning it in our books for years, so the Derby was a natural. But finding the kind of plot that would logically draw both guys into a mystery and give each of them separate things to do took a lot of trial and error. Lots of error, as I remember it, both before we started actually writing, and also as we went along. So we started with the idea that a dying old lady's priceless Vineyard property would be a logical focus for competition and a good source of conflict.
Phil: Meanwhile, because I like to have two stories going on in my books, we had J.W. reluctantly agree to sacrifice some of his fishing time to help a husband try to trace the whereabouts of his missing wife. That gave both Brady and J.W. plenty to do in their spare time and created several possibilities for future evil doings, even though we weren't sure yet just what they'd be.
Bill: We did know that J.W.'s case and Brady's mission would eventually come together in our story. Otherwise, all we really knew for sure was that Brady and J.W. would do some fishing. We came up with our title—First Light—very early on. We visualized a climactic scene happening just at the crack of dawn. It's a magical, spooky time on a deserted Vineyard beach, and, of course, the best time of day to be fishing.
Phil: One of the first things we agreed to was that we'd write the chapters alternately, each in the first-person voice of our own narrator—
Bill:—sort of like we're doing here in this article—
Phil: Right. And we agreed that neither of us would even think of altering the voice of the other guy's narrator.
Bill: One of the challenges of collaborating with another writer is finding a consistent voice that belongs to both. Several years ago, I collaborated on a novel with another writer, and while it turned out pretty good, the two of us agonized over every word and phrase. I didn't want to go through that again, and I don't think Phil wanted to do it ever. Besides, we thought our fans would prefer us to keep our own characters and their distinctive narrative voices. Taking turns with the chapters allowed us to write a genuine "J.W. Jackson/ Brady Coyne Mystery." Each character had the chance to report on events, to give a different perspective or interpretation, even to comment on the other guy. Brady and J.W. get along well, as Phil and I do, but they (and we) do tend to tease each other. We did have a lot of discussion and debate on what we wrote. Not just the content and story of it, but everything. I found it enlightening to have Phil scrutinize my prose, and I have no doubt that he found my queries challenging as well as meddlesome. We did a lot of back-and-forth on characters, how they'd appear, how they'd speak, what motivated them, what their backgrounds were. Phil's knowledge of Vineyard topography and geography and history helped me a lot.
Phil: We agreed that J.W., being a Vineyard resident, would narrate chapter one, giving background to the story. So I did that, writing my chapter from here on the island and emailing it to Bill up in Pepperell. He then had Brady narrate chapter two and emailed that to me. And that's how we wrote the book, emailing chapters back and forth
and figuring out the plot as we went.
Bill: Each of Phil's chapters led me someplace, and my job was to pick it up from there, figuring out what Brady would be doing next. I think this back-and-forth process sparked ideas for both of us. At times it felt like driving a car at night without headlights. We knew where we were, but what was around the bend was pretty foggy. I often sent my chapter to Phil with no idea where we were headed. But that was okay. Now it was his problem, and I'd just wait to see where he took it. Naturally, we ended up with a story that was quite different from what we started with. It surprised us. I suspect that it will surprise our readers, too.
Phil: We had Brady (a sad case in the view of both J.W. and his wife, Zee, since Brady was currently womanless) meet Molly Wood, an attractive women friend of Zee's, who makes a date with Brady but then fails to keep it.
Bill: Brady doesn't see himself as a "sad case," exactly. He was married once, after all. He likes his independence, but sometimes he does get lonely. He knows it's a matter of hooking up with the right woman, and he's always game to meet a new one. Usually the new ones don't work out. So when Molly Wood failed to meet him for dinner, he just figured he'd been stood up by a woman again. Such is life. J.W.'s wife, Zee, couldn't believe her friend would do that. It didn't take J.W. and Brady long to deduce that something had happened to Molly.
Phil: We didn't know who caused the disappearance of Molly Wood, or why, but it got us—and our guys—working on the problem between their fishing trips on the far shores of the Vineyard. The search for this woman eventually tied in with the missing woman J.W. had been looking for all along, of course, and our heroes began to realize that someone evil was walking on the blessed isle, although they didn't know who it was.
Bill: That's the mystery and the source of suspense. Who's killing unattached female visitors to Martha's Vineyard, and why, and how is he disposing of their bodies, and can J.W. Jackson and Brady Coyne stop him before he kills again?
Phil: While we told this tale we tried to paint a realistic picture of the Vineyard during the annual October Derby frenzy and of some of the characters who pour down to the island in search of bluefish and striped bass.
Bill: Yes, there is quite a bit of fishing in First Light. But it's all connected to the central mystery plot, and we think it works. Shirl and Vicki both read the manuscript and gave us the tough criticism that we depend on them for. We're delighted that Scribner's is going to publish our book. We've even started thinking about doing a sequel.
Phil: We don't have a story yet…
Bill: No, but we've got a title. Second Sight. Get it? First Light, Second Sight?
Phil: I'm thinking of some kind of soothsayer or fortune teller. Someone who claims she can predict the future. The Vineyard is full of these types nowadays.
Bill: Maybe there's a charismatic guru who seduces vulnerable young people and uses them for his own Machiavellian purposes…
Phil: If we don't watch out, we'll have a series. Third Night?
Bill: Let's not get ahead of ourselves.
---
Bill has a website at www.WilliamGTapply.com.
---
Till Death Do Us Part
by Cathie John (John & Cathie Celestri)
This universal truth hangs on the bulletin board over the desk in our writing room: "The strongest drive is not love or hate. It is one person's need to change alter another's copy."
Unlike many other writing teams who pass their pages back and forth and slash each other's little darlings with their red pencils, we sit in front of one computer at the same time and wage a war of words, attacking each other's sentences while they're still inmid-air.
No sane married couple would do this by choice. Our working arrangement was forced upon us, due to a freak accident many years ago which impaired Cathie's ability to read or type for long periods of time. Strangely enough, this has turned out to be to our benefit.
Every morning we take our seats in front of the computer, both of us thinking the idea we're going to present is the best direction for the novel to go in. Brimming with confidence, Cathie dictates her first sentence, expecting John to obediently type it out. Halfway through her dictation, John stops typing and shakes his head. "No, no, no, no, no," he says. "Nick would never do that." John then presents his perfect sentence. Cathie gleefully steps on it before he gets it all out of his mouth. An argument ensues for the next half hour, with each one trying to convince the other that she/he has a better understanding of Nick's motivation, psychological state of mind, and familial tendencies. What finally ends up on the page is usually a blend of both ideas. Not a compromise, but rather something stronger than either one could have come up with on his/her own. Sometimes this process feels very destructive, and we think the entire novel's structure is unraveling before our eyes. What a sinking feeling. But the pounding away at ideas kills off the weak ones and we always seem to end the session with at least one survivor still standing. It's a slow process—like trying to create with a very picky editor breathing down your neck the whole time.
In our "Journals of Kate Cavanaugh" series, the lead character is a female amateur sleuth who's also a caterer and a breast cancer survivor, so Cathie has the edge and gets her way a little more often than not. After three of these novels, John felt constrained and announced, "It's time to write a book for the guys." So with Little Mexico we've shifted gears and are following the adventures of a cast of historical and fictional gangsters, set in the town of Newport, Kentucky, which was the gambling Mecca of America years before Las Vegas earned that reputation.
Readers assume John writes the male characters, and Cathie takes care of the females. But things are never so black and white. And that's what makes our sessions so interesting and surprising. John has written some very tender and emotional scenes for Kate, while Cathie enjoys speaking through gangster Bruno Carpella and was responsible one morning for scooping up a glob of wet cement and stuffing it into the mouth of one of Bruno's victims.
Nevertheless, we depend on each other to make sure the male characters think and act like males, ditto for the women. After a scene has been typed, John reads it aloud so we can also hear if the dialogue sounds natural. Inevitably, we end up polishing as we work our way through the first draft. It's not unusual for us to spend 15 to 20 minutes arguing over one particular word. (In fact, we just finished arguing over this very statement). Did we say the process was slow? It's also painful.
But we're learning to give each other room to do what we do best. John is the structural engineer, bringing his sense of logic and 25 years of experience in cinematic storytelling to the novels. He takes the lead in outlining the plots, character personalities, and motivations. Cathie likes to say, "He builds the house, and I come in and decorate it." She enjoys playing with the words, adding details, and saying, "This doesn't make sense to me."
Again, none of this is cut and dried. While we recognize that one might be better at some aspect of writing than the other, almost every sentence ends up being 50% Cathie and 50% John.
We were asked at a conference, "How do you get into 'The Zone' when you're both sitting there together?" The person was referring to that mental space writers get into when they've been alone with their thoughts and the words just seem to flow. Well, we've learned to read each other's body language. Cathie knows to stop talking when John's on a roll and his fingers start typing really fast. He gives off a vibe that says, "Don't say another word or I'll lose this great thought." When Cathie's in "The Zone," she stares out the window at some far away vision, and her voice takes on a droning quality. Then when there's silence for more than a minute or two, John asks, "You finished?"
Another question we get: "How do you two stay married?" All we can say is, somehow we manage to keep the disagreements about the novel from becoming full-blown personal attacks. Though we can't say it isn't a problem. Sometimes the disagreements push a button in one of us and the writing process gets derailed. We don't go back to writing until everything's vented and ironed out. Our rule is: "Never leave the writing room angry."
At the end of each session, we try to close the door on any discussion of the story. This has proven difficult to do, since we're both equally obsessed. So we have another rule: "No talking about The Book at the dinner table." We break that one all the time.
---
The Celestris' website is www.CathieJohn.com.
---
Enter, Maan Meyers
by Maan Meyers (Annette Meyers and Martin Meyers)
The question we're asked more than any other: How do you work together?
The answer: With great difficulty.
Our writing partnership was immediately adversarial because we have argued our way through 38 years of marriage. We argue about everything, including how to stack the dishes in the dishwasher.
Annette is a day person; Marty is a night person. Annette is organized and linear; Marty is about notes on little scraps of paper, and because of the acting influence, often writes scenes out of chronological order. It's murder writing together.
And since we're together all the time, the argument—and we emphatically believe there should be a difference of opinion in a writing partnership—is always with us.
It swallows lunch, is there at dinner, and batters the relationship.
But if the partnership works, and ours does, wonderful things can happen.
Webster's Collegiate defines collaboration: to work jointly with others in an intellectual endeavor. The second definition has something to do with working with an enemy…
That pretty much describes what we do.
We collaborate.
With each other.
It's like a tennis match. It's a co-operating competition. Perhaps two jazz musicians is a better analogy. If the player doesn't offer his partner a good riff, then his partner has nothing to bounce back with, nothing to build another riff on.
As John Kander, the Broadway composer of Cabaret and Chicago and the song "New York, New York," has said about his collaboration with Fred Ebb: "One plus one equals one."
We did not just fall into our collaboration accidentally. We were very clear about why we were going to write together and what we wanted to accomplish.
Annette was a full time Wall Street headhunter and had just sold the first two Smith and Wetzons. Marty was an actor with time on his hands. His Patrick Hardy private eye books published in the '70s were out of fashion. Hard boiled was out and amateur sleuths and cozies were in.
It started with Annette's vision, her hologram, as she calls it. The image appeared in our living room: a tall, broad shouldered man with blond hair, wearing a tall black hat, a leather vest, flowing blouse and pants tucked into boots.
Annette knew he was called The Dutchman, knew he lived in New Amsterdam about the time it became New York, and knew he was a lawman of some sort. She never saw him again, but he haunted her. She knew she had to write about him, but realized she couldn't do it alone. With trepidation, she asked Marty if he wanted to write it with her. And that's how it began.
Marty found the Dutch schout (sheriff) Pieter Tonneman in the New-York Historical Society Library. Tonneman was historically also the first sheriff of New-York. The year was 1664. And we were off.
We found out very quickly that we could not work together; that is, in the same room on the same material at the same time! We divide up the work. We discuss the book and the characters and then, like boxers, go to neutral corners.
Marty writes one chapter and Annette writes another, then we switch and rewrite each other's chapters. Marty puts in all the research, Annette cuts it out.
In the beginning, Marty wrote on the computer, Annette in long hand on a legal pad. Marty got to put the rewritten chapters into the computer and Annette got the final edit (when she would find Marty had restored all the cuts she'd made.)
The final draft became a negotiation: You can keep this if I get to keep that.
When we finished The Dutchman, we were told that two writers' names on a mystery wouldn't sell, so we came up with Maan Meyers. 'Ma' for Martin and 'an' for Annette.
Writing The Dutchman was such a battle (screaming, foot stamping, insults, etc.) that we were determined never to write another book together. But our editor wanted more and when we said no, our agent told us we were crazy. So did everyone else.
In 1664, New Amsterdam's population was 1500. The village ran 1500 feet from the tip of the island, Pearl Street, to the Wall.
A series of murder mysteries in a tiny village would make it like Cabot Cove in Murder She Wrote. Pretty soon we'd run out of people. Annette didn't want to Fletcherize New-York.
She suggested instead that we tell the history of New York through the descending generations of Pieter Tonneman and the people we introduced in The Dutchman.
So how did we write the next six books in the series? (These are The Kingsbridge Plot, set in 1775-6; The High Constable, 1808; The Dutchman's Dilemma, 1675; The House on Mulberry Street, 1895; The Lucifer Contract, 1864; and the not-yet published The Organ Grinder, 1899.)
It still isn't easy, but we find if we divide up the areas of research, it works well. Marty works on politics, weaponry, physical action, and medicine. And he keeps the calendar. Annette reads the newspapers of the time and absorbs the social history. Clothing and food, and any reference to weather, are hers. And she writes most of the prologues, which she says sets the mood of the opening. By the time we got to The Lucifer Contract, we found we were listening more to one another and the active disagreements had receded.
Our partnership works because we like and admire each other. But we are not afraid to disagree. Perhaps it helps the process. Collaboration with no argument is, to quote Billy Wilder, like two men pulling on the same end of the rope. No tension.
There is a great reward in our collaboration: a third voice. It's as if another writer has written these books, not Marty, not Annette. Maan. The result is something neither one of us could have or would have written alone.
---
The Meyers' website is www.MeyersMysteries.com.