Volume 18, No. 1, Spring 2002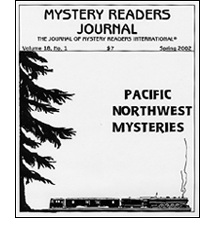 TABLE OF CONTENTS
Killers in the Rain by J. Kingston Pierce
British Columbia Mysteries: James Bond, Tourist by Roberta Ann Henrich
Homicide in Seattle by Carol Harper
The Spotted What? by John Walsdorf
AUTHOR! AUTHOR!
Inner Passages: From Desert to Ocean by Carl Brookins
Gray Makes My Day by Mary Daheim
How Miss Zukas Moved to the Pacific Northwest by Jo Dereske
Speechless (with Admiration) in Seattle by Deborah Donnelly
The Wild and Beautiful by Lynda Douglas
The Case of the Murdered Muckraker by Carola Dunn
Murder, Mystery and Mayhem in the Pacific Northwest by R. Barri Flowers
Why Jasper County? by Ken Goddard
Northwest Massage by Ed Goldberg
On the Border by Leona Gom
Sleuthing Around Seattle by Patricia Harrington
Oregon: The Writer's Toronto by April Henry
Mapping Out the Region by J. A. Jance
Rage on the Rain Coast: A Murder in Vancouver by Nora Kelly
Breathtaking: Romantic Suspense in the Pacific Northwest by Jayne Ann Krentz
Yes, It's Green All the Time by Ron Lovell
Endangered Species by Skye Kathleen Moody
Old Haunts by Deborah Morgan
Accident of Place by Lynne Murray
Seattle—Beneath the Surface by Paul Petrucci
Northwest of Northwest by Megan Mallory Rust
Why Portland? by Harley L. Sachs
Any Point of the Compass by Steve Sherman
Montana Noir by Jenny Siler
Pacific Northwest: There's More To It Than Sasquatch by Sheila Simonson
How a Writer Is Made by Dana Stabenow
Sitka, Alaska by John Straley
The Pacific Northwest Dynamic by Kate Wilhelm
COLUMNS
Mystery In Retrospect: Reviews by Carol Harper, Kate Derie, Earl Staggs, Lorie Ham
In Short: In the Footsteps of Jack London by Marvin Lachman
Philip Macdonald: A British Immigrant to the Pacific Coast by Philip Scowcroft
Just the Facts: The Innovative Traditionalist by Jim Doherty
MRI Mayhem by Janet A. Rudolph
Letters to the Editor
From the Editor's Desk by Janet A. Rudolph
---
Killers in the Rain
by J. Kingston Pierce (Seattle, Washington)
Setting tales of crime and puzzlement in Seattle means defying clichés. Thanks to two decades' worth of admiring travel magazine coverage and equally reverent TV and movie portrayals, the Pacific Northwest's largest burg is considerably better known for its healthy-living-through-caffeine lifestyle than for its headline-grabbing abductions or serial slayings. Sure, both Ted Bundy and the Green River Killer hailed from this soggy extremity of the nation. But for the most part, Seattle is thought of as a well-scrubbed, easy-going sort of place, where politicians compete to see who can be the most civil, and where—despite maddening local traffic snarls—it's still considered the height of rudeness to honk one's car horn at offending motorists. If New Orleans is the Big Easy, then Seattle is at serious risk of being dubbed "the Big Nice."
Yet, as a result of efforts by G. M. Ford, J. A. Jance, Curt Colbert and their fellow wordsmiths, this town no longer seems a refuge from urban horrors. Revenge murders, arson sprees, the occasional contraposition of Tommy-gun fire with seagull screams—in fiction, at least, the Big Nice comes off as a harbor for big vice.
Crime writers—like other novelists, in fact—didn't show much more than passing interest in Seattle as a story backdrop until the late 20th century. Dashiell Hammett's cockier-than-thou gumshoe, Sam Spade, explained in The Maltese Falcon (1930) that he was once "with one of the big detective agencies in Seattle." (Hammett himself had, for a spell, worked out of the Pinkerton Detective Agency offices in Spokane, in eastern Washington, and was later admitted with tuberculosis to a hospital in Tacoma, just south of Seattle). However, Spade confined the scope of his inquiries to the wharves and tenements of San Francisco, never venturing north to test his fast talk on Seattle scofflaws. Not until half a century after Spade's first appearance did Seattle finally become the regular stomping grounds for a fictional private eye.
Decoys (M. Evans and Company, 1980) introduced John Denson, a "soft-boiled" shamus who was described by his creator, Richard Hoyt, as a sleazy man with a weak stomach, wary of carrying a gun "because he might have to use it sometime." Although separated from the Black Mask boys by temperament as well as time, Denson could spout sarcasm with the best of 'em. When a new client, noticing the hot plate that decorates his downtown office, asks Denson whether he lives there, the P.I. responds:
"No. I have an apartment. I rent this office to make me look legit. I picked this building because it has lawyers and chiropractors. Figured I could use a little class… I'm a gentleman and a scholar; would you care for some screw-top?"
Hoyt, a newspaper reporter turned journalism professor, plotted Decoys around the search for a brutal pimp. Much of its drama takes place away from Seattle, in a small town on the Columbia River (separating Washington from Oregon). But clues finally lead Denson back to his home turf, giving Hoyt opportunity to introduce landmarks and other sights that in the early '80s were still alien to most readers. About halfway through the novel, for instance, Denson agrees to meet his client at Pike Place Market, the quirky public farmers' marketplace (opened in 1907) that now draws so many tourists to the northern end of downtown. In his first-person narrative, Denson opines:
"Pike's was one of the best big-city fish and vegetable markets I'd ever seen. The big reason was the vegetables. The fish too. I love to eat raw cauliflower and smoked fish… I was a familiar face to the vendors at Pike's. For them an attractive display was a way to sell asparagus or tomatoes. But it was different for me—a matter of esthetics—and they knew it. They watched me carefully when I examined their displays, looking for a hint or clue to my reaction. I was their jurist, and man of taste in matter of vegetable display… The fish men watched me also but they knew I was really a vegetable man. They didn't care. They had pride. A vegetable man was better than nothing at all."
Denson has since taken the lead in half a dozen more novels, including Fish Story (Viking Penguin, 1985), in which a Native American fishing-rights dispute provokes the dumping of butchered body parts in Pioneer Place Park, the centerpiece of Seattle's elegant historic district, and Snake Eyes (Forge/Tom Doherty Associates, 1995), about a deliberately engineered anthrax outbreak. These books attract with snappy dialogue and distinctly indigenous characters, from hardened cattle barons and chainsaw sculptors to Denson's professional partner, Willie Prettybird, a shaman (medicine man) of the Cowlitz tribe. But it's the darts-playing, sex-obsessed, and winebibbing John Denson who does most of the series' heavy lifting, maintaining a precarious though essential hold on Hoyt's deliberately eccentric storylines.
It isn't only Denson's cases that are eccentric. The same label could apply to many mysteries rooted here. However, what seem initially like bizarre elements may reveal aspects of the area's heritage or character.
In K.K. Beck's Cold Smoked (Mysterious Press, 1995)—the fourth, and evidently final, adventure for Jane da Silva—we find this widowed former lounge singer and reluctant investigator earning a few extra bucks by belting out tunes at a local seafood convention. When one of the gathering's young hostesses is murdered, da Silva smells something, well, fishy and decides to tackle the case herself. Posing as a scribe for a leading seafood journal, she takes (and offers to the reader) a crash course in what remains of the city's historically diverse fishing industry, touring processing plants and getting an earful of piscatory propaganda as she tries to hook the hostess' killer.
Meanwhile, The Million-Dollar Tattoo (Ballantine Books, 1996) by fireman/author Earl Emerson finds private eye Thomas Black lending help—and a more-than-skeptical ear—to fellow dick Elmer Slezak, nicknamed "Snake." It seems that the "dirty-minded, opinionated, and cantankerous" Snake woke up in the middle of the night to find an exotic-looking woman in his bed. So what's the problem? Snake is sure not only that the woman is dead, but that she's from outer space. The teetotaling, bicycle-riding Black spends the rest of this complex and often comical tale trying to calm down the paranoid Snake, while looking for an earthly reason behind his bedmate's untimely demise. Though the story suggests an X-Files inspiration, it actually has regional resonance: The term "flying saucer" was coined after the 1947 sighting of nine unidentified flying objects near Mount Rainier, Washington's tallest peak, located southeast of Seattle. The decades since have made this vicinity a prime gathering ground for UFO enthusiasts.
Eccentric too, but in a distinctly darker vein, is Indian Killer (Atlantic Monthly Press, 1996) by Sherman Alexie. The narrative builds around a Native American serial murderer, who executes white men in twisted retribution for historical injustices committed against his people, then scalps his victims and decorates them with owl feathers. The violence incites community outrage and racial animosity, even among Seattle's normally tolerant liberal majority. Alexie, himself a Spokane/Couer d'Alene Indian, tenders here a lyrical thriller rife with reflections on how thoroughly and impenitently whites have overwhelmed the Native Americans, whose control over this territory was unrivaled just 150 years ago.
Stephen Greenleaf delivers his own dissenting notes about the Emerald City in Flesh Wounds (Scribner, 1996). The engrossing yarn sets San Francisco P.I. John Marshall Tanner on the trail of a fetching young model, who has vanished in Seattle after posing for nude photos, to be held captive by a demented computer whiz specializing in digital pornography. Greenleaf (who lived in Seattle during the 1990s) does a fine job of explaining the criminal potential for this city's high-tech expertise. He also offers insights into the town that are at odds with its usual trendy, cheery image. We listen in on Tanner's thoughts as he completes an hour-long walk through downtown:
"When I stopped to wonder what I thought about the place, I decided I was disappointed. Not that it wasn't spiffy, not that it wasn't clean, not that people weren't cheerful and even gregarious, just that it was generic. Nothing screamed Seattle. Nothing shouted salmon, or timber, or airplanes, or software, or whatever else made the city burst with pride. Seattle has been so much in the news of late, with so many touting its virtues, I suppose I'd expected too much and resented my gullibility."
Tourism promoters here must cringe at such commentary. However, one of the healthiest signs for Seattle-based crime fiction is the increasing willingness of local authors, at least, to employ this area as more than a pretty backdrop. To remark on the region's failings and follies, as well as its virtues. And that doesn't just mean griping about the wet weather, though you do hear a lot about precipitation in these books. ("Twenty years in this town and I still hate the rain," says a newspaper columnist in Fredrick D. Huebner's fifth legal thriller, Methods of Execution, Simon & Schuster, 1994.)
Particularly adept with wry observations about life in these parts is G.M. Ford, who produced five novels featuring a sarcastic and sobriety-challenged Everyman detective, Leo Waterman, before turning to stand-alone works. In Slow Burn (Avon Books, 1998), Waterman makes clear his contempt for that most despised of local law-enforcement species, the parking meter attendant, by explaining that he's bought a T-shirt "emblazoned with the words: 'Meter Maids Eat Their Young,' which I proudly wore whenever both circumstances and the weather permitted." Fury (William Morrow, 2001), about a discredited reporter's 11th-hour campaign to stay the execution of hateful hick who may have been wrongfully convicted as a serial killer, hits on an equally common source of complaint: freeway congestion that has made Seattle the second-worst place in the nation to drive (after L.A., naturally). The situation has gotten so out of hand, Ford writes, that "much like the weather, nobody talked about the traffic anymore. Sitting for hours breathing catalytic converter fumes had become such a fact of life that taking notice was now considered positively rural."
Uncomfortable trade-offs between environmental preservation and the survival of traditional industries—frequent fodder for Seattle editorialists—can be equally useful as a source for topical mysteries.
In Hoyt's Whoo? (Tor/ Tom Doherty Associates, 1991), John Denson's assignment to clear a client of a small-time marijuana possession charge draws him into the heated battle over protection of the spotted owl, a species that lives in endangered old-growth forests. Chain Saw (St. Martin's Press, 1988) by Jackson Gillis, a Californian who'd been a writer and producer on the original Perry Mason TV series, has former L.A. cop Jonas Duncan double-checking the identity of a woman who claims she's the daughter of a deceased timber magnate. The novel captures the regrets most Northwesterners feel when viewing acreage denuded by decades of over-logging. "The hills all around were junkyards of slashed vegetation," Duncan notes as he drives north from the Emerald City, deep into the countryside, "with huge rotten stumps scattered beneath tangles of second growth evergreen and leaf-dropping alder, with an occasional brighter flash where an Oregon ash still clung to October."
Almost as poignant a reminder of the era when there seemed no limit to this region's profitable woodlands are once-thriving lumber towns, now fallen on hard times. Leo Waterman visits just such a hamlet in The Deader the Better (Avon Twilight, 2000). "Nowadays it was standard-issue Northwest rural," he muses. "A mill town without a mill. A forest community without a forest. Five blocks on either side of the highway. Ten blocks long… One of everything except taverns. Those numbered three."
Not all local crime novelists so fully or finely integrate the Seattle environs into their works. Some, such as Robert Ferrigno (Flinch), Candace Robb (A Trust Betrayed), and Michael Dibdin (Blood Rain), prefer to set their plots in other locales entirely, or other centuries.
But those who do employ Seattle as a framework for their fiction have, over the years, contributed to a more interesting, idiosyncratic depiction of this place. One that goes beyond the Jetsons-like Space Needle, Pike Place Market, or other postcard-worthy sights, and occasionally teaches natives something new about their city.
Much of Emerson's Catfish Café (Ballantine Books, 1998) takes place in the Central District, a minority-dominated neighborhood that remains terra incognita to most white Seattleites, despite the draw of its historic architecture and savory barbecue joints. Both Ridley Pearson's The First Victim (Hyperion, 1999), about Seattle police lieutenant Lou Boldt's investigation into the smuggling of Chinese workers, and Ford's Cast in Stone (Walker and Company, 1996), which sends P.I. Waterman to probe the death of a friend's son, take readers down to the heavily industrialized Port of Seattle, where, in Ford's words, "a swarm of bright orange loading cranes stood sentry, seeming to ring the downtown core like modern engines of siege."
J. A. Jance, who writes a series about SPD homicide detective J.P. "Beau" Beaumont, has sometimes been just a bit too eager to present her town's innumerable attributes to the world, pushing the line between concocting crime stories and compiling travelogues. In Name Withheld (William Morrow, 1996), Beau—who lives in the Denny Regrade, at the north end of downtown—responds to a murder at Myrtle Edwards Park on the Seattle waterfront, sniffs out another corpse at an apartment building on Lake Union, wheels east across Lake Washington to lunch with suspects at a high-tone eatery in the former suburb of Bellevue, and gets lost in a smaller eastside enclave, downtown Kirkland ("If you're a true Seattleite," the detective muses, "that phrase sounds like an oxymoron").
Regrettably, less attention has been paid to Seattle's past as a source and setting for crime fiction. A puzzling thing, when you consider that this burg has at various points hosted raucous gold seekers, rich bootleggers, and feuding power brokers.
Without question, the most familiar historical mystery set around here is Snow Falling on Cedars (Harcourt Brace & Company, 1994), David Guterson's hauntingly romantic tale of the World War II Japanese internment and a subsequent, suspicious drowning that appears to stem from that long-ago injustice. More recently has come First Avenue (Watershed Books, 1999), in which former Seattle policeman Lowen Clausen not only tells the involving story of a beat cop's search for answers in the death of an abandoned baby, but expertly re-creates this city as it was in the 1970s—back when porno shops and equally marginal enterprises crowded downtown's main north-south thoroughfare. And just last year brought Curt Colbert's Rat City (UglyTown, 2001), a pulp-noirish 1940s yarn about murder and missing persons that is nicely accessorized with crooked cops, jumping jazz clubs, nostalgic mentions of the long-gone Seattle Rainiers baseball team, and a not overly smart but persistent private eye named Jake Rossiter, who, when he isn't running down leads, does a fair imitation of a punching bag.
How helpful stories of murder and mayhem from Seattle's yesteryears might be in shaping the local crime fiction of tomorrow is anybody's guess. But this is an appropriate time to ask the question. As the mystery genre moves into its third decade of close association with the Emerald City, changes are in the offing. Prominent authors like G.M. Ford and Earl Emerson are abandoning their detective series (at least temporarily) in favor of stand-alone thrillers, and readers are coming to expect more from these mysteries than the sheer novelty of their setting. For Seattle to maintain its standing in this field, authors must prove that tales of the Big Nice can be more novel—and maybe nastier—than anyone expected.
---
J. Kingston Pierce is the crime fiction editor of January Magazine, an online literary journal. He's currently laboring over a collection of essays about Seattle history, to be published in 2003 by Washington State University Press.
---
How a Writer is Made
by Dana Stabenow (Anchorage, Alaska)
My first memory is of my mother's forefinger running slowly beneath the words, "Once upon a time, in a faraway land lived a beautiful princess named Snow White. She had skin as white as snow, lips as red as blood, and hair as black as ebony."
It was years before I knew what the word "ebony" meant. It didn't matter.
The very sound of it—EH-bone-ee—was intoxicating enough. In that moment, I fell in love with words, and I have never fallen out of it.
Growing up I lived on a boat, a 75-foot fish tender named the Celtic, that spent her winters tied up to the old fuel dock in Seldovia. It was low tide that Monday night the October I was eight years old, when my mother dragged me forty feet up the ice-encrusted, barnacle-infested ladder to the dock and down the boardwalk to the city hall.
In the basement of the building was one small, musty room, crammed to overflowing with books, books and more books. There were two kids spelling out The Cat in the Hat. Their mother was engrossed in Anya Seton's latest, and a couple of teenagers giggled over an issue of National Geographic. This one room was the Seldovia Public Library. It was open once a week, on Monday nights, for three hours, seven to ten. Because there were so few books, each patron could check out only four books at a time.
That evening my mother consulted gravely with Susan, the librarian, and a half hour later I was curled up in my bunk in the chart room, open to the first page of The Clue in the Old Stagecoach. I finished The Hidden Staircase after dinner the next night.
"Maybe we'd better check out four books next time," Mom said.
I dove headfirst into reading and from that moment on scarcely paused to draw breath. I read everything, in bulk, indiscriminately, whatever I wanted, whenever I wanted. From the time I was eight until the time I turned thirteen, when boys suddenly became almost as interesting as books, I read the collected works of Carolyn Keene and Franklin W. Dixon, Georgette Heyer and Angela Thirkell, Robert Heinlein and Jane Austen and the Brontes and Nevil Shute and Thomas B. Costain and a hundred other writers whose names I can't remember. I was on a voyage of discovery, into worlds real and imagined, with heroes I came to love and admire and villains I came to despise and detest, and my life was all the richer for it.
I also developed a life-long appreciation for the strong narrative line, the bass guitar of popular fiction, thumping steadily in the background to keep its characters on the backbeat. I suppose it was inevitable that I would become a writer myself. When you read that many stories by other people, you develop an ambition to write your own.
So I wrote stories, beginning as soon as I knew how to write. On the Celtic, I wrote stories about normal children who lived on shore, and made my mother read them. In school, I edited the school newspaper, mostly I admit because I got to travel with the basketball team and report on away games from exotic locales like Ninilchik and Kenai. In college I majored in journalism but I had no ability to ask the hard question so upon graduation I went to work in Alaska's oil patch instead, contributing to the Letters from the Bush column and writing the occasional travel feature for the local newspaper.
At thirty I began to give serious consideration to what I wanted to be when I grew up. Did I want to turn sixty without ever having tried to write seriously? The answer was simple. No.
So I quit my job and went back to school, receiving my master's degree in fine arts from UAA in 1985. My goal was to sell a book, just one book, before I completely ran out of savings. I barely made it, when Ace Science Fiction bought Second Star in 1990 and published it in 1991.
I have a confession to make.
Aside from Nancy Drew and the Hardy Boys, I didn't read mysteries much. My mother loved mysteries, especially those of British authors, including Ngaio Marsh, Dorothy L. Sayers and Agatha Christie. Perhaps, in the perverse way of children, because she did, I didn't. It took her twenty-one years of persistence to get me to read The Daughter of Time by Josephine Tey.
It was a revelation. To this day, The Daughter of Time remains the finest mystery I have ever read, and one of the finest novels of any kind. In it, a policeman is confined to a hospital bed, literally unable to sit upright, and from that bed he solves a mystery over four hundred years old.
It was at that moment that I realized you could do anything in a mystery.
You could, it seemed, set a mystery in present-day Chicago, or Rome in 71 A.D., or, perhaps, in a fishing town in Bristol Bay in Alaska. Your detective could be a manic depressive in a deerstalker hat who roared around Edwardian England by hansom cab and train, or a knitting spinster who compared cold-blooded murderers to butcher's apprentices, or a smartass private eye in a snap-brim fedora in headlong pursuit of a ceramic fowl, ebony in color.
When the time came for me to write detective fiction, I was intimately acquainted with all of these sleuths. I knew more. I knew that most detectives were loners, with hardly a working relationship between them. I knew that a lot of them weren't even detectives, but archaeologists and jockeys and salvage consultants and monks. I knew that most of these were cordially disliked by their official counterparts on the police force, but not all. I knew that despite their frequently cynical and world-weary surface they shared a rock bottom resolution to fight for the right. I knew that some dressed in bustles and others in togas, and, yes, some even in the blue on blue uniforms of the Alaska State Troopers.
There is an axiom that nothing in a writer's life is wasted, that everything is grist for the novelist's mill, or, as Alice McDermott puts it, "A good writer sells out everybody he knows, sooner or later."
How true. Four of my novels (Second Star, A Handful of Stars, Red Planet Run and A Cold-Blooded Business) were greatly influenced by my experiences on the North Slope oilfields. The interior design of the space station in the asteroid belt in A Handful of Stars (Ace, 1992) is modeled after the BP Base Camp at Prudhoe Bay, and A Cold-Blooded Business (Berkley, 1994) is set in a reasonable facsimile thereof. As one Sloper put it, "She even knows where the goddamn light switches are!"
Dead in the Water (Berkley, 1993), the third Kate Shugak novel, comes from my childhood on the Celtic. Breakup (Putnam, 1997) is every Alaskan breakup I've ever had rolled into one. In Fire and Ice (Dutton, 1998) I wrote an fictional ending to a true story, moving it four hundred miles southwest, inland to the coast, and giving the characters (eventually) a happy ending. In The Singing of the Dead (St. Martin's, 2001), I told the story of the Klondike Gold Rush through the eyes of a dance hall girl, whose murder Kate Shugak must solve before she can discover who committed the murder in the present day.
And in Blood Will Tell (Putnam, 1996), I was able to fulfill a long-cherished ambition and begin my tale with "Once upon a time…" Only my first line read, "Once upon a time, a couple of days ago…" The novel, sixth in the Kate Shugak series, ends, "That's all," a traditional South Central Alaska Native way to end a story.
It's not "Snow White," but it'll do.
---
Dana Stabenow is the author of nineteen novels. She lives in Anchorage, Alaska, and can be reached through her website at www.stabenow.com.