Volume 12, No. 2, Summer 1996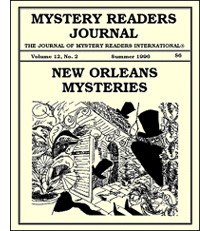 TABLE OF CONTENTS
Murder in the Big Easy by Don Sandstrom
Julie Smith's New Orleans Mysteries by Sydney Schultze
The Existential P.I. by Joe Derie
John Dickson Carr's New Orleans Trilogy by Philip L. Scowcroft
Timeless New Orleans by Elizabeth Watson
Just Plain New Orleans by J. M. Davis
Louisiana Fever by D. J. Donaldson
Anything Can Happen in New Orleans by Tony Fennelly
Why New Orleans? by Dick Lochte
New Orleans—From the Outside In by Neil McGaughey
The City That Has It All by Jean Redmann
Laissez Les Bon Tons Roulez -or- Let the Lesbians Go Bowling by Sarah Shankman
COLUMNS
Mystery In Retrospect: Reviews by Peter Kenney, Susan Rose, and Carol Harper
In Short: New Orleans by Marvin Lachman
Just Juveniles: And Her Spirit Lives On by Nancy Roberts
Mystery Video Guide: New Orleans by Kate Derie
A Mystery Reader Abroad by Carol Harper
MRI Mayhem
Letters to the Editor
---
Looking For Mystery Street: New Orleans and the Detective Novel—Why So Few?
by Harriet Swift (New Orleans, LA)
One of my favorite spots in New Orleans is the neighborhood around Mystery Street, where it deadends into the Fairgrounds, near some good restaurants and the city's only decent natural foods store.
This is in the area called Mid-City, a 20-minute bus ride from the French Quarter. Walking the cracked sidewalks of Mystery Street and closest neighbors, I like to study the comfortable little houses that have been reclaimed by upwardly mobile couples (gay and straight) or allowed to settle into a genteel old age by their aging, widowed residents, the blue-haired ladies I see conferring over their garden fences. Some of the houses are clearly rentals, given over to jockeys and trainers and other racing life gypsies who come to the Fairgrounds for the thoroughbred racing season every year. Farther down the street, in the downtown direction, the neighborhood quickly gets poorer and dangerous. In New Orleans, the urban jungle changes block by block, not neighborhood by neighborhood as in most American cities.
I've often wondered why there isn't a New Orleans detective story called "Mystery Street." The name is irresistible but so is the street, with its range of people and backgrounds and possibilities. Lately, it has occurred to me that the Mystery Street mystery is the New Orleans mystery writ large. Where are all the New Orleans mysteries?
* * *
That may seem a strange question to ask in an issue of the Journal devoted to New Orleans, but a question, I think, that needs some attention. While there are several highly regarded New Orleans mystery writers at work today (Julie Smith, Christine Wiltz, Tony Dunbar, Jean Redmann come immediately to mind) and others who have made important contributions (Bill and Joyce Corrington) it seems to me that of all the genuinely exciting American cities, New Orleans is the least exploited as a mystery setting. Compared to the number of published stories set in New York, Los Angeles, Chicago and San Francisco, New Orleans is a desert for mysteries.
In looking for an answer to this puzzle, I can't claim to have done the kind of earth-turning, tireless research that is not unusual among many MRI members (the late Bill Critchfield comes to mind), but I have made a serious, concentrated effort to put together an overview of New Orleans mystery writing and have been most impressed by its scarcity. After gathering books of the city's contemporary writers, I set out to look through the past. Was there a Mr. and Mrs. North of St. Charles Avenue, I wondered? Perhaps a series from the 1940s featuring a plump chef detective a la Nero Wolfe? A Gypsy Rose Lee whodunit set in a Bourbon Street strip club? Maybe a period detective who crosses paths with the famous names linked with New Orleans: Gen. Andrew Jackson, the pirate Jean Lafitte, Mark Twain, Kate Chopin, John James Audubon, voodoo queen Marie Laveau.
A careful reading of Twentieth Century Crime and Mystery Writers (2nd Edition, 1985, St. Martin's Press) yielded two mentions of New Orleans: Elmore Leonard was born here (11 October 1925) and New Orleans Knockout, a 1974 action thriller, wedged between Detroit Deathwatch and Firebase Seattle in the Don Pendleton Executioner series.
Art Bourgeau's The Mystery Lover's Companion (Crown, 1986) and A Catalogue of Crime by Jacques Barzun & Wendell Hertig Taylor (Harper & Row, 1989) were equally unhelpful.
At New Orleans bookstores, I asked about mysteries by local writers and/or with New Orleans settings and was almost always pointed to Julie Smith and Tony Dunbar books. Chris Wiltz and James Lee Burke were occasionally mentioned, but I didn't run across a mystery fanatic behind the counter as one often finds in San Francisco Bay Area stores and any mystery bookstore (alas, there's no mystery specialty store in the New Orleans area). I considered interviewing book buyers at the bookshops with good mystery sections (particularly Beaucoup Books on Magazine Street and Maple Street Bookstore) but decided to keep my quest low-key and general. I would work with what's available to the average man (or woman).
In the end, the only pre-1960 local-writer-local-setting mystery I turned up was Frances Parkinson Keyes' Dinner at Antoine's. Actually, I'm taking that on faith as it was a last minute tip from a friend. I've never made it through any of Keyes' turgid romances but I'm told that Dinner involves a classic murder mystery plot. But what of my search for a St. Charlesian Nick & Nora? A Creole Agatha Christie? A forgotten hardboiled classic to rival The Maltese Falcon? If they're out there, I couldn't find them after combing second-hand bookstores and studying mystery genre guidebooks. I'm sure there are mystery scholars and specialists who do know the entire New Orleans ouevre and will find my exploration of "the New Orleans mystery, history & development" inadequate. But I think I have a better explanation of the paucity of a New Orleans genre: New Orleans, despite appearances, is NOT a mystery city.
It is mysterious, yes, perhaps the most mysterious, enigmatic city in North America, but New Orleans is not a place, a state of mind, an attitude, that fits with the idea of literary mystery. A mystery, to be successful and satisfying, must have plot, movement, resolution. An intriguing question must be posed and answered. New Orleans, with its Latin-Caribbean-mystic-Third World languor and self-absorbed vanity isn't interested in answers and only barely acknowledges questions. The inexorable forward movement of investigation is alien to the unreflective, unchanging nature of New Orleans. When William Faulkner (briefly a New Orleans resident in his youth) said, "The past isn't dead, it isn't even past," he was probably thinking of the city as much as his native Mississippi. The mysteriousness of New Orleans—as opposed to its mystery—has been brilliantly captured by Anne Rice, the city's most famous and successful writer. Her lush, vivid novels of vampires and love are the perfect marriage of New Orleans's sensual landscape and bent for emotional excess.
Rice and her husband, poet Stan Rice, moved back to New Orleans in 1988 after 25 years in San Francisco. Since then, she's become a kind of one-woman industry in New Orleans. Her books sell in the millions and her admirers don't stop at reading. They come to New Orleans in droves, especially at Halloween. Rice has bought and redone six buildings in New Orleans, including her childhood home. She lives in a gorgeous antebellum house in the Garden District at First and Chestnut streets (everybody knows the house and points it out). She has another mansion on St. Charles that is used for parties and business. St. Elizabeth's Orphanage, a handsome Second Empire compound on Napoleon Avenue that the Rices have restored, houses Anne's massive doll collection and is the site of the annual Halloween Coven Party that attracts fans from all over the world.
Combined with the enduring fame of Tennessee Williams, Rice has kept the idea of New Orleans as a literary city in the forefront of the public imagination. Unlike many popular assumptions, this one is absolutely true. New Orleans has been hometown, adopted home and spiritual incubator to two centuries of first-class writers. Mark Twain, Kate Chopin, Lafcadio Hearn, George Washington Cable and O. Henry had strong ties to the city in the 19th century. More recently, New Orleans has been central to the lives and work of Walker Percy, Shirley Ann Grau, John Kennedy Toole, William Faulkner, Ellen Gilchrist, Lillian Hellman, Truman Capote, Robert Olen Butler (winner of the 1992 Pulitzer Prize) and Richard Ford (winner of this year's Pulitzer).
A new generation of mystery writers has staked a claim on New Orleans and in many ways are succeeding in blending the mystery format with the city's personality. Through some kind of collective unconsciousness, they have realized that the magic of New Orleans can only be effective if used carefully and sparingly. Like spicy Louisiana peppers, a little can make a dish and a lot can ruin it.
Julie Smith is unquestionably the most successful New Orleans mystery writer at work today. After some modest successes with mysteries set in San Francisco, Smith scored a breakthrough with her first Skip Langdon book, New Orleans Mourning (Ivy Books, 1990). It won the Edgar for Best Novel, making Smith the first American woman to win that category (and it is the big prize) since 1956. Smith, who grew up in the South, worked as a reporter for the New Orleans Times Picayune then spent a couple of decades in the San Francisco Bay Area, once told an audience at the Tennessee Williams New Orleans Literary Festival that part of the genesis of her character was Smith's own confusion about what it meant to be "a Southern woman."
Skip Langdon is that confusion made flesh, an overly tall, underly delicate Garden District product who becomes a New Orleans police officer instead of a Junior League member. Smith's emphasis is on character, the yin and yang of Langdon's family struggle and Skip's personal difficulties in learning and mastering her job. New Orleans supplies interesting characters and alluring settings but Smith eschews the heavy-handed "only in New Orleans" subtext that unbalances many New Orleans stories. In The Axeman's Jazz (Ivy, 1994) Smith makes ingenious use of the proliferation of 12-Step programs. Her killer stalks victims through the groups that provide intimacy and anonymity: the killer selects a victim through close observation but is cloaked by the AA pact of silence. Axeman has an undeniable New Orleans flavor but Smith has given her situations and characters a universality that makes them instantly familiar and understandable.
Tony Dunbar hasn't achieved Smith's name recognition and output, but his Tubby Dubonnet series shows great promise of becoming a New Orleans standard. Tubby is a lawyer more interested in a good time than his practice, making for a graceful fusion of the accidental detective with the New Orleans milieu. Dunbar is a attorney himself who has written several important nonfiction books about Southern history and culture (Delta Time, Against the Grain: Southern Radicals and Prophets, etc.). Dunbar's civil rights background makes his light, sure touch with the Tubby mysteries all the more interesting. Dunbar's mysteries are genuine entertainments, not agitprop whodunits with a barely concealed political agenda.
Tubby is introduced in Crooked Man (G.P. Putnam, 1994) as a New Orleans semi-insider always on the lookout for the Main Chance, provided there's not too much work involved. Unhappily divorced, fond of his three daughters, always ready for a good meal, Tubby worries about his family, his non-love life, his erratic finances, but none of it too much. He wouldn't be out of place as a minor character in a Walker Percy novel, the easy-going former fraternity brother of one Percy's trademark angst-ridden Southern gentlemen, brought out for a humorous turn and to diffuse the tension that builds up in a Percy story.
City of Beads (G.P. Putnam, 1996) is the second Tubby mystery, and falters a bit. Unlike Crooked Man which neatly tied up all the loose strands of a gym bag with $1 million in cash, a corrupt deputy, a popular but dead drug dealer and his live, spunky girlfriend, City of Beads has a few too many strands to be efficiently dispatched. But Tubby's affable, ultimately honorable personality rises above plot problems to hold the reader's attention.
In many people's minds James Lee Burke is a New Orleans writer, but I disagree. I think Burke and his detective, sometimes policeman Dave Robicheaux, are firmly rooted in the soil of southwest Louisiana. New Iberia, the setting for most of Burke's books, is the center of Cajun country and Robicheaux is emblematic of that culture. In his first book, The Neon Rain, Robicheaux is a New Orleans policeman, still dealing with his demons from Vietnam. By the end of the book, however, he's through with New Orleans, ready to be healed by the family ties and bayou life of New Iberia. Robicheaux periodically returns to New Orleans (Dixie City Jam, A Morning for Flamingos) but I don't think Burke's heart is really in it. In an odd way, this summer's dud movie based on Burke's work (Heaven's Prisoners with Alec Baldwin) seemed to me a confirmation of the writer's distance from New Orleans. The filmmakers set much of the movie in the city, making a complete hash of geography and sensibilities.
Jean Redmann, who writes as J.M. Redmann, has added a strong gay character to the New Orleans scene with her P.I. Micky Knight, a volatile lesbian with an busy love life. In the second Micky Knight book, The Intersection of Law and Desire (W.W. Norton, 1995), the main subject is child pornography. Micky, a prickly loner who was sexually abused by an older cousin, risks everything to uncover the workings of a kiddie porn business that operates in New Orleans. Redmann is heavily influenced by the Raymond Chandler P.I.-as-white-knight tradition which seems to me to inhibit the character and the stories. Micky is obsessed with money. She dislikes and even hates rich people on sight. She won't let her girlfriend, a well-off doctor, even buy her dinner. Micky's code is not so much unfashionable as unbalanced.
Micky Knight, a mostly intriguing character, illustrates the difficulties of placing a hard-boiled mystery in New Orleans. It is like foreign matter in the eye; the body rejects it. The hard-boiled with its requirements of exacting justice and harsh definitions of evil and good is the antithesis of the slow-moving, careless temper of New Orleans. The easy accommodation of Tubby Dubonnet is absent in Micky Knight as well as the protagonists of Chris Wiltz, James Sallis, Bill and Joyce Corrington, James Colvert, John Dillman and O'Neil DeNoux.
Which isn't to say that these novels don't sometimes succeed on their own terms. Wiltz in particular has constructed a solid, readable series with her scrapegrace Irish Channel P.I., Neal Rafferty.
An interesting footnote to the hard-boiled/noir books connected with New Orleans is the work of iconclastic Barry Gifford. He lives in the Bay Area, but has spent extended periods in New Orleans. Gifford's glancing, elliptical style has a resonance with New Orleans but the impersonal ruthlessness of his characters is completely at odds with the deeply personal passions that motivate most New Orleans drama.
* * *
I look forward to seeing more New Orleans mysteries of any kind. More writers, more books, more stories increase quality and fuel the imagination. I think it will be wonderful to walk into New Orleans bookstores and see special showcases set aside for not just "Local Writers" but "Local MYSTERY Writers." Meanwhile, I'm keeping an eye on Mystery Street to see if any new stories develop. And what about that street, you may ask, where DID that name come from?
For the answer, I turned to the bible of New Orleans street lore, John Churchill Chase's charming Frenchmen, Desire, Good Children and Other Streets of New Orleans (Macmillan, 1949).
Of the origin of Mystery Street's name, Chase says, it "properly enough, is something of a mystery."
Of course.
---
Harriet Swift moved back to her native South last year after 14 years in the San Francisco Bay Area. She is a veteran of daily newspapers including the Oakland Tribune and San Francisco Examiner. Now a freelance writer in New Orleans, she is also the author of The Woman's Guide to San Francisco (Virago, Book Passage Press).
---
Anything Can Happen in New Orleans
by Tony Fennelly (New Orleans, LA)
Early one morning, a couple of years back, my houseguest from Pennsylvania walked out on my front porch and was astounded to see William Friedkin down on the sidewalk directing Nick Nolte and Shaquille O'Neal in a movie scene. When he brought me this news, I didn't bother to get out of bed.
"There're always filming around here," I told him. "This is New Orleans."
Our city is increasingly popular with film-makers because they know they don't need set-builders here. Any way they point a camera, they'll find something historic, artistic, or exciting.
New Orleans is even more popular among us novelists because the city itself becomes a character, with its own intriguing personality. And anything that can happen anywhere else can happen here.
Every stratum of humanity is represented here, from the most privileged to the least. I can write about the insular society in the grand manses of St. Charles Avenue where debutante balls are still taken seriously, or visit low-income projects where an eight-year old may be supporting his household as a look-out for a drug dealer. (I would visit these only on paper. I wouldn't venture inside one, even in the company of an armed guard and in broad daylight.)
We have criminals for all genres: gangsters, "gangstas" and gonifs. And if you're looking for a plot about political corruption, just pick up the daily newspaper for fifty cents. Our public officials not only get impeached; they do time!
Descriptions practically write themselves. We have sights: architecture from all periods of U.S. history, great art in the museum, small art on the fence in Jackson Square, dance ranging from ballet at the Theater Of The Performing Arts to tap-dancing for coins on the street corners. Sounds: good music from the symphony to jazz, and bad non-music, streetcars clanging, foghorns blowing, and shots firing.
Any tale about high finance and white-collar crime can be set in our Central Business District wherein you'll find as many sky scrapers, brokerage firms and corporate lawyers per square block as on Wall Street.
I'm planning a back-stage mystery set here in town and I have my choice among opera, classical dance, Shakespeare in the Park, contemporary dramas or musicals, TV talk shows, and concerts in venues as big as the Superdome or as small as the back bar at the Café Brazil.
I am now at work on a mystery set on a cruise ship and I didn't have to travel to the ocean for my model. I found one just three blocks from my house, a luxuriously outfitted riverboat on the Mississippi.
Horror and fantasy writers have a rich store to draw from in New Orleans with our reputation for black magic rituals and the tales woven around the life of Marie Laveau. A notorious Voodoo Queen, Madame Laveau, was the most powerful woman on the delta during the mid-nineteenth century. In my forthcoming mystery, 1 (900) D-E-A-D, I drew on the Laveau legend with a purported great-granddaughter who uses her ancestor's same trickery with the same effect on her believing public.
Every local household has a history that's fodder for fiction. My husband, Richard Catoire, traced his genealogy back to his six-times-great-grandfather, Antoine Catoire, who came to the New World as a French soldier in the early seventeen hundreds. (Richard has copies of a deed and other papers he signed in the 1750's.) It was easy to give Richard's ancestors to my protagonist, Matt Sinclair, and so take my readers through the periods of French, Spanish, Union and Confederate rule of our state.
Ours is certainly the most international city in the south, in the areas of culture and cuisine. We have a French Quarter, an Italian Plaza, a Greek Festival, a German Coast, a Norwegian Church, and restaurants from every part of the Asian continent.
My best friend in town is an 82-year-old Swiss former baroness (I call her "Gaby" in my books.) who reads all my mysteries in German and assures me that the translations are excellent.
Richard grew up speaking Cajun French and later learned standard French and Spanish in Europe, so he is my resident linguist. While writing dialogue for a character based on a certain Cajun governor, I asked Richard to "Give me a greeting in bad French and a reply in *worse* French." And he supplied the lines, as he does for conversation in Spanish.
But in writing 1 (900) D-E-A-D, I needed dialogue in grammatical Ireland, so where is one to find a native speaker in a small city in the southern United States? I called the local Irish Cultural Society and was steered down to O'Flaherty's Pub where I met two young troubadours from Connemara for whom Gaelic was their mother tongue.
While I'm developing a book, I like to walk through all the scenes of action: a sergeant's office at the police station, the Moon Walk along the river, the French restaurants, the Bourbon Street nudie clubs, and the live-oak-flanked neutral ground on the north border of the Vieux Carre.
When a German TV producer came to town to interview me, I was able to take him and his camera man on a tour through most of the locations mentioned in my books and even pointed out the big house on Esplanade Avenue where "Matt Sinclair" lives.
"But don't tell the people inside," I warned. "They don't know it yet."