Volume 17, No. 1, Spring 2001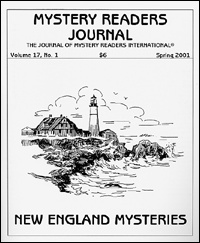 Buy this back issue! Available as a downloadable PDF.
TABLE OF CONTENTS
Cape Cod Island Mysteries by Kate Grilley
It's Never Too Late: An Interview with A. Carman Clark by Kate Flora
Murder Under Cover by Kate Mattes
Poison Apples by Deborah Straw
Archer Mayor: A Sense of Time, Place and a People Called Vermont by Alan C. Rollins
Murder, She Wrote: A Tribute by Lorie Ham
THE WRITERS WRITE
Research and Rescue by Hal Charles
From Mulch to Murder in Maine by A. Carman Clark
Mysterious New Hampshire by Brendan DuBois
One Bad Thing by Bill Eidson
Boston-Based Mystery with a Psychological Twist by Hallie Ephron
A Good Climate for Murder by Kate Flora
Back East, Back Home by David Edgerley Gates
Why I Set My Mysteries in Boston by Jeremiah Healy
Dan Kardon and the Mysteries of New England by Jamie Katz
Five Things I Learned by Setting a Book in Boston by Toni L.P. Kelner
I Hereby Claim New England by Nicholas Kilmer
Angela, Mari, and Me by Wendi Lee
Vermont in Depth by Archer Mayor
Time in New England by Jeanne McCafferty
Town and Country by Leslie Meier
Pride and Loyalty in New England by Susan Oleksiw
New England: A Sumptuous Variety by Katherine Hall Page
Crossing Over into True Crime: Three Years in a Place Called Life by Margaret Press
Murder on Martha's Vineyard by Cynthia Riggs
Murder in the Family Tree by Gene Stratton
Why New England? by William G. Tapply
An Artistic Crime by Anne White
Why I Chose a New England Setting by Nancy Means Wright
Just Your Everyday People by Jan Yager
COLUMNS
Mystery In Retrospect: Reviews by Steven Steinbock, Carol Harper, Harriet Klausner
In Short: New England by Marvin Lachman
New England: The British Connection by Philip L. Scowcroft
Just the Facts: Eye for an Eye, Tooth for a Tooth by Jim Doherty
The German Reference Shelf by Thomas Przybilka
MRI Mayhem by Janet A. Rudolph
Letters to the Editor
From the Editor's Desk by Janet A. Rudolph
---
Cape Cod Island Mysteries
by Kate Grilley (Christiansted, Virgin Islands)
A cozy—or traditional mystery—is defined as having an amateur sleuth working in a confined setting among characters who know one another. What could be cozier than an island setting? Philip R. Craig, Sally Gunning and Francine Mathews are three authors who have chosen Cape Cod islands as the primary setting for their mystery series.
Martha's Vineyard is home base for Philip R. Craig's J.W. Jackson series. J.W., a Boston cop on early retirement because of a gunshot wound, lives year 'round on the island and supports himself doing odd jobs to supplement his pension. Freedom from the nine-to-five gives J.W. plenty of time to indulge in his passions for fishing, cooking, and, of course, sleuthing. J.W. is a bachelor at the beginning of the series. However, he marries his lady love Zee Madieras, a nurse at the Vineyard hospital, in A Case of Vineyard Poison, and by A Fatal Vineyard Season has two young children. Neither wife nor toddlers keep J.W. from sleuthing, often with the children in tow.
Part of the charm is this series is the map of Martha's Vineyard and the recipes for whatever dish J.W. is whipping up at the time. Bluefish pate, anyone? Like his protagonist, Colorado native and recently retired Boston literature professor Philip R. Craig lives on Martha's Vineyard.
Titles in this twelve book series (Scribner hardcover/Avon paperback) include: A Beautiful Place to Die, The Woman Who Walked Into the Sea, The Double Minded Men, Cliff Hanger, Off Season, A Case of Vineyard Poison, Death on a Vineyard Beach, A Deadly Vineyard Holiday, A Shoot on Martha's Vineyard, A Fatal Vineyard Season, Vineyard Blues and Vineyard Shadows (Scribner hardcover, June 2001).
Long time Cape Cod resident Sally Gunning uses the fictional island of Nashtoba for her Peter Bartholomew "Water" series. Like Philip R. Craig's J.W. Jackson, Peter Bartholomew makes his living doing odd jobs as the head of his company aptly named Factotum. Peter's life appears more structured than J.W.'s—he has a regular commitment to read the morning newspaper to one elderly client—leaving little time for fishing, but also involves sleuthing on a regular basis.
Complicating Peter's life is his off-again/on-again relationship with his ex-wife, Factotum employee Connie.
Titles in this ten-book series (Pocket paperback originals) include: Hot Water, Under Water, Ice Water, Troubled Water, Rough Water, Still Water, Dead Water, Muddy Water, Dirty Water and Fire Water (published June, 1999).
Colorado resident Francine Mathews (a/k/a Stephanie Barron, author of the Jane Austen historical mysteries) uses Nantucket as the setting for her Merry Folger series.
Police detective Meredith (Merry) Folger is the only professional in this triumvirate of island sleuths. Her father, John Folger, is the chief of police. Far from being a father/daughter duo solving cases over morning coffee (at the beginning of the series Merry still lives at home with her widowed father and grandfather), these two clash as often as they collaborate. While this series may be more correctly labeled a police procedural, the elements of a contained setting and characters who know one another add a traditional/cozy appeal.
Titles in this four book series (Morrow, Bantam hardcover/Avon, Bantam paperbacks) include: Death in the Off-Season, Death in Rough Water, Death in a Mood Indigo and Death in a Cold Hard Light (Bantam paper, May 1999). A new Francine Mathews title, The Cutout, will be published in February, 2001 (Bantam hardcover), but this stand-alone thriller is based on the author's experiences as an intelligence analyst with the CIA and is not part of the Merry Folger series.
What do these three series by Philip R. Craig, Sally Gunning, and Francine Mathews have in common? All are set on Cape Cod area islands, and all have a strong, richly detailed sense of place. You can smell the briny breeze and taste the salt on your lips as you read. While Philip R. Craig's series is the only one to feature a map, each author describes the setting so well that you could find your way without leaving a trail of breadcrumbs to mark your path. The sleuths are at one with their settings. No fish out of water in these books.
There is also the appeal of a British cozy type of village life populated with characters who interact throughout each series. There are coincidental storylines. After all, how many places are there to hide a body on an island? In Francine Mathews' Death in a Mood Indigo, the story begins with the discovery by children of human bones buried in the sand; a theme used by Sally Gunning in her book Fire Water. It is to the credit of the respective authors that each book is a unique reading experience. Other authors who have used Cape Cod or Nantucket in their series, but not always as home base for their sleuths, include Phoebe Atwood Taylor (Asey Mayo/Cape Cod), Virginia Rich (Eugenia Potter/Nantucket), and Jane Langton (Homer Kelly/Nantucket).
---
Kate Grilley is the author of the Caribbean island based Kelly Ryan/St. Chris short stories (including Macavity winner "Maubi and the Jumbies") and novels: Death Dances to a Reggae Beat, (Berkley Prime Crime, 2000) and Death Rides an Ill Wind (Berkley Prime Crime, April 2001).
---
Vermont In Depth
by Archer Mayor (Newfane, Vermont)
Writing is how I express myself, how I put the vagaries of my mind into some kind of order, and how I prefer to entertain and inform other people. I write to put the language to the best use I can, to satiate my curiosity and abate my ignorance, and to tell a good story. Language for me is not just a communicative tool, but a musical one. Handled well, it has balance, cadence, and tone, and when read with appreciation—be it memo, letter, poem, or book—it can be as satisfying as listening to a good orchestra—with the additional kick that it often carries some useful information.
As I write them, mysteries are less puzzle than process, and more about people than any sensationalist plot. Aside from being fond of language, I am fascinated by what stimulates people to do what they do, legally and otherwise. Their struggles, passions, and occupations surround us all, often unnoticed, and I take joy, book by book, in choosing a select few, wrapping them up in a compelling tale, and exposing them to both my readers and myself.
All this (and more) is why I choose Vermont and New England as a setting for my Joe Gunther police procedural series. Vermont in particular offers me—in my social anthropologist mode—an almost perfect laboratory. It is small, sparsely populated, incredibly picturesque, and offers everything from rolling, cow-filled fields and craggy, worn mountains, to an urban area like Burlington, complete with crime, drugs, violence, and close proximity to the foreign and truly huge city of Montreal. Where states like New Jersey or California provide more in all senses, they also clutter the access I need to the bureaucratic nooks and crannies I pursue to add credibility to my stories. In Vermont, I can pick up the phone and immediately chat with the Commissioner of Public Safety or the chief medical examiner—no muss, no fuss. Try that in New York.
My readers have come to expect that I will tell them how police departments work, how the forensic lab functions, how the courts get their job done, and—most importantly—how they all interact. And all without killing the story. The sheer size of these entities in more populated states makes such a prospect daunting. But in Vermont, the reverse is true. Ours is a heavily interdependent state, with a citizen legislature, a governor who lives at home, and a capitol building police force consisting of a single officer. I can figure out how things work up here by talking to the few individuals in charge.
And that, in the final analysis, is what I'm after in any case—the people. It is fascinating to me to discover the nuts and bolts of a process. Tom Clancy's popularity shows us that my interest is hardly exclusive. But for me personally, in the end, that is not enough. I want to know about the people doing these jobs, and about the people those jobs affect.
For in the long run, my job is essentially self-serving, as many worthwhile projects often are. I enrich myself by researching and writing each story, and I try to pass along some of that wealth to anyone who might be interested.
I am both proud and happy to be a writer. I am also proud to be of service to the small community I call home, by volunteering as a firefighter/EMT, by serving as the local constable, and by being on the board of a tiny regional hospital. I am hopeful that by working in and writing about Vermont, I can combine everything that I do into something beneficial to all, enriching my soul, stimulating my intellect, entertaining my readers, and—I hope—telling good stories about almost real people.
---
Why New England?
by William G. Tapply (Pepperell, Massachusetts)
"Why," I have been asked more times than I could count, "do you set all your mysteries in New England?"
"I have no choice," is my standard—and truthful—answer.
I have lived in Massachusetts all my life. My mother's from Maine. As a kid I went lobstering with my Uncle Woober. I've fished and hunted in Vermont's Northeast Kingdom and New Hampshire's Lakes Region. I taught high school in Lexington (where "the shot heard 'round the world" was fired) and raised my children in Concord (where Emerson and Thoreau and Hawthorne and Melville lived before me). I've meditated on the banks of Walden Pond and the beaches of Cape Cod.
I am, for better or worse, a New England Yankee. What else could I write about?
"Write what you know." Sound advice.
What do I know? I know New England. I know the smell of low tide and lobster bait and cow manure. I know the sound of a bell buoy in the fog, of birdsong at sunrise on a New Hampshire mountaintop, of clanking silverware and piped in Italian opera in a North End restaurant. I know how Mainers talk different from Vermonters, and how none of them talk like a Catholic girl from Southie or a homeboy from Roxbury.
I'd be foolish not to write about New England. If I didn't live here, I'd wish I did.
As a mystery writer, I'm lucky as hell to be able to write about New England. Here I have everything: Cities, suburbs, farms, and wilderness; a great human stew of language, religion, and culture; trailer parks, homeless shelters, high-rise condos and seaside mansions; banking, publishing, fishing, apple growing, and tech high and low; heat and cold, sleet and snow, hurricane and drought; lakes, rivers, mountains, oceans, and forests. I have FBI most-wanted Whitey Bulger and his brother, Billy, president of the University of Massachusetts. I have Kennedys and witches, rock stars and athletes, hookers and debutantes, drug addicts and sex addicts. I have the ghosts and whispers of four-hundred years of politics and crime, religion and poetry.
Things happen here in New England. Anything can happen here.
A setting isn't simply an arbitrary, static backdrop for a story. Good settingsmake things happen. They work as characters. They have personality. They live.
Maybe my stories could have been set elsewhere. But then they'd be different stories.
If I wrote about California instead of New England, I couldn't have the frozen body of a homeless man found in a South End doorway (The Marine Corpse). If I wrote about Nebraska instead of New England, I couldn't have Brady Coyne, my sleuth, dumped off a fishing boat into the Atlantic Ocean (The Vulgar Boatman). If I wrote about Kansas instead of New England, I couldn't send Brady off in his car to the foothills of New Hampshire's White Mountains (Close to the Bone) or the sandy roads and beaver ponds and wilderness lakes of Maine (Cutter's Run, Dead Meat) or the blue-collar streets of Somerville (A Void in Hearts, Client Privilege) and then get him back home in time for dinner. A one-hour drive takes Brady from his office in Copley Square to Walden Pond to the west (Muscle Memory) and the old seaport town of Newburyport to the north (Dead Winter), and in two hours he can be fishing (or nearly drowning) in the Deerfield (The Seventh Enemy) or Connecticut (The Snake Eater) rivers or a kettle pond on Cape Cod (The Spotted Cats).
Maybe I could have written about L.A. or New York. But then I couldn't write about Boston. There may be similar places in the world, but there's only one Beacon Hill, one Boston Common, one Fenway Park, one Harvard Square.
New England gives me four distinct seasons. Well, six, actually, because here we have mud season (it comes between winter and spring) and Indian Summer (after summer but before autumn). Plots unfold differently in the winter, when blizzards bring out the snowplows and lakes and even rivers freeze over (Scar Tissue), from the way they do during summertime thunderstorms or nor'easters (Follow the Sharks). August smells different from July, and March is the cruelest month.
So I write about New England and New Englanders. Eighteen novels so far, and I've barely scratched the surface.
Buy this back issue! Available as a downloadable PDF.