Volume 38, No. 2, Summer 2022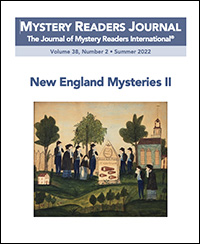 Buy this back issue! Available in hardcopy or as a downloadable PDF.
TABLE OF CONTENTS
ARTICLES
An Unlikely Home to Criminal Debuts by Gabriel Valjan
Generation Loss: There's Nothing Cozy About Elizabeth Hand's New England by Sean Day
Ben Benson—Pioneer of the Police Procedural by Jim Doherty, with Nancy Berry
AUTHOR! AUTHOR!
Strangers' Kingdom—A Vermont Mystery by Brandon Barrows
Water, Water Everywhere by Nero Blanc (aka Steve Zettler and Cordelia Biddle)
The Mystery of Rumford, Maine by Gerry Boyle
Good Graft, Bad Graft by Bruce DeSilva
Exploring the Freedom Trail by Elizabeth Elwood
Washed Ashore on Cape Cod by Diane Finney
Robert B. Parker's World by Russell Hill
Connecticut Is in My Blood by Ed Ifkovic
A Midwesterner's New England Mystery Novel by Michael A. Kahn
Connecticut, In Short by Janice Law
Everyone Loves Nantucket. Turns Out, That's a Crime by Francine Mathews
How to Create a New England Author by Edith Maxwell / Maddie Day
New England Mysteries: A "Flatlander's" Perspective by Amy Patricia Meade
Not Just Pretty Foliage by Camille Minichino
School Days by Leigh Perry
My Maine Connection by Dale T. Phillips
The Truth in Fictional Settings by Misha Popp
The Secret's in the Setting by Martha Reed
The Boston Infrastructure Blues: Or How Geography Is Ruining My Writing Life by Hank Phillippi Ryan
The Dark Side of Boston's Music Scene by Clea Simon
History Everywhere by Sarah Stewart Taylor
Out of Geppetto's Workshop and into Shane Cleary's World by Gabriel Valjan
COLUMNS
Mystery in Retrospect: Reviews by Aubrey Hamilton, Lesa Holstine, Jim Doherty, L.J. Roberts, Lucinda Surber, Kathy Boone Reel
In Short: New England by Marv Lachman
Cop Ten: Trailblazers of New England by Jim Doherty
A Real-Life New England Fraud by Cathy Pickens
From the Editor's Desk by Janet A. Rudolph
---
An Unlikely Home to Criminal Debuts
by Gabriel Valjan
Say Massachusetts to people and I'll bet the words that come to mind are Kennedys, Red Sox, and New England Patriots. The historically-minded might respond with Mayflower, Pilgrims and Puritans, Thanksgiving and Indians. Readers of crime fiction will respond with Salem Witch Trials, the Boston Strangler, and 'Whitey Bulger.' These are all valid responses, but few people know that Massachusetts is home to several 'wicked' precedents:
America's first conviction for the capital offense of murder, and subsequent execution, occurred in Plymouth, Mass. A signer of the Mayflower Compact, John Billington, shot and killed John Newcomen in 1630. (Special note: Billington was not a Pilgrim, but a Separatist.) The Billingtons, men and women before and after John, were thorns in the side of local government, so much so that that the Billington clan might earn the distinction as the nation's first criminal family.
America's first "lady of dubious virtue," Alice Thomas, was convicted of running a brothel in Boston in 1672. Court records state that she provided "frequent secret and unseasonable entertainment in her house to lewd lascivious and notorious persons of both sexes." I like that she was an equal opportunity entertainer. She may not have been the first woman to do the Walk of Shame, but she was whipped through the streets of Boston.
Publick Occurrences, Both Foreign and Domestik premiered in 1690, as the nation's first gossip rag.
Before there was Jacques Cousteau, there was General, Governor, and Treasure Hunter Extraordinaire Sir William Phips. In 1686, he salvaged thirty tons of silver from a shipwreck in the Caribbean, and he did it long before Cousteau invented SCUBA. His siege of Quebec was such a military and financial failure that it led to the creation of paper money in the British colonies to pay off debts. As governor, he supported the Salem Witch Trials at first, then reversed his course and pardoned everyone.
William Hill Brown's The Power of Sympathy (1789) is considered the first American novel. Head versus heart, or more southern parts, the novel is about incest and love in Boston.
A black man killed a white man and received a commendation from the Massachusetts General Court for doing it. Peter Salem, a slave whose second owner freed him so he could enlist in Washington's army, fought alongside both of his owners against the British. Salem joined other African American minutemen in several of the war's early battles. Salem is credited with having fired the fatal shot at British Major Pitcairn at Bunker Hill.
When the Chicago White Sox played the Cincinnati Reds in the 1919 World Series, the fix was in, and the planning took place at the Buckminster, a hotel in Boston's Kenmore Square.
If you're of a certain age, you might remember the TV series "The Paper Chase," based on John Jay Osborn Jr.'s 1971 novel of the same name, but what you may not know is that the grounds upon which the prestigious Harvard Law School was built were bequeathed to the university by the heirs of Sir Isaac Royall. The Royall House in Medford, Massachusetts possesses the only surviving slave quarters in New England. (Slavery was outlawed in the Commonwealth in 1783.) Medford, a town north of Boston, was also home to a young woman who left the 'burb for love and a career in Hollywood. Unfortunately, she achieved neither. Elizabeth Short is best remembered as the murder victim "The Black Dahlia."
Everyone has heard of alleged ax-murderer Lizzie Borden, but I'll wager you didn't know that Lizzie raised canaries and introduced Americans to Boston terriers, a breed that the American Kennel Club would recognize in 1893, thanks to her relentless PR. I wrote about her love of birds and dogs in my short story "Clean Windows," which was published in Windward: Best New England Crime Stories from Level Best Books (2016). In it, I proposed an alternate theory of the crime.
Boston isn't the only American city to use its police force to beef up its stats for arrests for victimless crimes, such as prostitution, public intoxication, and other violations of city ordinances, but the Commonwealth of Massachusetts's Attorney General Francis Bellotti seems to have been the first lawyer in the nation to see arson as not a victimless crime. (The first declaration of arson as not a victimless crime was a headline in The Oklahoman from January 1987.) Bellotti prosecuted and achieved more than 30 convictions related to an arson for-profit ring that terrorized the residents on Boston's Symphony Road, in 1976–1977.
Arson for-profit and corruption simmer in the background in my latest Shane Cleary Mystery, Symphony Road (January 2021), set in '70s Boston. Shane, a former cop and current PI, investigates a suspicious fire, a missing person case, and the death of a community activist. Two of his clients whom he shouldn't trust, he does, and the third, whom he should, he can't.
---
Gabriel Valjan lives in Boston's South End. He is the author of the Roma series and the Company Files series (Winter Goose Publishing) and Shane Cleary Mysteries series (Level Best Books). His second Company File novel, The Naming Game, was a finalist for the Agatha Award for Best Historical Mystery and the Anthony Award for Best Paperback Original in 2020.
---
The Boston Infrastructure Blues: Or How Geography Is Ruining My Writing Life
by Hank Phillippi Ryan
Here's the big problem with New England geography.
First, remember this. Once you write a book, there it is. It's physically on paper and electronically online, and the words you chose remain steadfastly the words you chose. Someone may read it today, and someone else may read it ten years from now. But almost no matter what, the book stays the same.
Problem is, geography doesn't. And just as referring to a Betamax, or a fax machine or a person on your "speed dial," New England geography—infrastructure especially—can become instantly and book-explodingly anachronistic.
You know the Massachusetts Pike, right? It's a pinstripe-straight strip of turnpike that starts in Boston and crosses the entire state until it hits New York. Like all such highways, there are exits marked along the way. One of them is near my house, Exit 17. In one of my novels, the bad guys chase the good guy to the spaghetti-complicated Exit 17, whereupon chaos ensues. Every time we go by Exit 17, it feels as if I am in the place where my story happened. Oh, I'll say to my husband, Exit 17! This is where Lily realizes she might be kidnapped!
And that's always fun, and funny, and even sort of sweet. Because it makes Her Perfect Life seem real. Until, with a move as destabilizing as an earthquake, the state highway department changed all the exit numbers. Exit 17 is now who knows where, but certainly not in Newton anymore, and as a result, if you go by the exit numbers, that scene in my novel now takes place somewhere way out in western Massachusetts. Which makes my very authentically-written scene now completely wrong.
(So you're saying, why don't you just make up the exit numbers? Oh, right. And be deluged with email telling me the exit numbers are wrong? No, thank you. Why don't I simply leave off the exit numbers? Well, the Mass Pike has exit numbers, so: see critical email avoidance, above.)
It happened on Cape Cod in another of my novels. The notoriously terrifying Cape Cod Rotary led drivers in Massachusetts over the Sagamore Bridge and onto the Cape. If you experienced it, you know you were never the same afterward. It was a take-your-life-in-your-hands version of highway Frogger, designed by some infrastructure sadist, and resulted in every driver going as fast as they possibly could, and not only ignoring the rules, but probably not even knowing the rules. (And maybe there were no rules. Yield? Massachusetts drivers never yield.)
If you got through the Cape Cod rotary, alive I mean, you knew nothing on your Cape vacation would ever be more dangerous. (Seriously. Not sharks, not the undertow, not a bad fried clam.)
So, a perfect place for a high-stakes fast-paced page-turner of a scene, right? Which I happily wrote.
But then, because we live in New England, they changed it. They changed the whole darn thing. Somehow, by civil engineering magic, they deconstructed the rotary, and rebuilt it into a configuration called a "flyover," which basically meant all the crazy Boston and tourist drivers still were going as fast as they possibly could, but now they only had to go straight.
Great for traffic, bad for my book. Which now, if you read it, is bewilderingly wrong. I'm waiting for the email where someone gripes: "What are you talking about? There's no rotary there!" Some people, of course, will read it with nostalgia, as if I were writing about stage coaches or the cow paths of colonial Boston, but others will think I got it flat out wrong. That I am—even though it is supposed to be fiction—making stuff up.
Speaking of cow paths. You know that's how Boston's streets originated, right? Which results in an incomprehensible and unpredictable tangle. The opposite of an easy to understand grid. It's like—a random, booby-trapped snarl. It's honestly true that here in Boston, strangers asking for directions from longtime residents will be met with perplexed faces—and then be told "You can't get there from here. Take a right at the Dunkin's, take another right at Lechmere, then ask someone else."
(Which is another problem, because Lechmere, the store, doesn't exist anymore except in residents' fixed memories, and the Lechmere MBTA station got moved, so those directions only work if you know how Boston was before 1997.)
The streets? So many of the streets here are one-way, except when they are changed to be the other way. Without warning. So every time I set part of my story in downtown Boston, I look at Google maps and search my memory to make sure that the one ways are the right way. This works about as reliably as the pedestrian walk lights do on Boston streets. Which is to say, not.
And of course writing about a real place requires an additional kind of tightrope walking. If someone is poisoned in a restaurant, of course I make up the restaurant's name. And I have been known to name a fictional street, or a fictional house number, so I'm not writing a novel about someone who is killed at the real home of a real person. I have even created all new neighborhoods in Boston, just to protect the innocent real ones.
Faithful readers will see in my acknowledgments that I have said "I have altered Boston's geography a bit to protect the innocent."
But sometimes it works the other way. And it feels like Boston alters its own geography to drive writers like me crazy.
---
Hank Phillippi Ryan is the USA Today best-selling author of 13 thrillers (with number 14 coming in January 2023). She's won five Agatha Awards, four Anthony Awards, and the coveted Mary Higgins Clark award. As a television reporter, she has won 37 Emmys for investigative journalism. Her current book is Her Perfect Life. She lives in Boston, somewhere.
---
The Dark Side of Boston's Music Scene
by Clea Simon
Cash, booze, and the night: in so many ways, the Boston rock scene was made for crime (and, thus, crime fiction). Not that I realized it back in the day, when the loose circuit of basement clubs and drafty lofts, with their sticky floors and black-painted walls, was my spiritual home—my "third place"—where I escaped from a shared apartment and a dead-end secretarial job. No, during Boston's post-punk heyday, which both my World Enough and my new Hold Me Down flash back to, I saw the scene as a nonstop party.
To explain, the rough, loud rock that powers World Enough and that Gal Raver, the musician at the heart of Hold Me Down almost rides to stardom, is at the heart of that world, the shared passion that binds it all together, but the community it engendered was also so much more.
For years, clubland defined my life. Most weekday mornings, I'd still manage to get to work on time, sneaking in a few minutes to type up the notes from whatever show I'd seen the night before or for the preview I'd turn in before the week's end once I settled into the windowless alcove that held my typewriter and a desk. Even when I started on the work I was actually paid for, typing up lab notes and letters, I'd listen to the local college station turned low as DJs—voices I knew from the clubs—talked about upcoming gigs, and each night, I'd head out: Bunratty's, the Channel, Jumpin' Jack Flash. If my favorite DJs had plugged a show, I knew who'd be at any club at any given set time. If they hadn't, I'd head to the Rat, where the genial older doorman would wave me in, and I'd trot down the stairs to find my friends, a band I knew—or would come to know—and what felt at the time like my real, true life.
It was a heady time, and the friendships I made then have lasted for decades. But along with the camaraderie and the pulsing music, there were elements that maybe I didn't choose to look at closely, at the time. Drugs? Sure. Someone always had pot or coke, or maybe something stronger, and when one buddy confided that she was "muling" drugs from the western part of the state into Boston in her vintage station wagon, it seemed kind of exciting. The kind of thing one would do on a dare, and then laugh over during brunch on Sunday. Dim sum and maybe a video, as we rested up and readied for another week to come. Because there was always another week—a band we'd heard about, coming to town. A record release, an after-hours party in somebody's loft. Something new to discover and to share with all my friends.
Those days couldn't last, of course. And as some of the crowd moved on—to grad school and to jobs in other cities, marriages, and families—a few fell by the wayside. I remember hearing that J. was in rehab and wondering, when did her habit get so bad? Then a friend of a friend was busted—and it seemed those backroom deals were not quite as secret, not quite as safe as we had thought. When R. died, too drunk or high to escape a fire in his third-floor walkup, we gathered to mourn him, sharing our daytime memories with his family, a few of the nighttime ones too.
The attrition wasn't all tragic. But with time, fewer of us showed up, and as we paired off or got serious about our daytime pursuits, shows were missed. The scene lost its urgency. We still got together—dim sum didn't have to follow an all-nighter, my clothes still reeking of cigarettes and beer—but the focus was elsewhere. One club closed, and I didn't look for its replacement. The scene—I—had moved on.
Until I started writing about those times, at least. Then, looking to recapture the fever, the headiness of those days, I found myself reviewing the darker aspects of my beloved clubland with fresh eyes. I was working on World Enough when the body of a onetime club manager was found in a shallow grave, for example, opening my eyes to a reality I had never considered. As much as we saw this world as our world, there were other elements at play. Clubs, bars, are largely cash businesses, and the freewheeling environment that allowed us to reinvent ourselves also proved a fertile habitat for organized crime, a realization that came to inform the crimes at the heart of World Enough.
Closer to my heart are the shadows that we scenesters threw on each other and on ourselves. The drinking, which left some of us vulnerable and others damaged. The drugs, which carried legal ramifications as well. Did I question when Mitch would beckon me in, waiving the five dollars—the ten dollars—that should have gone to the band? Did I question the joint or the line laid out on a compact mirror as we huddled in that grimy bathroom? The fights or drunken fumblings, the nights we'd laugh at later, the ones we barely survived? No, they were as much a part of the scene as the music, the beat-beat-beat of a bass drum felt through the floor. They were the dark side of my nocturnal life, the shadow that set off clubland.
---
Clea Simon is the Boston Globe bestselling author of three nonfiction books and 29 mysteries, most recently Hold Me Down (Polis Books). She lives in Somerville, Massachusetts.
Buy this back issue! Available in hardcopy or as a downloadable PDF.