Volume 38, No. 1, Spring 2022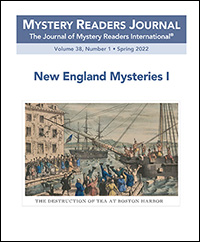 Buy this back issue! Available in hardcopy or as a downloadable PDF.
TABLE OF CONTENTS
ARTICLES
Why New England? by Edith Maxwell / Maddie Day
Homer Kelly, Asey Mayo, Leonidas Witherall, and Murderous Massachusetts by Patricia Cook
Maine Writers by Dale T. Phillips
Boston Burning Bright by Gabriel Valjan
Just the Facts: If the Shoe Fits by Jim Doherty
AUTHOR! AUTHOR!
Going Home Again by Connie Archer
Why New Hampshire? by Lorna Barrett
Writing the "Cabot Cove" Mystery: How I Went From the Big City to a Small New England Town by R.G. Belsky
When Fall Comes to New England by Linda Barnes
You Can't Beat New England Weather by Laurien Berenson
A Dream Made Me Do It by Cordelia Frances Biddle
As Real As It Gets by Bruce Robert Coffin
Unbelonging by Cate Conte
Maine: A Good Place to Commit a Murder or Two by Kathy Lynn Emerson (aka Kaitlyn Dunnett)
The Road Less Traveled by Trish Esden
New England and the Past by Terence Faherty
From Chicken Farmer's Daughter to a Life of Crime by Kate Flora
Walking to Find a Story by Lynne Reeves Griffin
How I Became a Resident Mystery Writer by David Handler
A Life Lived in Thirds by Sally Cabot Gunning
Dark and Atmospheric: New England as Setting by Edwin Hill
It's a Very Small State by Kathleen Marple Kalb (aka Nikki Knight)
The Little Woman with the Long Shadow by Beth Kanell
Still Waters Run Deep by Chris Knopf
Lobster Stew and Murder Too on Olde Cape Cod by Paul Kemprecos
Mainer in Exile by Eleanor Kuhns
Connecticut Crime by Steve Liskow
Bogged Down in Murder by Edward Lodi
The Personality of Place by Larry Maness
From Narrative Nonfiction to a Fictional Narrative by Ben Mezrich
The Desert or the Deep Dark Woods? by Eugenia Parrish
New England, My Inspiration by Barbara Ross
Stranger in a Strange Land (of Steady Habits) by Carole B. Shmurak
Robert Parker's Spenser and My Love of New England Mysteries by Peter Swanson
Deadly Fiction by John Tommasi
New England Adjacent by Bev Vincent
The Mysterious Magic of New England by C.J. Verburg
Scouting Locations for a Dark Thriller by Carter Wilson
COLUMNS
Mystery in Retrospect: Reviews by Aubrey Hamilton, Lesa Holstine, L.J. Roberts, Lucinda Surber
New England Cop Ten: Making History by Jim Doherty
Children's Hour: New England Mysteries by Gay Toltl Kinman
Crime Seen: Murder, They Write by Kate Derie
From the Editor's Desk by Janet A. Rudolph
---
Why New England?
by Edith Maxwell / Maddie Day
Think of crime fiction set in Boston and what comes to mind? If you read thrillers, you might conjure stories by Hank Phillippi Ryan and Dennis Lehane. Robert Parker's many books are set in Boston, as are Edwin Hill's suspenseful Hester Thursby mysteries. A little farther north finds Kate Flora's Joe Burgess police procedurals set in Portland Maine, as are Bruce Robert Coffin's Detective Byron books.
When we venture into the gentler side of the genre as brought to the screen, we find the delightful Jessica Fletcher in the Murder She Wrote series, now continued for many more tales on the page. Just don't go to Cabot Cove, Maine. Someone is guaranteed to die.
I've written five cozy and traditional mystery series, with two that are ongoing. Four of them are set somewhere in Massachusetts. All of my talented Wicked Authors blogmates also write books set in New England, along with a slew of other authors. Why? What's the draw?
Apart from gritty Boston, with its Irish mob and history of fraught race relations, most of the rest of New England is both bucolic and iconic. We have hundreds of miles of coastline. Many small family farms still sell their produce at farm stands and farmers' markets. You can hike gentle mountains and then eat in a diner on a classic village green complete with a white church. People drop their Rs and call soda pop "tonic." And the food! Lobster rolls, clam chowder, Boston baked beans, apple cider donuts, and the best small-batch ice cream anywhere.
For cozy mystery authors, New England is a perfect place to site books. The late (sniff) Sheila Connolly's long-running Orchard Mysteries are set in a small town in the western part of the state. My Local Foods Mysteries take place on a small organic farm (much like the one I used to own and run) in northeastern Massachusetts, with members of a locavore club signing up for CSA [Community Supported Agriculture] shares—and helping farmer Cam Flaherty solve crimes.
Sherry Harris writes the Sarah Winston Garage Sale series, which includes one of those classic town greens west of Boston as well as a nearby Air Force Base. Also village-based are Julia Henry's Garden Squad Mysteries, with sixty-something Lilly Jane leading a group of guerilla gardeners—and crime solvers.
The coast is never far. In Barbara Ross's popular Maine Clambake Mysteries, Julia Snowden and her family run a clambake business on their island off fictional Busman's Harbor. Shari Randall's Lobster Shack Mysteries are set on the Connecticut coast. Cate Conte's fun Cat Café books take place on an island somewhere in New England.
And who hasn't heard of Cape Cod? Amy Pershing has a delightful new Cape Cod Foodie series out. Just off the coast, Cynthia Riggs has a long-running Martha's Vineyard series. In my Cozy Capers Book Group Mysteries (written as Maddie Day), Mackenzie—Mac—Almeida owns and runs Mac's Bikes in fictional Westham on the Cape. Along with other business owners and town officials, she's a member of the Cozy Capers book group, which reads and discusses a different cozy mystery every week. The group also helps Mac solve the real-life crimes she encounters.
New England is also rich in history, of course. Alyssa Maxwell writes the wonderful Gilded Newport Mysteries, which take place in Rhode Island in the last years of the nineteenth century. Jessica Estevao wrote two intriguing Change of Fortune mysteries set around the same time in Old Orchard Beach, Maine.
I staged my Agatha-Award-winning Quaker Midwife Mysteries a decade earlier in the former mill and factory town where I live in the northeast corner of Massachusetts. Many of the homes from that era still exist (I live in one of them) as well as the repurposed brick factory and mill buildings and the Friends Meetinghouse, still a place of worship (my own, in fact). It's easy to walk around town and imagine parts of my stories. Earlier and farther north yet are Beth Kanell's deeply drawn Winds of Freedom novels, featuring a young abolitionist woman in 1850s northern Vermont.
If you want your New England in short bites, you can't go wrong reading any of the almost twenty annual anthologies of Best New England Crime Stories. Published by various incarnations of Level Best Books, this year the endeavor was taken over by the new Crime Spell Books. Bloodroot: Best New England Crime Stories came out in November 2021, edited by Susan Oleksiw, Ang Pompano and Leslie Wheeler. The collection includes a historical story of mine, "Dark Corners," featuring a young PI named Dot Henderson (a fictional version of my grandmother) solving a crime with the real, pre-fame Amelia Earhart in 1926 Boston.
You could read crime fiction set only in New England and never run out of books. And really, why not?
---
Edith Maxwell writes the Agatha Award-winning Quaker Midwife Mysteries and short crime fiction; as Maddie Day, she pens the bestselling Country Store Mysteries and Cozy Capers Book Group Mysteries. She lives north of Boston with her beau, where she cooks, gardens, and wastes time on Facebook when she isn't plotting new murders.
---
How I Became a Resident Mystery Writer
by David Handler
I already had my entire career planned out way back in 1967 when I was a 15-year-old twerp writing humor articles for my high school newspaper in West Los Angeles. As soon as I grew up I intended to move to New York City and become a Broadway critic and oft-quoted wit just like my Algonquin Round Table idols Dorothy Parker and Robert Benchley. Then I would write a hit Broadway comedy and use the money to buy myself a snug, antique carriage house in a quaint little historic New England village and spend the rest of my days pursuing the single greatest fantasy of my youth, which was to write murder mysteries.
Believe it or not, pretty much all my plan came to fruition.
I did move to New York City—to attend the Columbia Graduate School of Journalism. I did become a Broadway critic, columnist and magazine humorist. I didn't write a hit Broadway play but I did help create a hit television sitcom, Kate & Allie, which provided me with a healthy enough stream of sitcom and screenplay assignments that I could start my New England house hunting. In 1985 I stumbled on exactly what I was looking for—a 1790 chestnut post-and-beam carriage house with a huge stone fireplace in the historic village of Old Lyme, Connecticut, which is located at the mouth of the Connecticut River on Long Island Sound exactly halfway between New York City and Boston.
I settled in, started writing mysteries and in 1988 published my first book about celebrity ghostwriter Stewart Hoag, The Man Who Died Laughing, which was set in Los Angeles. Trust me, I wasn't ready to set a mystery in Old Lyme yet. I had a lot to learn first about New England village life. After all, I'd spent my entire life in Los Angeles and New York City, America's strongest magnets for people yearning to leave their hometowns and re-invent themselves. When I settled in Old Lyme, with its a year-round population of 7,000, I noticed that the family names on the 300-year-old headstones in the village cemetery were the same names as the families who lived on my lane. Unlike me, they hadn't been yearning to leave home. They were already home. There are generations upon generations of founding families in Old Lyme going back to the 1600s that have intermarried, feuded, split apart, sometimes reunited, sometimes not. There are members of those founding families who live in mansions. There are others who live in tiny, moldering bungalows with auto parts in the yard. All of them, rich or poor, have skeletons in their closets and secrets that they would like to see kept that way.
Since I'd never lived anywhere but in a big city full of people who don't know each other, I was unaware that a New England village has its own customs and forms of diplomacy. There are ways of approaching people and getting along with them that it took me many years to learn.
So I wasn't actually ready to be a "New England mystery writer" until 2001, which was when I launched my Berger & Mitry mystery series with The Cold Blue Blood. I set it in a town very much like Old Lyme, although I changed the name to Dorset so as to be able to pick and choose my way through colorful settings in neighboring villages. Desiree Mitry, Dorset's resident Connecticut State trooper, is slim, black, beautiful and has just gone through a bitter divorce. Mitch Berger is a chubby Jewish New York City film critic whose wife has just died of cancer at the age of 30. He has fled the city in search of joy. Also his sense of humor. Over the course of eleven novels he not only helps a highly reluctant Des solve one baffling murder case after another but convinces her that she can't possibly live without him.
Before I started the Berger-Mitry series I was known around the village as some vague form of writer. Mitch and Des changed all of that. Old Lyme, to my surprise and delight, embraced the series. And me. I've achieved the privileged status of becoming a one-named village tradesperson, right up there with John the barber, Lew the plumber and Jen the mobile vet. I'm David the mystery writer. When I take my daily power walk at noon after five hours at the computer villagers wave as they drive by and call out "Hey, David!" If I go to the supermarket they ask me when my next book is coming out or, better yet, pull me aside and in a hushed voice say, "You won't believe what happened at the beach club last night." It's true, I've been admitted to the highly exclusive gossip mill. And wee, what juicy gossip it is!
In 2015, I was approached out of the blue by an executive editor at Morrow with an urgent plea to revive my Stewart Hoag series. I resisted. Thanks to the Internet and social media the idea of having a lead character whose job is to ghostwrite memoirs packed with celebrity secrets no longer seemed viable. There were no celebrity secrets anymore. The editor, who would not relent, suggested I write them as period novels set back in the early 1990s, before the arrival of the Internet when big bucks show biz memoirs were still all the rage. It was too exciting an opportunity to pass up. I set Berger & Mitry aside and took the plunge.
I published my first "new" Hoagy novel, The Girl With Kaleidoscope Eyes, in 2017. But I quickly discovered that I'm not the same writer I was when I ended the Hoagy series twenty years earlier. Of the four new Hoagy novels I've published since 2017, including last summer's The Man Who Wasn't All There, two of them take place in my neighboring village of Lyme, where Hoagy's glamorous ex-wife, Merilee Nash, owns an 18-acre farm. So I guess that makes me a New England writer now.
Or does it? My newest Hoagy, The Woman in the Silver Cloud (which comes out on February 15), takes place in a New York City luxury high-rise apartment building on Halloween night. And the Hoagy novel I'm working on right now takes place in Los Angeles, the city that I fled so long ago.
As much I wanted to leave it, it has never left me.
---
David Handler is the Edgar and American Mystery Award winning author of the Stewart Hoag, Berger-Mitry and Benji Golden mystery series as well as many other novels. He lives in a 230-year-old carriage house in Old Lyme, Connecticut.
---
From Narrative Nonfiction to a Fictional Narrative
by Ben Mezrich
I've wanted to be a writer since I was about twelve years old, and it was entirely my parents' fault. When I was a kid, I was actually obsessed with TV. Really bad TV, like Three's Company—and my parents, fearing the worst, made a rule when I was little that I had to read two books a week before I was allowed to turn on the television. I became a speed reader for all the wrong reasons—and fell in love with books. I wanted to write—but I had no idea what that really meant. Nobody I'd ever met was an author, and I came from a family of doctors and lawyers, who scoffed at the idea that anyone could make a living "scribbling," as my dad often put it.
So when I graduated from college, I locked myself in an apartment in Boston—right in the Back Bay, in a cubby-hole of a basement level flat, tucked beneath a dentist's office. And I wrote. Nine novels in a year, all of them awful. I wanted to be Jay McInerney or Brett Easton Ellis, and as I tried to mimic their styles, instead of success, I racked up rejection letters—190 of them, which I taped to all my walls, like some sort of literary serial killer.
Eventually an editor took pity on me, and told me he wasn't going to publish anything I'd written—but told me to go read John Grisham, Michael Crichton, Robert Ludlum, and come back in a year. And I did; I consumed every thriller I could find. And I went back to my word processor again, and again, and again. And eventually I sold a book, and then another. But still, I was a struggling writer living in a tiny apartment, waiting for my moment.
That moment happened entirely by accident. A friend of mine from college introduced me to a bunch of MIT kids at a bar not two blocks from where I was living—a dive called Crossroads on Beacon Street, right by the Charles River. These college kids, it turned out, were living a double life. Math geeks during the week, chasing "A"s in classrooms in Cambridge; card counters on the weekends, chasing millions of dollars in Vegas with a blackjack scheme that was more thrilling than any of the plotlines I'd spent the past two years trying to sell to publishers. I convinced them to let me tell their story—and my first successful book, Bringing Down the House, was born.
Suddenly I wasn't just a successful writer—I was a Boston writer, because Bringing Down the House was, in many ways, a Boston book. Smart, tough college kids using their brains to beat the system. When we turned BDTH into the movie 21, of course we shot almost the entire movie in my home town, going so far as to block the Mass Ave bridge for an entire day to shoot the opening—eliciting piles of hate mail from commuters stuck in traffic on both sides of the river, some of which I've still got in a drawer in my office, for memory's sake.
After Bringing Down the House, I suddenly became the go-to-guy for every college kid who had a story to tell; I started getting emails, phone calls, from what seemed like every dorm room in New England—telling me about various cons, get rich quick schemes, even crimes—and many of these I turned into books, because they were that damn good. Most had a New England connection, in part because Bringing Down the House had such an overwhelming New England reach, but also because I'm pretty lazy, and there's nothing like keeping your research to a four-block radius. Book after book followed—but it wasn't until the weekend before the movie 21 premiered that the strange little email that led to my next big success slid into my inbox.
"My best friend created Facebook, and nobody has ever heard of him," the email started, and I was off on the journey to writing Accidental Billionaires, which turned into the movie The Social Network. Yet another New England story, taking place just blocks away from MIT at Harvard. When we shot that movie—again, just steps from my apartment—we blocked even more streets and garnered another cavalcade of stacks of angry mail—and what could be more New England than the fury of a thousand taxi drivers stuck in traffic?
Now, twenty-three or so books later, I've written what might be my most Boston book yet: a thriller called The Midnight Ride. Not only does it take place along the Freedom Trail, a "biggest hits" list of Boston's most beloved tourist spots, and have at its heart the Gardner art theft, the details of which nearly everyone in New England knows at least something about; but The Midnight Ride came about in the most Boston of Boston ways. One year ago, in the depths of our shared pandemic, the Boston Globe had reached out to me with a crazy idea to try and lift the spirits of a city, and region, bombarded by the daily weight of miserable headlines. They wanted to serialize a novella in the Globe—one chapter a day for twenty days—many of which would run right on the front page of the historic newspaper.
I said yes; not immediately, because I was slightly terrified of writing a book on such an obscene deadline; and only if I could write a mystery with tendrils embedded deep in the history of my home town, the place where most of my books and all of my career had taken place. A DaVinci Code-style thriller that marched right through Faneuil Hall, across the deck of the USS Constitution, and up the steps of the Bunker Hill Monument.
The Midnight Ride, which grew from that novella, is a love letter to the region that has powered most of my books. A story of a secret history stretching from the cobblestones of Beacon Hill to the lapping waters of the Charlestown Naval Yard. And in many ways, the culminating moment of my writing career, which started in that dive bar on Beacon Street exactly two decades ago.
---
Ben Mezrich specializes in narrative non-fiction about young wizards who game the system for immense profit. His work has spent months on the NY Times bestseller list and been made into award-winning movies. He still lives in Boston.
Buy this back issue! Available in hardcopy or as a downloadable PDF.