Volume 35, No. 1, Spring 2019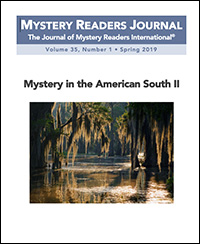 Buy this back issue! Available in hardcopy or as a downloadable PDF.
TABLE OF CONTENTS
AUTHOR! AUTHOR!
The American South, circa 1964 by Gary Alexander
GRITS by Jenna Bennett
Fabulous Florida by Nancy J. Cohen
Southern Mysteries: It's All in the History by Beverly Connor
The Role of Memory in Southern Mystery Fiction by John Copenhaver
The Heart in Conflict With Itself: The Myth of the South by J. Madison Davis
Religion in the Deep South by Phillip DePoy
Southern Porches by Tracy Dunham
Appalachian Love Song by Dean Feldmeyer
Where the Deep Waters Flow by David Fulmer
Chicken Fried Lit: The Southern Gothic Tradition in Crime Fiction by Richard Helms
Ponce de Leon by Russell Hill
Back from the Dead by Ed Kovacs
Smoky Mountain Intrigue by Deborah J Ledford
Writing a Cozy Mystery as a 'deep Southerner' by R.J. Lee
Hungry, Haunted, and Helplessly Imaginative by Gayle Leeson
Storytelling in Dixie by D.P. Lyle
Little Old Southern Ladies Who Wear Gumshoes by Ed Lynskey
Is Maryland Really in the South? by Debbi Mack
Judge Deborah Knott's View of the South by Margaret Maron
A Yankee in the Land of Cotton by Brent Monahan
Make Mine a Mausoleum by M. A. Monnin
True Confessions of a Transplanted Yankee by Gail Oust
Fiction Seasoned by the South by Linda Bennett Pennell
Many Souths by Cathy Pickens
Memories of the American South Find Their Way into My Debut Novel by Ang Pompano
Justice with Gentility by Rosemary Poole-Carter
Stereotypes and Reality by Terry Shames
Murder, Treachery, and Heroism in the CSA by Christopher Stires
I'm a Hillbilly by Nancy Swing
Pull Up a Chair and Sit a Spell by Jane Tesh
A Magic Southern City by T.K. Thorne
And Justice for the Dead by Maggie Toussaint
Southern Fried Murder: Mayhem in the Old South by Robert W. Walker
Tapping into the Deep South's Rich Literary Heritage by Peggy Webb
Hidden Under the Floorboards by Karen White
COLUMNS
Murder in Retrospect: Reviews by Sandie Herron, L.J. Roberts, Dru Ann Love, and Lesa Holstine
The Children's Hour: Crime Fiction in the American South by Gay Toltl Kinman
In Short: The Southern Regional Short Story by Marvin Lachman
From the Editor's Desk by Janet A. Rudolph
---
Chicken Fried Lit: The Southern Gothic Tradition in Crime Fiction
by Richard Helms
Perhaps it's apocryphal, but I've frequently heard a quote attributed to an old-time blues musician that went something like, "If you don't understand the blues, you never will."
Being Southern (purposeful capital "s") is kind of like that. If you weren't raised in the South, it may be difficult to completely relate to Southern fiction—and nearly impossible to write it—because the literature of the South is so deeply entwined with the experience of growing up here.
My mother was a Steel Magnolia, the genuine article. She grew up with a specific set of rules for living, as any proper Southern debutante must. Like Amanda Wingfield, she savored imposing them on others. Her favorite saying might have been, "(Blank) just isn't done!" There was a voluminous list of things which simply weren't done, handed down from mother to daughter for generations.
I was born in Charlotte, North Carolina. I lived in Charlotte, Charleston, and Atlanta before I was ten years old. For almost a quarter century, I lived in a North Carolina town so tiny, it had no police force or post office. You can't buy a more colloquially rounded Southern upbringing.
I used 'whites only' bathrooms and water fountains. I witnessed a Ku Klux Klan parade in Royston, Georgia, in 1964. I vividly recall Lester Maddox standing in the doorway of his Atlanta restaurant, wielding an ax-handle and daring any person of color to enter, and how he was elected governor in the next election. I revel in memories of scorching summer days lying by the side of a pond and bobber fishing for trout who had long-since retreated to the cool silt. I remember sultry, steamy summer nights, sleeping next to an open screened window and desperately searching for a cool spot in the sheets. My father, who was rarely around when I was a child, did teach me to properly shake another man's hand. "Strong enough so he knows you mean business," he'd tell me. "But not so hard you're bragging."
Growing up in the South was church socials and properly prepared potato salad (keep folding in mustard until the chorus of your ancestors whispers, "Enough, child"), and whole-hog barbecue smoked for hours in a fifty-five-gallon drum, and tea sweet enough to etch the enamel off your teeth, and kettle-fried pork cracklin's with collards and pinto beans and sweet cornbread fried in a cast-iron skillet. It was hummingbird cakes and Wednesday night church and vinegar pies and manners and grits and hog jowls and chitlins and cotillions and debutante balls and racism and indelibly ingrained resentment of all things Northern as a result of a war settled before any of our great-grandparents were born.
I recently finished writing a novel set in the South between 1954 and 1989. It's a prequel to my Judd Wheeler police procedural series (Six Mile Creek; Thunder Moon; Older Than Goodbye) and takes place in the same small agriculturally-bound North Carolina town called Prosperity. I realized about halfway through writing this novel that it had morphed into a Southern Gothic work, in the tradition of Southern authors like Flannery O'Connor, William Faulkner, Carson McCullers, Harper Lee, and Tennessee Williams. I examined my three published Judd Wheeler novels and realized they also contained many of the elements of Southern Gothic literature. My life experience, it seems, had covertly permeated my writing—as it properly should.
Southern Gothic literature exposes the rancid underbelly of Southern society through the thoughts and actions of its often grotesque or amoral characters, usually in small, mostly rural towns. Characters in Southern Gothic stories are frequently broken, discouraged, desperate, or fearful. The rules are different here. The racial, religious, and sexual mores of the antebellum South were never vanquished. Instead, they have eroded steadily over decades, each tortuous step causing the most exquisite agony for characters who see their way of life disappearing in the face of cosmopolitan creep. While there may be a supernatural aspect to Southern Gothic tales, we are more likely to find it expressed through the acts of unscrupulous parsons or tent-revival hucksters. Innocents are frequently and mercilessly exploited. Underlying Southern Gothic literature are the twin frailties of resentment and fear. In such a world, crime fiction breeds like pokeweed and kudzu.
Because I'm also a son of Dixie, I'm not surprised the stories I've enjoyed writing most are set in my tiny fictitious North Carolina town called Prosperity (including "The Gods For Vengeance Cry," a Macavity Award nominee in 2011). Prosperity is Mayberry gone horribly to seed, the kind of place where Floyd the Barber cuts hair by day and cooks meth at night. Barney's avatar, Slim Tackett, is the best cop in four counties, but prone to settle his scores using extralegal measures. Sheriff Andy Taylor—reimagined as Police Chief Judd Wheeler—is plagued with nightmares because he ignored his dying wife's phone call eight years ago. The pleasant, bucolic countryside conceals a million serpents. Grace and perfidy sit in adjoining pews at the Primitive Baptist Church. A translucent veneer of carefully crafted etiquette barely conceals generations-old family feuds, lust, bigotry, resentments, and terror of encroaching and irrevocable change. Peyton Place has nothing on Prosperity, North Carolina.
As Wilkie Collins mined Victorian gothic elements for his most famous mystery, The Woman in White, American authors from below the Mason-Dixon have taken base material laid down by masters McCullers and Faulkner and Tennessee Williams, and adapted it to the modern crime story. Melding bizarre, colloquial, racist, charismatic, and xenophobic components of Southern Gothic fiction with the familiar mystery tropes of murder, blackmail, rape, and kidnapping, authors like Gin Phillips, Donna Tarte, James Lee Burke, and Attica Locke have produced haunting elegies to this cultural oddity, the South.
And paraphrasing our apocryphal blues master, If you ain't lived it, you ain't likely able to write it. That sort of thing, my mother would have said, just isn't done.
---
Retired forensic psychologist and college professor Richard Helms is the author of eighteen published novels. He has been nominated six times for the SMFS Derringer Award, with two wins; five times for the PWA Shamus Award; twice for the ITW Thriller Award, with a win in 2011; and once for the MRI Macavity Award. A former president of the Southeast Regional Chapter of MWA and member of the MWA National Board of Directors, Helms' next novel, Paid in Spades, will be released in March 2019 by Nashville's Clay Stafford Books.
---
Storytelling in Dixie
by D.P. Lyle
Here's the thing about the South—if you can't tell a story, they won't feed you. They'll simply deposit you behind the barn and let you wither away. That doesn't happen often because everyone down there can spin a yarn. Some better than others, but a story is a story. This is a rich tradition and conjures up names like William Faulkner, James Dickey, Eudora Welty, Flannery O'Conner, Tennessee Williams, Mark Twain, Harper Lee, Truman Capote (who spent much of his childhood in Alabama), James Lee Burke, and the list goes on and on.
Where did this tradition come from? Since much of the South was settled by Scotch-Irish immigrants, they transported their storytelling skills across the pond. Ever hear of a Scotsman who couldn't reel off a story over a few glasses of whiskey? Me, either. Plus, the South was rural, poor, and with fewer resources, so much of society revolved around the farm, and hearth and home. Books were a luxury, meaning that family entertainment came from stories told by the fireplace.
I grew up in Alabama, Huntsville to be exact. Not your typical Southern town. Sure we had acres of farmland, churches on very corner, enough pickup trucks to cause a traffic jam, and a cacophony of country music, but we also had a space program. Snuggled up to the city is NASA's Marshall Space Flight Center where Werner van Braun and cohort built the rockets that sent men into orbit and eventually to the surface of the moon. Made for an interesting soup of folks. Rednecks and scientists, all dining on barbecue and biscuits, and of course pecan pie.
So, what is it that makes Southern storytelling so compelling? It's the many facets of the area. You can't write about the South without considering country music, the blues, country stores, cornbread, sweet tea, and the weather.
Weather. Weather is a character in Southern stories. The rain, the hair-raising electrical storms, and, of course, the heat and humidity conspire to alter everything in life. The cracking of lightning puts nerves on edge while the sauna-like air wilts your clothing, slows your walk, and stretches out your drawl like blackstrap molasses creeping over a mess of hotcakes.
In his famous "Ten Rules of Writing," Elmore Leonard admonished authors to never start a story with the weather. Don't believe it. He forgot to tell that to James Lee Burke. His Dave Robicheaux series moves around the swamplands of Louisiana, a place where weather is most definitely a character. Read the first paragraph of his Edgar Award-winning Black Cherry Blues. Breathtaking. And his evocation of the weather draws you quickly and deeply into the story.
Characters. Southern characters are often larger than life. The local sheriff with a big gun and an even bigger belly, the cheerleader with the big smile and bouncy blond hair, the farmer with his coveralls, straw angled from his mouth, and a sun-baked red neck. There's Gone With the Wind's Scarlett O'Hara, who defies description, and Scout, who gives a child's-eye view of her father Atticus as he fights for right and justice in To Kill A Mockingbird. Robert Penn Warren's All The King's Men introduced us to Willie Stark, who channels the one-of-a-kind Huey P. Long, a man whose shadow still lays over Louisiana. Not to mention the modern-day Don Quixote Ignatius Reilly in John Kennedy Toole's masterpiece A Confederacy of Dunces.
It seems almost everyone in the South has a nickname. Sometimes even a nickname for their nickname. My Little League baseball coach was known as Breadman—I never knew his real name—and he was mostly called Bread. We played against another coach called Buttermilk—didn't know his name either—but he was called simply Milk. See, a nickname for a nickname.
Language. Yeah, we say ain't a lot. It's a great word. Has a soft feel as it rolls off the tongue. And of course y'all, which is a point of confusion for those from up north. Is y'all singular or plural? The answer is yes, and yes. It's both. You meet someone on the street and you might say, "How y'all doing?" You could mean how that person is doing or how they and their "Mom and 'em" are doing. Which brings up that phrase. Mom and 'em means all those folks around your mom—the entire family, friends, neighborhood, coworkers. It's more or less all inclusive. And then there's "all y'all." Makes sense this would be plural but not so fast. If you ask, "How all y'all doing?" you might mean how the family or some grouping is, but you might mean how is "all of you" doing? It might seem confusing, but really, it ain't.
Food. Food is as Southern as anything. If you've never traveled to New Orleans, then you have no idea what great food truly is. We love our barbecue, fried chicken, grits, turnip greens, squash, cornbread (no sugar please), sweet tea (lots of sugar please), and banana pudding and pecan pie. You won't find tofu, and gluten-free is a foreign concept.
Football. You must understand football to understand the South. Example: I went to the University of Alabama. Roll Tide. I hate Auburn. Enough said.
If you can't see the story potential in all this, then bless your heart—an expression that doesn't necessarily mean what it seems to impart. It might be proffered as a literal gesture of good will, or it might mean: You're mentally defective and I feel sorry for your shortcomings. It's all about the context, tone, inflection, and body language.
These deep roots and my understanding of the rhythm of Southern culture led me to set most of my fictional stories in the area. My Dub Walker forensic thriller series takes place in and around Huntsville, where I use in the stories many of the high-tech and forensic science techniques developed at NASA. Dr. Wendell Volek, a character in my first Dub book Stress Fracture, is actually Dr. David Hathaway, the director of NASA's solar imaging program as well as the developer of the VISAR system for digital image enhancement. I spent some time with David and he explained VISAR to me in great detail. It became part of the book.
The stories in my Jake Longly comedic thriller series are scattered around the South. Jake lives in Gulf Shores, Alabama, where the initial story Deep Six takes place. Then, on to New Orleans for A-List and the Florida panhandle for Sunshine State, coming in May. The next in the series, Rigged, will be out next year and is set in the wonderfully artsy community of Fairhope, Alabama. Each of these areas has its own distinct flavor, but all are quintessentially Southern.
I have another new book coming in October, the first in my Bobby Cain/Harper McCoy series. It's titled Skin in the Game and is set in and around Nashville, including the shores of Tims Ford Lake, a beautiful body of water in central Tennessee.
Two of my three published short stories are also set in the South. "Even Steven" appeared in Thriller 3: Love Is Murder and is set in Huntsville. "Bottom Line" can be found in For The Sake of the Game: Stories Inspired By the Sherlock Holmes Canon and is set in a fictional Southern locale.
So, my Southern roots are deep and broad and they inspire my stories at every turn. I now live in Orange County, California, but my heart and soul belongs, and always will, in the South. But that's another story.
---
D.P. Lyle was born and raised in Huntsville, Alabama where his childhood interests revolved around football, baseball, and building rockets in his backyard. For the past forty years, he has practiced Cardiology in Orange County, California. He is the creator and host of the podcast series Criminal Mischief: The Art and Science of Crime Fiction.
---
Judge Deborah Knott's View of the South
by Margaret Maron
We're always being asked why the South has so many writers writing about the South… are we special/unique? I myself think it has to do with the South's mystique—the myths we tell ourselves, the myths we tell outsiders, to rationalize and justify. The abiding truth is that we lost the Civil War. And the suspicion is that we deserved to lose. Winners can be magnanimous and get on with their lives. Losers have to rationalize endlessly. Look at the difference in national attitude between WWII and all the frustrating conflicts in the Middle East. We Southerners are defensive about aspects of our culture, yet prideful (whether justly or not) of our heritage. We feel superior to the rest of the country about that heritage, yet inferior in terms of education and productivity. Heat and humidity are part of it, the racial ambivalences of 200 years, the sense of being a little bit outlaw, a little bit outrageous, and that manners matter.
Our grandmothers taught us that "A lady is never unknowingly rude." We know. We really do. At the same time, we worry how much dilution from outsiders and outside influences we can absorb before we lose our uniqueness.
Good Southern writers incorporate all that into their writing—and more. We're aware that our South is changing; and we want to show how the New South overlays the Old and how the Old South tries to accommodate the New without giving up its soul. I think that's what critics mean when they talk about voice and sense of place. This is what it means to me when I talk of bringing the book home. Both in the geographical sense and in the domestic sense. We don't want to become a stereotype and yet we still want to celebrate the things we've always loved.
Deborah Knott, my continuing character, is a district court judge. I think my readers appreciate her authenticity, her sense of being in and intensely of Colleton County, North Carolina—the way she cares about such things as who owns the commons, by which she means the commonly-held resources that make an area, a state, or a country a desirable place to live and work. Do we allow those commons to be degraded simply because such degradation gives short-term economic benefits? Or do we try to work for long-term befits for our fellow citizens? There are hard social and economic choices in our future, and in addition to entertaining, I would hope that my books can make people think about these choices when they go into the voting booth. When Deborah's daddy says, "Y'all think on it," he isn't speaking just to Southerners.
---
Margaret Maron is the author of thirty novels and two collections of short stories. Winner of the Edgar, Agatha, Anthony, and Macavity awards, her works are on the reading lists of various courses in contemporary Southern literature and have been translated into 16 languages. She has served as president of Sisters in Crime, the American Crime Writers League, and Mystery Writers of America.
Buy this back issue! Available in hardcopy or as a downloadable PDF.