Volume 34, No. 3, Fall 2018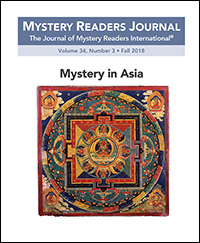 Buy this back issue! Available in hardcopy or as a downloadable PDF.
TABLE OF CONTENTS
Judge Dee: a Look at Van Gulik's Chinese Master Detective by Michael Kurland
Ethel Proudlock and the Murder of William Steward by Roberta Rood
A Yen for Mystery: Four Japanese Women by John Apostolou
Flatfoots in the Far East by Jim Doherty
AUTHOR! AUTHOR!
White House Travel and Intrigue in Asia by Karna Small Bodman
Panic and Desperation in Hong Kong by Susan Blumberg-Kason
The Apothecary Shop by Laura Boss
The East Is Different by John Burdett
Digging into the Thai Underbelly by Colin Cotterill
The Crimson Masquerade by Vickie Britton and Loretta Jackson
The Map of Lost Memories by Kim Fay
Writing the Past by Dale Furutani
Armchair-Traveling in China by Chris Goff
Darkness in the Land of Smiles by Timothy Hallinan
Murder at the Grand Raj Palace: Why Crime Writers Love a Good Hotel by Vaseem Khan
From the Mountain to the City by Elsa Hart
Talking Story—Japan by Barry Lancet
Mysteries of the Orient by Joan K. Lacy
Prawns in the Game by Ed Lin
Murder, Money and Music in Hong Kong by Charles Philipp Martin
Adventures in South Korea by J. R. Lindermuth
Noodle in a Haystack by Saul Maskell
One Morning in Mumbai by Sujata Massey
The World of Vincent Calvino, P.I., Bangkok by Christopher G. Moore
Some Notes From a Long, Strange Journey by Jake Needham
Up Like Thunder by Colin T. Nelson
Murder and Mayhem in Imperial Japan by I.J. Parker
It's Good to Be Thought Stupid by 22 Million People by David Rotenberg
Tokyo—Stories, Culture, Murder by Michael Pronko
China, Korea, Macao, Hong Kong and the Rabbit in the Moon by Deborah Shlian
Sumatra: Perfect Scene For A Crime by Nancy Raven Smith
Art Leads to Mystery in Southeast Asia by Nancy Tingley
Durian Days by Ovidia Yu
COLUMNS
Murder in Retrospect: Reviews by L.J. Roberts, Craig Sisterson, Jonathan Woods, Lesa Holstine, and Tuhin Giri
The Children's Hour: Mystery in Asia by Gay Toltl Kinman
Crime Seen: Sherlock in Japan by Kate Derie
Real Crime in East Asia by Cathy Pickens
A Personal Overview of Asian Mysteries by Thom Walls
From the Editor's Desk by Janet A. Rudolph
---
Digging into the Thai Underbelly
by Colin Cotterill
He stared at me as if looking deeply into my eyes might tell him whether I was a foreigner to be trusted. I obviously passed that test because he leaned on the table between us and gestured for me to enter his atmosphere of secrets. I lowered my ear to his mouth.
"You know Ba Keeo?" he said.
"The vegetable shop keeper?" I asked.
"That's the one. She lives with the old guy with grey hair."
"Her husband."
"That's what they'd have you think," he said.
"What do you mean?"
"They're not married."
These were early days in my research for a new series I planned to write. I was digging for scandal, for subterfuge and crime. I wanted to see Bang Maprao beneath the surface. Not the sleepy fishing village I'd moved to. Not the smiling faces that greeted me on my morning bicycle rides. Not the children who waved and said "Hello, farang." I wanted dirt and living in sin didn't do it for me. I came from Wimbledon where everyone traditionally slept with everyone else. I was unlikely to center my new series amid promiscuity in the rural south of Thailand.
I admit I was being lazy. My hot, blockbuster series set in the People's Democratic Republic of Laos was a drain on my resources and my mental state. I spent six months researching each story. I'd fly into Vientiane once a year and travel overland to the scene of the next book. I interviewed. I studied. I drank copious amounts of rice whisky with old soldiers around camp fires. And what did it get me apart from fascinating tales and a hangover? I had a data bank of facts accumulated over several books that I had to refer back to every time I wrote a new one. At conferences I had to answer questions about incidents of which I had no recollection. My memory had fallen victim to cabernet sauvignon. I was prone to re-killing characters and adding and subtracting decades to their ages.
I needed something easier—more suited to my flagging intellect. What, I thought, could be more simple than writing a series set where I lived? It was exotic, uncharted territory. The squid boat lanterns dotted the horizon of a night. I'd sit on my balcony and watch the fish runners in their flashlight helmets jog along the sand then return to harvest the fish that had beached themselves whilst giving chase. The corporate monkeys came once a month and collected our coconuts and ten-year-olds rode Jurassic motorcycles on either side of the potholed lanes. I'd taken out an exclusive mortgage on the whole of Laos, now here I was in an unlikely bed of potential. All I needed was to wheel around the village and check my facts. What I didn't need was a description of geriatric bed hopping.
I was interviewing Mon, the owner of the nearest thing Maprao had to a resort. I'm tempted to say the place had seen better days but I doubted it. The windows had been sanded opaque, the door hinges had been eaten away by salt from the surf, and even the reluctant air-conditioners had conditions. It begged to be pulled down. It was exactly the kind of place to set a series of mysteries. It was my own walking-distance Bates Motel but Mon had nothing to tell me of its sordid history. It had survived as long as it did on budget school-vacation groups and short term nooky. All the manager could talk about was sex. I was about to cut short my interview when he called me back into his gravity.
"Do you want to know why?" he asked.
I didn't, but I could sense his anxiety.
"Why?" I asked.
"I'm glad you asked," said Mon. "You see, Ba Keeo used to live in Bangkok. She had a husband back then and he was something of a bore. But he was a bore with a bank account. She decided it would be to her benefit if her husband should meet with an accident. So she hired a hit-man to do away with him. They met from time to time to plan the husband's murder and became quite… friendly, if you know what I mean. It appears the hit man was a better lover than he was an assassin because, despite all the planning, he 'hit' the wrong guy. There were a number of witnesses and the police were soon able to make an identification. Before they could arrest him, he and his new lover, Ba Keeo, jumped on a bus going south and here, twenty years later, you find them in their little fruit and vegetable shop."
And so I had it. The underbelly had been sliced open and the world beneath had shown itself to me. I have more stories than I have time to write them down. I still buy my vegetables at Ba Keeo's shop but I tell you, I sure don't complain if anything's past its use-by date.
---
Colin Cotterill is the author of the award winning Dr. Siri mysteries set in Laos. His other series is set latter day on the Gulf of Thailand and stars Jimm Juree, an ex-crime reporter. Her funky, only-in-Thailand cases are now available online in short story form, one every two months for less than a hot cappuccino.
---
Darkness in the Land of Smiles
by Timothy Hallinan
In the darkness, as they used to say on the old Fugitive TV series, fate moved its heavy hand. One of those hand movements in the dark was responsible for the fact that I've been writing thrillers set in Bangkok ever since 2007.
Early in 1988 I was in Japan, working on a documentary about the first tour of that country by a Western symphony orchestra. I'd planned to cap it off by taking two weeks in the north, up to my nose in hot springs while reading The Tale of Genji. Fate, however, decreed that it would be the coldest Japanese February in years, so I phoned my travel agent (remember them?) and asked her to put me anywhere in Asia where it was warm and I didn't need a visa. She suggested Thailand, where they had a visa-at-the-airport program, and three days later I waddled off the plane in Bangkok on a 93-degree afternoon wearing a puffy coat and a cap with earmuffs, and from 100 feet away I saw the immigration guys pointing at me and laughing. I had never known until that moment that immigration guys knew how to laugh.
That was the first pleasant surprise, and many, many more followed.
Of course, first impressions are almost certain to be misleading, and during my next few years in Thailand I alternated between falling in and out of love with the country. Many "pleasant surprises" turn out to be surprising in unpredictable ways. Thailand, for example, is often called "The Land of Smiles," and it's true that you'll encounter more smiles in a single Bangkok city block than you would if you were to walk all the way from Central Park to Wall Street. My first week there, the muscles of my cheeks ached from returning all those smiles. I got to a point where, when I smiled, my ears popped.
But, while there's no doubt that the Thais smile a lot—it's a polite, decorative response—many Thai smiles have nothing to do with happiness. Up to 15 Thai smiles have been sorted and categorized, and some of them surface in the next Poke Rafferty book, Street Music. Here's an example; the observer is an old homeless woman named Hom who has been sent, under threat, to the infamous Patpong Road to find Rafferty, who patronizes an old-timer's bar there, and follow him home. She's keeping watch as the bars close.
Smiles, Hom sees, are going off here and there in the crowd, like struck matches. She's watched often enough by now to know they belong to the women from the bars. As they're towed along they gaze at nothing, or at the people coming in their direction, until the man they're with looks down at them, and then they smile. She feels herself smile, the same absolutely meaningless smile the tall, slender woman is giving the short, tubby man who's hauling her toward Silom. The smile is the one called yim mai ork, forced and without any spark of happiness or pleasure behind it. The girl knows, and so does Hom, that the farang won't see through it. A little farther away, a younger girl, probably new to the bars, offers her suddenly attentive customer a yim sao, the smile that masks sadness. That's the smile Hom is most familiar with; she can feel its muscle memory in her own face as she watches. Her destination forgotten for the moment, she searches for her favorite smile, the one that makes her feel kinship with all these sad, beautiful girls: the yim yae-yae, the smile someone assumes when she's facing something awful and is determined to make the best of it, no matter what. There it is, on the face of the woman, old for these bars, who's trying to match her steps to a drunken man's stagger.
So, the place is full of smiling people but you need a glossary to read the smiles. This is one aspect of the main reason I decided to write about Thailand: the fact that it seems so open and above-board and is, in fact, secretive and deceptive.
And misleading. The Thai eagerness to be helpful does not necessarily extend beyond the moment. Anyone who's spent time there has asked for directions and been given completely misleading information because the person who was asked wanted to be able to please the poor foreigner. He or she won't be around when the foreigner realizes that she's been walking in the wrong direction for fifteen blocks or that the bus that was supposed to whisk her to the airport is instead taking her to an open-air market. All foreigners like open-air markets, don't they? Well, she'll probably like that one.
So there you are: open and charming one one hand and closed and cold-blooded on the other. Thailand is run as a closed shop by the rich, at the perpetual expense of the poor. The key word to describe the rich is impunity: they can literally get away with murder in some instances. As just one example, the heir to the Red Bull fortune—the fourth largest in the Kingdom—was driving his Ferrari at excessive speed, probably drunk, when he hit and killed a Bangkok policeman. This was in 2012, and he has still not been interviewed by the cops. Not charged, not indicted, not interviewed. The cops just couldn't find him despite the fact that newspaper photographers had no problem at all, snapping him all over the place. He will, by purest coincidence, be found a few days after the statute of limitations expires.
Powerful rich, powerless poor, deceptively welcoming. What better place to set thrillers and mysteries?
And yet, in the end, it was the open-heartedness of Bangkok's poorest people that spurred me to write the first Poke Rafferty book. On New Years Eve 2015 I decided to walk Bangkok all night long. About 2:30 I found myself in one of the city's poorest slums, and I began to doubt the wisdom of the decision. People came out of shacks and shanties toward me, people who had nothing heading toward someone who, like a complete and total bonehead, was wearing an $8,000 wristwatch. They converged on me and offered me bits of foot, a pull off a bottle, company for a few blocks. Where did I come from? Where was I going? Did I like Thailand? Over and over, Did I like Thailand? For about forty-five minutes I was the center of a moving party, everyone offering me something and, essentially, escorting me through the poorest section of town. I was forcibly reminded of the old definition of a Communist as someone who has nothing and wants to share it with you. At seven on New Years morning I was in a Mr. Coffee, having borrowed the waitress's pen and some paper torn from her order book, and I was writing as fast as I could.
That was actually my second memorable interaction with Bangkok's poorest. Eight or nine years earlier I'd been writing in the window of a coffee shop when I realized that someone was peering through the window at me. I looked up to see an absolutely filthy little girl of seven or eight, carrying a wooden box full of chewing gum, which she peddled (I later learned) fourteen hours a day. When she realized I'd seen her, she turned and ran, but she was back a few days later and then a few days after that, and I realized she hadn't been looking at me at all; she'd been hypnotized by the screen of my laptop. After eight or ten of these interactions I got her to come in, and I set up pinball on the computer, showed her how to work the flippers, asked the waitresses to give her whatever she wanted, and went for a 45-minute walk. When I came back the booth was empty, there was a neat stack of gum in the middle of my plate, and an astronomical pinball score on the computer.
For the next five years or so, she came by every three or four days when I was there, and I'd buy her a meal and she'd improve her English, kill a couple of new games, and then leave. I could never persuade her to take any money. The people who owned the gum she was selling, she said, would just take it.
Then she vanished.
I don't think she moved up in the world; in fact, I'd be surprised if she hadn't been coerced into the sex trade. But when I wrote the first Poke Rafferty book, A Nail Through the Heart, I did what I'd been unable to do in real life: acting as my surrogate, I had Rafferty and his Thai wife, Rose, adopt her. Her name was Miaow both in the books and in real life, and she's at the center of the entire series of stories, as far as I'm concerned. By now, in her parallel fictional world she's survived immersion in a rigorous international school and has become something of a star in its school plays. In her third play (in next year's book, Street Music) she's won the part she was, as she herself says, "born to play," Eliza the street girl who is transformed into a lady in George Bernard Shaw's "Pygmalion."
It seems to me now that I can continue to write this series (if people continue to publish it) until Miaow moves out at 18 or 19, leaving Poke and Rose rattling around and marveling at the sheer size of an apartment that felt too small when Miaow was there. I can't imagine pushing the stories ahead without her.
Thailand has given me many gifts, Miaow not the least of them. On the whole I have to say that that cold Tokyo February was one of the best things that ever happened to me.
---
Timothy Hallinan has written 21 novels, most recently Nighttown, the seventh book about Los Angeles burglar Junior Bender, and Fools' River, the eighth to feature Poke Rafferty, a Bangkok-based travel writer. He has been nominated for the Edgar, Macavity, and Shamus awards, and won the Lefty. Hallinan lives in L.A. and Bangkok. The next Rafferty book, Street Music, will come out in 2019.
Buy this back issue! Available in hardcopy or as a downloadable PDF.