Volume 39, No. 1, Spring 2023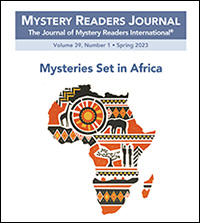 Buy this back issue! Available in hardcopy or as a downloadable PDF.
TABLE OF CONTENTS
ARTICLES
Eugene P.A. Schleh: The Mysteries of Africa by Aubrey Nye Hamilton
Agatha in Africa by Kate Derie
Cape Town Crime Fiction by Eric Beetner
John V. C. Wyllie and Dr. Samuel Quarshie by Aubrey Nye Hamilton
AUTHOR! AUTHOR!
Taking My Imagination on Safari by Annamaria Alfieri
From Scandi Crime to Sandy Crime by Parker Bilal
I Was Already a Spy, I Might as Well Write About It by Bryan Christy
Rift — A Novel About a Journey That Is Still on My Mind by Liza Cody
Green Snake in Green Grass by Kathy Curnow
Nkisi by Russell Hill
A Brutal Love Letter by Akbar Hussain
Memories of my Father's Bookshelf by Sylva Nze Ifedigbo
Corruption in Kenya—The Mystery Is in the Details by Gerald Everett Jones
Writing on the Continent of Light by Deon Meyer
A Trip to Egypt by Erica Ruth Neubauer
My Mystery Writing Life by Stella Oni
Le Petit Senegal by Paul R. Paradise
Adventure and Romance in North Africa by Neil S. Plakcy
From Your Armchair to the Gulf of Guinea: The Case for the African Mystery by Kwei Quartey
Murder in Africa by Bryony Rheam
Death by Natural Causes: Creating an African Cozy Short Story by Merrilee Robson
Vacation, Vacation, Vacation by Wendall Thomas
Serious Research in Africa by Michael Stanley (Stanley Trollip)
Africa: The Most Interesting Place I've Never Been by N. S. Wikarski
COLUMNS
Mystery in Retrospect: Reviews by Eric Beetner, Aubrey Nye Hamilton, Sandie Herron, Kathy Boone Reel, L.J. Roberts, Craig Sisterson, and Lucinda Surber
Children's Hour: African Mysteries by Gay Toltl Kinman
In Short: Africa by Marv Lachman
From the Editor's Desk by Janet A. Rudolph
---
Taking My Imagination on Safari
by Annamaria Alfieri
All my stories have been inspired by places. When, after three South American stand-alones, I decided to write a series, Africa came immediately to mind—totally smitten as I was after two trips there. Leaving the African wilderness after my first visit dealt me a terrible wave of homesickness. Africa, after all, is the birthplace of humanity. All but one of the earliest remains of our hominid ancestors have been found in the Rift Valley, stretching from Ethiopia into South Africa. My conviction is this: when human beings gaze at Africa's pristine majesty, we know we are home. As a setting of a crime fiction series, Africa—I was certain—would keep me intrigued as no other place could.
But Africa is huge, by far the largest of the continents. Where exactly would I set my stories, and since I write historicals, when?
In those days, a family illness had put my wanderlust on hold; I was seeing Africa only vicariously, at that moment particularly in Out of Africa, both the film and book. That setting, British East Africa (now Kenya) seemed an obvious choice. A dip into research pointed me at 1911—when British missionaries had been there for a few decades, the King's administrators had taken charge, the railway from Mombasa to Lake Victoria was complete, and Britain was encouraging settlers to move in. Conflict was everywhere. Tribal people had warred with one another for a millennium. The King's loyal empire builders disdained the missionaries. The missionaries resented the "tin god" administrators. The newly arrived settlers, mostly second-son aristocrats, went around acting as if they were in charge. Perfect, I thought. The people there had lots of reasons to want to kill one another. If I were to set several books in a place, all this conflict would be grist for my mill.
I roughly sketched out my Africa idea on a list with four other embryonic possibilities and shot them to my agent on a Friday. "I will gladly flesh out whichever you think has the best chance," I wrote her. The following Monday afternoon she called and said, "St. Martin's wants the Africa series." I was shocked that she had sent them my brief, bare-bones idea. Okay, I thought, I know where I am going. To make it happen, I then had to make that nascent idea into a full-blown proposal ASAP.
I certainly didn't want to portray the "good old days" of colonialism, a take completely out of whack with my own 21st-century sensibilities. I would need to tell my stories in a sensitive way, but how to do that without giving the characters anachronistic attitudes? I had to invent people who would be clear-eyed about the injustices going on around them. And they needed to be people one might actually find in that setting.
They came to me, and I named them:
A missionary's daughter, who grew up with Kikuyu children and sees the world, not only from her Scottish parents' point-of-view, but also through the eyes of her African playmates. Vera McIntosh.
An impoverished second son of a Yorkshire earl—a young idealist who has fallen in love with Africa and joined the police force so he might stay there. Justin Tolliver.
A half-Kikuyu, half-Maasai man, outcast by both tribes, which have been traditional enemies for centuries. He has joined the police because he needs a place where he can belong. Kwai Libazo.
While I was working on that proposal, I took a break from the computer and went through some of my dear departed dad's possessions. Among his things was a black leather bookmark that listed The Ten Commandments. It suddenly struck me that my Africa series could follow those ancient rules. That sudden inspiration gave me a list of titles and themes. Each book in the series follows the theme of a commandment, but also a theme of another evil. That does not have a commandment, that I have the audacity to think it should have—the abuse of children or slavery, for instance.
Vera, Justin, and Kwai have been walking around inside my head and telling me their stories through four and a half books now. The first three have been published. The 1914 story, A Death on the Lord's Day, is awaiting publication. I am working on 1915—a wartime thriller—The Serpent's Tooth.
My fascination with Africa has only intensified.
---
Annamaria Alfieri developed wanderlust by studying maps as a young a child. Her historical mysteries are set in places that have fascinated her as a traveler. Her British East Africa series includes Strange Gods, set in 1911; The Idol of Mombasa, 1912; and The Blasphemers, 1913. Of the series, The Richmond Times-Dispatch said, "the flair of Isak Dinesen and Beryl Markham, the cunning of Agatha Christie and Elspeth Huxley." Alfieri, with Michael Stanley, edited the acclaimed anthology Sunshine Noir—a trip around the world in crime fiction.
---
Writing on the Continent of Light
by Deon Meyer
Writing crime fiction in Africa is pure pleasure. And I firmly believe, much more interesting and fun than in any other part of the world.
Of course, I'm biased. I'm an eighth-generation South African, I love this country deeply, and I've only dabbled a wee bit with writing fiction set elsewhere in the world. But let me try and motivate the bold claim anyway:
There's the landscape. I live and work in the Cape Peninsula near the southernmost tip of the continent—two oceans, countless beaches, spectacular mountains, and breathtaking nature reserves. My books are mostly set in stunningly beautiful Cape Town, and the splendor of the Cape winelands.
Should I want to send my detectives Benny Griessel and Vaughn Cupido east, there's the rolling hills of the Overberg, the lush Garden route, or the mysterious Knysna forests. How about north? To the wild and rugged Cederberg mountains, or the vast plains of the semi-desert Karoo.
There are the people. We are a national melting pot of eleven official languages, of vast ethnic and tribal diversity. In my province—the Western Cape—you will hear Cape Flats Afrikaans, standard Afrikaans, Xhosa and English. You will find billionaires living in mansions with a heavenly view of the Atlantic Ocean in Camps Bay, hundreds of thousands of middle-class people in the northern suburbs, and the massive sprawl of shanties in impoverished townships of the Flats. You will find hospitality, big smiles and a warm welcome just about everywhere.
There's the wildlife. When my wife Marianne and I go for mountain bike rides near our house in historic Stellenbosch, we often see baboons, monkeys, birds of prey, deadly snakes and, if we're lucky, the tracks of a leopard.
And of course, there's the crime. We have the United Nations of organized crime well-represented, and a few interesting home-grown syndicates too. We have corrupt politicians and police commissioners, white-collar crooks, international fugitives on Interpol Red Notices, world-class cash-in-transit robbers; we have tricksters, fraudsters, serial killers, and kidnappers too. A plethora, a cornucopia for the budding crime author. Finding the stories, the settings and the characters is the easy part.
Finding the readers outside of Africa is the hard part.
Because, especially in the northern hemisphere, there is a very definite resistance to genre fiction from Africa. How can it be enthralling, entertaining, amusing, and fun when it comes from the Dark Continent—the place the media keeps reminding us is all about strife, decay, hunger and poverty?
Here's a fun fact for you: The two European nations with the highest tourist figures for South Africa (France and Germany) are the two countries where African genre fiction is the most popular.
Why?
Because they know that the perceptions built on media reports are seriously flawed. They've been here, they've seen the light, the beauty, they've experienced the magic of the people, the culture, the wildlife, the landscape and that mercurial, exotic and unique essence of Africa.
The good news is that views are slowly changing. Streaming platforms like Netflix are exposing the world to stories from Africa, publishers across the globe are more and more willing to take the risk of publishing African authors.
As for me, I'll keep writing about this incredible place. Because it is pure pleasure.
---
Deon Meyer is a South African crime fiction author. His books are published in more than 40 countries, in 27 languages.
Buy this back issue! Available in hardcopy or as a downloadable PDF.