Volume 19, No. 2, Summer 2003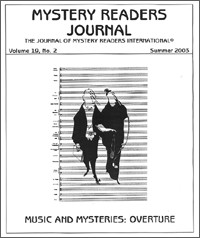 TABLE OF CONTENTS
AUTHOR! AUTHOR!
Too Many Notes, Mr. Barnard? by Robert Barnard
You've Gotta Have a Killer Hook… by Rick Blechta
How To Write Like a Jazz Bassist, or, If Wishes Were Detectives by Mark Coggins
The Deep Sweet: Music as Thematic Device by David Corbett
Washing Away the Dust by Kay Finch
The Mystery of Music by Bill Fitzhugh
Why Murder Musicians? by Sara Hoskinson Frommer
Are You Listening? by Ed Goldberg
Talking 'Bout My Generation by Ed Gorman
The Queene's Music by Karen Harper
Music and Mystery by Cynthia Harrod-Eagles
Music To My Eyes by Robert S. Levinson
"Mosaic," or, The Blind Pianist by Gayle Lynds
Writing About Jazz: The Evan Horne Series by Bill Moody
Music To Die For by Radine Trees Nehring
Reality's Steamroller by Mike Nettleton
From Violins to Bouzoukis: Cruising on Autopilot by D.R. Ransdell
Taking "Show, Don't Tell" Literally by Barbara Reed
Music: A Personal Memoir by Peter Robinson
The Mystery of the Music by M.J. Rose
Before I Get Old by Nathan Walpow
Murder at the Opera by Patricia Wynn
COLUMNS
Mystery In Retrospect: Reviews by Karen Meek, Carol Harper
In Short: Music and Mysteries by Marvin Lachman
Sounds of Crime: Musical Mysteries by Steven Steinbock
MRI Mayhem by Janet A. Rudolph
Letters to the Editor
From the Editor's Desk by Janet A. Rudolph
---
Kinky Friedman—The Lone Star Private Eye
by Alan J. Bishop (London, England)
They say that music is a cut-throat business. One hears about big deals and contracts and the "killing of an artist" but, in the circle of crime fiction, it is rare to find anyone writing with experience, authority and entertainment in the music industry. There are many talented crime authors out there—but the one who stands out in this particular genre is Richard "Kinky" Friedman. He is a man of many talents and, strangely enough, two personae.
First, there is Kinky Friedman—country singer and author of fourteen crime novels (at time of writing), who lives in the rolling hills of Texas. Then there is Kinky Friedman—country singer and amateur detective character in fourteen crime novels, who lives in a loft in Greenwich Village, NY. The trick is to find the join between the two!
Kinky (the author) still sings and plays his incredibly irreverent, but sometimes scathing and sad, brand of country music. So it makes one wonder how he has managed to find the time to write so many well-crafted books—maybe he's discovered a form of talent juggling. His writing style doesn't show any form of haste or desperation—just a laid-back but paced kind of mystery solving, Texan-style. To listen to "We Reserve the Right To Refuse Service To You" or "Ballad of Charles Whitman" is to hear a literate and alternative country singer. To read his writings is to read a crime writer approaching from the prairie—a writer who can craft a plot but wants to approach it from a different angle.
Kinky (the sleuth) manages to get tangled up various crimes and puzzles, but aided by a band of friends he calls the Village Irregulars, the Kinkster uses his brand of cowboy common sense to sort out the good from the bad, the innocent from the guilty without recourse to putting black and white hats on them. Kinky often figures out cases (for which he rarely gets paid) by talking things through with his cat—who is singularly unimpressed with his powers of deduction—and getting one of his regular Watsons to do the research. In short, he's a guitar-playing, Stetson-wearing, cigar-smoking Poirot.
Many cases are not given to him; they tend to be thrust upon him. For instance, in Musical Chairs (Morrow, 1991), someone is killing the members of his old band. He has to find the killer in double quick time. In God Bless John Wayne (Simon & Schuster, 1995) he aids his friend Ratso to find his birth-mother and thrust them both in murderous company. It is rare that anyone actually hires him for his sleuthing skills—he just seems to stumble into things that as a quiet, thoughtful cowboy, he could do without. The big problem (from the point of a country singer) is that along with whatever fame you gain from singing and strumming goes the thought that you are either big enough to employ people to sort out mysteries or you are small enough to handle things yourself. Kinky finds himself wedged in between.
A majority of the books are set in urbane Greenwich Village or Manhattan, but some have taken him elsewhere—Hawaii, the Texas Hill Country and once (in Roadkill; Simon & Schuster, 1997) on a tour with Willie Nelson. Regardless of the location, however, the writing is considered, the humour is constant and the plot is complete, logical and entertaining. Since Kinky is writing about Kinky, the thoughts, reactions and observations are both charming and realistic. He has reduced the amount of fanciful incidents and maximised the real-life experiences and feelings.
As befits a laid-back Texan, Kinky has one manner of writing that is unusual. He sometimes erupts into a witty and irrelevant monologue on any subject that may enter his cigar- and coffee-clouded mind. He doesn't do this often but when he does, it is highly entertaining every time. You might think that this would interrupt the narrative flow but somehow it never does. I think its function is to give an insight into Kinky's thought processes and, therefore, his personality. It works.
Any book is recommended to the novice "Kinkstah" reader, but one that typifies the style, pace and skill of the author is Armadillos and Old Lace (Simon & Schuster, 1994), set in Kerrsville, TX. On holiday from a cold New York, Kinky visits his folks and helps out at the Summer Camp they run. Unfortunately, he is drawn in a hunt for a serial killer who's resourcefully killing little old ladies. His singing talents are used around the campfire (like it or not, anyone who hears the song "Old Ben Lucas" will always catch themselves singing it later!).
To a crime reader from England like me, Kinky is a refreshing change from regular, hard-bitten gumshoes and cops. The crimes, when abhorrent or upsetting, are treated with respect and empathy. Anything else, including Kinky's own methods, has a witty and incisive humour that is hard to beat. He successfully transmits a comfortable Texan feel in his writing. The music, also, translates well—it was only after reading a few of his novels that I bought one of his albums—and I wasn't disappointed. A better example of Lone Star character would be hard to find.
For further information and inspiration, look to Fruit of The Tune Music, Inc. Or go on the web and try kinkyfriedman.com. I will state I'm not paid by Kinky or his business associates in any way—so there!
---
Too Many Notes, Mr. Barnard?
by Robert Barnard (Leeds, England)
Music has been central to my life—but to the leisure portions of it. The stupidest decision I ever made (but what can you expect of a nine-year-old?) was to give up piano lessons, given a choice by my parents. But, on consideration, it is possible that music has been more important as an amateur's love than it would have been if I had ever become good enough at any instrument to be a professional musician. Music, as many of your readers will know, was also important to Agatha Christie, and she toyed with the idea of a career as a professional singer. My bathroom tells me I could have been an operatic baritone, but Agatha's singing teacher, more truthfully, told her that her voice was too weak for a stage career.
So we both went on to other things. Christie seldom used music in her books. She preferred, as clues and backgrounds to her books, households and everyday areas of life that all or most of her readers would be familiar with (cups of hot chocolate, extra coffee spoons in the saucer, unwatered pots of violets). I, on the other hand, like characters with immense egos, and I learnt a lot about such people in my everyday life as a university teacher from the people I taught with. Many of them could have transferred quite well to, and felt at home in, the operatic stage, which breeds ego monsters in abundance. I have never mingled with opera singers, or even been backstage, but I managed to people an opera company in Death on the High C's (Collins, 1977) and to touch on a festival production of an imaginary Donizetti opera (Adelaide di Birckenhead) in Death and the Chaste Apprentice (Collins, 1989), a book which would solve the problems for present-day opera managements of the castrato singing parts, if only those managements would act on the hint.
Being an amateur I can parade my own opinions more shamelessly than a critic who might be called to account for unorthodoxies. I can, in a throwaway line, question the current craze for Mahler, or cast doubt on the value of the emotional dribblings of a Tchaikovsky. However in the novel of mine in which music plays the biggest part, Dead, Mr. Mozart (Little UK, 1995), one must not take Mozart's opinions necessarily as my own. As a great composer he is inevitably scornful of lesser talents, whereas I have a tenderness for the minnows, and a great love of his bête noire Rossini: where else in music can one find such exhilaration, such effervescence, as in the wonderful big ensembles of La Cenerentola? (Perhaps I should explain, since Rossini was born the year after Mozart's death, that my Mr. Mozart has grown old, and is living in England which he despises for not appreciating him as his native Austria would have.)
In my next book, The Mistress of Alderley, music plays an important though not a central role. The book centres round a retired actress who is mistress of a fine house, and mistress too of a supermarket tycoon: mistress rather than partner, because he is still married and the actress functions as a sort of weekend wife. She has given up the stage quite happily and misses it, she is convinced, not a jot, but the stage still obtrudes through the career of her eldest daughter. She has a voluptuous voice and a sexual voracity reminiscent of the Kennedys. She is tipped to be that thing we are so much in need of, a Verdi soprano, large, generous, thrilling of tone. She is performing in Leeds, close to Alderley, and we see her during the rehearsal period, and her men, though we do not see the rehearsals themselves. Only later do we see the actual performances, since it is on the first night, not far from the theatre, that a murder takes place which may or may not be connected with the Verdi opera she is singing in.
Better get this opera right. One advance notice has already said it is Il Trovatore and ransacking that opera for clues will be no use at all. It is in fact La Forza del Destino—in Milanov's day a favourite opera at the Met, though nowadays one would be hard-pressed to cast the central role of Leonora. It is unusual for Verdi in its construction, since the hero and heroine get separated at the end of the first scene, and only get reunited for a wonderful sing in the final trio of the opera. I should emphasize that, though opera lovers may particularly like the book, the opera is peripheral to the central situation of the woman whose status is ambiguous both socially and amorously: a lady of the manor who is yet not really a lady (though she has played plenty); a woman who has in her life a man who is neither her husband nor her partner, merely her regular lover. But in the background there is singing, and all the thwarted love, the suppressed women, the raging jealousies and undying hatreds which make Verdi operas so popular, and in an odd way relevant, today.
---
Robert Barnard is the winner of the 2003 Crime Writers Association Cartier Diamond Dagger for lifetime achievement. The most recent title in his series featuring Mozart, which he writes under the pseudonym Bernard Bastable, is Too Many Notes, Mr. Mozart.
---
Music and Mystery
by Cynthia Harrod-Eagles (Northwood, Middlesex)
When I embarked on my first mystery novel, it was unknown territory for me. I had written contemporary fiction, historical, romance and horror/fantasy, but mystery? I'd never even been a mystery reader, so I knew nothing about the genre. Still, I thought I'd try writing a detective novel just for fun. We do that kind of thing when we're young.
There is an adage "write about what you know." I decided that, as I knew nothing about murder mysteries, at least I could set it in a familiar background. I chose the music world.
I grew up in a music-loving family. We were not well-off, so music lessons or concert-going were not possible, but my father had a gramophone and a cherished collection of classical records. By the time I was ten I knew them all intimately, including every vinyl imperfection. In the third movement of Tchaikovsky 5, for instance, there was a scar on the record that gave three loud, rhythmic clicks. Even now, when I hear the symphony in concert, I still feel a sort of affront at their absence.
Instrument lessons might cost money, but singing was free. We all sang at the least provocation—I still do. At Christmas Father would put on the records of Messiah, and we would sing along to it. I took the soprano one and tenor parts, my sister mezzo, Mother alto and Father bass. In the musical interludes we all pom-pommed and diddle-iddled madly to cover the orchestra.
In later teenagehood, after-school jobs at last put money in my pocket to pay for concerts. I developed a passion for the London Symphony Orchestra. I joined the LSO Club, which gave me access to their rehearsals, and so I met the musicians—more godlike than film stars to me! I was young, shapely and blonde, which may have had something to do with how quickly my friendships developed with this virtually all-male band! I began to follow other orchestras, too, and by the time I went to university, I was not only attending London rehearsals, I was travelling with them "up country" and abroad as well.
It was a wonderful way to see the world. I paid my own fare and hotel costs, but being booked in with an orchestra gave me the advantage of the group rate. And I never had to pay for a meal or a drink. Musicians spend so much time together they get bored to tears with each other's conversation. It's worth the price of a meal to them to have someone new to talk to.
In that way I saw places I could never have afforded to visit otherwise: Germany, Holland, Spain, Greece, Australia, Hong Kong, Taiwan, Bermuda, the USA. I travelled with the LSO, the LPO and the RPO, and some chamber orchestras. I knew the backstage layout of major concert halls all over the world. I knew so many people in the music business they were pretty well my family. I knew their scandals and I kept their secrets. I felt like a musician myself.
So, needing a background for my murder mystery, it was natural to turn to the music world. And when I did my research with London's Metropolitan police force, I found that there was a curious similarity between the police and musicians.
Both do a job which is incomprehensible to the general public, and inhabit a closed world, complete with the shared assumptions, esoteric language, in-jokes, mutual dependence, gossip and cliques that are typical of the state. Both groups work unsocial hours—very long hours—which takes them away from their families and impedes normal family life. The divorce rate in both cases is high.
Police and musicians equally live by their skills and on their wits; they have to perform—and perform well—on demand. Both work under enormous stress, and like to wind down afterwards by drinking with colleagues who understand, as outsiders never can, what they have gone through.
And then there is the personal relationship problem. It is hard, near impossible for female musicians to date: they work the wrong hours for non-musicians, and dating another musician is like being naked in a goldfish bowl. Everyone knows everyone else, and they have nothing to do in the long periods of waiting around but gossip.
Male musicians, on the other hand, being away from home and unaccountable for so much of the time, are constantly tempted to have affairs with their colleagues, with music students, with fans and hangers-on; and getting away with it is ludicrously easy for the married ones.
Exactly the same problems face policemen and women.
So it suddenly made exquisite sense for my detective, Bill Slider, and my musician, Joanna, to fall in love, to begin an affair, and to discover, through their understanding of each other's lives, that they needed to be together always. Nature, it seemed, was copying art—or at least ratifying it.
The music world and the police world are alike in so many ways that it turned out to be a happy thought when I made my first murder victim (in Orchestrated Death) a classical violinist. That first book led to a series, and Bill and Joanna have worked out their personal problems to a background of mayhem and corpses, rehearsals, concerts and tours. Synchronising two impossible work schedules may be difficult for them, but putting music and mystery together was serendipity for me!
---
The Bill Slider Mysteries in order are Orchestrated Death, Death Watch, Necrochip (US title Death To Go), Dead End (US title Grave Music), Blood Lines, Killing Time, Shallow Grave, Blood Sinister and Gone Tomorrow. Visit the official website at billslider.com.