Volume 22, No. 2, Summer 2006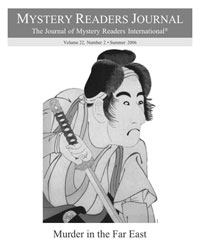 Buy this back issue! Available in hardcopy or as a downloadable PDF.
TABLE OF CONTENTS
Japanese Mystery Fiction: Adaptation Gives Way to Originality by Mark Schreiber
Sidebar: Interview with Gavin Frew by Mark Schreiber
Judge Dee by Roberta Alexander
A Yen for Mystery: Four Japanese Women by John Apostolou
The Oriental in American Mystery Fiction: Mr. I. A. Moto of Japan, by John P. Marquand by Colleen Barnett
A Call for a Vietnamese Gumshoe by Todd Drucker
Christopher West and China in the 1990s by Mary Helen Becker
Translating Edogawa Rampo by Ian Hughes
The Death Ceremony by Peter A. Prahar
Murder Most Rare: Far East Fact Crime by Cathy Pickens
Meeting the Detectives by Chris Ryal
AUTHOR! AUTHOR!
India Ink by Charles Benoit
An Interview with the Author by Colin Cotterill
Forbidden Knowledge by Barry Eisler
Playing Dress-Up with White Snake by Christa Faust
Basho and Me by Dale Furutani
Lesson Learned: Never Say Never by Patricia Harrington
The New World Order Shifts To… The Pacific Rim by G. Miki Hayden
A Tale of Two Grandmothers by Naomi Hirahara
A Scotsman in China by Peter May
I Came to Casablanca for the Waters by Jake Needham
Anita Ray: An Alter Ego by Susan Oleksiw
Murder, Yes—But Not in Ancient Japan! by I.J. Parker
So Far Away, Yet So Close to Home by Laura Joh Rowland
The Difficulty of Making Stuff Up About Asia by Eric Stone
Seeing the World by Mike Wiecek
COLUMNS
Mystery in Retrospect: Reviews by John Apostolou, M. Wayne Cunningham, Peter A. Prahar
The Children's Hour by Gay Toltl Kinman
In Short by Marv Lachman
British Crime Fiction by Philip Scowcroft
MRI MAYHEM by Janet A. Rudolph
Members in the News
Mystery Bookstores and Mail-Order Catalogues
Mystery Magazines
Mysterious Happenings
Awards
For Your Information
Letters to the Editor
From the Editor's Desk by Janet A. Rudolph
---
Forbidden Knowledge
by 
Barry Eisler (Menlo Park, California)
The first two books in my John Rain thriller series are set in Japan, and the character, a freelance assassin whose specialty is making death look like "natural causes," is half Japanese. So you might have guessed from my writing that I have some sort of affinity for Japan… and you'd be right.
My attraction to the country began with college karate and judo, and deepened when I was assigned Japan as my area of responsibility at the CIA, an assignment that included fulltime language study. I first visited the country in 1991, and when I got off the train from the airport at Tokyo's Ueno station it was metropolitan love at first sight. Since then, my connections with Japan have only grown stronger: I've lived there for three years, one in Tokyo and two in Osaka; earned my black belt at the Kodokan International Judo Center; had my books translated into Japanese and done two book tours there; and visited on business, and then for research and promotion of my novels, probably 25 times.
What's strange, and probably fortuitous, is that I didn't move to Japan with the intention or even idea of writing a novel there. I actually just went to train in judo at the Kodokan, to learn Japanese, and to experience first-hand a country and culture that I found fascinating from afar. I think what happened is that living in Tokyo catalyzed and expanded on a number of notions that were already lurking in my unconscious, and that's what brought the Rain books to life.
I say "catalyzed" because I have a long-standing interest in what I like to think of as "forbidden knowledge:" methods of unarmed killing, lock picking, breaking and entry, spy stuff, and other things that the government wants only a few select individuals to know. When I was a kid I read a biography of Harry Houdini, and in the book a cop was quoted as saying, "It's fortunate that Houdini never turned to a life of crime, because if he had he would have been difficult to catch and impossible to hold." I remember thinking how cool it was that this man knew things that people weren't supposed to know, things that gave him special power. Anyway, since then I've amassed an unusual library on some of the foregoing and on other esoteric subjects. I think a lot of this must have been building up in my mind like dry tinder, waiting for the spark that life in Tokyo came to provide.
I say "expanded" because it was my first-hand introduction to the city, with its jazz clubs and whiskey bars; its back alleys; its wonderfully varied illumination; and its tastes and smells, that provided the firm ground in which those pre-existing interests could find purchase.
So what is it about Japan? Quite a few things, I suppose. The country is obviously good fodder for thriller writers. There's an awful lot of corruption in Japanese business and politics, corruption of the sort that can make a great setting for a spy story. For example, I got the idea for Rain's specialty—death by "natural causes"—from an article by Forbes Tokyo Bureau Chief Benjamin Fulford (who also was the inspiration for Rain Fall's Franklin Bulfinch, by the way) in which Fulford mentioned rumors about a squad of yakuza killers who were adept in killing people and making the deaths look like accidents, suicide, or other non-murderous causes. In fact, Fulford's reporting, as well the extensive insights into Japanese corruption in Alex Kerr's book Dogs and Demons, provided wonderful backstory for both Rain Fall and Hard Rain. Using these accounts, I was able to create a realistic, even factual, setting, into which I injected fictional characters. In a sense, in the Rain books I proposed a fictional explanation for real life events, again, a trick to which Japan, with all its Byzantine corruption, nicely lends itself.
There's also the feeling, the life force, of Tokyo itself—the size, the density, the incredible variations of locales (where else could you find a teen-caffeinated street like Takeshita-dori cheek by jowl with the elegance of Omotesando?). The city is so damn atmospheric, so full of contrasts… Can I quote John Rain by way of illustration? Here he's describing Asakusa, part of old Tokyo, the downtown:
I paused before the Sensoji Temple and looked back at the compound. Around me whirled the general din of excited tourists, of hawkers exhorting potential customers "Hai, irasshiae! Hai, dozo!" of squealing schoolchildren being mobbed by the legions of pigeons that make the complex their home. Someone was shaking an omikuji fortune-telling can, full of hundred-yen coins deposited in the hope of good tidings. Incense from the giant brass okoro wafted past me, simultaneously sweet and acrid on the cool air. Clusters of people stood around the censer, pulling the smoke onto those parts of their bodies they hoped to cure with its supposed magical properties. One old man in a fishing cap gathered great heaps of it onto his groin, laughing with gusto as he did so. A tour guide tried to arrange for a group photo, but waves of passersby continually obliterated the shot. The giant Hozomon gate herself stood silent through it all, brooding, dignified, inured by the decades to the clamor of tourists, the frantic photographers, the guano amassed on her eaves like wax from immolated candles.
I headed west. The din receded, to be replaced by an odd, depressing silence that hung over the area like smoke. Outside the tourist-fueled activity of Sensoji, it seemed, Asakusa had been hit hard by Japan's decade-long decline.
I walked, my head swiveling left and right, logging my surroundings. Hanayashiki amusement park sulked to my right, its empty Ferris wheel rotating senselessly against the ashen sky above. The esplanade beyond was given over mostly to a few pigeons that had wandered there from the nearby temple complex, the occasional flapping of their wings echoing in the surrounding silence. Here and there were small clusters of homeless men smoking secondhand cigarettes. A mailman removed a few envelopes from the back of a postal box and hurried on, as though vaguely afraid he might catch whatever disease had decimated the area's population. The owner of a coffee shop sat diminished in the back of his deserted establishment, waiting for patronage that had long since vanished. Even the pachinko parlors were empty, the artificially gay music piping out of their entranceways bizarre and ironic.
Rain has been moving around since the first two books, and has brought his unusual worldview to bear on other parts of Asia, including Bangkok, Hong Kong, Macau, Manila, and Phuket, and to the wider world, too, including Barcelona, New York, and Rio. I love seeing the world through his eyes, and hope you will, too. If you'd like to learn more, please stop by my website: www.barryeisler.com.
---
After graduating from Cornell Law School in 1989, Barry Eisler spent three years in the CIA's Directorate of Operations, and then three years in Japan, where he earned his black belt at the Kodokan International Judo Center. The Rain books, featuring half-Japanese, half-American freelance assassin John Rain, have won the Barry Award and the Gumshoe Award for Best Thriller of the Year; have been translated into nearly twenty languages; and have been optioned for film.

---
I Came to Casablanca for the Waters


by Jake Needham (Bangkok, Thailand)

When I am back in the United States these days and my place of residence comes up in a conversation, I am frequently asked—I note generally in a tone laden with wariness and suspicion—why in the world I am living in Bangkok. Unlike Rick when he was asked how he came to be in Casablanca, I can make no claim to being misinformed. I knew exactly what I was getting into.

I have lived in Asian cities now for something like twenty-five years: first as an international lawyer, later as a journalist, then as an accidental screenwriter, and now as a crime novelist. Most Asian cities are driven by enough financial passion and commercial energy to make Wall Street seem to be a resort for the idle and lethargic. Bangkok, on the other hand, is far closer to the Asia of Joseph Conrad than it is to the Asia of Li Ka-shing.

There isn't much money to be made, so there aren't many American expats living in Bangkok, at least not many who use their real names. Like Casablanca , it is out of the mainstream, out on the edge of the real action; and like Casablanca, it is a magnet for the lost and misbegotten, a haven for people on the lam, whether from the law or from themselves.

I first visited Bangkok in the '70s when it really was Casablanca. Saigon was on the verge of collapse and there was real fear in the streets that Bangkok might not be far behind. Thais, at least those who had something to lose, started sending their families out of the country, mostly to Europe. That response to the debacle in Vietnam seems odd now, quaint even, but at the time, at least for Thais, it seemed both sensible and urgent.

The foreign community back then was another matter altogether. They were running the other way, into Bangkok rather than away from it, chiefly because it looked like there might be a buck or two to be made out of the chaos spinning off all those wars just over the borders in Cambodia, Laos, and Vietnam. For Thailand in 1975 think Iraq in 2006, but with less blood, more women, and really good food. You wouldn't be far off.

The legacy of those years of war and upheaval is still apparent in the make-up of Bangkok's foreign community today. I have always thought there must be some kind of international network devoted to coaxing social rejects and dropout cases worldwide into coming here, because come they do. By the thousands, they walk away from third-shift jobs in places like Los Angeles, London, Berlin, and Toronto, pack what they have, buy a cheap airline ticket, and make their way to the Land of Smiles.

Some are looking for a cheap tropical paradise; others think they've joined a nonstop sex orgy; but almost every one of them is hoping in some way to make a fresh start on a life that probably has had very little to recommend it so far. Many of these refugees from reality probably couldn't have located Bangkok on a map before they decided it was the place for them, maybe they still can't, but now Bangkok had become their last, maybe their only hope.

In the empty hours it is this army of the dispossessed that takes control of Sukhumvit Road. Tuk-tuks, little three-wheeled motorcycle taxis, fly up and down the street most of the night ferrying carousers between the two clumps of bars that anchor the neighborhood: Nana Plaza on the west and Soi Cowboy about a mile to the east. They are all there: the lonely, the frightened, the guilty, the lost, the vulnerable, the depressed, and the psychotic. Soaked with sweat, they rush back and forth from one bar to another, reeking of that peculiarly sour, metallic odor habitually given off by the emotionally overmatched and underachieving. It is this floodtide of the adrift and abandoned that makes the hours after midnight some of the city's busiest.

Back in the '70s, a foreign law firm operating in Bangkok offered me a job. I thought the whole idea of it was nuts and fled the place as quickly as I could. Why in the world, I asked myself then, would anybody want to live in a city like Bangkok. Why indeed.

Over the years I returned to Bangkok from time to time, but little of my earliest impressions of the city changed. I lived in Sydney and Hong Kong, engaged in various commercial pursuits around Asia, became a regular commentator in the newspapers and magazines of the region, and even wrote a couple of screenplays just for the fun of it. Then somebody paid me an embarrassing amount of money for one of those screenplays and what had been a modest distraction in my life became its principal pursuit. In the early nineties, that odd happenstance led me to the great watershed of my life.

HBO recruited me to produce a movie being made from a screenplay I had sold them. It was to be filmed in Bangkok, and since I lived in Asia and presumably knew something about it, they thought it sensible to add me to the army of so-called producers that every movie seems to drag around behind it these days. Regardless of HBO's reasons for putting me on the payroll, however, I am grateful beyond measure to the fates that they did.

The woman who became my wife, a Thai-born and British-educated lady—I can only thank the Lord that it wasn't the other way around—was doing a short stint at the time as the editor of the Thai edition of Tatler magazine. She came out to the movie set one day to interview me and a year later we were married. We now have two sons and have lived in Bangkok ever since.

And that, gentle reader, is how I came to be resident in a place that most Americans seem to think of as an adult Disneyland for the dodgy and the sleazy, only perhaps with better food. Aren't you disappointed?

But enough about me. Let's get straight to what I know is really on your mind right now.

I have come to expect, even in a perverse way to look forward to, the inevitable track that all discourse with my fellow Americans seems to take when they learn that I am living in Bangkok. Instead of expressing curiosity about my life in a distant and exotic city that I call home, my interlocutors seem far more intent on telling me what they think of Bangkok. Of course, very few Americans seemed to know much of anything about any place that is not America, but still it surprised me that I hardly ever meet anyone back in the United States who has anything at all to say about Bangkok, other than on one of two topics.

Food is naturally one of those topics. Everyone claims to love Thai food. Sending out for Chinese is cheap. Sending out for Thai seems somehow a lot hipper. Of course, most Westerners have no real idea what they are actually eating in either case, but Thai food is both cheap and hip, so how can you beat that?

The other topic, of course, is sex. Bangkok is inexorably intertwined in most people's minds with stories they have heard somewhere, although few I notice will admit to remembering exactly where, of an unabashedly dissolute life and the easy availability of free sex. Well, perhaps not exactly free, but certainly pretty inexpensive sex, at least by world standards. Thai sex is a little like Thai food, cheap but with a kind of exotic style to it. Can't beat that combination in any context, can you?

With all that going for it, you'd think then that the idea of living in Bangkok would be a pretty enticing idea to a lot of people, wouldn't you? You might think that, but you'd be wrong.

A couple of times I tried joking that, well, a man could sure make a lot worse choice than taking up residence in a city that is internationally famed for food and sex, but when I saw what solemn expressions that crack generally engendered in most Americans, I swiftly eliminated it from my repertoire. Maybe the suggestion that food and sex are actually significant parts of life makes Americans uncomfortable. Maybe I ought to have more friends from France.

Anyway, the inevitable view people express when they find out that I live in Bangkok is something I have gotten used to. Oh, the place is no doubt mysterious and interesting, people murmured, but yet… somehow it is still a city where a lot of people go who aren't particularly nice.

On the whole, that perception probably has more substance to it than I would really like to admit. Still, I suppose it does make Bangkok a pretty good place to be a crime novelist. I certainly never lack for inspiration.
---
Jake Needham is the author of the just-published novel The Ambassador's Wife and three other contemporary crime novels set in the cities of Asia: The Big Mango, Laundry Man, and Killing Plato. Called "Michael Connelly with steamed rice" by the Bangkok Post, his books have sold over 70,000 copies in the Asian countries where they are distributed and have been translated into three languages, but they are not sold in North America. You can learn more at www.JakeNeedham.com.
---
So Far Away, Yet So Close to Home


by Laura Joh Rowland (New Orleans, Louisiana)

I set my mystery series in historic Japan because I wanted to explore a place that was distant in space, time, and culture from my own. Little did I then realize that the distance between two widely spaced points can be a very short line, and the line between author and story is quite blurry.

We shall not cease from exploration
And the end of all our exploring
Will be to arrive where we started
And know the place for the first time.

T.S. Eliot said it better than I can, but I won't let that stop me from describing how my own life keeps cropping up in my novels about a samurai detective named Sano Ichiro. He lives in Edo, the biggest city in 17th century Japan, which was famous for its artists, entertainers, sexual excesses, criminals, and corrupt politicians. I live in New Orleans, the biggest city in Louisiana, which is famous for… Well, you get the idea.

When I was researching the Yoshiwara pleasure quarter, the licensed brothel district that appears in many of my books, what I found struck a familiar note. I knew those narrow streets filled with music, taverns, noisy revelers, and parades. That "nightless city" where the party never ends and the very air breathes forbidden thrills. It was New Orleans's French Quarter, transported around the world and back in time 300 years. Read between the lines of my scenes set in Yoshiwara, and you'll see (and smell) Mardi Gras on Bourbon Street. I dare say the courtesans of Yoshiwara couldn't hold a candle to some New Orleans drag queens.

Sometimes major events taking place in my time intrude on Sano's. After the September 11 terrorist attacks, I heard about authors who'd had to rewrite their books because life in New York and in other contemporary American settings they used had changed so dramatically. I thought how fortunate I was to have set my own stories in the past, which couldn't be touched by present-day tragedies. When the Iraq war began, I thought of my books as a haven insulated from the violence.

That's what I thought, until I noticed a strange thing about my recent work. The political strife between two rivals, Chamberlain Yanagisawa and Lord Matsudaira, had escalated from covert attacks in The Pillow Book of Lady Wisteria (St. Martin's, 2002) and The Dragon King's Palace (St. Martin's, 2003) to outright war in The Perfumed Sleeve (St. Martin's, 2004). The Edo portrayed in The Assassin's Touch (St. Martin's, 2005) bears an uncanny resemblance to Baghdad after the American invasion. I had unconsciously mirrored recent facts in my historical fiction.

Sometimes my books are eerily prophetic. In The Assassin's Touch, I described a bad rainy season that flooded Edo. A month after the book was published, Hurricane Katrina hit New Orleans. My house got two and a half feet of water in the lowest level. The wind blew out a big hole in the roof. Many of my worldly goods went for a serious swim. The day before the storm, my husband Marty and I and our three cats had headed north, to stay with our families in Michigan. There we anxiously waited for word on when it would be safe to go home.

Like everyone else from New Orleans who evacuated for the hurricane, I thought I would be gone, oh, a few days. I ended up living in Michigan for almost four months. At first I spent my time sitting glued to the TV, watching the horror story unfold in New Orleans; on the phone to insurance companies; and on the Internet, trying desperately to track down my friends. Some were scattered across the country, others trapped in the flooded city. Then came the next chaotic phase, when Marty was called back to his job at Lockheed Martin Space Systems. We launched a frantic effort to get our house repaired enough to live in before he ran out of temporary places to stay. That involved cleaning tons of wet, moldy, ruined stuff out of our house, hiring an army of contractors to repair the damage, and fighting a nervous breakdown. All the while, as I watched autumn turn to winter in Michigan, I knew that when we did return permanently to New Orleans, we would find friends gone, our neighborhood a ghost town, and life altered beyond recognition. Those were some of coldest, darkest days I've ever known.

To take my mind off my troubles (and because I need to earn money to pay the contractors), I began writing the twelfth book in my series, tentatively titled The Snow Empress. In it, Sano and his wife Reiko and some friends head up north in the winter, to the island of Ezogashima (now known as Hokkaido) to sort out some problems that include a murder. Sano and Reiko's young son has been kidnapped and sent into the middle of all the trouble. Those are some of the coldest, darkest days they've ever known.

Now I'm back in New Orleans, with Sano and company, writing their story. I'm getting used to living in the construction zone that is my house, in the trash-heaped, mortally wounded, but still beautiful city that is struggling to rise again. I'm also getting used to the fact that Sano and I live in parallel universes. Never the two shall meet, but what happens in mine reflects in his. With each new book I set out to explore 17th century Japan. Each time I arrive back in my own territory. And I know my own world in a way that I never would had I not written it into my books.
---
Laura Joh Rowland's work has been published in 13 foreign countries and nominated for the Anthony Award, the Hammett Prize, and the Barnes and Noble Discover Great New Writers Award. Her latest book is Red Chrysanthemum (St. Martin's, Nov 2006).
Buy this back issue! Available in hardcopy or as a downloadable PDF.