Volume 20, No. 4, Winter 2004-05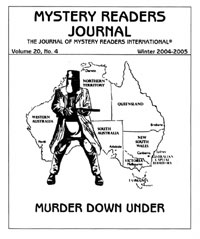 Buy this back issue! Available in hardcopy or as a downloadable PDF.
TABLE OF CONTENTS
Australian Crime Fiction by Jeff Popple
Patricia Carlon, Woman of Mystery by Sue Feder
Arthur W. Upfield's Detective Inspector Napoleon Bonaparte by Katrin Fischer
Mary Fortune by Lucy Sussex
Crime History Down Under by Cathy Pickens
AUTHOR! AUTHOR!
Who You Are Is Where You Are by Gordon Aalborg
Turning to Crime by Goldie Alexander
The Many Mysteries of Tasmania by Carmel Bird
A Criminal Pursuit by Lindy Cameron
Stolen Children and Killer Crocodiles by Caroline Carver
Villains, Villains, and More Villains by Sandy Curtis
Best of Both Worlds by Stella Duffy
The Birth/Berth of Antarctica's Frozen Chosen by Hazel Edwards
On Phryne Fisher by Kerry Greenwood
Guest Disappearance by Tim Heald
Tango Down Under by Dorothy Johnston
Crime Scene Down Under by Esther Mckay
As Far "Down Under" As You Can Get by Carolyn Morwood
You Can Take the Girl Out of New Zealand… by Chris Niles
The Worm at the Heart of the Rose by Alex Palmer
A Peep at Melbourne by Leigh Redhead
A Nice Place To Do Crime by Peter Temple
My Life of Crime by Dave Warner
COLUMNS
Mystery in Retrospect: Reviews by Carol Harper, Alice Duberry, S. Alden Reilly, Mary Helen Becker
In Short: Brief Crimes Down Under by Marvin Lachman
Just the Facts: Death Imitates Art by Jim Doherty
Deadly Audiobooks Down Under by Steven Steinbock
The Children's Hour: Down Under by Gay Toltl Kinman
Murder Down Under: The Contribution of British Authors by Philip Scowcroft
MRI Mayhem by Janet A. Rudolph
Letters to the Editor
From the Editor's Desk by Janet A. Rudolph
---
Australian Crime Fiction
by Jeff Popple (Conder, Australian Capital Territory)
The Australian crime fiction scene has gone through incredible change over the last twenty years or so. When I started regular crime reviewing for the Canberra Times newspaper back in 1982 Peter Corris was virtually a lone figure on the mean streets of contemporary Australian crime fiction. His series about Sydney PI Cliff Hardy, which started with The Dying Trade in 1980, was one of the few examples of local crime writing then available to readers. The progressive success of the early Hardy novels, however, sparked a wave of enthusiasm for locally set Australian crime fiction and in the late 1980s publishers quickly signed up a number of authors to satisfy that demand. Unfortunately a lot of the resultant crime fiction, with some obvious exceptions such as Marele Day's Claudia Valentine series, was of mediocre quality and many of the authors disappeared from view after a couple of books. As a result Australian crime writing stagnated slightly in the early 1990s, but since then has enjoyed a resurgence, in both numbers and quality, and is currently in a very healthy state with an impressive array of good authors for readers to choose from.
Few of the authors from that initial boom in the late 1980s are still engaged in the genre. Peter Corris is of course still going strong, and earlier this year produced the 26th book in his Cliff Hardy series, The Coast Road. A good, tough tale about drug dealing and teenage prostitution, it showed that Corris, and Hardy, had lost neither their verve nor their sharp eye for social observations.
Another veteran still writing is Jon Cleary. The now 86-year-old Cleary wrote his first novel in the 1940s and enjoyed considerable success in Britain as a writer of international thrillers, including winning the 1974 Edgar for Peter's Pence, before returning to Australia in the 1980s and continuing his series, first started in the 1960s, about Sydney police detective Scobie Malone. Late last year the release of Degrees of Connection, the 20th Malone novel, reportedly marked the end of the series with Cleary claiming that in the future he will concentrate on penning romantic sagas.
Recently Robin Wallace-Crabbe, who enjoyed some moderate success in the late 1980s and early 1990s under the nom de plume of Robert Wallace, returned after a ten-year hiatus to crime writing with a new entry, The Forger, in his series about Paris-based art forger Essington Holt. It was a leisurely-paced thriller that was more interesting for the numerous sketches scattered throughout the book than for its plotting.
Corris, Cleary and Wallace-Crabbe all belong to the tougher end of the crime fiction spectrum and this is typical of Australian crime writing in general, which has tended to steer away from cosy "whodunnits." With a couple of notable exceptions, genteel amateur detectives have been thin on the ground with tough cops, crooks and private eyes being the protagonists preferred by most local crime writers. Jennifer Rowe wrote six very good books in the 1990s in her series about amateur detective Verity Bird, and two mysteries featuring police detective Tessa Vance, but since 1998 has been too busy writing extremely successful fantasy novels for younger readers, under the pseudonym of Emily Rodda, to return to crime.
More recently Dorothy Johnston has provided a literary slant to the amateur detective scene with her two novels, The Trojan Dog and The White Tower, about Canberra detective Sandra Mahoney, and Emma Darcy has contributed a couple of light, romantic whodunits. One author who is often unfairly overlooked is Carolyn Morwood, who is published in England under the Women's Press banner. Her two novels featuring professional female cricketer Marlo Shaw, An Uncertain Death and A Simple Death, are terrific examples of the suburban mystery novel, as is her debut mystery The Blessing File.
Kerry Greenwood has also recently joined the amateur detective ranks with Earthly Delights, the first book in her new series about Melbourne baker and reluctant detective Corinna Chapman. Greenwood is far better known, however, for her
delightful series about the 1920s adventuress Phryne Fisher. The fourteen books in this bubbly series are pleasant and enjoyable and are underpinned by some interesting research on 1920s Australia, but are usually loosely plotted with only minor mysteries.
Another Melbourne author who combines stylish writing with criminal pursuits of the tougher variety, and some good dollops of dry humour, is Shane Maloney, probably one of Australia's best crime novelists. His series of books, set in the 1970s and '80s, about political minder Murray Whelan, are fast-paced and witty, and his ironic observations on politics and life are funny and accurate.
Of the more hard-boiled writers, Peter Temple is clearly the leader of the pack. His seven novels to date are all consistently very good and have won a record four Ned Kelly Awards for excellence in Australian crime writing. Four of his books have featured Jack Irish, a disgraced lawyer and habitual gambler who has fallen on bad times and now earns a living finding people who do not want to be found. They are slickly written and exciting tales and, along with his two standalone crime novels, An Iron Rose and Shooting Star, paint an evocative picture of the rain-swept streets of Melbourne. Temple has also written a terrific international thriller, In the Evil Day, about dark deeds and old secrets set in England and Europe.
Another multiple Ned Kelly Award winner is Andrew Masterson, who has won two awards for his books about Joe Panther, a heroin dealer and occasional investigator who thinks he is the Messiah. They are hard, dark books and are probably not for those who are easily offended. More recently, Masterson has also written a very tense domestic thriller, Death of the Author, about how a very minor crime can lead to violence and mayhem. Peter Doyle has likewise won two awards and his novels about the Sydney crime scene in the 1940s and '50s are well worth reading. Another regular purveyor of hard-boiled thrills is J R Carroll, who has written a series of very tough novels about armed robbers, drug dealers and crooked cops. His latest, Blindside, contains the usual dishonest cops, high body count, double-dealing and gratuitous sex.
Crooked cops tend to dominate in Australian crime novels, with few traditional police novels being produced. Garry Disher's very good series about Detective Inspector Hal Challis is one of the exceptions and mixes solid plotting with strong characters and a good sense of place. Claire McNab also regularly provides new entries in her lightweight series about lesbian detective Carol Ashton, and 2003 Ned Kelly Award winner Alex Palmer has added depth and literary credibility to the police novel with her impressive first novel, Blood Redemption.
Like everywhere else, Australian crime writing has been influenced by the success of authors such as Patricia Cornwell and television shows such as "CSI." Forensic scientists are now frequently featured in crime novels, with Gabrielle Lord proving to be the most adept at incorporating convincing forensic detail into her books. Her Death Delights, about forensic scientist Jack McCann, won the 2002 Ned Kelly Award and is probably the best of her novels to date. Kathryn Fox also joined the fray this year with a very good debut novel, Malicious Intent, about Sydney forensic pathologist Dr Anya Crichton.
A lighter approach to forensic investigation is provided by former international model turned crime writer Tara Moss. So far she has released three books, the latest being Covet, featuring Makedde Vanderwall, who combines being a supermodel with studying for a degree in
forensic psychology. Unfortunately Makedde also has the unwanted knack of attracting psychotic killers and this gives her the opportunity to put her studies to good use. The first three books have attracted very good sales, but require a substantial suspension of disbelief, especially when it comes to Makedde.
Private eyes have proven to be more popular than official investigators in Australian crime fiction, and over the past twenty years there has been a regular stream of short-lived PI series. Apart from Peter Corris, the best-known exponent of the PI tale is Marele Day, who won a Shamus in 1994 for The Last Tango of Dolores Delgado, which featured Sydney PI Claudia Valentine. It has been almost ten years, however, since the last Claudia Valentine novel and Day's only recent venture into the crime arena was the 2001 short story collection, Mavis Levack, P.I. Day's success has encouraged other writers, and presently female PIs tend to outnumber their male counterparts. Some of the better female PIs around include Libby Cameron's lesbian detective Kit O'Malley and Cathy Cole's very engaging Nicola Sharpe who has appeared in Dry Dock and Skin Deep.
One of the more interesting PIs on the beat, however, is Caroline Shaw's Lenny Aaron, a pill-popping loner with a string of personal problems and a droll sense of humour. Also slightly odd-ball is Kirsty Brooks's Cassidy Blair, who works in an Adelaide video store and tries to pay off her mounting credit card bill by moonlighting as a PI. Blair fumbles her way through various cases and assorted romantic escapades, and is a younger and cruder version of Stephanie Plum, but not as funny.
Brooks's Cassidy Blair novels are unusual for their Adelaide setting, as the vast majority of Australia's crime writing is set in the large capital cities of Sydney and Melbourne, with the occasional drive into the suburbs or nearby resorts. Other large cities have also been used, most notably Brisbane and the nearby tawdry Gold Coast, but so far there has not been a strong regional component to Australian crime writing. There are signs, however, that this may be changing. The Inspector Challis books by Garry Disher are set in the sleepy beach towns of Victoria's Mornington Pennisula, and Lee Tulloch has recently commenced a promising new mystery series, The Cutting, set on the south coast of New South Wales.
Australia is also home to a string of authors who set their novels overseas. Probably prime among these is Barry Maitland who has enjoyed considerable success with his excellent series about London detectives Kathy Kolla and David Brock. The latest entry in the series, No Trace, has just been released locally and maintains the high standard of the earlier books. Colin Falconer has also enjoyed some success with his series about London DI Madeline Fox, as well as with his historical sagas. Another star on the international stage is Marshall Browne, who has enjoyed worldwide acclaim for his Inspector Anders books, set in Italy, and his engrossing 1930s German thriller The Eye of the Abyss. Recently Jane Goodall has also joined the list of Australian authors setting their books offshore with The Walker, which is set in 1960s London and was joint winner of the 2004 Ned Kelly Award for Best First Crime Novel.
Australia is also home to a reasonably active fan base. Although there is no regular crime fiction convention, crime panels do regularly feature as part of the larger literary festivals, which are held around Australia each year. Overseas authors regularly journey to Australia and enjoy well-attended signings. The Ned Kelly Awards for Crime Fiction have grown in popularity and recognition since their inception in 1997 and are now a regular feature of the Melbourne Writer's Festival. In the past Australia has also supported two very good crime fiction journals, Mean Streets and Crime Factory, but unfortunately both are now defunct.
In all, Australian crime fiction is in good health. The overall quality is probably the highest it has ever been, the current batch of authors contains a good mixture of seasoned veterans and some promising newcomers, and most readers will find something to their liking.
---
Jeff has been a life-long crime fiction addict and since 1982 has been the crime fiction reviewer for the Canberra Times. He has also contributed articles, reviews and interviews to a number of publications, including Deadly Pleasures Mystery Magazine, Mean Streets and Crime Factory.
---
On Phryne Fisher
by Kerry Greenwood (Footscray, Victoria)
I began to write mysteries because I was trying to get published—trying very hard, a soul-destroying, painful process which I wish never to repeat. The novel I had to sell was not a mystery but a historical novel and I had been hawking it around the publishers for four years. The only reasons I did not give up is that I am myself a very obstinate person. I submitted it to the Vogel Prize, a literary competition for first novels. One of the Vogel judges did not give me the prize but asked me to come and see her, and told me that she didn't want the historical novel but could do with a couple of mysteries. I agreed so fast that the words echoed off the wall and then sat on the tram going down Brunswick Street wondering what I had got myself into. I had never written a mystery before. I had been reading them since I learned to read but I had never written one and didn't have the faintest idea how to begin.
So I began with a character. If I have the protagonist, I reasoned, she could tell me what to do next. I had decided to place these mysteries in the '20s, in fact in 1928, because I had written a Legal History essay on the 1928 wharf strike, my father being a wharf labourer, and had done extensive work on 1928 from newspapers and interviews. I knew what she looked like. My sister Janet has a perfect '20s face and figure; small, thin, elegant, with black hair and pale skin and green eyes. At that time Janet had a bobby-cut, too. She looked just like a flapper. Then I needed a name. I had been looking at 1900 birth notices for some reason and a lot of them were Ancient Greek names — Psyche, Irene, Iris. These ladies (the nymph Psyche, Irene the Goddess of Peace and Iris the nymph of the rainbow) were far too respectable to be the sort of person I wanted my heroine to be, so I remembered Phryne, a courtesan in Ancient Greece, so beautiful that Apelles used her for his Aphrodite and so rich and notorious that she offered to rebuild the walls of Thebes as long as she could put a sign on them, "The Walls of Thebes; Ruined by Time, Rebuilt by Phryne the Courtesan." My kind of woman.
Her second name is derived elaborately as a scholastic joke. She is a Fisher of Men, as all detectives are. Her name also reflects the Grail Cycle Roi Pêcheur, the Sinner or Fisher King. I have always liked that absurd pun on Sin (pécher) and Fish. And there was a street in Paris called la Rue de la Chat qui Pêche which was a good place to find a gigolo — all of the information had come to me piecemeal from various sources. It was coagulating in my head as I sat on the tram and when I got off the tram in Melbourne I had the name of my heroine, Phryne Fisher, I knew what she looked like, and I was working on where she came from. I gave her a poor background to make her appreciate being rich, and a title so that she could not be
overawed by Society.
Because I wanted her to be a female wish-fulfillment figure, I wanted her to be like James Bond with better clothes and fewer gadgets. There was no female hero in the same vein as Leslie Charteris' Simon Templar, the Saint. In fact, as the Saint books were published in the same period of the '20s, I wanted to make her Simon Templar's younger, more level-headed sister. All I really did was take a male hero of the time and allowed her to be female. No one thinks it odd that James Bond has blondes and no regrets.
I only ever thought I would have two books published, so I tried to pack everything I wanted to say about female heroes into them. The modern women detectives are afflicted with self-doubt, neglect their diet, worry about exercise, think they may be growing fat as if fat was a disfigurement, and are generally afflicted with low self-esteem and guilt. I wanted a character without guilt, with boundless self-esteem, as a role model, perhaps. She was no challenge to invent. All I really felt that I actually invented was the name and the background. She blossomed from the moment I wrote the first line of Cocaine Blues and after the first five chapters I had no further control over her. I feel like I discovered Phryne, rather than invented her.
For the '20s, she's a bold creature but not an impossible one. None of things she does are out of the question for that brittle, revolutionary period. And, yes, Kerry Greenwood can fly a small plane (though I've only flown once in a Tiger Moth) and Kerry Greenwood can—or rather, has for the purposes of research—fired a handgun such as Phryne carries.
The research is essential to make the books convincing and besides I love original research. Historical novels walk a fine line. Too much detail and the reader is bored. Too little and it fails to convince. The ideal state for the reader is one where she trusts the writer to tell her everything she needs to know. Consider Maigret's Paris or Ellis Peters' Shrewsbury. And I find it essential for me to know what streets Phryne walks down. Fortunately a lot of Melbourne is still much the same as it was in the '20s. I use all the bits that are extant.
My favourite detective writer, Dorothy Sayers, always included a slab of solid research in her books and I decided, in homage, to do that too. In each of my novels you will find out something different about Melbourne in 1928, as well as the detective story. It is not so much a mission as a gift to the readers.
The process of writing one of these novels is odd. I choose a new aspect of Melbourne which I would like to research—the theatre, the circus, jazz, flying, the docks—and then spend six months on finding out all I can about it. About one-hundredth of what I actually know about the subject ends up in the novel but I need to know it to write the book. In fact, I worked out that I do as much work as a PhD student would do for each novel (but the novels are more fun to read than a thesis). After awhile the story starts to build up pressure and finally it wakes me up at three in the morning and insists on being written. Other writers have a young and beautiful muse who descends in fire to inspire them. If I ever saw my muse she would be an old woman with a tight bun and spectacles poking me in the middle of the back and growling "Wake up and write the book!" and I always do. Because if I don't, the book gets vague and fades away.
I do not plan the Phryne books at all. Once I have done the research, I just have to write fast enough to keep up. The actual writing takes about three weeks.
I have written many other novels with other heroines, but Phryne is my favourite and I am delighted every time she drops in with a new book. Our relationship is very cordial and I am always pleased to see her. And as long as people keep reading about her, I shall keep writing about her. Deal?
---
Kerry Greenwood is presently writing the next Phryne Fisher novel, Death by Water, the 14th in the series. She has also written 28 historical, science fiction and young adult novels, is the winner of the Lifetime Achievement Award from the Crime Writers Association (UK) and the Aurealis Award for Young Adult Science fiction. She is not married, has three cats and a resident Wizard but no children, and when not working as a Public Defender for Legal Aid, stares blankly out the window.
---
A Nice Place To Do Crime
by Peter Temple (Ballarat West, Victoria)
This month, October, sees the US publication by MacAdam/Cage of my suspense novel Identity Theory. Two days ago, I finished my eighth novel. Now I face the task of waking up the cast for the fifth book in the Jack Irish series, set in Melbourne. (MacAdam/Cage plan to publish the first one, Bad Debts, in the US next year.)
Apart from Identity Theory, set in Europe, the US, and elsewhere, all my books have Australian settings. I'm proud to be an identifiably Australian writer because I came to the country as an adult — an extremely grateful adult. I've tried to capture my affection for the people and the place in my novels and to tell Australian stories. I've been lucky enough to win Ned Kelly Awards for best crime novel (the Australian Edgars) for four of my seven published books.
Becoming an Aussie was helped by the fact that I arrived without a single shred of nostalgia for an "old country." My old country was apartheid South Africa and I had a profound distaste for the behaviour of its white population, never missed it, never wanted to go back.
This is not to say that Australia doesn't have a shadow side, that it has transcended its history of transgressions against the original inhabitants. It hasn't. But the good people (and I think they are in the overwhelming majority) care about the past and want reconciliation and a fairer world for all Australians. It's a work in progress. It's also an amazing place where you can be at a rodeo, look over your shoulder and see a cricket match in progress, men in white flannels shouting Howzat, the umpire raising an index finger and saying, "Out."
I always had the urge to write, but I took early retirement after writing a cowboy novel—of the two pearl-handled Colts variety—when I was about ten. By then, reading hungrily and without discrimination, I had polished off the children's section of the library. I was given special dispensation to take out adult books approved by the librarian. I got around her by getting my innocent mother to take out books like Peyton Place.
At school, I was forced to learn poems and chunks of Shakespeare by heart. I think it did some good. I love the slicing one-handed backhands of poetry, the quick, daring artistry at the net, the unplayable aces. In my mid-teens, I discovered American writers who swept me away: Hemingway, Fitzgerald, O'Hara (oh, that high-society sex), Mailer, McCullers, Baldwin, Capote, and, most of all, the silky and unutterably sad John Updike.
Another important thing that happened to me was a friend's mother introducing me to reading plays. If I have any ability to write dialogue, it comes from reading at least thirty volumes of Best American Short Plays. This worthy annual introduced me to Tennessee Williams, Albee, Odets, Miller, Mamet, Wilder. I still love reading plays and revere no writer more than the British minimalist Harold Pinter.
Later on, in my early working life and at university, I devised a literary canon for myself, chewing my way through the complete works of writers good and bad. I now suspect that this put a dampener on my creative urges.
I haven't been much influenced by crime writers. One reason I took to writing the stuff was that I found almost everything new I opened to be formulaic. But I have a few old loves and a few newer ones—Marjory Allingham, John D. McDonald, Ross Macdonald, James Hadley Chase, Elmore Leonard (for his wonderful ear and indifference to the props on which so many writers rely), James Crumley, Charles McCarry (without peer in the spy novel, so much better than the indulgent and cloying Le Carré).
I've never had what I felt was a proper job. Sad, really. I've been in reasonably gainful employment—newspapers, magazines, teaching journalism, editing, writing—but I never had the feeling of having a career. I was just waiting for my vocation to announce itself. And one day I began writing and it did.
It's not that writing comes easily to me. Being stuck is the rule, not the exception. In fact, for me writing is one long attempt to become unstuck. I move from one impasse to another. Most of the time, I am convinced that the whole enterprise is a mistake and doomed. This kind of anxiety would be acceptable if I believed I was creating art, but I don't, and that knowledge serves to make matters worse. An ordinary sentence, like an ordinary piece of joinery, isn't dignified by the time it took to make.
I've also found that inspiration isn't something that lasts beyond than a paragraph or two. Creative rushes are also to be distrusted. It's the passages that flowed from your fingertips that you have to axe the next day.
The ideas I have for books are also much too vague and ephemeral to be called inspirations. For me, they take the form of images and the feelings that come with them, scenes seen and imagined, usually unconnected, isolated, not part of any narrative. I've usually forgotten them by chapter three. The first Jack Irish book was inspired by seeing two lawyers drinking in a backstreets pub in inner-city Melbourne, worldly men in dark suits talking shop and laughing a lot. Then I created the Irish family history. It fills pages and pages. Most of the detail I've never used but it enabled me to see Jack whole—a man in his place, in his time, in his history. It think it gives a certain depth and complexity to the character.
Jack Irish seems to have struck a chord in Australian readers. I'm delighted to say that people come up to me and talk about him in terms usually reserved for close friends.
Creating singular characters is difficult. And then there is plotting. I must confess to hating plotting. I like travelling without a map, falling into holes, straying down dark alleys into cul-de-sacs, waiting for the electrifying moment when the story wants to tell itself to me, when characters turn their faces to me and speak.
On the topic of speaking, I must use this chance to speak up for Australian crime writers. It is not widely know that Australia has writers of any kind other than Thomas Kennealy and Peter Carey. From here, it seems that even the dullest and dankest European or British crime writers have a better chance of publication in the US than the sharpest Aussie. Why is it that? The US is missing out on some interesting stuff.
I've been fortunate to collide with David Poindexter of Macadam/Cage. He's a publisher from another—and better—age. He likes books. He doesn't appear to see them as product. I suspect that he likes writers too, particularly the dangerous ones trying to build something without a kit bought from the Writers' Digest bookshop. In this, he is a soul brother to my Australian publisher, Michael Heyward of Text Publishing. Michael is an intellectual who is passionate about writing and publishing. He is also a follower of an Australian Rules football team with a history matched only in sadness and suffering by the side I follow.
I sometimes think that writing decent crime novels is a higher calling. People will read the most boring and pointless literary novels because they seem somehow improving. The readers don't expecting to be entertained. They expect to emerge as better human beings. Crime receives no such indulgence. So, even in portraying the world at its darkest, the crime writer has to be aware of what the punters have come for. And, the genre limitation aside, I think there is as much good prose in crime as in any other fiction — possibly more.
But I would say that, wouldn't I?
---
Australian writer Peter Temple's thriller Identity Theory was published in the US by MacAdam/Cage on 30 October 2004. He has published seven crime novels and won four Ned Kelly Awards for best crime novel, more than any other Australian writer.
Buy this back issue! Available in hardcopy or as a downloadable PDF.