Volume 37, No. 3, Fall 2021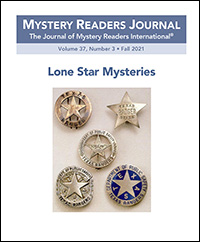 Buy this back issue! Available in hardcopy or as a downloadable PDF.
TABLE OF CONTENTS
ARTICLES
Welcome to Texas by Michael Bracken
Lone Star Dragnet—Joel McCrea as the Joe Friday of Texas by Jim Doherty
Watch Your Back: Bloody Mayhem Lurks Around the Corner in Small Texas Towns by D.L.S. Evatt
Texas, the Perfect Setting by Sandra Murphy
The Essential Western: The Searchers, Violence, Rescue, and Family by Jay Gertzman
AUTHOR! AUTHOR!
Texas History, Mystery, and Myth by Judy Alter
Five (and a Half) Reasons I Love Writing Texas Ranger Books with James Patterson by Andrew Bourelle
Strange Beginnings: Or My Week in Another World by Kathryn Casey
Frank Hamer, Gus Hachette, and Me by Jim Doherty
Growing Up in Freeport, Texas by Les Edgerton
Two for Texas by Elizabeth Elwood
Discovering West Texas—and the Importance of a Rand McNally Road Atlas by Tricia Fields
Two Sides of Texas by Kaye George
From Westerns to Mysteries by James J. Griffin
West Texas by Russell Hill
Thunder Road by Colin Holmes
Deep in the Heart… by Diane Kelly
Death in San Antonio: Mystery Short Stories by Gay Toltl Kinman
The Basis for The Bottoms by Joe R. Lansdale
Where Jack Ryan Meets Gus McCrae by Taylor Moore
An Eye of Texas by Josh Pachter
Alright, Alright, Alright: Why I Love Setting My Mystery Series in Texas by S.C. Perkins
Texas Wind Revisited by James Reasoner
Writing About the Texas Gulf Coast by Amber Royer
My Grandfather and Samuel Craddock by Terry Shames
Tracking the Manhunter: Frank Hamer, Texas Ranger by Gene Shelton
My First Time by Marilyn Todd
Writing a Story About Texas, Even If You Don't Live Here by Teresa Trent
Texas: A State of Crime by Bev Vincent
Never Go to a Peach Festival with Phyllis Newsom by Livia J. Washburn
I'm From Texas, Did You Have to Ask? by Reavis Z. Wortham
COLUMNS
Mystery in Retrospect: Reviews by Lesa Holstine, Dru Ann Love, S. Lee Manning, L.J. Roberts, Lucinda Surber
Wearing the Cinco Peso Star by Jim Doherty
Just the Facts: A Ranger Hall of Fame by Jim Doherty (Online Only)
Children's Hour: Texas Mysteries by Gay Toltl Kinman
In Short: The Private Eyes (and Others) of Texas by Marv Lachman
Texas True Crime by Cathy Pickens
From the Editor's Desk by Janet A. Rudolph
---
The Basis for The Bottoms
by Joe R. Lansdale
The Bottoms (Grand Central, 2000) was a book that existed before it was on the page. Long before. It was in my mind for a lengthy time, though I couldn't have told you the storyline, the plot, if you had asked me.
But I could feel it, squirming around in my brain, pushing against my skull, wanting to escape and come out into the air to breathe. It lurked in secret, hiding within my brain cells, backed up by where I grew up, fueled by my parents being older when they had me, and their experiences during the Great Depression. That was the time they grew into their young adulthood. When there were soup lines and few jobs. When life from day to day was a true struggle, not an inconvenience.
East Texas, in some ways, was far better off than windblown northern Texas and Oklahoma. The land was richer. Not at all like people think of it due to its representation in films. In films, all of Texas is vast plains and deserts and mountains housed by horse riding cowboys in Stetson hats, an oil well pumping in their yard.
East Texas, especially then, was a place of tall trees and deep green grass and creeping rivers and creeks. The woods were full of all manner of wildlife and the waters were full of fish and turtles, frogs and snakes. It's a land of sudden rain storms and wild tornadoes that can cook up and blow up in moments, twisting through the countryside, gnawing trees, busting homes, and wadding up people as if they were Twizzler sticks.
It is also a land with a dark racial past. Where black people were not only second-class citizens, but third class. They were considered not quite human by a large part of the population, and the part that didn't believe that was true were mostly silent, due to the stigma of associating with, or even defending someone of color.
In many ways, black folks were on their own. In the places where they lived, segregated, crime belonged to them, not society. There was no one who cared much, or were willing to care. Down deep in the shadows, and even in boiling sunlight, the most atrocious things were said and done in the name of the "superior" white race.
There are people who say these things didn't happen, didn't exist, and certainly they were more prevalent in some places than others. But those who say it didn't exist have one eye blind and the other covered. So many whites lived in protected universes tucked up in communities that didn't look to the far side of town, or down in the river bottoms, where small communities of black people lived, trying to eke out a living doing demeaning jobs for ridiculous money. Black people who were treated as invisible. Black people who washed dishes, cooked, did laundry, dug ditches, plowed fields, picked crops, wiped baby butts, and were more often than not, forced to live in primitive conditions, denied education and equal opportunity. People who were caught on the never-ending hamster wheel of racism.
I grew up with this in the '50s and '60s. The world was only marginally different from the '30s in that respect. Times were better financially, though if there was a money boom, we only caught its echo, and then it was as that echo came from a great distance and was diluted by the thick stands of trees that grew around us. Trees eventually usurped by greed, pulp wood trucks, concrete, aluminum rectangles, and fast-food eateries.
All of these things, the changes, were absorbed by me, consciously, and subconsciously. To Kill A Mockingbird (Lippincott, 1960), both film and movie, are also among the twisting roots that birthed The Bottoms, though the comparisons to plot are pretty far off. If you write about racism and children and the Great Depression, you will inevitably be compared to that great novel, and that great film. And not without reason.
I tried to bring my perspective to the book. Mixing stories and truths and the land where I grew up into what I hoped would be a compelling novel about the plight of racism, and would also be a deep dark dive into crime and mystery, and that there would be hints of horror, both real and suggested.
No doubt, for readers, it has been a favorite of my work. Sometimes taught in high schools and universities, and thankfully, beloved by many.
It's a novel and has to be seen that way. But I believe it is a novel full of dark truths that can be uncomfortable for some. That's the point. It should be uncomfortable. But at the same time, it offers thrills and surprises, and I hope a large dose of humanity.
The Bottoms holds a special place in my heart. The last word on the subject should not be that of a white author, but a white author should be willing to have a word, one that grew out of personal experiences.
I thought it was a story that mattered. A story worth telling. A window into a dark past that hopefully informs the future, where sadly, that darkness, though changed and weakened by the light of some serious transformation, is still too much of an uncomfortable shadow. A stain and scar on the soul of this country that shouldn't be forgotten. A stain that has faded a little, but still creeps through our existence like motor oil absorbed by a sponge that now needs washing clean.
The Bottoms is, in my humble attempt, a suspense novel that appeals to all of us to do better as human beings.
---
Joe R. Lansdale's The Bottoms won the Edgar, the Hammett, and the Macavity for Best Mystery Novel, the Herodotus Award for Best Historical Mystery Novel, and was named a "Notable Book of the Year" by the New York Times. He is also the recipient of ten Bram Stoker awards for his horror fiction, a Spur Award for his western novel Paradise Sky (Mulholland, 2015), and has received a Lifetime Achievement award from the World Horror Convention and the Raymond Chandler Award for Lifetime Achievement from Italy's Noir in Festival.
---
My Grandfather and Samuel Craddock
by Terry Shames
When I started writing the Samuel Craddock series, set in the fictional small town of Jarrett Creek, Texas, I based the setting on the small town where my grandparents lived. I felt like I knew it in my bones. It was central to my upbringing and even today when I go there, I have a sense of "belonging." It doesn't matter that the climate is oppressively hot and humid, the air stinks of creosote from when the town had a railroad tie plant, and that the water tastes terrible because of the iron in the soil. I don't care that there are an abundance of poisonous snakes, mosquitoes and flies. When it rains, the clay soil sticks to your shoes; when there's drought, red dust from the soil gets into everything. It doesn't matter. It's in in my blood, and there on the page for my readers.
As for the protagonist, there was no question who my chief of police would be based on: my grandfather. He had a basic decency at his core. At a time when racism and sexism were taken for granted, he took people where they stood, not where society put them. He was a self-made man who was out on his own at the age of twelve, so he understood the struggle to survive and the value of hard work. He also learned the value of unexpected kindness, and to despise casual cruelty.
I remember two events vividly that happened when I was with my grandfather. When I was about ten years old, I stayed with my grandparents for a week. Although I loved my sweet grandmother, I adored doing activities with my grandfather. We went to the cattle auction, to the pasture to check in on the cows, and puttered around in the barn. He didn't say much—after all I was a little kid; what did he have to talk to me about? But we had an easy atmosphere between us. I could be a chatterbox, but I was quiet with him.
Halfway through the week when I stayed with them, my grandfather went to town and came back with horrifying news. An elderly Black man had gone crazy, snatched a gun from the deputy sheriff who came to arrest him, shot the sheriff in the leg, and took off into the swampland that bordered the town. My grandfather said a posse was going after the man.
A posse! Just like in the cowboy shows. At that age all I thought of was the thrill of the chase. The end of the chase—that the man would surely be killed—did not enter my head. Barely able to contain my excitement, at dinner I asked my grandfather if he was going to join the posse. He looked at me with his intense blue eyes, then looked off into the distance and slowly shook his head. "Nope." And then he added the line that changed me forever: "Poor old fella." With those words, he humanized the man. He couldn't have shocked my dormant conscience into life any more thoroughly. I've thought of that moment many times over the years, and I think it informs my writing. In particular, I have used that sensibility in my novels to explore race relation in the small town of Jarrett Creek. It also matters in that the man was guilty of a crime. Samuel Craddock believes in justice, but has compassion for those who have gotten themselves backed into an untenable corner.
The second event happened in the backyard of my grandparents' house. One day I was outside with my mother and grandfather, when a beaten-down man walked up and spoke to my grandfather. He said he had done work for a woman who refused to pay him. My grandfather told him he would talk to the woman and get the money. Back in the house, I asked my mother why the man came to my grandfather for help. She said that my grandfather was the mayor once, and he was known for being fair—to everyone. And that people trusted him. Another lesson I took with me. Craddock carries with him a feeling of responsibility for the well-being of the town.
My grandfather's name was Sam. People called him Mr. Sam. I never, ever call Samuel Craddock "Sam," because that name belongs to my grandfather. Samuel is a better man than Sam was. Sam was a tough man, rough around the edges, a hard drinker, a man who did not suffer fools gladly, and could not stand laziness, either physical or mental. He often had a hard reply. But what I took from him for Samuel Craddock was a basic sense of fairness.
I always address some social issue in my books, and in doing so I put Craddock's sense of fairness to test. He believes in justice, and has to bring criminals to pay their dues to society. But it doesn't mean he despises them. In fact, he mostly feels sorrow for their desperation and their inability to work out their problems without resorting to violence. At the end of A Killing at Cotton Hill (Seventh Street, 2013), the first book in the series, Samuel wrestles with himself about whether to punish an accessory to the murder, a woman who has suffered some grievous things in her life.
I could have let her part in the murder slide. But there's that little matter of the lie she told me to throw me off… I could have argued to myself that she was a victim (of the killer) as much as any of us. But that lie told me she knew exactly what (he) had done.
I wish my grandfather was alive to enjoy his part in the series. He would have been proud, not of himself, but of my writing. With a third-grade education, he made it his business to read, constantly, to better himself. He read newspapers, books, magazines, anything he could get his hands on. My mother said that once he found out the library in the country seat was weeding out their stacks and would be giving away books to anyone who wanted them. She said he was as excited as a child, and gathered his kids into their car and took off for the library. They came back with two boxes of books, and she said he was thrilled. He would love knowing that he not only got a part in a book, but was the model for my main character.
---
The first book in Terry Shames's Samuel Craddock series, A Killing at Cotton Hill, won the Macavity Award for Best First Mystery in 2013. The latest book in the series is A Risky Undertaking for Loretta Singletary. Terry lives in Berkeley, CA, with her husband and two rowdy terriers.
---
Just the Facts: A Ranger Hall of Fame
by Jim Doherty
One of the most popular exhibits in the Texas Ranger Museum in Waco, Texas, is the Hall of Fame, in which Rangers who have distinguished themselves during the nearly two centuries of the organization's history are honored.
There have been thirty-two inductees into the Hall of Fame. Among them are Stephen Austin, not a Ranger himself, but regarded as the founder of the organization; J.A. Brooks, John Hughes, William J. MacDonald, and John H. Rogers, who are collectively known as "The Four Great Captains;" Bill MacDonald, to whom the fabled "One riot, one ranger," quote is attributed; John B. Armstrong, who tracked infamous gunman John Wesley Hardin across several states before finally arresting him in Florida; and Ira Aten, who was probably most responsible for ending the "fence-cutting wars" of the 1880s.
I have devoted several entries in this column to the man I regard as perhaps the greatest American police officer who ever pinned on a badge, Frank Hamer, who spent the greater part of his law enforcement career in the Rangers. Hamer is, of course, a prominent inductee in the Hall of Fame. However, precisely because I have devoted so much space to him in past columns, and because I will be devoting the next column, for an issue on "cold case" investigations, to his tenure as perhaps the first cold case detective in the American police service, I've decided that this issue's column will focus on some of the other Rangers who have distinguished themselves in their service to law and order.
Some have already been inducted into the official Hall of Fame. Others have served recently enough that the required passage of time before they can be considered for induction has not yet passed.
But I'm not bound by those strictures. Here, then, are a few of the officers on my personal Texas Ranger Hall of Fame.
Leander H. McNelly
The founding of the Rangers is generally reckoned to have occurred in 1823, when Stephen Austin informally organized "ten men… to act as rangers for the common defense," whom he paid out of his own pocket.
The official founding of the Rangers as an organization under the administration of Texas did not occur until 1835, when the provisional government of the Republic of Texas organized them as a citizens' volunteer militia. At this point, however, their primary purpose was not police work, but military defense. Bandit-catching, when it happened, was a sideline. They primarily protected citizens from Mexican invaders (though Mexico, which still considered Texas part of their country, might have objected to being termed invaders) and hostile Indians.
Indeed, when, in April 1846, just a few months after Texas was admitted into the US as a state, the Mexican-American War broke out, the Rangers were federalized into the US Army.
While their numbers waxed and waned in the years between the Mexican-American War and the Civil War, they remained citizen-soldiers rather than professional policemen, and their primary purpose remained frontier defense, not law enforcement.
During the Civil War, some Rangers left to join Confederate Forces (Texas had opted to join the Confederacy, though large pockets of the population were staunch Unionists), while others joined Union forces. Still others, unwilling to bear arms either against their nation or their home state, remained in the Rangers, opting to soldier against hostile forces who were threats to all Texan settlers, whether their sympathies were for the South or the North.
After the War ended, and Reconstruction began, the Rangers were disbanded. One of the consequences of Reconstruction was the organization of a statewide law enforcement agency, the Texas State Police. Precisely because it was an arm of the occupying forces of the Union, it is not remembered with fondness by most Texans, but it was, nevertheless, during its short lifetime, an effective enough force that it made the desirability of a law enforcement organization with statewide authority obvious. Consequently, when the State Police was disbanded when Reconstruction ended in 1874, the Rangers were almost immediately reconstituted by the State Legislature, this time as a professional law enforcement organization rather than a part-time volunteer militia.
The bulk of the new Ranger Force consisted of 75 men, spread through six companies, and organized into a "Frontier Battalion" under Major John Jones.
A smaller, more agile group of 40 men were organized into what was called the "Special Force," which was charged with taming the outlaw-ridden "Nueces Strip," a huge peninsula, south of the Nueces River, north of the Rio Grande, and west of the Gulf of Mexico. The Strip was a hotbed of criminal activity, primarily because both the Texas Republic and Mexico claimed it. General Santa Ana had ceded all land north of the Rio Grande to Texas, but his authority to cede that land was not recognized by the Mexican Government. Thus the law enforcement jurisdiction was clouded, and no self-respecting criminal could fail to take advantage of an opportunity like that.
Captain Leander McNelly, who had served in both the Confederate Army, and later as one of the four captains in the Texas State Police, was the man placed in charge of the Special Force. Though not as well-remembered as other frontier peace officers, like Wyatt Earp, Wild Bill Hickok, or Bat Masterson, McNelly outdid them all, and outdid them in a much smaller amount of time.
It is no exaggeration to say that McNelly was the main reason that the Texas Rangers became legendary as a frontier law enforcement agency, the model followed by other state and/or territory-wide police forces like the Arizona Rangers, the Colorado Rangers, and the New Mexico Territorial Mounted Police.
Within a year of McNelly being given command of the Special Force, the massive rustling gangs led by Juan Nepomucano Cortina south of the Rio Grande, and King Fisher to the north, had been broken up. McNelly didn't always stick to his own jurisdictional boundaries, even the ones that Texas insisted on over Mexican objections. When pursuing criminals, he had no compunctions about crossing the Rio Grande to apprehend them. Nevertheless, his results were effective enough that complaints tended to be pro forma.
McNelly suffered from tuberculosis, and, after a year's hard service relentlessly pursuing criminals along the Nueces Strip, he retired from the Rangers, and died in 1877, at the age of 33.
Biographies of McNelly include Captain L.H. McNelly—Texas Ranger: The Life and Times of a Fighting Man (State House Press, 2001) by Chuck Parsons and Marianne E. Hall, and Leander McNelly, Texas Ranger (Eakin, 1998) by Robert Scott.
Autobiographical accounts of the Nueces Strip campaign by Rangers who served under McNelly include Taming the Nueces Strip: The Story of McNelly's Rangers (University of Texas, 1975) by former Ranger George Durham, and A Texas Ranger (Scribner's, 1899) by former Ranger N.A. Jennings.
McNelly's exploits have been fictionalized in Elmer Kelton's novel Captain's Rangers (Ballantine, 1969); in the film Texas Rangers (Miramax, 2001), in which he is portrayed by Dylan McDermott; and in "Shanklin," an episode of the excellent but short-lived TV series The Quest (NBC, 1976), in which the titular character, clearly modeled on McNelly, is played by Don Meredith.
Jim Gillett
James Buchanan Gillett joined the Rangers in 1875, after a few years spent cowboying on various ranches. He distinguished himself by participating in the capture of notorious outlaw Sam Bass in 1878, and by putting down a vicious range war in Horrell County, apprehending the notorious Horrell gang, and killing outlaw Dick Dublin in a gunfight after a long pursuit.
He resigned from the Rangers under something of a cloud, after having pursued an outlaw named Oefre Baca into Mexico and bringing him back to Texas without getting him properly extradited. While the legal niceties were still getting worked out, Baca was lynched.
He later served as a deputy town marshal in El Paso, eventually getting promoted to marshal. He left that position in 1885, and spent the remainder of his life as a rancher.
His autobiographical account of his law enforcement career, Six Years with the Texas Rangers (Von Boekmann-Jones Co., 1921), has never been out of print.
Johnny Klevenhagen
Born in New Braunfels, Texas, in 1912, Klevenhagen was an eyewitness to the effectiveness of the Rangers when, in 1924, they ran down a gang of rustlers plaguing his community. Klevenhagen decided then and there that he would make his career in the Rangers.
Five years later, he lied about his age, and, though only 17, became a motorcycle cop for the San Antonio Police Department. A few years after that he was appointed a deputy constable in Bexar County's Precinct One. His boss was Constable Bill Wood. When Wood was elected Sheriff of Bexar County in 1936, he hired Klevenhagen as a detective. Four years later, Klevenhagen was recruited by Bexar County District Attorney Lawrence Shook as his Chief Criminal Investigator.
In 1941, after a dozen years in law enforcement, he finally achieved his childhood ambition, and became a Texas Ranger. Accepting the position meant a cut in pay, but Klevenhagen felt this was a small price to pay in order to have the honor of wearing a Rangers badge.
Among the famous cases Klevenhagen was involved with was the pursuit of hired killer Gene Paul Norris, which led to a running gun battle that resulted in Norris's death; the curtailing of gambling in Galveston, particularly at the Balinese Room, a notorious illegal casino; and ongoing investigations into the crooked administration of political boss George Parr, the "Duke of Duval County."
Klevenhagen was promoted to Captain in 1957, but the years of sixteen-hour workdays, chain-smoking, and constant coffee consumption finally caught up with him. He suffered a heart attack at the funeral of a brother officer who'd been killed in the line of duty. A few months later he was back in the saddle, but it was too soon. He suffered a second attack, this one fatal, and died on November 26, 1958, still only in his 40s.
A more complete account of his career can be found in Douglas V. Meed's Texas Ranger Johnny Klevenhagen (Republic of Texas Press, 2000).
H. Joaquin Jackson
Born in 1935 in Anton, Texas, Joaquin Jackson served a stint in the Marine Corps after graduating from West Texas State University, which he'd attended on a basketball scholarship. After completing his military obligation, he began his law enforcement career as a trooper in the Texas Highway Patrol.
In 1966, at the invitation of the legendary Colonel Homer Garrison, the head of the Texas Department of Public Safety, which includes both the THP and the Rangers, Joaquin Jackson pinned on the cinco peso star and spent the next 28 years as a member of the Lone Star State's most elite law enforcement organization.
As a Ranger, Jackson was involved in a blistering shootout at the Carrizo Springs Jail, putting down a prisoners' revolt. He tracked down a burglar and horse thief known as the "See More Kid" who cleaned up the houses he burgled after he cleaned them out. He investigated dozens of murders, including a shooting at the Big Bend State Park, along the Colorado River, in which three rafters were shot at and one killed for no discernible reason.
Jackson had a side line in the movie and TV business, serving as a technical advisor on films like Extreme Prejudice (TriStar, 1987), and Hell or High Water (Lionsgate, 2016); acting in The Good Old Boys (TNT, 1995), Streets of Laredo (CBS, 1995), and Rough Riders (TNT, 1997); and doing both in Wild Horses (Entertainment One, 2015), in which he played himself as "Retired Ranger Jackson."
He had, in fact, retired from the Rangers in 1993, twelve years before Wild Horses, having achieved an iconic status in the organization, and, in addition to his movie and TV work, opened a private detective and security agency.
He collaborated with David Marion Wilson on an autobiographical account of his law enforcement career, One Ranger (University of Texas, 2005), which proved so popular that he was persuaded to write a sequel, One Ranger Returns (University of Texas, 2008), on which he collaborated with James L. Haley.
He died in 2016, just a few months before Hell or High Water was released. He hasn't been inducted into the official Ranger Hall of Fame yet, but I predict he will be. In any case, he's in my personal Ranger Hall of Fame.
Lee Roy Young
Growing up in Del Rio, Texas, Lee Roy Young admired his neighbors who were cops. One in particular, a huge officer nicknamed "Tiny" by his colleagues, made an especially favorable impression on Young, who decided from an early age that he would make law enforcement his career. And after graduating from high school, doing a stint of military duty in the Navy, and earning a college degree, he applied to the Texas Department of Public Safety in 1973 and was hired.
He started out as a uniformed officer in the Capitol Building Police in Austin, and, after a couple of years, transferred to the Highway Patrol. Thirteen years after that, in 1988, he applied for a transfer to the agency at the top of the DPS pyramid, the Texas Rangers, and was hired.
And merely by getting hired, he made history.
Young was the first black man to become a Texas Ranger. And on top of that, he was, arguably, also the one of the first American Indians to become a Ranger, since he's part Seminole on his grandfather's side.
He worked the major crimes that all Rangers work, murders, robberies, rapes, and riots. In one case that he takes particular pride in was tracking down two men who murdered a 17-year-old boy and stealing his car. Young was able to get them both convicted of capital murder, and they were sentenced to life without parole.
On another occasion he prevented a murder, when, going undercover and posing as a professional hit man, he was hired by a disgruntled husband to kill his ex-wife. Young milked him for information, getting written directions to her home, a photograph, and a down payment of $500 in hundred dollar bills.
Young put him away for 40 years.
In 2003, he retired from the Rangers, but, to keep busy, opened a private detective agency. His career opened doors for others, but he is modest about his accomplishments. And in that regard, he is a true Ranger.
Marrie Aldridge
In September of 1993, two women Texas Highway Patrol officers were promoted and sworn in as Rangers. They were Trooper Cheryl Steadman and Sergeant Marrie Aldridge.
Though they were sworn in and received their cinco peso stars simultaneously, Sergeant Aldridge had the highest overall score on the entry exams, and was the first selected. Consequently, she was, officially, the first woman Texas Ranger.
"I think everyone was little leery of me at first," she said of her promotion. "They were told, 'Watch what you say, watch what you do. There's a woman in the house now.' But I didn't run into any problems. After I was around for a little bit, and people got to know me, I said, 'Look, nothing y'all say is going to bother me. If it does, I'm in the wrong field.'"
During her 15-year career, she investigated all the major crimes that are a Rangers' lot, murders, disappearances, rustling, kidnappings, and allegations of police brutality. She earned the respect of her brother Rangers the hard way.
By doing the job well.
Like Joaquin Jackson, she has served as a technical advisor on films and TV shows depicting the Rangers, most prominently on the short-lived but excellent Killer Woman (ABC, 2014). She has also provided technical advice to true-crime writer and mystery novelist Kathryn Casey, whose series character, Lt. Sarah Armstrong of the Rangers, is, to some degree, modeled on Sgt. Aldridge.
She retired from the Rangers in 2008.
---
Jim Doherty, a long-time cop with experience at the federal, state, and local levels, is the winner of a WWA Spur Award for his article about the Osage Indian Murder Case, "Blood for Oil"; a finalist for both a CWA Dagger and a Killer Nashville Silver Falchion for his first novel, An Obscure Grave (Pro Se, 2018); a finalist for a Macavity for his true-crime collection, Just the Facts (Deadly Serious, 2004), and a finalist for an SMFS Derringer for his Sherlock Holmes pastiche, "The Adventure of the Manhunting Marshal." He wrote his first article for MRJ at just about the time he was preparing for his First Holy Communion.
Buy this back issue! Available in hardcopy or as a downloadable PDF.