Volume 16, No. 1, Spring 2000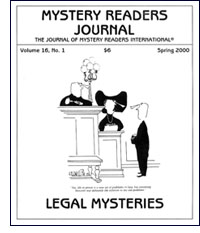 TABLE OF CONTENTS
Justice, with Blindfold and Scales, on the Cover by Carol Harper
How the Portrayal of Lawyers in Mysteries Has Changed by Chuck Brownman
Martin Edwards' Legal Mysteries by Alison White
Barristers & Solicitors: Lawyers with a British Flavour by Carol Harper
THE WRITERS WRITE
Term Paper Led to Mystery Writing Career by Tricia Allen
The Bomber Hanson Mysteries by David Champion
Writing Legal Mysteries by Martin Edwards
Laying Down the Law: It's Never Black & White by R.A. Forster
For Every Side There Is a Flip Side by Theodore Roosevelt Gardner II
Making the Leap: From Lawyer to Writer by Amy Gutman
Almost a Lawyer by Parnell Hall
The Popularity of Legal Thrillers by Jeremiah Healy
Lure of the Law by Jonnie Jacobs
How Jo and I Chose Her Profession by Gay Toltl Kinman
Why Legal Mysteries? by Nancy Kopp
The Legal Angle: Who Can Resist? by Mary Jane Maffini
Driven to the Dream by William Manchee
Is It Legal If It Doesn't Have a Trial? by Gretchen Sprague
Silicone Solution by M. Diane Vogt
COLUMNS
Mystery In Retrospect: Reviews by Harriet Klausner
Some Courtroom Scenes in British Detective Fiction by Philip L. Scowcroft
Just the Facts: Civics Teacher with a Badge by Jim Doherty
In Short: Legal Briefs by Marvin Lachman
MRI Mayhem by Janet A. Rudolph
Letters to the Editor
From the Editor's Desk by Janet A. Rudolph
---
Almost a Lawyer
by Parnell Hall (New York, New York)
I almost was a lawyer. I was an actor, and like most actors, I didn't act much, and did other jobs. Some of my friends were waiters or drove cabs. I was a private eye. I worked for an investigation bureau that serviced negligence lawyers, the type that advertised on TV. I drove around New York City signing up accident victims, and photographing their broken arms and legs, as well as the scenes of their accidents, usually cracks in the sidewalk that had tripped them.
I got ten bucks an hour and thirty cents a mile. The attorney got a third of the settlement. Having had math in college, it didn't take me that long to figure out the lawyer was doing better.
So I studied up, took the LSAT, and scored well enough to attract attention from colleges. I was considering where to apply when my agent called to say he'd sold my first book. That was the private eye novel Detective, that would later go on to be nominated for the Edgar and Shamus awards.
While I was thrilled, PI books were actually not my first love.
I grew up on Erle Stanley Gardner. My parents were both English lit teachers, and after a hard day of slogging through the classics, they would rush home, put their feet up, and whip out the latest Perry Mason murder mystery. As a ten-year-old child I was intrigued by this phenomenon, so I read one. It was fantastic. Since then I have read all of them, many times.
When Gardner died it was like a personal blow. In 1973 I began writing a Perry Mason book, and applied to Gardner's widow for permission to use the characters. She refused, saying no one but her husband could ever write Perry Mason. Unfortunately, by the time she got back to me I was already 150 pages into The Case of the Anonymous Client, but I complied with her wishes, set the manuscript aside, and did not think of it again.
Until I got published. Then it occurred to me I could finish the book. But not as a Perry Mason, since I still couldn't use the characters. And it couldn't be the first book in a series, since the plot required that the lawyer be an established character when the book began. But I had a screenplay called The Baxter Trust about a young hippie lawyer named Steve Winslow, left over from my screen writing days. I wrote that up as a novel, got a two book deal, and the second book in the series, The Anonymous Client, was the Perry Mason book I'd started 15 years before. It came out in 1989 (under the pen name J.P. Hailey) and sat on the shelf in Barnes and Noble right next to The Case of Too Many Murders, a Perry Mason mystery by Thomas Chastain, published with the consent of Gardner's widow.
While my book got criminally good reviews, not one reviewer noticed it was basically a Perry Mason novel and compared it to the Chastain book, or even reviewed it in the same column. The one person who would have noticed, never got the chance. Years later, Jon L. Breen, noted reviewer of courtroom fiction, walked up to me at an Edgar awards dinner and said, "I want to shake your hand. You're the only man I've ever read who can write like Erle Stanley Gardner." I said, "I beg your pardon, but why didn't you ever review me?" He said, "Your publisher never sent me the books."
I was devastated by the news, but delighted by the comparison. Gardner was a lawyer, so his books are pretty accurate. After my first Steve Winslow, The Baxter Trust, I watched a murder trial before completing The Anonymous Client. The case was pretty spectacular. It was a quadruple homicide. The defendant, Larry Davis, was charged with killing four drug dealers. He had been captured after shooting it out with twenty-seven cops. He was defended by William Kunstler. After three months of watching the trial, the only change I made in my second book was I would sometimes have the lawyers argue objections at the sidebar instead of in front of the jury.
That's the closest I ever got to court. And it's probably just as well. In the long run, I'm sure I'm better off writing about it than doing it.
Even so, every now and than I can't help thinking:
I almost was a lawyer.
---
Parnell Hall has a website at www.ParnellHall.com.
---
The Popularity of Legal Thrillers
by Jeremiah Healy (Boston, Massachusetts)
Why do we—and here I mean both readers and authors—seem to have such a fascination with the sub-genre of crime novels now known as "Legal Thrillers?" While most of my published fiction has involved John Francis Cuddy, a private investigator in Boston, many of the thirteen books and forty short stories in that series have dealt with issues confronting the justice system, such as reporters' confidential sources (Yesterday's News), the right to assisted suicide a la Dr. Kevorkian (Right To Die), and revenge killings of male divorce attorneys by disgruntled husband/opponents (The Only Good Lawyer). Also, in July, 1998, a legal thriller of my own entitled The Stalking of Sheilah Quinn focused on the "John-Grisham-meets-Elmore-Leonard" problem of a female criminal defense attorney being targeted by the very murder defendant she gets out on bail. Accordingly, this sub-genre has been on my mind for a while, and I have some thoughts about the reasons for its popularity.
First, I think we baby-boomers have contributed substantially to this phenomenon. All of us remember vividly Raymond Burr on television as Erle Stanley Gardner's Perry Mason. In addition, major legal cases dominated the news at significant points in our lives: the Army-McCarthy hearings in the fifties, the Manson Family trials in the sixties, and the Watergate proceedings in the seventies. All of these, I believe, whetted our appetites for the "renaissance" begun with Scott Turow's Presumed Innocent in 1987 and continued ever since by John Grisham, Jay Brandon, Lia Matera, William Bernhardt, Perri O'Shaughnessy, Paul Levine, Lisa Scottoline, Philip Margolin, Barbara Parker, and Steve Martini.
Also, I think people who aren't themselves lawyers are fascinated both by how the law works–and perhaps more importantly, by how it doesn't work–in specific areas of human relations. In effect, the author of a legal thriller is explaining the courtroom to the reader just as the writer of a medical thriller explains the operating room, with any professional jargon first identified, so the reader can vicariously experience the sense of being a litigator or a surgeon without having to plow through a textbook on Criminal Procedure or Human Anatomy.
I'm hoping this wave of popularity will last a bit longer, as my next book–currently being submitted to editors by my agent–is a legal thriller about a young Boston lawyer who grows disenchanted with her large-firm practice and allies herself with an older criminal-defense attorney. Their first case together: the brutal murder of a homeless man, allegedly by an Irish-American "hermit" living in a "cave."
Of course, as a "recovering" lawyer myself, I have to concede one possible, if cynical, reason for the popularity of legal thrillers: Given that there are a million attorneys currently alive in this country, and that many of them are unhappy practicing law, courtroom novels are simply being bought up in huge numbers by frustrated lawyers wanting to learn the "trick" of becoming successful novelists.
Good reading to all, and thanks to Janet Rudolph for offering this opportunity to express my views.
---
Jeremiah Healy is the author of the John Francis Cuddy mystery series.