Volume 28, No. 3, Fall 2012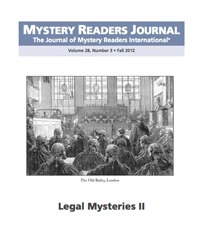 Buy this back issue! Available in hardcopy or as a downloadable PDF.
TABLE OF CONTENTS
ARTICLES
Setting Literary Precedents by Jeffrey Marks
So, You've Been Sued? by Harley L. Sachs
"The Batignolle Murder"—The Best Detective Story Ever Written? by Nina Cooper
AUTHOR! AUTHOR!
Learning the Ropes in Court by Rosemary Aubert
Law Practice: The Dream and the Reality by Donald J. Bingle
I Didn't Know I Was Writing a Thriller by Jay Brandon
Law and Fiction—Getting the Facts Straight by Leslie Budewitz
Legal Writing: Fiction Versus Footnotes by Alafair Burke
Author, Attorney, Advocate by Teresa Burrell
Gazing Into the Abyss by Pamela Callow
When Life Hands You Lemons, Make Martinis—With a Twist! by Diane Capri
Courtroom Mysteries—Justice the Way It Ought To Be by Lauren Carr
The Law in Law and Order by J. Madison Davis
Heroes Need Not Apply by Douglas Corleone
Three Pillars of Legal Thriller/Mystery Writing by John Dobbyn
Weeds, Books, and Scott Turow by Robert Dugoni
Tilting the Scales by Joel Goldman
The Fine Print by W.S. Gager
Every Case Is a Story by Paul Goldstein
Sharing the Life of an Everyday Lawyer by Tony Dunbar
Divorce Can Be Deadly by Susan Goldstein
Suspense, Transgression and Murder by Sylvie Granotier
Thunderstruck by Chuck Greaves
The Case of the Innocent Woman by Parnell Hall
The First Thing We Do, Let's Kill All the Lawyers by Judith K. Ivie
Lawless by Linda O. Johnston
Law and the Puritan by M.E. Kemp
How Jo Peters Became an Assistant District Attorney by Gay Toltl Kinman
My Life In Crime by Robert Knightly
The Joys of Grave Digging by Michael A. Kahn
Naked Confessions by Margaret Maron
The Osgoode Trilogy by Mary E. Martin
Ring in the New… and Ring in the Old by Lia Matera
The Law of Characterization by Andrew McAleer
Courtroom Theater by Margaret McLean
Attorney of Record by D.R. Meredith
Part of the Solution by Penny Mickelbury
Retro Is the New New Thing by Julie Smith
Why People Still Love Courtroom Drama by Sheldon Siegel
The Long Winding Road to the Times by Larry D. Thompson
A Taos Festival by Mari Ulmer
Digging Up Dead Lawyers by E.J. Wagner
Turning Immigration Law into Mystery Drama by Jonathan Worlde
COLUMNS
In Short: It's Legal by Marvin Lachman
Tragedy at Law: The Greatest British Legal Mystery by Philip L. Scowcroft
Crime Scene: TV Series On Trial by Kate Derie
From the Editor's Desk by Janet Rudolph
---
Heroes Need Not Apply
by Douglas Corleone (Kapolei, Hawaii)
It took several years of practicing criminal law in New York City for me to realize I never really wanted to be a lawyer—I wanted to be a protagonist in a legal thriller.
I grew up in the late '80s and early '90s, reading the novels of John Grisham, Scott Turow, and John Lescroart. I second-seated Steve Martini's main character, defense lawyer Paul Madriani, during every criminal trial. I walked the mean streets of Philly with William Lashner's sea-breeze-drinking attorney Victor Carl. There was a hostile witness behind every courtroom door, a man with a gun around every corner. And that, I decided, was the life I wanted to live. Seven years and hundreds of thousands of dollars in student loans later, and I was a criminal defense attorney.
But wait. The legal world turned out to be a little different in Manhattan than it was in Scott Turow's Kindle County. I opened an office downtown and hung my own shingle just like Victor Carl and Paul Madriani. Yet not a single six-foot blonde supermodel stepped through my door to tell me she was wrongly charged with murder. No, in fact, my clients were 98% male and they seemed kind of rough around the edges, not like the unjustly accused Yale graduate student you'd find in a paperback at LaGuardia.
And the judges, well, they were not amused by the antics you might find in a good John Grisham story. The prosecutors, the witnesses, the jurors—none of these characters were quirky at all. In fact, many of them were downright mean, and for some reason, no one was killing them off at the end of a particularly grueling case.
All right, so maybe using crime fiction wasn't the best way to choose a career. My mistake. The question now was, how do I rectify it? After thoroughly searching the classifieds in newspapers and legal journals, I realized there wasn't a big call for "lawyer protagonists." Which gave me no choice but to create my own.
Enter Kevin Corvelli, a brash young criminal defense attorney who looked and sounded a lot like me. In the fall of 2005, Kevin and I simultaneously packed our bags and moved from New York to Hawaii. Kevin continued to practice criminal law, while I began to write about him. He was an interesting guy: smart, talented, handsome, and incredibly brave. This was as close as I'd ever come to being a protagonist in a legal thriller, and I was more than satisfied.
Kevin Corvelli first appeared in my debut novel One Man's Paradise (Minotaur 2010), which was nominated for the Shamus Award for Best First Novel and won the 2009 Minotaur Books/Mystery Writers of America First Crime Novel Award. In Paradise, Corvelli—fresh off the plane in Honolulu—jumps into the case of an ex-law student charged with killing his gorgeous girlfriend on Oahu's world-famous Waikiki Beach.
Living vicariously through Kevin Corvelli, I soon realized, was just what I needed. I retired from the law and kept my eyes on Kevin, who showed up again in 2011's Night on Fire. In Night, Kevin defends a beautiful but troubled young bride charged with slaying her groom on their wedding night—and in doing so, setting fire to a popular Hawaiian beach resort and killing an additional twelve people.
These were the kinds of cases a lawyer—or lawyer protagonist—could really sink his teeth into. Maybe all that student loan debt I incurred wasn't a complete waste after all.
In fact, this summer Kevin Corvelli will defend the Governor of Hawaii in a federal investigation into the death of the governor's pregnant Russian mistress.
See, Professor MacLaughlin? I'm doing important legal work after all. Unfortunately, you won't find information about the case in the New York Post or any legal journal—you'll have to pick up a copy of Last Lawyer Standing, which was released on August 21, 2012.
---
Douglas Corleone is the Shamus-nominated author of the Kevin Corvelli legal mysteries published by St. Martin's Minotaur. A former New York City criminal defense attorney, Douglas now resides in the Hawaiian Islands where he writes full-time.
---
Naked Confessions
by Margaret Maron (Willow Spring, North Carolina)
A little learning truly is a dangerous thing for a writer. If you know you don't know something, you'll Google it or ask an expert. It's the things you think you know that get you into trouble because you won't bother to check. At one point, I probably did know which handgun had a safety and which usually didn't, but I could never keep them straight. As sure as I wrote that the safety of one type was on, gun enthusiasts would happily pounce. I'm told that most modern handguns now have safeties. Too late, because I'm never—ever!—going to be specific about the model or caliber any gun in any of my books except the .38 that Deborah Knott's daddy gave her when she was driving around the state late at night by herself. Does it have a safety? Who knows? It's never going to come up.
In my youth, one of my boyfriends drove a classic T-bird. I could have sworn he said it was built in 1954 and that's what I put in a book. I cannot begin to tell you how many letters I've had insisting that the earliest models rolled off the assembly line in 1955.
I no longer write about specific cars.
The only facts my readers have never tried to correct are matters of law. My renderings of NC's laws are impeccable.
At least they are by the time my books go to press.
This is not because I graduated at the top of my law class. (I did not go to law school.) Or even at the top of the only legal class I ever took, a paralegal course on writing depositions that was given at my local community college. No, it's because each book has first been read and critiqued by three North Carolina district court judges.
Early on, one of them came to a reading I did down at Wrightsville Beach. She introduced me to two colleagues and all three said they'd be happy to answer any legal questions. Any time I need to know what specific charges can be leveled against a defendant in Judge Knott's courtroom or what punishment she would allot, I shoot them a quick query. The first judge will nearly always answer within an hour or two. The second will get back in a day or two with "What Becky said, but I might also…" The third may not answer for four or five days, but his response will be accompanied by six or seven pages of legal citations.
When I finish a book, I make three extra copies for them. After they've all read it, my husband and I go down to Wilmington and take them out for a seafood dinner and an intensive critique session. Most of the time, the errors they find are minor. Deborah might give someone 72 hours of community service when 36 would be more appropriate. Or she might send them to jail for a week when structured sentencing would require more for that offense.
At one of these dinners though, they began by saying, "You've got a problem in this book."
"Yeah, yeah," I thought. Sixty days instead of ninety? Court costs levied instead of waived? How bad could it be?
Bad.
And once again, it was because I thought I knew something I didn't actually know.
In the book, a major character told Deborah that he was the one who had committed a crime some twenty-odd years earlier. It was key to the plot that he was the one who had done it, and yes, it was a felony, but not something that needed to be prosecuted after so long a time. "Besides," Deborah says, "the statute of limitations probably ran on that years ago."
(I had learned all about that statute in my paralegal course—a course that used a textbook based on Ohio law.)
"No, no, no!" said my judge friends. "There is no statute of limitations on felonies in the state of North Carolina. Not just for homicides, for any felony."
They were right. I did have a problem. I needed for him to have done it; I needed for Deborah to know; I also needed for him not to be prosecuted so many years later. But as an officer of the court, Deborah could not let it go. Once he confessed, she was ethically bound to act on his confession.
Out came their laptops as they researched obscure points of law there at the table. Eventually, one of them looked up with a happy grin. "It's a naked confession!" she crowed. "And a naked confession cannot sustain a prosecution."
In other words, you can tell me that you shot JFK, but unless there's corroborating evidence of some kind, that's a naked confession and you won't be prosecuted.
I did have to rewrite a couple of pages to take that into account and, in the end, the book was stronger for Deborah's having to struggle with ethics before seeing a way out, but it's cured me of thinking I know the letter of any law if I haven't asked all the questions first.
---
Margaret Maron's books have won the Edgar, Agatha, Anthony and Macavity and are taught in courses on contemporary Southern fiction. A past president of Sisters in Crime and Mystery Writers of America, her 18th Deborah Knott novel, The Buzzard Table, will be published in November.
Buy this back issue! Available in hardcopy or as a downloadable PDF.