Volume 28, No. 2, Summer 2012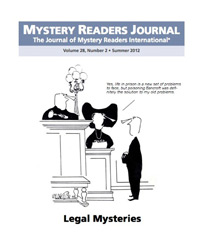 Buy this back issue! Available in hardcopy or as a downloadable PDF.
TABLE OF CONTENTS
ARTICLES
Better Talk to the Lawyer by Margot Kinberg
Yrsa Sigurdardóttir: Iceland's Queen of Suspense by Mitzi M. Brunsdale
Prosecutors Who Turned To Crime (Fiction) by Karen Catalona
AUTHOR! AUTHOR!
Missing Maidens, Weeping Paintings, and the Law in Renaissance Florence
by Alana White
The Legal Thrill of It All by James Scott Bell
The Curious Career of Martin H. Ehrengraf by Lawrence Block
Celebrating (and Lampooning) the Fictional Courtroom by Jon L. Breen
Criminal Justice—Not Just an Oxymoron by Holli Castillo
Law, Life and Liverpool by Martin Edwards
"Ain't No Holt What Can't Be Broke" by Flo Fitzpatrick
Me & Brehon Law by Cora Harrison
Arthur! Arthur! by William Deverell
The Legal Formula and How to Avoid It by John Lescroart
Fiction Cured My Courtroom Blues by Paul Levine
Short Stories, Novels, What Ifs, and Skip Tracing by D.P. Lyle
Your Doctor Did What? by Liz Osborne
Mystery and the Law by Una Tiers
For the Love of the Law by Pamela Samuels Young
COLUMNS
Crossword: The Case of the Diligent Defender by Verna Suit
Mystery in Retrospect: Reviews by Donald J. Bingle and L.J. Roberts
Legal Mysteries Line-Up by Cathy Pickens
Crime Seen: On Trial by Kate Derie
Just the Facts: A Fool for a Client by Jim Doherty
Children's Hour: Legal Mysteries by Gay Toltl Kinman
From the Editor's Desk by Janet Rudolph
---
The Curious Career of Martin H. Ehrengraf
by Lawrence Block (New York, New York)
My father, Arthur Jerome Block, was a 1932 graduate of Cornell University's law school, and a member of the New York bar until his death in 1960. He lost his mother in infancy and his father during college, and so his marriage to Lenore Nathan led him to begin his career not in New York City, where he'd grown up, but upstate, in her hometown of Buffalo.
He quoted the classified employment ads he remembered from those first years: "College graduates: $50 per week. College and Law School graduates: $45." And, while he did in fact catch on with a prominent Buffalo firm, he was discontented and didn't stay. He practiced law intermittently for the rest of his life, with diversions into insurance, home construction, and investments. He was an effective insurance agent but didn't have the stomach for it, having concluded that straight life insurance represented lawful theft on the part of the company selling it. He was happier selling mutual funds, and ended his career in that field.
If he'd encouraged me, I might have followed him into the law, given a nudge in that direction by Erle Stanley Gardner's Perry Mason novels. But my dad let me know that criminal law was not dramatic or heroic, that one spent one's life trying to spare lowlife clients the prison sentences they so richly deserved. His dream career for me would have been medicine; he had many doctor friends, and saw them as leading rewarding lives while doing some good in the world.
He'd have liked that for his son, but when I chose writing, no one could have been more supportive. He got to see my first books published, and lived long enough to know that I'd be able to make a living as a writer, before an aortic aneurysm killed him the day before his 52nd birthday.
It would be another seventeen years before I found myself writing about an attorney, and the one I found bore no discernible resemblance to my dad—or, come to think of it, to any lawyer I'd ever encountered, in print or face to face.
Martin H. Ehrengraf (the initial we're told, stands for either the biblical Herod or London's Harrod—or perhaps for neither, the reports are conflicting) takes criminal cases on a contingency basis; his high fee becomes due and payable only if and when a client goes free.
This works for him because his clients are always innocent. The little lawyer carried the presumption of innocence a step beyond that of Anglo-American jurisprudence; his clients are not innocent until proven guilty, but innocent, period. And, when their innocence comes to light, he collects a fee—whether or not it appears to be the result of his efforts.
Fred Dannay snapped up the first Ehrengraf story, "The Ehrengraf Defense," and assumed I'd patterned my hero after one Randolph Mason, the creation of Melville Davisson Post and himself the probable lineal ancestor and namesake of Gardner's more famous lawyer. But I'd never heard of Randolph Mason, or read anything by Post. Ehrengraf emerged out of the whole cloth while I looked for a way to adapt a bit of plot business suggested by a dimly-remembered Fletcher Flora story, in which a man commits a string of murders to provide an ex post facto alibi for a buddy. I made the alibi-provider a lawyer instead of a friend, and damned if he didn't turn out to be Ehrengraf.
Fred encouraged me to write more about Ehrengraf, and it didn't take much to point me in that direction. I followed "Defense" (which he published as "The Ehrengraf Method," Fred never having met a title he didn't want to change) with "The Ehrengraf Presumption," and one story followed another. The seventh, "The Ehrengraf Alternative," appeared in EQMM in September, 1982, the month of Fred's death. Eleanor Sullivan bought the eighth, "The Ehrengraf Nostrum," in 1984.
And there the matter lay for over a decade. In 1994 Jim Seels' ASAP Press brought out a splendid edition of the eight stories, with an introduction by Ed Hoch and my own afterword. In 1997 I added "The Ehrengraf Affirmation" to the body of work, and 2002 saw the appearance of "The Ehrengraf Reverse" in an Otto Penzler collection of football stories.
I might have written more stories about Ehrengraf, or written them more frequently, but for the difficulty in coming up with sufficient variations on a rather specific theme. As resourceful as he is, Ehrengraf as a character is something of a one-trick pony. While his suits and ties vary from one episode to another (except for his Caedmon Society necktie, always his choice for triumphant occasions) I've found it hard to vary his cases without losing what makes them effective.
We learn more about Ehrengraf over time. His enthusiasm for poetry, especially the verse of an earlier time, becomes evident early on, and engenders a plot or two in the process. He accepts a court appointment to defend an indigent murderer—and, rather than negotiate a plea, manages to free his client and profit handsomely in the process. He becomes a vegetarian, he dabbles in New Age positivism.
Sometimes an outrage in the news will spark a plot. "The Ehrengraf Nostrum," for example, has obvious roots in a product-tampering case, while "The Ehrengraf Alternative" will remind readers of the murder of a prominent diet doctor.
And just last month we found our lad representing a client who seemed to have exceeded his authority as a leader of a neighborhood watch committee by emptying a gun into a young lay-about. Ehrengraf presumed the man guilty, and then was given cause to re-examine his presumption. With, one hopes, entertaining results.
The story, "The Ehrengraf Settlement," has been published online; like all the Ehrengraf stories, it's a Kindle exclusive. And it will appear in print sometime in the coming months in Buffalo Noir, Ed Park's entry in Akashic's signature Noir series.
Because Ehrengraf, as a few sharp-eyed Buffalonians have sussed out over the years, does indeed practice his craft or sullen art (to quote one of his favorite poets) in the Queen City of the Lakes. I've never specified the city, but have mentioned a few local street names in various stories over the years, and in "The Ehrengraf Settlement" references to Nottingham Terrace and Delaware Park and Kenmore leave little room for doubt.
Was Ehrengraf born in Buffalo? Or do you suppose he was a native New Yorker who, after a sojourn in Ithaca, took his new law degree to the shores of Lake Erie? Not that he's anything like my father, but couldn't he have trod a similar path?
Never mind. I've always enjoyed writing about Ehrengraf, and I celebrated the new story by bundling it with its ten companions as an e-book, Ehrengraf for the Defense. It's available only on Kindle, where it's been receiving a hearty welcome, flying off the virtual shelves at a gratifying pace.
Plans call for a printed book as well, though not for a while, and there's a fair chance of another story by then. I don't have one in mind—I wish I did—but all that's required, really, is for the course of events to offer up some hideous tabloid tale of human and inhuman folly.
That shouldn't take long…
Meanwhile, I hope you'll feel inclined to make (or renew and extend) the acquaintance of Martin H. Ehrengraf. He rarely sees the inside of a courtroom, and his knowledge of the law is highly specialized. He is, after all, less concerned with its intricate workings than with his own equally intricate ways of circumventing them.
---
Lawrence Block, unlike a majority of his characters, has for the most part led a law-abiding life. His next novel, Hit Me, coming from Mulholland Books in February, features Keller, assassin for hire and ardent philatelist.
---
The Legal Formula and How to Avoid It
by John Lescroart (Northern California)
Here are some things you need to know about writing legal thrillers when you're not a lawyer and, in fact, when you have never set foot in a law school class: you've got to have a damn good story; you've got to make up a lot of stuff you know nothing about; you need somebody who is really knowledgeable in the law to check your finished work for problems, and they will be legion.
Let's start by talking about what I mean by good story—what I really mean is great story. This is, first and foremost, a story we haven't seen a version of many times before. I'll tell you what this good story is about. There's this young, idealistic, sexy (male or female, but I'll use the male pronoun in this little chat) attorney (and already we're on thin ice) who has recently lost his spouse and maybe his dog, too. He lives alone in a big city and he works for a really well-known firm with a great mentor for a managing partner. Then our hero gets handed a tiny little case, but his client gets murdered. Uh oh. Luckily, the cop handling the case is an idealistic, young, sexy and yet feisty person of the opposite sex for whom our hero feels an immediate attachment, which is unreturned because this person is getting over her last boyfriend, who used to beat her.
Anyway, it turns out that the tiny case our hero is handling is connected to a bigger case, probably involving politicians and corruption and it goes All The Way To The Top. If you know what I mean. The ultimate bad guy is our hero's father-figure managing partner, but very likely also at least the vice president of the United States, who might or might not have Mafia ties going back to Columbus. In fact, the managing partner and the vice president are probably in cahoots, and maybe planning to take over Switzerland while they're at it. Needless to say, our lawyer and his cop sidekick solve the case, save the country, fall in love and have 2.3 children and a cat.
This is a bad story. I call it a "good" story, above, because I'm a sarcastic guy—my chief legal consultant, Al Giannini (of whom more later), describes me as "dry, snide, and snotty," and he's not all wrong. Why is it bad? Because it's formulaic.
Formula equals bad.
Say these three simple words to yourself ten times a day until they become second nature, until they actually enter your bloodstream.
You don't want to write a variant of another story that has all those "legal thriller" elements. You want to write your own brilliant, great story that has original characters and a compelling human theme. One of the big hit books of last year, and deservedly so, was called Defending Jacob, and it was great because it was unique. Its plot unraveled in a natural and human way that nevertheless managed to defy most conventions we tend to expect in these kinds of stories. (It even bothers me that we're able to say "these kinds of stories"—they should all be sufficiently different from one another to defy genrification, but that is probably hoping too much.)
Part Two in today's little homily on legal thriller writing is that you've got to make up a lot of stuff you know nothing about. By this, I mean the law stuff. It's probably way easier for me to do this than it is for most of the real lawyers out there trying to write for the legal fiction market. This is because I really don't know anything about the law, how it really works, how to file a brief, etc. And here's the good news—you don't need that.
The great story you're writing isn't going to depend on legal procedures. It's going to depend on how original it is, how compelling your characters are, how devious your eventual villain (if, in fact, you choose to have a villain, which you don't really need). Remember, you're dealing here with universal themes—the seven deadly sins, man's relationship to man and to civilization, the social contract and the breaching thereof. And to get to those heavy, important themes, you need to rake the coals of your own soul and get them to bring forth their own heat, which we call suspense. We need to care deeply about the fates of the human beings who find themselves in this monumental struggle to restore the order of the cosmos.
Sounds a bit high-falutin', I know. But that's what I'm talking about when I say you need a great story and you need to find it in your own originality, your own ability to imagine conflict and resolution.
Okay, so now you've got your great theme and your great story and it's all written in first draft. Here's where you need to integrate verisimilitude—which is nice because it's what makes your story ring true, and this in turn is important for both for commercial and artistic reasons. There is no faking this step with a quick Google search on civil procedure, or a couple of words with a criminal law expert. No, now is the time to bring your book to the attention of people who know the landscape of criminal law. You may not have needed that expertise to create your wonderful story, but you're going to need it now to sell it—not just to publishers, but to readers.
To this end, I would unhesitatingly recommend my own main consultant, Al Giannini, who has been a professional prosecutor doing mostly murders in San Francisco and San Mateo counties for the past thirty-some years. Of course, if you actually do go to Al himself, I will hunt you down and kill you, so there's a drawback you might want to consider. (Richard North Patterson also consults with Al, but we gave each other special dispensations long ago since we were first in line.) In any event, barring Al, there are hosts of other legal experts in this country who would be only too glad not only to talk to you, but to read your manuscript. Cops and lawyers, I have found, generally love to talk about their work. They also like to do lunch—these two activities may profitably be combined.
When my manuscript is finished (as it happens, this occurred just yesterday for my new one), the first person I let read it is Al. This should be before your publisher's editor gets to see it. The value of getting right the true legal issues and procedures that come from a professional's insight into how things really work can not be overstated. Your editor will not know this stuff. Neither will your agent, or wife, or brother-in-law. Find a serious hard-ass who knows criminal law inside out and listen to what he says needs to be changed. And change it!
I've now done this about twenty times, and I hate it every time. But I also value it highly. (For the record, although Al has been my best friend since we were fourteen years old, I pay him for his expertise—you can work those details out with your own consultants.) And the amazing thing about this process is that Al's technical suggestions have never, not once, changed a major plot point in any of my books.
This is because, at the risk of being repetitious, the human story at the heart of the book is well-conceived and internally consistent. The true-to-life law stuff buttresses what is already there, but does not change it.
So in a nutshell, these are the "secrets" to writing the successful legal thriller.
But I would be remiss if I left you without one critical addendum: the words matter. They really do.
Write the most beautiful, clear, limpid prose that you can imagine. Care about using le mot juste. Don't explain too much because this leads you to the passive voice and to the past perfect tense (check for the word "had" and rewrite the scenes it dominates). Allow dialogue to convey personality—no, demand that dialogue convey personality. Don't be afraid to be funny.
Formula equals bad.
Did I already mention that?
---
New York Times bestselling author John Lescroart has published 23 books, including most recently The Hunter. He is the creator of the Dismas Hardy series of legal thrillers, as well as a series featuring the private investigator Wyatt Hunt. His books have been translated into twenty languages in over 75 countries. His new work, The Book of Moses, will be published by Atria in May, 2013.
---
For the Love of the Law
by Pamela Samuels Young (Cypress, California)
As a young associate at a major L.A. law firm, I developed a ferocious appetite for books about lawyers. Fiction or non-fiction, it didn't matter. I was a major fan of John Grisham, Sheldon Siegel, Scott Turow and Lisa Scottoline. I also found myself particularly fascinated with books about the U.S. Supreme Court.
What was it that attracted me to this genre other than living the legal life every day? Without question it was the suspense. Sheldon Siegel, author of Perfect Alibi, captures perfectly why legal thrillers are so popular: "Lawyers are always in the middle of human drama. The stakes are high. The tension is palpable. There are winners and losers—often with huge consequences."
Since the actual day-to-day practice of law was not nearly as exciting as it's depicted on TV shows like "Law & Order," reading legal thrillers allowed me to escape from my grueling life as a big firm associate.
One day, in the midst of reading a John Grisham book, I decided that I would try my hand at writing a legal thriller. Why? Frankly, I wanted to add a little diversity to the genre. The lawyer characters in most of the legal thrillers I read were rarely women and never people of color. I wanted to change that.
Once I sat down in front of my computer to give it a try, I immediately realized two things. First, I had stumbled upon my passion! Nothing else could explain my willingness to rise at four o'clock in the morning to write before heading off to the office, to write every weekend, to write in hotels and airports, to jot down my thoughts anytime I could squeeze in a few extra minutes or hours.
Second, it's not easy to turn a real-life legal case into a high-stakes legal thriller. Litigating a case typically takes months and years and involves lengthy briefs and court arguments and a lot of waiting for a judge to make up her mind. So first, I had to learn how to speed up the legal process, to get down to the meat of the case, but at the same time, ensure that my tale remained reality-based.
In my recently released fifth novel, Attorney-Client Privilege, I tackled the subject of gender discrimination in the workplace. I've been practicing employment law for more than twenty years, so this is a topic I know well. But litigating a gender discrimination case can be a long, emotional process involving a lot of mundane things like motions for dismissal, three-day depositions and contentious letters between opposing counsel. How could I spice it up?
I had to take off my legal hat and put on my creative writer's hood. In Attorney-Client Privilege I started off by pitting two lawyers against each other. One was the picture of integrity. The kind of lawyer you couldn't help but root for. The other was so unscrupulous you'd love to see her fall flat on her face in front of the jury box. Then I added three female underdogs who had the chutzpah to take on a corporation with a long history of discriminating against women. Are you interested yet? To add some suspense to the mix, I threw in a brutal murder and some missing documents that could make or break the case.
For me, the process of writing a legal thriller is thrilling in itself. I like figuring out the plot twists and trying to lead readers one way while throwing in a curve ball they never saw coming. Those are the kind of books I like the read and the kind of books I set out to write.
In the end, my goal is to craft a suspenseful story that both entertains and educates the reader about the law without being preachy. Hopefully, Attorney-Client Privilege does just that.
---
Pamela Samuels Young is a practicing attorney whose fast-paced legal thrillers tackle law and crime. A member of the SinC-L.A. Board of Directors, Pamela is chronicling the writing of her next book via her blog, LetsWriteToday.blogspot.com.
Buy this back issue! Available in hardcopy or as a downloadable PDF.