Volume 38, No. 4, Winter 2022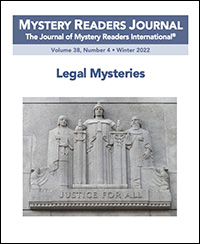 Buy this back issue! Available in hardcopy or as a downloadable PDF.
TABLE OF CONTENTS
AUTHOR! AUTHOR!
Killing Lawyers (On Paper): A New Type of Therapy by Judith Ayn
The Curious Career of Martin H. Ehrengraf by Lawrence Block
Every Story Has a Beginning by James Barretto
"Don't Tell Me What You Did" by Mark Bruce
Keeping it Legal by Diane Capri
Grief, Loss and a Con Man Changed My Life by Steve Cavanagh
Is the Legal Thriller Dead? by Lori Huff Dillman
Writing What You Know—Sort of… by Martin Edwards
Let Justice Be Done, Though the Heavens Fall by Anne Emery
A Legal Mystery? Call for Miss Marple by Elizabeth Elwood
True Lies by Chuck Greaves
An Unwilling Witness by Connie Johnson Hambley
Advice to Would-be Lawyer/Author by James Grippando
Legally Blocked by Joyce Holms
Jo Peters : ADA, City Attorney and P.I. by Gay Toltl Kinman
House Witness by Mike Lawson
Character Is Destiny… in Court and Out by Paul Levine
"You Don't Need a Lawyer!" (Yes, You Do) by Terrence McCauley
My Brushes with a Serial Killer by Jodé Millman
The Lawyer as Storyteller by Robert Rotstein
Keeping It Real by C.L. Tolbert
Writing the First Legal Thriller by Bentley Turner
The Best Defense by Bev Vincent
Case # 421946: Crime & Punishment in Renaissance Florence by Alana White
The Last Lie Told by Debra Webb
Did the Barrister Do It? by Elizabeth Woodcraft
COLUMNS
Mystery in Retrospect: Reviews by Aubrey Hamilton, Lesa Holstine, Joan Ramirez, Kathy Boone Reel, L.J. Roberts, Lucinda Surber, Craig Sisterson
Children's Hour: Legal Mysteries by Gay Toltl Kinman
In Short: It's Legal… and It's Short by Marv Lachman
Crime Seen: In the Courtroom by Kate Derie
The D.A.'s Men by Jim Doherty (PDF includes a web-only addendum)
From the Editor's Desk by Janet A. Rudolph
---
Grief, Loss and a Con Man Changed My Life
by Steve Cavanagh
I love finding out about other writers and how they came to the craft. When you've read and listened to enough writers discussing their origins, there is often a common denominator. Most writers have someone, either a teacher or a friend, who said to them at one time—I think you're good at this, keep it up. For me, that person was my mother. I grew up in Belfast during the troubles, in a working class house that didn't have a lot of money. But we did have a lot of books from the library and second-hand book stores. My mum gave me the love of reading, and when I tried to write my own stories as a kid, she was the only person who ever encouraged me to be creative and write.
When I was in my early twenties I tried writing screenplays. There was no way I thought I could ever write a novel but I thought I might be able to hold together a story for the 100 pages of a script. I did manage to get an agent, but nothing really happened and I did something which a lot of writers do—I quit. At that time I fell into the law and I concentrated on that for the next fifteen years.
I was a civil rights lawyer who also did some criminal law. I thought that was what I would do for the rest of my life. Then something terrible happened; my mom passed away very suddenly. Her death hit me hard. Grief is something that affects people in all kinds of different ways, but I knew I needed to get better and start dealing with her passing. So I wrote a book that I thought she would like. My one goal was to get that book published and see it on a shelf. I already had a character in mind. One day, while I was cross-examining a witness, I fooled them into revealing that they had lied. It wasn't through any great legal strategy—it was a trap that the witness walked into. Right then it hit me that con artists and trial lawyers share a lot of the same skills—distraction, misdirection, persuasion, manipulation. I had an idea that a con artist who became a lawyer and used all of his old skills in the courtroom would be an interesting character to write about. That is when Eddie Flynn was born.
I am just finishing the draft of my ninth full-length novel. Eddie Flynn has been a bestselling series all over the world and I am no longer a lawyer. When I began writing it was with a single goal in mind. I never expected it to change my life. In the beginning, I enjoyed writing and the thrill of seeing my books in bookstores. Jon Wood at Orion was my first publisher. He told me I had a shot at making it in the business. He believed in me. And that took me a long way. At first, the books didn't sell. The first three novels sold, combined, less than 10,000 copies in all formats. Then I wrote a book called Thirteen and asked that we put a tag line on the cover. The ten words in that tag line changed my life again—The serial killer isn't on trial, he's on the jury. Eddie Flynn continues to change my life. He's the underdog in every case he tries—he's the smart guy that nobody sees coming—and he only fights for the innocent. In a legal system that is corrupt and biased in favour of the prosecution, it takes a con man to balance the scales of justice.
---
Steve Cavanagh has practiced criminal law and litigation but focused most of his career in the area of civil rights law. He writes the Eddie Flynn series and standalone novels. He has won multiple awards, including the CWA Gold Dagger, Theakston Old Peculier Crime Novel of the Year, and the Prix de Polar. Steve is married with two children and lives in Northern Ireland, where he now writes full time.
---
Writing What You Know—Sort of…
by Martin Edwards
'Write what you know' is advice often proffered to aspiring writers. In the crime genre, there are obvious limits. I really don't believe that I need to commit a murder, or any other crime, in order to write a mystery. A large part of the appeal of writing any kind of fiction comes from trying to get inside the heads of people different from ourselves.
But like so many clichés, 'write what you know' contains a grain of truth, and I was conscious of this when I was starting out as a novelist, more than thirty years ago. At the age of twenty-two, I'd written a thriller which I never tried to get published, because I knew it wasn't good enough, due to a lack of authenticity. I remained determined to write not just one novel, but a series. So, having just become a partner in a law firm in Liverpool, I decided to create a protagonist who was… a partner in a law firm in Liverpool. So was born Harry Devlin.
Harry wasn't me, and his legal practice (crime and divorce) was very different from mine (commercial and employment). Most of all—thankfully—his private life was nothing like mine. The novel in which I introduced him, All the Lonely People, saw him investigating the murder of his estranged wife Liz. So there was a huge amount of invention. But at least I knew Liverpool well, and I knew what it was like to be a lawyer in the city, even though I did have to consult colleagues about details of life in the local criminal courts and the Bridewell (a lock-up for prisoners in the city centre).
My concept for the series was to blend an authentic picture of contemporary life in the city with strong plots inspired by Golden Age fiction. Harry's court work plays a part in the stories, although it's the changing nature of the legal profession that is the key feature of my depiction of his professional life. Reviews were positive, and All the Lonely People was nominated for the CWA's John Creasey 'best first novel' Dagger, the winner of which was none other than Walter Mosley. But none of the critics commented on the Golden Age plots! I found this frustrating; now I realise that the problem was that in those days Golden Age fiction was simply out of fashion. Or, as I like to think of it, I was ahead of my time!
After seven books, I wrote a stand-alone novel of psychological suspense, Take My Breath Away, set in London's glitzy legal profession and to some extent a satire on Tony Blair's approach to government (our former Prime Minister was an employment lawyer himself before he turned to politics; I'd met him in that capacity and been duly charmed). Alas, the book was published before satirising Tony became popular, so it made minimal impact!
In 2008, I returned to Harry Devlin after a ten-year gap with Waterloo Sunset. This was a book that was huge fun to write. The first seven books had charted the gradual revival of Liverpool after years in decline. Now it's a city with a real buzz (the Bridewell is now a posh hotel) and in the novel, Harry grappled with the changes he was encountering. Again I was blending contemporary characters and issues with a labyrinthine Golden Age plot, but again I felt that the critics, kind as they were, didn't really 'get' the Golden Age homage.
Years later, the publishing scene had changed. The British Library Crime Classics were achieving massive sales and my The Golden Age of Murder had enjoyed an unexpected success. Emboldened, I wrote a novel set in the Golden Age, and drawing more explicitly than ever on classic tropes, as well as using my knowledge of the legal profession (the connection between the protagonist, Rachel Savernake, and a cruel judge, is a key ingredient of the backstory). Gallows Court quickly became my most successful novel.
So far that book has had two successors, Mortmain Hall and Blackstone Fell, and although they aren't 'legal mysteries', I've drawn on my legal background for some of the plot strands. At the time of writing this article, I'm still a part-time consultant solicitor for my law firm, but over the years, I've been lucky enough to pursue my dream and concentrate increasingly on the writing life. I still think that it helps to 'write what you know', even if imagination and a love of storytelling count for even more. And although I've been lucky to have two distinct careers that I've enjoyed enormously, there's no mystery about which of them I prefer…
---
Martin Edwards has won the CWA Diamond Dagger and his awards include an Edgar, two Macavitys, and the Dagger in the Library. He is President of the Detection Club, a former chair of the CWA, and consultant to the British Library's Crime Classics. His latest non-fiction is The Life of Crime: Detecting the History of Mysteries and their Creators.
Buy this back issue! Available in hardcopy or as a downloadable PDF.