Volume 5, No. 3, Fall 1989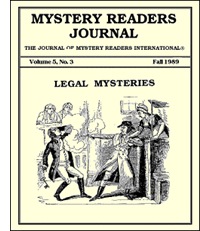 TABLE OF CONTENTS
Lawyers Know Too Much by Sue Feder
Women in Pursuit of Justice by Ellen Matthews and Bonnie Pollard
For the People by Jim Doherty
The Private Perry Mason by Barbara Richards Haugen
Robert Forsythe and Anthony Maitland: The Barrister as Detective by Carol Harper
A Barrister-Writer and His Barrister Detective by Noemi Levine
British Detective Fiction and the Law by P.L. Scowcroft
Lawyers and Murder Don't Mix by Elizabeth Matson
Do They Serve Drinks at the Bar? by Carol Harper
Military Justice Is To Justice As Military Music Is To Music by Jim Doherty
The Fictional Lawyer by Charles Alan Wright
The New Perry Mason: Two Views Marvin Lachman/Barbara Richards Haugen
The Law Made Me Do It by Ellen Matthews and Bonnie Pollard
The Joy of Lawyering by Carolyn Wheat
Write About What You Know—And Other Things, Too by Haughton Murphy
The Law and Me by Francis M. Nevins, Jr.
Breen In Court by Jon Breen
The Law And Me by Julie Smith
COLUMNS
Reviews by Deeck, Harper, Doherty, La Porte, Valentine
Report From the Therapist's Files
Duhl and Dames Reporting from Scotland Yard
Mystery Viewers International
Just Juveniles
The Game's Afoot
Four-Colored Felonies
Women Writers: Women Detectives
MRI Mayhem
Letters to the Editor
---
The Fictional Lawyer
by Charles Alan Wright (Austin, TX)
The following article is reprinted from The Practical Lawyer.
Dwell In Danger by Roy Lewis (St. Martin's Press, NY, 1982)
She Shall Have Murder by Delano Ames (Harper & Row, NY, 1983)
In almost every respect, these two books are wholly different. Indeed the only significant thing that they have in common is that an English solicitor figures prominently in each of them.
Dwell in Danger is the 20th book by Roy Lewis, who was born in Wales in 1933 and is now a barrister in Newcastle, England. The hero of his book is Eric Ward, a Newcastle solicitor who turned to the law because impending blindness ruined his career as a policeman.
Ward, who is still able to see, is consulted by a young farmer, Jack Saxby. Saxby's mother had inherited a farm from a cousin, and for a number of years, Jack operated it as his mother's tenant. He did such a good job that his mother offered to sell the farm to him. Since he could not afford to buy it at that time, she gave him a written 10-yr. option to purchase the farm. By the time Jack was ready to exercise the option, his mother had already sold the farm to Jack's father, Amos.
Ward thinks that the sale to Amos presents no problem. Under the Land Charges Act of 1925, 15 & 16 Geo. 5, c. 22, an option to purchase land can be registered as a charge against the land, and Amos would be required to honor the option and allow Jack to purchase the farm. It develops, however, that the option was never registered. This is doubly unfortunate. The solicitor acting for Jack at the time the option was obtained, who has gone off to be a barrister, is the son of the senior partner of Ward's firm. The oversight, therefore, is bad for the firm, but even worse for the client, for under section 13 of the Land Charges Act, an unregistered option is void as against a purchaser for money even though the purchaser had actual knowledge of the existence of the option.
Ward is not, however, a man to give up easily. He finds that in the will which gave the farm in question to Jack's mother, the testator had said: "And to my cousin Ellen Saxby, of Eastgate Farm, Northumberland, in consideration of love and affection and knowing that she will carry out my wishes in the matter, I leave in fee simple the property known as Holton Hill." Ward contends that this bequest in fact created an enforceable "secret trust" and that Ellen held the property in trust for her son, Jack.
There is a murder in the book, as well as a rather colorful semi-orgy and other things, but to someone like me, who knows almost nothing of the law of property, these dramatic events were insignificant when compared to unrecorded options and secret trusts. I turned to my colleague, Stanley M. Johanson, to find out what I should make of all of this.
On the first point, Mr. Johanson tells me that an option to purchase real estate would be recordable in nearly every American jurisdiction—possibly in every jurisdiction. Most American states, however, do not follow the rule in section 13 of the Land Charges Act. There are probably only three American states in which, on the facts described, Amos would hold the land free of the option. Under the more usual American statutes, a purchaser takes subject to any interest in the land of which he has actual notice, even though the instrument has not been recorded.
The more interesting, and more complex, point concerns the secret trust. The concept of a secret trust is recognized in American law, which has held that the devise holds the property in constructive trust for the person who was the beneficiary of the secret trust. Restatement (Second) of Trusts 55 (1) 1959). However, most American jurisdictions, following the leading case of Olliffe v. Wells, 130 Mass. 221 (1881), would hold that the language in the bequest to Ellen Saxby creates at most a "semisecret trust" that is not enforceable. The English cases draw no such distinction and would impose a constructive trust in both the secret trust and semisecret trust situations. The English rule is adopted, however, in Restatement (Second) of Trusts 55 comment h (1959).
Thus Jack Saxby would win in Northumberland or in AL1-Land, while Amos would win on this issue in Massachusetts and the majority of American jurisdictions. There is also the possibility that the words used "knowing that she will carry out my wishes," might be held in any jurisdiction to be a precatory only and thus not to create a trust of any kind.
Dwell in Danger ends, even after the murder has been solved, with what purports to be an extract from the court's judgment in a suit to establish that Amos did not get clear title by his purchase of the farm. As it happens, the court is able to resolve the case on another issue and thus finds it unnecessary to decide whether the statute made the option void since it was not recorded or whether Amos held as a constructive trustee on a secret trust theory.
I enjoyed the volume—and I also enjoyed learning some of the niceties of property law in which Mr. Johanson instructed me. Even so, I had the feeling that this was the kind of book only a lawyer could love. To test the point, I asked my wife to read the book without giving her any hint of what I thought about it. She did not care for it.
She Shall Have Murder
My wife did enjoy, as I did, She Shall Have Murder. In that volume, there are no nice legal points to master. Indeed, one need not even know what a solicitor is. A measure of the mystery's appeal is that the book was first published in 1949 by Holt, Rinehart & Winston and that Harper & Row has republished it in paperback this year as part of Harper's excellent Perennial Library series.
Delano Ames is a British writer born in 1906. He published a vast number of mysteries during the years 1932 to 1972. The principal figure in this book is Jane Hamish, a solicitor's clerk in a London firm, although her fiance, Dagobert Brown, also has a prominent role and does the most to solve the murder. Not all of the books by Delano Ames involved these two engaging people. A number center on a sergeant in the Spanish Civil Guard, Juan Llorca. I have never read any of Ames' works before, but in their invaluable A Catalogue of Crime (1971), Barzun and Taylor make it clear that they find the Llorca books much less satisfying than those in which Jane and Dagobert, who are married in the later books, appear.
While Daniel Playfair, the senior partner of Daniel Playfair & Son, is not the main figure in She Shall Have Murder, he is an attractive one. (The name of the firm, incidentally, has a nice English touch; Daniel Playfair's only son was killed at age 18 in the second battle of the Marne and had never shown any interest in going into law.) Playfair is nearly 70, but looks much younger. He prefers to do the crossword puzzle in The Times or to discuss a bridge hand he played at his club the preceding night than to talk about law, though when forced to, he is very sharp in giving the precise answer, complete with citations, to legal questions.
Although we do not officially recognize in this country a distinction between barristers and solicitors, many American lawyers will find that a comment Playfair makes to Jane strikes a familiar chord.
"A family solicitor has many curious duties to perform, which they don't teach at the University. He sometimes comes across things which worry him, Miss Hamish, moral problems, questions to which there are no answers in the precedent books. Sometimes he has to act when no written law tells him to act. More often he has to refrain from action, Miss Hamish, when a literal interpretation of the law he served bids him to act. That is sometimes even harder. To fold your hands and look away."
When Jane is not sure what he means, Playfair continues: "As you get older, Miss Hamish, you'll come across more and more of these occasions when you must decide not to look at certain things too closely. Perhaps what I really mean is that you must look at them even more closely, from all points of view, coming to the conclusion that your first impression may have been hasty, bigoted, too cocksure. You must develop what is commonly called tolerance, a name which lazy people admittedly employ to cloak their moral slackness, but which in its best form is merely another word for wisdom. The laws of man are quite specific on what is legal and what is illegal; but God allows many things to take place which are beyond our feeble understanding."
This mystery is in the classic pattern in which every person who works in the Playfair office, except Jane, and even one of the firm's clients variously seem to have been the murderer, until at last the true villain is unerringly identified by Dagobert. The details are told in a light and amusing way. I agree with Barzun and Taylor that "detection-cum-humor is a perilous assignment," but I think that in this book Ames has successfully avoided the perils.
Although, as I said earlier, I enjoyed Dwell in Danger, I am not inclined to hunt for other books by Roy Lewis. I am going to have my eye peeled whenever I go to a bookstore for the three other Jane and Dagobert books by Ames that have been republished in the Perennial Library series.
---
Charles Alan Wright holds the William B. Bates Chair for the Administration of Justice, The University of Texas School of Law, Austin. Since 1982, he has had a regular column in The Practical Lawyer called "The Fictional Lawyer" in which he reviews mysteries. I have chosen to reprint only one of the columns, which reviews two books not otherwise mentioned in this issue, but I highly recommend you look at the others.—Ed.
---
I'll Do Anything You Say, Just Don't Make Me Practice Law
by Lia Matera (Santa Cruz, CA)
My law degree was cheap at $20,000, including tuition, loans and narcotizing substances (I couldn't have made it without chili-spiced french fries from the Java Restaurant, no way). The degree had hidden costs, of course. My professors kept threatening to make me "think like a lawyer," and might have succeeded if I'd been less vigilant. I had to buy business suits, which remain in my closet like dinosaurs in a tarpit. And now that interest payments are no longer deductible, I pay Sallie Mae in that anathema to lawyers, "after-tax dollars."
In addition, I had to endure three years at Hastings College of the Law, survive the bar exam, and even ply my trade for a while. But I always knew I'd drop out the minute I sold a novel. I always kept my distance, studying my fellow lawyers with an anthropologist's eye. (You can buy anything in San Francisco.)
Having invested several years and serious money in the profession, it seems natural to use it as a backdrop in my novels. I hang around with lawyers; I know the patter. I'm not interested in explaining the law (I'd have continued teaching moot court and legal writing, if I were), but I enjoy showing lawyers at work and at play. I enjoyed presenting an unromanticized, student's eye view of law school in Where Lawyers Fear to Tread. I enjoyed showing the differences between a union labor practice in A Radical Departure and a commercial litigation practice in Hidden Agenda. I don't focus on the law—that would be dull reading. I focus on the lawyers. Different legal practices attract different personalities with different financial and political agendas. Clients are different, office decor is different, assumptions, attire, terminology, social functions are different. I like to think that to an audience raised on Perry Mason, these details will be interesting—more interesting than a motion by motion description of a case. And from my point of view, let's face it—if I found case minutiae interesting, I'd be a practicing lawyer instead of a recovering lawyer.
Since I do focus on details of milieu, I try to get them right. A lot of lawyers read mysteries. I think I'd lose much of my audience if the legal environment felt phony to them. That's one reason I continue to hang out with lawyers; also, they seem to know the best restaurants. And every once in a while, a lawyer really makes my day (and how many people can say that?).
For example, I once walked into a party and had a lawyer tell me his firm had had a meeting to decide whether to sue me for invasion of privacy. "But then," he continued, "I called so-and-so, and she assured me A Radical Departure was about her law firm." They were both wrong. But in a flattering way, they were both right.
Occasionally, readers are fooled into thinking I'm still a real lawyer. I'm not. You'd be better off taking rosary beads into court with you. But my legal training has given me themes and settings for all my books. Pretty good value, I'd say.