Volume 24, No. 2, Summer 2008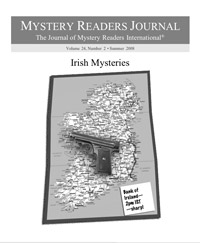 Buy this back issue! Available in hardcopy or as a downloadable PDF.
TABLE OF CONTENTS
Is Sister Fidelma a Credible Historical Character? by Gail Egbers
The Brighter Side of Irish Crime Writing by Dick Adler
Guardians of the Peace by Jim Doherty
AUTHOR! AUTHOR!
Shadows of Guilt: Ireland in the 1950s by John Banville, aka Benjamin Black
Distance Lends Perspective by Colin Bateman
Billy Boyle Goes to Ireland by James R. Benn
An Irish Heroine by Rhys Bowen
Crime Pays—On the Page by Declan Burke
No, Not the Blarney Stone by Ken Bruen
An Irishman's Lot by Doug M. Cummings
The Importance of Being Irish by David Dickinson
When Irish Writing Roots Are Showing… by Carole Nelson Douglas
Where Fact Meets Fiction by Garbhan Downey
Killing the Peace Process by Ruth Dudley Edwards
The Roots of Murder by Tana French
Rachel O'Reilly's Murder by Jenny Friel
Josephine Tey and Nuala Anne McGrail by Father Andrew M. Greeley
Finding Mythic Ireland by Lyn Hamilton
Foxes, Cabbages & the Ancient Laws of Ireland by Cora Harrison
Stumbling on a Body in the Bog by Erin Hart
How the Irish Created My Civilization by Jeremiah Healy
I Owe My Life to an Irish Criminal by Eoin Hennigan
Irish Soul by Tobsha Learner
A Literary Tour of One Dublin Author by Stephen Leather
The Irish in P.I. Frank Johnson's Debut Outing by Ed Lynskey
Casting a Cold Eye on the Gloss of Modern Ireland by K.T. McCaffrey
Irish Connection by John McEvoy
Patrolling the Border by Brian McGilloway
The Absence of Death by Cormac Millar
Writing and Ireland by Pat Mullan
The Elusive Irishman by Teagan Oliver
An Arresting Tale by Ralph Robb
The Irish in Me by Les Roberts
Balancing the Book by Zoë Sharp
Lark and the Quaker Connection by Sheila Simonson
Interwoven Irish by Therese Szymanski
Irish Crime Writing: Truth Sells Better Than Fiction by Neville Thompson
Sister Fidelma, 7th-Century Supersleuth by Peter Tremayne
COLUMNS
In Short: Murder Most Irish by Marvin Lachman
Just The Facts: Mole To Manhunter by Jim Doherty
Children's Hour: Irish Mysteries by Gay Toltl Kinman
An Irish Author in the Golden Age: Freeman Wills Crofts by Philip Scowcroft
MRI MAYHEM by Janet A. Rudolph
Letters to the Editor
From the Editor's Desk by Janet A. Rudolph
---
Ordinary Decent Criminals: Irish Noir Fiction in the 21st Century
by Glenn Harper (Silver Spring, Maryland)
Of the numerous detective, thriller, and mystery series set in Ireland since the birth of the Irish Republic, until the turn of the 21st century only a few were firmly in the noir genre. Ken Bruen's recent novels set in Ireland are very much in the mode of noir classics in the 1940s and '50s and mark a distinctly new turn in Irish crime writing. Among the earlier novels, Victor Banville's detective stories are most firmly in the genre of the noir detective story, as well as being much better than the more prominent Bartholomew Gill's McGarr mysteries, but Banville's detective series has ceased, except for a couple that are intended more to teach literacy skills. Of the rest of the pre-Bruen writers, one of the best is John Brady, whose series features Dublin policeman Matt Minogue.
There are a couple of literary thrillers from the last decades of the 20th century worth mentioning in passing because they approach noir in distinctive ways. M.S. Power's Children of the North is an intense, complex trilogy on the so-called Troubles in Northern Ireland, in a dark, Graham Greene vein and with a rich sense of both tragedy and comedy. Another novel on the Troubles, The Psalm Killer by Christopher Petit, has an eerie quality of being both a documentary novel about the convoluted politics of Northern Ireland and a brutal thriller that has some common ground with Silence of the Lambs. It's also worth mentioning a few noir-ish late 20th-century Irish novels that aren't exactly crime novels: Hugo Hamilton's Headbanger and Sad Bastard (featuring a cop and a noir atmosphere as well as considerable black comedy) and Seamus Smyth's Quinn (featuring a career criminal and a lot of even blacker comedy).
John Brady, who was born in County Clare but now lives in Canada, has continued the Minogue series into the new century. One prominent feature of the eight novels is Brady's evocative descriptions of Dublin and the countryside, which has been undergoing rapid change during the time period of the series. Another is the language. Brady's ability to transcribe spoken, Irish-inflected English is astonishing, even achieving distinct regional accents with his eccentric pacing, spelling, and diction. Though all the novels are very good in terms of the detective/noir atmosphere and plot, it is the language that distinguishes them as exceptional. The seventh Minogue novel, Wonderland, has a truly noir plot: events on several tracks hurtle toward one another not in terms of a puzzle or mystery but a dark inevitability. The story hinges (as is usual in the series) on the current reverberations of Ireland's troubled history. The latest Minogue novel is Islandbridge, which is much concerned with the transformation of Ireland into a European crossroads, no longer isolated from the "traffic" of all sorts that characterizes the contemporary noir environment.
Ken Bruen had been writing noir crime fiction for several years before he began setting some of his novels in his home country. First, his London detective, Brant, visited his family's origins in Galway, and then Bruen began one of the darkest contemporary crime series, featuring a disgraced Garda officer, Jack Taylor, who sets up shop in the West of Ireland as a private detective. Bruen seems to be a text machine, churning out novels quickly and giving the impression of not planning or editing much. The considerable charm of the Taylor novels is in the flow of the narrator's voice, and not in the plot or structure. Bruen's current series has some peculiar qualities, not the least of which is his tendency to quote other writers in the historical and contemporary noir genre. His writing is more Charles Bukowsky than James M. Cain, though: the narrative voice can be fascinating and bleakly poetic.
Taylor is a very self-conscious loser, a boozer and druggie who frequently brings grief to those he loves (or even associates with). The third Jack Taylor novel, The Magdalen Martyrs, exhibits both the attractions and the limitations of his version of noir fiction. The attempt to link the narrative to the horror of the Magdalen martyrs, enslaved by nuns in Galway in the early and mid-20th century, is the weakest part of the novel. The Dramatist, the next in the series, is one of the best of the Taylor novels. Taylor is less self-flagellating here than in the earliest books in the series, and he's honestly trying to connect with people. The plot (as always with Bruen) is really secondary—the results of his investigation come late and without much punch. The point of the books is to travel the hard road (the Calvary road, almost) of Taylor's journey through Galway and environs. But the ending of The Dramatist relies on the death of a character who seems to exist in the novel only to die senselessly, and thereby to send Jack careening off the water wagon and back into the bottle and his pal, despair. The dizzying pace of Bruen's publishing schedule makes it hard to keep up — there are already two more Taylor novels, Priest and Cross, as well as new entries in his other series.
Following in Bruen's very rapid wake is a new crop of excellent crime writers. Declan Burke creates, in Eightball Boogie, a hard-boiled "research consultant" (part freelance reporter and part private detective), Harry Rigby, who lives in the northwest of Ireland (in a small city that seems to be Sligo, though it's never named). Harry, a first-person narrator, is the wisecrack-laden voice at the heart of the book. Harry's Marlowe-ish/Bogart-esque voice comments on the action, the scene, and the other characters (in the words of one of them, Harry watches too many movies). Harry's own awareness of the depression or self-hatred lurking behind his smart mouth prevents the style from descending into parody. And when the story turns to Harry's estranged wife and their son, the smart talk recedes as the emotional depth increases. But most of the time, at least, Harry is almost as funny as he thinks he is, and the comedy keeps the story rolling along between the sudden eruptions of violence.
Burke's second novel, The Big O, could hardly be more different. The Big O moves out of classic pulp-noir territory into a kidnap caper with style and plotting more like Elmore Leonard (or maybe Donald Westlake) than Dashiell Hammett or Raymond Chandler. The narrative is actually mostly dialogue: the voices are snappy, and the novel is divided into short sections, each from the point of view of one of the characters. The result is a kaleidoscopic narrative that moves forward at a rapid pace—and the result is quite funny, in the way that Leonard's novels are frequently funny: expectations are overturned, characters move inexorably toward an unforeseen climax, and we glide past unbelievable coincidences without hesitation. None of the characters are master criminals, they're very much "ordinary decent criminals," a wonderful phrase from the Troubles, and the attraction of some of them for others is that of ordinary men and women. The Big O is, ultimately, a crime farce of the first order. The elements of the plot lock together as the story moves forward with an increasingly comic quality, and the short sections and alternating voices add additional liveliness.
The first novel by journalist Gene Kerrigan, Little Criminals, has a seemingly careless plot but actually has a tight overall structure that the reader only sees at the end. Little Criminals takes one of the  standard plots of crime fiction, a kidnapping gone sour. But Kerrigan uses the plot in the service of a portrait of the post-Celtic Tiger, Euro-centric, urbanized Ireland of today, in all its consumerist, un-quaint glory. And just when you think you know what's coming, he takes a side road into an intimate portrait of small town life, integral to the plot and affecting without descending into bathos. Yet the ending has something in common with pulp classic No Orchids for Miss Blandish, a hollowness within the relief of the resolution, a desperation that comes only partly from the awfulness of the things that the characters have experienced.
Kerrigan's second crime novel, Midnight Choir, is also a terrific book—not as much fun as the first novel, but deeper. Midnight Choir is structured much like Little Criminals: there is an incident that serves as a frame, with intro and coda for the novel as a whole; events and phrases pop up with no explanation but the reader's knowledge of what's going on is built up gradually. The process that the author leads us through is carefully and skillfully constructed and the language is straightforward but doesn't give away much. Much of what's going on is between the lines, and that indirection makes the awful concluding events less shocking than inevitable (events that in less skillful hands would be shocking, even repulsive). Few crime novels are as well written as this, and few as ambitious in scope and depth.
On the subject of good writing (and literary ambition), John Banville, under the pseudonym of Benjamin Black, has started a new crime series, debuting last year with Christine Falls, featuring post-World War II Dublin and a pathologist named Quirke. Black's novels have a good deal more plot than most of Banville's "straight" novels, as well as a somewhat more straightforward style. He packs a lot of elements from the mystery and crime tradition into Christine Falls: a Jim Thompson plot about a young drifter in the US, a Ross Macdonald plot about a rich family spanning the Atlantic, a good deal of material drawn from the Magdalene scandal (already exploited by Bruen and others), and a lot of depressing material about the broader interface between the Catholic Church, the poor, and the very rich.
One thing that is surprisingly not important, after the early pages, is the profession of Quirke, Banville/Black's central character: unlike other fictional pathologists who are amateur or part-time detectives, Quirke only discovers one fact through his medical skills, though it's the fact that sets the rest of the book in motion. But after that, Quirke's job is only used for metaphorical purposes (his relation to the dead, versus his step-brother's profession as an obstetrician).
It's a tightly packed, involving, beautifully written, and somehow not quite adequate crime novel. Banville's brother Vincent's detective stories satisfy more fully as crime novels, though perhaps without the literary heft of the Benjamin Black tomes. Banville isn't quite slumming as Black, but he's also not taking a full and focused advantage of the genre elements that he summons under the pseudonym. The sequel, The Silver Swan, continues the dark story of Quirke's surviving family through their involvement in the possible suicide of an ambitious young woman.
Playwright Declan Hughes is neither slumming nor hiding his debt to American noir fiction, in particular Ross McDonald. Hughes's detective, Ed Loy, has just returned to Dublin after 20 years in California. The first Loy novel, The Wrong Kind of Blood, is a bit more straightforward than its sequel, The Color of Blood, but both are very much tied up with family dramas, rich folks, and Ross McDonald-style noir. And there are lots of bodies, though the "blood" in the title refers more to blood diseases and family histories. Perhaps a bit more prominent in the first novel is a tour of the new Dublin, quickly leaving its past behind.
The second novel in the series begins with the detective being hired by a classic Ross Macdonald client: the rich, screwed up, decadent Howard family. Hughes, as an established playwright, may have been drawn to Macdonald's more literary model of noir, but in any case the style of writing is not stripped down in the terse style of Simenon or the journalistic style of Kerrigan, and not full of references to fiction and pop culture like Bruen, but full instead of descriptions, metaphors, and allusions in the voice of the first-person detective narrator. Hughes's dramatic sense is evident his skill with the dialogue that forms a counterpoint to the allusive prose. The characters are three-dimensional, and the extremely complicated plots are lively and not predictable.
One of the interesting aspects of The Color of Blood is its explicit analysis of Irish culture in these days of the "Celtic Tiger." Among the Irish crime novels I've seen, Hughes offers the most explicit analysis of who's left out of the Irish miracle, and what the sources are of the miseries that linger in Irish society. These sociological threads provide a grounding for the discomforts, perversions, and miseries portrayed in the novel: all of which rise in Faulknerian, apocalyptic tensions vividly described in the novel's final chapter.
The third Ed Loy novel continues to explore the wealthy and middle-class families of Dublin, but with a somewhat broader social eye as well: the horsey set, from owners and trainers through jockeys and hangers on, is the primary focus of the crime and the novel, but public housing estates and crimes usually associated with such settings also appear. The title of the book in the US is The Price of Blood, continuing the "blood" series of Hughes's titles and picking up on the Judas theme of the novel; in the UK, it's The Dying Breed, emphasizing another theme, the bloodlines of horses and also people (with an additional suggestion of families prone to violent death, a theme in all Hughes's novels so far). The plot works better at the level of metaphor than as a reasonable story, but it's really the writing that holds the Loy books together: the rhythm and flow of Hughes's prose style is rare eloquence in the field of crime fiction.
Borderlands, the title of Brian McGilloway's first crime novel, evokes a wide range of associations, particularly in the northwest of Ireland, where the novel is set. Detective Ben Devlin and the rest of the characters cross repeatedly over the national border between the Republic of Ireland and Northern Ireland, and both the police and the various criminals and suspects cross back and forth over the line between social norms and antisocial behavior. The story deals with the discovery of a young woman's body in circumstances that suggest that the murderer may have been one of the travelers (formerly known as tinkers), Ireland's gypsies. The social lines between the settled population and the travelers, between petty criminals and businessmen, between the police and the murderers are never completely clear, and McGilloway manages the multiple ambiguities of the story very skilfully.
Devlin is the narrator, but he's no superdetective: he muddles along, frequently aware that damage is being done because he has made the wrong move or remained a step behind those responsible for the original murder, as well as vicious beatings (of which he is more than once the victim himself) and crimes of the present and the past. The long, sad history of Irish political entanglements is one of the subjects of the novel, but it remains in the background, as McGilloway and his narrator focus instead on the people who have inherited that history and those entanglements.
McGilloway's style is clear and direct, even when the story is not, giving a real sense of Devlin's puzzlement and the process by which things are clarified. This is a short but powerful crime novel, and a sympathetic portrait of a "borderland" that is too often obscured in cliches or ruralisms in fiction of the present and the past. McGilloway conveys a believable and engaging portrait of a real, troubled, and coping-as-best-they-can population in the new Ireland, with all its contradictions and complexities. The sequel, Gallows Lane, has just been released in the UK.
The writers mentioned above (plus others, such as Tana French, whose neo-Gothic crime novel, In the Woods, reinvents the police procedural, or Adrian McKinty, though the last novel of his dark and violent trilogy is the only one set in Ireland) form a distinctive new wave in Irish noir, parallel but different in key respects from the "tartan noir" of Scotland. There's been some discussion in the blogosphere about the reasons behind the current boom in Irish crime fiction: the sudden entry of Ireland into urbanized, postmodern Europe, the entry of new immigrants into the country, new crime in evidence along with new money, and now the uncertainty of even the Celtic tiger in the world's faltering economy. I expect the answer is simpler: the confluence of a number of highly talented Irish writers with the emergence of a new wave of crime fiction worldwide. Ireland along with Scandinavia and other regions is producing new and exciting noir fiction that is more accessible to American readers than foreign crime writing has been in the past.
---
Glenn Harper blogs on crime fiction at internationalnoir.blogspot.com
---
The Roots of Murder
by Tana French (Dublin, Ireland)
I've lived more than half my life in Dublin. Because of my father's job, I spent most of my childhood as an international brat—Vermont, Florence, Malawi… Then, in 1990, we settled here. This is the one city where I can tell you the connotations of every neighbourhood, the best shortcut from here to there, where not to walk at night and where to get a good pint. It's my home, and everything I write has its roots in Dublin ground.
I have this theory that one of the best barometers of a society is the mystery writing that comes out of it. For both readers and writers, crime novels are a way to deal with something that's almost impossible for most of us to get our heads around: one human being killing another. And an awful lot of real murders are deeply rooted in the specific time and place where they're committed. In Ireland in the 1800s, there were cases where a man killed a woman who was carrying his child, because otherwise he would have to marry her and he didn't want to; that wouldn't be nearly as likely to happen in, say, New Jersey in 2008. (On the other hand, 1800s Ireland didn't have all that many drug killings.)
Because of this, I think, crime novels tend to tap into the crucial things about a society: its deepest fears, its highest priorities, the biggest problems it's struggling with. American Psycho is one obvious example, but on a more general level, take the explosion of serial-killer novels in the US in the 1990s; I think that was a response to increasing individualism and anonymity. As people became more isolated, as they were surrounded by strangers rather than by communities, that new sense of dislocation and vulnerability came through in books about anonymous stranger killers. Mystery books become a way to try and understand, not just murder in general, but the kind of murder that's specific to a society—in other words, a way to understand that society's fears and desires and tensions.
When I settled in Dublin, there was basically no Irish tradition of crime writing. One of the reasons, I think, is that mystery novels usually involve a murder, and until at least the late 1990s, the Irish murder rate was pretty near nil. Another reason is that even the big cities were made up of tight-knit communities where everyone knew everyone else's business; when a murder was committed, everyone in the neighbourhood mostly knew whodunit inside a week, even if the police could never prove it. That didn't add up to the ideal context for a mystery novel.
The third reason, I think, is that Ireland had a deep, passionate resistance to bringing its problems out in the open. Maybe because of centuries of living under British rule, this country had an intense culture of secrecy: whatever you say, say nothing. Anything shameful or dangerous belonged tightly under wraps, unmentioned. To write about a murder, even a fictional one, would have gone very strongly against the grain. That mentality comes through even in one of the few pieces of Irish crime writing I can think of from before about 1990: John B. Keane's powerful play The Field, in which a couple of local men kill an outsider for trying to buy a field that they feel belongs to them, and the community covers up the murder. Even the absence of crime writing can tell you a lot about a place.
Since then, Ireland's priorities and fears and struggles have changed enormously. With the economic boom of the past ten or twelve years, the country's been changing faster than our minds can handle. We're trying to cope with crucial questions being lobbed at us, at vertiginous speeds: when you go from dirt-poor to filthy rich overnight, how do you develop a healthy attitude towards money? As it becomes the national god, how do you hold onto any of the country's old priorities? How do we welcome a sudden influx of immigrants, and tap into their huge potential to contribute to the country, without straining our resources or losing hold of our identity? Conflicts like the one I touch on in In the Woods—a new motorway is needed, but does it really need to go straight through a hugely important heritage site?—are being played out every day. We're desperately trying to find a way to balance past, present and future without wrecking all three.
And mystery writing is, as always, one of the places where this tension is explored. Declan Hughes's wonderful The Wrong Kind of Blood, for example, deals with an Irish detective coming home to an Ireland that's very different from the one he left, an Ireland where the past resurfaces to threaten the present. And I'm no exception. All my books—In the Woods, The Likeness and the new one I'm working on now—deal with how the past, the present and the future intertwine, defining and redefining one another; what happens when they come into conflict; and how the interplay between them defines identity.
In the Woods is about the train of events that's set in motion when three children run into a wood near Dublin, in 1984, and only one comes out—and he has no memory of what happened that day. Twenty years later, Rob Ryan, the child who came back, is a detective on Dublin's Murder Squad, and the murder of another child draws him back to that wood and to his past. As he digs deeper, though, old memories start to surface, his mind starts to disintegrate under the pressure, and everything that's most precious to him comes under threat. In The Likeness, Detective Cassie Maddox is called to a scene where the murder victim is her double, and she ends up going undercover, into the victim's life, to find out what happened. The victim lived with a strange, tight-knit group of university friends in a ramshackle old house with layers of dark history, and that history gets tangled with the present.
I never really planned to write about the relationship between past, present, future and identity. But if you're living in Dublin in the 21st century, those questions are in the air; you breathe them in every day, you deal with them every time you walk down a city street. And if you're writing about murder, the ultimate high-stakes subject, then those crucially high-stakes questions are going to underlie every word you write.
---
The first novel by Tana French, In the Woods, was published in 2007 by Viking in the US and Hodder & Stoughton in the UK, and recently won the MWA's Edgar Award for Best First Novel. Her second book, The Likeness, will be published this summer. She lives in Dublin with her fiancé and a timeshare cat.
---
Josephine Tey and Nuala Anne McGrail
by Father Andrew M. Greeley (Tucson, Arizona & Chicago, Illinois)
The Daughters of Time has always been one of my favorite mysteries. Josephine Tey links the solution of a mystery in the late middle ages (the murder of the two young princes in the Tower) with a solution of a contemporary mystery. After looking for a "hook" on a similar story, I decided that the murder of Irish revolutionary hero Michael Collins was a perfect fit.
My detective would be a certain Dermot Michael Coyne whose beloved grandparents left shortly after the death of Collins and would never talk about "the troubles." Dermot is a big, likeable young man who turned down a football scholarship to Notre Dame and flunked out of the school. Then he went two years to Marquette and studied theology, but did not manage to graduate. His family bought him a seat on the board of trade where he barely survives until on the basis of a mistake he earns a million dollars.
Dermot, you see, loves to read and think and write poetry but he's not long on work. Well, he turns his gains over to a shrewd investment manager and goes on the grand tour of Europe which ends up in Dublin. Dermot tries to explore his grandparents' role in the death of Collins and is warned off by the police. Three toughs jump him off Stephens Green and he throws them through a plate glass window. As his mother says, Dermot becomes angry only when someone tells him there's something he can't do. So he phones his brother, a priest in Chicago and asks for a copy of the diary that "mom" (as the grandmother is called) kept during the troubles.
Alas, they are written in the Irish language and an archaic script. He must find a translator. I had decided that this translator would be a young woman from Trinity College whom he hires to do the translation.  He wanders one evening into O'Neill's pub on College Green (which has been pavement as he tells us for at least a hundred years) and encounters a beautiful young woman who is studying a text book on World Economics. She dismisses him as "friggin' rich Yank" (using even harsher language). Dermot is smitten and decides she will be the translator. She brushes him off. The pub crowd demands a song from her. She produces a small Irish harp and sings the melancholy story of poor Mollie Malone. Dermot falls completely in love. She is, he tells us, is a black-haired Irish goddess (one of which he admits he has never met) and her voice has the sound of bells ringing over the bogs.
So this  young woman, Nuala Anne McGrail (in her native Irish: Maire Phinoulla Ain MacGreil), enters the story with an assignment to a secondary role. Dermot Coyne's life will never be the same and neither will mine.  Before he knows what has happened, he becomes her spear carrier and she becomes his Dr. Watson, Captain Hastings, and M. Flambeau all rolled up in one. She sings, she acts, she's an accountant and, oh yes, she's fey. She sees things ("dings" in her Irish brogue)—like the gender of a new baby even before the child is conceived—and excels as an ally, fighter, and as a reader of  the auras around people (Dermot's silver blue, save when he is having dirty thoughts about her—then it becomes, she assures him, like the flame of an acetylene torch).
She may be in some weird contact with his "Ma." She is also given to the issuance of orders about what Dermot should do to solve the mystery.  She is as much in love with him as he is with her, but—sick from  pneumonia and fed up with her bossiness—he ignores her and flies home after she has solved the mystery for him. I added an ending to Irish Gold (Forge, 1994) in which he imagines meeting her at O'Hare Airport when she arrives to assume her job at Arthur Anderson and taking her home to meet his family.
That I thought was the end of the lovely and contentious young woman. But there was no way to really get rid of her. Readers had fallen in love with her, including my publisher. What happened next? they demanded.
So the Nuala Anne series began and continued through ten volumes, in each of which there is a mystery from the past, either in Ireland or among the Irish in Chicago, as  well as one in the present. We also witness the courtship of Dermot and Nuala Anne (Irish Lace), their marriage (Irish Whiskey), their honeymoon in Ireland, including the acquisition of their first snow white Irish wolf hound (Irish Mist), and their first child (Nellie Coyne, now thirteen going on sixty and also fey and known by her baptismal name Mary Anne) in Irish Eyes.
She experiences postpartum stress, gives birth to another little girl, Sorca Marie, who is not fey, but weighs a pound and half at birth (Irish Stew) and, at her husband's insistence,  becomes a nationally famous concert singer. Now going on thirty-two with four kids, a cook, a nanny, and two wolfhounds, and of course poor dear Dermot (as she calls him) to take care of, Nuala Anne (and Mary Anne) take up martial arts, earning black belts in tae kwan do. She cannot quite explain why, but says she knows she  must do it.
I confess that I don't fully understand the woman, but I don't have to. Readers dote on her and apparently don't mind that the links between past and present are thin and herself sometimes seems much larger than life.
To which complaint I reply, "of course she is!"
Some also complain about the intensity of the sexual love between Nuala and Dermot. After all those years of marriage, they contend, sometimes in anger, there's no room for romantic love. Such objections tell more about the people that make them than it does about married love.
The begrudgers don't like her Irish twists in her speech. The Irish don't answer a question by asking another. Don't they now?
While all this is going on and Dermot and Herself—sometimes with the help of her good friend Blackie Ryan—solve mysteries from the past: in Chicago the mystery of the Camp Douglas "rebellion," the sinking of the Lady Elgin, the Hay Market Massacre, the Cholera epidemic in the 19th century; and in Ireland, the Risings of '98 and '02, the emergence of the Land League, the Galway trial of tribal leaders for murder, and the Irish Ambassador in Berlin during the war. Irish Linen, the story about the last mystery, features Klaus Stauffenberg, the Catholic who led an abortive revolution against Hitler. My current effort, Irish Tweed, recounts how Nuala and Mary Anne take on bullies in the schoolyard,
There are twelve stories so far in the series: Gold, Lace, Whiskey, Mist, Eyes, Cream, Linen, Love, Stew, Crystal, Tiger (Forge, Feb 2008) and Tweed. My publisher wants more, and with the help of God and the Chicago River not turning permanently green I will continue to write about her.
In truth. Is it fun to write about her? Don't I hope that Josephine Tey won't mind?
---
Father Greeley teaches a course in God in the movies at the University of Arizona, and does his research at the National Opinion Research Center at the University of Chicago. His parish in Tucson is Our Mother of Sorrows and in Chicago Christ the King.
---
Sister Fidelma, 7th-Century Supersleuth
by Peter Tremayne (Cashel, Ireland)
Had I purposely set out to write an international best-selling historical crime series, I would not have contemplated writing the Sister Fidelma Mysteries.
Imagine the scene. The aspiring writer goes into the office of a hard-nosed editor. "I want to write a detective series. It will be set in a time period few people know about; it will portray a culture no one is aware of outside certain universities, and it will depend on the interpretation of an ancient law system that hardly anyone has even heard of. Oh, and by the way, the names of the characters may be difficult for people to pronounce."
What would have been the reaction of that editor?
Fortunately, that's not the way it happened.
I was a guest lecturer at St Michael's College, University of Toronto, back in the mid-1980s. Although born in Coventry, in England, my father was a journalist from Cork, in Ireland, and on my mother's side I had a Breton grandmother and uncles and aunts who were Welsh and Scots. So what else could I do with that family background than to take my degrees in Celtic Studies?
By the 1980s I had published quite extensively in the field of Irish history and general Celtic Studies. But I had also written some fiction under the pseudonym of "Peter Tremayne."
Why Tremayne? Well, my wife and I had lived in Cornwall in the 1960s. I had written a study on the history of the Cornish language and its literature published in 1975 for which I had been honoured by being made a Bard of the Gorseth Kernow. When a publisher thought my fiction writing should be marketed under a different name from my non-fiction books, I chose a good Cornish name, Tremayne, meaning "place of stone." Tremayne was, in fact, a little hamlet near where we had lived. It boasted a few houses but the best Italian restaurant in all Cornwall.
Anyway, there I was in Canada talking to students on the ancient Irish law system, the Brehon Laws, on the early Irish social system and the extraordinary advanced status of women in that society. Women could aspire to all the professions, could be lawyers and doctors. We even know the names of women who wrote law texts in the 7th and 8th centuries. And, of course, there was the early Irish Church (which in retrospect is known as the Celtic Church) and its conflict with Rome based on its own cultural perceptions.
I waxed lyrical to the students.
It was the time when Ellis Peters (the pseudonym of Edith Pargeter) had achieved success with her Brother Cadfael stories. Also, Umberto Eco's Name of the Rose had just been translated into English but before the film with Sean Connery had been released.
So when one of the students remarked, after my lectures, that my subject would make a great background setting for a mystery series, I mentally agreed but thought it could never be taken seriously by those hard-nosed editors.
Time passed, as they say. It was in the early 1990s when the late Peter Haining, perhaps the world's most prolific anthology editor, asked me if I had ever written an Irish detective story as he was putting together a volume of such stories. That was when I thought back to the student's suggestion.
I wrote "Murder by Miracle," a short story, and sent it to Peter. I had called my character Sister Buan, a good 7th-century Irish name. The phone rang. Peter loved the story but not the name. It reminded him of the comical crook Smiler Bunn in the Bertram Atkey stories of the early 20th century. Could I think of another name?
Fidelma was also an ancient Irish name and one frequently used by the Eóghanacht dynasty that ruled Muman (now Munster), the south-western provincial kingdom of Ireland at the time. So Sister Fidelma was born.
Within a short time four such stories had been written and all published in 1993. They had been written primarily as entertainment but also to demonstrate those things I had been trying to teach the students about 7th-century Ireland.
Shortly after these stories were published, my agent phoned. Enter the "hard nosed" editor. Could I expand the concept to a novel and, furthermore, did I think I could continue the concept over three novels?
I could and I did. The rest, as they say, is history!
In spite of all the minus factors against using such a background, the series seemed to seize popular imagination.  And I am the most surprised of all.
To date, the books appear in seventeen languages in various editions, boxed sets and large print editions; they have been dramatised on German radio, issued as audio books in several languages, on cassette and CDs, and the dramatic rights sold to an Irish production company for developing into a television series.
Fan mail began to arrive from many parts of the world and, in 2000, I was asked by David R. Wooten of Charleston, South Carolina, if he could put up a Sister Fidelma website, which he would operate with my permission. I gave it.
Within a year many people had contacted him asking if there was a society that they could join. In January, 2001, The International Sister Fidelma Society was launched, with my approval. It not only runs the website but also publishes The Brehon, a print magazine, appearing regularly three times a year.
The Society, David tells me, continues to grow each year with members right across the world.
The Fidelma stories are primarily set in the ancient town of Cashel, Co. Tipperary, which from the 3rd century AD became the capital of the Kings of Muman (Munster). I created Fidelma as the sister of the historic King Colgú, who ruled c. AD 665–678. She was based on an amalgamation of female personalities from Irish history and myth, not the least a 7th-century female lawyer and judge from Muman named Dar-í, known to have written the law text Cáin Dar-í.
The Cashel townsfolk had noticed large numbers of visitors coming to the town and asking about Sister Fidelma. In 2004 the Mayor of Cashel and the Town Council accorded me a civic reception and presentation to acknowledge the fact.
It was at that time certain Fidelma enthusiasts on the Cashel Arts Festival Committee, in conjunction with The International Sister Fidelma Society, decided to organise a three-day gathering of Fidelma enthusiasts in Cashel. It was called Féile Fidelma 2006 and was held in September that year.
It was amazing. Enthusiasts from nine different countries attended and, after a welcome by the Mayor, and listening to me pontificate, they heard some of the leading academic experts on the historical and cultural background, as well as literary academics, talk about the books and their impact.
Dr John Scaggs of the English Department of Limerick University, a published expert on mystery crime fiction, pointed out that Ireland had been undergoing a boom in crime fiction writing. He added: "I think it is important to note that far from being merely part of the boom, the Fidelma novels were one of the contributing factors that set it in motion."  I felt a heavy responsibility!
One interesting aspect of Fidelma being the pioneer in historical Irish crime fiction as a female Brehon lawyer was that, in 2007, another Irish writer, Cora Harrison, launched an historical detective series with Pan Macmillan featuring Mara, a female judge of the Brehon Law. But Cora's Brehon sleuth operated in 16th Century Munster, about one hundred years before the English conquest that suppressed the ancient Irish law system.
The Féile Fidelma was reported as one of the biggest literary gatherings in Ireland, which is not short of literary gatherings.
At that time, a local business couple, opened Bruden Fidelma—Sister Fidelma's Guesthouse—in central Cashel.  I was asked to officially open it with its rooms named after the characters in the books, the place decorated with posters and pictures from the series and the lounge containing an impressive library of books in many of the languages that they have been published in.
Olivia Quinlan, who runs the operation, is also prepared to provide guests with a 7th-century, organic Irish breakfast of the sort Fidelma would have enjoyed.  Olivia is also content to provide more ordinary fare for those with less eclectic tastes. But, personally speaking, the home baked breads, the cheeses, cold meats and fruit are to die for!
Bruden Fidelma has become the Irish headquarters of the Fidelma Society.
The Cashel Arts Festival Committee were delighted with the success of the first event and so are planning the second Féile Fidelma 2008 for September 5–7. This time the gathering is located just outside Cashel itself in The Horse and Jockey Hotel, which stands in a tiny hamlet called Horse and Jockey, for this is now the centre of Irish stud farm country.
Once again, the organisers have gathered an impressive array of guest speakers. The best-selling Irish historical novelist Morgan Llywelyn, a long time Fidelma enthusiast, will be there.  Professor Dáibhí Ó Cróinín of the National University of Ireland, Galway, regarded as the leading expert on Early Medieval Ireland, and a Fidelma enthusiast, is giving a talk. Dr Dagmar Raedal-O'Riain from University College, Cork, an expert on Irish missionaries in Europe at this period, will speak.  The historical crime novelist from Germany, Karola Hagemann (one half of the Malachy Hyde writing duo whose books are set in Germany in the Roman period) and yet another Fidelma admirer, will analyse the current Fidelma phenomenon in Germany.
Then there are Simon and Maria O'Dwyer, experts on ancient Irish musical instruments and music, who will be showing replicas of the instruments of Fidelma's time and playing the sort of music she would have listened to.
David Wooten of the Fidelma Society will talk about how far his Society has come and his ideas for the future. I should add, I'll be there as well!  There's another gala dinner and visits to locations.
I point all this out, not in self-praise, but to demonstrate what an amazing journey Fidelma has taken me on. From an idea, which no hard-nosed editor would have even contemplated might be even a minor commercial success had it been outlined to him or her, the Fidelma Mysteries have developed beyond my dreams.
Moreover, Fidelma has been a very demanding lady.  I have not had time to think about writing any lengthy non-fiction studies in nearly ten years.
The nineteenth book (The Council of the Cursed) in the series (including two collections) is published this September and I have just signed up to write two more novels over the next two years.
What's the secret of this success?
I am the last person to ask. Fidelma has certainly struck a resonance out there. What would make her appeal to the Japanese and the Bulgarians, as well as the Germans and French, the Dutch and Estonians? Already I have seen several learned discourses from librarians and academics trying to analyse the secret. I must say that in some of these works, I don't recognise myself, my motivations or, indeed, what Fidelma is all about.
Everyone is entitled to his or her own interpretations. However, I do wish some self-proclaimed experts would do their homework before pontificating.
Last year, at a conference in Sydney, Australia, a paper was presented which was a curious attack on both myself and Fidelma, claiming that I was a "New Age Druid" with no academic qualifications, who had simply invented the entire background to Fidelma's world as feminist and New Age propaganda. The lady presenting the paper appeared to be a lecturer in religious studies. It seems she was indulging in the very thing she was accusing me of. When I was at school I remember our distraught Latin master trying to hammer some passages of Pliny into us. The maxim "ne supra crepidum sutor iudicaret" is retained in my mind. "The cobbler should not judge beyond his shoe."
The first thing I have to point out to a prospective reader is that the Sister Fidelma mysteries are written primarily as entertainment. If readers cannot get into the stories and be carried along by them without having to attend a degree course to understand the background, then I would have failed as a writer. Thankfully, the enthusiastic following the books have across the world would indicate that I have succeeded in this.
Having said that, I know the background is very unusual and the culture is basically an unknown quantity. For readers who are genuinely interested to know just how accurate the stories are to the history, I do, through the Society, spend time providing sources for those who want to know more. See the FAQ section on the Society website.
I have been amazed when, as in the case of one American lawyer, readers have taken sabbaticals to go to Ireland and study Brehon law or the social institutions of the 7th century. Some colleagues in Celtic Studies departments have even told me that students have claimed they were inspired to take the courses through reading Sister Fidelma books. That's another heavy responsibility to bear.
One complaint that crops up now and again is about the pronunciation of the characters' names. I have to admit that this complaint always comes from English language readers and not from elsewhere.
I am sometimes asked why there are no Shauns, Micks, Tims or Pats in the stories. I kid thee not! Oh dear! Well, these Anglicised names were not used in ancient Ireland for a start. I only use authentic Irish names of the 7th century.
When I am asked about this, I advise readers, if they don't know how to pronounce the names, just do so as they think they should be. I was persuaded to put a pronunciation guide in the books at one time and the guide remains on the Society website. But I point out that these same readers do not register difficulties reading translations of Russian classics, or French novels or even names in Tolkien, or, invented names in other fantasy or science fiction novels. I can't remember whinging over pronunciation when a child reading Tarzan and the Ant Men by Edgar Rice Burroughs—it did not bother me how Trohanadalmakus, Veltoptismakus or Komodoflorensal was pronounced. So why single out Irish names as being difficult? I have my suspicions. Maybe it is thought Irish people should not have "foreign sounding names" to English speakers! A survival of cultural imperialism?
Thankfully, this particular complaint has ceased to be voiced apart from the odd reviewer.
Well, summing up, I think Fidelma and I have been lucky. I can't analyse why.  Maybe the secret is that I write the stories to entertain myself in the first place rather than writing with an audience in mind. And that is the first principle of writing.
Whatever I am doing, it seems to be working. So, maybe, come this September, I will see you all in Cashel in Ireland and you can tell me your views.
---
Peter Tremayne is the fiction writing pseudonym of Celtic scholar Peter Berresford Ellis. He is the author of 50 titles as Tremayne, 19 of which are Sister Fidelma mysteries, and over 30 non-fiction titles under his own name. There is an International Sister Fidelma Society at www.sisterfidelma.com based in Charleston, South Carolina, but to register for the Féile Fidelma 2008, based in Cashel, Co. Tipperary, go to www.cashelartsfest.com.
Buy this back issue! Available in hardcopy or as a downloadable PDF.