Volume 36, No. 4, Winter 2020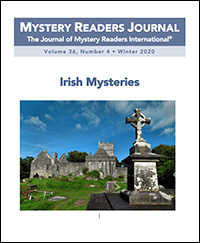 Buy this back issue! Available in hardcopy or as a downloadable PDF.
TABLE OF CONTENTS
ARTICLES
The Real Ireland by Robin Castle
Murder in the Border Country: The Crime Novels of Anthony J. Quinn by David Clark
The Ireland We Believe We Own by Rona Bell
Dublin Crime from the '50s to the 2000s by Peter Handel
Irish Mystery Writers of the Golden Age by Patricia Cook
AUTHOR! AUTHOR!
The Orange and the Green by James Benn
Shadows of Guilt: Ireland in the 1950s by John Banville, aka Benjamin Black
How Ireland's Mysteries Bedazzle the Historical Novel by Nancy Blanton
At Marks and Spencer by Flynn Berry
Irish Inspirations by Rhys Bowen
On Living and Writing in Ireland by Robin Castle
Kennedy, Starrett & McCusker… No, Not a Firm of Ulster Lawyers by Paul Charles
Routine Commercial Bombing, and Other Tales from Belfast by Anne Emery
My Wild Irish Prose by Carole Nelson Douglas
How Joining the Irish Infantry Inspired Me To Be an Author by Michelle Dunne
Secrets and Hidden Things by Tana French
Stories from Ireland's Thin Places by Erin Hart
Serial Killer on a Small Island by Catherine Ryan Howard
Noir in Belfast by Adrian McKinty
Bonds to Ireland Can't Be Broken by Catie Murphy
The 74% Irish in Me by Carlene O'Connor
Strange, Yet Familiar—My Ireland by Clare O'Donohue
Study Abroad Leads to a Castle Adventure by Art Taylor
Listening to Ireland by Sarah Stewart Taylor
When Irish Eyes Are Dying by Andrew Welsh-Huggins
COLUMNS
Mystery in Retrospect: Reviews by Lesa Holstine, D.R. Ransdell, L.J. Roberts, Craig Sisterson, Lucinda Surber
Just the Facts: The Case of the Vanishing Women by Jim Doherty
Children's Hour: Irish Mysteries by Gay Toltl Kinman
In Short: Ireland by Marvin Lachman
Crime Seen: Green Screen by Kate Derie
Real Ireland Mysteries by Cathy Pickens
From the Editor's Desk by Janet A. Rudolph
---
Stories from Ireland's Thin Places
by Erin Hart
The Irish landscape teems with so-called "thin places"—locales where the veil between realms is porous, where a person might go through a portal to other worlds. Anyone familiar with Irish folklore knows tales of shape-shifting animal spirits, magic spells and enchantments, places where the wee folk still dwell under the hills.
As a writer, I've always taken inspiration from Ireland's folklore, and its strange, real-life mysteries—ancient artifacts and human remains submerged in boglands, tombs and burial places from thousands of years past. The place is filled with uncanny spiritual connections between the land and its people, flora, and fauna. When visiting a ringfort or a stone circle, or trekking silently through a mossy forest, it's almost impossible to disbelieve in the existence of the little people.
People often ask why I chose Ireland as a setting for my novels, and I always say that I think Ireland chose me. It's a place I've been drawn to more than any other ever since I was a child. There's something about Ireland's complex and contradictory nature, all those layers of history one on top of the other—that lends a particular resonance to the kinds of stories I feel compelled to tell.
Every story I tell is inspired by something that really happened—a red-haired girl whose severed head turned up in a bog, a 2,000-year-old human sacrifice carrying echoes into the modern day, a woman's disappearance explained with stories of seals shedding their skins and taking human form, a book of psalms still readable after 12 centuries buried in peat.
So it's not surprising that I feel some of these stories have not just turned up randomly, but have been somehow given to me.
A case in point: In 2003, I was finishing up Lake of Sorrows, my second novel, set in the industrial bogs of the Irish midlands. The plot involved an Iron Age body turning up with evidence of a "triple death," a human sacrificed to a Celtic triple deity via three methods of execution—blunt force, bloodletting, drowning—each meant to appease a different god. I had read many historical accounts of these sacrifices, but felt as though I needed a real-life example to make the story come alive. I was leaving for Ireland in a couple of weeks for a research trip, when a friend sent me a newspaper article: Body in bog could be 2,000 years old, says museum.
I was gobsmacked! I began reading the article out loud to my husband, who happens to be from that very part of the Irish midlands:
A remarkably well-preserved body found in a Midlands bog could be up to 2,000 years old. The body is potentially of significant international archaeological interest, the National Museum of Ireland said yesterday. The headless body was discovered by a Co. Offaly farmer as he was digging a drain close to his home. The skin was still intact on the upper torso, the clothes were preserved and there was a bracelet on the upper arm.

When he stepped out of his mechanical digger and close to the body, farmer Kevin Barry particularly noticed the fingernails were still intact. He immediately called the gardaí though he suspected the body was very old.
At this point, my darling husband's head jerked forward. "Did you say Kevin Barry?" And then: "I think that fella's my cousin."
And so he was.
A few phone calls later to various sisters, cousins, and aunts, we had secured Kevin's contact information, and set up a visit to his house when we arrived in Offaly. Kevin escorted us out to the bog, and offered a furious and fascinating slew of details about "Old Croghan Man" that had yet to be made public—all of which made their way into the opening chapters of my current work-in-progress.
Another example: In 1999, on my first research trip for Haunted Ground, I was given a tour of the conservation lab at the National Museum of Ireland, where artifacts (and people) are examined when they turn up in excavations, construction, etc. The day I visited, a technician was removing wet peat from a leather satchel that had just turned up in a bog in northwest Co. Tipperary. I remember that the satchel had a long strap, and the stout leather reminded me of a Coach bag. I snapped a few pictures, went on with my tour. Thought nothing more of it.
Then in July 2006, workmen on an industrial bog in the townland of Faddan More in northwest Tipperary discovered a highly decorated 9th-century book of psalms—think Book of Kells—only about 100 yards from where the satchel had turned up seven years earlier. Antiquities experts at the National Museum and Trinity College Library believe the manuscript was probably written around 800 CE at one of a number of monasteries in the area.
It was an amazing story, one that piqued my interest. How did the book end up in the bog? I began devising a plot to explain how the discovery of an ancient manuscript could send ripples from the past right through into the present.
It was only once I was well into my fourth novel, The Book of Killowen, that I realized I'd been at the National Museum lab on the very day the Faddan More satchel was being examined.
I mean, what were the chances?
These are only two examples of many. I like to think of myself as scientifically minded, a person not easily pulled into mysticism and all things woo-woo. And yet these bizarre twists of fortune have always felt less like coincidence and more like gifts… but from whom?
I've been leading tours to Ireland since 2010, and absolutely revel in taking tour-goers to the places that have inspired my stories—mysterious bogs and castles, stone circles and ancient burial mounds, seal-strewn beaches and primeval forests—where readers can begin to experience Ireland's remarkable thin places firsthand—and make up their own minds.
---
Erin Hart writes archaeological mysteries set mostly in the shadowy boglands of Ireland. Her novels (Haunted Ground, Lake of Sorrows, False Mermaid, The Book of Killowen) have been shortlisted for mystery's prestigious Anthony and Agatha awards, and translated into ten foreign languages. She lives in Minnesota with her husband, Irish button accordion legend Paddy O'Brien, and frequently travels to Ireland, carrying out essential research in bogs and cow pastures and castles and pubs.
---
Noir in Belfast
by Adrian McKinty
I was born in Carrickfergus, a suburb of Belfast, in the summer of 1968 which was the summer all of Europe was erupting into protest and violence. In Belfast the Civil Rights movement for full Catholic Emancipation in Northern Ireland was turning from a street protest movement into an uprising which became for the next three decades a triangular low level civil war between Protestants, Catholics and the British.
Although this conflict, euphemistically known as the Troubles, seldom made the headlines outside of Ireland, my childhood was dominated by this war. Bombings, rioting, murder were all commonplace and as kids we just got used to it. The house I was born in was slap in the middle of a working class Protestant housing project. When the shipyards and factories closed down in the 1970s virtually every man in the street lost his job and everyone was unemployed. With nothing to do and no prospects people joined the paramilitaries.
Rioting was so common that as very young children we'd go watch the riots as entertainment and try to pick up plastic bullets or live rounds as keepsakes. I remember several massive bombings, attacks on our school, power cuts, etc. My next door neighbor became a serial killer who would go out at night looking for random Catholics to murder. He was eventually arrested and sentenced to multiple life terms but he was released in 1998 under the Good Friday Agreement. His son, my playmate, also became a murderer and is still in prison.
One night the British Army came to arrest another neighbor and his wife came into our house to use the phone. My brother and I stared down the stairs goggle-eyed as she tried to conceal a bulky World War 2 revolver in her flimsy nightdress as she called up her lawyer.
I grew up in a house where music was the queen of the arts, not literature. There were seven of us in my family and were all expected to learn a musical instrument or failing that sing. Just under music, poetry was considered to be the next most important cultural form, as has been the way in Ireland for at least 2000 years. Every small kingdom in Ireland had a court poet. The famous knights of the Fianna could only gain acceptance to the order if they could flawlessly recite hundreds of lines of verse while having spears thrown at them. This seems quintessentially Irish to me: violence and words interlinked.
As a kid I found my way into reading slowly. The books we studied in school held little interest to me but somehow in my teens I discovered Raymond Chandler and that set me off down the path into mysteries and thrillers. I read them for escape from the world I was living in and also because I dug the characters and the prose. Chandler, Hammett, Highsmith, Cain were the big first four that I loved.
Much much later, when I had tried a number of different careers and mostly failed at them, I turned to writing myself, and I knew that Belfast in the 1970s and 1980s was as noir as any place that ever existed on this earth. The rain, the cigarette smoke, the casual violence, the casual sex, the grubby, dirty, life-is-cheap 1970s brought to their logical conclusion in a city crucifying itself in real time. I wanted to write about Belfast and I wanted to write it through the fish eye lens of noir, and thus the Sean Duffy series was born and my life as a writer. The Mail on Sunday described my books as Derry Girls meets Apocalypse Now which is a description I loved, because if you want to capture the darkness you have to show the light too. At first no one wanted to look back and when I started there were only two or three Northern Irish mystery writers; now, at last count, there are over twenty. The genre is thriving and long may it continue to do so.
---
Adrian McKinty grew up in Belfast, Northern Ireland, during the worst decades of the Troubles. He now lives in Australia with his wife. Adrian's books have been shortlisted for the Edgar Award, Dagger Award, Anthony Award, Theakston Crime Novel of the Year Award, the Ned Kelly Award and the Prix SNCF.
Buy this back issue! Available in hardcopy or as a downloadable PDF.