Volume 7, No. 3, Fall 1991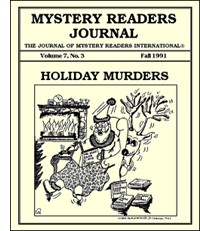 TABLE OF CONTENTS
Holidays with Haddam by Barbara Richards Haugen
Murder for Christmas?? by Patricia J. Fanning
On Holiday with Agatha Christie by Catherine Agatha Accardi
Three for Christmas, One for Easter, and a Firecracker for the Fourth of July by Maryell Cleary
A Christmas Quartet by Jean Groulx
Guys, Dead Dolls, and Fancy Cats by Roberta Ann Henrich
Murder for Your Birthday by P.M. Carlson
Holidays and Homicide by Max Allan Collins
Deadly Promise by Mignon F. Ballard
Christmas Crime by Sally C. Gunning
Holiday Grinches by Carolyn G. Hart
Let's Deck the Halls with Poisoned Ivy by Katherine Hall Page
COLUMNS
Mystery In Retrospect: Reviews by William Deeck, Carol Harper, Dean James, Judith Weaver
In Short by Marv Lachman
Mystery Viewers International by Jim Doherty
Just Juveniles by Nancy Roberts
Four-Color Felonies by Jim Doherty
MRI Mayhem
Letters to the Editor
---
Murder For Christmas??
by Patricia J. Fanning (Norwood, MA)
Everyone knows that Christmas is the season to be jolly—or is it? If there is so much good cheer, human kindness and brotherly love passed around during the holiday, why is it so often the setting for murder? At least of the fictional variety. Why is the Yule so very popular as a backdrop for crime, murder, blood and mayhem? A brief examination of several Christmas mystery novels should be enough to supply anyone with a few "clues."
First of all, "there is no place like home for the holidays"; everyone gathers there for the festivities—husbands, wives, children, in-laws, long-lost aunts and uncles, and, of course, the occasional detective or amateur crimesolver. Where better to find a motive than amongst squabbling "blood" relatives or friends?
Georgette Heyer brings the Herriard family together for Christmas in Envious Casca (Hodder and Stoughton, and Doubleday, 1941). Nathanial Herriard, the host, is a most unpleasant man, baiting and insulting all of his guests, each of whom has a plausible motive when Nathanial turns up dead.
'Tis the Season to be Dying by John Keith Drummond (St. Martin's, 1989), adds a new perspective to an old tale. Elderly Matilda Worthing must sort out the nasty business of who, among his family, poisoned General Henry Anderson's orange juice while the dying General awaits the solution.
In like manner, Christmas at Gorston Hall is interrupted by the death of Simon Lee in Agatha Christie's A Holiday for Murder (Avon, 1947) and although the festivities continue, the spirit is gone as the not terribly merry family members prepare for questioning by Poirot.
Alisa Craig's detective Inspector Madoc Rhys and his fiancee unwittingly agree to spend Christmas with a family of practical jokers—the Condrycke family—in Murder Goes Mumming (Doubleday, 1981) and must make the best of it when Granny Condrycke meets her maker. In this novel, Craig also employs a setting which makes Christmas a favorite for many mystery writers—the snowbound mansion. How better to narrow the suspects, and add to the tension, than to have the participants cut off from the rest of civilization, keeping the authorities out—and the culprit in.
Ngaio Marsh uses the same ploy in Tied Up In Tinsel (Collins, and Little Brown, 1972) which finds Troy and Roderick Alleyn snowbound at Halberds Manor with Hilary Bill-Tasman, his holiday guests and a staff of one-time killers on parole.
The five days before Christmas are very busy ones for Richard Jury and Melrose Plant in Martha Grimes' Jerusalem Inn (Little Brown, 1984). The tale includes a snow-covered graveyard, thwarted romance, snowbound guests and the usual family secrets. With Plant's assistance, Jury unravels it all in time for gifts to be exchanged.
Christmastide at Warbeck Hall turns snowy and deadly as well. An impoverished peer, political dissention within the family and a visiting scholar who seems more capable of solving this British crime than the natives themselves, highlight An English Murder by Cyril Hare (Faber, and Little Brown, 1951).
One of the most famous Christmas mysteries comes from Ellery Queen. The Finishing Stroke (Simon and Schuster, 1958) finds Queen snowed in with twelve other guests in Alderwood, New York. Unfortunately, a thirteenth guest appears dressed as Santa, and Queen's friend and host, John Sebastian, receives a series of enigmatic and threatening gifts, parodying the "Twelve Days of Christmas." Murder soon follows. It takes Queen 28 years to solve this one.
Sometimes it is not the family gathering or the snowbound nature of the frivolities that lends a touch of mystery and murder to the season, however; it's eccentric customs or unexpected events which catapult the characters into a holiday pursuit of crime.
The guests at Dingley Dell, a Dickensian country inn, are indeed caught in a raging blizzard in Patrick Ruell's Red Christmas (Long, 1972; Hawthorne, 1974), but it's not the weather that leads to trouble. Heroine Arabella Allen discovers that the Christmas celebrations are merely a cover to a top-secret Pan-European conference of master spies.
In Death in a Willow Pattern by W. J. Burley (Gollancz, 1969; Walker, 1970), Dr. Henry Pym and his secretary Susan, summoned to Peel Place during the Christmas holidays to catalog the 200-year-old manuscripts and family books of the Leigh family, discover a diary which reveals the murderous exploits of one of Sir Francis Leigh's ancestors. The recent disappearance of two local women leads Pym to believe someone is trying to recreate the grisly events of long ago—or make it appear that way. This Christmas holiday is full of parties, treasure hunts, secret rooms and murder as Pym and Susan take the measure of the Leigh family.
History professor Will Gray becomes involved in mystery and murder around Christmas at Crosscreek University in South Dakota in Cathleen Jordan's A Carol in the Dark (Walker, 1984; Dell, 1986). A forty year-old letter, an elusive treasure and a mysterious society (The Close Company of Perfect Strangers, whose members meet only on Christmas night in a New York restaurant) all figure in this most unusual tale.
A more comic, if equally bizarre, group joins in the light-hearted Beacon Hill festivities of Charlotte MacLeod's The Convivial Codfish (Doubleday, 1984). Jeremy Kelling has lost the Great Chain of the Convivial Codfish during the Annual Scrooge Day revels of the Comrades of the Convivial Codfish. Add to this tragedy a murder aboard the Tolbarthy Party Train and newlyweds Sarah Kelling and Max Bittersohn must solve the case while preparing for both Christmas and Channukah.
A much more ominous cast assembles for Christmas dinner in The Twelve Deaths of Christmas (Collins, 1979; Walker, 1980). A series of seemingly random killings plague London in the days before Christmas. Marian Babson, in a clever twist, sees to it that the reader knows, while the police do not, that the murderer lives in a particular roominghouse. After the shopping, wrapping and decorating is complete, the boarders gather for Christmas repast and the killer's thoughts turn to the carving knife.
As Babson's tale, in which the title and chapter headings refer to a variety of Christmas carols, demonstrates, Christmas affords the mystery writer an abundance of familiar symbols, phrases and customs to entertain the reader. The Twelve Deaths of Christmas and The Finishing Stroke both make the holiday celebrations part of the plot. Similarly, the events of Ngaio Marsh's Tied Up In Tinsel are centered around the lighting of the Christmas tree with a golden Druid doing the honors instead of Father Christmas. Murder Goes Mumming depends on the custom of Christmas "mumming" for its driving force, and the body of beautiful model Miranda Travers is discovered on Boxing Day in Murder Under the Mistletoe by Jennifer Jordan (St. Martin's, 1989).
When Balaclava College holds its annual illumination in Rest You Merry (Doubleday, 1978), Professor Peter Shandy, disgusted by the money-making events, decorates his house gaudily and leaves town. Upon his return, he finds a faculty wife dead in his living room and Charlotte MacLeod's holiday romp takes wing.
Another satiric mystery, Silver Linings, is set in a Jewish suburb of Chicago, where two dress shop owners who were once best friends could kill each other. Glitz and wit amount as Nicky Silver, a househusband and poet, solves the crime in this humorous tale by Charles Cohen.
While Silver Linings contains one of the most hilarious parties imaginable, parties often provide the catalyst for holiday crimes. Wealthy salesman and aspiring politician Alexander "Sandy" Clausen hosts a party for the homeless of Philadelphia in Gillian Roberts' Philly Stakes and is discovered dead, still in his Santa suit, under the burned remains of the toppled Christmas tree. Intrepid teacher Amanda Pepper and her erstwhile suitor, Detective C.K. Mackenzie, stumble their way to a solution.
In Corpus Christmas by Margaret Maron (Doubleday Crime Club, 1989), the trustees of the Eric Bruel House, home to a collection of turn-of-the-century art, propose a major retrospective for renowned modern artist Oscar Nauman. A Christmas party in the artist's honor dissolves in unpleasant squabbles brought on by new trustee, Roger Shambley. The next morning Shambley is found dead at the bottom of the attic stairs.
Murder in the English Department by Valerie Miner and A Party to Murder by Michael Underwood (Macmillan, 1983; St. Martin's, 1884) use department and office Christmas parties respectively to set up the suspects and the crime, but then drift off into other seasons for their conclusions, leaving the reader to wonder why Christmas was used at all.
And finally, of course, there are several offerings which have nor relevant reference to the season at all: Sister Carol Anne O'Marie's Advent of Dying, Isabelle Holland's A Fatal Advent (Doubleday, 1989), Mary Kelly's The Christmas Egg (Secker and Warburg, 1958; Holt Rinehart, 1966), and Michael Allen's Spence and the Holiday Murders have little to do with the celebration of Christmas. Any holiday, in fact, any time of the year, would do for these mysteries, as it would for the procedurals Crime for Christmas by Lesley Egan (Doubleday, 1983) and No Holiday for Crime by Dell Shannon (Morrow, 1973).
These final entries notwithstanding, it is obvious that Christmastime has provided a plethora of plots for those with murderous intent. Is it any wonder? After hours of jousting in holiday crowds and rounds of seasonal parties with relatives, coworkers and friends, who wouldn't harbor a few villainous thoughts? It can be very comforting, if not down-right cathartic, to settle down in front of the fire with a few Christmas mysteries. And, after you've read them, they make great stocking stuffers!
---
Mystery In Retrospect: Reviews
by William F. Deeck (College Park, MD)
Rufus King
Holiday Homicide (Doubleday, 1940)
This is a possibly dubious entry despite the title and the fact that the murder takes place on New Year's Day.
On board his yacht Coquina in New York City, Cotton Moon, private detective and nut—the edible kind—collector, is hit on the forehead by a sapucaia nut, a genuine rarity. It had been tossed inadvertently at him from, and brought his attention to, another anchored yacht, the Trade Wind, owned by a millionaire real-estate mogul, who had been shot in his bed, it appears, during the noisy revelry early on New Year's Day. Moon investigates at a fee even Nero Wolfe wouldn't sneer at and encounters another murder, an attempted murder, an earthquake and a hurricane.
This book has its moments, but they are brief and sporadic ones. Apparently King himself was aware it wasn't a completely successful idea since this is his only novel featuring Cotton Moon.
R.D. Wingfield
Frost at Christmas (PaperJacks, 1984)
When the eight-year-old daughter of a young woman no better than she should be and who collects money for doing it goes missing ten days before Christmas in one of England's worst winters, the Denton constabulary is organized splendidly for the search. Then misfortune puts Detective Inspector Jack Frost's fine example of the Peter Principle, in charge. As Frost reflects: "He wasn't bloody Gideon of the Yard, he was Detective Inspector Jack Frost, G.C., jumped up from being a lousy sergeant to a lousier inspector. He hadn't asked for promotion."
Not an organizer, Frost, to give him credit beyond his due, but a good detective of the old school. At one point, Frost says: "All I want is a suspect. Forget this 'innocent until proved guilty' caper. Find your suspect and then prove he or she did it. Saves sodding about with lots of different people."
Those who enjoy Jack S. Scott's Rosher, or Reginald Hill's Dalziel, or even Joyce Porter's Dover, should appreciate Frost, who has Rosher's doggedness, Dalziel's cunning, and Dover's sloppiness. If this novel had been released by a publisher with better distribution, it could well have been a nominee for best original paperback in 1984. It deserves republishing.
Edith Howie
Murder for Christmas (Farrar, 1941)
An alleged short cut during a blizzard in New York leads Marcia and Peter Holgate, the latter a private detective, to the house of Carter Dravis on Christmas Eve. Dravis is a collector—of wives—and has naturally gathered around him for the holiday family members and acquaintances who bode him no good. At least he's sensible enough to be scared, but he isn't scared long because someone inserts a knife in his back.
Although Howie writes well, she unfortunately not only employs "Had I But Known" but "Had I But Given It Any Thought." Marcia Holgate, the novel's narrator, is a blurter, only bothering to think after she has said something dangerous either for herself or for someone else. Concealed evidence, for reasons that perplex me, and a blind eye by Peter Holgate allow the murderer a chance at Marcia, who carries an automatic she calls a revolver and who has never been shown what to do with the safety.
Dougal McLeish
The Valentine Victim (Houghton Mifflin, 1968; Popular Library, no date)
While Lori Weston is at the office of the Ontario Provincial Police detachment in Farnham on Valentine's Day reporting a possible molester as well as an aborted break-in of her home, her stepdaughter Aileen, readying herself for the Valentine's dance, is shot six times by an exceptionally brutal murderer. Was the murderer the threatening figure her step-daughters had seen, or did one daughter kill the other? Or was it possibly one of the step-daughters' fiancés or a former boyfriend with monetary gain in mind? What is one to make of the astounding coincidence of the time of the murder, with Lori Weston provided a wonderful alibi by the police?
While the Canadian setting isn't particularly recognizable—the murder could have taken place anywhere in North America—that would be the only criticism I have of this novel. The investigation by Inspector John Rodericks, a fully realized character, is an excellent one. As both police procedural and fair-play novel, this one excels.
Manning Long
Vicious Circle (Duell, 1942)
When Liz Parrott and her husband, Gordon, are invited to spend Christmas with Gordon's snobbish Aunt Hester and her family in Upper Cutting, New York, Liz does not want to go. There is, though, more to the invitation, for Aunt Hester apparently wants Gordon's detecting skills more than she wants him and his wife for social purposes. Of course, once the Parrotts arrive, Aunt Hester won't discuss whatever problem she had in mind. Even after the murder, she remains mum.
I have read only one other Liz Parrott novel, without Gordon, and it was a good one. This fairish-play book may appeal to husband-and-wife-team fanciers, if they don't mind childish jealousy and a fair number of tantrums by all concerned, and to those who enjoy biblio mysteries (the biblio part is a best-selling study of the Soviet Union). The only sensible character here—even Gordon stupidly puts Liz in jeopardy, and Liz just as stupidly compounds his folly—is the cat I-Am, who unfortunately has no control over circumstances and has an undeservedly rough time.
Frances Noyes Hart
Hide in the Dark (Doubleday, 1929)
Somewhere in Maryland is Lady Court, an old manor house long uninhabited except for the possible ghost of a murderer. On All-Hallows Eve, 1928, the March Hares—four people born in March and claiming to be mad, in a good sense—hold a gathering of spouses and friends to become acquainted and be reacquainted. There are thirteen altogether, a fitting number, if you don't count the ghost and the memory of another March Hare who had committed suicide on the grounds ten years earlier.
Lots of undertones and overtones here as early-day jet-setters — I guess they are ocean-liner-setters—mingle with the not so successful, the jealous, the emotionally deprived. And then, after the apple bobbing, comes the game called "Hide in the Dark" and murder. All the people in the house had access to the means, most had the opportunity, and many had a motive.
While I didn't particularly appreciate most of the involved chitchat at the beginning—the list of characters that was provided came in handy here—when the murder occurs the novel became quite gripping. Forgive the slow beginning; it's worth struggling through it for the rest of the book.
J. Jefferson Farjeon
Death in Fancy Dress (The Fancy Dress Ball in the UK) (Bobbs, 1939)
New Year's Eve brings with it the Chelsea Arts Ball at the Albert Hall, where "ten p.m. till five a.m. sober folk discard their sobriety, flinging themselves into queer costumes and queerer mental activities in an attempt to forget the humdrum of existence." The reader follows here several characters who attend the Ball: Henry Brown, nondescript, impecunious, timid; the Shannon family, at the head of which is a mutinous mogul; Sally, made up as Nell Gwynn and with the correct mental attitude; Sam, Sally's stupid and incompetent confederate; and Warwick Hilling, who had given "protean" performances before All the Crowned Heads of the World, now down on his luck and preparing to appear for pay as a Balkan prince.
Much takes place at the Ball, though Hilling misses most of it, in this thriller—not "murder mystery," as the publisher would have it. Indeed, there is no detective, either amateur or professional. If you can put yourself in the thirties' mood and be willing to accept what would be regarded today as odd mental attitudes, you should enjoy the unlikely carryings-on.
Osmington Mills
No Match for the Law (Bles, 1957)
While undoubtedly there will be many reviews of novels dealing with St. Geoffrey's Day, another presumably won't hurt. As all of you should know, though maybe the Archbishop of Canterbury doesn't, St. Geoffrey of Michester received his sainthood, as well he should, for decreeing that no lawyer could set up practice within the bounds of the city.
In observance of St. Geoffrey's Day, a cricket match takes place between the "law"—members of the bar—and "order"—local civil officials. Mr. Justice Craven, an immensely unpopular jurist with both those who come to his court and with his family, having scored 42, takes a break and drinks a beverage he made himself from a recipe he found in an old book. Three hours later he dies of oxalic poisoning.
Because of the judge's unpopularity, the list of suspects is long. When the judge dies, Chief Inspector Baker of Scotland Yard's Special Branch is at the cricket match and handles the investigation in exemplary fashion, but how was he to know about the joker in the woodpile? An excellent whodunit.
David William Meredith
The Christmas Card Murders (Knopf, 1951)
Four men living close together in Stelton, New Jersey, receive Christmas cards with Happy New Year struck out and an added message reading, "You will die before the old year ends." A practical joke by a child in the neighborhood, Douglas Martin concludes. And then one of the four men is stabbed to death on Christmas Eve. Murder and attempted murder follow as Martin, a reporter who is recovering from polio, investigates in an effort to keep himself and others alive.
Quite a Christmasy novel, with not only murder after a carol singing but chapter titles taken from Clement Clark Moore's "A Visit From St. Nicholas." Martin is a well-drawn character, as are his family and neighbors, with all their strengths and weaknesses. My only complaint would be that the author unnecessarily repeats the major clue, and that repetition immediately put me on to the murderer. Highly recommended.
---
Mystery In Retrospect: Reviews
by Carol Harper (Houston, TX)
Carolyn Hart
Deadly Valentine (Doubleday, 1991)
Carolyn Hart's Annie Laurence and Max Darling return, and, as usual, the story is witty, well-plotted and suitably mysterious. Annie is trying to negotiate between her old bookstore cat, Agatha, and the new kitten, Dorothy L., who seem to have a strong enmity toward each other; Max is being hunted by the seductive new next-door neighbor, and Max's mother Laurel is coming for a visit! Unfortunately, the loopy Laurel finds herself attracted to another neighbor who is subsequently murdered, and Laurel is now the prime suspect. Just goes to show what can happen when Cupid meddles! Max and Annie investigate from two different directions, leading to a suitable denouement.
Jane Haddam
Act of Darkness (Bantam, 1991)
Gregor Demarkian is still investigating unofficially, but this time not for Father Tibor. He has been asked to attend a "seminar" (a political euphemism for a fund-raising weekend) on Oyster Bay, Long Island, over the July 4th weekend. In the midst of all the red, white and blue decorations (there is enough bunting to strangle someone, if strangling is what someone has in mind), patriotically shaped foods (bread shaped like Pilgrims' hats, quiches shaped like George Washington's profile and caviar-filled ice sculptures shaped like American eagles), fireworks (scheduled for every evening of the four-day weekend) and parades (heard only in the distance), Gregor notices that all is not right at the quixotic home of movie star Victoria Harte. Harte's daughter is married to Stephen Whistler Fox, a particularly vapid Senator who is the politically correct invention of Dan Chester. Fox's other constant companions are Dr. Kevin Debrett, expert in the seminar topic, and Patchen Rawls, new-wave movie star and Fox's current mistress. Accompanying Gregor is Bennis Hannaford, best-selling sword-and-sorcery author and Gregor's "cover." Perhaps he should have talked to Father Tibor first. People are dying mysteriously and Gregor must not only figure out how, why and by whom, but also why the FBI seems to be so interested and in time to prevent ANOTHER murder! This is the third in Haddam's (aka Oriana Papazoglou) holiday theme series featuring the retired founder of the FBI's Behavioral Sciences unit.
Mary Daheim
Fowl Prey (Avon, 1991)
Judith McMonigle runs a bed-and-breakfast called Hillside Manor, and Thanksgiving is coming up fast. She is due to entertain ALL the family, including her crusty old mother Gertrude, her eccentric aunts and other cousins. But, after that murder at Hillside Manor (Just Deserts), she needs a few days off, so she lets her cousin Serena ("Renie) talk her into a brief shopping trip to Vancouver. They'll stay at the Hotel Clovia where Renie and her husband have had good times in past Octobers. Judith, needless to say, is NOT PLEASED when she discovers the body of the street vender Bob-o in the hotel elevator and is told she must stay in Vancouver until the crime is solved. Since the local police are on strike and only one Inspector is on duty at any one time, this looks particularly risky. Judith must solve the crime herself; she know that Gertrude would never forgive her if SHE has to cook the turkey dinner!
The last chapter describes the Thanksgiving dinner as Judith explains to one and all HOW she discovered who killed Bob-o:
Auntie Vance was swearing like a sailor as she stirred the gravy. Uncle Al was expounding on his latest scheme to get rich at the dog track. Uncle Vince was dozing off by the fire, and Bill was smoking a Cuban cigar while he tried to watch the traditional Thanksgiving football game on TV. Mike and Kristin had dashed up to the top of Heraldsgate Hill to a convenience store to get the whipping cream which Uncle Al's girlfriend, know to the family as Tess of the Timber Mills, had forgotten to bring. Aunt Deb was being waited on by all three of her grown grand-children while Gertrude plotted a new way to booby-trap her sister-in-law's wheelchair.
"'If I greased the wheels with turkey fat, I could send her right into the aspidistra,' Gertrude chortled as Judith elbowed her way in besides Auntie Vance to check the green beans.
Is it no small wonder that Judith is good at solving murder? She has to be—her family would drive any sane outsider to it!
Noreen Gilpatrick
The Piano Man (St. Martin's Press, 1991)
The Piano Man is the first winner of St. Martin's Best First Traditional Mystery Contest, awarded annually at Malice Domestic. Paul Whitman is a concert pianist who has given up the stage for the less glamorous job of restoring antique pianos. He has been hired to restore three pianos on a remote island in Washington's Puget Sound. When he gets to the island, in October, he finds that he is definitely regarded as an outsider, and the residents, while outwardly friendly, seem to be conspiring to keep him on the outside. Then people start finding dead bodies (including the body of the man whom Paul has replaced), and the pianos are vandalized. Is there a psychopath loose on the island, or is the motive more traditional? The book runs a little long between murders and, in places, it is hard to keep track of the large cast. However, the scenery, the celebrations of Thanksgiving and Christmas (Paul attends a Traditional Thansgiving feast at one islander's house, helps her with her Christmas project—potting hundreds of poinsettia plants in her greenhouse for the Christmas bazaar—and gets roped into the heavy work for decorating for the bazaar), the attitude of long-term residents toward outsiders, and the weather are exceptionally well-portrayed. Paul looks like he might settle in on "the Island," so his sleuthing future looks doubtful. Perhaps he can travel, restoring pianos in more crime-ridden climes.
Isabelle Holland
A Fatal Advent (Doubleday, 1989)
Isabelle Holland, although an American by birth and residence, writes books which have a British tone. A Fatal Advent is the fifth in a series about Claire Aldington, psychotherapist, ordained Episcopal priest, and Assistant Rector at St. Anselm's in New York City. A visiting British Dean is murdered at the parish house during the Advent season. While the actual investigation of the murder is performed by Lt. O'Neill of the NYPD, a series of petty thefts, the disappearance of Claire's teenaged son, a pair of anonymous threatening letters, and the initial suspicion that Claire's husband may be the murderer leads Claire into the investigation.