Volume 26, No. 4, Winter 2010-11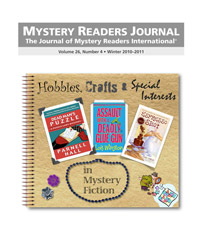 Buy this back issue! Available in hardcopy or as a downloadable PDF.
TABLE OF CONTENTS
AUTHOR! AUTHOR!
Camp Follower for the Weekend by Suzanne Adair
A Bead of Roses by Susan Wittig Albert
Buzz Miller and Black Thumb Gardening by Gale Borger
Confessions from the Craft-Free Zone by Kate Carlisle
Murder and Mayhem for Fun and Profit! by Dianne Castell
A Scrapbook Full of Clues by Laura Childs
Brewing Up Murder by Cleo Coyle
Pretty Things by Monica Ferris
A Warm and Cozy Place by Sally Goldenbaum
Shall I Kill Today or Quilt Today? by Barbara Graham
Crafting a Gift Basket Is Like Solving a Mystery by Beth Groundwater
Nick Madrid's Hobby: Astanga Vinyasa Yoga by Peter Guttridge
Constructing Crossword Puzzles by Parnell Hall
It's Not All Cakes and Quilts by Karen Harper
Who Knew Crochet Would Be a Killer Hobby? by Betty Hechtman
Collectors Anonymous by Linda Kupecek
Creating the Crafty Sleuth by Mary Ellen Hughes
Pets As Hobbies… Or Not? by Linda O. Johnston
Modern Mysteries Feature Colonial Home Crafts by Cricket McRae
Writing from Life by Annette Mahon
Is It Real or Is It a Dollhouse? by Camille Minichino
If Quilts Could Kill by Clare O'Donohue
When the Ink Flows: Writing What I Don't Know by Karen Olson
Quilted Memories by Barbara Sullivan
There She Is by Jane Tesh
Crossword: It's a Puzzle by Verna Suit
My Creative Life by Joanna Campbell Slan
Writing About and Collecting Dollhouse Miniatures by Christine Verstraete
How a Quilter Became a Writer by Terri Thayer
My Mathematical Hobby by Jerry Weinberg
A Special Interest in Murder by Anne White
Tales from a 19th-Century Childhood by Lea Wait
The Solution Is in the Cards by Tina Whittle
Why Murder Happens in the Pottery Studio by Gayle Wigglesworth
Killer Crafts & Crafty Killers by Lois Winston
Matryoshka Dolls Inspire a "Nested" Mystery by Joyce Yarrow
COLUMNS
Mystery in Retrospect: Reviews by Lesa Holstine, L.J Roberts
The Scrapbook of Memoirs by Jen Forbus
True Crime: A Special Interest in Murder by Cathy Pickens
Children's Hour: Hobbies, Crafts and Special Interests by Gay Toltl Kinman
Mystery Seen: Detectives with Hobbies by Kate Derie
In Short: Interesting Hobbies by Marvin Lachman
From the Editor's Desk by Janet A. Rudolph
---
Is It Real or Is It a Dollhouse?
by Camille Minichino (Castro Valley, California)
I love dollhouses. It's people I can't stand. I don't dislike all people, just the ones that inhabit dollhouses—i.e., dolls.
You should be able to take a picture of any room in a dollhouse and have it be indistinguishable from a real house, unless there's a ruler or a coin in the photo.
But as soon as you put a doll in the house, it no longer looks "real."
I know there are "realistic" dolls of the right size for a dollhouse, but no matter how expen-sive and "lifelike" they are, they still stare into space and are usually capable of only one expression on their faces. Sure, some are "poseable" but until there's a living, breathing doll that can move around on the one-inch-to-one-foot scale, I'll stick to vacant houses. I'm thinking of putting a "No Vacancy" sign on my latest cottage so no one will be tempted to give me dolls.
There's a way to have a dollhouse look as though people live there, without having to deal with the faux people. To that end, I crumple small pieces of paper and place them as "trash" on the desk and floor of a miniature office. I toss clothes on the floor in the kid's room, strew laundry around the basement, and spill crumbs on the kitchen counter. I even plant cobwebs (thread) in the attic.
It's enough that people have been there; you don't have to see them.
In the UK they're called "dollshouses." I don't like this spelling, because it implies that dolls live in the houses, whereas I live in them. I live in the Victorians and Tudors and room boxes that I build and decorate, and in the much nicer homes I visit at miniature shows and museums.
I imagine myself putting away groceries in the tiny kitchen of one of my dollhouses, resting on the living room couch, eating at the six-inch dining room table, climbing the stairs to lavish bed-rooms and even cleaning the tiny bathrooms. (I can help you make a tiny plunger using a toothpick and a small piece of crafts clay.)
Before you get ready to cart me away, let me explain that you'd have to lock up entire communities of miniaturists if you're worried about us tripping out, imagining we live in our tiny houses. There are sound reasons for the flight of fancy.
In fact, they're the same reasons readers give when they claim to be able to escape into a novel, or when they discuss how close to reality a work of fiction should be.
Should writers be super-careful about one-way streets if they're using a real city as a setting? Should historical writers check every detail to be sure they're not off by a few days of the invention of ink or zippers? TV viewers complain about how "off" CSI is as it relates to the daily life of a real crime scene tech, but it's still one of the most popular shows on the air.
It's fiction. Does it matter?
Miniaturists have the same kind of discussion. How realistic should dollhouse furniture be? Should dresser drawers open? If you can open the oven door, should there be a rack with a tray of cookies baking away? A light? Should we spray chocolate fragrance?
Colleen Moore, the silent screen star, took realism to the limit in her custom-built miniature castle, with real running water cycling through tiny pipes. I like her interpretation of what it's all about:
The child yearns to interpret the adult world in terms he can handle, and small replicas of grown-up things answer his need.
It seems to me that whatever level of accuracy we require, the sentiment works as well for those of us who read and write mystery fiction.
---
Camille Minichino, writing as Margaret Grace, is working on her sixth in a series of mysteries based on her lifelong hobby of dollhouses and miniatures. She's on the faculty of Golden Gate University in San Francisco and on the board of NorCal Sisters in Crime.
---
Brewing Up Murder
by Cleo Coyle (Woodside, New York)
Eight years ago, my husband and I embarked on writing a series of amateur sleuth novels set in and around a landmark coffeehouse in New York's Greenwich Village. I know, I know. Amateur sleuths in traditional mysteries are supposed to knock back loose leaf tea in bone china cups. Maybe so, but here's the rub.
I'm a java geek for good reason.
Growing up in a big, Italian-American family, I found a Moka Express pot on almost every kitchen stove. To me, espresso was never some fashionable Yuppie drink. Whether the demitasse was served with a shot of sambuca on the side, lemon and sugar on the rim, or biscotti on the saucer, that bold, dark elixir was part of my cultural heritage.
My first job, at the age of 12, was serving coffee—just like my fictional coffeehouse manager Clare. I wasn't born and raised in New York. I grew up in a blue collar neighborhood outside of Pittsburgh, Pennsylvania. Unlike Clare, however, I didn't drop out of art school. I completed my degree at Carnegie Mellon. Thanks to some early writing awards along with a journalism program at American U. in DC, I wound up landing a cub reporter's spot at the New York Times.
I downed a lot of bean juice during that period. I also lived in a tiny apartment in Alphabet City. These days, much of that Manhattan neighborhood is packed with trendy bars and clubs. Back then, it was simply a low income wing of the East Village.
Although my Avenue B apartment was Lilliputian in size and sat across from a park that was (at the time) a haven for crack dealers, it was also located two floors above a small, no-frills bakery called Bread and Roses—a warm ray of home-baked light in a manifestly noir-ish landscape.
The women who ran that bakery served coffee in the mornings, and I took blissful pleasure from the wholesome smells wafting from their shop: cookies, muffins, pies, and freshly brewing java. Their welcoming outlook was equally reassuring as I attempted to stay afloat on Manhattan's crowded, competitive (way crazy) island.
That concept of a Cozy oasis nestled in a land of Noir stayed with me for years and became fundamental in the development of the Coffeehouse Mystery series.
Oh, sure, setting a series in "the Village" of big, bad New York seems a cheeky irony for anything calling itself a cozy mystery, which typically locates its amateur sleuths in small towns. Honestly, though, anyone who's lived in the Big Apple can tell you many aspects of the city—its unique neighborhoods, mom-and-pop businesses, and populace that loves baseball, gossip, and pets—have a lot in common with small town living. The historic, upscale West Village alone is very much like its own little burg.
So maybe my husband and I are writing a hybrid. Or maybe we should call what we write an Urban Cozy. Whatever it is, male-female collaboration is part of it.
Both of us have found the coffeehouse to be a fascinating institution—and a relatively new one in much of America. A generation ago, fern bars and chardonnay were the thing. Now teenagers are ordering lattes and college kids are perfecting their ristretto extractions at part-time jobs.
It's a sociological bonanza, too, the prefect playground for a mystery writer. You have mostly Third World farmers delivering beans to First World roasters and bohemian baristas handling them like brown gold for upscale customers. You have beat cops downing the stuff by the gallon, busy moms rushing in for take-out, wisecracking bloggers getting wired over laptops, and high school kids sucking down after-school coffee frappes.
Coffee as metaphor was also too good a fictional plaything to pass up. Not that making java one of your leitmotifs is anything new. Film director Ridley Scott used coffee as a symbol of justice in "American Gangster," and David Lynch obviously enjoyed playing with coffee in his work, especially "Twin Peaks" and "Mulholland Drive."
Look a little closer at the Coffeehouse Mysteries and you'll see coffee is more than a hot beverage—it's warmth and love; nerve and stimulation. Throughout the series, coffeehouse manager Clare serves up joe to a relentlessly sober NYPD detective who gradually falls for her while she fights her attraction to an ex-husband who survived a near-fatal addiction to cocaine. For her (and me, frankly), coffee is often a calm, head-clearing influence when the world starts spinning off its axis.
And speaking of holding fast to your center…
Many people have asked Marc and I how we write murder mysteries together without killing each other. Our answer (sans punch line)—long experience.
We were both multi-published authors before we met, and we each hit New York Times bestseller lists with solo efforts before we started writing together. Consequently, both of us were more than passing familiar with the highs, lows, twists, turns, and downright hellacious snags that come with penning novel-length fiction.
We've worked in skyscrapers and behind counters; experienced lavish corporate parties and dingy borough bars; befriended actors and artists, nannies and doctors, executives and firefighters. All of it feeds the fiction, continually influencing how we see the banquet of New York and the vibrant offerings of its population. The people around us and their stories are what inspire us to keep writing—and to be gentle with each other as we do.
Many have said that publishing is not a business, it's a casino. Certainly writing as a profession is far from a sure thing, but then Marc and I were wed at The Little Church of the West in Las Vegas. What keeps us going is a fairly simple philosophy, one we hope all writers can share.
Stay at the table. The dice will be nice to you eventually, but only if you keep throwing.
Caffeine doesn't hurt, either.
---
Cleo Coyle is the pseudonym of Alice Alfonsi, who collaborates with her husband, Marc Cerasini, to write the Coffeehouse Mysteries and The Haunted Bookshop Mysteries, both of which are national bestselling series for Penguin's Berkley Prime Crime. When not haunting coffeehouses, wrangling stray cats, or hunting ghosts, Alice and Marc are also New York Times bestselling media tie-in writers.
---
Constructing Crossword Puzzles
by Parnell Hall (New York, New York)
When I set out to write the Puzzle Lady crossword puzzle mysteries, I had no idea what I was getting myself into. I just thought having a crossword puzzle connected to a mystery would be a neat hook that might get the book published and perhaps even read.
So I created Cora Felton, a little old lady with a nationally syndicated crossword puzzle column, who solves crime on the side. I also made her a total fraud. Cora is the Milli Vanilli of the crossword puzzle community, whose smiling face adorns the column, but whose niece, Sherry Carter, actually writes it.
This, of course, results in the Superman syndrome—Cora Felton has a secret identity she has to protect. This is a huge problem for her, since crime seems to flourish in the small town of Bakerhaven, Connecticut, particularly crimes involving crossword puzzles, and the chief of police is always asking her to solve them. Cora not only hates crosswords, she couldn't solve one with a gun to her head.
I am not much better. When I set out to write the series, I hadn't done a crossword in twenty years, and I wasn't good then. I started doing the New York Times daily puzzles, just for practice. If you've never done them, watch out, they suck you in. Monday's puzzle is very easy. Tuesday's is a little harder, Wednesday's is harder than that, and by Saturday the clues are so hard they might as well be in Sanskrit.
I practiced hard, got a little more proficient, and entered the American Crossword Puzzle Tournament, the national competition held each year in Stamford, Connecticut. I didn't know what to expect, but the first puzzle was pretty easy, I was just flying through it, and I felt pretty good. I got about halfway done and I looked up and the room was empty! Everyone had finished and left. Out of 254 contestants I came in 250th, just ahead of the four people who failed to turn in a paper.
I wrote a song about my experiences, entitled "The Sunday Morning, 7th Puzzle, Fear of 4th Place Blues." I don't actually have those blues, by the way. In this year's competition, for instance, for me to have made the finals, 574 people would have to have done very poorly on the last puzzle.
But I met Will Shortz, the New York Times crossword editor, who runs the tournament. He read my first book, A Clue for the Puzzle Lady, and gave me a wonderful blurb for the cover: "Fresh, funny, and ingeniously devised, it kept me guessing right down to the end, just like a good crossword!"
Of course, he wasn't reviewing my puzzle.
In the early books I constructed the puzzles myself. This was a mistake. Constructing a puzzle took me almost as long as writing the book. Plus I got things wrong. When A Clue for the Puzzle Lady came out, National Champion Ellen Ripstein emailed me to point out errors in the puzzle. For instance, the clue "Tipped to show respect," for the answer, "Hat," in addition to not being very good, was also incorrect. The phrase did not describe a noun. To yield the word, "Hat," the clue would have to be, "It's tipped to show respect."
Since then, Ellen Ripstein has edited all the puzzles in my books, catching the errors before they go to press.
I also got someone to construct the crosswords. For the first few books I foolishly hung onto the notion I had to do them myself. I figured since the crosswords had to contain clues to the murders, there was no way I could program someone else to do that.
That all changed with And a Puzzle to Die On, in which the Puzzle Lady has a birthday (she's not saying which one), and Harvey Beerbaum, a genuine cruciverbalist, who was always causing Cora aggravation though his mistaken idea that she actually liked crossword puzzles, persuades several famous New York Times constructors to shower her with crossword puzzle birthday cards. That didn't please Cora any, but it was a huge relief for me.
After that, I left the constructing to the experts. Frequent New York Times constructor Manny Nosowsky, famous for his diabolically ingenious puzzles with barely any black squares in them, offered to construct puzzles for me. I just had to figure out a way to let him do it. The solution was, I would write the theme entries, the long answers I needed the puzzles to contain, and Manny would construct the puzzles around them. The theme entry was usually a four-line poem. Since crosswords are symmetrical, the first and fourth lines had to be the same number of letters, as did the second and third. In Dead Man's Puzzle, for instance, Manny embeds the poem:
By this gun
I am cursed
But I never
Came first
In this case, Manny assumes the identity of the victim, constructing the dead man's last puzzle. In Stalking the Puzzle Lady, Manny constructed puzzles for the killer. He's also done puzzles for the Puzzle Lady column. And he loves to throw in tricks. I can say, "Give me some poker terms," and he'll scatter a half-a-dozen throughout the puzzle, and I can have Cora notice that and realize it's a clue.
Manny even constructed a puzzle that could be changed into another puzzle. For the book You Have the Right To Remain Puzzled, Cora gets roped into creating a puzzle for a young housewife to help break the news to her husband that she dented the car. Sherry, who's just been proposed to by young reporter Aaron Grant, and is way too distracted to construct anything, takes a puzzle "My Apology" by Benny Southstreet from a book, and changes the last line of the sarcastic poem, from:
My apology I'll
Not prolong
I'm so sorry
You were wrong
into:
If I went wrong
Which would have worked perfectly, if Benny Southsteet hadn't sued the Puzzle Lady for plagiarism and then gotten murdered, making her the prime suspect.
But that's okay.
That's the type of puzzle I can deal with.
Just so long as I don't have to construct crosswords.
---
Parnell Hall is the author of the Puzzle Lady crossword puzzle mysteries, the Stanley Hastings private eye novels, and the Steve Winslow courtroom dramas. His music video of the 2010 American Crossword Puzzle Tournament, "The Sunday Morning, 7th Puzzle, Fear of 4th Place Blues," can be seen on YouTube, along with several of his music videos about mystery writing.
---
Mystery Seen: Detectives with Hobbies
by Kate Derie (Portland, Oregon)
The archetypical detective has tunnel vision on the job, is constantly advised to "get a life", and spends any leisure time at the bottom of a bottle (hobby: drinking). However, there are some classic and modern sleuths on TV who relax with un-crime-related activities.
Miss Marple, of course, knits, although Agatha Christie never published her knitting patterns. She might fancifully be thought of as all three Fates, as she takes up her yarn (clues), completes her project (investigation), and snips off the final solution. Jane Marple appears, with or without knitting, in a series on Mystery! so long-running they are recycling Christie's original cases. Joan Hickson is the definitive Miss Marple (1989–1992), Geraldine McEwan (2004–2008) is less traditional, and Julia Mackenzie is the latest (2008–2010) incarnation. The US/UK productions are available in DVD collections and streaming video from Netflix.
Lord Peter Wimsey is another Golden Age detective who Has a Life. He collects incunabula (early printed books), and is occasionally seen rushing off to an auction. The PBS Mystery! series is, to my recollection, excellent, although I personally preferred Ian Carmichael (1972–1975) to Edward Petherbridge (1987) playing Lord Peter. All are on VHS and DVD.
Inspector Adam Dalgliesh has an alternate life as a poet, we are told by P.D. James, although there is little to prove that avocation. We recently tried to watch one of the seven miniseries (1983–1998) with the dour Roy Marsden as Dalgleish. Cover Her Face moved glacially through two interminable (poetry-free) episodes to a somewhat tentative conclusion, whereupon we discovered that there were four more lengthy episodes in the same story. We recommend watching paint dry. The more recent (2003–2004) series is livelier, with Martin Shaw in the lead and only three hours per story.
Inspector Foyle fights Foyle's War in 1940–1945 and beyond, with occasional breaks for fly-fishing. He appears in waders, up to his elbows in a trout stream, in several episodes. Of course, he is interrupted by crime. It seems an appropriate hobby for the quiet Foyle, played to perfection by Michael Kitchen in 22 episodes (2002-2010). Highly recommended.
Inspector Morse is an opera buff, and we often hear operatic music in the background soundtrack or playing in his home. We understand his character a bit better knowing he favors the tempestuous Wagner over the sonorous Verdi. During the pursuit of a case, he also takes frequent breaks to pursue his second obsession: finding—and drinking—the best real ales in England. Over thirty episodes aired 1987–2000 and most are available on DVD in boxed sets.
Dr. Eddie "Fitz" Fitzgerald (Robbie Coltrane), better known as Cracker, is an inveterate gambler, as is the redoubtable Chief Ironside (Raymond Burr). Is it a coincidence that both are large men, reflecting their large appetites? Cracker is a highly worthwhile series (1993–1996, 2006), with unforgettable characters and scenes, although I frequently feel the desire to hurl an ashtray at Fitz. (The American version of Cracker [1997–1999], with Robert Pastorelli in the title role, is mediocre.) Meanwhile, 133 episodes of Ironside are available at Hulu.com, and provide an engaging time machine back to 1967–1975, as well as a decent crime show for the period. It's great fun spotting later-famous actors in minor parts, like the 25-year-old Harrison Ford.
Lovejoy and Jonathan Creek both showcase unusual occupations that might be considered special interests. Lovejoy is an antiques dealer and "divvy" (diviner), and many of his cases grow out of the various scams unique to this business. All 70-some episodes of the long-running TV show (1986–1994), starring the perfectly cast Ian McShane, are available on DVD. Good fun in the lovable rogue genre.
Jonathan Creek (Alan Davies) is the technical wizard behind a famous illusionist, and journalist Maddy Magellan (Caroline Quentin) consults him on various "impossible" crimes. His specialized knowledge cues him to the tricks behind the scenes. We found the first few episodes mildly entertaining, but Davies has neither charisma nor chemistry with his co-star, leaving the show flat. Four seasons (1997–2003) on DVD, if you want to try it anyway.
Dr Gregory House (Hugh Laurie) has so many hobbies it's a wonder he has time to be the most brilliant diagnostician in the world. He plays guitar and keyboards at a public-performance level, rides a motorcycle, and passes time with a Game Boy. Oh, and loves Monster Truck shows. You say you don't think House M.D. (2004–) is a mystery? Creator David Shore deliberately patterned his eccentric character on Sherlock Holmes (Holmes=House, Watson=Wilson, he lives at 221B, takes drugs, etc). Not just a disease-of-the-week genius (sarcoidosis!), House delves into his patients' and assistants' tangled lives based on the premise "everybody lies." Still running on FOX, with six seasons on DVD.
NCIS is one of the most popular shows on TV largely because of the charm of the characters, who all have interests outside of work. Special Agent Leroy Jethro Gibbs (Mark Harmon) is frequently shown working on a large wooden boat in his basement, using only hand tools. After several seasons, the boat disappears, leaving everyone to wonder how he got it out of there. Tony DiNozzo (Michael Weatherly) is a film buff, and usually finds a movie parallel to active cases. Tim McGee (Sean Murray) is a brilliant computer expert who writes in his spare time. Around Season Four, he published a best-selling thriller based on his NCIS buddies. Former Mossad Agent Ziva David (Cote di Pablo) has focused lately on the special interest of becoming a US citizen. Abby Sciuto (Pauly Perette), forensic scientist extraordinaire, has an array of interests reflecting her "goth" persona (e.g. tattoos, coffins), and is a league bowler. Dr Donald "Ducky" Mallard (David McCallum) is a trove of esoteric knowledge and lengthy tales acquired from a lifetime of adventurous experiences. What can I say? I love these guys. Ubiquitous on CBS and USA networks, with seven seasons (2003–2010) on DVD if you want to watch in order—a good idea as some story arcs stretch over many shows.
I'll wrap up with one feature movie that has a notable crafts element:
Witness (1985) has a simple premise: Philadelphia homicide detective John Book (Harrison Ford) has to hide on an Amish farm to protect a young boy who has witnessed a murder. In this rural culture, Book finds that his skills as a carpenter are highly valued, and we get to observe a barn-raising, a quilting circle, home canning, and other hands-on activities that are not hobbies but everyday life for the Amish. The contrast between Book's violent experiences and the gentle life of Rachel Lapp (Kelly McGillis), the boy's widowed mother, is an organic element of the story that makes the ending both poignant and inevitable. DVD and VHS.
Buy this back issue! Available in hardcopy or as a downloadable PDF.