Volume 39, No. 2, Summer 2023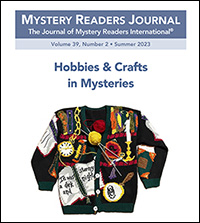 Buy this back issue! Available in hardcopy or as a downloadable PDF.
TABLE OF CONTENTS
ARTICLES
A Kaleidoscope of Quilting Mysteries by Aubrey Nye Hamilton
Miss Silver: Baby Bootees and Murder by Aubrey Nye Hamilton
AUTHOR! AUTHOR!
How My Sewing Patterns Help Me Write by Anne Louise Bannon
The Unexpected Sleuth by Connie Berry
Hobbies and Crafts in Mysteries: More than a Clever Hook by Mollie Cox Bryan
It Runs in the Family by Peggy Ehrhart
Pulling Strings by Elizabeth Elwood
I Love Making Fairy Gardens! by Daryl Wood Gerber
From Granny Fitzgerald to Skeins of Cashmere Yarn… and Murder by Sally Goldenbaum
Everyday Alchemy by Elle Hartford
Constructing Crossword Puzzles by Parnell Hall
Squared to Death by Betty Hechtman
My Crafty Characters Outshine Me by Mary Ellen Hughes
Vintage Photos Develop into a Mystery by Russell Hill
Yes, Syda, You Are a Crafter by Nancy Lynn Jarvis
A Stitch in Crime: Unraveling the Cozy Craft & Hobby Mystery Craze by Tonya Kappes
Cold Hobby Case: The Chilled Chess Champ by Ron Katz
Blending My Love of Crafts and Cozies by Sybil Johnson
Theme Mystery Book Groups by Maggie King
Killer Crafts: Crafting in Mysteries by Jenn McKinlay
A Small World After All by Camille Minichino
How Bird Watching Will Enrich Your Writing by Margaret Morse
The Brooklyn North Murder by Erica Obey
Hobby Me This by Janis Patterson
Two Careers, One Brain: Confessions of an Author/Artist by Janice Peacock
Vintage Trailers and Boxing: A Deadly Combo by Karen A. Phillips
A Hobby That Can Get You in Trouble by Neil S. Plakcy
You Are What You Write by Amber Royer
The Art of Craft in Mysteries by Joanna Campbell Slan
Not Quite a Rule Follower by Lois Winston
COLUMNS
Mystery in Retrospect: Reviews by Lesa Holstine and Jay Gertzman
Children's Hour: Hobbies in Mysteries by Gay Toltl Kinman
The Family Tree Detectives by Cathy Pickens
Crime Seen: My Hobby Is Mystery by Kate Derie
Miss Silver's Knitting Journal by Aubrey Nye Hamilton
From the Editor's Desk by Janet A. Rudolph
---
I Love Making Fairy Gardens!
by Daryl Wood Gerber
I had no idea when I made my first fairy garden that I would end up writing the Fairy Garden Mysteries. Here's how the inspiration started. I went to a Renaissance Fair and saw a booth filled with fairy gardens, and I fell instantly in love. What is a fairy garden? Think of it as doll-housing for your garden…  or miniature gardening. Years ago, I used to adore heavy-lifting gardening, but as I got older, the shoulders, back, and elbows simply didn't want to do it anymore.
When I left the fair and went home that day, I looked up fairy gardens online and found a shop that sold figurines and plants about an hour and half from me. FYI, it's the only physical one I've found so far. There are shops, like Michael's craft shops, that carry fairy garden paraphernalia, and there are plenty of shops online (check out Etsy) that offer a wide array of figurines and environmental pieces, but offering the whole package—figurines and pots and plants in one spot? I was in heaven!
The main shop at M&M Nursery was jam-packed with fairy garden stuff: fairy figurines, houses, slides, fences, toadstools, cute critters, and gnomes that would populate the gardens. Outside, in the garden area, they had sample fairy gardens in a wide variety of pots. One was even planted in an old sink! And there were aisles upon aisles of miniature plants. I felt like I was in Wonderland.
While putting together my first fairy garden, I thought to myself, wouldn't it be fun to write about a woman who owns a fairy garden shop? Wouldn't it be different if she had a fairy sidekick? Yes, a real fairy! I'd never written a "paranormal" mystery, but as I planted, the idea began to take shape. Courtney Kelly would be my sleuth's name. I'd name the fairy Fiona. Courtney had been able to see fairies as a girl, but she lost the ability to see them when her mother died. She met Fiona the day she risked changing her life and opened her fairy garden shop.
As I installed red-and-white toadstools and a darling squirrel carrying a stack of books alongside an adorable blue fairy in my first garden, I started asking myself questions: If Courtney did own a shop, which magical town or village would be the ideal setting? As a girl, I spent many days in Carmel-by-the-Sea, a charming seaside down in California. The town became a destination for artists and creatives after the 1906 San Francisco earthquake, and it has a fairytale like atmosphere. The storybook cottages with sloping eaves and unusual fireplaces that populate the town add to this aura.
Knowing I needed to learn more about fairy gardening before I could ever write a series about it, I bought books, watched videos, and read articles online to bone up on the craft. It's not a difficult one. Anyone can do it. You don't need a green thumb, either. You can use live or faux plants, and you can even set your garden at the base of an existing tree. The possibilities are endless. Now, maintaining more than one garden can be a challenge, but the visual joy of looking at fairy gardens will raise your spirits…  and possibly invite magic into your life.
Hold on. Did I just say plant more than one? Perhaps I forget to mention that after I made the first one I became obsessed. I was compelled to make another and another. I bought pots of all sizes. Wide-mouthed pots, small petite pots. I installed a fairy garden village in the nook outside my office, starting with my original fairy garden, which I planted in a hanging basket and hung from a hook in the nook. Then I added a pond and a secret garden and a house and… I now have over fifty gardens—in the backyard, front yard, and in my home. I must admit I tried my hand at keeping petite plants alive—plants like baby ferns and miniature fuchsia, but I didn't succeed. I live in Los Angeles, and hot weather isn't ideal for teensy plants with short roots to thrive. So I turned to succulents, and I've been quite successful. I must also confess that learning how to tweak the gardens—thinning the succulents, removing debris, painting figurines that pale from the sunlight, repairing broken wings—I've become quite good with a glue gun and acrylics—has been hard work, but like I said before, I used to love to do heavy-lifting gardening, so these little tasks are manageable.
By the way, my friends and grandchildren love to chat about my gardens. When they visit, I'm more than willing to tell them the story of how or why I planted this one or that one. For example, one garden with a budding pianist features inspiration; another highlights literacy with animals reading to each other. And there's nothing like true love. I made one garden with a frog swearing his love to a fairy princess.
I'm not an expert at the craft. I never will be. But I find so much joy making fairy gardens that I'll probably make them for the rest of my life.
BTW, Courtney gives tips throughout the Fairy Garden Mysteries. Check out A Sprinkling of Murder, the first in the series, and continue on through book #4, A Flicker of a Doubt, which came out March 28th.
Fairy best wishes to you all!
---
Daryl Wood Gerber is the Agatha Award-winning, nationally bestselling author of the Fairy Garden Mysteries, featuring a fairy garden storeowner in Carmel, California, as well as the Cookbook Nook Mysteries, featuring an admitted foodie and owner of a cookbook store in Crystal Cove, California. Under the pen name Avery Aames, Daryl writes the Cheese Shop Mysteries featuring a cheese shop owner in Providence, Ohio.
---
Yes, Syda, You Are a Crafter
by Nancy Lynn Jarvis
I think my character, Syda Gonzales, from my PIP Inc. Mysteries series should qualify for an article on crafting in books, but she would heartily disagree with me. In her mind, she's an artist who hasn't yet found her muse and occasionally does crafty things while she searches.
Syda has already abandoned oil painting when the series opens and in the first book, The Glass House, she has enrolled in a glass fabrication class. She drags her best friend—my protagonist, newly downsized Santa Cruz County Law Librarian, Pat Pirard—with her when Pat's life falls apart on her 35th birthday.
In The Funeral Murder, the second book in the series, Syda is trying her hand at writing a noir mystery novel, but can't decide on her detective's name and keeps getting writer's block.
By the time the third book, The Corpse's Secret Life, comes out, Syda is making earrings, the main reason why I think she qualifies as a crafter.
Syda, as many of us writers tell one another, is in part based on us and our experiences. I have worked with glass, not the kind Syda envisions will be a fabulous art form to let her rival Annie Glass, but with stained glass. I had gorgeous pieces of glass, lead solder and copper came, snippers and glass cutters, everything I needed to craft away and did manage to create a window and many smaller pieces. Stained glass work was definitely a craft and not art, at least the way I did it.
I write mysteries, although contemporary cozy style ones, and had a wonderful time letting Syda read her cheesy over-the-top tomes to Pat. The books I write are complicated and fun, certainly not literary masterpieces, but much better than Syda's. I consider them art… sort of… but more story telling craft.
Now, let's talk earrings, shall we? I was forced from my home for months after the CZU fire in northern California severely damaged my house, and took up residence in a small Airbnb. The whole experience was traumatic, and for the first time since I started writing, I couldn't focus long enough to do more than an occasional blog post or a very short story. I needed something that required short term concentration, not what goes into writing a full book-length mystery with red herrings and plot twists. In the midst of my evacuation, I hit on making earrings.
No gold or silver or precious stones for me. I selected simple styles and purchased inexpensive findings and beads online. Making earrings was a perfect distraction for me and for Syda. What I created were definitely craft pieces and not art. By the time I could go home, I… Syda… had created enough earrings to sell them along with The Corpse's Secret Life at book and holiday fairs. They were big hits. It turns out Syda is a good crafter. I was asked if I'd make more, and who knows, Syda might make more in the future, but for now, both of us have moved on.
Syda was distracted in newly released Dearly Beloved Departed because Pat asked her to be the Matron of Honor for her wedding. Syda, in her usual enthusiastic approach to art, craft, and life, jumped in not only as what Pat calls a Matron of Honorzilla, but as a wedding planner, too.
I haven't decided what Syda will be up to in the next book, but she'll think of something, I'm sure. Since she made tamales for wedding guests, she may decide to try having a food truck or some sort of mini-catering business, and yes, I know how to make tamales for a crowd. Like Syda, I had a former mother-in-law who taught me how to make them.
---
Nancy Lynn Jarvis is the author of Regan McHenry Real Estate Mysteries and PIP Inc. Mysteries.
A Hobby That Can Get You in Trouble
by Neil S. Plakcy
I've read cozy mysteries that include scrapbooking, building miniatures, crocheting and quilting, and all kinds of food preparation. But I think my golden retriever mysteries are unique in having a protagonist whose hobby could send him back to prison.
Steve Levitan is a hacker. He spent a year as a guest of the California penal system after he hacked into the three major credit bureaus to prevent his then-wife from overspending on her credit cards. Now he tries to keep his online search work on the side of the angels, even if that means crossing a few lines now and then—lines that might lead him back to prison if he's not careful.
The golden retriever mysteries are generally light-hearted, with Steve's golden co-detective Rochester providing many of the clues. But Steve is congenitally curious, and his fingers start to tingle when he considers using his skills, and programs he's downloaded from the dark web, to help his detective best friend, Rick Stemper, in solving the crimes that bedevil their small town of Stewart's Crossing, Pennsylvania.
Rochester has over 6 million scent receptors in his nose, so he's great at uncovering evidence that crime scene investigators might have overlooked, like a jump drive in the shape of a llama, which he noses out in one book. In fifteen novels and over a dozen short stories, he has discovered dead bodies and uncovered significant clues. But it's up to Steve to take those clues and think them through. Maybe Rochester knocks over a wedding photo, and that causes Steve to research the deceased's marital history. Or Rochester gets hold of a newspaper and starts scratching at it—just under the article about a motorcycle accident that might be important.
I'm no hacker, but I have worked around computers for over forty years, since I bought my first Commodore 64. I began learning about the Internet when I worked for a computer game company, and gained experience with computer security when I was a technical writer and web developer for a catalogue retailer.
Some people might question the worth of a degree in English, but I learned how to do research while writing papers, and after twenty years teaching freshman comp at the college level, I value that experience, and give it to Steve. My searches may be more legal, but they inform his, and it's fun to dabble in the dark web and see what kind of tools he could use.
But is hacking a hobby? Google's English dictionary defines a hobby as "an activity done regularly in one's leisure time for pleasure." Steve gets a lot of pleasure, both out of the act of hacking and also from using what he has learned to bring justice to the world. I'd say that's the best kind of hobby to have—as long as he stays on the right side of the law.
---
After retiring from a twenty-year college teaching career, Neil Plakcy now writes full-time, kept company by his husband and their two rambunctious golden retrievers. He is fortunate to live in South Florida, where he walks the dogs under palm trees and picks sand from their toes, and he couldn't be happier about it.
Buy this back issue! Available in hardcopy or as a downloadable PDF.