Volume 37, No. 2, Summer 2021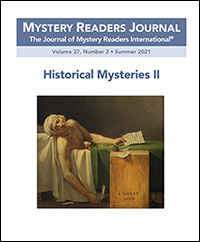 Buy this back issue! Available in hardcopy or as a downloadable PDF.
TABLE OF CONTENTS
ARTICLES
Joe Gores' Dashiell Hammett by Catherine Accardi
Ireland in the 1930s and 40s in Michael Russell's Stefan Gillespie Novels by David Clark
History, Mystery & the Female Protagonist by Vinnie Hansen
Megan Abbott and the Evolution of Noir by Sean Day
Epochal or Historical? It's Still a Mystery! by Chiara Giacobbe
Music Defines a Decade by Sandra Murphy
AUTHOR! AUTHOR!
Not Another 1920s Mystery by Saffron Amatti
The Primary Reasons I Like Primary Sources by Anne Louise Bannon
Keeping it Real: The Challenge of Writing a Strong Historical Heroine by Mally Becker
The Case of the Missing River-Map by J. F. Benedetto
Who's Hiding In That Ancient House? by Cordelia Frances Biddle
Mysteries Set in Places with History by Suzanne J. Bratcher
Keeping it Fresh: Writing a Long Running Historical Series by Emily Brightwell
Searching for the Roots of History by Rebecca Cantrell
Hands, Hearts and History by Charles Colley
"And Put a Crime in It…" by Ruth Downie
Excavations of Violence: Why History Makes the Best Mystery by Mariah Fredericks
Should I Tinker with the Facts? by Jim Fusilli
The Art and Madness of Writing Historical Mystery Novels by Harald Gilbers
Pirates Make Unreliable Witnesses by Steve Goble
"Historical Fiction" Is an Oxymoron by Hal Glatzer
Writing the Stories I Love to Read by Anna Lee Huber
Travelling Through Time with Sherlock Holmes by Robert J. Harris
The Mystery Inside "The Baptism" by Gerald Everett Jones
A Lady and a Swordsman by Kathleen Marple Kalb
History as a Red Herring by Ron Katz
It's Not My Fault I Write Historical Mysteries by Ken Kuhlken
Hunting Hitler in Hollywood by Susan Elia MacNeal
What's Really Inside the Carnival in Not Like Us by Darrin McGraw and Robert McGraw
Imagining History: Writing Death on the Homefront by Frances McNamara
Accidental Chronicler by Catriona McPherson
How I Learned to Stop Worrying and Love the Mystery by Timothy Miller
Writing What You Don't Know But Can Research by Sandra Murphy
San Francisco's Cliff House: The History (and the Mystery) by Ann Parker
The Art of Creating an Historical Heroine by Andrea Penrose
A Talking Snake and Other Mysteries by Mary Reed and Eric Mayer
Two Authors in Search of Ideas by Douglas Preston and Lincoln Child
Haunted by History by Erika Robuck
The Responsibilities of Historical Fiction by Kelli Stanley
The Thousand Piece Puzzle by Susan Tornga
Recreating the Past by Sylvia Maultash Warsh
Closer Than You Think by Clare Whitfield
An Unlikely Home to Criminal Debuts by Gabriel Valjan
Helen of Troy—Just Another Pretty Face? by N. S. Wikarski
The Past Isn't Dead, It Isn't Even Past by Kenneth Wishnia
From True Crime to Historical Mystery by W.A. Winter
COLUMNS
Mystery in Retrospect: Reviews by Benjamin L. Clark, Lesa Holstine, Peter Handel, Amy Renshaw, L.J. Roberts, Lucinda Surber
Children's Hour: Historical Mysteries by Gay Toltl Kinman
Crime Seen: History Mystery Around the World by Kate Derie
Real History Mysteries by Cathy Pickens
In Short: History Mystery by Marv Lachman
From the Editor's Desk by Janet A. Rudolph
---
Travelling Through Time with Sherlock Holmes
by Robert J. Harris
Writing historical mysteries in Victorian Edinburgh and wartime London
It was not my intention to become a mystery writer, still less a writer of historical mysteries, but I was aware that an element of mystery always added to the atmosphere of the adventure stories I was writing. After my eight collaborations with my friend Jane Yolen, my first solo novel was the teen historical adventure Leonardo and the Death Machine. Set in Florence in 1466, this involved the young Leonardo da Vinci in a quest for a mysterious machine which was in some way intended to allow the novel's villains to overthrow the rulers of the city. In writing this I discovered the pleasure of dropping in clues which, far from elucidating the mystery, serve to further baffle both the protagonist and the reader alike.
My second novel, Will Shakespeare and the Pirate's Fire, also featured an element of mystery. One of the strands of the story concerns the theft of a book from the library of the queen's astrologer John Dee, a book which contains a secret so important that people are prepared to kill for it.
In neither case did the mystery involve a specific crime or require a specific criminal to be unmasked. However, the third novel I planned in what I thought of as a Young Legends series, would be different. This time I selected the young Arthur Conan Doyle as the hero, the premise being that the schoolboy Doyle would be involved in an adventure that would inspire him years later to create the character of Sherlock Holmes. Although this would be a third historical adventure, it would also be a detective story of the classic sort.
This plot was, however, set aside, in order to write two—so far unpublished—teen novels and a successful trilogy of comic fantasy adventures (The World Goes Loki Series). It was while I was finishing the last of that series that my publishers took a fresh look at the proposal I had sent them some years before for a young Conan Doyle adventure entitled The Gravediggers Club. They told me that that they were not only enthusiastic about this project but would like me to make it a series. Like any struggling author (and the great majority of us are struggling) I was delighted at the prospect of steady work.
As this tale was in origin the third in my planned series of historical adventures, I made every effort to make sure that the background of Victorian Edinburgh and the details of Artie's family life would be as accurate as possible. This entailed resisting requests from marketing to include a deerstalker, violin, magnifying glass and other Holmesian paraphernalia. It is not until the very end of the book that Artie begins to think of himself as a detective. Even so, he is not some junior version of Sherlock Holmes. He makes very few deductions and most of them are wrong. It is his courage and dogged persistence, along with one or two moments of insight, that lead to the solution of the mystery and the capture of the villains.
Although a historical mystery adds a burden of research to the author's workload, it also removes the need for any knowledge of the sort of forensic resources available today. The absence of mobile phones and the internet also mean the hero's investigation consists almost entirely of legwork. Fortunately the young Conan Doyle was very fit and keen on sports.
This first adventure begins with Artie investigating the connection between a series of grave robberies and the Doyle family's lodger, a suspicious medical student. Burke and Hare, Edinburgh's notorious grave robbers of some years before, suggested that gruesome plot element. At one point Artie consults his (real life) friend Dr Harthill, through whom the readers is introduced to such abstruse Victorian medical practices as Galvanism and phrenology. Harthill also gives Artie his first grounding in the science of deductive reasoning.
The second novel, The Vanishing Dragon, is set in the world of stage magic and presents not only a mystery (Who is sabotaging the magic show?) but also an impossible crime—the theft of a huge mechanical dragon. This is a personal tribute to one of my literary heroes: John Dickson Carr, the master of the impossible crime. A friendship with young actress Rowena McCleary ('The Theatrical Phenomenon') teaches Artie the value of using disguise as part of the investigation.
The third novel, The Scarlet Phantom, sees Artie on the trail of an invisible jewel thief. He is assisted by Peril Abernethy, a girl scientist who is the daughter of a prominent geologist/ paleontologist. From her he learns to use the instruments of science to aid his investigations, so that by now he has gathered together that diverse range of skills of which he will make Sherlock Holmes the master.
While creating those mysteries which are—in this fictional world—to inspire Conan Doyle's great creation, it did, of course, occur to me that I might also devise an ingenious plot for Sherlock Holmes himself. I was deterred, however, by the vast number of Victorian period Holmes pastiches which seems to grow with almost every passing week. It was only when my eye happened upon my boxed set of Basil Rathbone Sherlock Holmes DVDs that it occurred to me that there was a way to do something different with Holmes while still remaining true to the heritage of Conan Doyle.
Fox first cast Basil Rathbone as Sherlock Holmes (and Nigel Bruce as Watson) in 1939s The Hound of the Baskervilles, following this with The Adventures of Sherlock Holmes. When Universal Pictures took over the series, they made the bold move of updating Holmes to the modern day in 1942's Sherlock Holmes and the Voice of Terror. This was done with the full approval of the Conan Doyle estate and was such a success that it led to a series of twelve classic films. For many people, myself included, Basil Rathbone is the definitive Sherlock Holmes, and reviving this version of the character in a novel seemed a fine way to pay tribute to him, as well as offering readers a brand new Holmes adventure.
I was already immersed in the period through having written a revival of John Buchan's classic hero, Richard Hannay, set in 1940 (The Thirty-One Kings). In A Study in Crimson, by pitting Holmes against Crimson Jack, who is imitating the notorious Ripper murders of 1888, I was able to bring that gaslight Victorian atmosphere to the blacked out streets of wartime London. Though cars have replaced hansom cabs and telephones have replaced the telegraph, the characters of Holmes and Watson work wonderfully well in the 1940s and the great detective's methods remain essentially the same.
The response to A Study in Crimson has been so positive that I am currently writing a second Holmes adventure set in 1943 which will bring him face to face with Professor Moriarty in a wartime context that makes the great villain more dangerous than ever. Welcome back, Basil Rathbone!
---
Robert J. Harris is a writer of adventure stories for all ages. He is currently working on what will be his twentieth published novel. He is also the creator of the popular fantasy board game Talisman.
---
Hunting Hitler in Hollywood
by Susan Elia MacNeal
Researching The Hollywood Spy and visiting L.A.'s abandoned Nazi compound
When I traveled to Los Angeles to research The Hollywood Spy, there were many wonderful places to visit (this was pre-COVID, of course). I stayed at the Chateau Marmont, where Maggie Hope and her ballerina friend Sarah lodged. Fellow Edgar nominee Kim Fay and I had martinis at the legendary Musso and Frank's. My family and I went to the Warner Brothers backlots and got an insider's tour of the Walt Disney Studios from animator friends.
But there were also far less savory places in Los Angeles to explore. Lost in the "United Together" propaganda of the American Homefront during World War II is the history of American Nazis. In the 1930s, Los Angeles became a strategic position for the Nazi assault on the United States, both from German immigrants and home-grown Fascists. Not only did Southern California have a long history of anti-Semitism and right-wing extremism, but the Los Angeles port was less closely monitored than New York's, which made it easier to use as a base for spies, propaganda, money, and secret orders from Germany.
While Los Angeles Nazi gathering-places such as Deutsches Haus, the Alt Heidelberg Inn, and the offices for the Silver Shirts (modeled after Mussolini's Blackshirts), the German American Bund, and the Ku Klux Klan in Los Angeles's downtown are long demolished, some do still exist. I visited LaCrescenta Park, formerly known as Hindenburg Park, the site of pro-Nazi rallies staged by the Bund. And I went to the Hollywood Bowl, the site of American Nazi rallies, including one in 1941 featuring aviator Charles Lindberg—who advised negotiating peace with Hitler.
However, the most chilling place I visited was Adolf Hitler's West Coast Bunker.
Yes, you read that correctly.
A bunker for Hitler's use, called The Murphy Ranch, located in the Will Rogers State Historic Park in Rustic Canyon. It was planned and in the process of being built in the 1930s by Winona and Norman Stephens. The couple were white supremacists, belonging to the Silver Legion of America, who supported Hitler and believed the Nazis would win World War II. Originally designed as a base for Nazi activities in the US and as a half-way point for Hitler between Germany and Japan, the Murphy Ranch was intended to be self-sustaining for long periods. The original architectural sketches include plans for a four-story mansion with multiple bathrooms and bedrooms. It featured fruit and vegetable garden plots, meat lockers, a water storage tank, a fuel tank, a bomb shelter, and various outbuildings and bunkers.
The day after the Japanese attack on Pearl Harbor, local police occupied the partially built compound and detained the caretakers. It was ultimately shuttered, abandoned, and, over the years, fell into disrepair. Now the buildings that remain are have rusted steel girders and are covered in colorful profane graffiti and plant overgrowth.
A chilling alternative history to consider, indeed.
However, there were also more reassuring places to visit in Los Angeles. What Hitler, Goebbels, and their American disciples didn't know was that Los Angeles also served as the epicenter of Jewish-American efforts to spy on Nazis both foreign and domestic and subvert their plans. Leon Lewis, who ran a ring of mostly Gentile resistors and spies, had law offices on West 7th Street in downtown Los Angeles. Those offices were also the epicenter of the Los Angeles's Nazi Resistance. While the building is now home to luxury condos, without even a plaque to commemorate its historical importance, it's inspiring to walk past and look up at the fourth floor, knowing that in this this anonymous place, unknown American heroes fought the good fight. Lewis and his colleague Joseph Roos, from August 1933 until the end of World War II, with little money and manpower, undermined by the LAPD and all but ignored by the FBI, led courageous undercover operatives who continually combated the Nazis, fascists, and fifth columnists bent on violence and murder on the homefront.
And thankfully, not far from Lewis's former office is Clifton's, a wonderful vintage restaurant and bar where one can toast to the heroes of the Second World War, both famous and unsung. And be grateful to those who fought the good fight.
---
Susan Elia MacNeal is the New York Times bestselling author of the Maggie Hope series. The Hollywood Spy comes out July 6 from Bantam.
---
My Family Secret: An Eyewitness to India's Sepoy Mutiny of 1857
by Nev March
The stories behind historical events fascinate me—how the fate of continents sometimes turns on small, individual actions, the everyday people caught in the middle of mammoth events. Yet when I discovered a tattered, drab little book among my mother's recipe books, I had no idea what I was holding in my hands.
It was in archaic Gujarati which I couldn't read. Printed in tiny font, the stanzas looked like a long poem. The autobiography of my grandmother's grandfather Bejonji Ferdonji Jhansiwala was a family secret for over a hundred and fifty years before I got it translated.
In May 2005 I advertised for a Gujarati translator in a Parsee magazine. One lady replied. So, I sent a copy of my ancestor's book to Mani Bhathena, an elderly Parsee lady living in Australia. Since she didn't own a computer, each day she visited the local library with a single page of my ancestor's book. There she'd use the library computer to email me the translation of that page into English. Mani has my heart-felt gratitude for her labor of love in translating my ancestor's poem, so that we could, at last, read his adventures. Months later, I pieced together 123 pages and read, for the first time, the awful things my ancestor saw and was compelled to do.
In 1857–58, Bejon (ji is a suffix used traditionally to denote respect) was a cook in the British Indian Army who accompanied his Regiment and managed two messes. He bought supplies, prepared and served meals to the British officers who were tasked with hunting down the mutineers. A self-educated man, his poem is an eyewitness account of the Indian soldiers' mutiny and its bloody aftermath. In 1959 my grandaunt had privately published his book, after Indian Independence. To publish it before that would carry a charge of sedition; Veer Savarkar, author of The Indian War of Independence, was imprisoned for his writings.
In rhyming Gujarati stanzas Bejon laid out his sad youth; being abandoned and thrown out of his home at the age of fourteen, his foolish mistakes and regrets, as well as his advocacy of illiterate workers and his incredible integrity. For example, in the 1870s, when his faithful servant Abbas-Ali died along with his eldest son in the commission of his, Bejon's work, Bejon paid the widow a princely sum—ten thousand rupees—almost all his savings. He seemed a bullheaded, quixotic man, whose tears for the mutineers saturated that century-old poem. He described killing a mutineer charging at him with a sword; how terrified must that little cook/messman have been to load a rifle, aim and fire at a powerful Scindia guard bearing down upon him. When I read how entire regiments were called to assembly and shot down by their comrades, I knew someday I would write about it, but wasn't sure how. The poem is now the secret at the heart of my historical mystery Murder in Old Bombay.
The idea for Murder in Old Bombay actually began with an article about a hundred-year-old case. As a teenager living in Mumbai in the seventies, I'd heard of this unsolved mystery; the suspicious deaths in 1891 of two young women of my (Parsee) community was passed down as a cautionary tale through each generation. The deaths of the two virgins are usually attributed to the heroic choice of death over dishonor. Later writers have suggested an alternate theory, that the two were lesbian lovers who committed suicide rather than abide by traditional marriages.
These theories did not make sense to me. First, the death over dishonor scenario seemed flawed: could a pair of miscreants expect to rape these women and escape being identified? Seems impossible in bright daylight in a busy university. Secondly, the lesbian suicide story is doubtful. Lesbianism was unnamed, unheard of in polite circles, and would be considered appalling at the time.
Both girls were married. Bacha, the older girl, had lived with her husband for a year. That she was still a virgin might reflect on the patience of a twenty-two-year-old husband trying to woo his new wife. He may have been impressed by social reformers of the 1890s who denounced the high rate of maternal deaths in childbirth and attributed it to women giving birth at a young age.
Why did the two girls die? My novel preserves many details from this real-life mystery. Bacha's husband did, in fact write a letter to the editor, begging him to avoid speculation and preserve Bacha's reputation. That young widower, Ardeshir Godrej, did not remarry—he went on to become a prolific inventor and serial entrepreneur, founding with his brother what is now a powerful industrial conglomerate. So I wondered, did he simply pour himself into his work? Did he ever get closure? An intensely private man, could he have hired a detective to solve the mystery? If so, who would Adi employ? An ex-army officer seemed to have the right sort of skill set—an Anglo-Indian officer, able to explore high-society ballrooms and rugged mountain villages, someone with a penchant for disguise!
And so, Captain Jim stepped into the light. Once he did, my carefully outlined plot blew up. Captain Jim hijacked the mid-section of my book with his adventures, turning what I'd planned as a clever mystery into an action-adventure! The moment Adi's sister Diana entered the room, the romantic subplot exploded. I knew it was a doomed romance—Diana is a polished aristocrat, groomed to be great lady in Bombay society, while Jim is illegitimate, a bruised, mixed-race soldier. And yet, and yet, I hoped. The sub-plot echoed Captain Jim's longing for family—and the pain of not knowing where one belongs. After careful research into the troubles of the 1890s, I knew how to end the mystery; after all, the Sepoy Mutiny would still be in living memory. However, the romance, that was a different story—how could it ever work out?
Then, right at the end, all Captain Jim's meandering adventures came together to provide the solution. I could not have known that those detours, those adventures would sort out the remaining knots, but I entrusted my story to Captain Jim's earnest hands. And he prevailed.
Will they have more adventures in future books? He grins and says, "Oh yes. Just my luck, Miss."
---
Nev March is the recent winner of the Minotaur Books/Mystery Writers of America First Crime Novel Award. A Parsi Zoroastrian immigrant, she teaches Creative Writing at Rutgers‐Osher Institute. She is a member of Mystery Writers of America and the Hunterdon County Library Write-Group.
Buy this back issue! Available in hardcopy or as a downloadable PDF.