Volume 37, No. 1, Spring 2021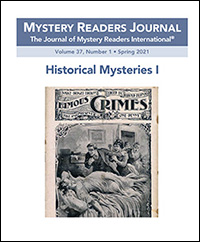 Buy this back issue! Available in hardcopy or as a downloadable PDF.
TABLE OF CONTENTS
AUTHOR! AUTHOR!
The Journey to the Rajah and Dangerous Women by Hope Adams
Writing Historical Mysteries: Opening a Door to the Past by Marty Ambrose
Going Back—Way Back—in History to Write a "What If" Mystery by Gray Basnight
"And Then I Wrote… " by Albert Bell
A Devoted Bookworm Reveals All by Cordelia Frances Biddle
Why I Write Historical Mystery by Rhys Bowen
Historical Mysteries: Character at the Heart of Solving a Mystery by Mary F. Burns
The Allure of Mysterious Objects by Susanna Calkins
It May Have Happened, It May Not Have Happened; But It Could Have Happened by Donis Casey
Getting it Right: Why Research Is So Important When Writing Historical Novels by Janet Dawson
The Personal Side of Historical Fiction: The Cooper Vietnam Era Quartet by D. Z. Church
Finding Emotional Authenticity in Historical Fiction by John Copenhaver
Where in the World Is the Heart of King Robert Bruce? Mystery at the Great Divide by Michael Cooper
Real Time and Imaginary People by Lynn Downey
Changing Places by Carola Dunn
Reinventing the Golden Age in Gallows Court and Mortmain Hall by Martin Edwards
The Ultimate Unreliable Narrator by Cecilia Ekbäck
Women in Prison by Kathy Lynn Emerson
Mysteries Can Teach the Past—and Speak Timeless Truths by Charles Fergus
An Era of Mystery by Dianne Freeman
The Jekyll and Hyde Duality of Wartime Britain by Stephanie Graves
Me and My Tribe: Why I Adopted a Family of Neanderthals and Had to Tell You About Them by Kaye George
The Contents of the Cauldron by Elsa Hart
Tainted Testimony by Russell Hill
When History Rewrites Itself by David Housewright
Yesterday… All Our Troubles Seemed So Far Away… by Steve Hockensmith
Where's the Mystery in History? by Michael Jecks
Wolves, Castles and Research by Gay Toltl Kinman
I Guess Faulkner Was Right by Abigail Keam
History and the Active Reader by Larry Maness
Pumping Up a Past to Forge a Future, or, How I Invented a History for "Came A Horseman" by Paul McHugh
There's Nothing Historical About History by Bruno Morchio
Murder as a Fine Art by David Morrell
How to Be a Historian by Sharan Newman
Crimes of Fashion by Renee Patrick
Storytelling and Historytelling by Ben Pastor
Explorers by David Rich
History? Yawn… by Priscilla Royal
Passing Muster: When Historians Vetted Our Historical Thriller by Michael H. Rubin
Quo Vadis, Mr. Saylor? by Steven Saylor
A Little Truth or Two About Murder by Caroline Todd
Hit & Myth by Marilyn Todd
A Personal Historical Murder Mystery by Paul Vidich
History, The Art of the Backward Glance by Gabriel Valjan
On Ending a Series by Jeri Westerson
Was Edgar Allan Poe Guilty of Murder? by Bruce Wetterau
Some Thoughts on Writing Ye Olde Historical Fiction by N. S. Wikarski
Poppy Flowers at the Front by Jon Wilkins
ARTICLES
Thomas Pynchon's Take on 1970s California Noir by Sean Day
Crimes of Authority in Pious 19th Century Poland by Jay Gertzman
COLUMNS
Mystery in Retrospect: Reviews by Lesa Holstine, L.J. Roberts, Jack Bates, Lucinda Surber
Just the Facts: History's First Detectives by Jim Doherty
Children's Hour: Historical Mysteries by Gay Toltl Kinman
Crime Seen: History on "Mystery!" by Kate Derie
From the Editor's Desk by Janet A. Rudolph
---
Why I Write Historical Mystery
by Rhys Bowen
I have a confession to make: when I was in school I hated history. My least favorite subject. But then it was all about learning dates and battles and reigns of kings. I had no interest in the Thirty Years war, the Hundred Years War or even the Wars of the Roses. To me they were long gone and boring.
I got into writing historical mysteries by accident: taking a ferry ride to Ellis Island on a free afternoon in New York. The emotional overload I felt there made me start writing about Molly Murphy, Irish immigrant at the turn of the 20th century. And I realized I was definitely drawn to more recent history—to the first half of the 20th century and to stories that in many instances had personal connections.
For me it was close enough that I knew people who had experienced the great wars. We lived with my grandmother and great aunt who were young women in Edwardian times and told wonderful tales of corsets , and gentlemen callers, and hats decorated mile high with a bird perched on top. My mother was a teenager during the 1930s, so I heard about Ivor Novello musicals and Noel Coward, not to mention movie heart-throbs. Her older sister travelled extensively, so from her came tales of Italy and Germany in the pre-war days—so useful now for the books I write. My Royal Spyness stories owe a lot to my mother and aunt, and I have used my aunt as a model for my upcoming standalone called The Venice Sketchbook.
Then the Second World War, and the stories became really personal for me. I was born in the middle of it. I don't remember much, except black outs, the sound of air raid warnings, of approaching enemy aircraft. I was told that at the age of one I could distinguish between our planes and the enemy and had to take my stool behind the door, so that glass did not blow in on me. Those sirens and searchlights still cause my heart to race today. The war involved my whole family. I did not meet my father until I was three—he was off fighting in Egypt. One uncle was a sailor in Arctic convoys. Another serviced Spitfires in the RAF. My mother had to continue teaching as the men teachers had gone, and take her turn fire-watching on the school roof all night.
I believe my father actually enjoyed his time in the army. He spoke of it with pride—part of the Desert Rats who defeated Rommel. For him war was a gentleman's game—army against army. This made me realize that WWII was the last time when we had a clear sense of good versus evil. Everyone felt that if they didn't do their part to stop evil it would swallow the world. No conflict since has generated that sort of feeling. Everyone pulled together. Everyone was cheerful in the face of bombing, rationing, hardship. So I knew I would have to write about this war some day. In Farleigh Field was a story of British aristocrats, not all of whom are on the right side. Then The Tuscan Child told of a British airman shot down over Tuscany and hidden, at great cost, by a local woman. Again a story with personal connection, as John's uncle was trapped in Italy and hidden by peasants throughout the war. We have his letters.
So I write these stories because I want to write them and find, to my amazement, that historical fiction, especially WWII fiction has become extremely popular. (The Tuscan Child has already sold three quarters of a million copies,) Why is that, I wonder? My feeling is that our current world is in a state of turmoil. We live with constant stress and uneasiness. And so we retreat for our fiction into the past—a past where good triumphed and people did brave and noble deeds. However anxious we are about our heroes and heroines we have the satisfaction of knowing that the right side won in the end. They were doing their bit!
Another reason I have veered toward historical mystery is that current detective work has become so mechanical and sterile. CSI and DNA and analyzing blood spatters. I enjoy detectives who have to use their little grey cells and figure out complicated crimes based on their powers of observation and intuition. My female detectives have the added complication of living in a man's world. Molly Murphy can't chase a suspect over walls in all those skirts. She can't go into a tavern.
Also the past had such lovely motives for murder: I love another but I am not free. I am the rightful heir to the fortune. My child was illegitimate and if I name the true father it will bring disgrace to a noble family. In comparison our current motives seem petty and sordid, don't they?
And so I continue to mine the past—a past not so long ago that it seems impossibly remote, but close enough that readers identify with my heroines. In some ways it's very familiar. You could walk Molly Murphy's streets in New York today and find not too much had changed and yet… she could not vote. She was the property of her husband who was allowed to beat her, to have her declared insane, or if she wanted to leave him she had no right to the children. As I said, so many good stories waiting to be told!
---
Rhys Bowen is the New York Times and #1 Kindle bestselling author of the Molly Murphy mysteries, set in early 1900s New York; the Royal Spyness series, about a minor royal in 1930s England; as well as several internationally best-selling historical novels, including The Tuscan Child. A transplanted Brit, she now divides her time between California and Arizona.
---
Quo Vadis, Mr. Saylor?
by Steven Saylor
In 2018, I wrote "the end" not just to the novel The Throne of Caesar, but to the whole "Roma Sub Rosa" series featuring Gordianus the Finder, sleuth of ancient Rome. Roman Blood kicked off the series in 1991; another thirteen novels and two collections of short stories followed (with countless murders, conspiracies, kidnappings, robberies, and other crimes along the way). The series took place over the final four decades of the Roman Republic, from Cicero's first murder trial to the assassination of Julius Caesar, and spanned 27 years of my writing career.
Along the way, I produced a couple of stand-alone novels set in my native Texas, A Twist at the End (serial murders in 1885 Austin) and Have You Seen Dawn? (contemporary suspense in a small Texas town uncannily like the one where I grew up).
Right now I'm in the final editing stages of Dominus, a third novel to complete the trilogy that began with Roma and Empire. It's a family saga that follows the fortunes of the aristocratic Pinarius clan from the earliest beginnings of Rome, as a small trading post on the Tiber River, to the reign of Constantine the Great, first Christian emperor—who moved the imperial capital away from Rome to his own new city, Constantinople (modern Istanbul). Dominus will be published in June 2021.
So where do I go next? Or as Gordianus might have asked, "Quo vadis?"
For the first time since 1991, I'm not locked into a publishing contract, which means I have no deadline looming. Having that deadline year after year always represented security—I send in the book, they send me a check. But not having a deadline gives me a sensation of freedom and relaxation I haven't felt in many years.
Also, I'm rapidly approaching age 65, looking forward to Medicare and all those senior discounts.
So, what's next? I'm going to retire, of course!
Only problem: everyone tells me that writers never retire. My husband insists that writers can't retire—it's categorically impossible, like walking on the ceiling.
I feel awfully lucky to have finished, to my own satisfaction and at my own pace, not one but two series. No plot-threads left hanging. No nagging sense of something left unsaid, some corner of history unexplored, some crime unsolved. I've said what I wanted to say. And I think that the quality of my writing, whatever its intrinsic worth, has been pretty consistent from start to finish. I don't want to be one of those writers who keeps turning out reams of prose longer than he or she should. (I'll name no names, but I suspect most readers could cite a favorite author or two whose work "went off" toward the end.)
In 2013, I saw the late Ursula K. Le Guin speak to a packed auditorium on the UC Berkeley campus. (Famed for her fantasy and science fiction, Le Guin also visited ancient Rome in her novel Lavinia.) She talked about getting older, which she characterized as a progressive diminishment of every aspect of life. In her eighties, Le Guin wasn't exactly retired, but she had left novel-writing behind; she attended a local writing circle and wrote poetry. She said she simply no longer had the physical or mental stamina to produce a novel.
I'm nowhere near 80 yet, and I suspect I could write more novels. But should I?
If life has taught me one thing, it's to never say never. I learned that early in my career, when I initially thought Roman Blood was strictly a stand-alone, then, when my publisher wanted a sequel, I told interviewers that my Roman mystery series would comprise three or four books, at most. I'm glad I was wrong.
---
Steven Saylor lives mostly in Berkeley, California, and part-time in Austin, Texas. He's hoping it will be possible to make some public appearances when Dominus is published in June 2021.
Buy this back issue! Available in hardcopy or as a downloadable PDF.