Volume 28, No. 4, Winter 2012-13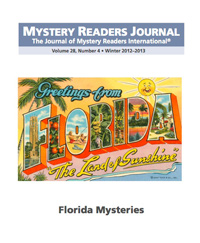 Buy this back issue! Available in hardcopy or as a downloadable PDF.
TABLE OF CONTENTS
AUTHOR! AUTHOR!
The Florida Experience by Glynn Marsh Alam
Bonkers in Boca by Miriam Auerbach
If It Can Happen, It'll Likely Happen in Florida First by Laura Belgrave
Florida Novels Have Nothing on Real Life by James O. Born
You Can't Top This by Don Bruns
Finding Key West by Lucy Burdette
Florida Fiction & Fantasy by Diane Capri
Rodents, Roller Coasters, and Revenge by Thomas B. Cavanagh
Florida as Character by Nancy J. Cohen
Cowboy Country in Florida by Lesley A. Diehl
Inspiration Island by Vicki Doudera
Murder in Paradise by Shannon Esposito
Love Songs for the Land of the Flowers by Mary Anna Evans
Welcome to Paradise by Dorothy Francis
Blood Money and the Florida Connection by James Grippando
South Florida, When Young by Michael Gruber
Welcome to Paradise by Michael Haskins
Mosquitoes by Russell Hill
Fantasy Florida by Matt Hilton
Florida, My Florida by Rita Lakin
Exorcising Your Ghosts by John Lantigua
A Long Way From Disneyworld by Owen Laukkanen
Miami, It's a Modern-Day Mystery by Barbara Levenson
When Worlds Collide by Leigh Lundin
The Sunshine Skyway, the Road to Hell and a Confluence of Craziness by Claire Hamner Matturro
North Florida is My Beat by Michael Lister
In a Florida State of Mind by Tom Lowe
This Business of Names by T.J. MacGregor
Jessica Fletcher Goes to Florida by Renée Paley-Bain
Storms, Mayhem, and Mystery by Ken Pelham
Desperately Seeking South Florida by Neil Plakcy
Wild in Florida by Deborah Sharp
The Gulf Coast Connection by June Shaw
A Stranger in Paradise by Phyllis Smallman
How to Keep a Florida Series from a Dead End by Elaine Viets
COLUMNS
Crossword: Native Whammy by Verna Suit
Mystery in Retrospect: Reviews by Sandie Herron, Lou Allin, L.J. Roberts
In Short: In Shorts by Marv Lachman
Children's Hour: Florida Mysteries by Gay Toltl Kinman
Crime Seen: Murder, with Flamingoes by Kate Derie
From the Editor's Desk by Janet Rudolph
---
Blood Money and the Florida Connection
by James Grippando
There is always a Florida connection. The terrorists of September 11 trained here. Madoff prowled country clubs from Palm Beach to Key Largo. "Hanging chads" on Florida ballots decided the 2000 presidential election. As a lawyer, I see much of this up close. I've worked on cases on behalf of Madoff's victims, and I'm counsel to the law firm led by David Boies, who represented the losing side in Gore v. Bush.
As a writer who focuses on legal thrillers and mysteries set in Florida, I wouldn't dare play "can you top this?" with the real-world insanity.
My 20th novel will be published in January 2013 (Blood Money), the 10th featuring Miami criminal defense lawyer Jack Swyteck. As you may have guessed, I alternate between Swyteck novels and stand-alone thrillers. Getting away from Jack, however, is not for lack of material. Blood Money—inspired by another real-life Florida phenomenon—makes my point.
The first time I heard the name Casey Anthony was from my wife's Aunt Gayle. I was in Atlanta planning my sister's funeral. Tiffany hates expressways, so Aunt Gayle drove her and our three children up to Atlanta to join me. I was told that much of their 10-hour car ride was spent listening to live coverage of "the trial of the century" on satellite radio. I had no idea that tens of thousands of women like Aunt Gayle were glued to the Casey Anthony case. Given my sad personal circumstances, I didn't much care.
Two weeks later, my agent called. "I want you to talk to José Baez," he said.
There was a hint of excitement in Richard's voice, and I could tell that he wanted me to be just as excited. I disappointed him. "I feel like I'm supposed to know the name," I said, "but I don't."
"Yes, you do," said Richard. "He's Casey Anthony's lawyer."
For several years I had considered writing a work of nonfiction. Jeffrey Toobin's much acclaimed book about the O.J. Simpson trial had, in my mind, set the standard for the flood of books about the most watched trial in the history of American television. Public interest in Casey Anthony rivaled that of Simpson, and I wondered if there was a place on the bookshelves for a Toobin-like work on the Anthony trial.
I had several telephone conversations with Mr. Baez over the summer of 2011. It turned out that he was a fan of my work, having read my first Jack Swyteck novel, The Pardon, while he was still in law school. He had yet to watch the Anthony trial from start to finish, and he suggested that we sit down together and watch it, so that he could explain to me what was going on behind the scenes. That meeting never happened. Our discussions ended abruptly with another telephone call from my agent.
"We're out," he told me.
A New York Post report (July 25, 2011) that José Baez had "met with" my agent went viral over the Internet. The backlash was overwhelming. Bloggers posted the agency's contact information, urging readers to clog phone lines and email boxes with a simple message: "NO WAY JOSE." Simon & Schuster's Facebook page was hacked based purely on rumors that the publisher was to sign a book deal with Anthony. In Oklahoma—1200 miles from the Orlando courthouse—26-year-old Sammay Blackwell was run off the road and almost killed by a woman who thought Ms. Blackwell was Casey Anthony.
I quickly realized that the book I wanted to write wasn't a nonfiction account of a trial that was already overexposed. The story was in the phenomenon that turns certain law-abiding citizens into vigilantes who will accept nothing but their own sense of "justice." This is not an indictment of the simple act of protest—even passionate protest. My focus was on ordinary people who suddenly transform into "the fringe element," grab a disproportionate share of the media attention, and take the public crusade one step (or more) too far.
Before my agent and I pulled the plug on the project, I had already roughed out a first chapter of a work of nonfiction based on my research of the Anthony trial. Much of it found its way into the opening scene of Blood Money. Most of it, I dare say, could only happen in Florida.
More than 600 press passes were issued for media coverage of the Casey Anthony trial, and every major broadcast network had at least one reporter at the courthouse. Time magazine dubbed it "the social media trial of the century." CNN and NBC built two-story air-conditioned structures across from the courthouse to house reporters and crews. People had writers in court every day, splashing the case on its cover in the midst of trial. HLN and truTV covered from early morning through prime time, increasing their viewership by 150% or more with dedicated Casey Anthony coverage. Major news magazine shows jumped in with specials like "Inside the Trial of Casey Anthony" on Dateline NBC and "Only Casey Knows" on 48 Hours Mystery at CBS. Just a month before trial, Law & Order: SVU aired its own Casey Anthony knock-off episode starring Hillary Duff.
From Memorial Day through the Fourth of July, Courtroom 23 became a macabre Orlando tourist destination, like Mickey Mouse and Harry Potter, with spectators coming from as far away as Japan to vie for the fifty seats available to the public. Verbal altercations were common, with at least one having escalated to an all-out fistfight that required police intervention.
The pretrial publicity was so pervasive that the jury pool had to be drawn from Pinellas County, a hundred miles from Orlando, and the judge was forced to take the extraordinary measure of sequestering the twelve jurors and eight alternates (two is the normal number) at an added cost to taxpayers of $361,000. Oddly enough—not even a novelist can make this up—the judge in the Casey Anthony trial was a former prosecutor who had secured the conviction of the first woman in Florida's history to die in the electric chair.
As overblown as the hype and hoopla were, my interest kept drifting back to the innocent young mother who bore an unfortunate resemblance to Casey Anthony and whose pickup truck rolled over 2½ times after she was run off the road by someone who decided that Ms. Anthony must die. Sammay Blackwell was able to save herself by pretending to be dead when her attacker got out of her car and came to Sammay's overturned truck—not to help Sammay, but to finish her off.
That blind fixation—a nationwide fascination that, for some, escalates to the point of dangerous or even deadly obsession—is the inspiration for Blood Money. But it is this recurring phenomenon—the "Florida connection"—that leaves me absolutely convinced that I will pen legal thrillers set in my home state for a very long time to come.
---
James Grippando is a New York Times bestselling author of mystery and suspense. Blood Money is his 20th novel, the 10th in his acclaimed series featuring Miami criminal defense attorney Jack Swyteck. James was a trial lawyer for 12 years before the publication of his first novel in 1994 (The Pardon). He lives in south Florida with his wife, three children, two cats and a golden retriever named Max who has no idea he's a dog.
---
A Long Way From Disneyworld
by Owen Laukkanen
I grew up in Windsor, Ontario, a small and unabashedly blue-collar city closer to Detroit in geography and mentality than to anything in Canada. Winters weren't the harshest in the country, but they were still grey, bleak and pretty damned cold. Most of us in Windsor had no choice but to endure it. The lucky ones, though—they went to Florida.
It's a Canadian tradition to flee to Florida for the winter. Whole neighborhoods bolt for Disney World at the first sign of snow. Grandparents up and mobilize around mid-October, bound for carefree months of sunshine and indolence in Boca Raton. Snowbirds, they call us, an invading force of winter-weary northerners, just looking for a place to escape.
Not coincidentally, the need to escape is also what draws the characters in The Professionals, my debut thriller, to the Sunshine State. Arthur Pender, his girlfriend Marie, and his best friends Mouse and Sawyer are recent University of Washington graduates who've grown fed up with the flagging job market and have turned to lives of crime instead.
For two years, they've traveled across America, kidnapping rich businessmen for low ransoms and quick turnarounds, maintaining a nomadic lifestyle and staying under law enforcement radar. It's a volume game, a long grind. Life on the road gets exhausting. And as winter sets in, Florida starts to look like a good place to settle in for a little well-deserved rest.
Just before they head south, however, Pender and his friends botch a job, and suddenly "escape" starts to take on a whole new meaning. They flee to Miami, not just for relaxation, but to save their own lives, counting on South Beach to provide a glitzy anonymity that will allow them to get away clean.
What they don't realize, however, is that Florida is more than just a collection of resort towns and amusement parks. Under that glamorous veneer, there's a seedy desperation, a kind of Wild West mentality. The people waiting for Pender aren't employed by the tourism board; they're the kind of tough, hard-edged mercenaries who thrive in locales where incredible wealth meets boundless opportunity.
This is the Florida that appeals to me now, as a crime writer, even as I settle in for another long, Canadian winter. It's not the possibility of a peaceful escape that interests me. I'm not particularly taken with the state's impressive number of golf courses, or yacht clubs, or beaches. I've pretty much outgrown Mickey Mouse.
No, what fascinates me about Florida is the incredible opportunity it affords the common criminal. It's the same quality that inspired Tony Montana in "Scarface," the notion that behind this exotic playland, with its nightclubs and theme parks and fast cars and beautiful women, there's a flip side, an army of the opportunistic and unscrupulous, working to get their hands on a share of all the money.
It's the cocaine on the coffee table in the Star Island mansion. The freighter steaming out of Port Everglades in Fort Lauderdale, its cargo hold filled with stolen Lamborghinis bound for Vladivostok. It's the girl in the cocktail dress at the back of the club, who for the right price can get you anything you desire, and it's the guy in the alley who'll make sure you pay for it. It's the fugitives hiding out from the law in some dingy motel a million miles from Disney World, and the swamps all around them, a grim reminder of how the big problems tend to get solved around here.
The Florida in my crime writer's eye is a far cry from the wonderland I dreamt of as a cold, Canadian kid. You won't find it in brochures or fancy travel advertisements. It's not exactly the paradise Arthur Pender and his friends are dreaming of, either. They've come for a South Beach vacation, my gang of kidnappers, but really, their dreams of peace and quiet don't stand a chance. Because in places like Florida, where wealth and opportunity mix with hunger and desperation, there's always going to be somebody willing to do a job, any job, if the money's right. The lure is too strong. The payoff's too great. And if the wrong people find out you have something they want, brother, you're lucky to get out with your life.
Just don't tell the snowbirds.
---
A graduate of the University of British Columbia's Creative Writing program, Owen Laukkanen's debut novel, The Professionals, was published by Putnam in 2012. Criminal Enterprise, the second book in the STEVENS AND WINDERMERE series, will hit stores in March 2013. A commercial fisherman when he isn't writing, Laukkanen divides his time between Vancouver, BC, and Prince Edward Island.
---
How to Keep a Florida Series from a Dead End
by Elaine Viets
My Dead-End Job series started because I worked in South Florida.
I'd been writing the Francesca Vierling mysteries set in my hometown of St. Louis, even though my husband, Don Crinklaw, and I now lived in South Florida.
Florida seemed like such a juicy setting for a series: We lived in a condo on the beach and each day more characters paraded past on the boardwalk:
A pony-tailed hippy rode a bike with a cockatoo perched on the handlebars.
A stately disabled woman motored on her scooter, an alert Boston terrier at her feet.
Dealers boldly sold pot to tourists at a beach restaurant.
Retired mobsters discussed their cholesterol at the Italian restaurant two doors down.
Beach bunnies flirted with the strapping lifeguards in the tower near my window.
They were begging me to put them in a book. But my series was set at a St. Louis newspaper. I'd been a reporter for more than 25 years. The Midwest is charming and quirky, but it lacks South Florida's outrageous style.
Then Don and I had a bad year: he was diagnosed with stage three cancer (he's fine now, thanks), we were audited by the IRS, we lost our money in the stock market and my Francesca series was canceled, along with dozens of other series when Dell wiped out its mystery division.
I went to work as a bookseller at a Barnes & Noble in Hollywood, Florida, and learned the obvious: When you make $11 an hour, people treat you worse than if you have a well-paid corporate job.
My Dead-End Job series was born. I started making notes about the colorful characters I met at the bookstore:
The furious man who screamed at me when I didn't process his return fast enough. The other customers defended me, bless them.
The old man who brought his lunch and read at the store all day, but only bought a book when his Social Security check arrived.
The woman who talked on her cell phone while I rang up her books.
It was all fodder for a new series. Helen, like me, is a Midwestern woman. We have similar views of the world, except I had a better marriage.
The bookstore wasn't the first book in my Dead-End Job series. I set Shop Till You Drop (Signet, 2003) where I had my first retail job: a high-end clothing store where the owner went to federal prison.
Murder Between the Covers (Signet, 2003), the second book in the series, was my bookstore mystery. I worked as a telemarketer for Dying to Call You (Signet, 2004). That's where Helen met her future husband, private eye Phil Sagemont. Yes, Helen works as a topless bartender to solve a murder in that book. No, I didn't work that job.
For Just Murdered (Signet, 2005) I worked in the bridal department at Zola Keller, a chic Fort Lauderdale store. I killed the mother of the bride in that novel, but the publisher wouldn't let me call it "One Dead Mother."
The Dead-End Job series went hardcover at book five, Murder Unleashed (NAL, 2006), where Helen and I worked at a dog boutique. Murder with Reservations (NAL, 2007) was the hardest job I ever worked. I was a hotel maid and made 28 beds, cleaned 17 toilets and the honeymoon Jacuzzi daily. My back killed me.
Clubbed to Death (NAL, 2008) was the most unpleasant job: customer service for a country club whose motto should have been "Do you know who I am?" I hated waiting on spoiled rich people.
Killer Cuts (NAL, 2009) was a lot more fun. I was an assistant to a South Beach hairstylist.
After five books, Helen and Phil wanted to marry. But that plan changed on their wedding day.
I had a change of plans, too. Jobs, even dead-end ones, were getting hard to find. Florida's unemployment rate was one of the highest in the USA. I was able to work at a designer resale shop for Half-Price Homicide (NAL, 2010). I learned trophy wives were allowed unlimited shopping, but their controlling husbands wouldn't give them cash. The wives bought expensive items and sold them at the resale shop for personal cash.
Helen and Phil married in that novel. Their lives changed, and so did the direction of my series. Florida unemployment was now at 11.4 percent. More than a million people were out of work. I couldn't take a job for research when so many people needed real employment.
But Helen keeps working those dead-end jobs. In Pumped for Murder (NAL, 2011), newlywed Helen and Phil started their private eye agency, Coronado Investigations. Helen works at a gym and falls into extreme bodybuilding.
I attended private eye conventions to learn about the gumshoe business and did more research. For my May 2013 book, Board Stiff, I learned stand-up paddleboarding.
Actually, it was more like fall-off paddleboarding. In nine feet of water.
Call it in-depth research.
---
Elaine Viets writes two bestselling mystery series, the Dead-End Job mysteries and the Josie Marcus Mystery Shopper mysteries. Final Sail, her latest hardcover (NAL, 2012), explores the world of the haves and the have-yachts. The New York Times Review of Books praised her "quick-witted mysteries." Elaine won the Agatha, Anthony and Lefty Awards.
Buy this back issue! Available in hardcopy or as a downloadable PDF.