Volume 15, No. 4, Winter 1999-2000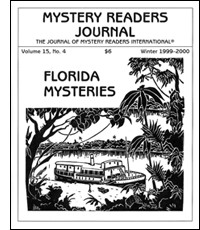 TABLE OF CONTENTS
Only in Florida by Oline H. Cogdill
Why Miami? by Joanne Sinchuk
Insanity's Last Stand by Beth Fedyn
John D. MacDonald: Florida's Master of Mystery by Sue Henry
A Vast Literary Pharmaceutical Experiment? by L. Wayne Hicks
Murder on Miami Beach Mystery Bookstore by Meg Chittenden
THE WRITERS WRITE
Deep and Deadly by Glynn Marsh Alam
The Florida Strip by Nancy Bartholomew
The "Other" Florida by Laura Belgrave
Sun, Sand, Surf, Sex, Sin, Snakes, Swamps by Elaine Raco Chase
Florida: Where the Heat Sizzles and Passions Flare by Nancy J. Cohen
The Sunshine State of Chaos by Tom Corcoran
To Live and Die in Florida by Tim Dorsey
Beyond Disney by Anna Flowers
Mystery in Havana North by Carolina Garcia-Aguilera
Snowback Envy by Alison Gordon
Home At Last by James T. Hall
Mystery in the Sunshine State by Stuart Kaminsky
The Nation of Florida by Hialeah Jackson
Miami: City of Refugees and Ghosts by John Lantigua
My Two Floridas by Michael Lister
Why Florida? by Nancy Pickard
Leaving Florida Behind by J.R. Ripley
Ode to Miami by Jessica Speart
Murder, They Write by Les Standiford
Silicone Solution by M. Diane Vogt
Why I Set a Mystery in Florida… by Cynthia Webb
COLUMNS
Mystery In Retrospect: Reviews by J. Sinchuk, S. Pappas, V. Cannata, C. Harper, H. Klausner
In Short: Florida by Marvin Lachman
Miami in British Crime Fiction: Two Examples by Philip L. Scowcroft
Just The Facts: Playing Through the Pain by Jim Doherty
MRI Mayhem by Janet A. Rudolph
Letters to the Editor
From the Editor's Desk by Janet A. Rudolph
---
To Live and Die in Florida
by Tim Dorsey (Tampa, Florida)
If Florida was a drug it would be some nightmarish concoction that even the most hardened dope fiend wouldn't go near—maybe LSD and crack, with a key lime twist — the effect would be a completely baffling and upsetting experience that for some odd reason would also be utterly addictive.
That's daily life in Florida—an elegant car wreck. And that's the Florida connection in my books: All us natives who have lived here long enough to know we should leave for our own safety… but we just can't help ourselves. We grew up here, and the tropical splendor is the stuff of our most cherished memories—and at the same time we're hooked on the modern action. We can't stop staring at that beautiful car wreck.
Glistening condos, royal palm trees, headless bodies in oil drums, and waiting lines of retirees spilling onto restaurant sidewalks at 4 p.m., hoping for a shot at an early-bird $3.95 Sterno tray of Swedish meatballs. Space shuttle launches, mermaids, orange juice with more pulp, and waterfront Mediterranean stucco being sprayed with automatic weapon fire.
But maybe it's just me. My experience has been typical Florida, but it has also been highly concentrated. Until my first novel, Florida Roadkill, was published (William Morrow, August 1999), I had worked nearly a decade on the night desk of the Tampa Tribune—a decade of listening to the police scanner into the wee hours, triaging the police reports, filtering the cream of the crime from the state news wires — people going to all the most exquisite locales and committing the most disturbing and unnatural acts you could imagine. And just when I'm properly paranoid, the shift is over and I'm sent on my merry way—waving goodbye to the security guard at the back door of the newspaper building and tiptoeing alone out to my car in downtown Tampa in the middle of the night… What was that?!… Looking over my shoulder, doing 360s… God help me, I love it!
Ever since John D. MacDonald put a rogue on a houseboat in Fort Lauderdale, the regional genre has been gaining recognition. Charles Willeford, Carl Hiaasen, James W. Hall have all contributed to the literary identity of the state and the growing notion that things are more than just a little off-center down here. Miami Herald humor columnist Dave Barry recently put all the cards on the table. He called it "the bunch of South Florida wackos genre."
At bookstore signings, some people ask me who's the star of my book, the hero or the anti-hero. Actually it's Florida. I wanted to write a book that included all my favorite places in the state. I wanted to pack it with history and lore, give it a rich sense of location. I also started out deliberately wanting to avoid the violence and mayhem scene. Several other writers were already there, and it's what I spent every night doing. Then I realized, a Florida novel without crime and insanity—now, that's some really bad fiction. If I wanted a coming-of-age Zeitgeist piece of angst, I could go to Montana or Seattle. In Florida, you get a bank robber stuffing a money bag down his pants and disappearing into a noon crowd—until the red dye pack explodes through the crotch of his jeans… I told myself: Stop denying it, accept it, embrace it, write it.
But first I had to conjure a plot device to shoehorn in all the far-flung things on my list of favorite Florida things. So I came up with a bad guy named Serge, who, since childhood, has been diagnosed with a bucket-load of hyphens: attention-deficit, anal-retentive, obsessive-compulsive, paranoid-schizophrenic. He was believed to be the only self-inflicted case of shaken-baby syndrome.
Serge's thing is that he's obsessive about his home state, and as he and his cohorts take to the road on a cross-state crime spree, he is constantly pulling over—against their objections—to take photos and explains the historical significance of their locations.
Another question I get at bookstores: Am I hurting commerce and tourism? I say, Look what happened with Miami Vice. Almost single-handedly that TV show transformed Miami Beach from retirement ghetto to international thong-bikini hive.
People just love to come and look at our glamorous car wreck.
---
Tim Dorsey's next novel, Hammerhead Ranch Motel, will be published by William Morrow in July 2000.
---
John D. MacDonald: Florida's Master of Mystery
by Sue Henry (Anchorage, Alaska)
It would be remiss to publish an issue of MRJ with a Florida theme without including at least one article on John D. MacDonald. For if the work of any mystery writer, past or present, represents the state, it is his.
Though not a native, after moving there in 1952, MacDonald made Siesta Key his residence for over 30 years. He loved Florida enough to use it as the primary setting for most of the books he wrote during that last third of his life, to describe it vividly, with obvious caring, even to let his displeasure with its changes slip into his writing, often in ecological protest.
Lately, MacDonald's writing has sometimes been criticized as politically incorrect. This current, curiously phobic attitude is as unnecessary as it is depressing, for it is unfair to work that was highly acceptable in past years to yank it out of the social context in which it was accomplished and judge it in terms of the popular standards of a completely different era. But, even considered by today's standards, the violence in MacDonald's tales is never gratuitous and, from the way his characters related to each other, it was obviously important to the author that they should all be as respected as they deserved to be. Both MacDonald and his most famous character, Travis McGee, unmistakably appreciated in people the same sort of admirable traits: honesty, integrity, compassion, responsibility—in other words, strength of character.
John Dann MacDonald was born on July 24, 1916, in Sharon, Pennsylvania. When he was 12, his family (including a younger sister, Doris) moved to Utica, New York. Graduating from Utica Free academy at 15, at his father's insistence he enrolled in the Wharton School of Finance at the University of Pennsylvania. He withdrew during his sophomore year, moved to New York City, where he worked at a variety of odd jobs (dishwasher, busboy, waiter, fruit stand operator, bookstore duster) eventually enrolling at Syracuse University, where he obtained a degree in business administration and married Dorothy Prentiss. In the next five years he received an MBA from Harvard and had a son, Maynard John. Then followed, as he put it: "[a series of] brief and mutually unsatisfactory encounters with several employers." His termination in each case, he confessed, was usually attributable to a "virulent case of Boca Grande—Big Mouth."
In 1940 he was commissioned a US Army lieutenant and sent to Staff Headquarters in New Delhi, India, where he served in the Office of Strategic Services until 1945. Because of the secret and sensitive nature of his work, his mail was strictly censored, so as a diversion he wrote a 2,100-word short story about life in New Delhi, which he sent to his wife instead of a letter. Without his knowledge, she retyped it and submitted it to Story magazine, who bought it for $25, and published it in the July/August 1946 issue as "Interlude in India." Surprised with the check when he returned home, for the first time he entertained the possibility that he might become a professional writer: "I had no idea of actually being a writer until I was twenty-nine. I read everything I could reach from the day I learned to read. I thought that to be an author would be the best thing anyone could ever do—to put down the words for others to read. But I did not think it could ever be me."
Encouraged by his single sale and supported by four months' terminal leave money, he decided to see if he could make it as a writer. "During those first four months of effort, I wrote about 800,000 words of unsalable manuscript, all in short-story form. That is the classic example of learning by doing. Had I done a novel a year, it would have taken me ten years to acquire the precision and facility I acquired in four months. I could guess that I spent eighty hours a week at the typewriter. I kept twenty-five to thirty stories in the mail at all times, sending each of them out to an average of ten potential markets before retiring them."
The secret of MacDonald's eventual success is simple: his works were the result of hard work, products of a no-nonsense attitude toward writing. Knowing no other writers, he had no clear idea of how a writer ought to go about his work. "I thought you got up in the morning and went to work and worked till lunch and then went back to work until the day was over… [like] any other job. It wasn't until my habit[s] were firmly embedded that I discovered that writers tended to work a couple of hours and then to brood about it the rest of the day."
Five months of feverish activity later, MacDonald managed to sell his second story to Detective Tales for $40, bringing his lifetime earnings from writing to a grand total of $65. "I had a wife, a son, two cats—and almost a thousand letters of rejection."
But by the end of 1946, he had managed to get twenty-three of his stories published in a variety of popular pulp magazines of the time. Though friends and relatives had thought him the victim of "a severe postwar readjustment problem," he had earned enough money (about $6,000) to prove that he could support his family as a professional writer.
In the next four years, MacDonald's output was truly astonishing — 210 published short stories. It makes a fan almost weep to wonder how many he wrote that didn't sell, and to know that he once spent an entire afternoon supervising his young son in the burning of over two million words of unsalable work. He wrote all kinds of stories—sports stories, adventures, westerns, science fiction, mystery. They are difficult to find today, but some of his short stories were later made available in collections.
Those four years were a valuable training ground. In a newspaper column written in 1948, he commented on a budding writing career: "We are serving an apprenticeship to the Angry Gods of the Typewriter, but we can't bury our lesser efforts. We have to sell them for grocery money. It's a good thing they don't let doctors practice this way." But, by trial-and-error, he learned—how to tell a good story, how to create believable characters, how to maintain suspense, and, above all, how to entertain the reader. When a story was finished to his satisfaction, he submitted it to the appropriate market—thus preserving his freedom to write what he wished while developing an arsenal of narrative skills.
Then, he started writing novels. In 1950 The Brass Cupcake was published and he had become a writer of paperback originals. Very much in the mainstream of the fifties, they were not all mysteries, for MacDonald continued to be a true all-rounder. During his career he wrote science fiction, horror, whimsical fantasy, suburban soap opera, bawdy comedy, true crime reporting, not to mention a book about his pet cats. Between 1952 and 1964 MacDonald published 42 stand-alone novels, frequently at the rate of four a year. As widespread as his popularity became, it was the creation of the colorful Travis McGee that brought him his greatest fame and fortune.
Through the years, Fawcett Publications had been urging MacDonald to write a series character, but he resisted and declined, not wanting to become locked into anything. Then, in 1963, his editor lost a popular author to another publisher, and asked again. MacDonald, with over ten years of exercising the freedom to write what he pleased and of firmly establishing his reputation as a versatile writer finally agreed to see if he could devise a character he could live with for a series.
He wrote one novel that he considered too restrictive, which he scrapped. On the next try, he swung too far in the opposite direction with a hero who was a "jolly, smirking jackass," full of quips and puns. This too was scrapped. He titled his third attempt The Deep Blue Goodbye, and it featured a hero called Dallas McGee. But, then president Kennedy was shot, and MacDonald, knowing the name wouldn't work, borrowed "Travis" from the Air Force base in California. He also hit upon the device of using a different color in each title.
Still cautious, wanting to know if his new series character would remain interesting to him, he wrote a second McGee novel, Nightmare in Pink, and a third—which fell apart—then a fourth, A Deadly Shade of Gold. Now committed to his new creation, he completed a fifth, A Purple Place for Dying, then returned to the abandoned third attempt and rewrote it entirely as The Quick Red Fox.
The series was launched in 1964 with the simultaneous publication of The Deep Blue Goodbye and Nightmare in Pink, and later the same year, A Purple Place for Dying. Thus the first five books published were not in the order in which they were written, but MacDonald had written approximately a million and a quarter words and was absolutely certain he had a hero he could live with.
In Deep Blue the basic and fascinating facts of Travis McGee's character and life-style are quickly introduced: Travis McGee is a large, powerfully built man, six-foot-four, two hundred and five pounds, sporting a deep tan and boyish grin. He lives aboard a fifty-two-foot barge-type houseboat, The Busted Flush (moored at Slip F-18, Bahia Mar, Ft. Lauderdale, Florida), which he acquired in a poker game and named in honor of the hand that made him owner of a floating residence.
McGee's second most unique possession is his automobile, Miss Agnes, a vintage 1936 Rolls Royce, which some previous owner converted into a pickup truck and repainted electric blue. McGee named her "after a teacher I had in the fourth grade whose hair was that same shade.."
A self-styled "reject from a structured society," rather than waiting until sixty-five, McGee takes his retirement in chunks, so he works at irregular intervals, usually only when he needs the money. The work he does is unique—he is a "salvage expert," a retriever of lost items. "…if X has something valuable and Y comes along and takes it away from him, and if X has absolutely no way of ever getting it back, then [I] come along and make a deal with X to get it back, and keep half."
In Travis McGee, MacDonald created a fictional character whose gradual evolution over the course of the twenty-one books of the series made him so lifelike, so credible, that he seemed to transcend the boundaries of the stories in which he appears. The result: a hero with both larger-than-life dimensions as well as a realistic sense of his imperfections, whose vulnerabilities and uncertainties are every bit as important as his virtues.
One of the special pleasures the McGee series provides is the engaging by-play produced by the relationship between Travis and his friend, Meyer. Semi-retired like McGee, Meyer is a large, shambling, hairy bear of a man with bright blue eyes and he combines the enormous intelligence of an international expert in economics with an abundance of personal charm. According to McGee: "He has those places to go, inside his head. He looks as if he was sitting and dozing, fingers laced across his middle. Actually he has walked back into his head, where there are libraries, concert halls, work rooms, experimental laboratories, game rooms. He can listen to a fine string quartet, solve chess problems, write an essay on Chilean inflation under Allende, or compose haiku." And: "[He is]the best of company, because he knows when talk is better than silence."
John D. MacDonald was a remarkably gifted storyteller, who created well-woven plots—artfully constructed arrangements that are neither needlessly complex nor existing simply to obscure the identity of the villain until the final chapter. He was a master at creating and sustaining mystery, suspense, tension, and drama—turning the pages in one of his novels is always a pleasure, never a duty.
As important as story is, however, it wasn't everything to MacDonald; his novels always feature believable characters about whom, thanks to his skill in making them real as well as interesting, the reader comes to care deeply. But whether they be heroes or villains, saints or sinners, featured performers or walk-ons, his characters are invariably believable and interesting, thanks to his instinctive choice of the right gesture, mannerism, speech pattern, quirk, and tic, even the most insignificant character is allowed his brief and shining moment in the limelight before being retired to the obscurity of the background again.
MacDonald once said: "You have to start knowing yourself so well that you begin to know other people. A piece of us is in every person we can ever meet." That knowledge, and the ability to put it into words, made him one of the most respected, admired, and popular authors ever. By the time his last Travis McGee novel, The Lonely Silver Rain, was published in March 1986, in addition to the 21 books of that famous series, John D. MacDonald had published 49 novels, 2 non-fiction works, and more than 500 magazine stories. His books had sold more than 70 million copies worldwide. One more, Barrier Island, was released in June of 1987—and, appropriate to the independence he valued so much, it was not a series novel.
So, if you (like this author, who does so just after Christmas each year) would like to lift a glass to his memory (perhaps in Florida, or after reading his excellent novels), it would be fitting to mix yourself a McGee, or "The Drink," as Travis himself described it: Fill two thirds of an "ample old-fashioned glass with cracked ice. Pour a big, unmeasured slosh of dry sherry into the glass, then swiftly [strain] it down the drain, reserving the ice. Fill to the ice level with Boodles or Plymouth gin, rub lemon peel around the inside of the rim, pinch some little floating beads of citrus oil on the surface of the drink, and throw away the peel."
In a 1987 tribute to MacDonald in Mystery Scene Reader, Lawrence Block put the feelings of thousands of bereft fans into words when he said: "John D. MacDonald died on December 28th, 1986—but I don't have to believe that if I don't want to."
---
Sue Henry is the author of the Alex Jensen/ Jessie Arnold mystery series, set in Alaska.
---
Home At Last
by James T. Hall (Pinecrest, Florida)
Every time I see that bumper sticker—Florida Native—a ripple of envy and irritation flutters in my chest. It's a rare and exotic club to which I will never belong because I'm one of those thousand-a-week folks who have been flooding into Florida for the last few decades. Although they tell us that the tide has slackened to 591 new residents a day, Florida natives are still as scarce and outlandish as manatees. How unfair it seems that even though I've lived in the state for nearly thirty years (surely longer than plenty of the younger natives) I should still feel like an interloper.
In 1965, on a south Florida winter day much like this one, I stepped off the train at the Hollywood station to attend Riverside Military Academy. It had been an incredibly romantic journey, a long rumbling train ride through the brown scraggly fields of Tennessee and Georgia, then into the expanse of green nothingness that was north and central Florida, until finally the palm trees began to thicken, the greens grew lush, and the windows in the train slowly lowered. Suddenly I was standing beside the tracks looking at a sky dense with extravagant birds, white and huge with lazy wings, long orange legs trailing.
I remember taking my first breath of rich sub-tropical air. There was something sweet and spicy in the breeze—that warm macaroon aroma with an intoxicating undertone of cinnamon that seems to waft directly from some secret Caribbean island. That afternoon I breathed in a lungful of air I have yet to release.
Though I didn't have the words for it then, I knew the light was different too. Softer than the harsh and unglamorous Kentucky daylight I was used to. It had an almost romatic, twilight rosiness, a quiet light, yet at the same time far more vivid and precise than any I'd known before. A painterly January light. And while I had been on the platform of the Hollywood train station for less than a minute, I knew with utter certainty that I had taken a mortal wound.
Sometime later that winter, I dropped the bombshell on my parents. I informed them that I had decided to turn down the Air Force Academy appointment my father and I had labored so hard to secure. I wanted to attend college in this newly discovered Shangri-La, Florida. While the shock of my passing up a free four years of college must have been incredibly difficult for them to absorb, to their everlasting credit my parents let me win that argument.
I never told them that the institution of higher learning I had chosen, Florida Presbyterian College, had caught my eye because the catalog I'd devoured in my boys school guidance office had numerous photographs of coeds wearing Bermuda shorts in classrooms. Ah, sweet Florida, what a sensuous and libertine land.
I did four glorious years of college in the charming and soporific St. Petersburg of the '60s. On holidays I explored the west coast, the Keys, camping at starkly primitive Bahia Honda, building bonfires on midnight beaches, discovering out of the way taverns that served cheap pitchers of beer and spectacular cheeseburgers, bays where fish jumped happily into frying pans, and unair-conditioned piano bars in Key West where writers huddled in the corners and talked the secret talk. I had never felt so at home.
Then I graduated and after serving a bleak exile in snowy latitudes to collect two more degrees, it was finally time to find a job. I was so determined to return to Florida that I didn't even bother applying for teaching jobs in any other state. It was a cavalier decision bordering on lunacy, for that was a time in the early seventies when teaching jobs were scarce and terminal degrees plentiful. Every taxi driver had one. When no job offer was forthcoming, I moved back to Florida anyway and put my new Ph.D. to use digging holes and planting azaleas, palm trees and a host of other landscape plants around the bases of high-rise condominiums. Better to do manual labor in the relentless sun of Florida than to find myself in some university office staring out the window at the desolate tundra of Anyplace Else.
The phone call finally came. A new state university in Miami. The ground floor. A dream job. And then little by little, all these years happened. Twenty-four of them. But even after all this time, the light is still new and surreal and the air still drenched with spices they haven't yet named and the sky is chock-full of the most impossible birds. Parrots squawk across my backyard sky every morning at seven. Garish flowers big as Stetsons bloom in December. Some evenings the breeze is so luxurious I feel like weeping.
I kidnapped a boy from Kentucky and transplanted him in paradise and he grew up to write books that sing the praises and mock the dizzy and perilous follies of this gaudy corner of the nation. I love this place. I have loved it from the start and have learned to love it more with every passing year—all its quirkiness, its stresses, this simmering melting pot where no one seems to want to blend.
I have decided we need a bumper sticker of our own—those of us who had the misfortune of being born somewhere else, but who made the difficult choices, overcame the fears and complications and the psychic traumas of abandoning the safety of one home for the uncertainty of another. There are 591 stories a day about how we arrived here, and sure, not all of us were as swept away by the sensory treasures of this place as that eighteen year old kid on the train platform. Some of us came simply for jobs or to play golf in February or to soothe our arthritic joints, and there are many who find nothing to rhapsodize about in the sumptuous air or rosy light, the awkward, delicious grace of a heron rising into flight. There are many of those 591 who simply ignore or endure what the rest of us cherish. Well, let them get their own license plate. But as for the rest of us, ours should say, Home at Last.