Volume 36, No. 1, Spring 2020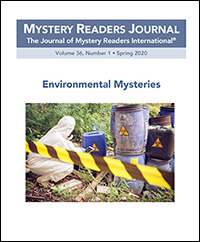 Buy this back issue! Available in hardcopy or as a downloadable PDF.
TABLE OF CONTENTS
AUTHOR! AUTHOR!
Can Snakes Be Heroes? by Glynn Marsh Alam
We Are the Wild by Sandi Ault
Toss in a Bear or a Snake by Pamela Beeson
Environmental Mysteries and Public Debate: Can One Enhance the Other? by Dave Butler
Wild and Commanding Settings: Striking the Right Balance for Readers by Christine Carbo
Calypso Saves the Climate by D. Z. Church
From Addiction to Fiction—in the African Bush by Jenny Carless
Why the Road Is Dark by Philip Cioffari
A Background in the Birding World by Ann Cleeves
The Man in the Doorway and Other Writing Mysteries by Donna Cousins
Mysteries With A Climate Change Message by Charlene D'Avanzo
The Old-Fashioned Way by William Deverell
Write What You Know: Wilderness Thrillers by Karen Dionne
Natural Crimes by Janet Dawson
It's All About the Birds… and Murder by Jan Dunlap
The Mystery of the Missing Mountain by Toni Dwiggins
Natural Inspiration by Gerald Elias
The Common Threat by Kate Fellowes
The Heart of the Matter by Christine Goff
Murder and Mayhem For Our National Parks by Scott Graham
Fruit of the Devil by Vinnie Hansen
Boots in Dirt: Protecting Wildlife and Natural Resources by Joseph Heywood
Wildfire and Murder in the Woods by Dave Hugelschaffer
Shark Allure by Sara Johnson
A Captivating Story by Diane Kelly
The Mystery as Environmental Soapbox by William Kent Krueger
Does the Message Overshadow the Murder? by Stephen Legault
Saving the Planet, One Novel at a Time by Robert Lopresti
Wolf Man by Michael Allan Mallory
Burying the Evidence by Larry Maness
Novels from the Garden of Good and Evil by Keith McCafferty
The Bright Side of Environmental Devastation by Jon McGoran
A Caution on Environmental Research by Skye Moody
I Never Intended to Write Environmental Mysteries, But… by Michael Norman
"Stork Trek"—The Story Behind the Story by Josh Pachter
A Thrilling Environment by Katherine Prairie
Murder in a Damaged Environment by Kwei Quartey
Resolving to Write Novel by Ben Rehder
Off Road by Kirk Russell
Is Any Refuge Certain? by Carolyn J. Rose
On the Trail of a New Environment by Mark Stevens
Finding My Voice in Wildlife by Jessica Speart
Writing from the African Bush: What a Pleasure! by Stanley Trollip
Writing About the Environment in the West by Judith Van Gieson
When Cozies Can't Be All That Cozy by Betty Webb
The House of the Monk's Spring by Robert Wilson
Partners in Crime: My Link to the EPA by Kenneth Wishnia
Interesting Times for Mystery Writers by John Yunker
Nature and Mystery by Gregory Zeigler
COLUMNS
Mystery in Retrospect: Reviews by L.J. Roberts
Real Environmental and Wildlife Crimes by Cathy Pickens
From the Editor's Desk by Janet A. Rudolph
---
The Mystery as Environmental Soapbox
by William Kent Krueger
It's naïve to believe that an author's work shouldn't reflect the controversies abroad in the world. The deep concerns we have as human beings are braided into all our thoughts and actions, including our creative endeavors. When I sit down to write a story, I'm often motivated by some pressing issue about which I hold strong beliefs. Because I live in Minnesota, which contains some of the most beautiful and pristine places on earth, threats to the environment are often in the forefront of my thinking.
In Minnesota, as in so many other areas, the threats abound. Climatic change is wreaking havoc on the land and the wildlife here. Winters are no longer the long, bitterly cold depths of legend. As a result, moose are permanently migrating north out of the state, seeking cooler climes in Canada. Lake Superior—so cold that, as Gordon Lightfoot ably pointed out, it "never gives up its dead" — is warming, which poses significant danger to the indigenous fish population. The threats are not only climatic but commercial as well. The Boundary Waters Canoe Area Wilderness, more than a million square miles of deep forests, crystal-clear lakes, and fast, clean-running rivers, has for years been the site of a contentious battle over the mining of heavy metals, an enterprise that poses a potentially catastrophic threat to the area's delicate ecological balance.
I've used these issues as motivating factors in several of my Cork O'Connor novels, most notably Manitou Canyon, published in 2016, and Desolation Mountain, which came out two years later. I firmly believe that the unique appeal of mysteries provides a viable soapbox from which to speak out to readers about these important issues. A lot of folks won't even begin to wade through an academic or polemic publication about an ecological or political issue. But couch the threats in the context of a good, compelling mystery and you've got a hook with the potential to pull even the most reluctant through a bit of necessary enlightenment.
I'm not alone in my use of mystery as soapbox. In the 1960s, John D. MacDonald railed against the devastation of the Florida wetlands wrought by the real estate boom, most famously in his novel A Flash of Green. John Grisham, C. J. Box, Nevada Barr, Joseph Heywood, and a slew of other writers in our genre have composed narratives with an environmental issue at the heart of the story. These novels succeed not only in engaging and maintaining a reader's interest—always the first order of business for a writer—but also in laying out a better understanding the environmental threats involved.
Okay, I do occasionally get notes from readers who disagree with my point of view. That's fine. In fact, that's great, but it means that they've read the work, and although they may not agree with my stand, at least they've heard me out.
Stories can affect people in ways that a polemic never will. They are, admittedly, an emotional appeal. Of course, a good mystery has to be satisfying on a completely logical level, but it can also go much deeper than conscious, analytical thought. A good story reaches all the way to the reader's heart. My own belief is that if real change is going to occur, that's where it has to begin, in our hearts. So I plan to keep on writing stories that shout out an emotional warning about threats to our environment, to endangered wildlife, and to any other of the precious natural treasures at risk because of the greed or ignorance of those who wield political or financial power. I do love my soapbox.
---
William Kent Krueger is author of seventeen novels in the New York Times best-selling Cork O'Connor mystery series, set in the great North Woods of Minnesota, as well as the Edgar-winning Ordinary Grace and, most recently, This Tender Land.
---
Murder in a Damaged Environment
by Kwei Quartey
In 2014, I began research on my next novel, Gold of Our Fathers, which was about a Chinese illegal gold miner murdered in the gold-rich lands of the Ashanti Region in Ghana, West Africa. You might wonder how on earth the Chinese ended up in Ghana, but if you weren't aware, China is all over Africa. They are actively building dams, roads, high-rise buildings, and railways in multiple countries on the continent.
The Chinese-Ghanaian gold story, however, is not one of building up, but of tearing down. Around 2007, Chinese nationals, primarily originating from Shanglin County in the country's Guangxi Zhuang Autonomous Region, began flocking to Ghana on the reliable information that the country was blessed with exceptionally rich deposits of the glittering metal. By 2013, approximately 50,000 Chinese illegal gold miners had flooded into Ghana.
What I first read about the phenomenon was a story of a deadly confrontation between some Ghanaian individuals and two armed Chinese workers at a mine site. The message was that these guys, usually well supplied with pump-action shotguns, were not to be messed with.
The type of mining in which Ghana's gold-chasing "visitors" were engaged is called small scale or artisanal, which is independent, subsistence mining not officially performed by a company, especially a multinational. Small-scale gold mining is typically done at a riverside by panning or washing sediment down a sluice box that (hopefully) collects particles of gold that will be consolidated at the end of the day. The rewards of this backbreaking activity are few and far between.
In some ways, "small scale" is a misnomer because some of the Chinese miners brought in massive machines like excavators and bulldozers. What these agents of destruction did was turn the earth inside out in order to get at the gold ore. Not only did that bring to the surface toxic minerals that normally existed below ground, it rendered previously fertile soils barren and unable to support crops like cocoa and oil palms. None of the miners ever backfilled the gray, excavated moonscapes that they had created. Attendant dangers of this eco-wreckage included people slipping into the large excavated mine pits and drowning in the thick, quicksand-like mire of the pits.
While I originally began my research on the mining debacle with the idea of defining the battle lines between the Chinese and the local people, I came to look at the environment itself as a misused, abused, wounded character in the upcoming novel. We always talk about people being "damaged goods," but here it was the land being damaged.
The sad truth behind much of the degradation being wreaked on the land was that many of the local chiefs were complicit as soon as the Chinese miners approached them with tempting bundles of cash. "Go ahead, do whatever you want," is, in essence, what these chiefs said. Just as in slavery, the propagation of the wrongdoing was not restricted only to the original perpetrators. A conspiracy of cooperation developed. The casualty in this case was the environment, and it would take a very long time for it to recover its former luxuriant status.
---
Kwei Quartey is a crime fiction writer and retired physician based in Pasadena, California. Quartey was born in Ghana, West Africa, to a Ghanaian father and a black American mother, both of whom were lecturers at the University of Ghana. His novel Wife of the Gods made the Los Angeles Times bestseller list in 2009. The following year, the National Book Club voted him Best Male Author. He has two mystery series set in Ghana: Detective Inspector Darko Dawson, and the Emma Djan investigations.
Buy this back issue! Available in hardcopy or as a downloadable PDF.