Volume 31, No. 2, Summer 2015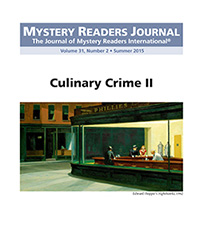 Buy this back issue! Available in hardcopy or as a downloadable PDF.
TABLE OF CONTENTS
ARTICLES
What Exactly Is a Red Herring? by Kate White
Killer Cookbooks by Janet A. Rudolph
A Bit of Heat with the Sweet: Julie Thomas Interview by Craig Sisterson
Gourmet Cuisine with a Side of Murder, German Style by Heike Henderson
Hobby Reads by Morgan Elwell
AUTHOR! AUTHOR!
Women, Food and Mysteries by Judy Alter
A Dople Helping of Mystery by Craig Faustus Buck
The Big Eatin' by Ellen Byron
Down Home Cooking by Donis Casey
Everybody Eats by Bobbi A. Chukran
Murder She Baked by Joanne Fluke
Eating Shrimp and Grits on the Outer Banks by Eva Gates
More Than Just Desserts by Tim Heald
Do You Want To Read 'Em and Eat? by Terrie Farley Moran
Taking Time for Food by Janet Hubbard
When Crime Gets in a Pickle by Mary Ellen Hughes
I Never Intended to Edit a Cookbook by Nancy Lynn Jarvis
Food Is a Family Affair by Kari Larsen
Will Write for Foodies: Mystery Lovers Kitchen
Confessions of a Foodie Mystery Writer by Nancy J. Parra
Help! I Write Culinary Mysteries, but I Don't Cook! by Barbara Ross
Recipe for Memories by Karen Rose Smith
Tea & Titillation by Connie Spitler
Stirred, Not Shaken by Art Taylor
The Edible Edward Gorey by C. J. Verburg
COLUMNS
Murder in Retrospect: Reviews by L.J. Roberts and Lesa Holstine
The Children's Hour: Food Mysteries by Gay Toltl Kinman
The Diner and the Detective by Kate Derie
From the Editor's Desk by Janet Rudolph
---
A Dople Helping of Mystery
by Craig Faustus Buck
When I saw Janet's call for submissions about food, my mouth started to water. I love writing about food almost as much as I love eating it. Or cooking it, for that matter.  I especially love how expressive food can be. When I was a young, single guy I discovered early on that the way to a woman's heart was through her stomach. I'd always enjoyed cooking but had never appreciated its aphrodisiac power until I started making home-cooked meals for my dates. A glass of wine, a leek and mushroom quiche and thou.
But I digress. I wanted to talk about food and writing. Food is a terrific way to avoid expository prose in the development of character, backdrop, emotional arcs, theme and even plot.
For example, in my new novel Go Down Hard (Brash Books, May 2015), I wanted to hint at the fact that the protagonist, a bottom-feeding tabloid crime writer named Nob Brown, was jealous of the close relationship between his mother and his ex-wife Holly:
There's some day-old coffee left in the pot so I pour it into an ice cube tray and stick it in the freezer. I can use the cubes to chill some iced coffee tomorrow. It's an old trick I learned from Holly to keep iced coffee from getting watered down. She apparently learned it from my mother, who never bothered to teach it to me.
Aside from learning a cool kitchen trick, we learn a tidbit about Nob's ex and his mother (a Manischewitz drunk), and get a taste of the bitterness he feels.
Food has always played a starring role in the sexual metaphor department, too, as anyone who's seen the movie Tom Jones will attest. Our cultural landscape is littered with food clichés, from whipped cream to salami. As Freud wrote in The Interpretation of Dreams, "I need not interpret asparagus to the initiated." But clichés provide expectations, and expectations can be a writer's best friend.
Take this Woody Allen line from Manhattan Murder Mystery: "Taste my tuna casserole—tell me if I put in too much hot fudge."
The line is funny because it's so palpable. It's not simply that fudge is the last thing you'd expect to find in a tuna dish, it's that you can taste it. The concept is specific without being explicit. There's no need to say he's a horrible cook; your taste buds have already notified your brain.
In Go Down Hard, when Nob is having a Mexican meal in Boyle Heights with his best friend and sometime lover Detective Gloria Lopes, he watches as…
She takes a sip of beer then looks me in the eye and licks foam off her lips. Nice and slow. I actually salivate. We men are such simple creatures.
Foreplay accomplished. Now that she's got him excited, he bemoans the fact that they're eating out instead of bringing take-out back to her place. His machaca burrito brings back sweet-hot memories: "Once behind closed doors, Gloria loves to explore the erotic potential of guacamole." She likes it wild and spicy. Whipped cream, eat your heart out.
Food can also illuminate the dark side. What better way to portray menace and violence than to serve up some blood sausage? The classic example would have to be Roald Dahl's famous "Lamb to the Slaughter" where a housewife bashes her husband's head in with a frozen leg of lamb and then cooks the murder weapon and serves it to the investigating officers.
Nob Brown runs into his own cupful of evil when he meets a Russian mobster named Vlad the Impaler. In a scene wrought with tension, the mobster offers Nob a dople:
"You know what's a dople?" The Russian accent makes the Italian word sound Yiddish, but I'm not about to correct his pronunciation.
"Italian, isn't it? Double espresso?"
"Da. It's a habit I was gave by my Italian comrades in New York. You know why I order you a dople?"
"No."
"To remind you, you got two yáytsa."
"That's one I don't know."
"It's Russian for those two what you got between your legs. It's your yáytsa what you don't want to wake up one morning, find stuffed in your mouth, capeesh?"
I hate to end on a sour note, if you'll excuse the expression, so I'll add one last thought for dessert. How many crime stories have you read, especially thrillers, where the protagonist is on the run for his or her life and goes for days without eating? It strains credibility, yet a lot of writers think it will slow down their pace to have the hero stop for a sandwich. Food can be conspicuous by its absence. So don't avoid it, embrace it. The need for food while in jeopardy can be a powerful device for introducing complications.
In "Dead End," my short story that was nominated for an Anthony last year, the hero is an ex-cop who now works as a parking valet and lives out of his car. His downfall was precipitated by—you guessed it—food. He'd been working an OJ-like murder scene all night and was starving the next morning as he drove collected evidence to the crime lab. He stopped by his house to grab something to eat, and:
By the time Vico's hit squad of eight-hundred-dollar-an-hour lawyers got finished, my left-over meat loaf sandwich had turned into a wanton extravaganza of evidence-tampering.
A celebrity psychopathic murderer walked free and our hero began his downhill slide.
So there are some food thoughts, served up hot. I'd love to hear your thoughts in the comments. I guess I still ended up on a sour note. But what did you expect? I write noir. I'm dark. Like squid ink.
---
Craig Faustus Buck is a writer of many faces, having been a journalist, a nonfiction book author, a writer-producer for network television, a feature film screenwriter, a short-story author and a novelist.
---
Killer Cookbooks
by Janet Rudolph
Although I no longer cook as much as I used to, it doesn't prevent me from collecting literary and tie-in cookbooks, and I've been collecting them for years. For purposes of this article, I'm confining myself to my mystery cookbooks. This is just a listing, and in no particular order. And, although I thought I had most of these cookbooks in my office, there seem to be some missing from the shelves, so they're probably in a box somewhere, carefully labeled but not at hand.
I should also mention that my complete collection extends to cookbooks such as Linda Wolfe's The Literary Gourmet, which I've bought at least three times—it's always so intriguing when I find it and others at used bookstores and online that I forget I already have multiple copies—The George Bernard Shaw Vegetarian Cookbook, The Pooh Cookbook, Miss Piggy's Cookbook, Dining with Proust, Blondie's Cookbook, Cross Creek Cookery, and many, many others. I've also not included the multiple mysteries that include recipes, starting with Virginia Rich's series. That is for another article or book!
Mystery cookbooks
The Lord Peter Wimsey Cookbook by Elizabeth Bond Ryan & William J. Eakins. (Ticknor & Fields, 1981).
This is a classic and a must have for any fan of Dorothy L. Sayers.
Cooking with Malice Domestic, edited by Jean McMillen & Ron McMillen (Mystery Bookshop Bethesda, 1991).
I bought this book at Malice the year it came out, and it's filled with great recipes by authors and fans of the malice domestic subgenre.
Sneaky Pie's Cookbook for Mystery Lovers by Sneaky Pie Brown, co-written by Rita Mae Brown (Bantam, 1999).
I envy Rita Mae Brown having a cat who not only cooks but writes about it! My cats are much more stereotypical and depend on me to serve them their food.
The Murder She Wrote Cookbook, edited by Tom Culver and Nancy Goodman Iland (Chicago Review Press, 1996)
This is a compilation of recipes from the cast and crew.
The Cop Cookbook: Arresting Recipes from the World's Favorite Cops, Good Guys and Private Eyes by Greta Garner-Hewitt, Ken Beck and Jim Clark, with foreword by Robert Stack. (Rutledge Hill Press, 1977).
TV, movie and real cops contribute to this cookbook with great archival photos of CHIPS, various Femmes Fatales and more. Take a ride down memory lane.
Cooking to Kill: The Poison Cook-book, concocted by Prof. Ebenezer Murgatroyd  with comic drawings by Herb Roth (Peter Pauper Press, 1951).
A cookbook to "end" all cooks. Very funny humorous collection of deadly recipes with great illustrations.
The Nero Wolfe Cookbook by Rex Stout and the Editors of Viking Press (Viking, 1973).
This is another of my favorites. Any collection would be incomplete without recipes prepared by Fritz Brenner, Wolfe's world-class personal chef. Too Many Cooks is my favorite of the food-themed Nero Wolfes, and this cookbook contains several recipes from that novel. The photographs alone in this cookbook are worth the price. There are 44 museum-quality images of New York in the 30s 40s and 50s—very art deco.
The Kitchen Book by Nicolas Freeling (David Godine, 1970) and The Cookbook by Nicolas Freeling (David Godin, 1972).
Wonderful cookbooks filled with great recipes encapsulated within cooking text. If you are a fan of Freeling, as I am, you'll want to have these two books in your collection to read on a cold winter's day.
The Mid-Atlantic Mystery Cookbook, compiled by Deen Kogan, organizer of this now-defunct convention. (Detecto Mysterioso Press, 1994).
Recipes from attendees including Parnell Hall, Joan Hess, and Carolyn Hart.
The Cat Who… Cookbook by Julie Murphy & Sally Abney Stempinski (Berkley Prime Crime, 2000), with a special note from Lilian Jackson Braun.
Recipes from the Cat Who series. Koko and Yum Yum are not the cooks. Perhaps Qwilleran will become inspired. Includes a special section on feline fare.
Companion volume: The Cat Who… Reunion Cookbook by Julie Murphy and Sally Abney Stempinski (Berkley Prime Crime, 2006).
Food to Die For: Secrets from Kay Scarpetta's Kitchen by Patricia Cornwell and Marlene Brown (G.P. Putnam, 2001).
We know that Kay loves to cook and this clever cookbook with glossy color illustrations capitalizes on just that.
Roald Dahl's Revolting Recipes, illustrated by Quentin Blake (Puffin Books, 1994).
Unfortunately no Lamb Recipe. Although a kid's cookbook, I had to include this as Roald Dahl is a master storyteller. Recipes from Charlie and the Chocolate Factory, James and the Giant Peach, and more.
Dishes to Die For… A Compendium of Culinary Concoctions Collected from Canadian Crime Writers (Crime Writers of Canada, 1996).
Novel format with suspect statements, backgrounds, and previous record. MRJ has had two issues on Canadian Crime, and this cookbook is a wonderful companion.
The Nancy Drew Cookbook: Clues to Good Cooking by Carolyn Keene (Grosset & Dunlap, 1973).
Reads like Nancy Drew. How can you become a really good cook? "It's no mystery, " Nancy Drew reveals. "You must do what fine cooks have always done—add your own special touch."
Encyclopedia Brown Takes the Cake! by Donald Jo. Sobol and Glenn Andrews (1991).
This includes short cases and recipes. A fun addition, although not the best of the Encyclopedia Brown stories.
Cauldron Cookery: An Authentic Guide for Coven Connoisseurs by Marcello Truzzi, illustrated by Victoria Chess (Meredith Press, 1969).
Must be initiated into a coven in order to procure ingredients such as eye of newt.
Murder on the Menu: Food and Drink in the English Mystery Novel by Jeanine Larmoth, with recipes by Charlotte Turgeon. (Scribner's 1972)
This is a true classic and one to snap up if you find it at a garage sale or used bookstore. Includes a wonderful analysis of the genre, citing authors such as Dorothy L. Sayers, Agatha Christie and more with 160 recipes ranging from potted shrimp to gooseberry fool.
Desserticide aka Desserts Worth Dying For, edited by Claire Carmichael, Paulette Mouchet and Mary Jerrill (Sisters in Crime: Los Angeles Chapter, 1995)
Who doesn't like a dessert cookbook? Sisters in Crime Los Angeles put together a mouthwatering collection of recipes, from Swift Dispatch Cake to Layer Me in the Grave Cookies to In for the Kill Tiramisu. Unfortunately individual recipes are not attributed. Fun interwoven writings about oleander and other deadly ways to die.
The Lucretia Borgia Cookbook: Favorite Recipes of Infamous People by Dorothy and Martin Blinder (Price/Sloan/Stern, 1971).
Small volume originally priced at $1.95. Nothing particularly new to shed on Lucretia Borgia but it found its way into my collection based on title.
A Taste of Murder: Diabolically Delicious Recipes from Contemporary Mystery Writers including Lilian Jackson Braun, Harlan Coben, Sue Grafton, Tony Hillerman and dozens more, by Jo Grossman and Robert Weibezahl (Dell, 1999).
Great recipes and mystery writer anecdotes. This is a great cookbook for any and every mystery reader. Just about every contemporary mystery writer contributed to this cookbook.
Companion volume: A Second Helping of Murder: More Diabolically Delicious Recipes from Contemporary Mystery Writers by Robert Weibezahl and Jo Grossman, editors. I have a Chocolate Cake to Die For recipe in this volume.
Madame Maigret's Recipes presented by Robert J. Courtine, with a Letter-Preface by Georges Simenon (Harcourt Brace Jovanovich, 1974)
As we all know Madame Maigret is an excellent cook and Simenon has enjoyed her cooking for many years. This is a classical French cookbook. Delicious.
Sherlock Holmes Cookbook by Sean Wright and John Farrell (Bramell House, 1976).
One of several Sherlock Holmes cookbooks with typical English fare. Dining with Sherlock Holmes: A Baker Street Cookbook by Julia C. Rosenblatt and Fredric H. Sonnenschmidt (1993). I have so many others.
Cooking with the Bad Guys: Recipes from the World's Most Notorious Kitchens by Don Abel (Overlook Press, 1995).
Where else would you find recipes fit for Al Capone, Marie Antoinette, Jack the Ripper and Rasputin?
Plots & Pans: Recipes and Antidotes from The Mystery Writers of America, illustrated by Gahan Wilson, introduction by Isaac Asimov, edited by Nancy & Jean Francis Webb. (Wynwood Press, Mystery Writers of America, 1989).
One of my all time favorites with terrific illustrations by Gahan Wilson.
Subtitled: Hundreds of Delicious Recipes from the Most Imaginative Writers in America—Spiced with their Wit, Leavened with their Malice, and Served with their Own Distinctive Style. Oh yes!
Où Est Le Garlic: French Cooking in 50 Lessons by Len Deighton (Harper & Row, 1965)
Len Deighton, like Nicholas Freeling, was a chef and this book exemplifies this. Wonderful "cookstrips" (hand-drawn illustrations) bring the recipes to life.
Writers' Favorite Recipes compiled by Gillian Vincent and the National Book League of Great Britain (St. Martin's, 1979).
Included are recipes by Len Deighton, Edward Gorey, Graham Greene and others. Breezy anecdotes as well as recipes.
The Gun Club Cookbook by Charles Browne (Scribner's, 1930).
Not a mystery cookbook, really, but wonderful illustrations and a great period piece.
The Cozy Cookbook: More than 100 Recipes from Today's Bestselling Mystery Authors (Berkley, 2015).
All your favorite cozy writers with fabulous recipes from soup to nuts!
Cozy Food: 128 Cozy Mystery Writers Share Their Favorite Recipes by Nancy Lynn Jarvis (Good Read Mysteries, 2014).
Wide variety of recipes representing cuisine of different countries and states, as well as authors.
Joanne Fluke's Lake Eden Cookbook: Hannah Swensen's Recipes from The Cookie Jar by Joanne Fluke (Kensington, 2013)
Wonderful holiday cookie recipes and more!
Have Faith in Your Kitchen by Katherine Hall Page (Orchises Press, 2011).
Recipes from Katherine's Faith Fairchild mystery series, author's notes and great vintage culinary images. Love this!
The Mystery Writers of America Cookbook: Wickedly Good Meals and Desserts to Die For, edited by Kate White.
The latest on my shelf, this cookbook published by MWA and edited by Kate White features over 100 recipes from all your favorite and famous mystery authors. Contributors include Lee Child, Mary Higgins Clark, Sue Grafton, Louise Penny and more. It's a must have!
I know I have at least three more Sherlock Holmes cookbooks, assorted specialty mystery cookbook TV tie-ins such as The Sopranos Family Cookbook, compiled by who else? Artie Bucco (with Allen Rucker), The Wiseguy Cookbook by Henry Hill and Priscilla Davis, and so many more.
Reading these cookbooks is almost as intriguing as reading a mystery.
---
The Diner and the Detective
by Kate Derie
Diners, whether the classic train-car style or merely small cafés, are popular settings in crime drama. They seem to show up in one of three major functions: the location of a heinous crime where all occupants are killed; the setting of a crime-in-progress where the detective becomes a witness or even a victim; or the backdrop for the detectives to talk over their cases, in lieu of the traditional cop bar.
The Nite Owl coffee shop, a cop hang-out, is the scene of a brutal multiple homicide in L.A. Confidential (1997). At first it appears there is only one fatality, but then five more bodies are found heaped up in the men's bathroom. All were killed by shotgun blasts, and the cash register is empty. This scene becomes the fulcrum of the entire film, as the victims turn out to be involved in earlier subplots, and the investigation of the crime leads to the explosive revelations of police corruption. Buckle up for a long, twisty, violent roller-coaster ride in an all-time great noir crime thriller.
A less pivotal but just as memorable coffee-shop crime scene bookends the action in Pulp Fiction (1994). "Pumpkin" (Tim Roth) and "Honey-Bunny" (Amanda Plummer) are a couple of smoochy stick-up artists who decide to switch from liquor stores to restaurants. We break away as the crime spools out, and return at the end of the movie (after several switchbacks in time) to find that the customers include Pumpkin and Honey-Bunny's worst nightmare. Pulp Fiction blends shocking violence, humor, craziness, and the banality of evil to create a witches brew that no doubt heads the menu in the Devil's diner.
On the small screen, CSI: Crime Scene Investigation was faced with multiple murder in a coffee bar in "Sounds of Silence" (ep. 1-20, 19 Apr 2001). In Season 13, "Code Blue Plate Special" (ep. 13-2) centers around a massacre at the cops' favorite diner, which occurred while the owner was in the walk-in freezer.
CSI: NY processed a diner crime scene early in its first season ("Outside Man", ep. 6), where three are killed and two gravely wounded in an apparent robbery gone wrong. Field tech Danny Messer finds evidence that doesn't fit into that scenario. Later in the same season (ep 23), a shooting occurs in the café where Mac (Gary Sinise) is having breakfast, making him a witness as well as investigator.
In Murder, She Wrote, "Murder Takes the Bus" (season 1, episode 18) is a change-of-pace outing for Jessica/J.B. Fletcher (Angela Lansbury) as she and Cabot Cove Sheriff Amos Tupper (Tom Bosley) get stranded in a diner by a thunderstorm, during a bus trip. One of their fellow passengers—an ex-convict—does not come into the diner, and Jessica discovers his body on the bus. Before you can say "And Then There Were None", the phone line is cut, the radio is smashed, and everyone looks suspicious. This series offers a time machine to the '80s, a glimpse of every "B" actor in Hollywood, and some surprisingly twisty plotlines. It's all on Netflix.
The diner provides an enduringly popular background for those talking-over-the-crime scenes that give the actors something to do between the action scenes. The Royal Diner is a haven for the pie-loving FBI agent Seeley Booth (David Boreanaz) and his co-sleuths in Bones. Almost every episode offers at least one scene there. The diner even got to play a starring role in "The Big Beef at the Royal Diner" (s. 10, ep. 16), in which a celebrity chef/critic who gave the diner a bad review winds up eating dirt in a shallow grave.
NCIS is another show that finds lots of dead bodies in diners. In "Check" (s. 12, ep. 11), the five victims are all Navy or Marine Corps—an unbelievable coincidence which doesn't fool our team for very long.
NCIS staged a shocking turning point in the series at an abandoned diner in the Mojave Desert. Agency Director Jenny Shepard (Lauren Holly) attends the funeral of a retired agent in Los Angeles. She realizes he was murdered and she will be next, then Gibbs. She and retired agent Mike Franks (Muse Watson) pursue the case and wind up in a shoot-out at the dusty café. Jenny makes a tragic decision in order to close the case and protect Gibbs.
NCIS celebrated their 200th episode with a story that circled back and forth through time and fantasy.  "Life Before His Eyes" (s. 9, ep. 14) starts as Special Agent Leroy Jethro Gibbs (Mark Harmon) enters his usual diner and is faced by a man with a gun. The diner represents the here-and-now, while various alternative timelines are presented based on Gibbs making different choices. At the end of the episode, action in the diner proceeds and the various threads are tied together.
Look for NCIS on CBS.com, Amazon Instant Video, or your local cable network.
Of the 1,387 titles with the keyword "diner" at IMDB.com, 396 (28%) also have the keyword "murder"—more than any other keyword! It's enough to make you think twice before you go to lunch.
Buy this back issue! Available in hardcopy or as a downloadable PDF.