Volume 18, No. 3, Fall 2002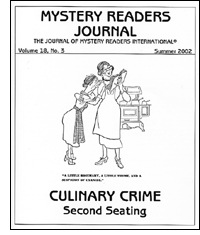 Buy this back issue! Available as a downloadable PDF.
TABLE OF CONTENTS
MAIN COURSES
Suddenly It's Time To Eat—Again by Joyce Christmas (Recipe: Lady Margaret Roasts a Chicken)
Kate Jasper Is a Carrot, or, They Are What They Eat by Jaqueline Girdner (Recipe: For Whom the Bell Pepper Tolls)
Doing the Resnick Sandwich by John Harvey (Recipe: The Resnick Sandwich)
Culinary Crime by Elaine Hatfield (Recipe: Luau Roast Pig/Pua'a)
Why I Don't Write Culinary Mysteries by Roberta Isleib (Recipe: Cassie Burdette's Company Hot Dog Casserole)
Meet the Gourmet Detective! by Peter King (Recipe: Filet of Sole Veronique)
Is This Really Good, or Am I Just Starved? by Sharolett Koenig (Recipes: Sweet and Sour Chicken, Shrimp Kabobs on a Bed of Rice, Dessert Kabobs)
Food for Thought by Peter May (Recipe: Pineapple Chicken)
Cooking Up Character by Radine Trees Nehring (Recipes: Hearty Home-Made Tomato Soup, Oatmeal Cookie Bars, Magic Two Meatloaf, Carrie's Cookie Crisps)
My Life and Food by Kris Neri (Recipe: Osso Buco)
Why You Should Not Read Culinary Mysteries by Joanne Pence (Recipe: Angie's Chicken Saltimbocca)
Tempting Your Tastebuds While She Sleuths by M. Diane Vogt (Recipe: Grilled Beef Tenderloin with Madeira Mushroom Sauce)
Food and Drink, Characteristically Speaking by The Sisters Wells (Recipe: Grilled Wild Salmon)
DESSERTS
Cold Weather, Hot Food by Lou Allin (Recipe: Chocolate Zucchini Cake)
Chocolate Can Be Dangerous by JoAnna Carl (Recipe: Gran's Fudge Cake with Mocha Frosting)
Hard-Boil One Detective by Cathie Celestri (Recipe: Afghani Rice Pudding)
Punish the Food by Denise Dietz (Recipe: Doppelganger Chocolate Cake)
Daisy and Food by Carola Dunn (Recipe: Macaroons)
Murder She Baked by Joanne Fluke (Recipe: Chocolate Chip Crunch Cookies)
Cookies My Mother Never Baked by Vinnie Hansen (Recipe: Carol Sabala's Reverse Chocolate Chip Cookies)
Desserticide II by Gay Toltl Kinman (Recipe: Death By Turtle)
Making a Meal Out of Crime by Janet Laurence (Recipe: Almond Gateau with Pears)
If Food Be the Music of Love, Cook On! by Lev Raphael (Recipe: Mocha Brownies)
Delectable Comestibles by Margaret Searles (Recipe: Mrs. Hark's Cream Puffs)
A Dining Guide to Characters by Lucille Gang Shulklapper (Recipe: Quick Fruit Desserts)
Crime and Nourishment: A Time-honored Recipe by Robert Weibezahl (Recipe: Death by Chocolate Cookies)
Who Says the Ubiquitous Latte Isn't Gourmet Food? by Ben Wolfe
MYSTERY IN RETROSPECT: Reviews by Carol Harper, Geraldine Galentree, Deborah Straw
Killer Cookbooks by Janet A. Rudolph (Recipe: Dying for Chocolate)
In Short: Please, Publisher, I'd Like Some More by Marvin Lachman
Culinary Crime: Further British Observations by Philip Scowcroft
Just the Facts: Something He Ate by Jim Doherty
MRI MAYHEM by Janet A. Rudolph
Letters to the Editor
From the Editor's Desk by Janet A. Rudolph
---
Suddenly It's Time To Eat—Again
by Joyce Christmas (New York, New York)
I began my mystery writing career with a food title—Suddenly in Her Sorbet (Ballantine, 1988)—and my first murder was death by food in that book, the first Lady Margaret Priam mystery. Socialite Helene Harpennis ends up face down in cyanide-laced cassis sorbet at dinner during her grand charity gala. I have two other food-related murders, one on a Caribbean island in A Perfect Day for Dying (Ballantine, 1994), which uses a bit of local food lore and several rum punches, the other is in a short story, but food crops up constantly in my two series.
The Sisters Wells, in their charming compilation of "mystery food moments," Food, Drink and the Female Sleuth (Authors Choice Press, an imprint of iUniverse.com, 2001), selected passages from two of my Betty Trenka books, Downsized to Death (Ballantine, 1997) and Mood to Murder (Ballantine, 2000), that dealt with Betty's pained food relationship with her difficult cat, Tina, whose preference for shrimp looms large in Death at Face Value (Ballantine, 1995). Betty herself is completely undomesticated and does not cook. This means that she's really good at frozen dinners and sandwiches, but relies on the excellent culinary skills of her neighbor, Ted Kelso, when she wants a really good meal and needs to mull over clues and suspicions at dinner with her wheelchair-bound friend, who has designed his kitchen to be disability-friendly.
Lady Margaret, as befits an aristocratic Brit, took a cookery course as a young woman to prepare her to run a grand household, but in her expatriate life in Manhattan, where she does cook a bit, and of course is invited to lavish dinners hosted by her society friends, she's drawn to the delights of takeout for at-home dining, preferably Chinese, which she shares with her beau, Sam de Vere. From that bean-sprout of an idea grew my short story, "Takeout," which originally appeared in Malice Domestic V (Pocket Books, 1996). It was nominated for a Macavity, and reprinted in Murder Most Delectable (Martin H. Greenberg, editor, Cumberland House, 2000).
"Margaret… possessed, indeed treasured, an extensive and wide-ranging collection of Chinese take-out menus for restaurants in her part of the fashionable Upper East Side of New York City. Margaret was accustomed to being served and she liked Chinese food… Takeout food represented a workable solution…"
I was then inspired by an Italian friend's confession that his favorite food delivery was "a large pie with pepperoni, and a big order of hot mussels with good Italian bread to soak up the sauce." So I put the two cuisines together, with Margaret's sinister neighbor Enzo ordering in on the Italian side, and Margaret the Chinese.
I remembered a delivery man from a nearby Chinese restaurant who regularly appeared at my door with a large bandage on his forehead, the result of run-ins involving his bicycle and a car/ pedestrian/ competing bicycle. It was a simple matter to entwine a pizza delivery man and my hapless Chinese food bearer. The result: A dangerous situation related to the suspicious death of the Chinese delivery man was resolved by an artfully and accurately tossed pot full of steaming mussels in hot marinara sauce.
The truth is, food and mealtimes have always been important props for mysteries, even those that don't have a professional cook as protagonist or the food world as setting. (Think of all the hysterical maids in English country house mysteries who are calmed by a nice cup of tea and a slice of seed cake.)
In writing a book, something has to happen, and one thing that happens three times a day at least is a meal. Describing the preparation of the food, the table setting, and the eating means something is happening, words are being put on the page, the book is getting longer, the characters are revealed by their preferences, dialogue takes place while the parties eat, and the plot can be advanced. For writers who like to cook as I do, the opportunity to write about food is beguiling.
My favorite food-related scene is in Friend or Faux (Ballantine, 1991) which takes Margaret to London and Harrods Food Halls in pursuit of a killer:
"She walked past the piles of boxed candies and cases filled with chocolates in the confectionery into the vegetable and fruit department, where the elaborate hanging light fixtures were monumental clusters of fruits, and then past the florist into the meat department. Along one wall was an array of game and poultry, and along the opposite wall were glass meat cases full of roasts and chops. She headed for the end of the room, where all manner of ham and bacon was sold…
"As her purchase was being wrapped, she looked up at the Royal Doulton tile frieze of the hunt that circled the room beneath the barrel-shaped ceiling… Once she thought she saw a familiar figure, but no. The person receiving a long green and white striped box of smoked salmon was no one she knew…
"She entered an even busier room, with the long charcuterie cases along one side and the cheese along the other… The West Indian clerks behind the piles of salamis, sausages and hams ready for slicing called out customers' numbers… In the pasta department, cheerful upper-class salesgirls packed up fresh pasta salads and cheese-stuffed croissants for Knightsbridge matrons. Margaret stood in the doorway that led to the bakery and pastry hall, and watched the man slowly moving in her direction, but he was not looking at the huge rounds of Camembert and Brie, the pots of mascarpone and containers of Devonshire cream. He was definitely searching for someone."
Memorizing the layout of Harrods Food Halls (while limiting my purchases to irresistible Cornish pasties and sausage rolls) was my best research experience ever. In the decade since Friend or Faux was published, Harrods has revamped the layout somewhat and removed the fruited light fixtures, but the magic of the Food Halls remains.
Indeed, Betty and Margaret pay a visit to the Food Halls in my next book, Forged in Blood (Ballantine, Aug 2002), to acquire a few items for their supper, leading to another Meal in a Mystery where the plot is advanced, the book gets longer, and the dialogue puts them on their eventual way to another meal, this one, tea at Brown's Hotel, crumpets with clotted cream and strawberry jam, tea sandwiches and little cakes, and another plot step forward, this one onward to Rome, and cappuccino, gelato, and lunch with Prince Aldo Castrocani in the hills outside the city:
"The antipasto consisted of paper-thin slices of parmesan cheese and salami, a few tiny artichokes drizzled with olive oil, bright strips of red pepper, some chunks of tuna, and huge, fat black olives and bits of anchovies. Beautiful little ravioli cut in the shape of mushrooms, filled with porcini and other mushrooms and sprinkled with truffles followed the antipasto. Then there were thin slices of veal, some rich red tomatoes, and slices of bread with olive oil for dipping."
Between lunch and siesta, there's murder for dessert, and, eventually, it's time to eat—again!
---
Joyce Christmas is the author of 16 mysteries: 10 featuring Lady Margaret Priam, 4 with retired businesswoman Betty Trenka, and 2 where the two sleuths join forces. The newest, Forged in Blood (Ballantine), will be published in August
---
Food for Thought
by Peter May (St. Michel Loubejou, France)
Fifteen pairs of eyes around the banquet table were fixed upon me as I raised the black and crispy deep-fried whole scorpion to my lips with quivering chopsticks. I hesitated. "It is ve-ery good," said my host, Police Commissioner Wu He Ping of the Beijing Municipal Police. "In China we eat scorpion for medicine and for pleasure."
And to demonstrate, he popped one in his mouth, and crunched down upon it with relish. All eyes returned to me. My mouth was dry. I gulped and parted my lips.
But the moment of truth was delayed yet again as someone held out the plate to my wife. It was piled with prawn crackers, and scorpions had been placed to appear as if they were crawling all over it. Sensibly, she declined. But as the guest of honour, I had no such escape route. And as, finally, I was forced to bring my molars down upon the deadly insect and release its foul, acid taste into my mouth, I heard the interpreter tell my wife, "You are quite right—they are disgusting."
Food has played a crucial role in all of my China thrillers. Never more so than in my new book, Snakehead, out in paperback this month (April). Although set in the US, the fourth in the series still has very strong China connections. And while, for once, it features no Chinese cuisine, food has the defining role in the resolution of the story. Sadly I cannot reveal here what that is without giving away the plot. But I can relate some of my more outlandish adventures in the sometimes bizarre world of Chinese cooking.
I love Chinese food, but during my trips to China to research my Chinese thrillers, I sometimes got more than I bargained for. My last book, The Killing Room, took me to Shanghai and a confrontation with the Shanghai Hairy Crab. This is a great delicacy costing around ten dollars a time—an astronomical sum in China, where you can have a seven-course meal for less. Again, I was the guest of honour at a banquet, held this time by the Shanghai police. A waitress brought to the table a plate piled high with steamed whole crab, and put a bowl of dark brown dipping sauce at each place. The crabs had white bellies and black backs covered with a fine golden hair.
Having done my homework, I knew not only that they cost ten dollars apiece, but that in the past they had been associated with serious food poisoning as a result of improper handling. But how could I refuse such generosity?
A crab was placed in front of each person, and my host showed me how to eat it, pulling free a thumbnail-sized piece of shell from the underside, and using it to scoop out the yellow flesh beneath it, dipping it first in the sweet soy and vinegar mixture before eating. He watched me as I ate, and asked, "It is good?" "Hmmm," I said. "Excellent." And it was. "Yes," said my host, nodding. "The sexual organs are the best part." I immediately felt my enthusiasm waning.
My researches for The Firemaker, the first in the China series, had already introduced me to stir-fried snake which, dipped in soy sauce, was really quite delicious. Another delicacy I had encountered was Drunken Shrimp—live prawns brought to the table in a bowl of soy and wine in which they, literally, drown. I had only realised they were alive when they started flapping about in the bowl and splashed the blouse of the lady sitting next to me. "When they stop moving," she explained to me, "you peel off the shell and eat immediately." To my astonishment, they were excellent. Less pleasant surprises, however, included such delights as poisonous fish, tested by an official taster before you dare eat it, and One Hundred Year Old Eggs. These eggs, it transpired, were not very old at all, but gained their brownish bloom from being steeped in horse's urine.
The Chinese love nothing better than to eat, and the range and style of their cuisine is unsurpassed. You can get a glimpse of it at the Dong'anmen Night Market, just off Wanfujing Street in Beijing. From five every evening, a row of food stalls stretches as far as the eye can see. Hundreds of people crush along its length, flitting between stalls groaning with skewered meat and vegetables, whole fish, barbecued baby quails impaled on chopsticks (head and all), deep-fried grubs on sticks.
From beneath dozens of striped canopies set under the trees, smoke rises from hot oil in giant woks on open braziers. Huge copper kettles on hotplates hiss and issue steam into the night sky, boiling water tipping from long curling spouts to make bowls of thick, sweet almond paste.
Legions of chefs in white coats and hats sweat over steaming vats of hot coals, drawing out bamboo racks of steamed buns filled with savoury meats or sweet lotus paste. Rice and noodles and soup are served in bowls, with buckets set at the roadside for the dirty dishes. It is a meeting place as well as an eating place, whole families gathering with friends to eat and talk under lights strung from the trees overhead.
Or you can stuff your face at the original Beijing Duck restaurant in Qianmen, not far from the south end of Tiananmen Square. Through huge windows you can see dozens of water-filled ducks hanging from poles being slid into great wood-burning ovens to roast on the outside and boil on the inside. The chefs carve them at your table. Alternatively, in dozens of restaurants around the capital, you can cook your own lamb and beef in the bubbling stock of a Mongolian Hotpot. Absolutely mouth-watering.
The second book in the series, The Fourth Sacrifice, took me to Xian, home of the Terracotta Warriors. This ancient city was at the end of the old Silk Road, and its cuisine was influenced by many different cultures. My researches led me to the culture shock of the old Muslim Quarter, where flies crawled over barrows piled high with stinking ox livers, and rancid animal pelts hung from lines at the roadside. I saw a butcher's boy throwing the carcasses of animals from a shop doorway into the back of an open van. And I was extremely reticent about eating the pieces of skewered barbecued lamb served with chilli soy dip which my guide ordered up in a small dirty back room off the main street.
But the meat was tender and delicious, and my wife and I both survived the night without a dash to the toilet. As the guest of honour at most banquets, I usually have to eat whatever is offered. But it was my wife who was caught out on our last trip. I had already picked a couple of butterflied prawns off the lazy susan but had not had the chance to eat them before I heard my wife asking her neighbour if it was toasted sesame seeds that crusted the prawns.
"Try them and see," he suggested.
She did, but was unable to identify the flavour. "What are they?" she asked. Her neighbour grinned. "Deep fried ants," he told her happily. I pushed my prawns to the far side of my plate.
---
Peter May's latest book, Snakehead, out now in paperback (Coronet), was Ottakar's Crime Book of the Month for April. His mixed culinary experiences in China have in no way diminished his passion for Chinese food. As the chef de cuisine at home, he has honed his skills in oriental cooking, and has published his own favourite recipes on his web site: www.petermay.co.uk. Readers are more than welcome to visit the site and try any or all of them for themselves.
---
Making a Meal Out of Crime
by Janet Laurence (Somerton, Somerset, England)
In my early life, food for me was too often associated with disappointment. My early years were war years, which meant rationing and extreme shortages. Meat was invariably gristly, scrambled eggs were made with dried eggs, nasty beyond belief, and cakes hardly existed. Every now and then a rare treat would appear. But it hardly proved as good as expected. There was the first ice cream we children had ever tasted. Full of half frozen crystals, watery and with little flavour, it couldn't live up to its advance publicity. Then the occasional eggless cake, produced with a great flourish, tended to be dry with just a few precious dried fruit dotted about to no great effect. Always there were promises: when the war was over, there would be cream and cakes and ice cream, sirloin of beef and sausages without end. We children expected these treats to appear the day after peace was declared. Alas, it took years for culinary luxuries to become commonplace. For disappointment to arise, however, there had to have been anticipation. We knew that food could be delicious, not only did everyone kept telling us so, there was the odd treat that fulfilled expectations, such as the asparagus in May, wonderful, tender, green spears with such a marvellous flavour, dressed with the tiniest, tiniest smear of butter. Adults might moan there wasn't enough butter and no Hollandaise sauce, but the flavour was enough for me. When we moved from the country at the end of the war to London, that was the end of asparagus for us for many, many years. We had strawberries, too, the first of the season appearing on my twin brothers' birthday, the nineteenth of June. There was hardly any sugar to go with them but it didn't matter, we didn't know any better and nothing, we thought, could beat the juicy flavour of those berries. Before the strawberries, we would have poached salmon. Heaven knows where it came from but it was a meal to die for.
Our Swedish mother was a marvellous cook. No doubt she had made the most of what was available during the war but it was afterwards, as ingredients gradually crept back into the shops, that she came into her own. At a time when the average English dinner party food was a roast followed by some sort of tart or pie, or meringues if the hostess was really bold, she produced haute cuisine. Her only limitation was lack of money. My parents didn't entertain often, though, and somehow she managed to afford ingredients we saw at no other time: escalopes of veal, fillets of Dover sole, and ground almonds for a wonderful gateau that she served topped with pears and whipped cream. Christmas was the time for a never-ending succession of marvellous meals; relatives and friends would fill the house and the food was amazing.
When I was about twelve, though, it was my mother who showed me how food could be more than a gustatory experience. She would get very cross with my father for eating at other houses food that when she produced it at home, he said he didn't like. Even worse, he ate it with every appearance of real enjoyment. Garlic wasn't allowed in food my mother cooked and father denied it was present in the food he found so good. My mother knew better! Other things my father did could annoy her but not nearly as much. Later, as I started to cook myself, I began to realise how much it mattered that people enjoyed what I put before them. We put so much of ourselves into cooking, so much creative thought and effort into producing a meal, it is an emotional punch in the ribs if it isn't enthusiastically received.
Also how much pleasure can be given by feeding people. There are few more delightful ways to spend time than eating a good meal with people whose company one enjoys, whether one has cooked it or not. There are cooks whose food one actively looks forward to eating and restaurants that can be relied upon to provide a culinary experience. But really good food can be extremely simple, I think it all depends on first class ingredients lovingly prepared.
I never set out to cook professionally but I took every opportunity I could to attend short courses and demonstrations. After I and my husband moved to a large house in the country that had to earn its living in some way, I started cookery courses for teenagers. When my stepsons had left home, I'd found them ringing up to ask how to cook this meal or that and I could see a gap in the market. These courses led to ones for adults and then to writing cookery for a national newspaper. But where, I can hear you asking, does the crime bit come in? Well, ever since I was seven, I wanted to write novels. Several unfinished works clogged various drawers. Finally, the newspaper I wrote my cookery column for changed hands and I, with many of the other correspondents, was dumped. I decided the time was now or never to produce a work of fiction and, spurred on by a talk by P. D. James and a lifelong love of the genre, I chose to try a crime novel.
Mulling over ideas, it seemed natural to think of using food and cookery for a background. Firstly, it was an area I loved and knew something about but I was also fascinated by the fact that food can arouse great passions and is surrounded with mystique and tradition. It was the apple of knowledge that got Eve into so much trouble. Food is at the heart of much religious observance. In most societies from earliest times, food has traditionally been offered to any visitor, it is a sign of welcome and of trust. On the other hand, food has often been used as a sign of status, to raise envy.
Humming with ideas, I sat down at my typewriter (I had yet to acquire a word processor) and wrote the first in what I always intended to be a series of crime novels with a cordon bleu cook as the main protagonist and each book to feature a different area of the food world. A Deepe Coffyn introduced Darina Lisle and the police sergeant, William Pigram, who, some eight books later, became her husband. The tenth in the series, The Mermaid's Feast, set on board a cruise ship sailing up the Norwegian fjords, has just been published in paperback by Pan. I also write an historical series featuring the eighteenth century Italian painter, Canaletto, during his time in England. Just published by Macmillan is Canaletto and the Case of Bonnie Prince Charlie, the third in the series. Food doesn't play nearly such an important part in these, it is painting that provides the background, but I can't resist sneaking in the odd meal from time to time. In this latest one, set in Badminton, home of the Dukes of Beaufort, I had great fun with a description of an elaborate meal at the ducal table.
---
If Food Be the Music of Love, Cook On!
by Lev Raphael (Okemos, Michigan)
Though my Nick Hoffman books are academic mysteries, not culinary ones, food plays an important role in them. That's so much the case that at book stores and wherever else I do readings, people often ask if I eat as well as my main character does.
My answer is usually, "No. He's fictional, and I'm real."
But that doesn't mean the meals themselves are fictional. Almost every meal you'll find in Let's Get Criminal, The Edith Wharton Murders, The Death of a Constant Lover, Little Miss Evil and Burning Down the House is one that I've either helped cook or eat or both. The few exceptions are meals that I've wanted to make but haven't gotten around to for one reason or another—time, expense, nerves. As for the wines and other potables, I've tried them all except for one very expensive single malt scotch that I read about and thought would be the perfect ostentatious drink for one of my characters. He liked it.
Why so much food, and such good, gourmet food, too?
My main characters Nick and Stefan are involved in academia in a mid-Michigan university, are Jewish, and have a stable long-term relationship, which makes their lives somewhat resemble mine and my partner's. Even more complicating is the fact that the books are written in first person, which many readers assume is me, the author.
Given all that, I've sought from the very beginning to separate Nick and Stefan from us. In various significant ways, Nick and Stefan differ from us: they both teach, they live in a colonial, they have no brothers or sisters, there's divorce in their families, they have a cabin in northern Michigan, they're not really goofy and physically affectionate with each other. That's just a partial list, and there are also physical differences, too.
As for food—they eat better than we do. A lot better. All the time. We like to cook, but we certainly don't make the kind of complex meals they do so often. There's not enough time! And we'd have to work out every day to keep the weight off. That's one disadvantage of being real as opposed to fictional.
The salience of food in the series starts in Let's Get Criminal (St. Martin's 1996) where Nick is planning a meal for himself, Stefan and Stefan's ex-lover who is now teaching in their department of English, American Studies and Rhetoric. Nick is very jealous, because Stefan hasn't told him before that he helped get this guy the job. Even worse, Stefan is still ambivalently interested in him and has asked Nick to make them all dinner as the background for a kind of Judgment of Paris.
What to cook? Nick settles on a drop-dead entree of pasta shells stuffed with escargots, spinach, ricotta and Pernod. It's time-consuming, showy, and delicious—though not poisonous. Nick may be feeling murderous, but his dinner guest actually dies after dinner, from other causes.
Cooking in this book is an act of defiance (and love) and it evolves in the series as one of many profound connections between Nick and Stefan. In The Edith Wharton Murders (St. Martin's, 1997), for instance, it's a crucial part of observing the Jewish sabbath, during which Nick and Stefan take refuge from a conference on campus that is going badly. How badly? Someone's been killed and Nick, who organized the conference under duress, is taking the blame for the disaster.
In The Death of a Constant Lover (Walker, 1999), there's another important sabbath dinner, this time cooked by Stefan's stepmother Minnie in Ann Arbor: hot borscht, leg of lamb with pommes Anna and asparagus and red peppers vinaigrette.
Here the food is the backdrop for Nick and Minnie's attempt to bring Stefan and his estranged father closer. Surely the superb meal will help relax everyone?
Little Miss Evil (Walker, 2000) actually opens with Nick and Stefan discussing food because Nick is wondering if they spend too much time thinking about it, reading about it, enjoying it. Stefan's preparing leeks and shallots for a potato lasagna with wild mushrooms and celery herb sauce. While he may be chopping something on the cutting board, he doesn't mince his words. For him, beset and besieged by crazy academics, cooking is therapy and he needs the creative outlet to take him away from the hotbed of lunacy where he works.
Stefan also warns Nick not to try simplifying his diet: "If I ever come home and find you eating peanut butter out of a jar or chomping down on cold pizza or handfuls or corn flakes, I'm going to assume you've got a new kind of Alzheimer's."
Later in the book Nick even tries using what he serves at a party as a way of figuring out whodunit in the book, something that Hercule Poirot never tried (though readers might have noticed that Nick, too, is of Belgian heritage!).
In Burning Down the House (Walker 2001) food serves as a means of seduction. Nick shares a rich meal with the flamboyant sex bomb Juno Dromgoole, who seems to be after him. She offers him fois gras seared in butter and finished in very old Balsamic vinegar and they drink a Montbazillac as luscious as Juno's thighs. That's after a salad to die for, though in this book, there's no murder, but plenty of mayhem.
Time and again in the series, as in real life, food takes people's minds off their trouble, creates an occasion, and links characters in various kinds of intimacy. My own favorite moment is when Nick and his beloved and very ill cousin Sharon share some late night mocha brownies made with brewed, ground, and instant coffee. They're close and warm and happy, like the couple in Henry James's The Ambassadors who were so in tune with each other that "the circle in which they stood was bright with life and every question lived there as nowhere else."
It's that kind of moment, those kinds of feelings, that Nick cherishes in the series and food is so very often a crucial, catalyzing part of them.
---
Lev Raphael is the Mysteries Columnist for the Detroit Free Press and Book Critic for NPR's "The Todd Mundt Show." Read about his mysteries at www.levraphael.com.
---
Killer Cookbooks
by Janet A. Rudolph, Editor, Mystery Readers Journal (Berkeley, CA)
Although I rarely cook anymore it doesn't prevent me from collecting literary cookbooks, and I've been collecting them for years. For purposes of this article, I'll confine myself to my mystery cookbooks. This is just a listing, and in no particular order. And, although I thought I had most of these cookbooks in my office, there seem to be some missing from the shelves, so they're probably in a box somewhere, carefully labeled but not at hand. I should also mention that my complete collection extends to cookbooks such as Linda Wolfe's The Literary Gourmet which I've bought at least three times—it's always so intriguing at the used bookstores that I forget I already have multiple copies—The George Bernard Shaw Vegetarian Cookbook, the Pooh Cookbook, Miss Piggy's Cookbook, Dining with Proust, Blondie's Cookbook, Cross Creek Cookery, and many, many others.
Mystery Cookbooks
The Lord Peter Wimsey Cookbook by Elizabeth Bond Ryan & William J. Eakins (Ticknor & Fields,1981). This is a classic and a must-have for any fan of Dorothy L. Sayers.
Cooking with Malice Domestic, edited by Jean McMillen & Ron McMillen (Mystery Bookshop Bethesda , 1991). I bought this book at Malice the year it came out, and it's filled with great recipes by authors and fans of the malice domestic subgenre.
Sneaky Pie's Cookbook for Mystery Lovers by Sneaky Pie Brown co-written by Rita Mae Brown (Bantam, 1999). I envy Rita Mae Brown having a cat who not only cooks but writes about it! My cats are much more stereotypical and depend on me to serve them their food.
The Murder She Wrote Cookbook, edited by Tom Culver and Nancy Goodman Iland (Chicago Review Press, 1996). This is a compilation of recipes from the cast and crew.
The Cop Cookbook: Arresting Recipes from the World's Favorite Cops, Good Guys and Private Eyes, by Greta Garner-Hewitt, Ken Beck and Jim Clark, with foreword by Robert Stack (Rutledge Hill Press, 1977). TV, movie and real cops contribute to this cookbook with great archival photos of CHiPS, various Femmes Fatales and more. Take a ride down memory lane.
Cooking to Kill: The Poison Cook-book, concocted by Prof. Ebenezer Murgatroyd with Comic Drawings by Herb Roth (Peter Pauper Press 1951). A cookbook to "end" all cooks. Very funny humorous collection of deadly recipes with great illustrations.
The Nero Wolfe Cookbook by Rex Stout and the Editors of Viking Press (Viking 1973). This is another of my favorites. Any collection would be incomplete without recipes prepared by Fritz Brenner, Wolfe's world-class personal chef. Too Many Cooks is my favorite of the food Nero Wolfes, and this cookbook contains several recipes from that novel. The photographs alone in this cookbook are worth the price. There are 44 museum-quality images of New York in the '30s, '40s, and '50s—very art deco.
The Kitchen Book by Nicolas Freeling (David Godine, 1970) and The Cookbook by Nicolas Freeling (David Godin, 1972). Wonderful cookbooks filled with great recipes encapsulated within cooking text. If you are a fan of Freeling like I am, you'll want to have these two books in your collection to read on a cold winter's day.
The Mid-Atlantic Mystery Cookbooks compiled by Deen Kogan, queen and organizer of this friendly convention (Detecto Mysterioso Press, 1994). Recipes from attendees including Parnell Hall, Joan Hess and Carolyn Hart.
The Cat Who Cookbook by Julie Murphy & Sally Abney Stempinski with a special note from Lilian Jackson Braun (Berkeley Prime Crime, 2000). Recipes from the Cat Who series. Koko and Yum Yum are not the cooks. Perhaps Qwilleran will become inspired. Includes a special section on feline fare.
Food To Die For by Patricia Cornwell and Marlene Brown (G.P. Putnam, 2001). Secrets from Kay Scarpetta's Kitchen. We know that Kay loves to cook and this clever cookbook with glossy color illustrations capitalizes on just that.
Roald Dahl's Revolting Recipes, illustrated by Quentin Blake (Puffin Books, 1994). Unfortunately no Lamb Recipe. Although a kid's cookbook, I had to include this as Roald Dahl is a master storyteller. Recipes from Charlie and the Chocolate Factory, James and the Giant Peach and more.
Dishes to Die For… A Compendium of Culinary Concoctions Collected from Canadian Crime Writers (Crime Writers of Canada, 1996). Novel format with suspect statements, backgrounds and previous record. MRJ will have an issue on Canadian Crime in 2003, and I feel more familiar with some of the authors having read this cookbook. Unfortunately many Canadian books don't make it to the U.S. or abroad. Canadian booksellers will procure them for you.
The Nancy Drew Cookbook: Clues to Good Cooking by Carolyn Keene (Grosset & Dunlap, 1973). Reads like Nancy Drew. How can you become a really good cook? "It's no mystery, " Nancy Drew reveals. "You must do what fine cooks have always done—add your own special touch."
Cauldron Cookery: An Authentic Guide for Coven Connoisseurs by Marcello Truzzi, illustrated by Victoria Chess (Meredith Press, 1969). Must be initiated into a coven in order to procure ingredients such as eye of newt.
Murder on the Menu: Food and Drink in the English Mystery Novel by Jeanine Larmoth, with recipes by Charlotte Turgeon (Scribner's, 1972). This is a true classic and one to snap up if you find it at a garage sale or used bookstore. Includes a wonderful analysis of the genre, citing authors such as Dorothy L. Sayers, Agatha Christie and more, with 160 recipes ranging from potted shrimp to gooseberry fool.
Desserticide, aka Desserts Worth Dying For, edited by Claire Carmichael, Paulette Mouchet and Mary Jerrill (Sisters in Crime, Los Angeles Chapter, 1995). Who doesn't like a dessert cookbook? And Sisters in Crime Los Angeles put together a mouthwatering collection of recipes from Swift Dispatch Cake to Layer Me in the Grave Cookies to In for the Kill Tiramisu. Unfortunately individual recipes are not attributed. Fun interwoven writings about oleander and other deadly ways to die, though.
The Lucretia Borgia Cookbook: Favorite Recipes of Infamous People by Dorothy and Martin Blinder (Price/Sloan/Stern, 1971). Small volume originally priced at $1.95. Nothing particularly new to shed on Lucretia Borgia but it found its way into my collection based on title.
A Taste of Murder: Diabolically Delicious Recipes from Contemporary Mystery Writers by Jo Grossman and Robert Weibezahl (Dell, 1999) including Lillian Jackson Braun, Harlan Coben, Sue Grafton, Tony Hillerman and dozens more. Great recipes and mystery writer anecdotes. This is a great cookbook for any and every mystery reader. Just about every contemporary mystery writer contributed to this cookbook.
Madame Maigret's Recipes presented by Robert J. Courtine with a Letter-Preface by Georges Simenon (Harcourt Brace Jovanich, 1974). As we all know, Madame Maigret is an excellent cook and Simenon's Inspector Maigret has enjoyed her cooking for many years. This is a classical French cookbook. Delicious.
Sherlock Holmes Cookbook by Sean Wright and John Farrell (Bramell House, 1976). One of several Sherlock Holmes cookbooks with typical English fare. This is not my favorite, but I can't find the others.
Cooking with the Bad Guys: Recipes from the World's Most Notorious Kitchens by Don Abel (Overlook Press, 1995). Where else would you find recipes fit for Al Capone, Marie Antoinette, Jack the Ripper and Rasputin?
Plots & Pans: Recipes and Antidotes from The Mystery Writers of America, edited by Nancy & Jean Francis Webb, illustrated by Gahan Wilson, introduction by Isaac Asimov (Wynwood Press: Mystery Writers of America, 1989). One of my all-time favorites with terrific illustrations by Gahan Wilson. Subtitled: Hundreds of Delicious recipes from the Most Imaginative Writers in America—Spiced with their Wit, Leavened with their Malice, and Served with their Own Distinctive Style. Oh yes!
Où Est Le Garlic: French Cooking in 50 Lessons by Len Deighton (Harper & Row, 1965). Len Deighton, like Nicholas Freeling, was a chef and this book shows it. Wonderful "cookstrips" (hand-drawn illustrations) bring the recipes to life.
Writers' Favorite Recipes compiled by Gillian Vincent and the National Book League of Great Britain (St. Martin's: 1979). Recipes by Len Deighton, Edward Gorey, Graham Greene and others. Breezy anecdotes as well as recipes.
The Gun Club Cookbook by Charles Browne (Scribner's, 1930). Not a mystery cookbook, really, but wonderful illustrations and a great period piece.
I know I have at least three more Sherlock Holmes cookbooks, but they may have migrated to the kitchen or are still in boxes since my last move.
Reading these cookbooks is almost as intriguing as reading a mystery.
Buy this back issue! Available as a downloadable PDF.