Volume 31, No. 1, Spring 2015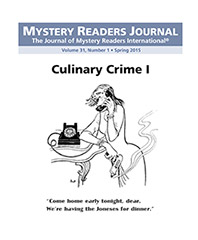 Buy this back issue! Available in hardcopy or as a downloadable PDF.
TABLE OF CONTENTS
ARTICLES
My Criminal Cookbook Collection by Mary Anderson Seeger
Food… It's Complicated by Jill Vassilakos-Long
What Exactly Is a Red Herring? by Kate White
AUTHOR! AUTHOR!
Bad Taste Leads to Crime by Katherine Hall Page
Food for Thoughts by J.L Abramo
Food as Memory and Murder by Ellie Alexander
Murder in Provence by Julianne Balmain
Fat Cats and Dessert Bars by Janet Cantrell
Bon Appétit by R.E. Conary
Murder On The Menu by Matt Coyle
I'm a Good Eater by Lesley A. Diehl
Eating Up Mystery by Vinnie Hansen
Food Is a Family Affair by Kari Larsen
Don't Read While Hungry by Edith Maxwell
How Five Authors Became Serial Killers by Lise McClendon
Is It Dinner Time Yet? by Mary McHugh
Will Write for Foodies: Mystery Lovers Kitchen
Historic Haute Cuisine by Amy Myers
You Are What You Eat by Russell Hill
Mysteries, Fudge and Vacation Spots by Nancy Coco
Welcome to My Luau by Neil Plakcy
Dying for a Daiquri? by Cindy Sample
When in Rome… Eat as the Romans Ate by Steven Saylor
Food Fights by B.K. Stevens
Mangia! by David P. Wagner
Kitchen Nightmares—Mystery Style by Tracy Weber
How I Use Food in My Books by Reba White Williams
COLUMNS
Murder in Retrospect: Reviews by L.J. Roberts and Lesa Holstine
Crossword: Hail to the Chef by Verna Suit
Children's Hour: Food Mysteries by Gay Toltl Kinman
Crime Seen: A Cook's Tour of Christie and CSI by Kate Derie
In Short: Food and the Mystery by Marvin Lachman
Really Murderous Menus by Cathy Pickens
From the Editor's Desk by Janet Rudolph
---
Bad Taste Leads to Crime
by Katherine Hall Page
The exact quote from the Baron Adolphe De Mareste (1784–1867) translated above is "Le mauvais gout mène au crime," words by which my series character, amateur sleuth/caterer Faith Fairchild and I live. Surely most dastardly deeds could have been prevented if the perpetrator had just finished a satisying, delicious meal. And that brings me to a second favorite quotation, from William Makepeace Thackery (1811–1863), "Next to eating good dinners, a healthy man with a benevolent turn of mind, must like, I think, to read about them." I would add "and woman" to the phrase, but Thackery was definitely onto something.
We enjoy reading about food. And for many of us, reading about food and murder is the real frosting on the cake. Why is the pairing of gastronomy and crime so seductive? Whodunit so irrevocably tied to whoateit? For me, part of the answer lies far back in the mists of time—the late 1980s when I wrote the first book in the series, The Body in the Belfry (St. Martin's, 1989). The character was clearly defined in my mind as an outsider—she'd grown up in the Big Apple before being transplated to the bucolic orchards of Aleford, a small town west of Boston, after her marriage to the Reverend Thomas Fairchild. Also, as the daughter and gradndaughter of clergy, she would chafe at the fishbowl existence she knows a parish to be from experience.
Yet why a caterer? Simply because I liked to read mysteries that had food in them, starting with arguably the true progenitors of the genre— Rex Stout (1886–1975) and Charlotte Murray Russell (1899–1992). I view Stout's Nero Wolfe as the somewhat irascible father of culinary crime and Russell's Jane Amanda Edwards, the slightly more amiable mother. Fer-de-Lance, the book that introduced Rex Stout's corpulent detective and his sidekick Archie Goodwin, was published in 1934; the year before Jane Amada, a self described "full-fashioned" woman made her 1935 debut in Murder at the Old Stone House.
Both Stout and Russell were born in the Midwest. Russell stayed and set the Edwards books in a thinly disguised version of her own hometown of Rock Island, Illinois. Rex Stout left and occupied a much larger stage, although his agoraphobic sleuth Nero Wolfe resided, and seldom left, his Manhattan brownstone, tending his orchids and ordering meals from his personal chef, Fritz Brenner, of whom Archie said, "He could even make milk toast taste superb."
Rex Stout's masterpiece Too Many Cooks stands alone in the annals of culinary crime. Stout, in a rare departure, takes Nero Wolfe out of his NYC comfort zone to a resort in West Virginia, the setting for a gathering of the crème de la crème of international chefs—Les Quinze Maîtres, The 15 Masters. Archie gets to go too, of course, and Wolfe hopes to obtain a much desired, and well-guarded secret recipe for Saucisse Minuit from one of the chefs. The fun and games prior to the first murder suggest a Food Network challenge. Chefs must identify dishes and ingredients while blindfolded. The plot is a classic locked room one and is not overwhelmed by the food—no mean feat.
When asked what was the best meal in English literature, Nora Ephron replied, "The banquet in Too Many Cooks by Rex Stout." The banquet, planned by Nero Wolfe, comes at the end of the book and is his impassioned defense of American cuisine, delivering a hearty slap in the face to the skeptical sophisticated chefs attending. Here are just a few of the delectable dishes, plates no doubt licked clean: Philadelphia Snapper Soup, Terrapin Stewed in Butter, Planked Porterhouse Steak, Boone County Missouri Ham, Creole Tripe, Lobster Newburgh, Beaten Biscuits, Sally Lunn, Pineapple Sherbet, and Sponge Cake.
Rex Stout published forty-seven Nero Wolfe mysteries as well as many short stories, other novels, and plays. Charlotte Murray Russell, in contrast, published only twelve in the Edwards series, and eight other mysteries. She started crafting the novels during the Depression to put food on the family table, and ended her career in 1953 at age fifty-four, saying she was tired of writing. She remained very active until her death at ninety-three, working at her Rock Island library and making notes for a memoir.
Russell's female amateur sleuth was a breakthrough, combining a sharp sense of humor with equally sharp powers of detection and observation. Much more down to earth than Miss Marple, Miss Edwards nevertheless shares an uncanny ability to see through a tissue of lies—she calls herself, "old X-ray Jane"—as well as extrapolate village life to all human behavior. A forty-something spinster, Jane Amanda is the head of a household consisting of a younger sister and brother. Her brother's penchant for drink—one glass of wine sends him over the edge—and unsuitable women keeps Jane on her toes, not an easy task give her 180 pounds. And all of them the result of the mouth-watering food described in the series.
Like Stout, Russell's books are a celebration of American regional cooking, in this case midwestern comfort food. In books like Cook Up A Crime, the housekeeper Theresa's chicken and dumplings, lemon meringue pie, fudge cake, and other staples may send readers straight to the fridge and pantry, especially as it contained an occasional recipe. Rue Morgue Press has reissued a number of Charlotte Murray Russell's books and they more than stand up.
Across the Pond, it is Dorothy Sayers who first comes to mind when cataloging culinary crime (although Agatha Christie often describes tasty fare, particularly in the Poirot books). The Documents in the Case may put one off mushrooms for life even as it introduces us to the world of fatal fungi. However, it is Sayers 1928 short story "The Bibulous Business of a Matter of Taste" that showcases her knowledge of food and more especially drink. In vino veritas she notes in the tale. Peter Wimsey unmasks his imposter by correctly identifying the obscure wines accompanying each course at a chateau in France before repairing to the library for a suitably venerable cognac with his host.
Among Sayers' many UK successors, Janet Laurence, a cookery expert, has created a chef, Darina Lisle, as knowledgeable in the kitchen as she is in detecting. The first in the series of ten books is A Deep Coffyn (1989). Another favorite is A Tasty Way to Die (1990).
In the US, the culinary crime pioneer who extensively included recipes in her mysteries was Virginia Rich (1914-1985). Like Rex Stout and Charlotte Murray Russell, her roots were in the Midwest, but after her marriage she went on to live in many places, spending the latter part of her life moving between the family's working cattle ranch near Tucson, Arizona, and the small Maine coastal village of Corea. Both provided settings for her work. She published only three novels: The Cooking School Murders (1982), The Baked Bean Supper Murders (1983), and The Nantucket Diet Murders (1985), but anyone writing in this subgenre owes her a debt.
She set the bar high. Her amateur sleuth, Eugenia Potter, is a widow in her 60s and, while not a professional chef, more than knows her way around a kitchen. 'Genia also enjoys a very dry martini, or two. Virginia Rich's books were unique not only for the introduction of so many recipes—outlined in the text and in detail on the endpapers—but also for the treatment of character and place. The mysteries are good puzzles, but it is Mrs. Potter herself and Rich's depiction of her world that has made these books continuing pleasures— great rereads.
The Baked Bean Supper Murders is a portrait of Down East life that has all but vanished—Grange Hall suppers, lobstering with just a plumb line and a compass, the post office as the main source of news, and Saturday night baked beans from the bean pot that had been sitting overnight on the wood stove. Rich's recipes are also a celebration of American regional cuisine: Blueberry Buckle, Sour Cream Cole Slaw, Baked Ham, Molasses Cookies, Steamed Brown Bread, Lobster Pie, and dishes from the Southwest.
After Virginia Rich's death, her family asked renowned mystery writer Nancy Pickard to complete the manuscript for The 27 Ingredient Chili Con Carne Murders (1993). Pickard wrote two more in the series from notes Rich left: The Blue Corn Murders (1998) and The Secret Ingredient Murders (2001), providing readers with a happy total of six Eugenia Potter books.
Continuing the tradition and foreshadowing the plethora of culinary mystery novels that followed is Diane Mott Davidson, the author of seventeen Goldy Schulz culinary mysteries to date. She published the first, Catering to Nobody, in 1990. The book introduced Goldy, a recent divorcée with a young son, trying to make a living as a caterer in a small Colorado town. All Davidson's books include recipes and like Rich, character and place are well represented at the table. Goldy's Kitchen Cookbook: Cooking, Writing, Family, Life came out in 2015.
One of the most enduring nonseries classics in culinary crime is Nan and Ivan Lyons' Someone is Killing the Great Chefs of Europe (1976). They wrote several others in the genre, but this is the pièce de résistance and also quite tasty in the screen version, "Who Is Killing the Great Chefs of Europe" (1978), with an outstanding cast—George Segal, Jacqueline Bisset, Phillipe Noiret, and especially Robert Morley. One by one the chefs are dispatched in a manner that relates to his signature dish. Readers will never look at a duck press the same way again.
We get hungry when we read these books and there are a number of mystery cookbooks to help satisfy a wide variety of tastes. A few of my favorites are: Madame Maigret's Recipes (1975), compiled by the noted French food writer Robert Courtine in honor of Simenon's 70th birthday; The Lord Peter Wimsey Cookbook (1981), Elizabeth Bond Ryan and William J. Eakins; The Sherlock Holmes Victorian Cookbook (1973), William Bonnell; and The Nancy Drew Cookbook, Clues to Good Cooking (1973), Carolyn Keene—this last notable for the "Dancing Puppet Parfait" recipe, a mix of apricot nectar, marshmallows, and whipped cream. A magnifying glass may be necessary to find the clues to good cooking in this one. So, go get yourself a morsel or two and grab one of the books in the stack by your bed or desk—food for the body and for the mind. Bon Appetit!
---
Katherine Hall Page has just published the 22nd in her Faith Fairchild series, The Body in the Birches (Wm Morrow, May 2015). She has also written for young adults and published a series cookbook, Have Faith in Your Kitchen.
---
When in Rome… Eat as the Romans Ate
by Steven Saylor
The ancient Romans loved food and cooking just as much as we do—but what did they eat, and how did they eat it? For me, the question isn't merely academic, since I write murder mysteries set in ancient Rome, and my characters all have to eat—sometimes to their pleasure, sometimes to their peril.
Anyone who's researched food in ancient Rome will recognize the name Apicius. That's Marcus Apicius, reputed author of our one and only cookbook from the period. This fantastic resource is both a blessing and curse. A blessing, because Apicius gives us recipes for everything from soup to nuts. A curse, because modern authors go back to Apicius over and over again, drawing from this single source with no way of knowing how many other (perhaps quite different) recipe books may once have existed, but now are lost. It's as if a writer two thousand years from now, trying to recreate a meal from our time, had only one popular cookbook to draw on. The resulting picture of a typical 21st century American diet would inevitably be skewed.
There's another drawback with Apicius. While the recipes list ingredients, and sometimes give basic instructions, amounts are seldom given and some steps are left out, because the book was intended for experienced cooks who already knew how these dishes should turn out. This has led to a great deal of guesswork on the part of food historians attempting to recreate useable recipes based on Apicius. The same ancient dishes have been updated in various ways by various modern chefs, with quite different results.
We do know that the Romans had a very different palate from our own. For one thing, they loved asafetida, a powerful spice you may have encountered in Indian cooking. I think it smells like burning rubber, and some call it "Devil's dung." It's definitely an acquired taste. But the Romans loved it so much that they harvested the herb to extinction all over the Mediterranean—causing it to vanish from Western cuisine, never to reappear.
The Romans also loved a fermented fish paste called garum. They put in on just about every-thing. The easiest way to discover what garum may have tasted like is to try an Asian condiment called nam pla. It's very fishy, and very fermented. Bon appétit!
Though I've never attempted to make my own garum (the process is quite involved), I have harvested and preserved olives from the tree in my back yard—a bit of hands-on research to bring me closer to the ancients, for whom the olive (and its oil) was such an important part of life.
But the ancient Romans had no tomatoes—that's a New World plant unknown in Europe until after Columbus. I have to be careful to avoid anachronisms by ascertaining what foods and plants existed where, and when they were in or out of season.
We also know a great deal about ancient wines, including some famous vintages. (Among Italian wines, Falernian was high prized.) Along with the dozen or so ancient cookbooks in my library, I spot McGovern's Ancient Wine and Fleming's Vinum: The Story of Ancient Wine—essential reading for you oenophiles.
Have I used food and wine as vehicles for murder and other mayhem in my work? Of course I have! But that's tricky to talk about, without giving spoilers.
In the short story "Something Fishy in Pompeii" (included in A Gladiator Dies Only Once), my sleuth Gordianus is approached by his wealthy friend Lucius Claudius, who believes someone has stolen his super-secret recipe for garum. In this story, written for a British family magazine, no one dies, but Gordianus does get to show off his sleuthing skills—and earns himself a lifetime supply of Rome's finest garum.
In one of my novels, a poisoned amphora of wine is central to the plot. (Wine was stored not in bottles—glass being rare—but in clay vessels called amphorae.) Who poisoned the wine, and when, and for what purpose? And will it kill its intended victim, or an innocent imbiber? By Hercules, I wish I could tell you which book I'm talking about; but just keep reading the Roma Sub Rosa series and you'll come to it.
I also resorted to murder by bee sting in one of my stories. Beekeeping was much discussed in the ancient world; see Virgil's Georgics. Honey was highly prized, and like us, the Romans used their word for honey, mel, as a term of endearment.
But now I've made myself hungry. I'm off to have a plate of olives from my own tree, followed by some figs (also from my garden) and maybe a bit of flatbread smeared with precious honey, and imagine Gordianus is with me, telling me about his latest murder case in ancient Rome.
---
Steven Saylor's Roma Sub Rosa series, featuring Gordianus the Finder, now numbers fourteen volumes, from the first (Roman Blood, St. Martin's, 1991) to the latest (Raiders of the Nile, Minotaur 2014), with Wrath of the Furies forthcoming in October 2015.
Buy this back issue! Available in hardcopy or as a downloadable PDF.