Volume 15, No. 1, Spring 1999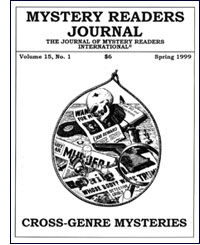 TABLE OF CONTENTS
Future Crimes: Science Fiction and Mystery by Marsha McCurley
Prairie Puzzles by Jim Doherty
Mysteries and Strange Bedfellows by Richard Centner
Shelving Wars by Beth Fedyn
Book of Martians, Murder, Magic, and Mayhem? by Maryelizabeth Hart
THE WRITERS WRITE
Sometimes Breaking Out Means Crossing the Line by Skye Alexander
It's All Daddy's Fault by M.D. Benoit
Say, Is That SEX in Your Mystery Novel? by Elaine Raco Chase
Romantic Suspense by Margaret Chittenden
Crossing Genres: The Seamless Blend by Beverly Connor
Crossing Genres: West Is Best by Bill Crider
Made for Each Other: Romance and Mystery by Jennifer Crusie
Murder Most Woo-Woo by Jaqueline Girdner
The Murder Unhinged: Mysteries of the Postage Stamp by Frederick Highland
Writing the Woo-Woo Mystery by Martha C. Lawrence
Rocket Scientists vs. Woo-Woo by Marlys Millhiser
From Sex to Suspense by Lora Roberts
Writing Down Charlie's Bones by L.L. Thrasher
Cross-Pollination by Sandy Tooley
COLUMNS
MYSTERY IN RETROSPECT: Reviews by Bill Deeck, Carol Harper, Harriet Klausner
JUST THE FACTS: Bill Tilghman, Cross-Genre-ational Crime-Fighter by Jim Doherty
IN SHORT: No Genre Gap by Marvin Lachman
BRITISH FICTION: War and Crimeby Philip L. Scowcroft
BOOKED FOR MURDER: Deep in the Heart of Texas! by Janet A. Rudolph
The German Reference Shelf by Thomas Przybilka
A MYSTERY READER ABROAD: First Impressions by Carol Harper
MRI Mayhem by Janet A. Rudolph
From the Editor's Desk by Janet A. Rudolph
---
"…If Death Settled Everything"—Fritz Lang and the Crossover Film
by Jane Rubino (Ocean City, New Jersey)
Mystery, even in its most elemental form, i.e., the locked room mystery, is not entirely confined to the mechanics of the puzzle. The resolution is always linked to desires, conflicts, superstition, history, rooted in the world outside that room. For a film director, those extrinsic influences are compounded with the options of lighting, music, color, special effects, camera angles, editing, components that abet the transformation of a "pure" mystery into a mystery that is crossbred with fantasy, romance, supernatural, suspense, history.
It is no coincidence that many great film directors were directors of great mystery films; perhaps because those with facility in different categories of film understood mystery's natural rapport with other genres. We see how fluidly directors who worked in a variety of genres adapted to classic mysteries and incorporated sex, romance, humor, psychology and social commentary into the riddle-and-resolution formula: Billy Wilder (Double Indemnity), Otto Preminger (Laura), Orson Welles
(Touch of Evil), John Huston (The Maltese Falcon), Henry Hathaway (Kiss of Death). These directors understood that crime and resolution could not be neatly plucked from a larger human tapestry.
Director Fritz Lang said it best: "It would be too easy if death settled everything." Though the most well-known film of his silent career was the futuristic drama Metropolis, the character that absorbed much his career was novelist Norbert Jacques' archvillain Dr. Mabuse. Mabuse was the focus of Lang's two-part thriller, Dr. Mabuse der Spieler (1922). These films, Der Grosse Spieler and Inferno, render Mabuse as a criminal mastermind who is the orchestrator of gambling, financial duplicity, abduction, murder. Unlike Conan Doyle's arch criminal Moriarty, however, Mabuse, the "man of a thousand masks," is not defined by his extraordinary intellect but by the supernatural influence he wields over his minions.
This blend of crime drama with more fantastic or romantic elements also characterized Lang's earlier two-film thriller Die Spinnen (The Spiders, 1919). The films—The Golden Lake and The Diamond Ship—pit a playboy/adventurer against a criminal society (The Spiders) and throw in romance, lost treasure, clairvoyance. (Think Indiana Jones). Some years later, when Lang was persuaded to revive Mabuse in Das Testament des Dr. Mabuse (The Last Will of Dr. Mabuse, 1933), he again blends the political notion of world domination with the supernatural notion of mind control; Mabuse dies midway through the film and his spirit takes over the mind of an asylum's director, who becomes the conduit between Mabuse and the underworld.
Lang's vision of a society controlled by a madman would recur throughout his films. Other recurrent themes were uncharacteristic villains, the fickleness of the justice system, and a social order that can be reduced to chaos by a simple incident (not always a crime, sometimes a mere misunderstanding). These became as much Lang signatures as his use of light and shadow to enhance mood, his crafty editing, and his meticulous preparation.
All of these merged in Lang's first sound film, a thinly-disguised account of the Dusseldorf serial murders of the 1920s. M (1931) concerns a city so terrorized by a child
killer that the operation of the criminal underworld is stymied, prompting the criminals to vie with law enforcement for the apprehension of the killer so that both can return to business as usual. Lang's camera bypasses the murders and catches their aftermath: an empty chair, a ball rolling from the bushes, a floating balloon.
Left to our imagination, the crimes become monstrous, but when the monster appears, he is singularly unimposing. Lang ingeniously cast against type; Peter Lorre, as the pedophile-killer Beckert, is no Mabuse-like archvillain, he is squat, hapless, timid, in the throes of uncontrollable madness. ("I can't help myself. I haven't any control over this evil thing inside me … Who knows what it feels like to be me?") Society is at the mercy of a killer and the killer is at the mercy of his mania.
Offered the opportunity to direct in the United States, Lang found a project that expressed his view of a precarious social order. Fury (1936) based upon Norman Krasnal's Oscar award winning story "Mob Rule," is a study in the erosion of middle class principles. An innocent man is arrested for a kidnapping. A lynch mob storms the jail and burns it to the ground. The accused man escapes, is presumed dead and members of the lynch mob are tried for his murder. The accused must decide whether he will allow them to be convicted or will exonerate his "killers." A lynch mob offered Lang an image of social disintegration that was identifiably American (the story was based on a 1933 lynching in San Jose) and yet symbolic of what was occurring in Germany. It also allowed him, once again, to renovate the image of the villain: not a telepathic mastermind, not a hapless psychotic, but the common man.
Lang's follow-up film, You Only Live Once (1937), took the crime drama in another direction, a lovers-on-the-lam predecessor to outlaw romances like Sugarland Express and Bonnie and Clyde. The plot is deceptively simple: an ex-con tries to go straight, is wrongly accused and imprisoned, and escapes shortly before his execution. He makes a run for the border with his wife and both are gunned down. Lang's disordered society is compelled to be one in which justice is wayward, the
innocent perish, and even the lawless struggle for dignity and order.
In Fury and You Only Live Once, Lang exploits the most profoundly sympathetic protagonist: the unjustly accused innocent. In the forties, Lang converted this to the corrupted innocent by adding sexuality to the mix, initiating his transition toward noir. His companion films Woman in the Window (1944) and Scarlet Street (1945), are variations on the classic noir set-up: the loose woman who lures a law-abiding man to his destruction. (Lang's first film, The Half Breed, 1919, was about a harlot of mixed race who ruins two men; one winds up in an asylum, one in prison). Woman in the Window is really a bleak comedy (an earlier attempt at a gangster/musical comedy, You and Me, 1938, was "lousy," according to Lang.) A humble professor meets the woman whose portrait he had admired, and an innocent drink leads to a darkly absurd succession of murder, guilt, attempted suicide-until he wakes from what was all a nightmare. In Scarlet Street, the duped innocent is a henpecked clerk conned by a prostitute, whom he murders when her duplicity is revealed. Her pimp is convicted of the murder; the remorseful clerk, unable to persuade the authorities of his guilt,
goes mad.
In Lang's crossbreeding of genres, the dual personality was a significant tie. The Mabuse films are supernatural thrillers because Mabuse is a criminal-telepath; the hero of the organized crime-romantic melodrama The Spiders is a playboy-adventurer. The clerk in Scarlet Street is an accountant-artist, the hero in the espionage-thriller Cloak and Dagger is a professor-secret agent, the lovers in the gangster-musical You and Me are shop clerks-ex-cons.
Lang's last film of the forties was a neo-Gothic that may have been inspired by Hitchcock's Suspicion and Rebecca. Secret Beyond the Door (1948) involves a vacationing heiress who meets and marries a charming stranger; they return to his mansion, in which each room has been decorated identically to the site of a famous murder. A follow-up film, House by the River (1950), concerns a writer who murders a servant girl. There was a lot thrown into the mix—sexuality, ghosts, square dancing (!)—and homicidal frenzy triggered by perfume. (In Secret Beyond the Door the killer scent was lilac.) Though the film was reckoned a failure, it did offer a villain Lang would return to again, the corrupt writer.
In the fifties, Lang became—depending upon one's viewpoint—just another European expatriate/hack or a significant architect of film noir. Noir milieu was compatible to Lang's moody visuals and noir text endorsed and refined his recurrent themes of the parallels between good and evil, innocence and corruption, honor and vengeance.
The Blue Gardenia (1953) was as conventional a whodunit as Lang ever directed. A jilted girl is picked up in a bar by another Lang hyphenate, a fashion designer-calendar artist. At his apartment, she becomes intoxicated, fights off his sexual advances, loses consciousness. The following morning, she wakes with no memory of the preceding night, and learns that the man has been murdered. (If the plot seems familiar, you may be thinking of The Morning After, 1987, with Jane Fonda and Jeff Bridges.) She is targeted by an aggressive reporter who offers to help her learn the truth. The film shifts to mystery-romance, but it is noir romance, infected with suspicion. Does he really love her, or is he after a headline?
The best film of this era, a noir classic, was The Big Heat (1953). Mob boss Mike Lagana takes on an almost Mabuse-like omnipotence; the corrupt cops, fickle legal system, dual personalities were standard Lang. But Lang captures that distinctive cross between classic man-against-the-system heroism and contemporary the-system-can't-be-beat cynicism, the ubiquitous corruption that drives the hero into a sort of moral exile, which epitomize great noir films. Screenwriter Sidney Boehm won an Edgar for his impressive screenplay.
The journalist-mystery, with the compromised writer replacing the compromised cops of Lang's earlier films, was a subject Lang returned to twice more in the fifties. While The City Sleeps (1956) is less about the series of sex murders that launch the plot than their effect on the ambitious journalists who—again, shades of Mabuse—are driven to an almost criminal frenzy by their powerful boss. In Beyond A Reasonable Doubt (1956), a writer enlists his future father-in-law, a publisher, in a scheme to expose the inequities of the death penalty by framing himself for a murder, then having his accomplice reveal the exonerating evidence. The publisher dies before he can deliver the evidence and the plot shifts into a series of twists that reveals the hoax to be only one facet of a larger conspiracy.
The remainder of Lang's career was undistinguished. He returned to Europe to make a pair of costume dramas and revived Mabuse in The Thousand Eyes of Dr. Mabuse (1960). His final film work was not as a director, but playing a director in Francois Truffaut's Le Mepris (Contempt, 1963).
Patrick McGilligan, in his biography of Lang, Fritz Lang: The Nature of the Beast, mentions that Lang had wanted a moniker akin to Alfred Hitchcock's "Master of Suspense." It would be difficult to settle on a nickname from Lang's filmography, which included romantic adventures, costume dramas, science fiction/ fantasy, Westerns, espionage thrillers, psychological suspense, film noir. "Jack of All Genres," perhaps, and master of more than most.
---
Jane Rubino is the author of the Cat Austen/Victor Cardenas series.
---
Crossing Genres: West Is Best
by Bill Crider (Alvin, Texas)
I'm not sure that cross-genre writing is quite respectable. It's probably a little like cross-dressing: something it's OK to do in the privacy of your own home, but you wouldn't want the neighbors to know about it. Nevertheless, I'll admit that I've done it. The question is, why? Here's the answer:
Many years ago, a lot more years than I like to think about these days, way back when I began my serious reading of crime and mystery fiction, I noticed that a number of the writers whose work I enjoyed also wrote western novels. Some these writers were Donald Hamilton, Harry Whittington, Richard Wormser, Elmore Leonard, Richard Jessup, Marvin H. Albert, William R. Cox, Loren Estleman, Jack Ehrlich. Most of these people are pretty much forgotten now, which is too bad, but that's a topic for a different article. What's relevant is that the westerns I picked up were just as well written and just as entertaining as the crime and mystery novels I'd been reading. And nearly all of them had well-constructed plots that could just as easily have been updated and used as the plots of those crime and mystery novels as well.
So it was probably inevitable that when I began writing mysteries, I'd eventually turn my hand to a western. And it was probably just as inevitable that some of my westerns would have plots that involved crime and mystery. (My current western, Outrage at Blanco from Dell, certainly includes plenty of crime elements, including bank robbery, though it's not a mystery.)
My first western was called Ryan Rides Back (M. Evans hardcover; Ballantine reprint). It's a sort of revenge novel about a man who returns to his hometown (where he's anything but welcome) to find out who murdered his sister. There's someone already in jail and about to hang for the crime, but Ryan doesn't think the authorities have the right man. If that's not a mystery plot, I don't know what is. Later I wrote a book called A Time for Hanging (M. Evans), in which a girl is murdered and once again the wrong person is arrested. No revenge involved in this one. It's more of a straightforward whodunit, with the wrong people being accused right and left. I did a couple of other westerns for M. Evans, Galveston Gunman and Medicine Show, both of which also have mystery elements.
And I wrote Colorado Special, a paperback original that was part of a series done under the house name of William Grant. It was published by Lynx Books, and probably no one ever read it because the publisher folded almost as soon as the series got started. In fact, I did a second William Grant novel that was never published. The whole series was made up of mystery novels set in the old west, all of them involving crimes solved by employees of a detective agency specializing in railroad crimes. It's probably not revealing any secrets to say that James Reasoner, author of many cross-genre novels, wrote the first novel in the series.
It's clear that I'm addicted to cross-genre writing. Do you think I could get on "The Jerry Springer Show"?
---
Writing the Woo-Woo Mystery
by Martha C. Lawrence (Escondido, California)
"If the phrase 'psychic investigator' makes you want to roll your eyes, you're not alone. I cringe just about every time I hear it."
So says Elizabeth Chase in the opening line of Aquarius Descending (St. Martin's Press, 1999), and she might as well be speaking for me. For although I write a series about a psychic private eye, I have a gag reflex to the term "paranormal," which conjures visions of Speilbergesque poltergeists and tawdry psychic hotlines. For years my fear of being lumped in with the paranormal fringe kept me from admitting to a lifetime of clairvoyant experiences. I grew up in a haunted house. Kept quiet about that. I saw auras. Kept quiet about those. I even heard voices on occasion. Definitely shut up about them.
I was intensely curious about the paranormal but had a hard time identifying with the so-called psychics I encountered in novels and on the silver screen. These characters were invariably over-the-top, blessed with phenomenal, fail-proof powers that looked nothing like my imperfect psychic ability. This bugged me so much that it inspired me to create a character I could relate to, one that defied the woo-woo stereotype. Enter Dr. Elizabeth Chase, Stanford educated but down-to-earth, a gifted psychic who can't always control or correctly interpret her extrasensory perceptions. I gave her a P.I. license so that she could fall back on old-fashioned detective skills when her psychic ability failed her. Contrary to popular assumption, psychics can't simply put their fingers to their temples and know for certain who killed the victim and where the murder weapon was hidden. But that we could. I drove myself nuts trying to tune in on where O.J. put that damn knife.
Mind you, I didn't think the publishing world would actually buy the idea of a psychic detective. For one thing, it broke the rules. In my days as an editor with Simon & Schuster and later with Harcourt Brace, I'd learned that using a psychic to solve a crime was "cheating" by the rules of detective fiction. The assumption was that the psychic would automatically know who committed the crime—one of the very misconceptions I was determined to smash. Braced for rejection, I sent off three chapters to three agents with a cover letter asking if anyone had any interest. To my delighted surprise, all three responded with enthusiasm. My first novel, Murder In Scorpio (St. Martin's Press), went on to be nominated for an Edgar, Agatha, and Anthony award for Best First Novel in 1996. Clearly a sea change was in the air.
Reviewers typically commend me for seducing them into suspending their disbelief. "A gripping, believable story… that even those skeptical of psychics will enjoy," says Publishers Weekly. "Readers who think a series featuring a psychic investigator must necessarily be corny will be surprised," chimes in Booklist. "Acceptable and appealing to the somewhat or completely skeptical reader," says Julie Kaufmann of the San Jose Mercury News. I don't blame them for their initial doubts. Until enough writers produce enough valid material to counterbalance the ridiculous stereotypes, there's bound to be skepticism.
Many authors have pulled me aside and secretly whispered in my ear how brave they think I am for writing a woo-woo mystery series. While I appreciate their praise, I must confess that I'm being more autobiographical than brave. The truth is, I perceive the world through psychic eyes. When Elizabeth sees an aura or has a precognitive dream, I'm writing what I know. This authenticity may be the key to why the Elizabeth Chase series works.
Although I've probably had more heightened experiences than most, I believe the paranormal is in fact quite normal and that it belongs to everybody, not just the gifted few. I would guess that the so-called unseen realm isn't so much unseen as it is dismissed. We jump out of bed and into our lives, ignoring our dreams. We dismiss everyday synchronicities as unimportant. We tend to look on the surface of things—for example, the clothes a person wears, instead of the energy the person gives off. And if the feedback I get from readers is any indication, most of us have at least one or two bona fide psychic experiences in our closets.
A 74-year-old doctor told me recently that he was surprised how much he liked my books, given that he was a "complete skeptic" who'd never had a paranormal experience. "Except," he added as an afterthought, "that one time."
"What time was that?" I asked.
"Three days after my father died, he came back to visit me."
"Oh," I said, intrigued. "Your father came to you in a dream?"
"No," he insisted, "this wasn't any dream. It was real."
Skeptics. You gotta love 'em.