Volume 25, No. 1, Spring 2009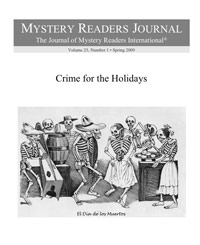 Buy this back issue! Available in hardcopy or as a downloadable PDF.
TABLE OF CONTENTS
AUTHOR! AUTHOR!
Revolutionary Yule by Suzanne Adair
The Ghost Knows Best by Glynn Marsh Alam
Those Wild, Mysterious Holidays by Sandi Ault
Stories for Toys for Tots by Tony Burton
It's a Wonderful Lie by Mary Daheim
Wipe the Blood Off the Knife & Carve That Turkey! by Evelyn David
The Universal Holiday by Krista Davis
The Perfect Thanksgiving by Vicki Delaney
The Stuffing of a Mystery by Christine Duncan
Gunpowder and Mistletoe by Carola Dunn
Holiday Mysteries by Ruth Dudley Edwards
The Twelve Shopping Days of Christmas by Kathy Lynn Emerson
When in Rome… HaHaHa by Jane Finnis
A Murderous Holiday by R. Barri Flowers
Cody Smith and the Holiday Mysteries by Dorothy Francis
Hail Our Dear Old Friend Kris Kringle by Kerry Greenwood
A Series of Celebrations by Lee Harris
Holidays, Holy Days, and Happy Days by Carolyn Hart
Happy Holidays and a Nice Little Break by Peg Herring
Holidays in Olden Times by M.E. Kemp
Christmas In July by Kate Kingsbury
Holiday of the Dead by Claudia Long
Voyeur On Vacation by Peter Lovesey
Remembering What Matters by Mary Jane Maffini
You Better Watch Out: I'll Be Home for Christmas by G.M. Malliet
Shop 'Til You Drop (Dead) by Jeff Markowitz
Snack-Sized Mysteries by Radine Trees Nehring
Holidays Can Be Murder by Katherine Hall Page
Fourth of July: A Bang-Up Time in Leadville, Colorado by Ann Parker
Santa in a Bathing Suit? by Neil Plakcy
The Reluctant Sleuth by E.J. Rand
To Quote a Cliché: Holidays Are Murder by Ilene Schneider
Holiday Mysteries—Warm and Fuzzy or Chilly? by Maggie Sefton
Holidays in the Dark by Alexandra Sokoloff
Death Never Takes a Holiday by Kelli Stanley
Holy Days and Holidays… and a Solution to a Puzzle by Peter Tremayne
When the Spirit of Christmas Gets Murdered by Elaine Viets
Cooking Up a Career by Melinda Wells
Murder on a Cold Winter Night by Anne White
COLUMNS
Children's Hour: Crime for the Holidays by Gay Toltl Kinman
In Short: Crime for the Holidays by Marvin Lachman
From the Editor's Desk by Janet A. Rudolph
---
The Proof Is Always in the Pudding
by Katherine Hall Page (Lincoln, Massachusetts)
Yes, there are plenty of holidays from which to choose—and some terrific mysteries set around them—but the mother lode for murder is Christmas. The following sample spans sixty-five years, from 1933 to 1998. Aside from being personal favorites, the novels and short stories illustrate what can be done with that essential ingredient of the classic Christmas mystery: a colorful assortment of suspects thrown together by virtue of the holiday with all the trimmings.
"The Necklace of Pearls" by Dorothy L. Sayers was published in Great Britain by Gollancz in 1933 in the collection Hangman's Holiday, which included three additional Lord Peter Wimsey stories, six featuring Montague Egg, and two others. In this tale, Lord Peter is unmarried and has been invited to spend Christmas at Sir Septimus Shale's country house in Essex "in a touching spirit of unreasonable hope, on Margharita's [Shale's daughter] account." Sir Septimus indulges his wife's moderne tastes throughout the year, but puts his foot down at Christmas, insisting on crackers, plum puddings, and games in the drawing room beneath the holly and mistletoe. It has been Sir Septimus's custom to present Margharita with a priceless pearl on her Christmas Eve birthday each year and she now has twenty-one, enough to gleam softly on her slender throat. She takes the necklace off during a game of Dumb Crambo (in which a rhyme must be acted out silently, similar to charades) and it disappears. The denouement is a marvelous example of "Hidden in Plain Sight," and provides Sayers with the opportunity to show off both Lord Peter's ingenuity and theatricality. He arranges for the guests to tear down the Christmas greens and toss them in the fire—even the mistletoe, much to the horror of the culprit, a man-about-town who "speculated." But the pearls with which he perhaps hoped to recoup some Madoff-type losses had, of course, been removed by Sayers' sleuth. One straight pin had been enough to tip Lord Peter off that the waxy white flora had been joined by some less perishable cousins.
For Hercule Poirot the notion of an old-fashioned Christmas at Kings Lacey is a chilly one. He is only persuaded to retrieve a priceless ruby, lost by a "young potentate-to-be" who was sowing some Western style wild oats, by the assurance that the manor house has adequate central heating. "The Adventure of the Christmas Pudding" (changed to the unfortunate "Theft of the Royal Ruby" in the US) is the title story in the 1960 Crime Club edition, published only in the UK, also containing: "The Mystery of the Spanish Chest," "The Underdog," and "Four and Twenty Blackbirds." It is the sole collection in which both Hercule Poirot and Miss Marple appear; these stories were published in other editions in the US. In an exuberant foreword, Agatha Christie declares "This book of Christmas fare may be described as 'The Chef's Selection.' I am the Chef!"
It was a Christie for Christmas, and "The Adventure of the Christmas Pudding" is dedicated to Christmas Past, the celebrations of her youth spent at Abney Hall in the north of England, when "Christmas fare was of gargantuan proportions." Oyster Soup, Turbot, Roast Turkey, Boiled Turkey, Sirloin of Beef, Plum Pudding, Mince pies, Trifle, and chocolates. "We never felt, nor were, sick! How lovely to be eleven years old and greedy!" In this homage, the proof is indeed in the pudding and there are some fun twists and turns for the reader. Hercule Poirot is, of course, never in doubt.
In Dancing With Death by Joan Coggin, Lady Lupin Hastings' friend Duds Lethbridge is filled with nostalgia for the pre-war Christmases of her childhood as well, and determines to do her best to replicate them with a Christmas-week house party at Old Place, a modest manor house in Buckinghamshire. Unfortunately, it turns out to be the house party from Hell, especially after the hard-to-obtain liquor runs out and yes, there's a body too. Duds summons her old friend, Loops, for help.
With strict rationing still in effect, there's plenty of holly and ivy, but the Christmas pudding is concocted from dried eggs and beer. Hot water is in short supply. The guests, whom Duds has not seen since before the war, are a quarrelsome bunch and she's regretting her Yuletide impulse, almost upon their arrival. The plot involves an inheritance, blackmail, and disappointed love, concluding with a car chase straight out of Bullitt.
Dancing With Death was published in 1947 (or 1949 according to some sources) by Hurst & Blackett and happily reissued, with the previous three Lady Lupin mysteries, by Rue Morgue Press in 2003. A review of the time (in The Field) aptly describes Coggin: "Here is a detective storyteller with a wel-come sense of the ludicrous, or perhaps a humorous writer with a detective flair."
This quartet of mysteries are apparently the only ones Coggin wrote; the first is Who Killed the Curate (1944); followed by The Mystery of Orchard House (1946); Why Did She Die? (1947; US title Penelope Passes); and Dancing With Death. The books are addictive—an effervescent cocktail equal parts Nancy Mitford, E.M. Delafield, Gracie Allen, and Carole Lombard with a dash of Faith Fairchild (Lupin is a highly unlikely clerical spouse like Faith).
Ngaio Marsh has one of the best Christmas titles—Tied Up in Tinsel (1972)—and best Yuletide opening lines: "On the 25th of December at 7:30 A.M. Mr. Septimus Tonks was found dead beside his wireless set." ("Death on the Air," 1947).
In the novel, Tied Up in Tinsel, detective Inspector Roderick Alleyn's artist wife Troy is painting a portrait of Hilary Bill-Tasman, owner of Halberds Manor. With her husband out of the country and unlikely to return home in time for Christmas, Troy accepts Hilary's invitation to stay on at Halberds for the holiday, joining a small house party that includes his fiancée, Cressida. Halbers is being exquisitely restored and filled with tasteful and precious objets d'art. Breathtakingly beautiful, Cressida will be the jewel in the crown. Halberds is also filled with another sort of collection—murderers. Single-job men. They are Hilary's solution to the servant problem since Halberds is so isolated that more conventional help has been impossible to find. What ensues is a marvelously funny satire with Gothic, Victorian, and even Druidical overtones. It really should have been filmed with Alec Guinness, Terry-Thomas, and especially Alastair Sim. Alleyn returns early to find himself in the unusual position of interviewing his own wife in a homicide investigation. And despite an earlier mortal impulse, this time the butler did not do it.
British mystery writers do such ingenious things with wirelesses. One is reminded of Busman's Honeymoon by Dorothy L. Sayers. Marsh's short story "Death on the Air" is satisfying not only because of its intricate locked room plot, but also for her choice of victim—a truly horrible despot who is crushing the life from his family and employees, especially his secretary Richard Hislop. The corpse could well have been tied up in tinsel and placed beneath the tree to the delight of all. The doctor calls in his old friend Roderick Alleyn, discreet and a gentleman, to spare the family. Even the murderer is portrayed sympathetically, confessing in a final note, "I'm sorry, Alleyn. I think you knew, didn't you? I've bungled the whole game, but if you will be a supersleuth…"
In 1982, Mysterious Press issued two wonderful volumes of Murder for Christmas, edited by Thomas Godfrey, notable for the trove of short stories, but almost equally for the Gahan Wilson illustrations and covers—a very unsaintly Saint Nick wrenching a diamond ring from the finger of a screaming young woman, as a monkish looking man face down in the plum pudding with a carving knife in his back sits at Santa's side. Rex Stout's "Christmas Party" is in Volume II. It was originally published in Collier's as "The Christmas Party Murder" in 1957 and published the following year by Viking in And Four to Go, with "Murder is No Joke" and two other holiday short stories, "Easter Parade" and "Fourth of July." Thomas Godfrey's introduction describes the setting as "that most barbaric of all holiday institutions, the office Christmas party." He sums up the plot: "Wolfe stews, Archie engages, orchids bloom and a good time will be had by all." "Engages" refers to Archie's role as a sham suitor, but that role is usurped by Nero Wolfe dressed up as Santa Claus—needing no padding— the prime suspect so far as the police are concerned.
Valerie Wolzien has written a number of holiday mysteries, including All Hallows' Eve (Ballantine, 1992), A Star-Spangled Murder (Fawcett, 1993), and Deck the Halls With Murder (Ballantine, 1998). Her two Susan Henshaw Christmas mysteries, We Wish You A Merry Murder (Fawcett, 1991) and 'Tis The Season To Be Murdered (Fawcett, 1994) will strike a resounding chord with everyone who has ever tried to achieve the impossible: a stress-free, serene holiday. They are a tribute to individuals trying to squeeze in shopping for the perfect gift, with cookie exchanges, reproducing Chartres in gingerbread, and mediating between warring relatives, all of whom seem to be staying at one's house somehow. When the UPS man delivers an additional parcel that he's found propped up outside the door, it's a relief for Susan to have something as relatively straightforward as a corpse with which to deal.
The last work, Jane Langton's The Shortest Day: Murder at the Revels draws upon a large cast, literally. Since 1971, the Christmas Revels, a festival of dance and drama that draws on an-cient rituals from all over the world to drive the dark away, has been performed at Sanders Theatre in Harvard's Memorial Hall. It is not Professor Homer Kelly's thing at all. He tells his enthusiastic wife, Mary, "Oh God… Morris dancers. All this folksy stuff, Ph.D.s and computer scientists pretending to be peasants."
Despite his initial skepticism, he becomes captivated by
this fanciful Cambridge version of the Middle Ages. It was nice, it was the Très Riches Heures come to life, enhanced by the mystic Victorian woodwork of Memorial Hall…
First one death, then another. Homer dons a mask as part of the performance, which puts him on the spot to unmask the killer. Langton's lovely pen-and-ink drawings illustrate her own très riches heures, filled with Christmas lore and plenty of wassail.
At every performance of the Christmas Revels, the Master of the Revels sings "The Lord of the Dance" as first the actors, then the audience rise, join hands, filling the aisles and streaming out into the Hall's corridors:
Dance, then, wherever you may be,
I am the Lord of the Dance, said he,
And I'll lead you all, wherever you may be
And I'll lead you all in the Dance, said he.
Similarly, all of these writers have led us in a Christmas romp, a merry dance of cheer and fear.
---
Katherine Hall Page is the author of the award-winning Faith Fairchild series. The Body in the Gallery (Wm. Morrow, 2008) is the seventeenth and will be out in paperback in April 2009.
---
Holiday Mysteries
by Ruth Dudley Edwards (London, England)
We are a warped crew, we crime writers. There is nothing associated with joy and happiness that we can't ruin. Even holidays and vacations are for death and destruction.
As I write this on St Valentine's Day, I wonder what dark part of my soul made the day that symbolises love present itself to me as a perfect opportunity to kill people with poisoned chocolates (The St Valentine's Day Murders). I've had wonderful times in the west of Ireland, so I invented a hotel with a battlement I could throw someone off (The Anglo-Irish Murders). The welcome and friendship I met with in Muncie, Indiana, was repaid with a tale of conspiracy and blood (Murdering Americans). I can truly say that since I became a mystery-writer, I've never been on vacation anywhere and not considered how and why and where someone might bite the dust.
My twisted part has me size up even the most beautiful or happy places with a view to defiling them with corpses and simultaneously making jokes. Cambridge is heart-stoppingly lovely, so I used it as a background for killing academics (Matricide at St Martha's). The House of Lords is beyond magnificent, so I committed mass murder there (Ten Lords a'Leaping). The marvellous Victorian London club I joined in the 1980s was the inspiration for a story of crazed geriatrics murdering each other with abandon in a place of similar architectural greatness (Clubbed to Death).
I am one of those writers about crime who have a comforting explanation for such perverted instincts. We are nice people, we believe, because of the catharsis involved in channelling our dark side into fiction. Romantic novelists are notoriously bitchy; mystery writers are mutually supportive. Certainly I frequently put up patiently with difficult and irritating people because as I deal with them I think, "Someday, on paper, I'll kill you. Or, at the very least, make fun of you ruthlessly or one way or another give you a really hard time."
Hypocrites and the sugary sentimental evoke my ire too, which is why a commercially-driven event like St Valentine's Day was a natural target. Christmas has been a favourite slaying-time in mysteries, I can see plenty of scope in Thanksgiving, and now that my mind has begun to run in that direction, I'm wondering if anyone has had a murderer run amok in a greetings-card firm. Would he be particularly hard on the designers, the so-called poets, the marketing men who were trying to launch a Pets' Day? Be still, my tortured mind. I have people to kill in the world of art and have to drag my attention back to them.
In some ways it's absolutely wonderful being a mystery writer: everything is copy and nothing is sacred. The downside is that sometimes it would be nice to smell the coffee without wondering how one could make it toxic.
---
The targets of Ruth Dudley Edwards's satirical mysteries—all of which are available from Poisoned Pen Press—include the civil service, gentlemen's clubs, a Cambridge college, the House of Lords, the Church of England, publishing, and literary prizes. Her latest, Murdering Americans, sends her right-wing bonne viveuse, Baroness Troutbeck, to an Indiana university awash with knee-jerk liberalism, insane political correctness and terrible food.
---
Holy Days and Holidays… and a Solution to a Puzzle
by Peter Tremayne (London, England)
Some years ago I had a call from a New York anthology editor who asked me if Sister Fidelma ever took a holiday? Well, the idea of holidays, as in a vacation, was a concept far removed from the 7th century in which Fidelma lived and solved her cases. But, like all good religious, she did observe Holy Days. And for people who know their etymology they were the origin of holidays.
The result of this inquiry was that I produced a short story entitled "Corpse on a Holy Day." It was first published in an anthology, And The Dying is Easy, edited by Joseph Pittman and Annette Riffled, for Signet Books, New York, in May, 2001. It is one of over thirty Fidelma short stories that have now been collected and translated into several languages. It appears in the second story collection Whispers of the Dead (2004).
Now in case you don't know, Sister Fidelma is not just a religieuse of the Celtic Church but a lawyer; a dálaigh of the ancient Irish law system, as women could be in those times. She tends to lead a peripatetic existence. But on the Holy Day of the Feast of St Declan of Ardmore, July 24, a hot summer's day, Fidelma, is in the company of a group of pilgrims visiting Declan's tomb. But the uncorrupted corpse in the tomb is not that of the 5th century saint but a member of the abbey who has been murdered. So the Holy Day and its veneration is rudely interrupted.
Ardmore, which is on the south coast of Ireland, modern Co. Waterford, in the province of Munster—the former kingdom of Muman that is ruled by Fidelma's brother, King Colgú, is a favourite spot of mine.
It is one of the important early Christian centres in Ireland as well as an early thriving trading harbour. It features in several Fidelma tales. In Act of Mercy, Fidelma leaves from here on her pilgrim voyage to Iberia.
Declan founded his monastery here in AD 416. The Holy Well and ruins of the church standing on the headland overlooking the modern village are the site of this abbey. The cathedral and the round tower date from the late 10th century, although the beannchán, called St Declan's oratory, is the oldest building in the graveyard of the cathedral, dating to the 8th century. Most of the work on the cathedral is 14th century.
The walk around the headland from the Boat Cove past the abbey ruins to the Look Out Post on Ram Head with the "Castle," actually an old coastguard watch station abandoned in 1921, and around to Father O'Donnell's well and back down to the cathedral is a stimulating walk, even if the weather is unkind and there is a wind coming off the Celtic Sea.
Such an important centre in Fidelma's time made it an obvious choice to bring Fidelma here on her investigations. Officially, the Irish name is Aird Mhór, which means "the great height," from which the Anglicisation "Ardmore" comes.
But I have always thought this intriguing, somewhat of a mystery, because, the village is low in a broad sweeping bay. Even the headland, on which Declan built his abbey, is not that impressive. It is scarcely more than 50 feet above sea level at its highest point. Not really a "great height" at all. "The Life of St Declan," composed in 1629, tries to explain the mystery.
The author says that Declan and his disciples ascend the hill where the monastery is to be located.
One of the party ascended the hill and said to Declan: "How can this little height support your people?" Declan replied: "Do not call it a little hill but a great height." And that was how Aird Mhór got its name.
True or not?
Last September, wishing to take a few days' holiday after the three-day international gathering of Fidelma fans at her hometown of Cashel—The Féile Fidelma—my wife and I drove to Ardmore. We opted for some pampering in The Cliff House Hotel, now highly recommended by us. I had known it when it was an old family hotel, tottering on the edge of the cliff. Now it had been rebuilt as a modern five-star establishment, in fact only recently opened, with every room gazing out to sea.
I am afraid I must confess to enjoying a perk. The manager had recognised my name as a writer who had promoted Ardmore through Sister Fidelma and upgraded our modest booking to a luxurious suite. Ah well, I can live with that. It had one of the best shower rooms I had encountered with one side looking out onto our secluded balcony with an unobstructed view of the sea. Of course, certain parts of the bathroom window were frosted in the right places to avoid embarrassment from one's partner, sunning herself on the balcony!
A few miles to the east of Ardmore is An Rinn, the Ring Gaeltacht, one of the areas where Irish is spoken as the first language. We went to visit some friends there.
I was talking about this mystery of why Ardmore should be called a "great height" and it was one of my friends who solved the problem. He was well-versed in ancient lore.
He asked me what the ancient name of Brittany was. Puzzled, I answered Armorica. What did it mean? The land facing the sea—ar, before or facing, mor, sea or ocean. So, he concluded with a smile, what would the Irish "ar aghaidh muir" mean? That which faces the sea, I an-swered. And how would the Irish sound to English years? He asked. You've guessed it. Ardmore.
Indeed, "the place facing the sea" is a much more logical name for this ancient, important site, than "the great height."
So, it is fascinating that solutions to mysteries appear even as I tread in the footsteps of my early medieval sleuth. Though she and I were supposed to be taking a Holy Day.
---
The 20th title in Peter Tremayne's Sister Fidelma Mystery series is published this fall. The highly praised series has now appeared in 18 different languages, been opted for developing for television, broadcast as radio plays, issued on CD and cassette as audio books and generated an international fan club and a bi-annual gathering of fans.
---
Hail Our Dear Old Friend Kris Kringle
by Kerry Greenwood (Melbourne, Australia)
I've just written two holiday mysteries: one set in 1928, Murder on a Midsummer Night, and one set in the present, Forbidden Fruit, a Corinna Chapman novel. The process was instructive, since I was also writing one of them actually during Christmas.
And I had always liked Christmas, the tree, the decorations, the lights, the family, the food—especially the food—and the presents. I am the eldest in a family of four children and we still have a Christmas lunch at my brother's house, and drink champagne and eat prawn salad (Australian Christmases are hot weather holidays) and we have a lovely time. I like my family.
But one of my heroes, Corinna, turned out to really hate Christmas, noisy, commercial, intrusive. Corinna has no close family she cares to associate with. The people whom she feels are her family are the people who live in her apartment building, Insula. Exploring Corinna's feelings made me examine my own.
I actually went into the city during the Christmas rush to be exhausted and battered and stood on and partly deafened by the seventieth repetition of "I don't care who you are, Fatty, get those reindeer off my roof", "I saw Mommy Kissing Santa Claus", and Perry Como, God have mercy on him, moaning his way through "White Christmas"—which, on my continent, just isn't going to happen. And I understood much better why some people do hate holidays. It was Hell in there, I tell you. And every face was tired, stressed and miserable.
Though I still had a very pleasant lunch with my own family, so it hasn't soured me forever.
Phryne Fisher had a classic 1928 Christmas, which was a quiet little holiday, much more religious, and with only small token presents; nuts chocolates and oranges, perhaps, handkerchiefs and gloves. I liked her Christmas very much. I liked going to Midnight Mass, I liked singing carols, I liked the Advent calendar. Although in Phryne's time we Australians were still trying to eat a full English Christmas dinner: turkey, baked vegetables, suet pudding and custard. All in a temperature over 100 degrees.
So if you wonder what you think about holidays, write a novel about them. The results may surprise you.
---
Kerry Greenwood writes mysteries set in 1928 starring the sublime Hon. Miss Fisher and in the present day featuring the cheerful fat baker, Corinna Chapman. Kerry is otherwise a public defender and in her spare time stares vacantly out the window, supervised by her familiar, Belladonna the black cat. She has fifty novels in print, is not married, has no children, and lives with a registered wizard.
---
When the Spirit of Christmas Gets Murdered
by Elaine Viets (Fort Lauderdale, Florida)
By November, my Christmas spirit is deader than disco.
The holiday decorations go up in the Florida malls on Fourth of July—at least that's how it seems. Saccharine Christmas music oozes out of every speaker. The Fort Lauderdale roads are packed with tourists driving sideways. I start hoping the Little Drummer Boy gets shot in the next battle. Scrooge lives in my heart.
But this year, I'll have some holiday cheer. I'm killing a couple of people for Christmas. My editor at the Penguin Group asked me to write a Christmas mystery. It's called Murder With All the Trimmings, a paperback original published in November 2008 by Obsidian. The idea of cozy holiday murders cheered me.
The Christmas murders are for the Josie Marcus mystery shopper series. A mystery shopper is someone who evaluates the stores' sales and service. It's only fair—it's shopping that killed the true spirit of Christmas.
In Murder With All the Trimmings, Josie is forced by her boss, Harry the Horrible, to mystery shop Christmas stores. One of those stores is owned by Doreen, who used to date Josie's boyfriend. Josie points out the conflict to Harry, but he orders her to evaluate the store, leaving Josie with an unholy holiday problem.
Doreen is selling pornaments—pornographic Christmas ornaments—at her store. I didn't make those up. Obscene Christmas ornaments really exist. Some actual pornaments included elves with gigantic South Poles and one called "Snow Job." The title says it all.
Pornaments sparked a hot Christmas controversy a few years ago. According to news stories, a chain of gift shops sold pornaments in stores and on their Website. The stores were warned that displaying pornographic ornaments where children could see them could be illegal. Even I was shocked, and I'm no Christmas lover. But a pornament controversy was novel material.
I write two series. The Dead-End Job mysteries are set in South Florida. The Josie Marcus mystery shopper series takes place in St. Louis, my hometown. I wanted to have the Christmas novel in the Midwest, with proper holiday snow and cold. Christmas in a warm climate doesn't feel right, even though the weather in Florida is probably closer to the first Christmas in Bethlehem. I can't get used to Santas in shorts and Hawaiian shirts, sweating up a storm. Christmas lights on palm trees look downright odd. I'm more of a traditionalist than I thought.
The difficult part of writing this book was trying to give it balance. I couldn't forget the people who love Christmas and wait for the holiday season. Fortunately, I had Josie's friend, Alyce, who adores Christmas in all its forms, except the pornaments. She reminds Josie that this over-commercialized holiday can be meaningful.
The holidays are also the time for getting in touch with long-lost relatives. Josie's ex-boyfriend, and the father of her child, turns up on her doorstep. Drunk, alas. In my book, exes are like cockroaches—you never quite get rid of them.
Here are a few more Christmas facts from Murder With All the Trimmings:
Most of us assume that Black Friday, the day after Thanksgiving, is the busiest shopping day of the year. The International Council of Shopping Centers (ICSC) says that honor goes to the Saturday before Christmas. Or, if Christmas is on a weekend, December 23.
If you to sit out the shopping madness and stay home from the mall on Black Friday, you could be choosing to avoid the crowds—or engaging in a protest. Adbusters magazine declared Black Friday "Buy Nothing Day" back in 1997.
Josie feels Christmas decorations have been up since Labor Day, but the ICSC says most retailers begin decorating November first.
And which song makes the mall hit parade? "Jingle Bells" is number one, followed by "White Christmas."
---
Elaine Viets is the author of two bestselling series, the Dead-End Job mysteries and the Josie Marcus Mystery Shopper series. She has won the Agatha, the Anthony and the Lefty Awards.
Buy this back issue! Available in hardcopy or as a downloadable PDF.